Seperti yang saya tulis pada postingan lalu, saya kembali membuat seri monster tempat pensil ini. Kali ini, saya harap saya telah mendokumentasinya dengan lebih baik :) Langkah-langkahnya hampir sama dengan monster kucing lalu (dengan beberapa perbaikan tentunya setelah belajar dari kesalahan).
I made more of this monster series and took pictures on the process. The steps are pretty much the same as the kitty's (with a few good changes to atone the sin I made in the confession section of the previous post) :D
Kali ini, saya membuat monster kelinci! Semoga anda menyukainya!
This time, it's a rabbit monster! Hope you like it!
Bahan dan Peralatan:
1. Pipa PVC;
2. Flanel;
3. Karton, gabus atau apapun yang dapat dijadikan dasar yang kuat;
4. Kapas;
5. Kawat atau apapun yang dapat dijadikan sebagai kumis (tidak diharuskan);
6. Masking tape;
7. Gergaji tangan;
8. Gunting/cutter;
9. Jarum dan benang;
10. Lem.
Materials and Tools:
1. PVC pipe;
2. Felt;
3. Cardboard, styrofoam or anything sturdy (as the base);
4. Cotton (as filling);
5. Wire or anything you can think of to make the whiskers (optional);
6. Masking tape (optional);
7. Handsaw;
8. Scissors/cutter;
9. Needle and threads;
10. Glue.
Tempat pensil ini berukuran 15 cm (10 cm untuk tinggi tempatnya tanpa telinga) dengan diameter 3 inci. Ukur dan tandai tempat pemotongan pipa.
The holder size is about 15 cm including the ear (10 cm for the holder alone). Measure and mark the cutting lines.
Saya menggunakan masking tape untuk memastikan garis berada pada ketinggian yang sama dan juga sebagai pembatas pemotongan.
I use masking tape to make sure the line is on equal height and use it as a sort of ruler when cutting the pipe.
Tandai tempat di mana telinganya berada.
Mark where the ears are.
Potong pipa mengikuti garis.
Start cutting.
Setelah pemotongan. Sisi-sisi luarnya dapat dibersihkan dengan gunting dan cutter secara perlahan.
After cutting. You can clean the edges by slowly cutting them with a pair of scissors or a pen knife.
Setelah dibersihkan. Karena senggang, saya pun membuat satu lagi tempat pensil yang lain (saya cukup menikmati proses pemotongan pipa-pipa ini).
After cleaning and all. I enjoy doing cutting pipes, so I made another monster :)
Guntinglah selembar kain flanel selebar keliling pipa. Panjang flanel tergantung seberapa panjang telinga kelinci yang diinginkan (Berikan sedikit ekstra pada flanel untuk kemudahan menjahit nantinya). Lingkarkan kain flanel pada pipa, pastikan titik temu flanel berada pada bagian belakang tempat pensil ini, dan jahitlah titik temu itu.
Cut a piece of felt with the width equals to the parameter of the pipe. A for the height, it's entirely up to your preference; if it's going to be a long-ear rabbit, cut the felt longer, if it's going to be a hamster-like rabbit, a short felt will do :) (it's optional, but I prefer to give an extra cm to the width and height for easy sewing purpose). Cover the pipe with the felt, make sure both the ends of the felt meet at the back and sew it together, making a cylinder-like felt structure.
Setelah bagian luar selesai, lakukanlah langkah yang sama pada bagian dalamnya.
Done with the outside? Go inside!
Guntinglah bentuk telinga pada bagian atasnya.
After cutting and sewing, it looks like an old wrinkled rabbit.
Untuk dasarnya, gunakan selembar flanel berbentuk lingkaran dengan diameter sebesar diameter luar pipa dan selembar lagi (untuk lidah) dengan diameter yang sedikit lebih besar dari diameter dalam pipa. Masukkan kapas di antaranya.
This is going to be the base, the mouth. A piece of felt with the size of the pipe's outer diameter and another piece of red felt as the tounge with the size slightly smaller than the pipe's inner diameter. Cotton as the filling.
Saya menumpuk beberapa kertas karton supaya dasarnya kuat. Selembar flanel lingkaran direkatkan pada dasar karton dan kemudian dijahit dengan dasar lidah tadi.
Sew them together. Below the base, I stacked a few pieces of cardboard to make it stronger. Stick it below the base, add another piece of felt below the cardboard and sew it to the upper felt.
Gunting lubang mulutnya.
Cut the opening for the mouth.
Jahit sisi-sisinya.
Sew the edges on the side.
Rekatkan struktur kelinci pada bagian atas dasar lidah tadi.
Place the tounge below the holder, glue it.
Jahitlah tempat pensil dengan dasarnya.
Sew the holder and the base together.
Flanel lain untuk dekorasi telinganya.
Have another piece of felt as the inner part of the ear.
Masukkan kapas pada telinga.
Insert cotton as filling.
Telinga empuk.
Fluffy ear.
Tambahkan giginya.
Add the teeth.
Tambahkan mata, hidung, dan kumisnya.
Add eyes, nose and whiskers.
Untuk ekornya, gunakan kain flanel berbentuk lingkaran dan taruhlah segenggam kapas di atasnya.
Making the tail. Use a piece of circular felt and place a bunch of cotton on top of it.
Bentuklah seperti sebuah siomay dengan kapas sebagai isinya :)
Make it like a dumpling with the cotton as the filling.
Jahitlah pada bagian belakang kelinci dan selesailah tempat pensil ini.
Sew it at the back of the rabbit and it's done.
Tempat pensil lain yang saya buat adalah monster panda. Tampak depan.
The other holder I made is a panda. Front view.
Tampak 3/4.
3/4 view.
Rapat monster-monster.
Monsters' conference.
Pengakuan:
Pada awalnya, saya membuat mata kelinci yang berkaca-kaca, seperti hewan yang akan dibuang. Tapi, saat saya menanyakan pendapat, kakak saya langsung mengkritik matanya, katanya wajah kelincinya menyebalkan o.O" Entah karena setelah mendengar itu, saya pun jadi ikut-ikutan merasa wajah kelincinya jelek. Apapun alasannya, akhirnya saya pun memutuskan untuk mengganti matanya. Saya langsung panik saat saya menarik (terlalu kuat) matanya dan mengoyak flanel di bagian bawahnya. Setelah itu, saya buru-buru menutupinya dengan mata yang lebih besar dan jadilah kelinci bermata besar ini.
Confession:
Initially, I had a pair of teary (puppy?) eyes for the rabbit, but when I asked for opinions, my sister found the look disturbing and annoying. I tried to look at it from different angles and yes, the more I look at it, the more I feel annoyed too (I'm not sure if it was just because of my sister's saying and I got influenced by it or it's just because I didn't really think about it earlier). Anyway, I tore them out and panicked when I realized I pulled them too hard that they made holes!! I quickly covered them with bigger piece of felt and there, I have a big eye rabbit now!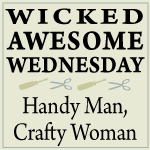 Tweet