Looking for budget-friendly crafts and decor for your place? Try the dollar tree DIYs that have inexpensive supplies and materials that you can use for turning your home into a creative and aesthetic one. Decor materials are omnipresent in every nook and corner of the home. They convert a mundane space into an interesting one. In general, these home accessories are expensive and cannot be bought in bulk for every room or corner.
For a cost-effective way forward, the dollar tree has ample options of materials that can be DIY for craft and decorative purposes. The dollar tree DIY can be done by anyone in less time, material, and cost, and yet elevate the home furnishings. The decor items made from dollar tree DIY can be equipped in every room of the house, from the entrance, mudroom, hallway, and even in the kitchen.
This economical home project material can be purchased both online and in-store, which is a great advantage. Now you don't have to stick to the same decor till it turns old; you can make festive decor and crafts frequently.
Here are a few dollar tree DIYs that you can try for creating crafts and decor materials for your space, and elevate the surroundings.
1. Decorative Tray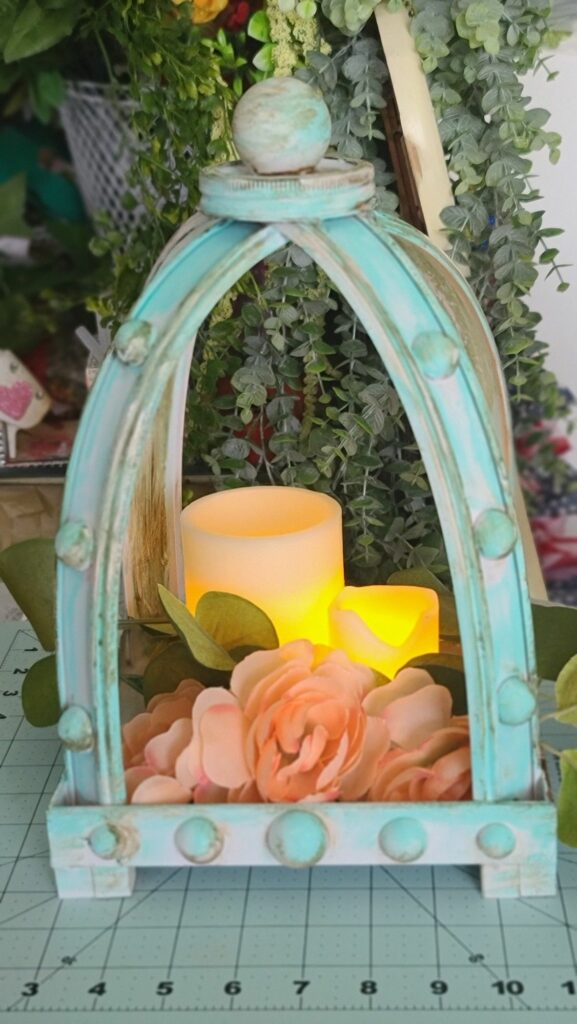 Dollar tree DIY projects help create beautiful home decor pieces with minimal material. A decorative tray can be used as a lantern tray on the dresser, for keeping sauce bottles on the dining table, or can be hung on the front patio or balcony to be used as a bird feeder.
Purchase a boxed frame or wooden tray from a dollar tree. These trays are quite sturdy and durable in nature, which makes them the perfect choice for home decor.
After removing all the extra material from the tray and making it a plain surface, apply some spray paint or chalk paint on the surface and sides of the frame. Allow the paint to dry.
For creating the arch that is seen in the above picture, you can use beaded wreath rings or metal wreaths, or wood beads. This will impart a beautiful look to the plain tray.
With the help of a wood hot glue gun, attach the bead wreath's edges to the corners of the trays in a manner that they intersect in the middle. Allow the wreaths to stick to the tray. Wood hot glue is used as it is stronger than other hot glue. This is beneficial in creating a sturdy frame.
Besides this, you can add decorative materials like bamboo rings, wood finial, etc., as toppers. If you are planning to hang the decorative tray, use a bamboo ring as a topper and glue it with the wreaths.
You have a dollar tree DIY decorative tray that can be filled with candles, greenery, and other materials for a clean and sophisticated look.
2. Two-Tiered Multipurpose Tray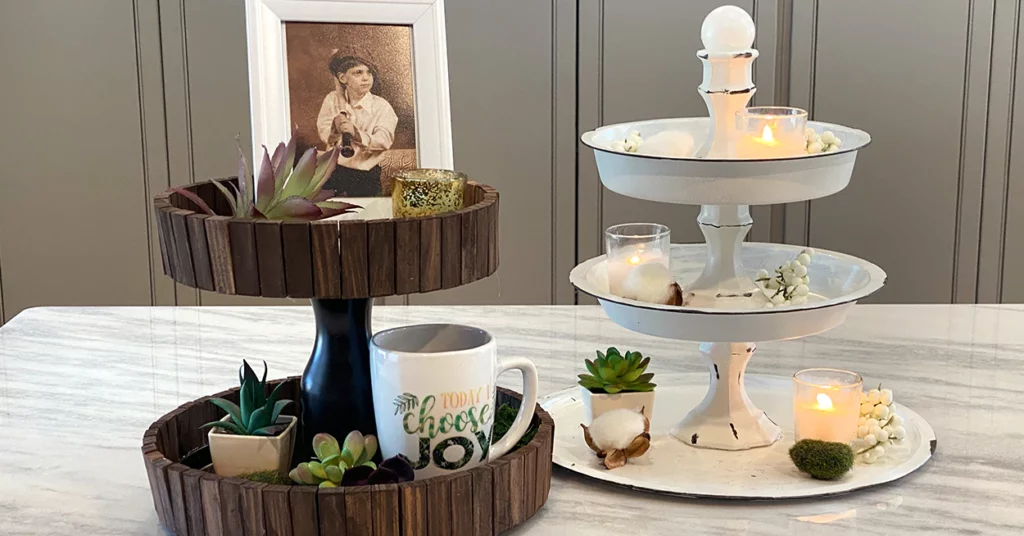 Materials and supplies purchased from dollar tree can be used to DIY modern home decor projects. The advantage of using dollar tree products for crafts and decor is that you can combine several individual supplies to make an attractive centerpiece. With simple hacks, you can design dollar tree DIY ranging from farmhouse style to luxurious style.
For a two-tiered tray, get two different-sized wooden trays. You can be creative with the trays by using different shapes, like hexagonal trays or plates, for installation.
Get a wood piece or a candle stand for holding the above and below trays. You can choose to paint the trays and wood with spray paint for a similar color, or you can stain the wood.
One of the most effective decor materials at the dollar tree store is the vinyl sticker for covering and decorating things. Moreover, the black paper will blend well with paint or stained wooden trays and stand.
If you are using a wood piece to hold the trays, mark the center of each tray and drill a nail from both ends. Make sure that the wooden piece is also positioned in the center. Secure the trays and the wood piece with nails on both sides.
You can add decorative signs on the tray and use it in different locations, like the dining area, for harboring some sachets and mugs.
This easy dollar tree DIY looks creative and grabs attention. You can use plates instead of boards for a sophisticated look.
3. Planter Box
Dollar tree DIYs come with many benefits apart from being cost-effective. The supplies and materials are easily available, and the crafts and decor home project can be the fastest and easiest out of all projects. Apart from this, you can create any type of decorative material like antique, beach-inspired, and festival special to equip your space and make it look aesthetical.
Everyone likes greens in their surrounding; they can be on the windowsills, hanging baskets, or on outer patios. But you can now have the plants on the dressers and dining areas, too, for decorative purposes with the help of dollar tree DIYs.
Take gift boxes of different sizes and remove the lids. With the help of hot glue, stick several craft sticks end to end on the outer side of the gift box. Allow the sticks to dry.
You can choose to paint or stain the outer wooden craft sticks. Along with this, paint the inner side of the gift box, too, for beautification.
After the box dries, you can add green plants or succulents inside the gift box and decorate your space. Apart from this, you can also keep seasonal flowers and shrubs for a visually appealing look.
Different shapes and sizes of gift boxes are available at the dollar store that can be transformed into a planter box in no time. This dollar tree DIY can be used for multipurpose as well.
4. Welcome Sign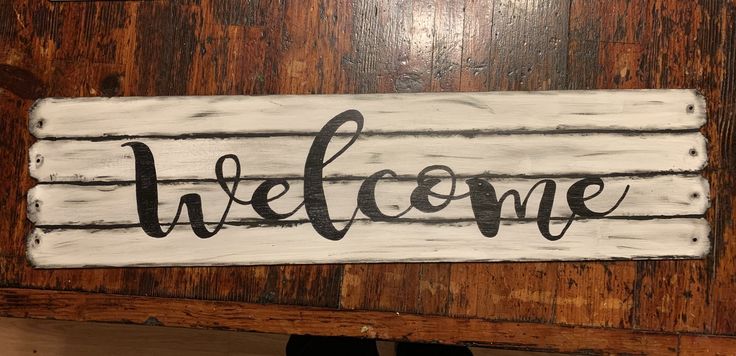 Dollar tree DIYs can be done by any age group of people. As there is no thumb rule in DIY home projects, and everything that you create will look creative and beautiful. You can easily make a replica of any decor material by gathering supplies from the dollar tree store.
Dollar Tree has wooden signboards for different seasons. You can collect 4 to 5 wooden panels for a dollar tree DIY craft. Stick the wooden panels together with hot glue and allow them to dry.
Later on, use chalk paint or wood stains to cover the signboards. Use at least 2 to 3 coats of paint for a whiter surface. Allow the paint to dry.
Dollar Tree store also has small wooden houses that can be attached to the wooden panel.
You can either paint a welcome sign with black acrylic color on the signboard or use vinyl stickers. You can choose to be creative with the wooden panels by attaching some hooks and converting them into a key stand.
If you do not want to attach the wooden houses, you can clip some family photos along the wooden panel.
For a farmhouse touch, attach greenery vine pieces to the wooden panel from the dollar tree with the help of hot glue.
Apart from the welcome sign, you can make a similar wooden plank from the dollar tree DIY for the kitchen or bedroom for aesthetic appeal.
5. Candlesticks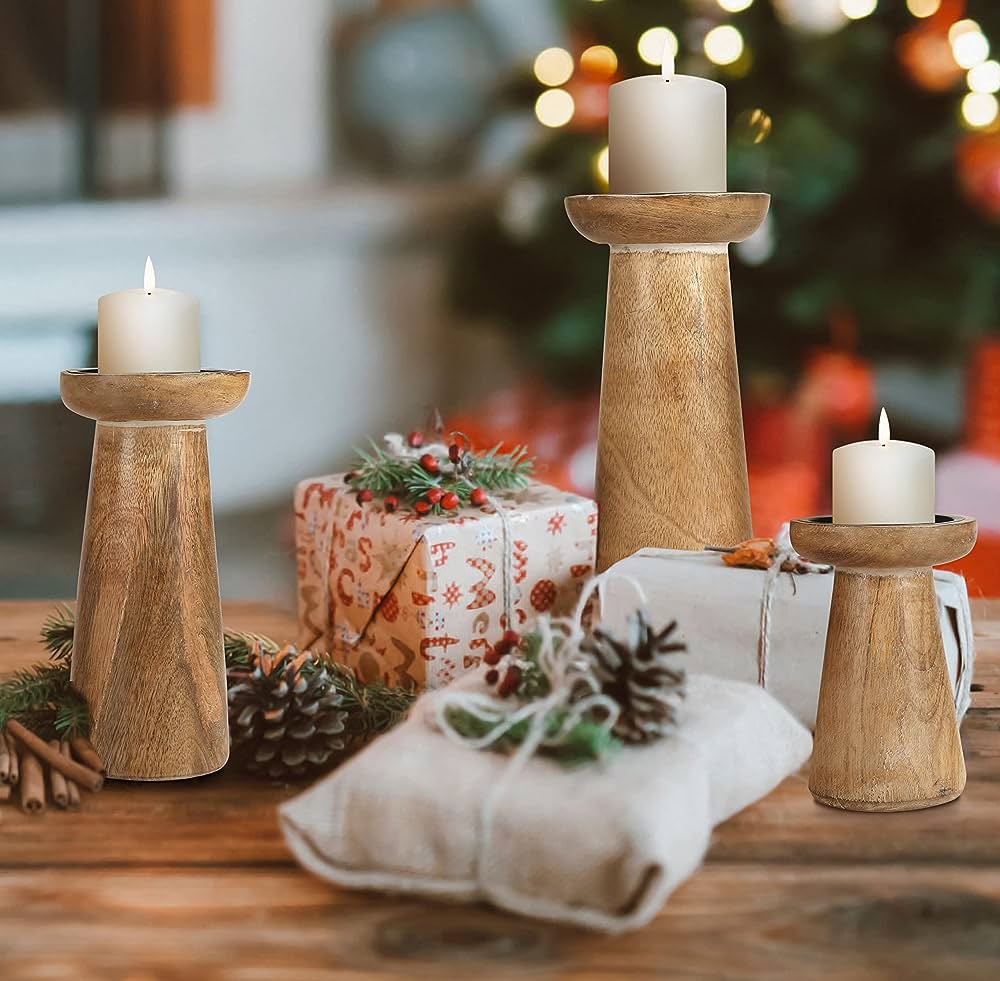 Dollar Tree DIYs craft and decor can easily grab attention and make the place look visually aesthetic. All you need to do is grab the right materials and combine them into a beautiful home accessory.
Candles can look elegant in every corner of the house, but the hot wax ruins the furniture, making it difficult to clean. Dollar Tree DIY craft supplies make it easier to use candles everywhere.
Take different shapes of vases and plastic or glass plates. With the help of hot glue, stick the bottom side of the plates to the vases, and allow them to dry.
You can use creativity to decorate the candlestand with any material. This includes painting the candlestands with white chalk paint, or charcoal-grey paint for a visually appealing look.
You can also get nautical rope of a smaller size and wrap it around the candlesticks for a rustic look. Apart from this, bead wreaths or bows from the dollar tree can be used as DIY crafts and decor materials for candle sticks.
You can keep the different sizes of candles on this stand to create an aesthetic look. This dollar tree DIY gives the place a bohemian and cozy touch.
6. Calendar Art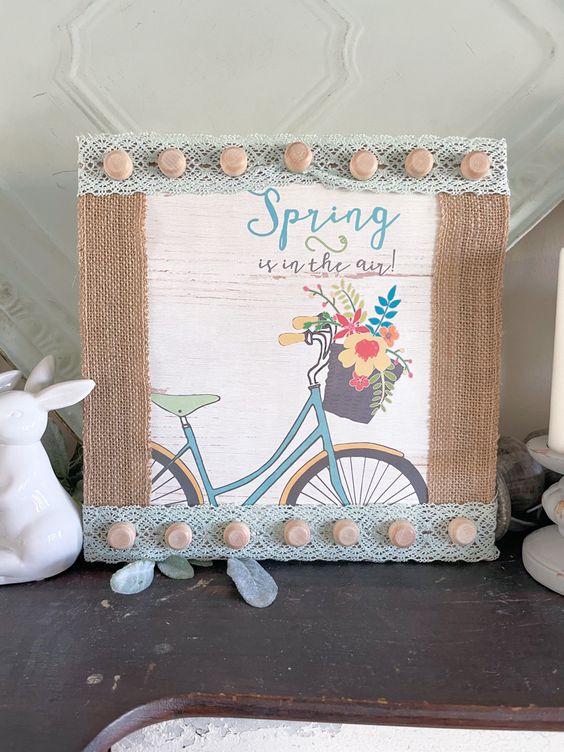 The dollar tree offers a range of supplies and materials to DIY a creative home project. The dollar tree DIY for crafts and decor is a perfect choice to elevate your space and give it a classic look with minimal material. The dollar tree calendar comes with beautiful pictures and signs on one side that can be used to make photo frames.
Trim the calendar sign as per the photo frame size. You can also stick these signs on wooden panels that are easily available at the dollar tree.
Besides this, you can add decorative material like ribbons, lace, artificial flowers, and beads on the frame and wooden board.
The advantage of re-using the calendar is that you can have season-wise photo frames in your space which makes it even more aesthetic.
Apart from the calendar, dollar tree also has creative vinyl stickers that can be directly glued on a wooden board.
Take a longboard, and choose a black one so that the stickers on it highlight. You can create any chic sign using these wall decals. The dollar store DIY for crafts is a simple technique that suits every corner of the house.
7. Stencils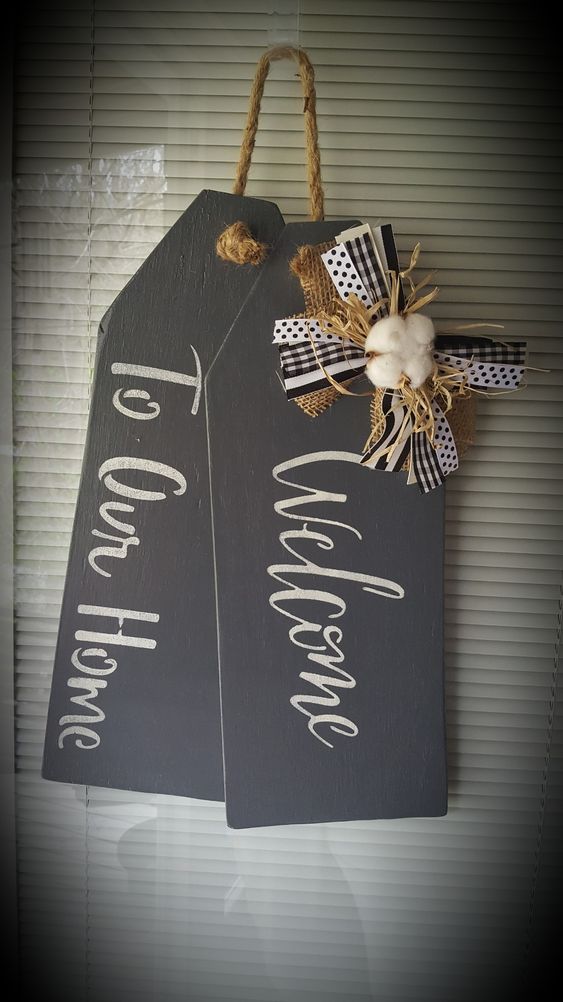 By selecting dollar tree DIY for crafts and decor, you are not only saving time and money but also including a lot of character by hand-made decor items. Dollar tree DIY can be made on a budget and still look luxurious. These stores have ready-to-use stencils, with short and cute signs that are customized for every corner of the house.
Dollar tree DIY for crafts and decor can be made aesthetically by using these stencils. Purchase ready-to-hang plain signboards available from dollar tree.
You can also use wooden frames for painting the signs. The stencils are customized according to the function. You can get 6-7 stencils in a pack that is dedicated to coffee. This customized frame or signboard will look aesthetical near your coffee counter or dining area.
Paint the wooden board or signboard with lighter acrylic paint, like chalk paint or charcoal, so the stencil can be highlighted.
Stain the wooden sides of the frame to give it a rustic touch.
With the help of a weeding tool, dab the paint color of your choice on the stencil. Try to use black as the stencil color, as it will look classic and blend with all other wooden types of furniture.
Remove the stencil paper gently, and allow the paint to try. You'll be left with elegant signboards for every occasion.
You can also add creativity with the dollar tree DIY by using their piece of sliced wood as welcome signs.
In the sliced wood, you can try using torch paste on the stencil. With the help of a heat gun, run it over the paste till it burns off and leaves a nicely crafted design or sign.
8. Flower or Plant Wreath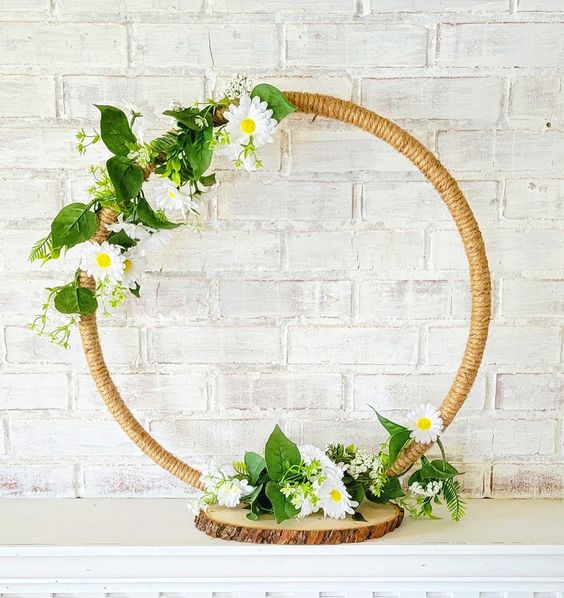 With the help of dollar tree DIY for crafts and decor, there is something for every occasion, season, and celebration that too within budget. Once you start forming a grip on the dollar tree DIY techniques, you can sell these decor materials in bulk. Wreaths are usually hung on festivals like easter, thanksgiving, and Halloween, with flowers and decor materials according to the season. Now you can make a flower or plant wreath that also has a pocket to hold them.
Get embroidery hoops of different sizes from the dollar tree, and separate both rings.
Purchase some burlap rolls that have different designs like plain, dotted, etc. Choose the plain burlap cloth to be placed at the back, and place the dotted one in a folded manner so it works like a pocket.
Cut the extra burlap and glue them for a crease-less look. Use the pocket to fill the seasonal flowers, plants, etc. Furthermore, you can also use the pocket as a letter holder.
With bigger embroidery hoops, you can be more creative. Get two to three wooden panels, and with the help of hot glue, attach them to the hoops at a distance. Use a wooden base so the circular shelf remains steady.
Use a golden or silver spray for the hoops for an elegant touch. You can paint or stain the wooden panels to complement the hoop rings.
This dollar tree DIY circular shelf will look great in almost every corner of the house and is functional in nature too.
Conclusion
The dollar tree DIY crafts and decor are the simplest way to transform your space and give it a refreshing look. This DIY can help you achieve any style for your place; this includes a modern, rustic, farmhouse, bohemian, etc., that too is economically friendly.
The dollar tree DIY supplies and materials can be used in multiple ways and in multiple spaces, from the hallway to the bathroom. The inexpensive items available at dollar tree will definitely inspire you to take up the DIY home project for a refreshing look.
The benefit of dollar tree DIY for craft and decor is that you can put together the material in just a few minutes, and they are durable and sturdy in nature.
The above-mentioned Dollar Tree DIY techniques are easy to implement, and with the help of these DIY skills, elevate your home aesthetics with affordable but impressive home decor.