Are you planning on buying a sectional for your living but are confused about what will work for you? You're in luck, for we have curated a list of 26 different kinds of oversized deep-seating sectional sofas that will help you make your best choice.
A comfortable sectional is necessary for a living room. With a nice plush sectional, you will be encouraged to spend some quality time with your loved one on it. This article will allow you to explore the different designs and fabrics for you to choose from.
Do you want a classic white cloud sectional or perhaps a wine-colored velvet sectional? Maybe your priority is to have a lounge chair with it or maybe an ottoman? This article covers it all.
So why wait? Let's get started!
1. White Deep Seating Sectional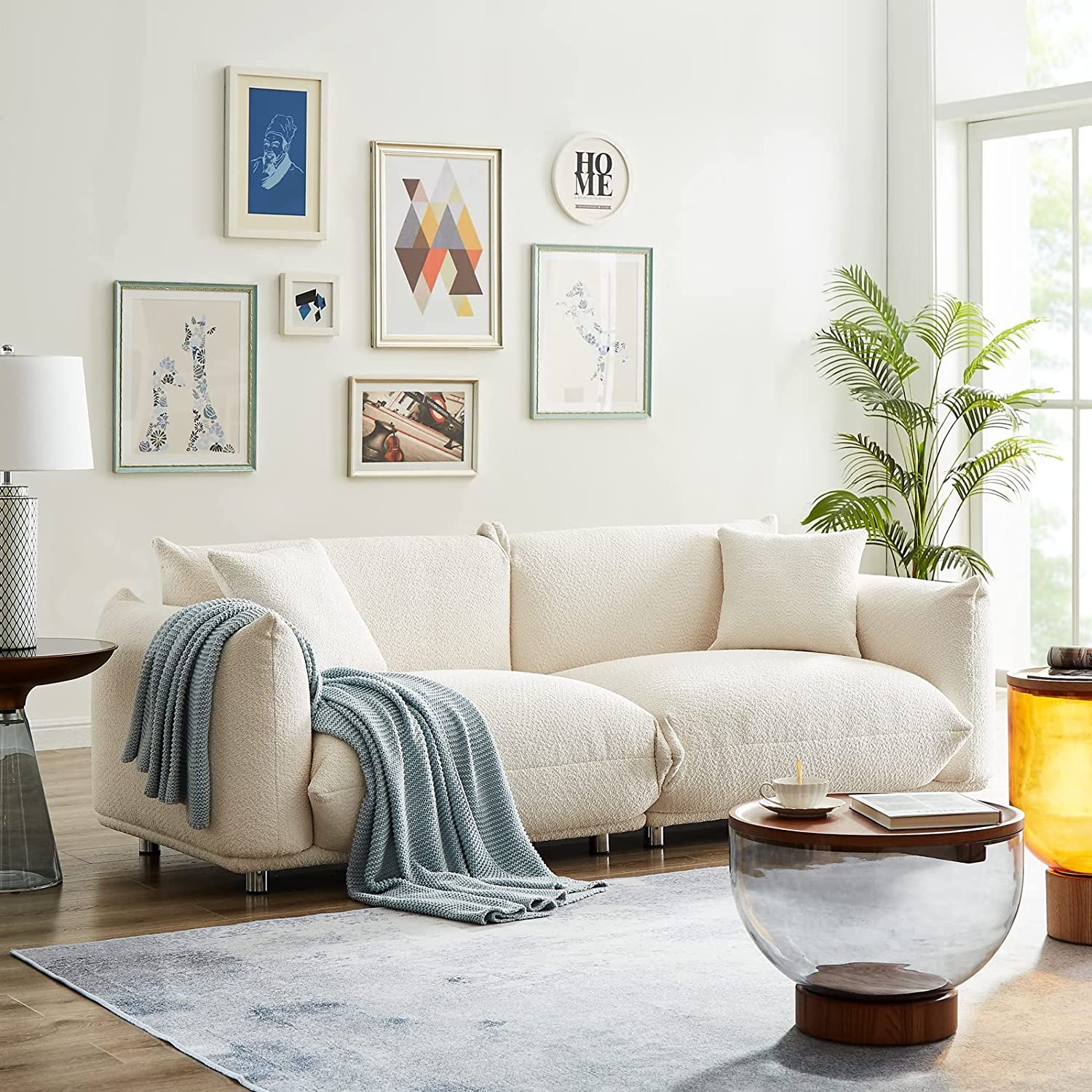 We think that a comfortable sofa can do a lot to make a space more inviting and add greatly to its comfort. Look at this gorgeous deep-seating Joy sectional in a cool grey color. The color is modern and gives a clean look. It goes well with the light décor of the room. The abstract cushions on the sofa add a tasteful contrast. The sectional is 100% polyester, which is relatively easier to clean.
The sofa features a comfortable chaise to allow you to stretch your legs while watching TV, reading, or for those wonderful afternoon naps.
2. Linen Deep Seating Sectional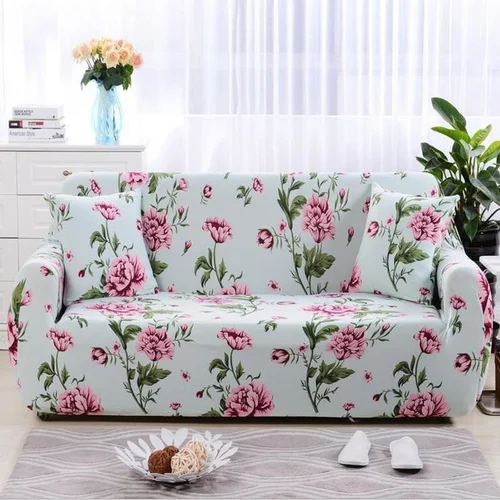 If you want to add some organic texture to your sofa, you can go for a linen sectional. You can also choose a wool or cotton blend sofa if you are interested in more organic fabrics.
The linen sofa has a luxe vibe to it and is certainly a hot choice for this appeal. It looks chic and classy. However, if you have kids, we must warn you this sofa is not as stain resistant as your leather or polyester sectional is.
All in all, this is an elegant choice and will add to the grace of your living room.
3. Oversized Cream Deep Seating Sectional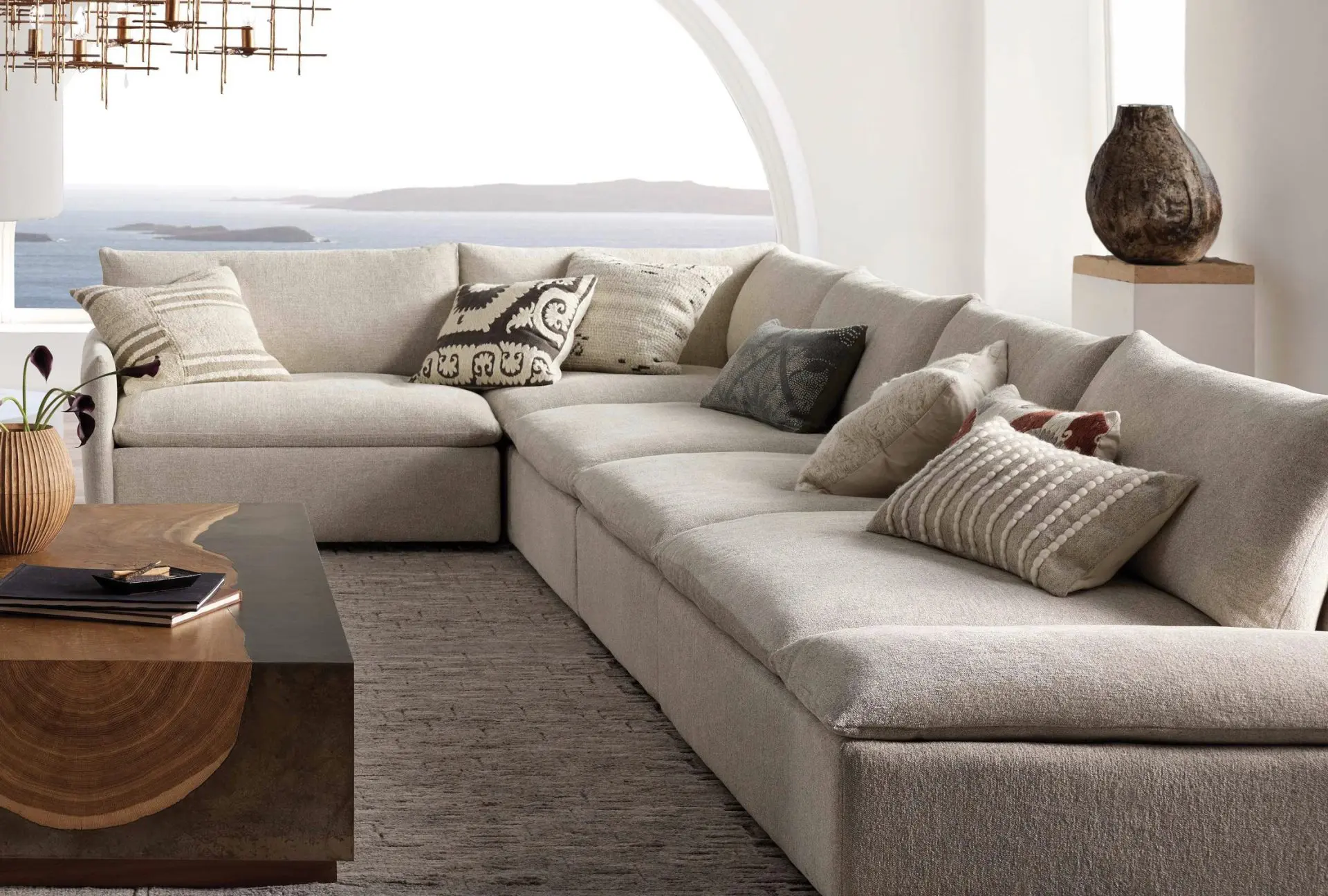 If you have a big family, or you like to entertain a lot of guests, or maybe you like to have sprawling, comfortable seating for yourself; this sofa is a dream come true for you. This sectional features ample seating space so that you can have a movie night for your extended family and friends. The color itself is a soft cream that goes well with white walls. It also complements the softness of the sofa itself.
This is a perfect choice for a farmhouse feel. This sectional comes with a plush ottoman; you can place it in the center instead of a coffee table. Tip; Add to the comfort of your sectional with throw pillows of various sizes. Make sure you don't clutter the sofa.
4. Modern Deep Seating Sectional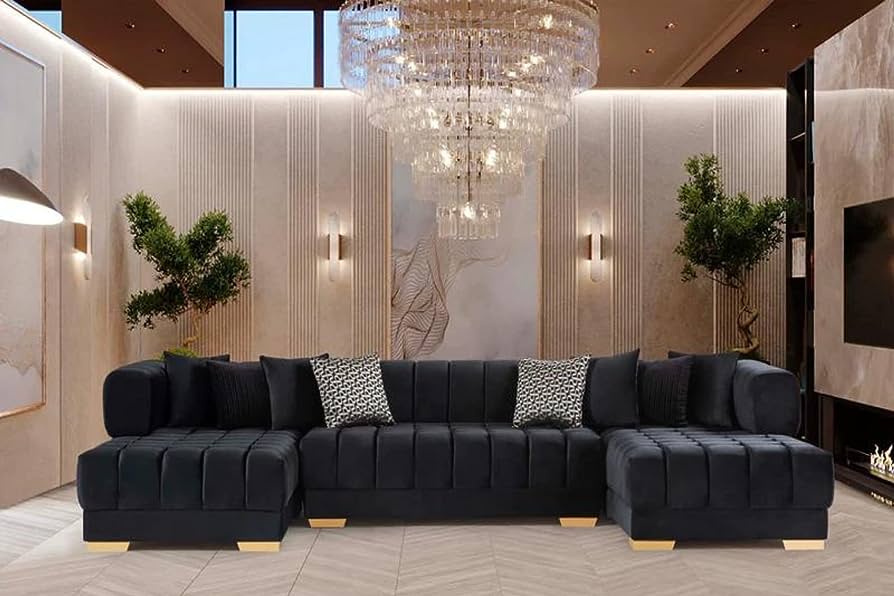 For people who like a more clean and more crisp look, A modern looking sectional in a dark grey tone like the above will be a great choice. This sectional is not in the classic L shape but comes in a U shape. The U shape allows for extra seating and also frames your room well.
Another advantage of the modern deep seating sectional is that you get two chaise lounges on either side. So, no more fighting for the best spot.
Decorate the sectional with some throw pillows in contrasting shades of creams and white, and enjoy the pleasure of comfortable seating.
5. U-Shape Deep Seating Sectional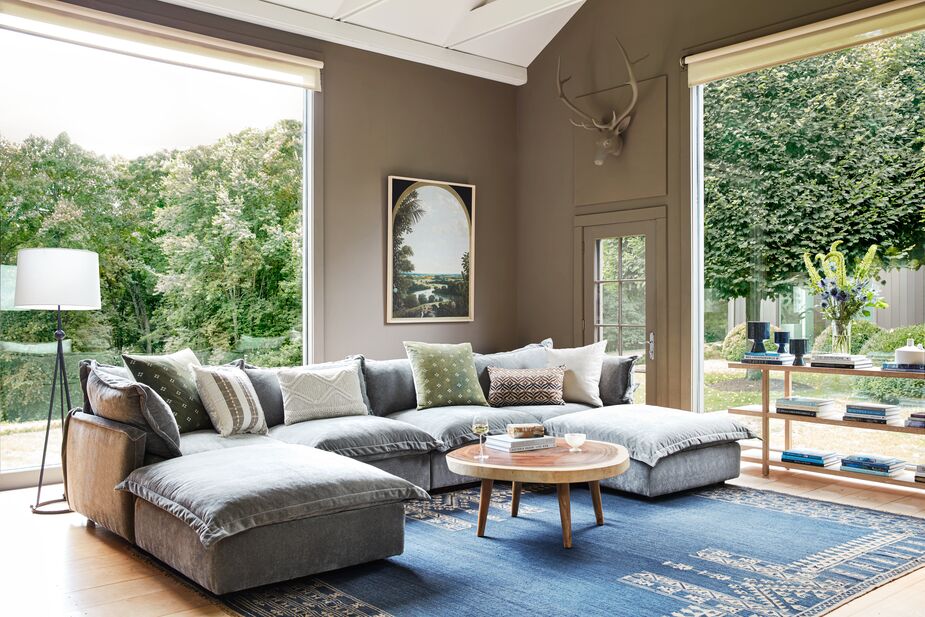 An oversized sectional solves the seating problem for the living area. It is a smart choice of furniture to invest in. However, not every house has the space for a long sectional. A U- Shaped sectional will solve that problem. It gives extra seating than an L-shaped sectional while not taking that much space.
It also provides a nice frame to add a center table that is accessible to all.
The deep seating provides enough space for you to sleep on it or curl up and read comfortably.
6. Sharp L- Shaped Deep Seating Sectional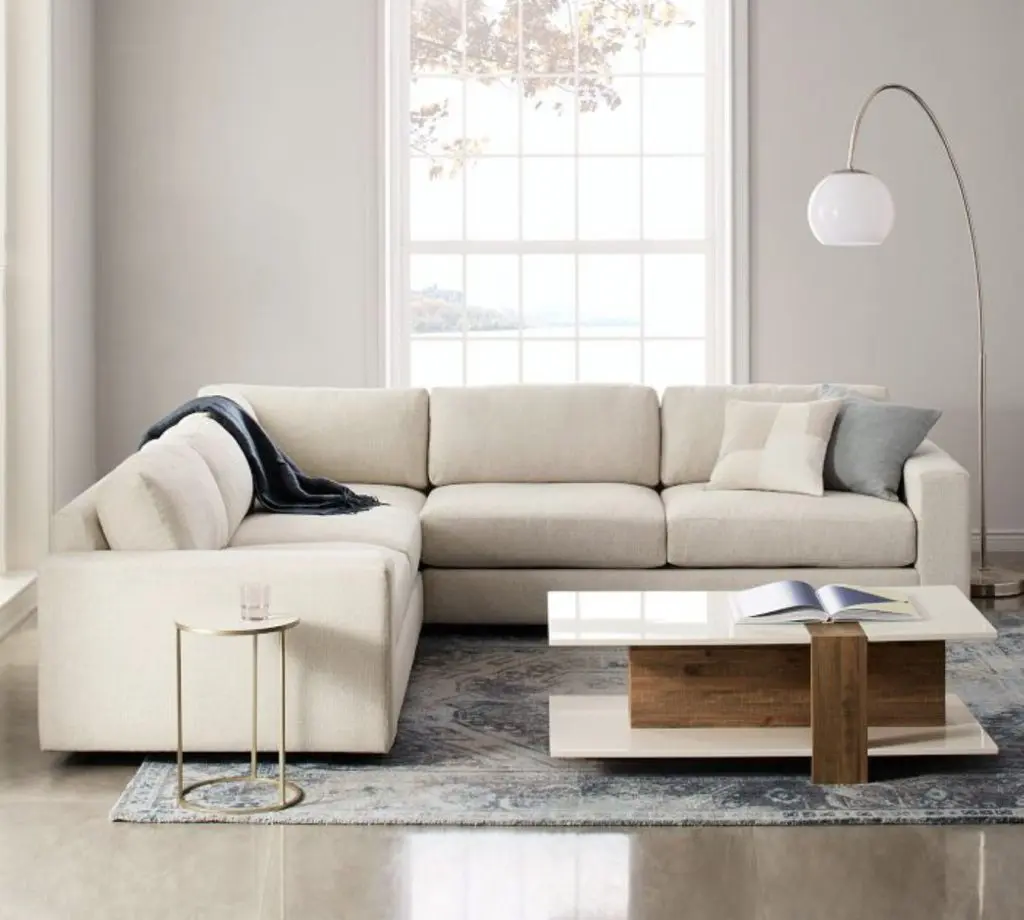 Some people prefer sectionals with softer, rounder edges, and there are ones that prefer a sharper construction. If you are among the latter, you can go for an L-Shaped sectional with more pronounced edges.
A linen or wool blend fabric will better suit this kind of sofa, while leather will soften the edges.
Tip; You can go for a darker color for this type of sectional to enhance the edges more.
7. Earthy Toned Deep Seating Sectional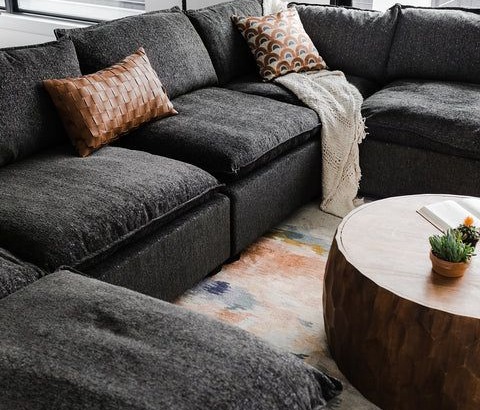 There is a charming quality to the color black; it gives a modern, sleek feel to your furniture. You can go for a U or an L-shaped sectional in a charcoal color. A wool, linen, or cotton blend sectional has a nice feel to it. There is a farmhouse or rustic charm to it. If you prefer a farmhouse aesthetic, this is perfect for you.
Play with the earthy color tones with your throw pillows; browns and pastel olives will complement the color and the texture of the sectional well.
A logwood center table fits the earthy yet modern vibe of the living area aptly.
8. Brown-Grey Deep Seating Cloud Sectional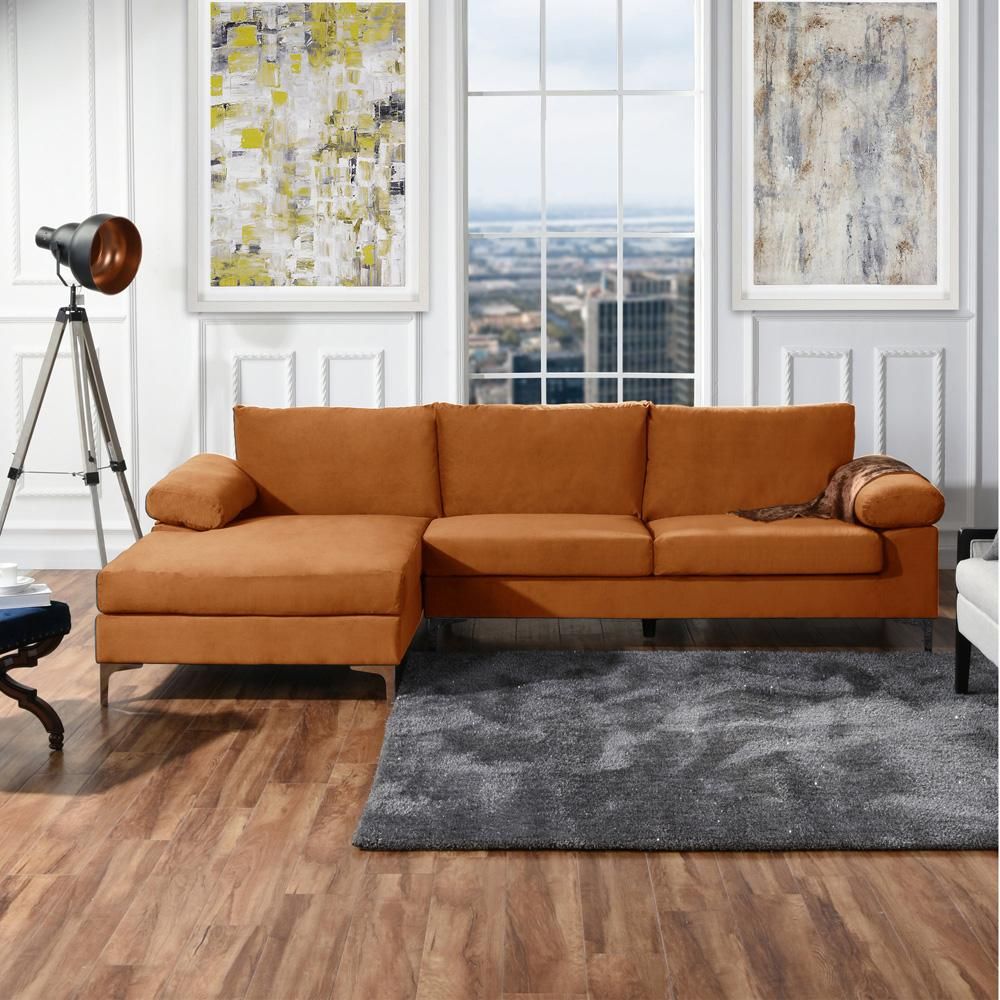 When choosing a sectional, one of the most important things to consider is how deep the seating is. One would want a sectional with seating that is deep enough so that one can fold their legs comfortably while sitting on it.
We love the muted brown-grey color of the sectional. Not only does it have enough space for you to sit comfortably, but the fabric is also soft, hence the name; cloud sectional.
With a muted color like that, you can add some drama to the room with a nice Persian rug.
Use tasseled throw pillows for a bohemian look; they add texture and some fun to your comfortable sectional.
9. A Classy Cloud Deep Seating Sectional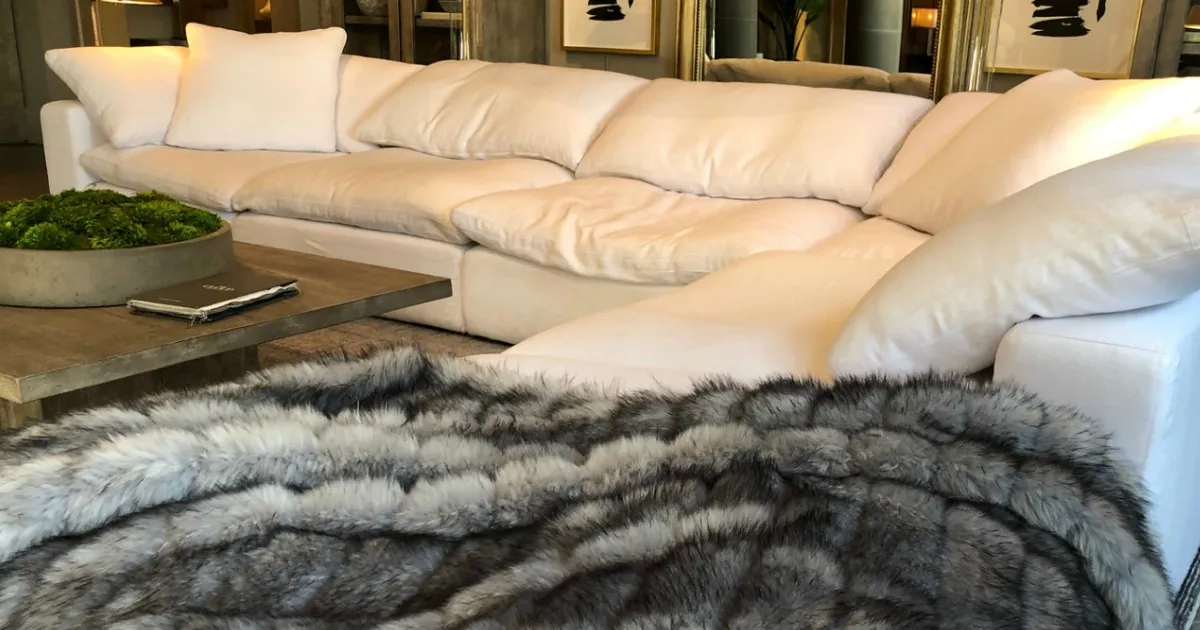 A cloud sectional with a chaise lounge might be the center of attention in your living room unless, of course, you have a giraffe in there. In that case, the giraffe will hog all the attention.
You don't want to smear the couch by throwing on throw pillows on it of various colors. White cushions placed neatly are all you need for it. Since we are going for a classy, sophisticated look, a clean, crisp coffee table or center table will go well with the look. The same goes for the rug; there is no need for popping colors or textures.
10. Neat Grey Sectional with Chaise Lounge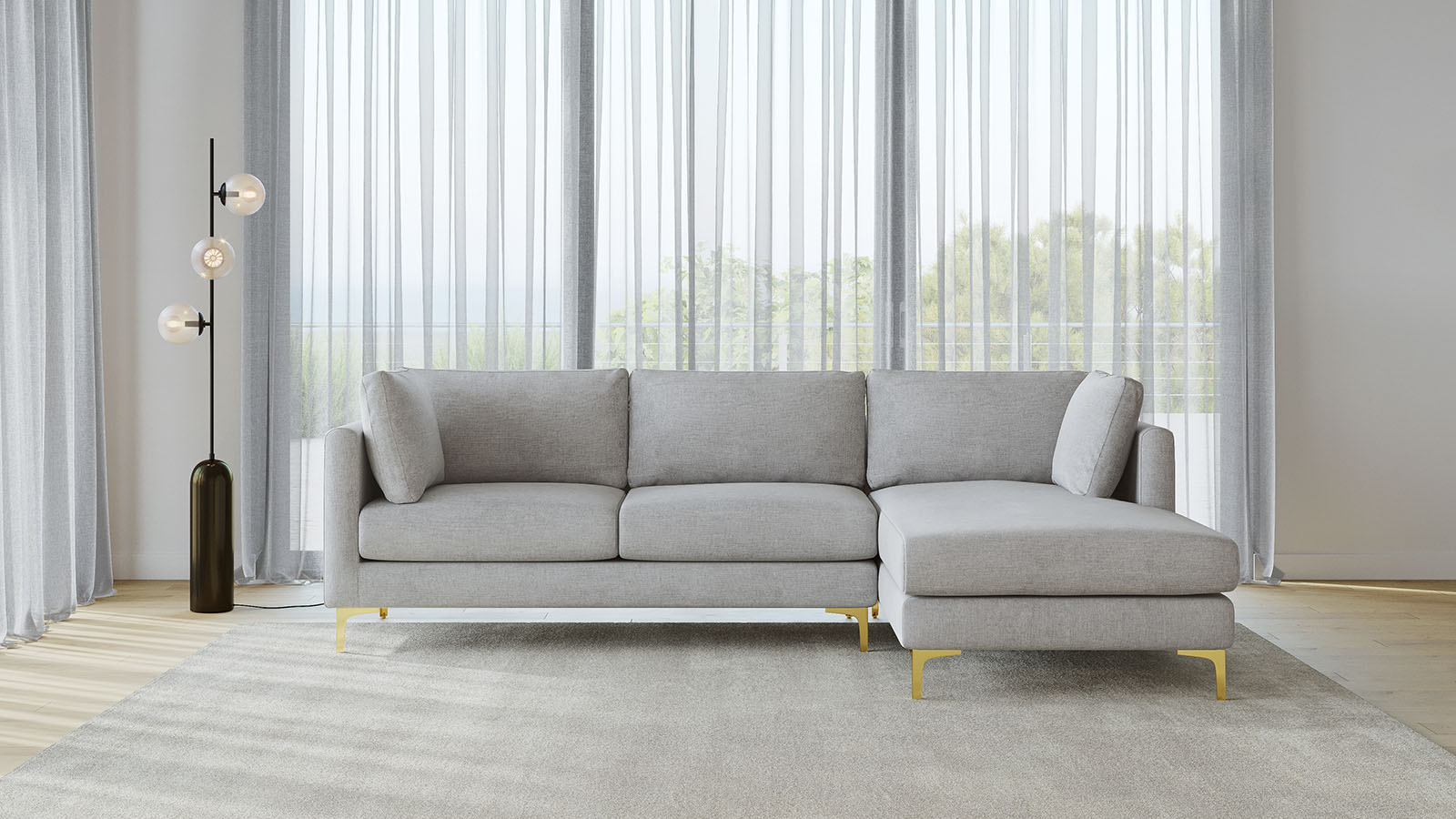 A grey and white-themed room is a modern favorite among people. It has a minimalist chic appeal to it. A comfortable grey deep seating sectional like the one above looks sharp in this beautiful living room. The chaise lounge at one end of it gives one a good resting corner to stretch one's legs out (remember to call dibs on that).
Place patterned throw pillows on the corners of the sectional. You can also use throw pillows of different fabrics like cotton or woven, or velvet. Just make sure that you follow the color scheme of white, black, and grey.
Tip; Add a throw blanket to the chaise lounge of the sectional so it's always handy when you want a nap or just curl up into it watching a movie.
11. Wine/Burgundy Deep Seating Sectional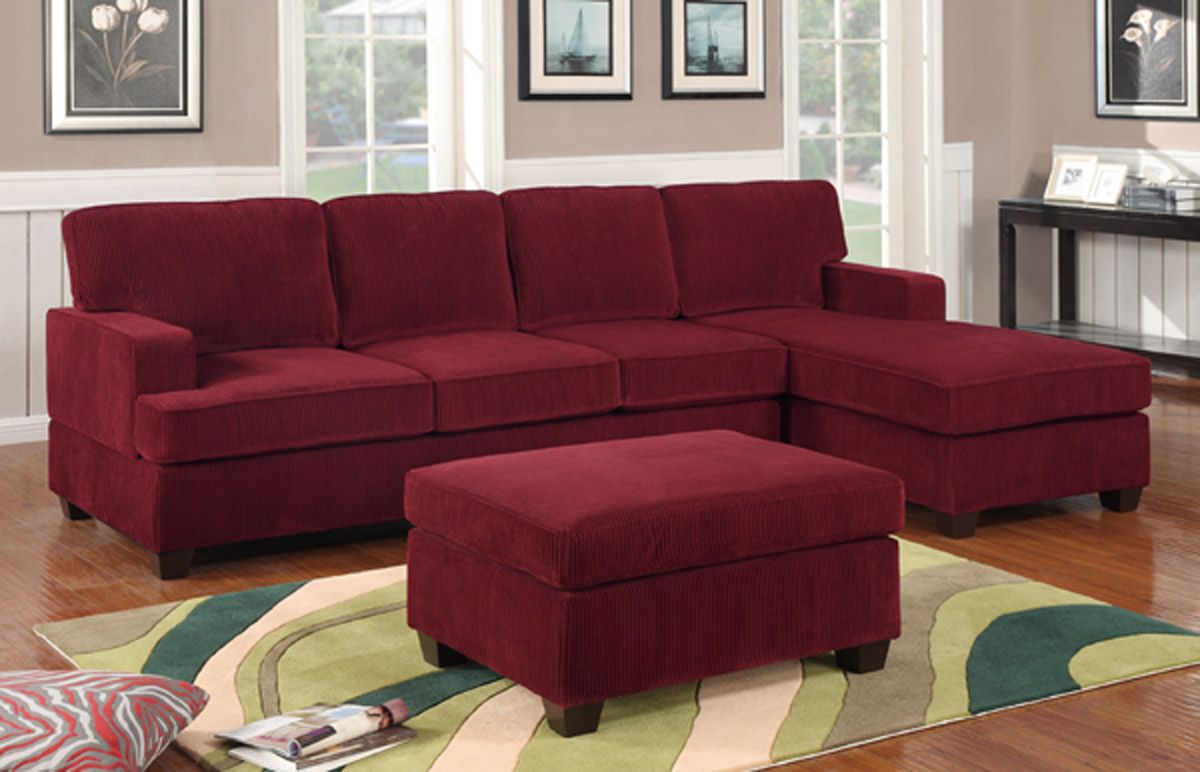 We love the use of bold colors for furniture. The use of bold colors for a sectional makes a statement and surely sets your living room apart.
A wine or burgundy sectional brings an autumn cheer into the house. Look how regal and rich the burgundy-colored sectional looks.
To add to the richness of the sectional, choose rich fabric for it. The fabric you must consider is crushed velvet. Crushed velvet in a rich color like burgundy has a vintage appeal to it.
This is a sectional where you can use some throw pillows and a velvety throw blanket. Make sure to coordinate the colors well; mustards and pale pumpkin oranges are good choices of color to go with them.
12. Modern Grey U-Shaped Deep Seating Sectional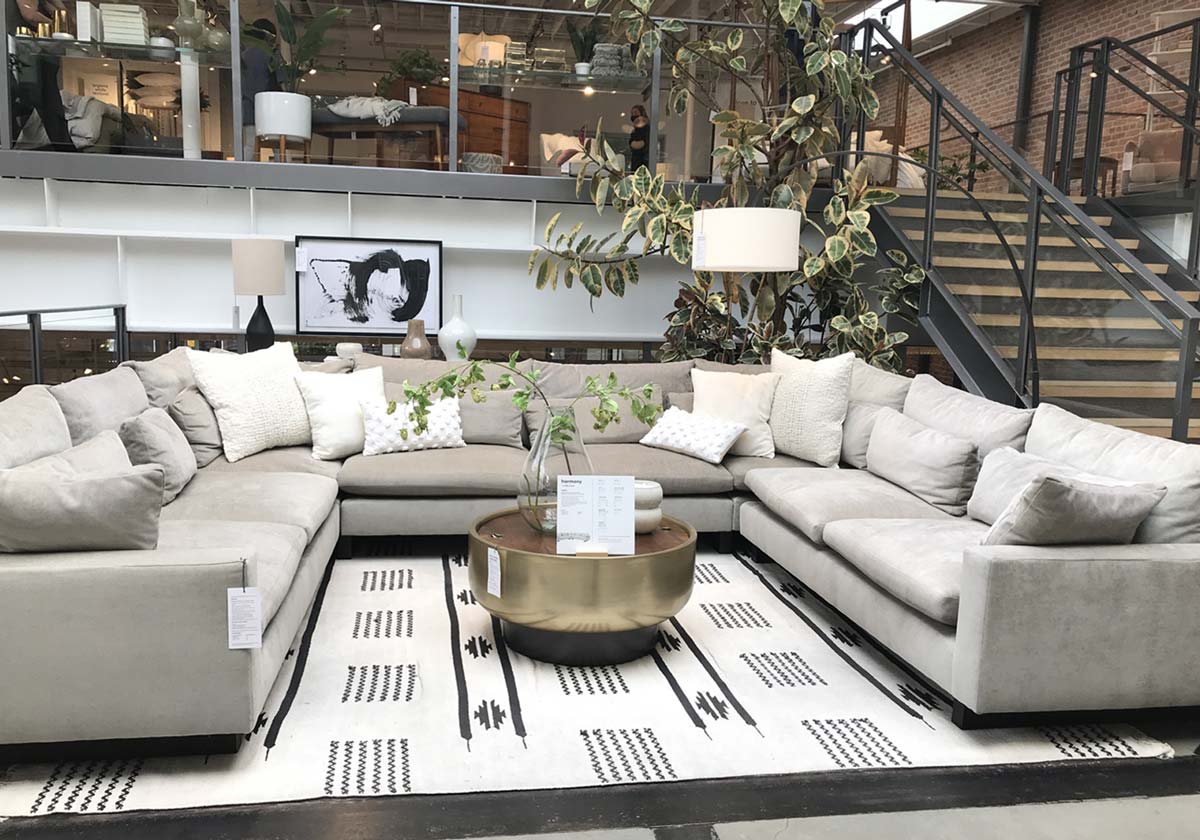 This grey double chaise lounge sectional will help uplift the aesthetics of your living room. Not only that, it will also take care of comfort. The double chaise lounge chairs provide you with the comfort of lying down while stretching your legs. You can use this sectional to work as extra sleeping space for when you have too many guests at home.
Place some throw pillows and a throw blanket to make it more comfortable, and enjoy your afternoon and evenings resting on this modern chic sectional.
13. L-Shaped White Sectional with Chaise Lounge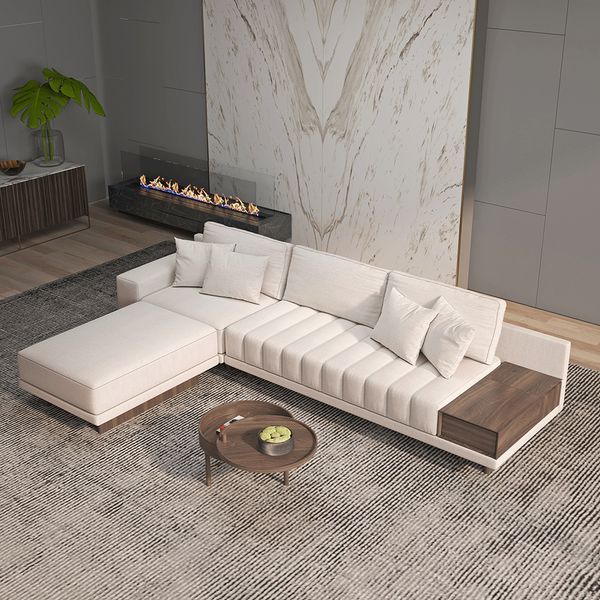 We all love a white sectional. This L-Shaped white sectional will be the grace of any living room. The deep seating gives enough space for one to sit on it comfortably. The sectional also features a chaise lounge to relax with your legs extended.
This is a perfect sectional for an apartment setup. We have previously explored a more clean look for a while sectional. Here we are introducing a pop of color with the carpet. The green carpet brings out the white and adds an artistic flair to the living area. You may also add a hint of color with the throw pillows on the couch.
14. Rust Velvet Kova Pit Deep Seating Sectional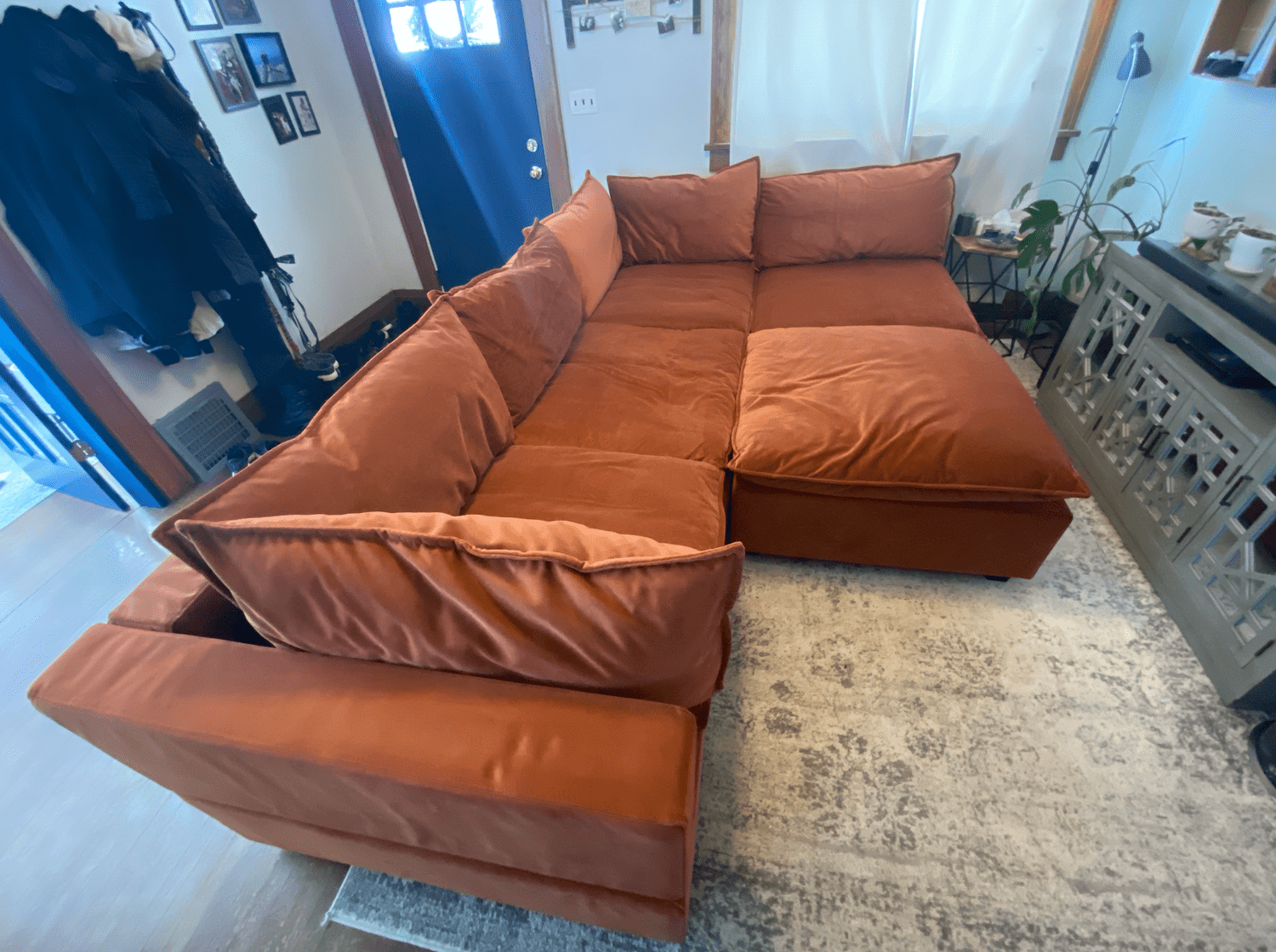 What is not to love about this deep-seating kova pit sectional? This sectional is a dream for anyone who prioritizes space and comfort. You can enjoy a movie night on it with your entire extended family. The cushions are 100% vegan and hypoallergenic.
You can combine its modular pieces to create a configuration to fit your needs. The beautiful rust velvet color is one of our favorites. However, it is available in other colors too.
The black and white striped cushions and rug complement this sectional well. Enjoy some family time in this spacious and comfortable sectional.
15. Green Overstuffed Performance Velvet Sectional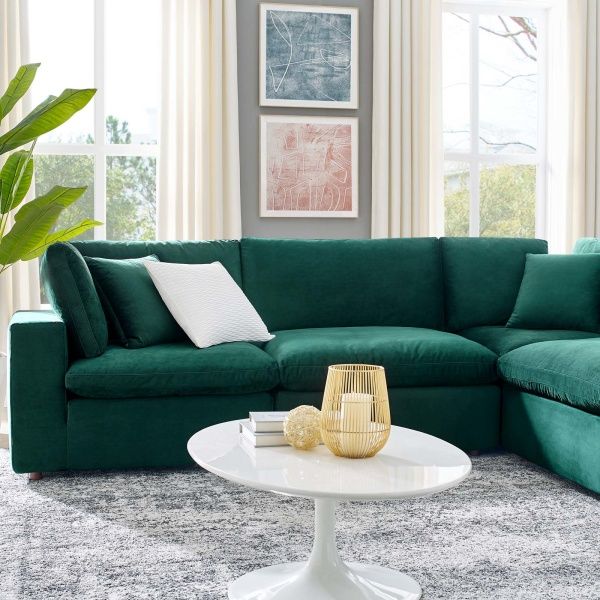 We are a fan of bold colors for sectionals. In a relatively plain room of white, an emerald green sectional like the one in the picture adds a classy drama to the ambiance. This overstuffed performance velvet sectional is every bit cozy and comfortable. The sectional features stain-resistant performance velvet, giving a luxe feel and not too much trouble to clean.
This upholstered sectional features a reliable wooden construction and some padding for extra comfort. The overstuffed cushions are a comfortable treat and will give you a sink-in feel. This is a perfect choice for a living room to watch movies with family, spend time gaming, or relax.
16. Blue Deep Seating Sectional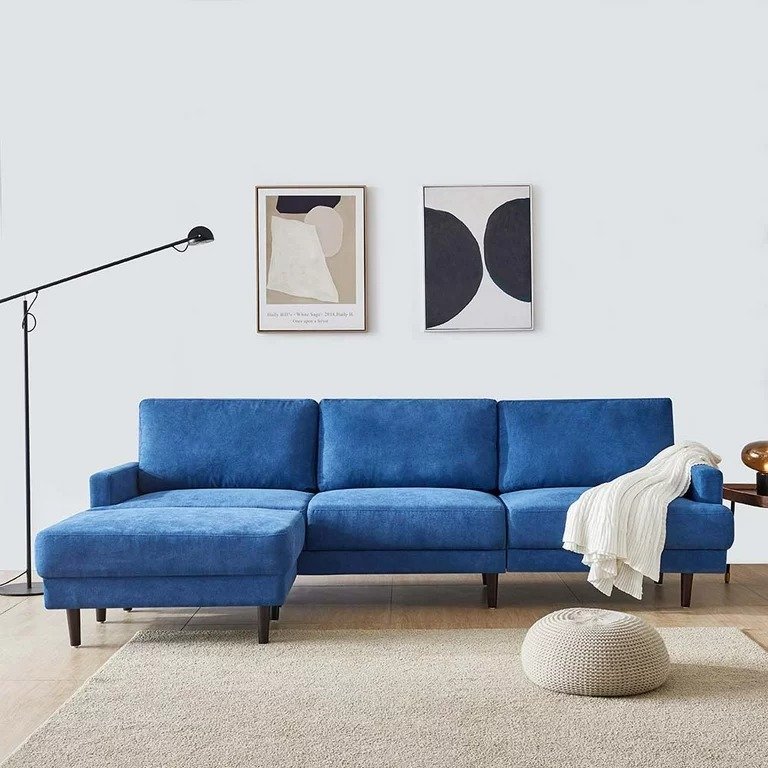 Here is another beautiful color choice for a deep seating sectional. This blue sectional looks sleek. The dark wood legs also complement the color of the sectional well.
The sectional provides enough space for your entire family. The two chaise lounges on either side are a treat for relaxing after a long day. The sectional has a clean look to it. Do not clutter it with too many throw pillows. Pick solid colors like yellow and white for the throw pillow.
17. L-Shaped Velvet Sectional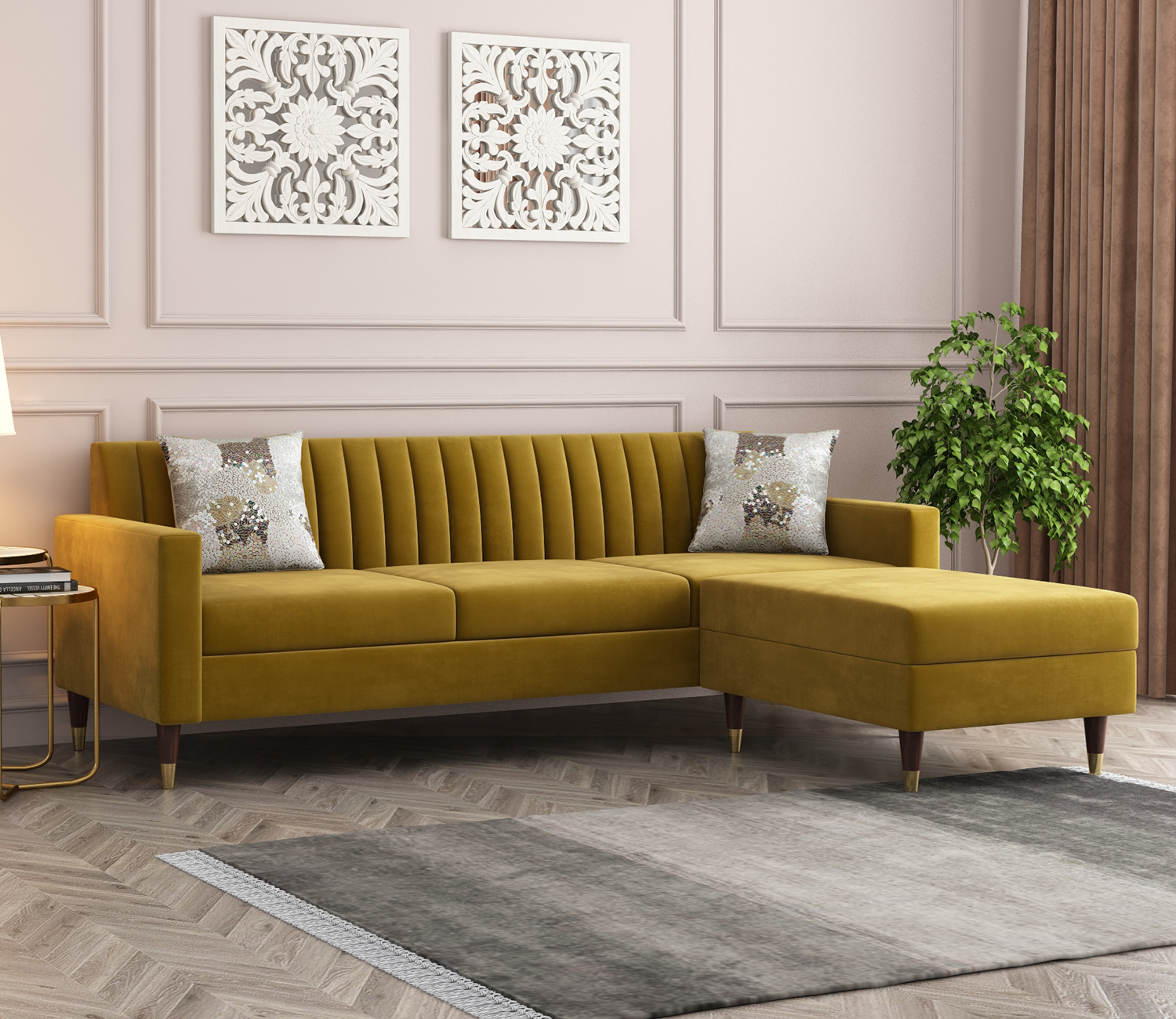 Here is another interesting choice of color for a sectional from the Albany Park collection. Mustard is such a warm color. This color again reminds me of the autumn color palate. The velvet adds a rich texture to the sectional. It is soft to the touch and gives off a nice luxurious feel.
We love the feel of velvet on the skin, it is gentle, and it doesn't tug at your skin.
Pair this sectional with a nice Persian Rug; it will go well with the luxe theme of the décor.
Enjoy your evenings on this soft sink-in comfort sectional.
18. Green Curvy Deep Seating Sectional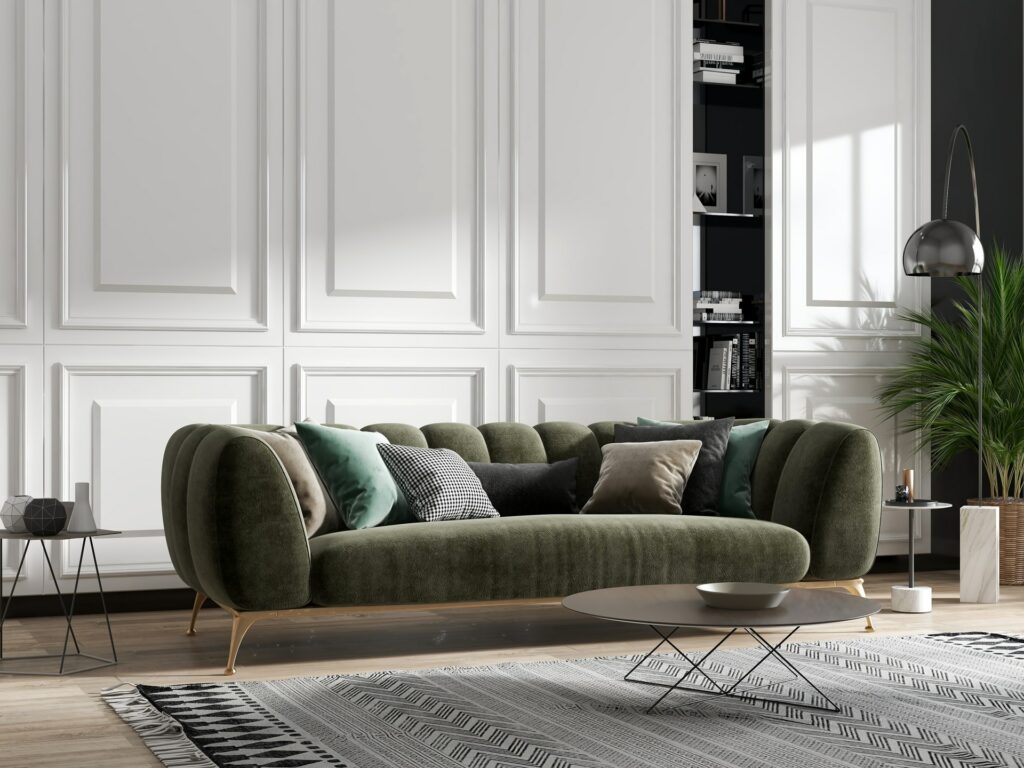 If you are looking for a design that is apart from the traditional sectional, this green sectional might be a good choice for you. Firstly what sets it apart is the color; green is gaining popularity in home décor. There are many shades of green one can choose from; this particular green is fresh and unique.
Secondly, the shape of the sectional also adds to its unique charm. The curves of the sectional add a softness to it. It also helps maximize the space. Those rounded ends are the best place to curl up and sleep.
19. Pink Deep Seating Sectional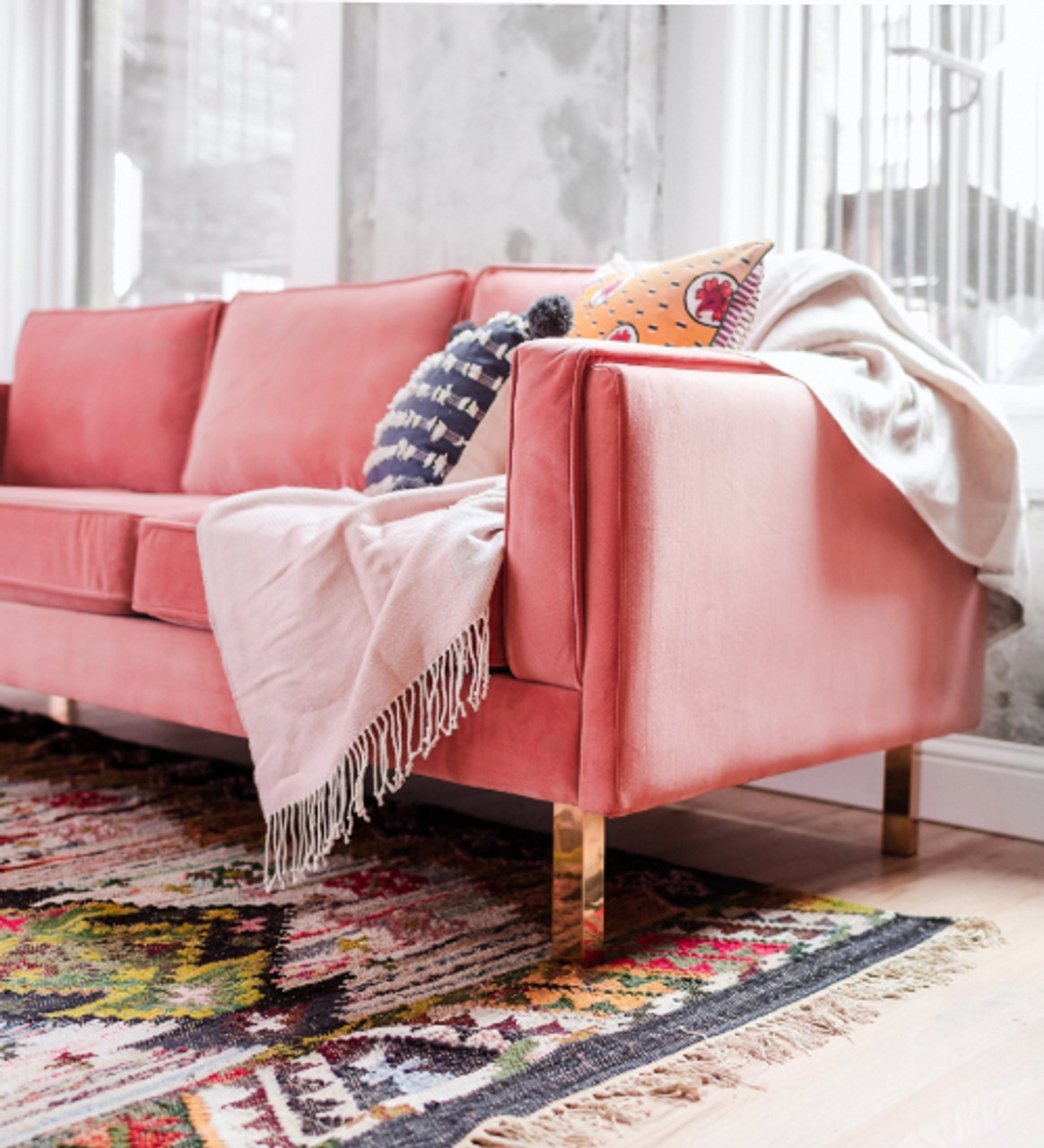 Experimenting with different colors is a good way to introduce some fun into your home. Especially if you have a clean white apartment or house, adding some color through the furniture is a good idea. Look at how gorgeous this rich Pink sectional looks.
We would always encourage you to take a chance to try different kinds of fabrics for your sectional. If you are choosing a vivid color like pink, velvet fabric will complement the color well. Add some throw pillows in complementary colors, and your sectional will be the star of your living room.
20. Velvet Green Comfortable Seating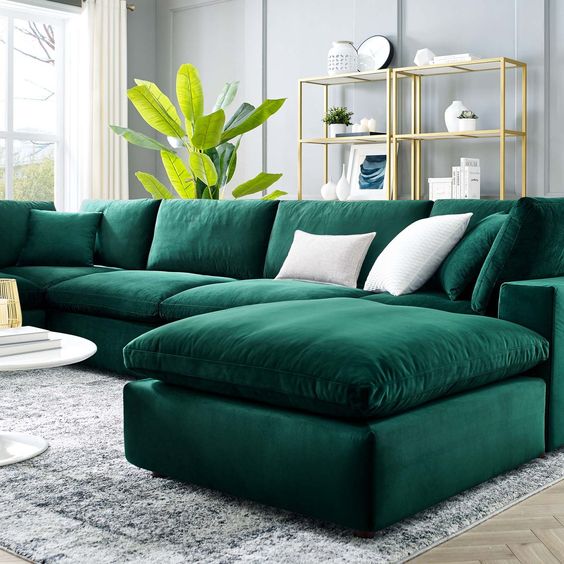 We have another recommendation for a striking color for your sectional. This velvet green sectional gives ample comfort and spacious relaxation. The sectional features nice foam padding and duck-down cushions for that enviable sink-in comfort.
The sectional has a durable wood construction and a clean-lined design. The performance velvet is stain-resistance, so if you have kids that can risk a spill, do not worry. You can enjoy the luxury comfort of this sectional.
The green color is perfect for bringing some natural cheer into the house.
21. Modern Pit Deep Seating Sectional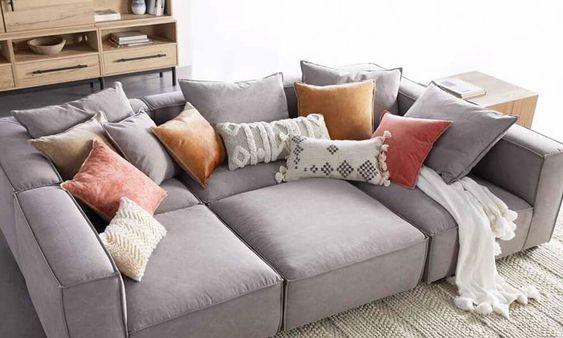 This modular six-piece pit sectional is a treat for a big family to spend time together. What we get with this pit sectional is a chic modular design. The Sectional can be arranged according to your needs. It has enough space to double up as a spacious bed for when you need extra sleeping space.
The fabric is soft, durable, and fairly stain resistant. It can withstand everyday spills and stains.
Enhance the comfort of this deep pit sectional by adding throw pillows and a blanket, and enjoy your restful evening on it.
22. Five Piece Modular Sectional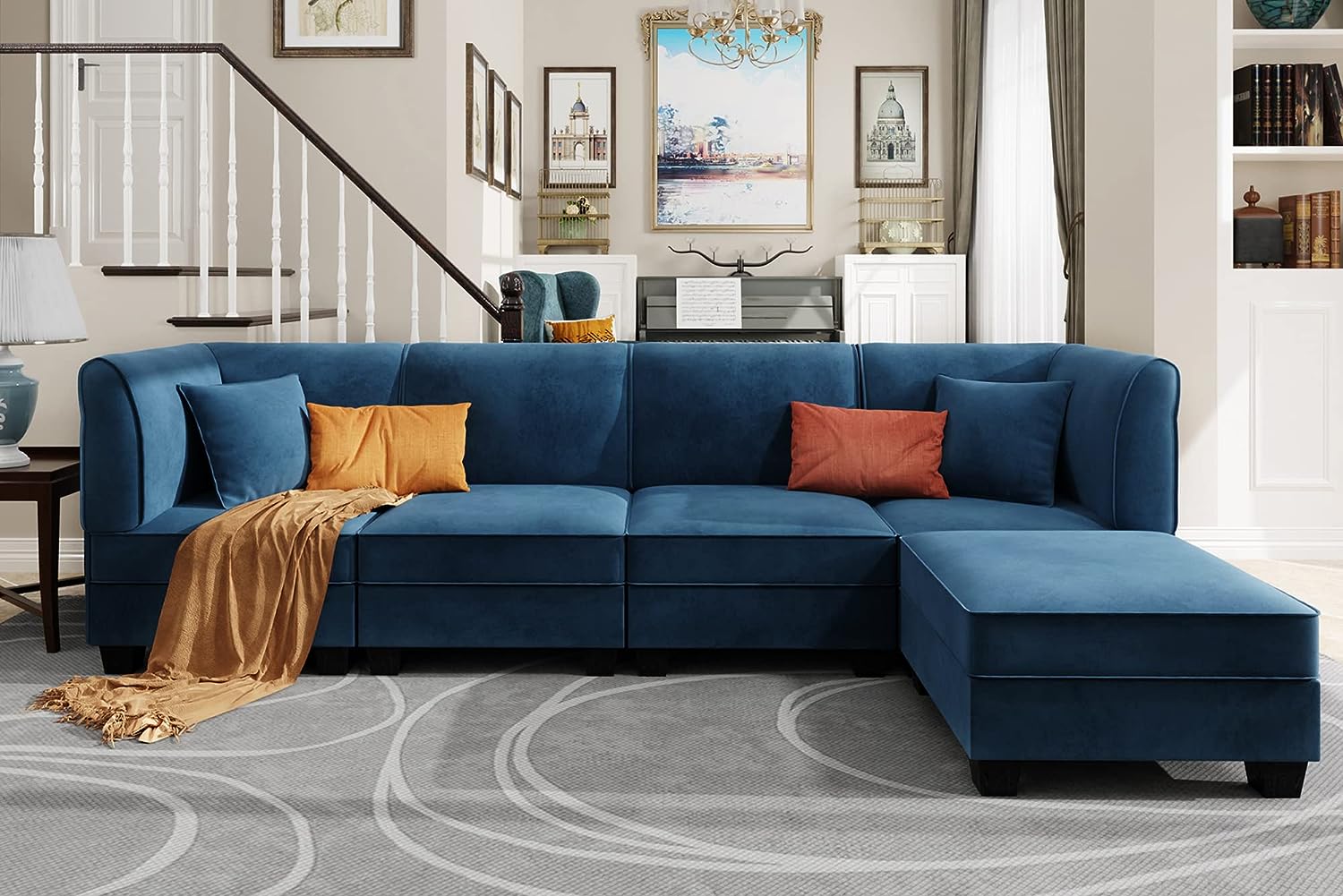 With a clean and crisp design with smooth edges, this is a perfect modern sectional for a modern home. The fabric is durable and sturdy enough for everyday wear and tear. The design itself is neat, with beautiful clean lines.
Given its modular design, you can configure it to suit your needs and whims. With a modern look to it, this comfortable sectional will add to the elegance of your living space.
We love the distinctive greenish-grey color of the sectional; it introduces a freshness to the living space.
23. Charcoal Black Deep Seating Sectional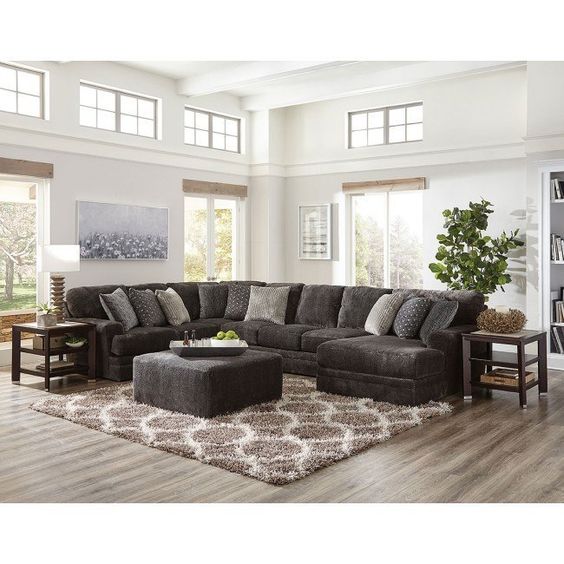 Doesn't this charcoal black color look every bit striking? This deep seating sectional provides ample space for your family and friends. Besides the seating, it also features a cool ottoman. For added comfort, the sectional features a chaise lounge on one side.
The suede fabric, along with a range of toss pillows, further enhances the comfort of this sectional.
This sectional takes care of the requirement of space and comfort while providing you with a luxurious look. One can take some notes from this when choosing your sectional.
24. Classic Beige Sectional with Down Cushions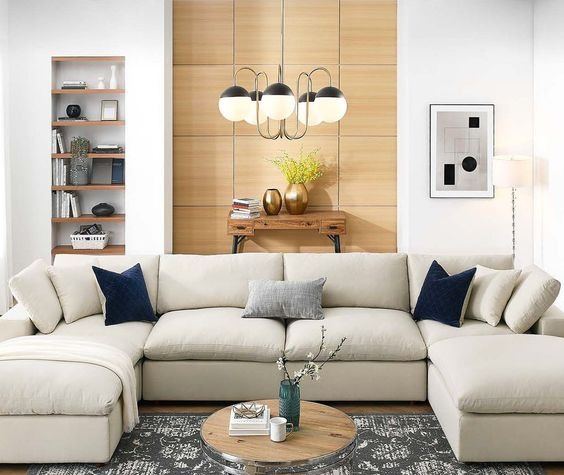 You can hardly go wrong with a classic white sectional. This U-shaped sectional features two chaise lounge chairs on either side, so you can relax while stretching your legs after a long day.
The cushions are down cushions, which help create a plush seat for that sink in comfort. Besides that, the sectional features solid wood construction and durable yet soft linen and polyester fabric.
Add some toss pillows on the sectional, and coordinate the colors. Use whites and blues to give a modern chic look to it and sink into the comfort of this sofa.
25. Light Grey Chenille Sectional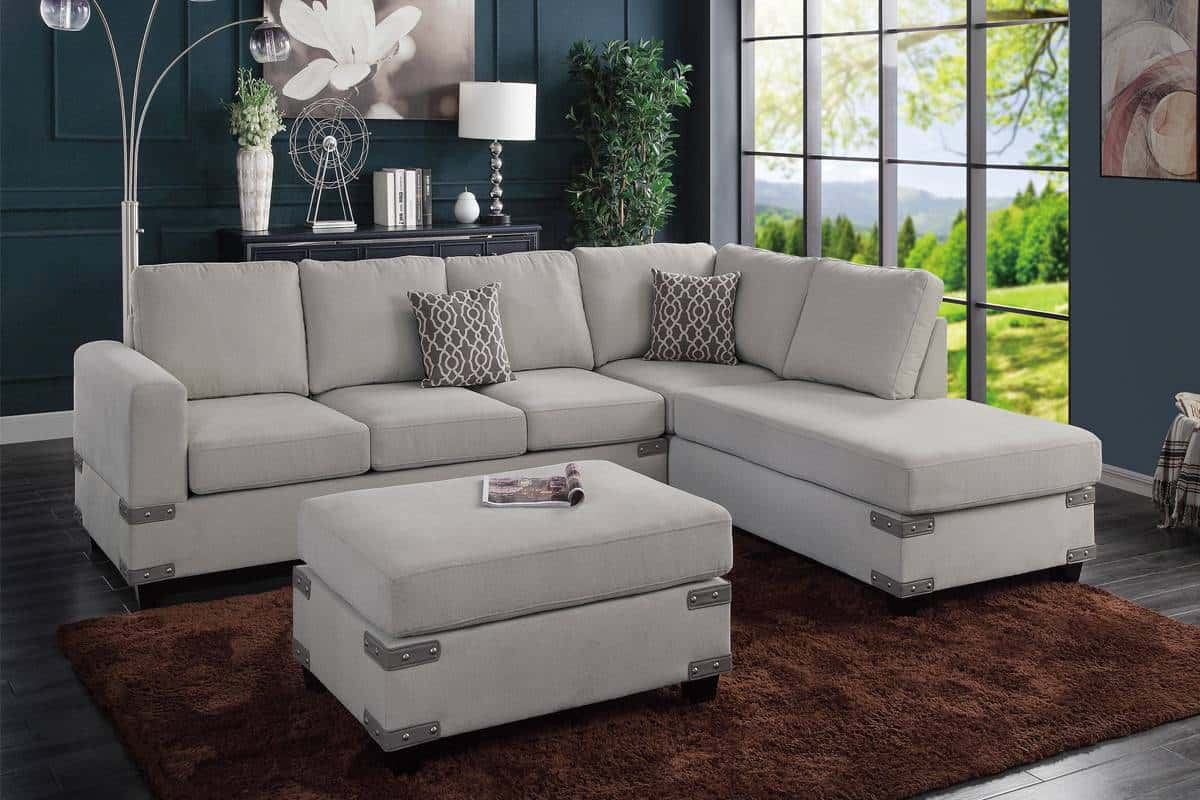 We have explored a lot of grey sectionals until now. This one features a clean-lined design and comes with a chaise lounge at one end.
The sofa's construction is neat and provides sufficient seating space for a big family. The light grey color of the sofa goes well with any modern home décor. This sectional sofa oozes a relaxed sophistication.
The Chenille fabric is soft and durable and gives your sofa a plush texture.
Place some throw pillows on the couch neatly to suit your comfort. Follow the color scheme for the toss pillows; use whites, greys, and blacks. A sofa like this belongs to your living area.
26. Teal Modular Deep Seating Sectional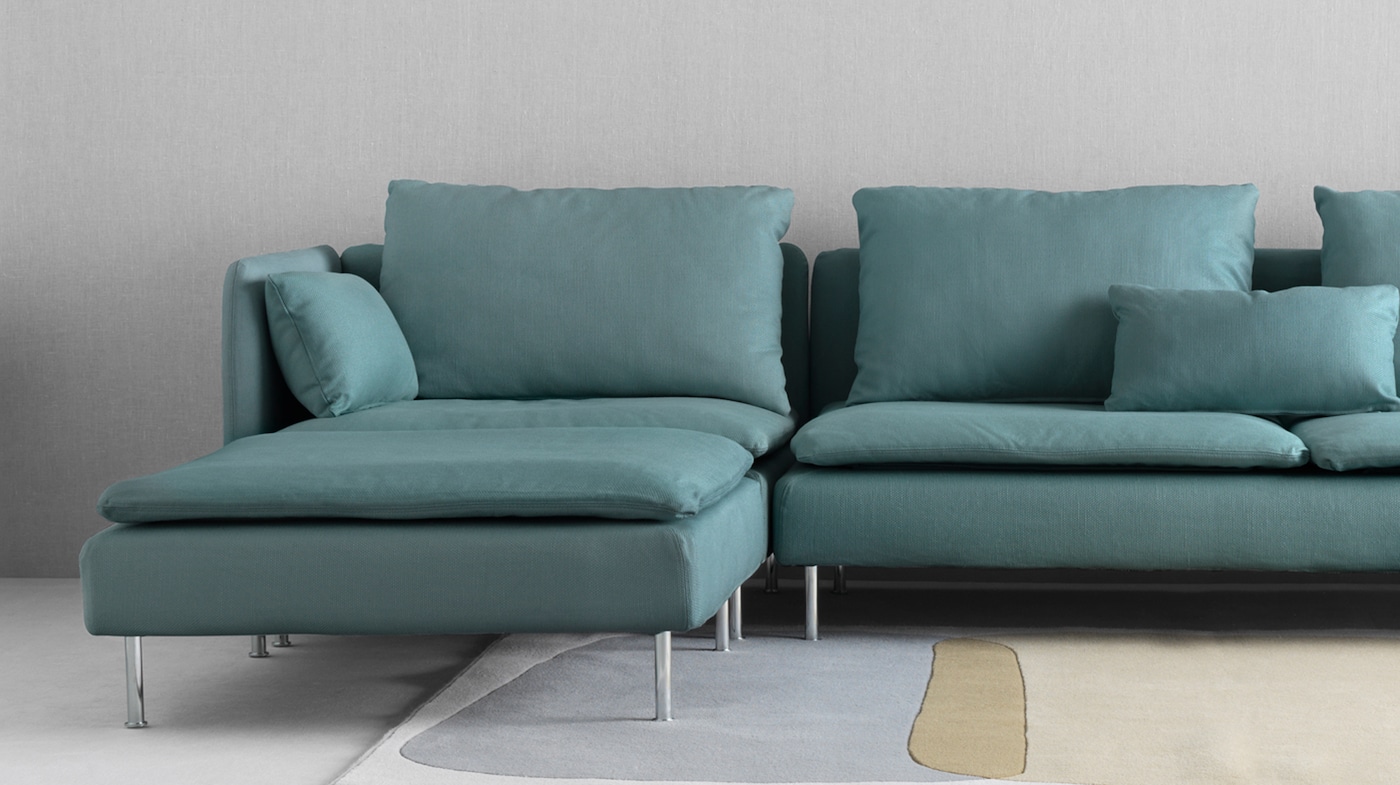 This Teal Modular Sectional by Floyd offers you a unique modern design and comes in this beautiful shade of blue. This sectional is certainly a statement piece of furniture for your living room.
Another advantage of this sectional is that it is fully modular so that you can reconfigure it according to your home and your needs. The niche design offers a chaise lounge and sufficient seating space.
When choosing your sectional, take some notes from the above and choose smartly.
Conclusion
Your living room is a common space that, when designed well, can encourage quality time with family. Choosing a good deep-seating sectional sofa that accommodates your family and provides comfort is pivotal to designing your living area.
A good sectional has enough space, i.e., it provides deep seating so you can sit comfortably on it with your leg folded. If you have kids, you must go for more durable and stain-resistant fabrics like Chenille or faux leather. Fabrics like velvet give that luxurious feel, and linen can be used for a chic modern look.
You can experiment with bold colors for the sectional and add some texture with the throw pillows for a bohemian vibe.
We hope you have a clear idea of what kind of sectional you need, so, Get Shopping!