Are you looking for a cozy outdoor daybed for your patio or backyard? An outdoor daybed is a multipurpose piece of furniture that transitions between a convenient sleeping space and a comfortable seating area. You can lie down on your outdoor daybed and hear the birds chirp, enjoy the beautiful surroundings and feel the cool morning breeze.
If you love reading a book in the evening or taking naps during the day while appreciating nature's beauty, an outdoor daybed can serve as your personal relaxation oasis.
You can also dress up your day bed by layering cushions and pillows in various textures and sizes to add visual interest. But daybeds come in various styles and designs, so you may be facing difficulty in choosing the one ideal for your needs.
We have curated a list of the best outdoor daybeds that will transform your outdoor space into a sanctuary of relaxation.
Lounge – Worthy Outdoor Daybeds Ideas
Got an unused space in your patio or a sunny corner in your backyard? Add a daybed to your outdoor space and turn your patio or backyard into a mini paradise. Let's take a look at 26 daybeds perfect for those who like to spend time outdoors.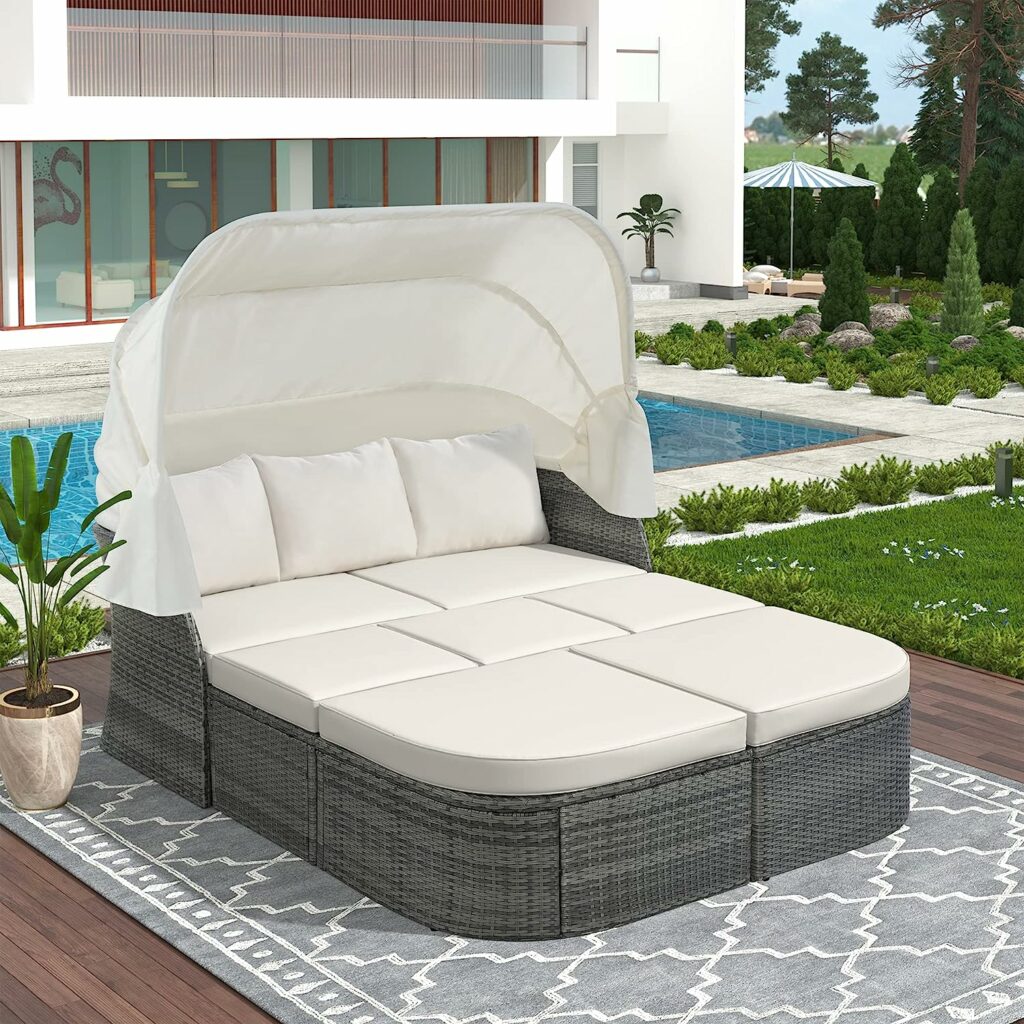 A Tensun outdoor daybed set can be a wonderful addition to any outdoor space. It is made of PE rattan wicker that can withstand all types of external ailments, such as wind and rain. It can be separated into five separate Ottomans and one double sofa, and the middle part serves as a lift coffee table and footstool.
Combine the seats to relax and unwind in the afternoon, or separate the seats to chat with friends and family. The daybed comes with a canopy so you can lounge in the sun without worrying about the harsh sun rays. You can fold and tie the canopy with a rope when it is not needed.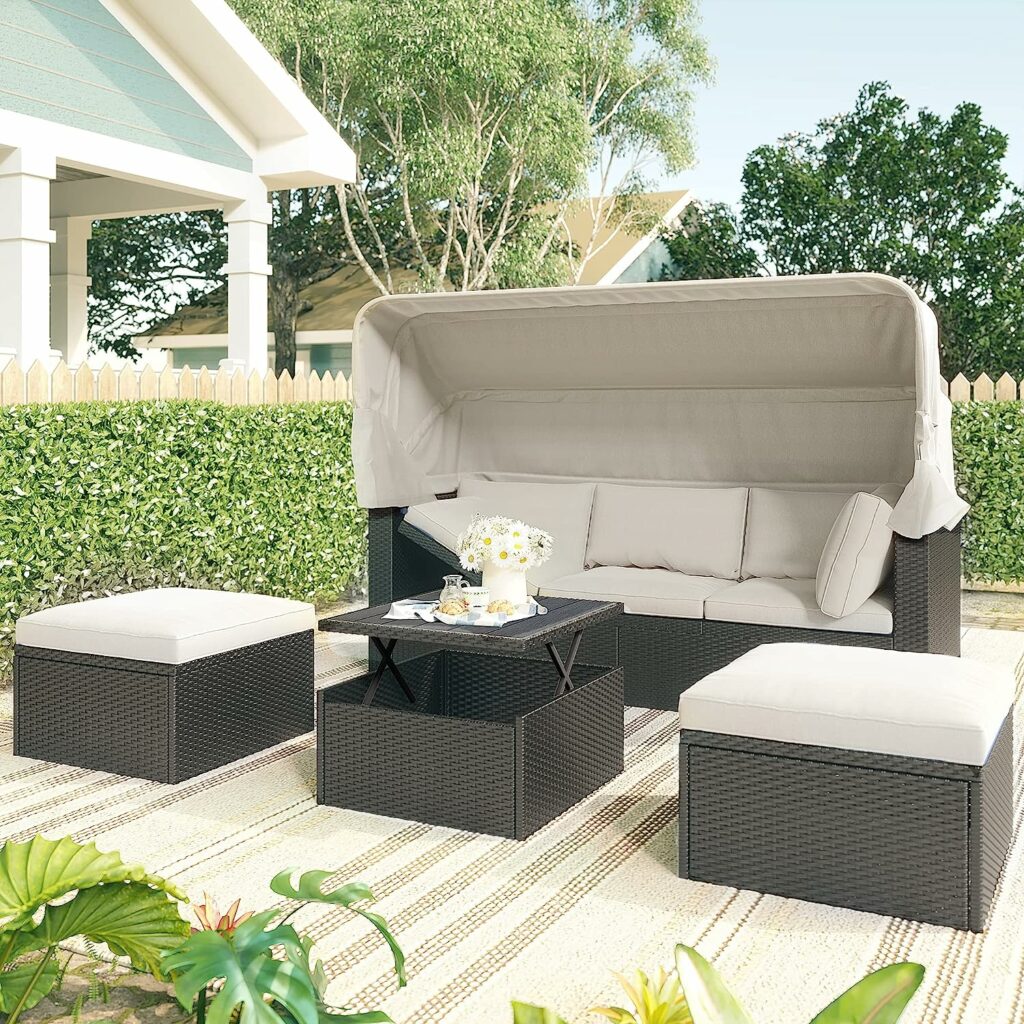 GLORHOME Outdoor Rattan Daybed is one of the best pieces of furniture that you can add to your outdoor space. You can either use it separately as a sofa or together as a daybed, providing you with several comfortable ways to lounge. If you separate every single part, you'll be able to create seating for up to six people.
It also comes with a canopy that offers you shade during the hottest part of the day. On the middle back of the sofa, you'll find a movable board that can be used to put your cell phone or books. The ottoman has a lifting top that can be used as a table to enjoy your favorite beverages and afternoon tea.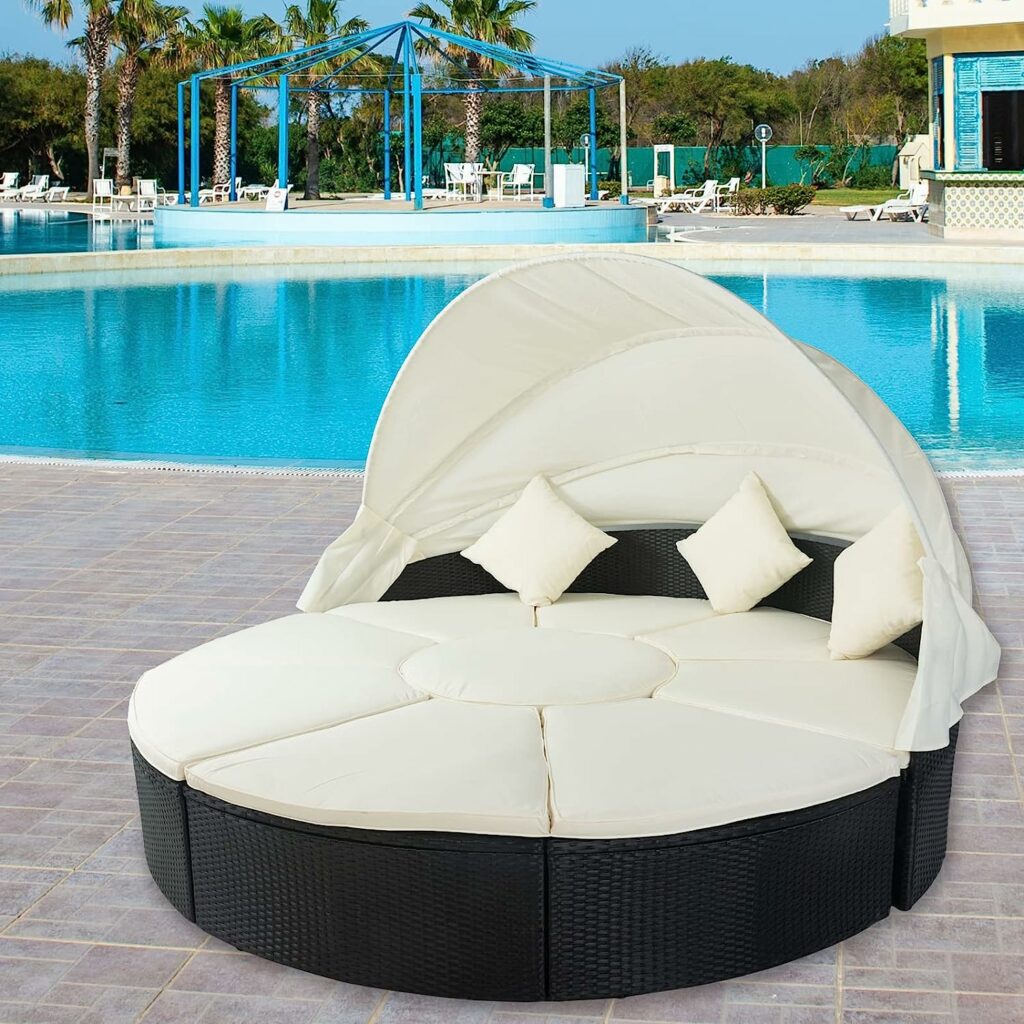 Make your outdoor space functional with the help of Zevemomo Canopy Outdoor Rattan Daybed. It is covered in tightly woven rattan and made of powder-coated galvanized steel, making it highly durable. This two-in-one patio furniture can be used as a daybed and a conversation set. It comes with a canopy to block rain and sunlight.
It is multi-location compatible and can be placed on your patio, poolside, garden, and terrace. The detachable cover and removable cushion make the daybed easy to clean.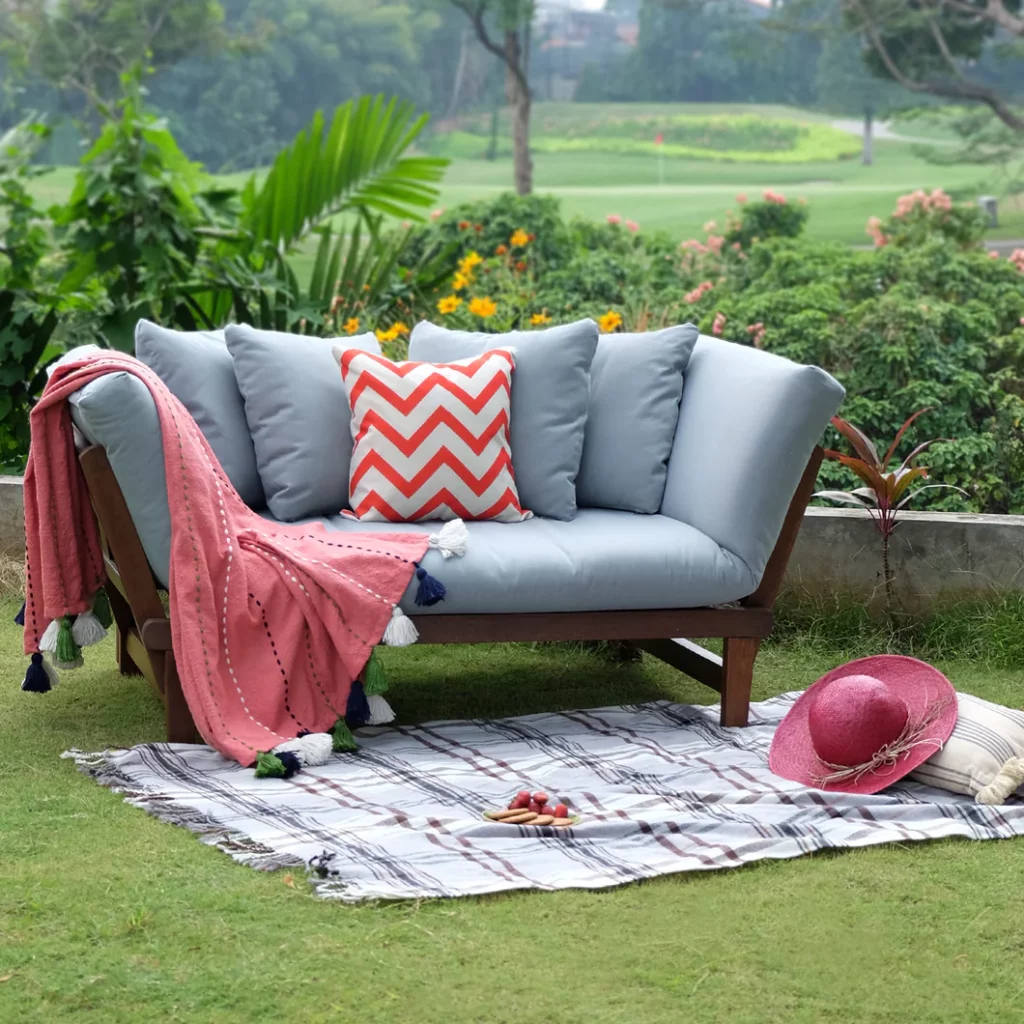 If you like lounging in outdoors, Outdoor Convertible Sofa Daybed can be your perfect pick. This versatile outdoor daybed cum sofa is very comfortable and doesn't take up a lot of space.
You can prop the sides down to use it as a bed and put the sides up to use as a sofa. It is made of FSC-certified solid wood and can support up to 550 lbs. Its dark brown frame and blue pillow and cushions will add beautiful decor to your outdoor space.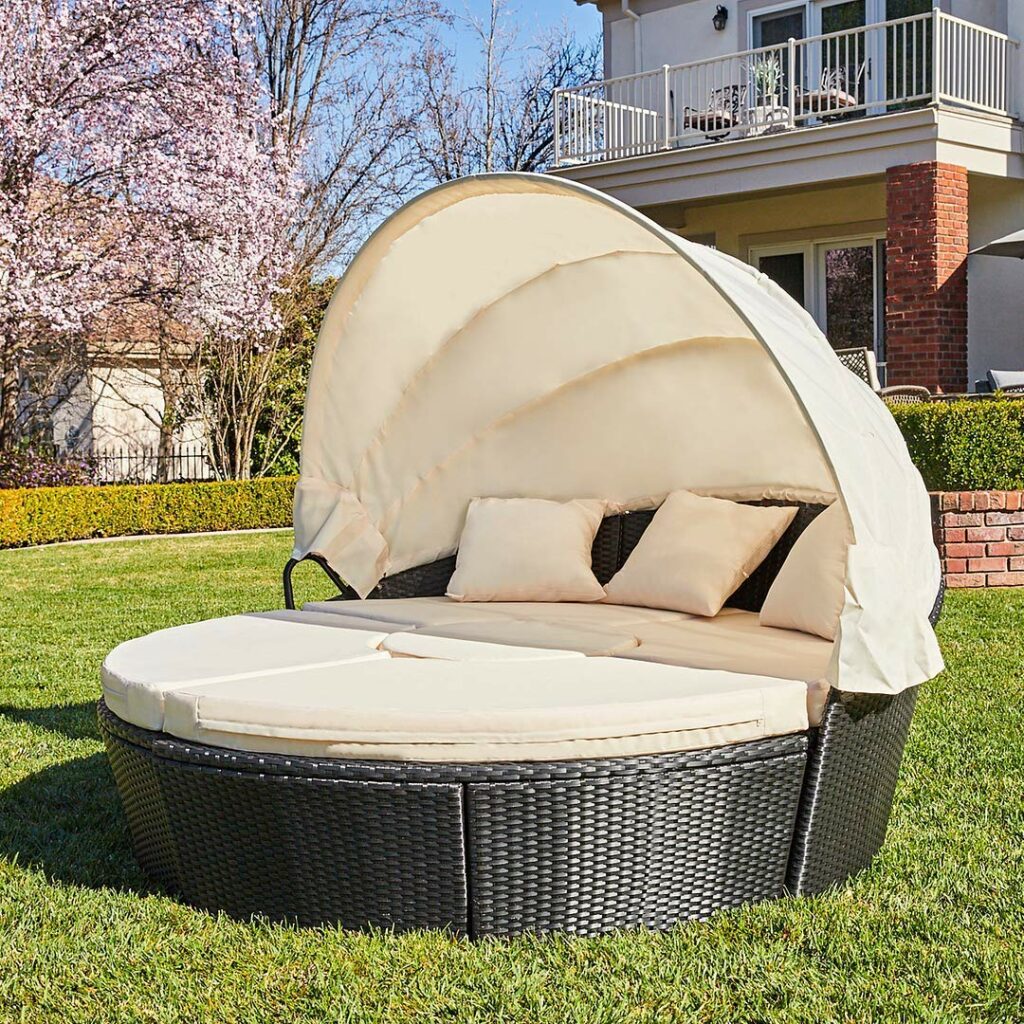 Allateef 87.8" Metal Outdoor Patio Daybed is spacious, comfortable, and matches your personal style. It comes with a complementing canopy and an ottoman that will keep you cool while relaxing outdoors. The frame of this daybed has been crafted using aluminum which is very sturdy. You can buy it in beige or gray color as per your personal preference.
You'll get one daybed, three pillows, and one ottoman in this package. The cushions are water-resistant and can be removed for easy cleaning.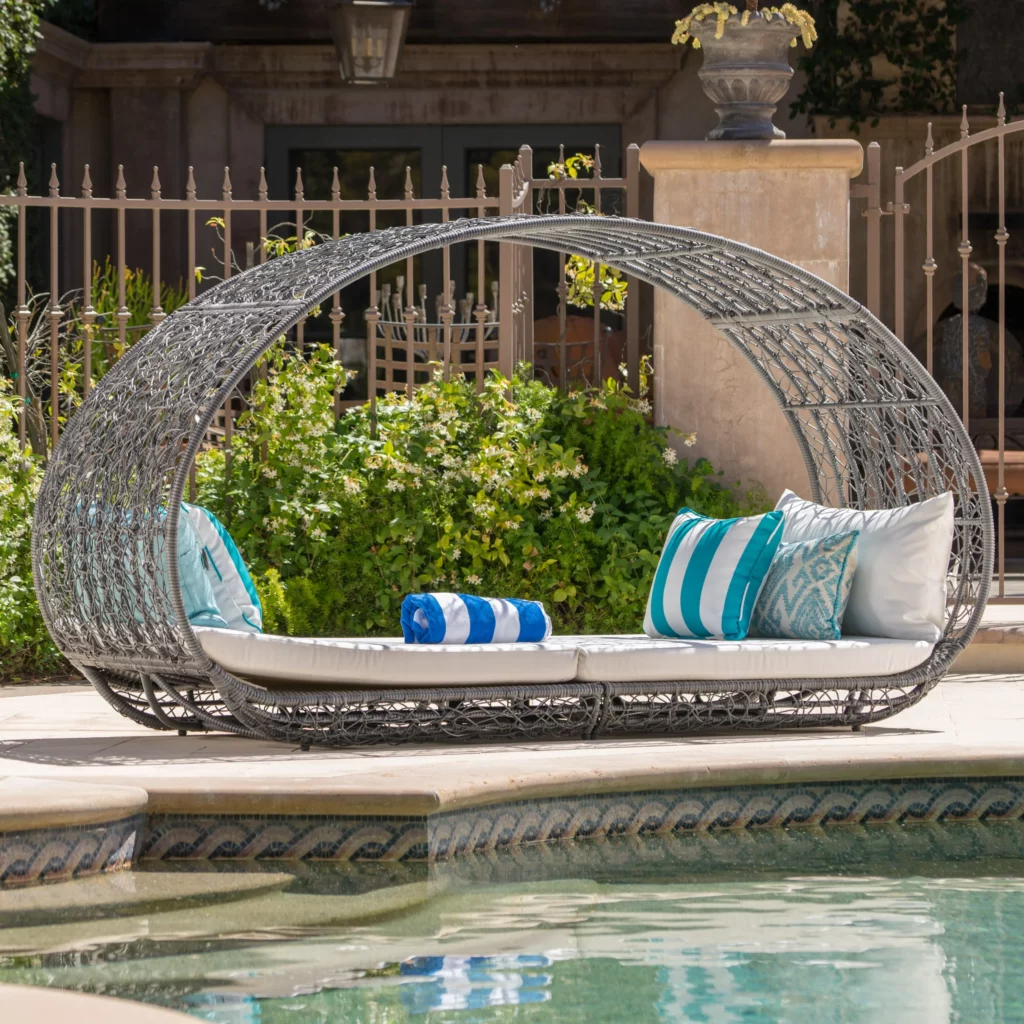 Based on a contemporary design style, the Gatun 66" Wicker Outdoor Patio Daybed can enhance your outdoor space. The frame has been constructed using rattan and is water, rust, and UV resistant. It comes with a naturally shaded canopy that effectively blocks the sun's rays. The round shape of the daybed makes it a stand-out piece in your patio or garden. The cushions are a bit thin, so that you can add extra padding for more support and comfort. Assembly instructions are easy, and it will take a few hours to put the daybed together from start to finish.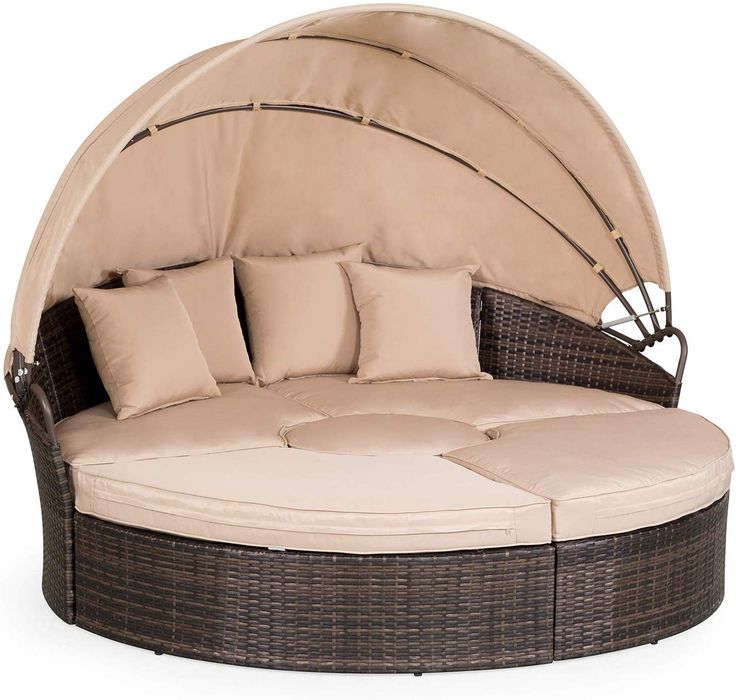 If you're looking for the perfect piece of furniture for outdoor rejuvenation, you can't go wrong with the Onika 61" Wicker Outdoor Patio Daybed. You can even configure it as per your requirement and space availability. Separate the pieces to make it work like a sofa for up to four, and push the half-round ottoman against the loveseat to create a double-sized sunbed.
You can also adjust the collapsible canopy top fully or partly as per your need. It comes with four accent pillows and a foam seat cushion covered in stain-resistant polyester.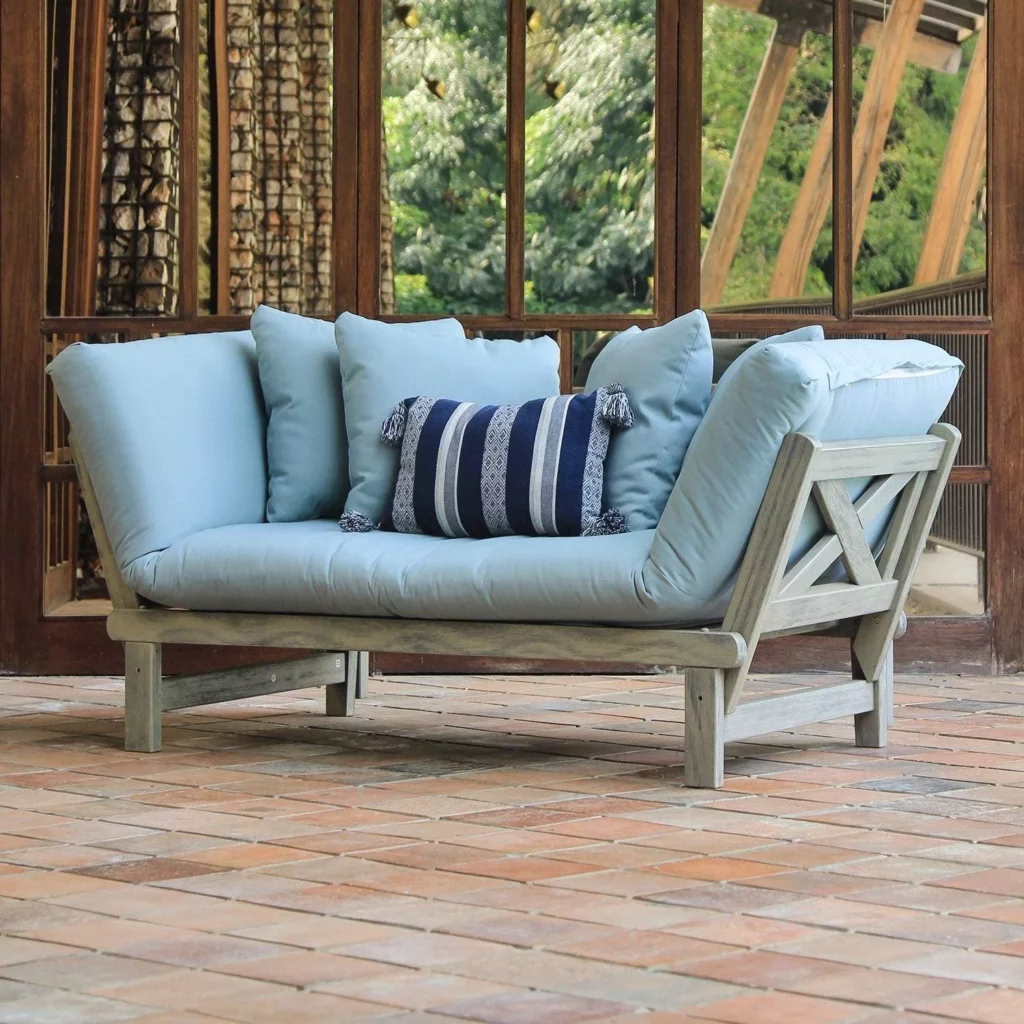 Roni 65.5" Acacia Outdoor Patio Daybed is ideal for any outdoor space. It has been constructed from water-resistant fabric and sustainable acacia wood and would last for years. This patio daybed comes with seven cushions and fits in even small spaces. It is very lightweight, and you can move it in any corner of your outdoor space as and when required.
The rectangular shape of the daybed makes it perfect for lounging on a covered patio or by the pool. The cushion cover can be easily removed and is machine washable.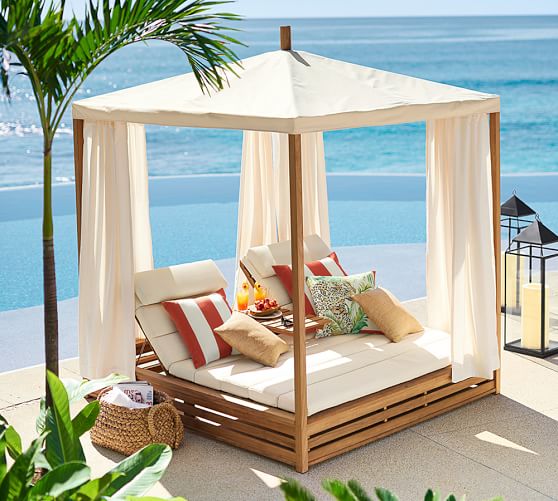 Uplift the ambiance of your outdoor space and take your lounging experience to the next level with the Canditree Outdoor Daybed Poly Rattan. This double-day bed is made of top-notch quality PE rattan, making it suitable for outdoor use. It features a removable tea table that can be used to keep your drinks and food. The canopy can be adjusted as per your needs making it easy to block out harmful ultraviolet rays. The seat cushions are removable and easy to use.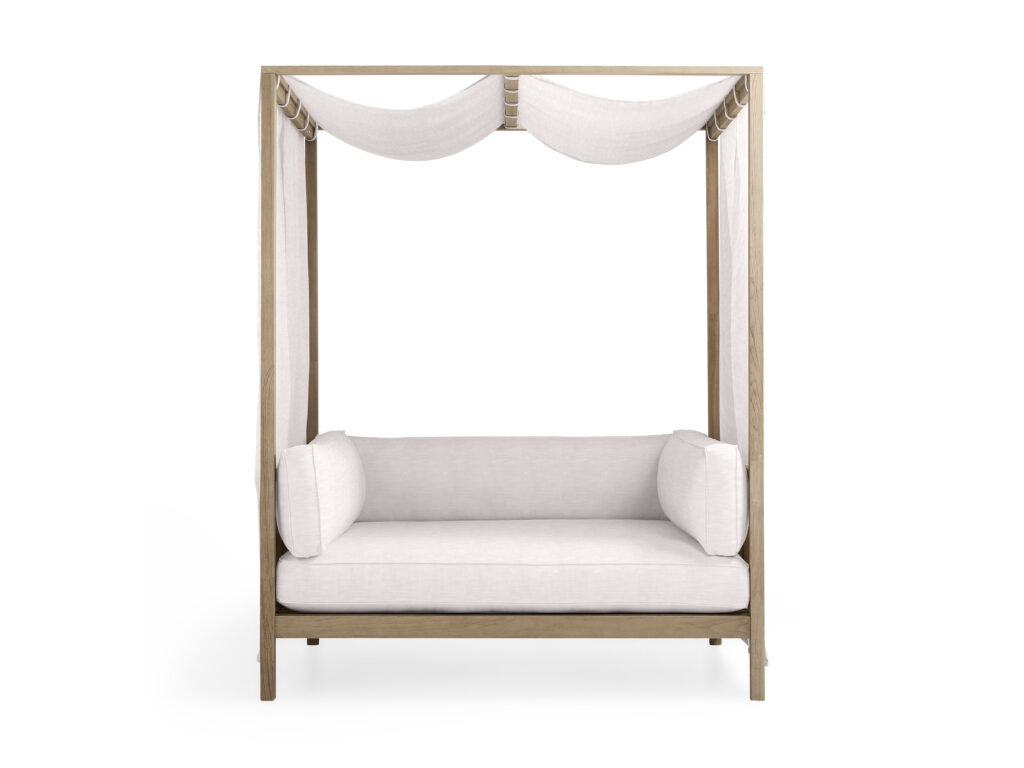 Hamptons Outdoor Daybed is all-weather furniture inspired by English, Classic gardens. It is made in Mexico and is available in tons of different prints and shades. The hand-finished frames give the daybed a gorgeous and elegant look. The unique thing about this daybed is that it comes with an elastic support system to provide you with optimum comfort.
One of the best features of this daybed is that if you leave it out in the rain, the cushions won't hold a lot of water. It is also resistant to warping due to adverse temperatures and weather. Its natural beauty will enliven your patio, garden, or poolside.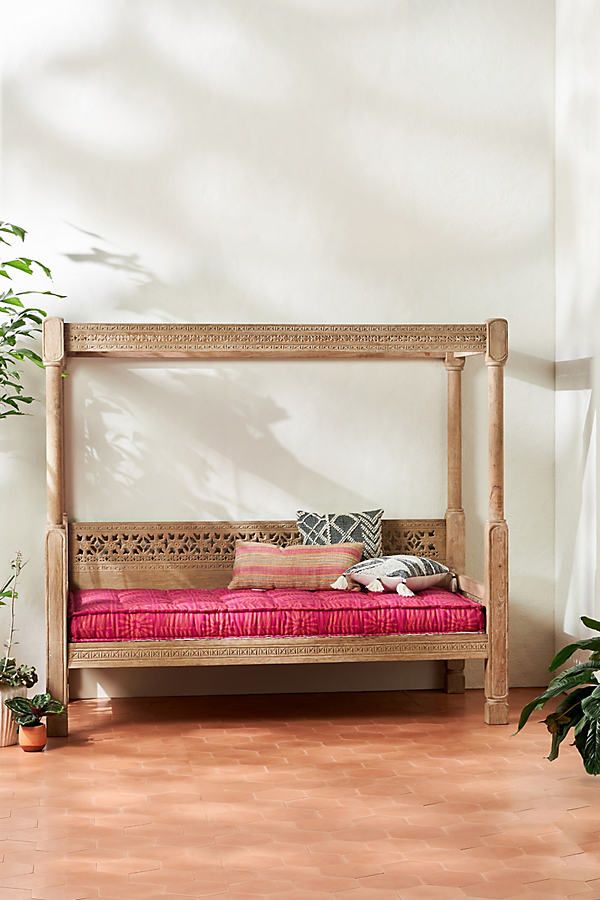 For those on the lookout for a stunning wooden outdoor daybed, Carved Ezana Indoor/Outdoor Canopy Daybed can be a perfect choice. Its sturdy frame and gorgeous carved detailing will make it the centerpiece of your outdoor oasis. It has been crafted using acacia wood and is ideal for both outdoor and indoor use.
It can fit a twin-sized mattress, and you can accessorize it with coastal, boho, or modern decorative throw pillows. It also comes with a wooden slat support system so that it remains balanced even on uneven surfaces.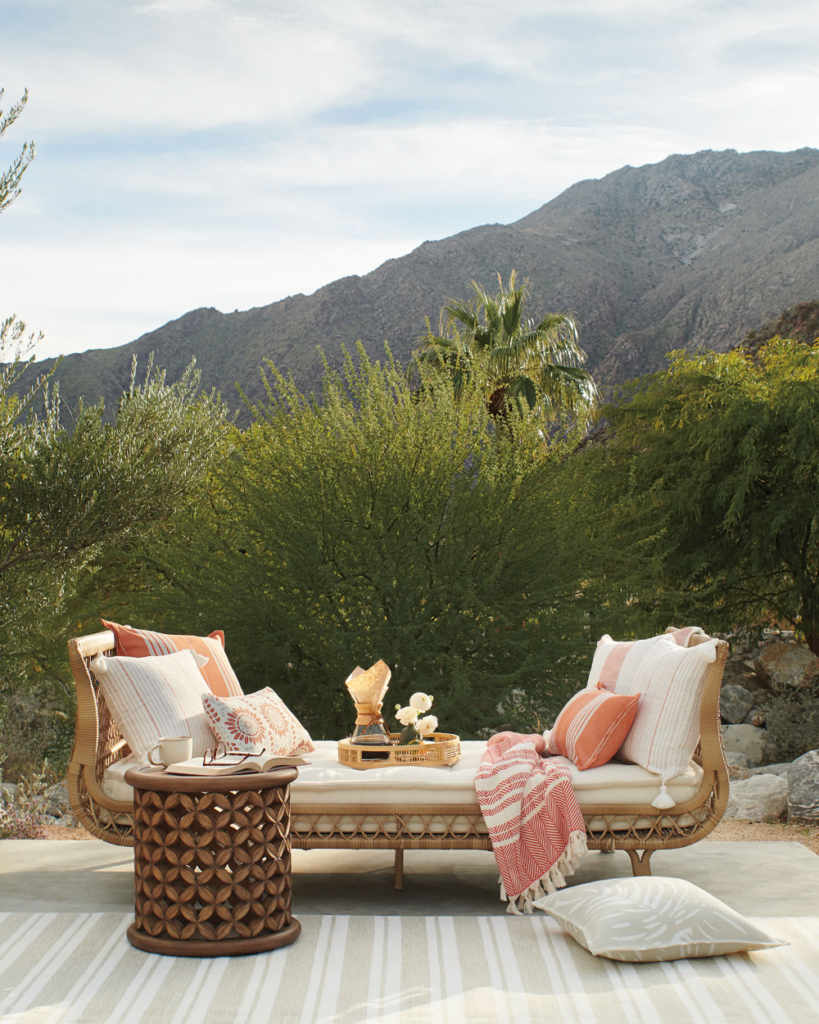 If you're looking for an outdoor daybed that can withstand moisture, mildew, and stains, you can't go wrong with the Capistrano Daybed – Light Dune. This gorgeous rattan outdoor daybed is durable, eco-friendly, and can warm up any space. It comes in sixteen plus fabrics giving you the freedom to give your patio or garden the desired look and feel.
The seating is very comfortable, making it fun to take a short nap or read your favorite book while enjoying the outdoors. But the assembly of this daybed can be a bit challenging, so if you're a novice, you may need professional help.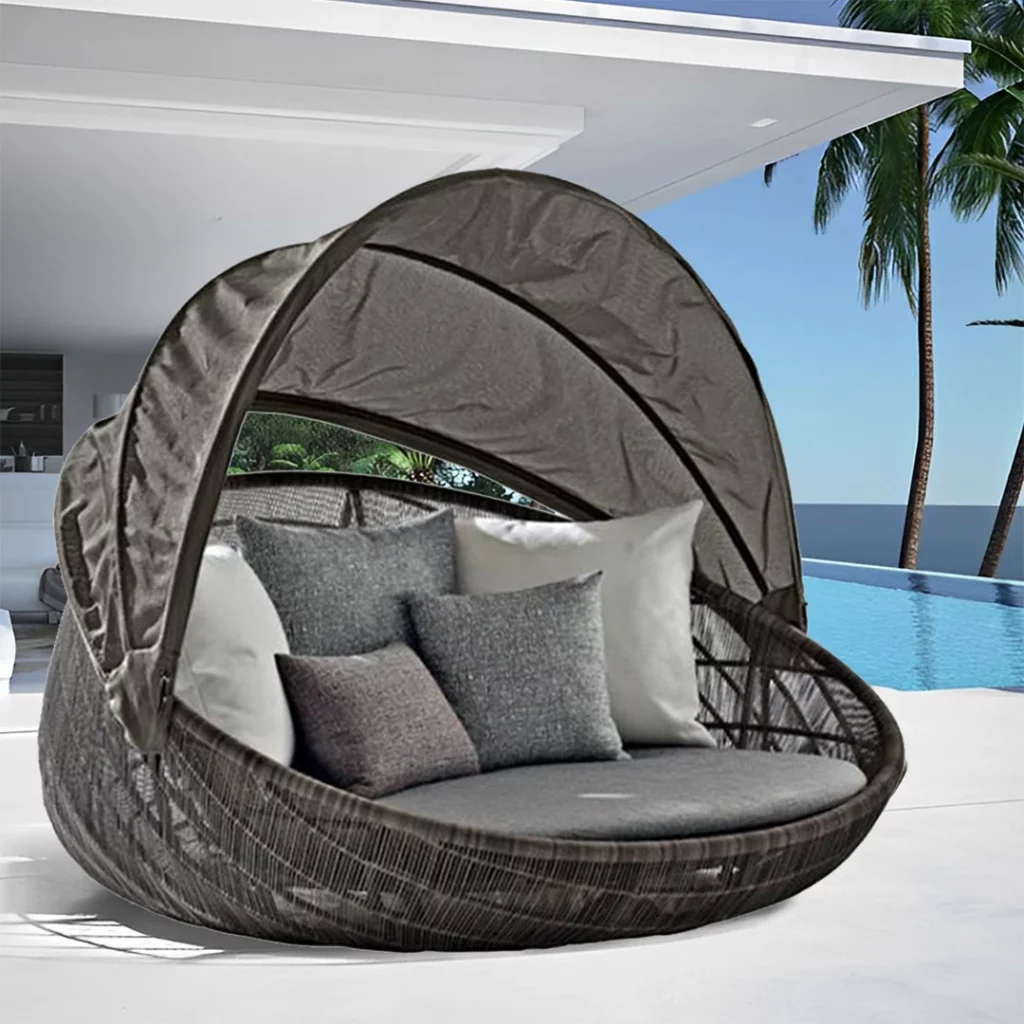 Lavina 91.25" Wicker Outdoor Patio Daybed works well both as a daybed and sofa. The unique thing about this daybed is the trellis-like structure that distinguishes it from other daybeds. It has been made with wicker rattan accents and from an aluminum frame and is designed to withstand rainstorms and harsh sunlight. It comes with white-colored water-resistant cushions that are very soft. You can cover the trellis-like structure of the daybed with sheer canopies or string lights for a festive touch.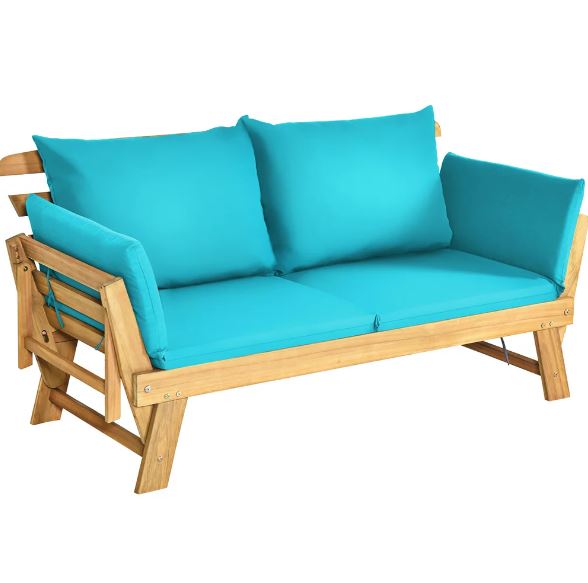 Are you looking for a rustic daybed that can spruce up the appearance of your patio in a few seconds? 51.18" Acacia Outdoor Patio Daybed can be your ideal choice! It has been constructed from sturdy acacia wood and comes with two adjustable chaise lounges. It is finished with a sturdy box frame where you can hang curtains and relax outdoors in complete privacy.
The daybed is finished with a natural oil coat for enhanced shine and appearance. You can buy it in cream, dark gray and white color.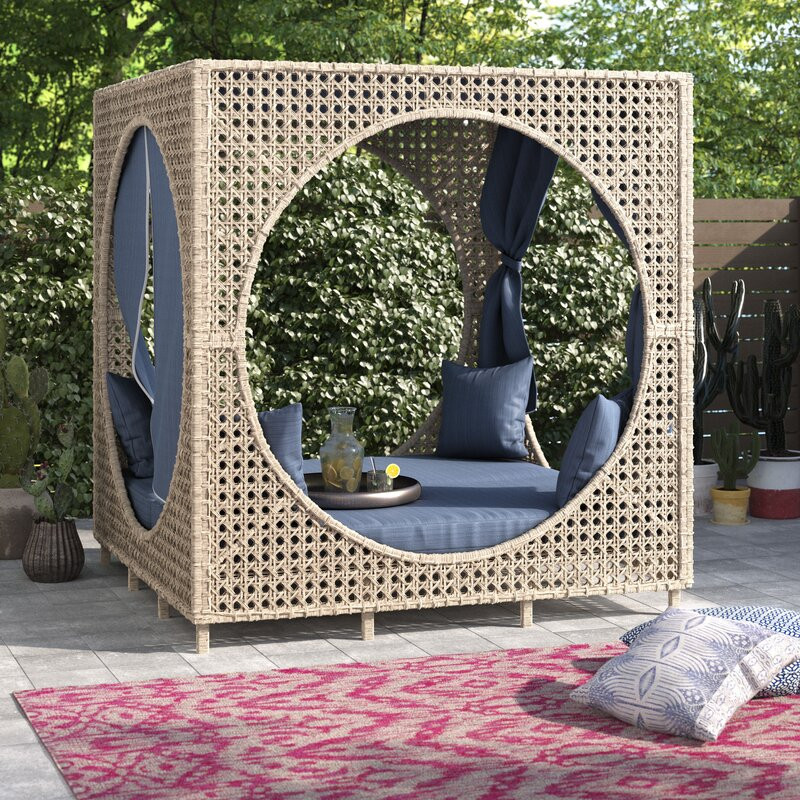 If style and functionality are in your mind, you can never go wrong with the Bousquet 72" Wicker Outdoor Patio Daybed. Its giant cube-shaped silhouette makes it an appealing choice for any outdoor space. It has been constructed using resin wicker rattan and is more durable than natural materials.
The four round openings have been lined with curtains to help you create your own private space. It comes with four toss pillows and two large seat cushions made of water-resistant polyester.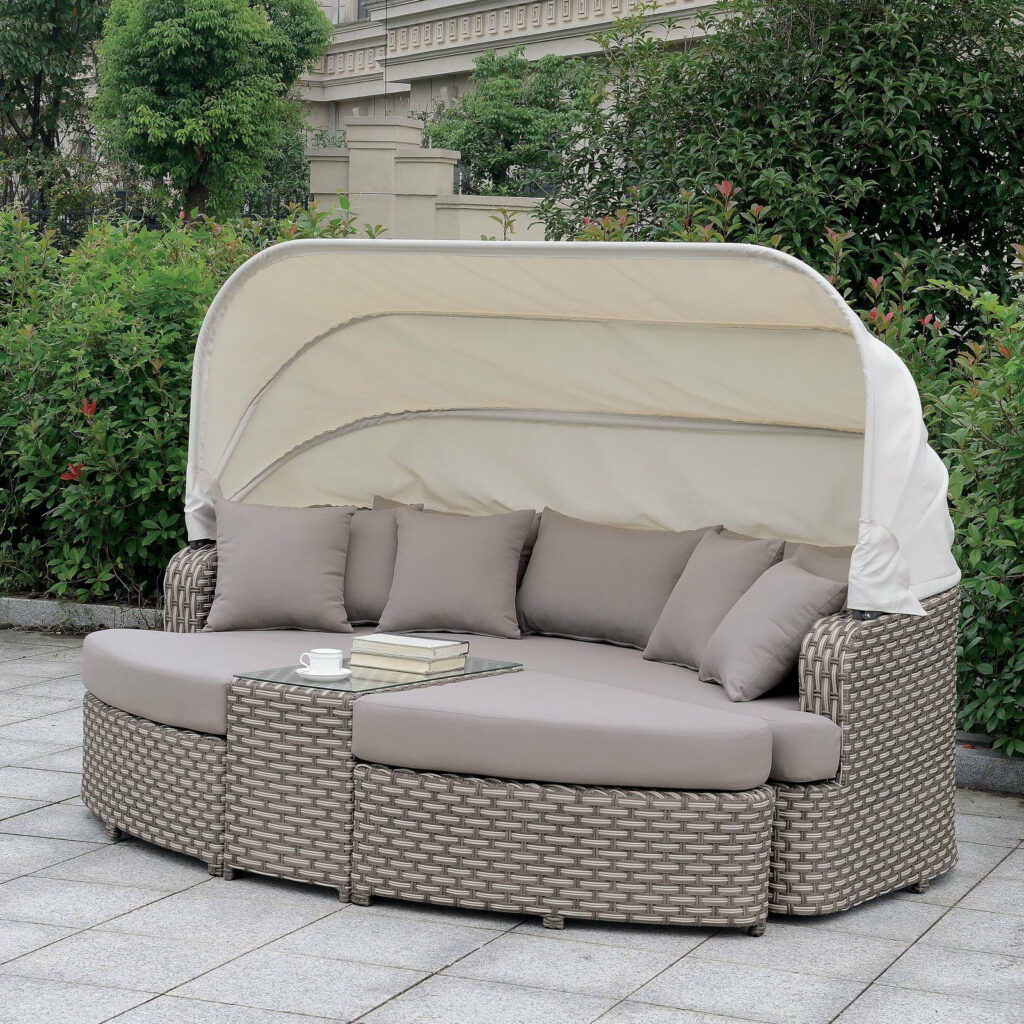 Bring the beauty of the coast to your poolside, patio, or garden by investing in the Atia 60" Wicker Outdoor Patio Daybed. This outdoor daybed is oval in shape and has an iron inner frame. The rattan/wicker has been wrapped around the frame to form petal-like shapes and geometric accents. It comes with three toss pillows that offer ample support to your back while you lie down and relax. The seat is padded with a 60"-long polyester cushion, and the frame is water-resistant. It can provide seating for up to two people at one time.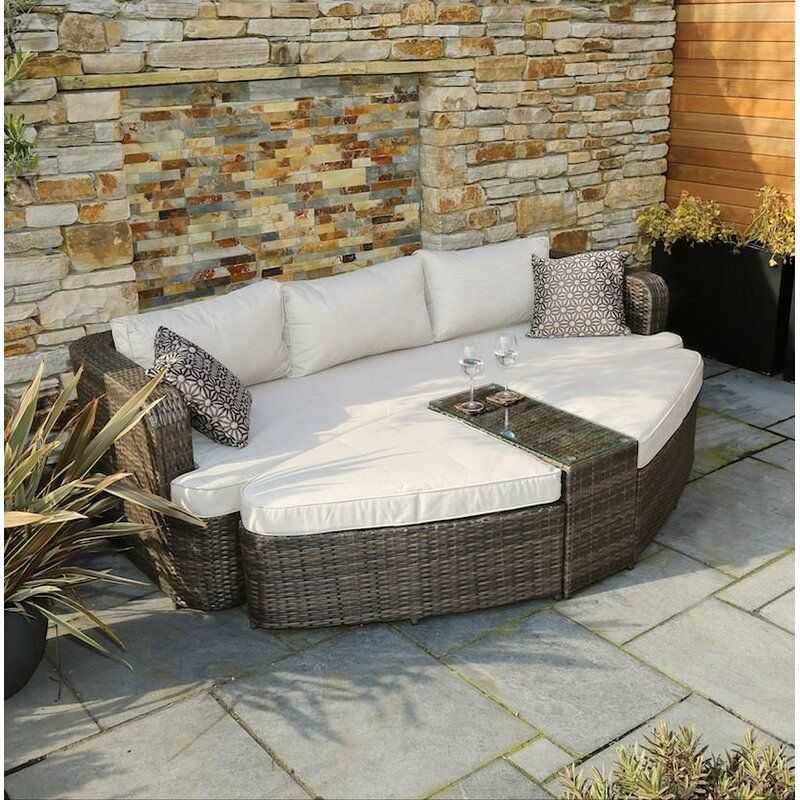 Create a luxurious lounging spot where you'll feel like spending hours with the help of Anazco 88.98" Wicker Outdoor Patio Daybed. This daybed exudes a classic porch furniture look and is perfect for everyday use. It includes one end table, two ottomans, and one sofa that can be easily put together.
Each piece is wrapped in wicker rattan and crafted from aluminum. All the parts are movable, allowing you to position the footstool, table, and sofa as you like. The daybed is rust and water-resistant and is available in gray and white colors.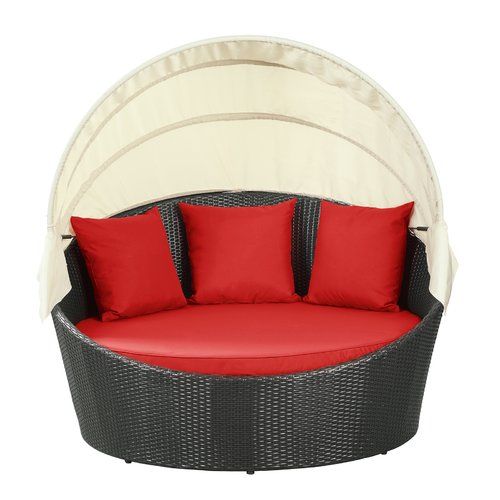 Do you want to give a beachy vibe to your big backyard or small patio? If yes, Brentwood 63" Wicker Outdoor Patio Daybed can be the right choice! It has a powder-coated aluminum frame and a removable white canopy.
Due to its compact design, it can be placed in all kinds of outdoor spaces. It comes with foam-filled cushions with polyester covers that make the day bed more comfortable. An elegant design and clean lines enhance the modern look of this outdoor daybed.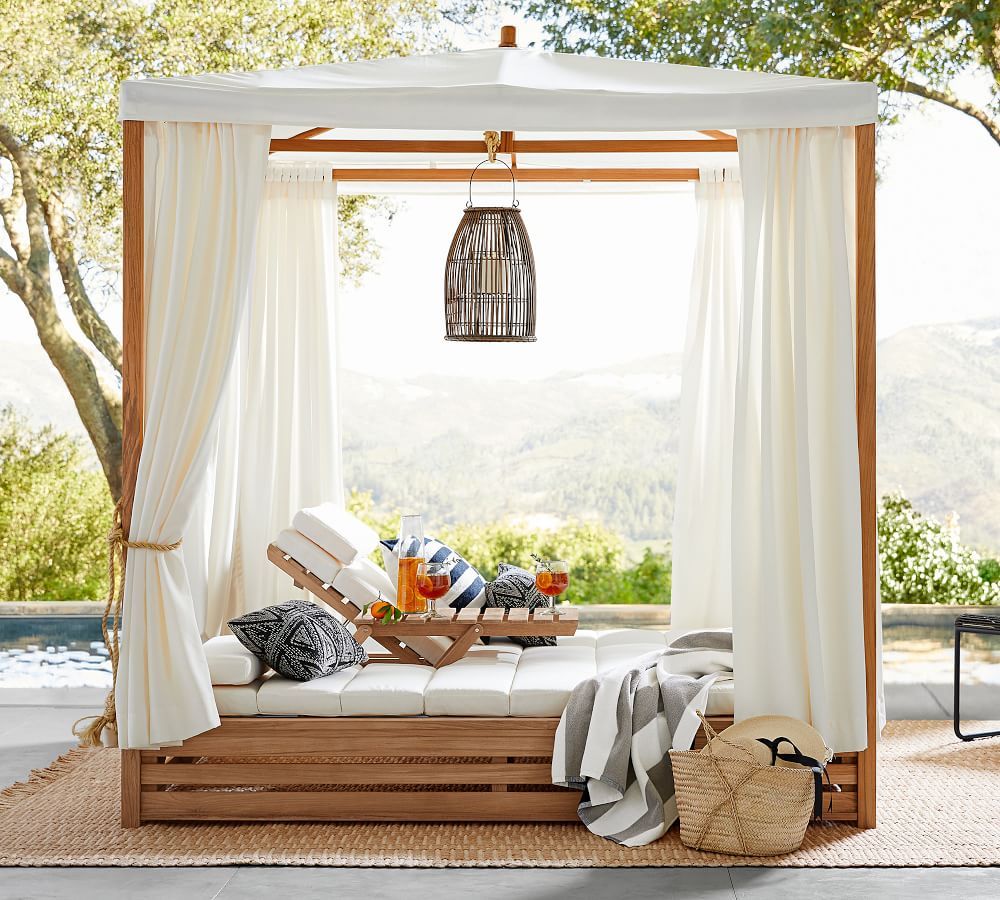 Do you fancy enjoying a romantic evening with your partner outdoors? Madera FSC® Teak Daybed with Canopy can give your patio or backyard the look of a beautiful cabana. It is inspired by the nineteenth-century Morris chair and comes with a gorgeous canopy. It also includes channel-tufted cushions, individually adjustable loungers, and a folding tabletop. What makes it a must-buy piece are the rich details, including planked wood, lush wood grain, and generous proportions. You can adjust the position of the loungers at your convenience.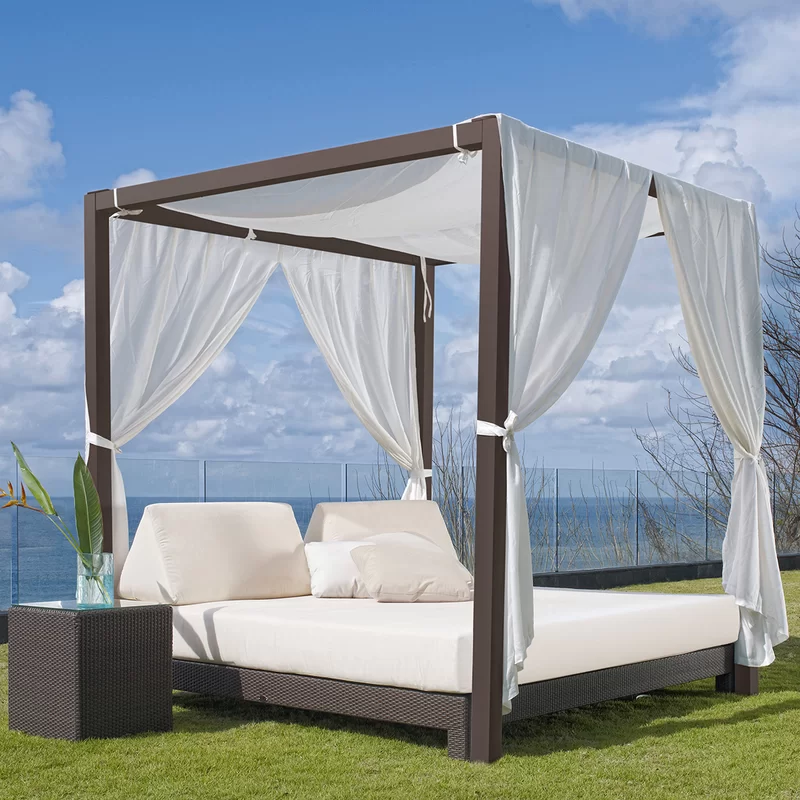 This stunning outdoor daybed can bring the luxury and comfort of an outdoor resort to your patio. It is made from a steel inner frame and HDPE wicker and includes curtains for complete privacy. It is topped with a canopy that gives you a fairytale-like ambiance. The daybed is adjustable, and you can customize the chair's position as per your personal preference. The cushions are very soft and are available in orange, beige, and blue colors.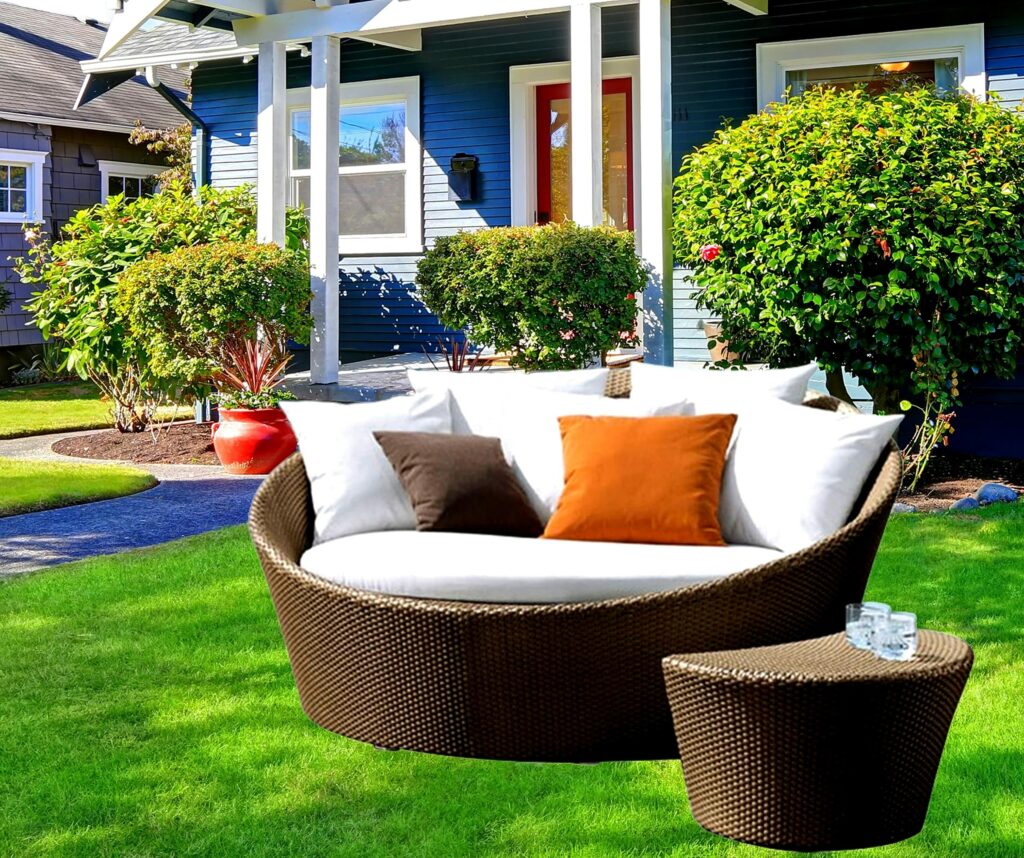 Devoko Patio Furniture Outdoor Round Daybed can be an elegant addition to your outdoor area. Its contemporary style and round shape make it a showstopper piece on your patio. You can use the daybed as four separate chairs if the guests visit your home or you have a small gathering in your backyard. The seat cushions are waterproof and washable. It comes with an adjustable canopy that can be used to block wind and sunlight. The sturdy and durable steel frames keep the daybed well-positioned.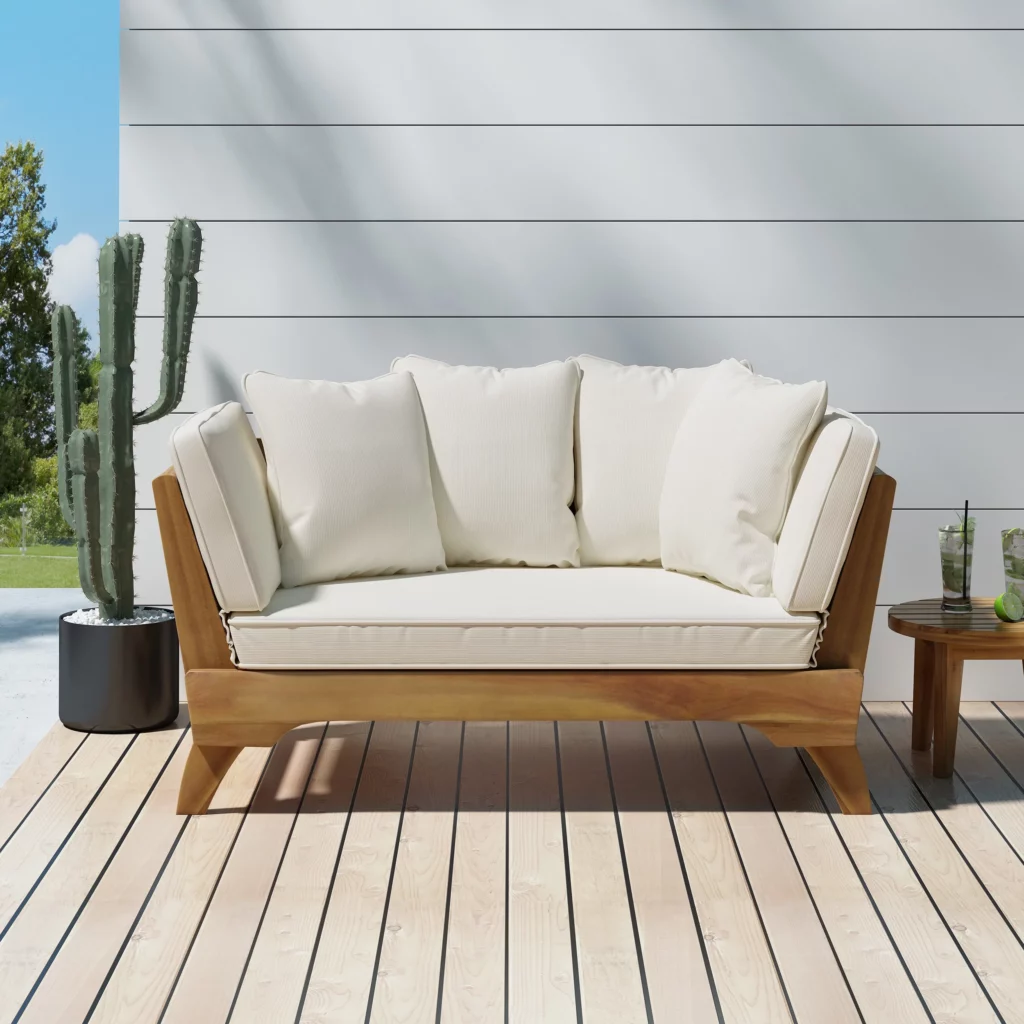 Whether you want to enjoy cocktails with your loved ones or soak up the sun, Jacqueline's 85.4" Acacia Outdoor Patio Daybed can be the perfect choice. It has a solid acacia wood frame that is weather and rust-resistant. It includes two slatted arms and a slatted back that can be laid down flat or tilted up for more seating room. The beige polyester-blend cushions give an alluring aesthetic to the daybed. This bench-style daybed will become the statement piece of your patio.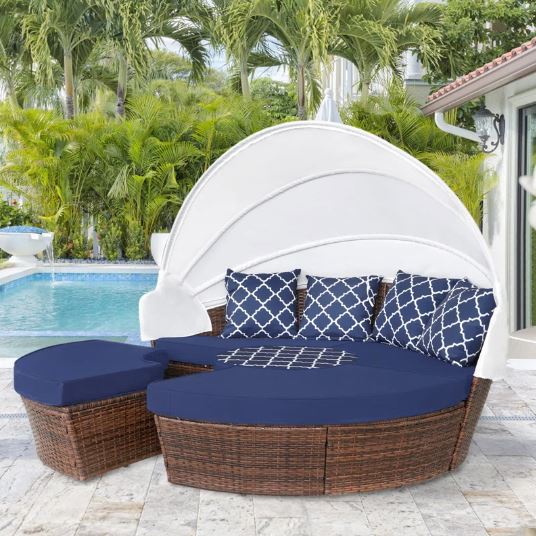 Inspired by resort-style lounging, Akansha 70.9" Wide Outdoor Patio Daybed is the perfect place to curl up with your favorite book and your pet. The brown wicker rattan wrapping brings nature's beauty to your patio, and the metal frame offers a sturdy foundation. The built-in canopy protects you from the adverse effects of UV rays. It also has a central table where you can place drinks, phones, books, or snacks. Four back pillows and 4″ thickened padded cushions offer extra comfort.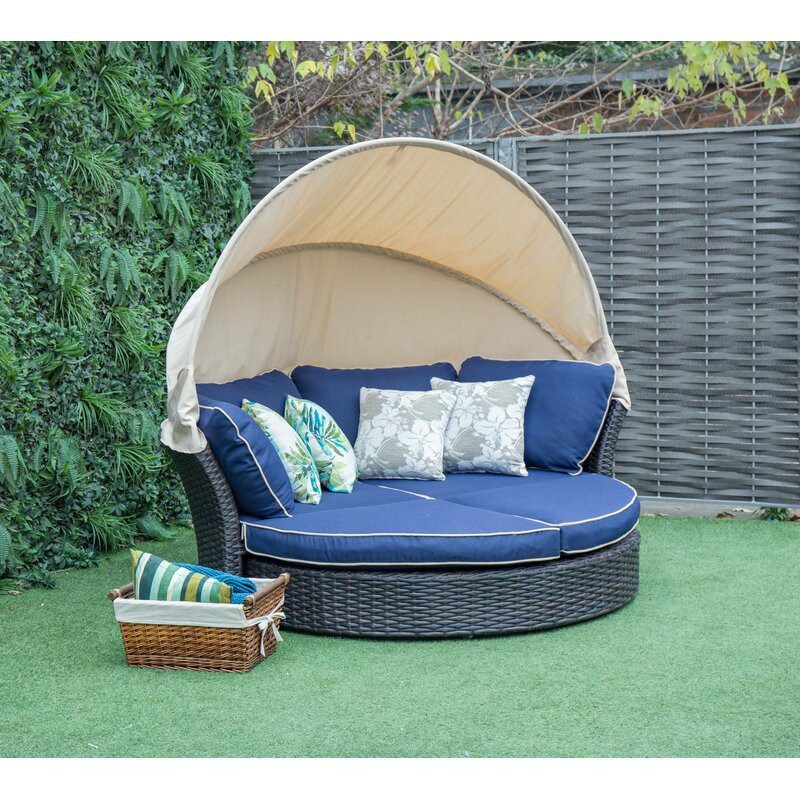 Gower 71" Wicker Outdoor Patio Daybed showcases a contemporary design and is well-made and stylish. It is topped with blue or light brown pillows and cushions. It also comes with a canopy that protects you from sun rays. The mahogany color and round shape of the daybed make it a must-have piece for your patio. You'll get one loveseat with a canopy, two folding seat cushions, one rolling ottoman, and four back cushions with the package.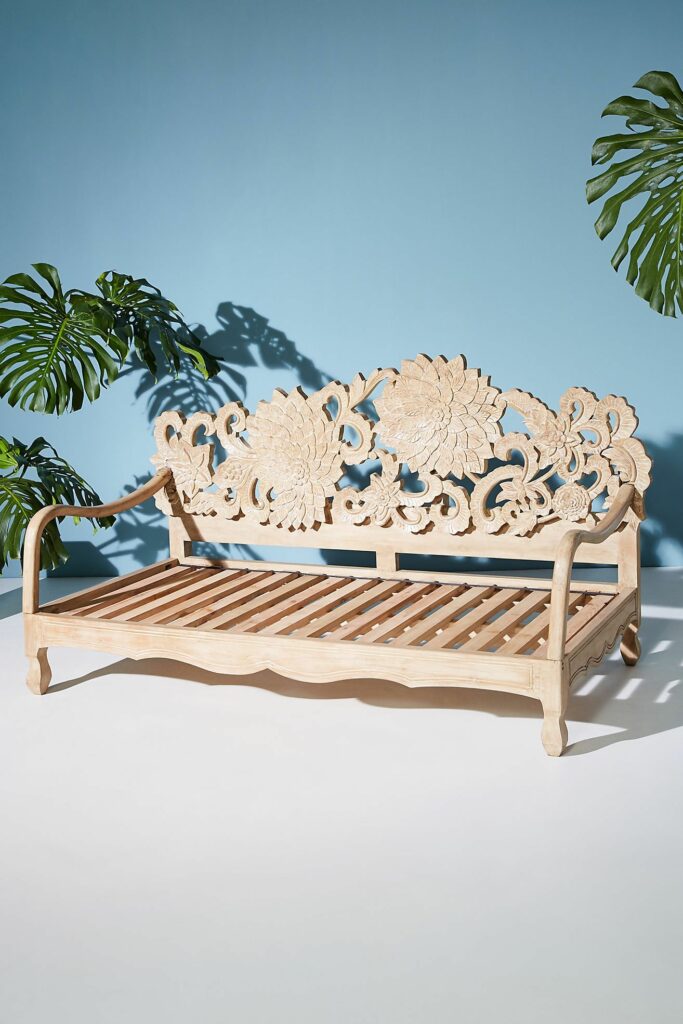 The design of this daybed is inspired by the traditional flora found in Myanmar. It is hand carved in a lotus-flower pattern and is suitable for both outdoor and indoor use. It is guaranteed to be one-of-a-kind, meaning you won't find this daybed anywhere else. It is weather-resistant and comes in a single color. The wooden slat support system makes it very sturdy and durable. You can add a rustic vibe to your outdoor area by placing this daybed on your patio.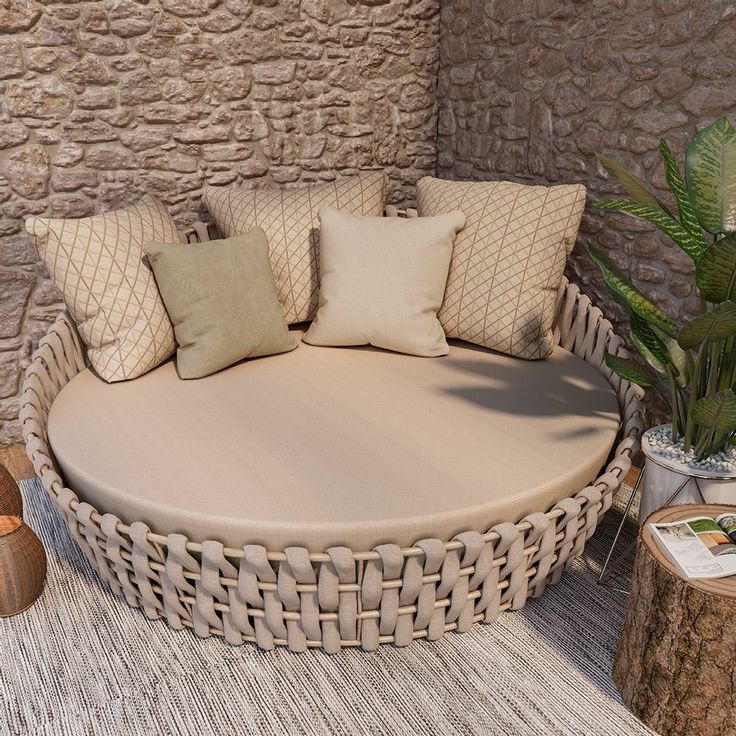 If you're looking for an outdoor daybed that gives you comfort like your ordinary sofa but looks gorgeous and elegant, Daan 55" Wicker Outdoor Patio Daybed can be your go-to choice. It comes with an awning at the top that can be easily folded and adjusted. The 2-inch thick cushions are machine washable and all-weather resistant. With the help of the folding canopy, you can turn this daybed into a sunny or shady spot.
Conclusion
Whether you want to create a restful retreat for much-needed relaxation or a versatile outdoor space for socializing with your friends, a comfy outdoor daybed can be your ideal choice.
An outdoor daybed can refresh the look of your poolside or patio and promote the feeling of relaxation and leisure. You can soak in the sun, enjoy your favorite cocktail and host a small gathering in your outdoor space by investing in the right outdoor bed.
Keep in mind your patio's size, your budget, and specific requirements while buying the daybed. You can check out the above-mentioned outdoor daybeds to boost your patio's style factor. Invest in any of these daybeds to recreate your living room's comfort outside.