For most people, swings remind them of their childhood and happier times. If you want to bring that feeling to your home, an indoor hanging chair is a good idea. You can bring this sense of happiness to your home with an indoor hanging chair and hanging swing. It makes up to be a great decorative addition to your interior and will make anyone who sits on it happy.
There are plenty of hanging chairs available in the market, and here we have a list of all the affordable indoor hanging chairs and hanging swings that you can consider.
From different materials like rattan to metal, there is something for everyone. Not just that, we also discuss things you should keep in mind when buying and how you can decorate around it.
Scroll further to check all of that out.
Affordable Indoor Hanging Chairs and Hanging Swings
There are too many hanging chairs available in the market, but this Bulexyard Swing Egg Chair wins over all others by a very small margin to become the best overall chair. It is available in 14 colors and comes with all elements that make your seating very comfortable. You get a plush seat cushion and headrest with this, and it can carry up to 350-pound weight. So you don't have to worry about falling off.
The chair is made out of aluminum and is wrapped in PE raisin, which makes it waterproof and fade-resistant. You also get a nylon rope around the black cage and steel hanging hardware. This makes it very durable. A con to this hanging chair is that you will have to assemble it at your home yourself. This should be very simple because this piece of hanging furniture comes with all the necessary tools.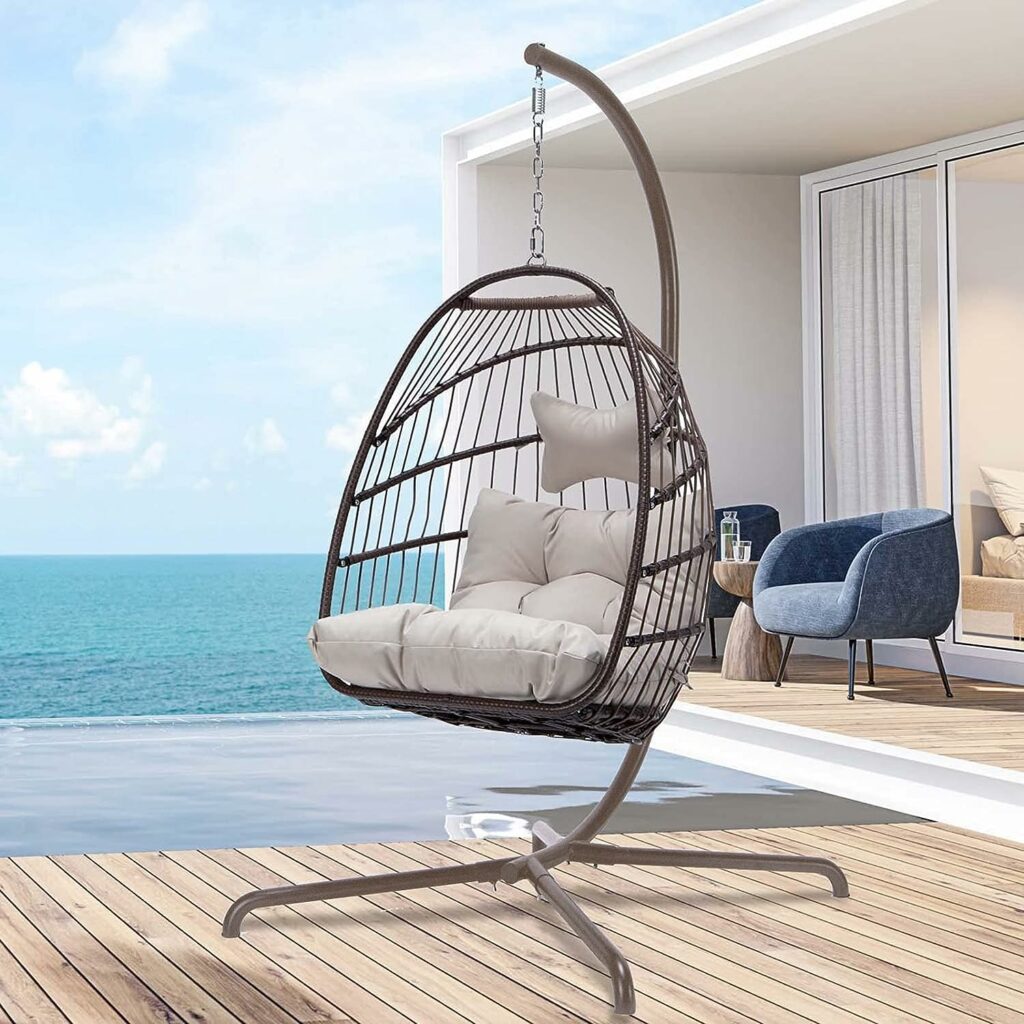 One thing that is unique to this chair is that it has a very indoor-outdoor design. You can hang it on your ceiling but also on your porch. You can also hang it on a tree with thick branches. Storage is easy with this one because it folds. While it doesn't come with a stand, it is easy to find one in addition to this hanging chair.
Trust us, when you sit in this chair, your butt will thank you. This basket-like chair is one of the most comfortable hanging chairs with cloud-like seating, plus a water-resistant cushion that gives you the comfort of sitting on a cloud. So, forget about all the switching of your sitting positions and embrace the comfort. Not just comfortable, it is also a great addition decor-wise. The basket-like weave of this hanging chair adds a great element to your interiors, undoubtedly.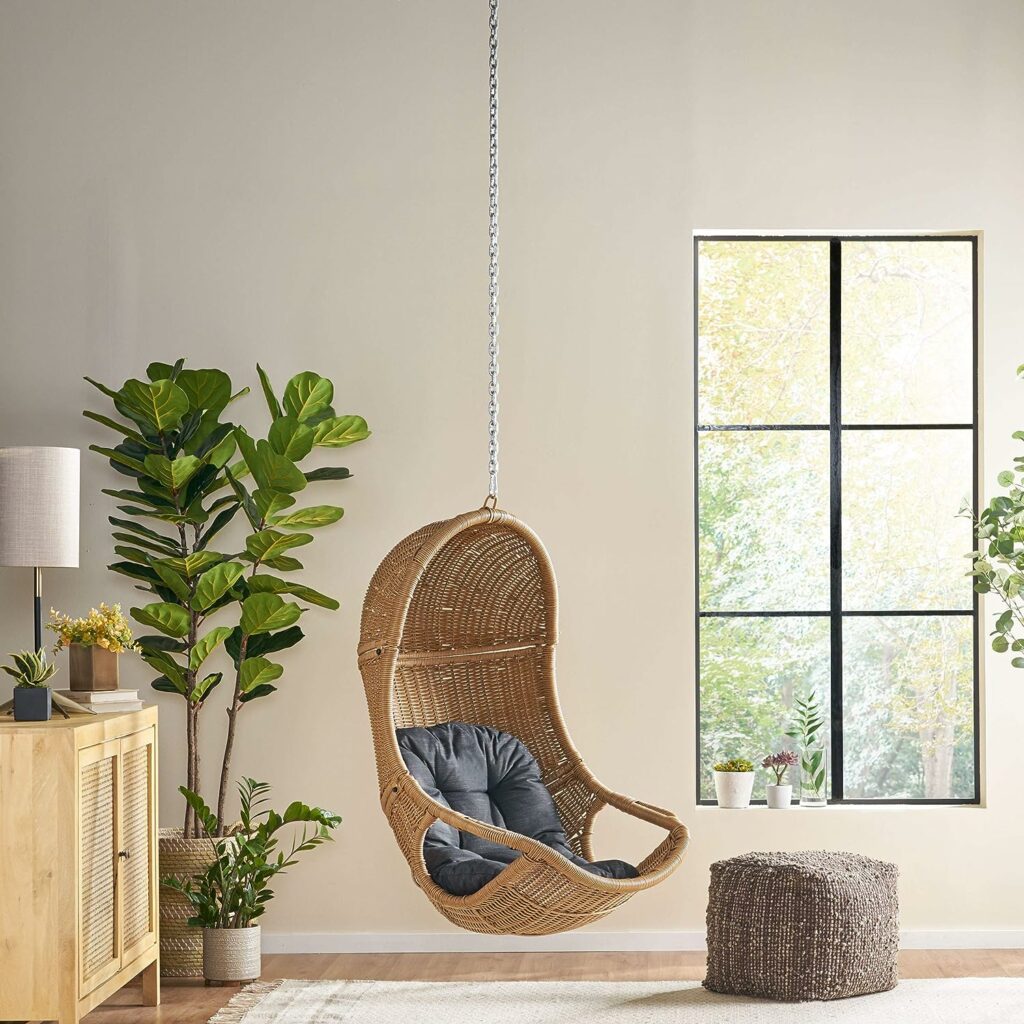 The pros of this chair are that it comes with a metal frame and hence is very sturdy. The basket design encapsulates you are giving the best comfort, and as mentioned before, it's waterproof. The cons of it are it needs professional installation. Since it does not come with a hanging stand or mounting hardware, it is important to get it hung by a professional to ensure you don't end up falling afterward.
The best-woven chair on our list of Hanging chairs, this AllModern Ander Wide Papasan Chair takes you straight to the bohemian oasis. It fits in perfectly with that blended interior, and given how beautiful it is, it feels like it belongs to an art exhibit of sorts. The chair has beautifully detailed weaves around the whole support and gives you a very comfortable space just to sit and read your books, spending hours without getting a backache.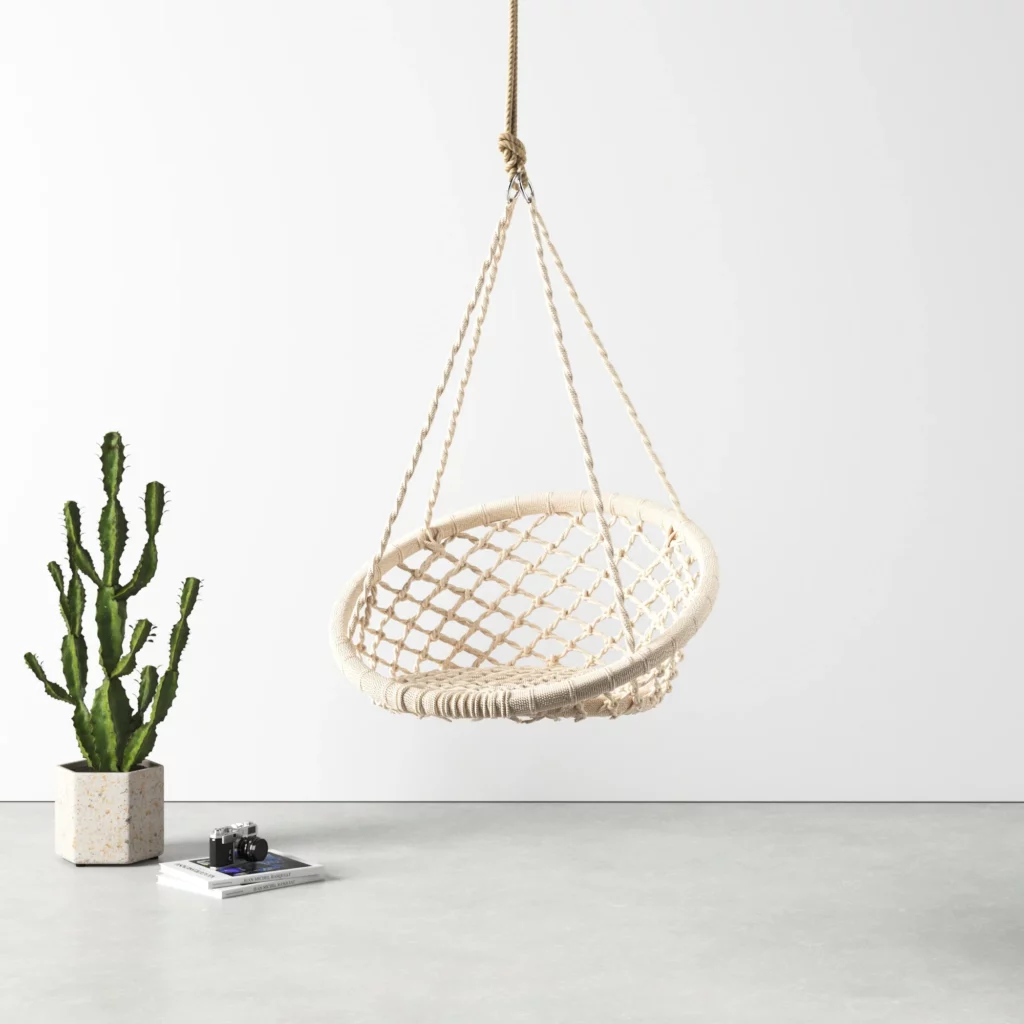 The pros and cons of this one are limited, with the pros being that it is a beautiful chair that blends into most interiors and requires no assembly. Cons include this chair having no warranty, limited weight capacity, and you have to buy seat cushioning separately.
If you are looking for a hanging chair and do not want it to be too heavy on your pocket, this Segmart Hammock Chair is a great buy for you. It is affordable, but worries not; it doesn't cut onto anything, quality-wise. It is available in 11 colors and has a lightweight design that is crafted from soft, tear-resistant, cotton blend material. It comes with two cushions, and while they aren't the plushiest, they still do a fine job.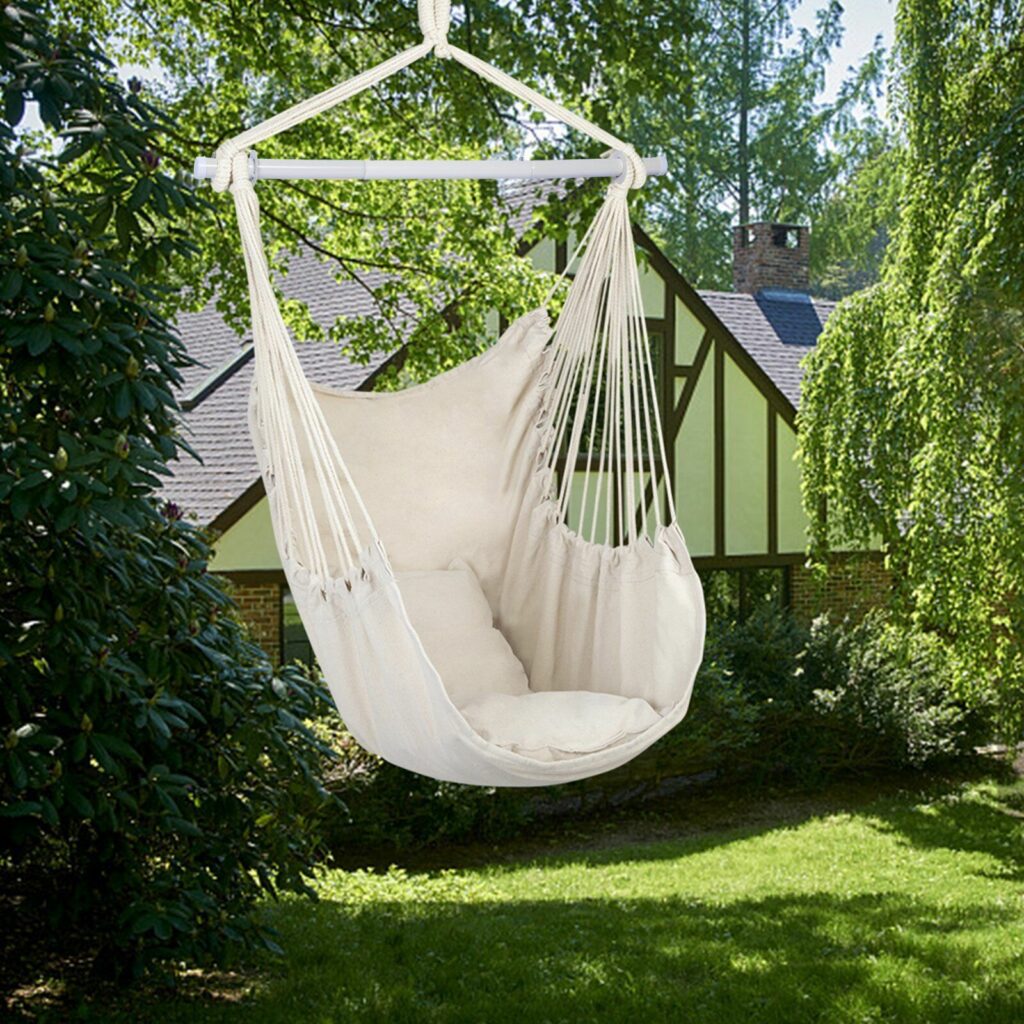 This one, in the budget-friendly segment, bears up to 330-pound weight capacity and comes with a hardened wood bar that makes it anti-slip. You can easily install this in the ceiling bracket in your home or hang it on a tree. The chair is lightweight and comes with a carry bag for you to take it around, which makes for a great gift option too.
The highlighted pros and cons of this particular hanging chair are it is affordable, lightweight, and comes in various colors. However, the cons include, the cushioning isn't the best.
If you are ready to spend plenty on a hanging chair, this Arhaus Crew Hanging Chair is a great option. Designed to blend in any interior and resist all conditions, this is a resin wicker-wrapped chair on a rustproof aluminum frame.
This makes it very durable and useful in all conditions. It is also a very comfortable chair because it comes with two plush cushions and dense foam, which will make it a great chair for you to sit on it for hours and not feel tired. It is a sturdy chair, and it can hold up to 200 pounds of weight.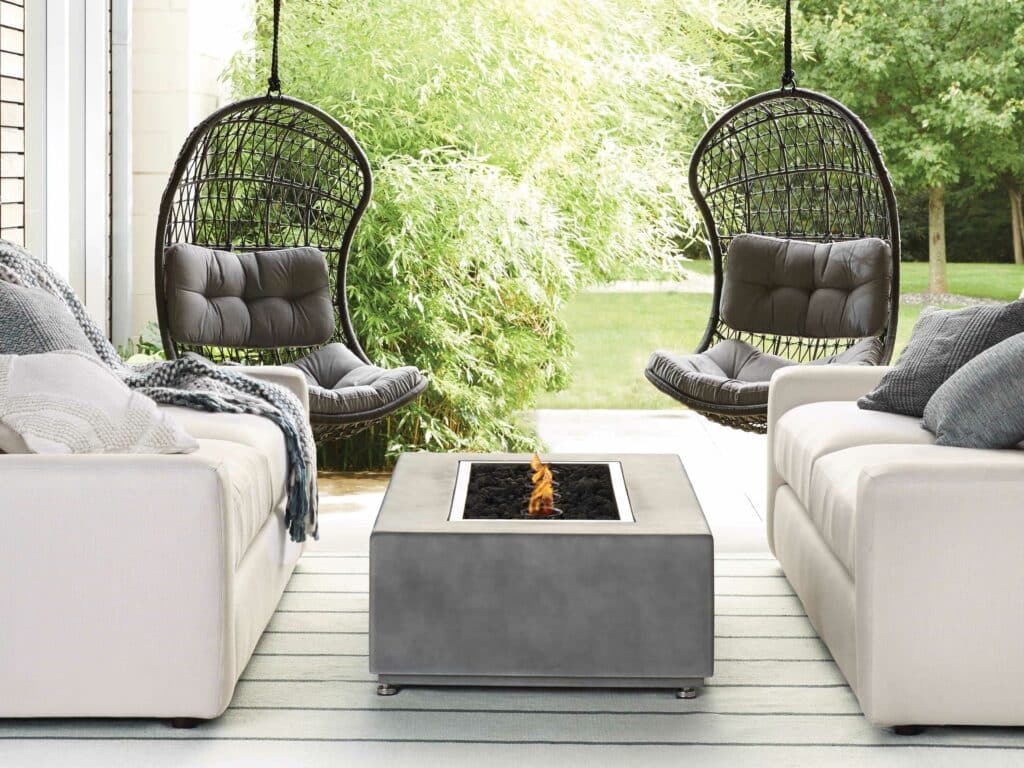 The pros for this chair are that it comes with plush foam cushions, has a scratch-resistant fabric, and can resist all weather conditions. The cons for it is the hardware isn't included with it. While you get a rope, you have to get your own stand to put this hanging chair up. It has a low weight capacity.
Bored of your generic hanging chairs and looking for something more stylish? You can check out this Sunnydaze Sunnydaze Pheobe Hanging Lounge Chair. It is a sleek rattan swing that fits in most design schemes and has a unique style. The chair is made out of a strong metal frame, and it is wrapped in weather resistance rattan, giving the frame its color.
To give a pop, you also get red and gray cushions that are washable and very comfortable. The chair comes with a one-year warranty and is durable.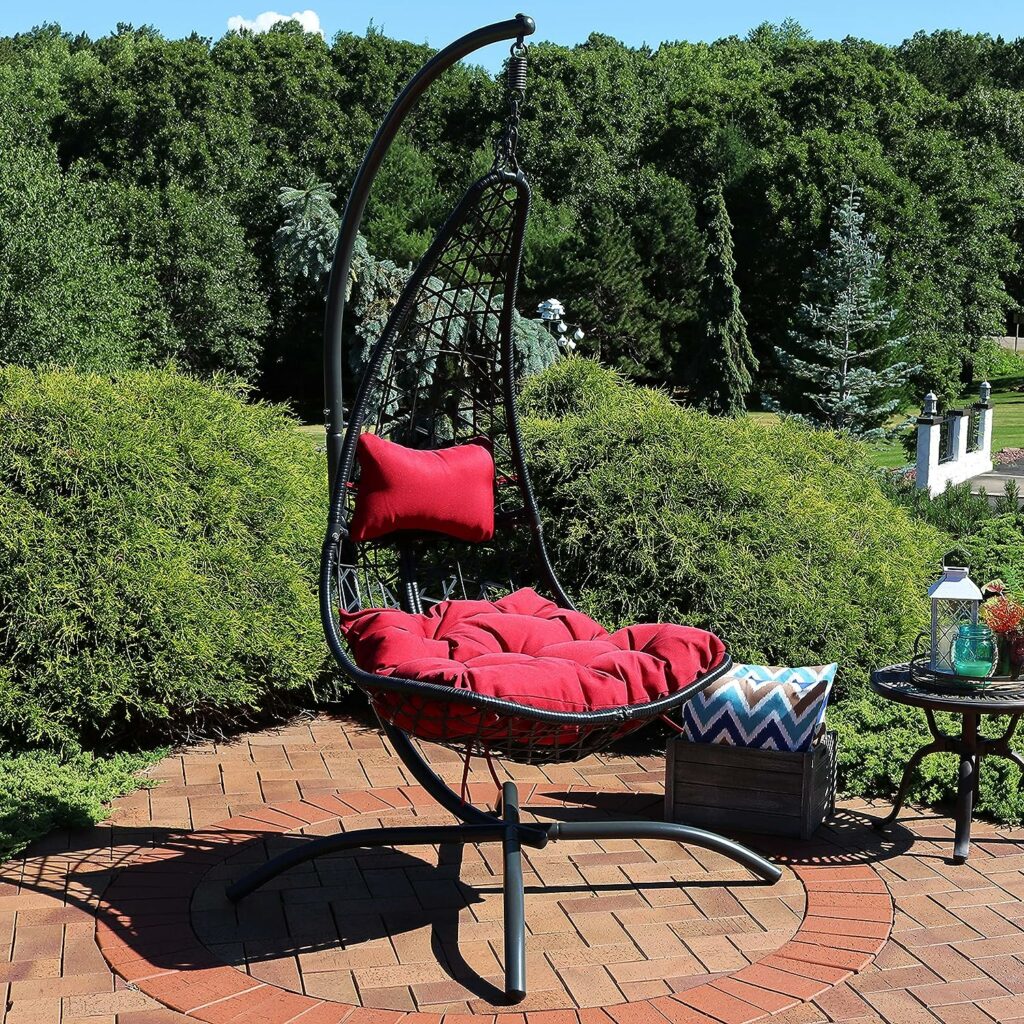 While this chair is a great addition to all kinds of interiors, this one is particularly better for a bolder, modern design that sets it apart from most of the other swing options. The curved cradle-like seat is more ornate and gives a great retro-futuristic look. The pros of this chair are that it features an ergonomic seat design and comes with a one-year warranty. As for the con, it cannot bear heavy weight.
While hanging chairs are great for one-person seating, what better than sitting with your family and friends? This NICESOUL Double Swing Egg Chair does just that. It allows you to sit on it not only alone but with multiple people.
The size, depth, and weight capacity of this chair are enough to accommodate multiple people. The chair comes with a small couch and is water resistant, which gives comfortable sitting.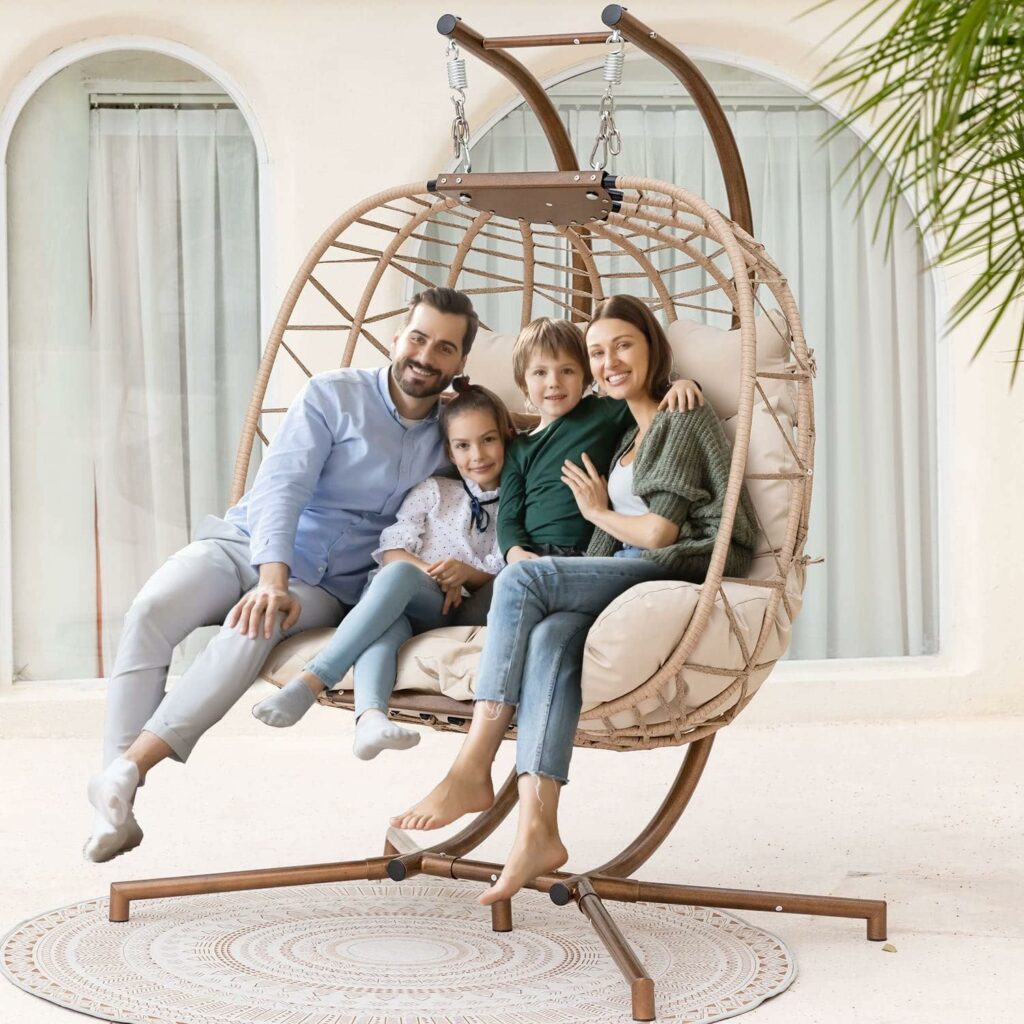 The frame for this chair is made out of steel frame and is weather resistant, which provides stability without fear of damage. The swing has two springs connected to the hooks at the top that allows this chair to distribute weight when multiple people are sitting on it. The biggest pro of this hanging chair is that it fits about 4 people.
Additionally, it is water resistant, and the cons are this chair is not just made out of rattan but also uses hessian partially.
If you are looking for a hanging chair with kids in mind, this Y-Stop Kids Pod Swing set is the best. It is specially designed for children of age three to nine that weigh around 176 lbs. It is made of tear-resistant cloth and is breathable. It comes in various different colors, and you can choose a cheery one for your kid.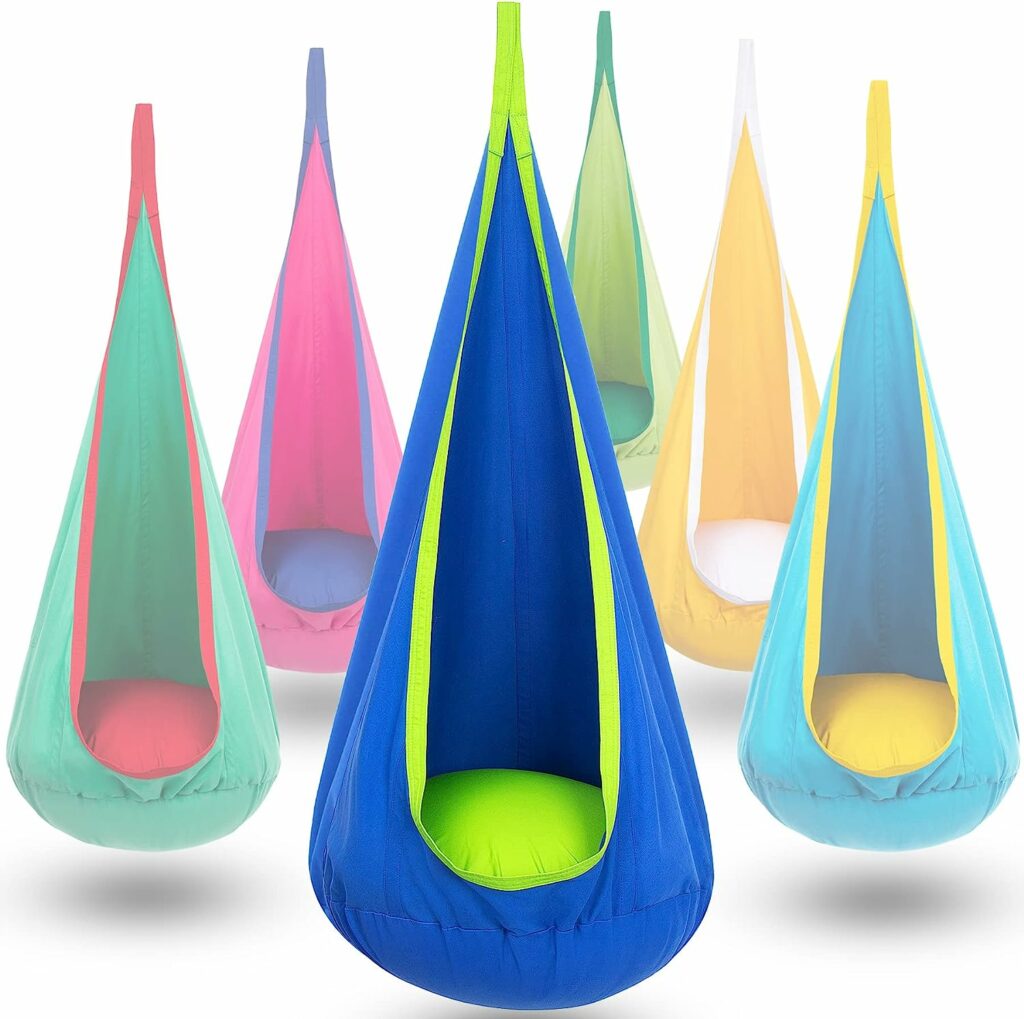 The chair is very comfortable and durable. It comes with an inflatable seat cushion and a handy inner pocket where you can stuff books, small toys, tablets, etc. It is a great indoor hanging chair option and can be hung using a rope, bracket, and screws. The pros of this particular hanging chair are it is tear-resistant and breathable.
It comes in several colors and can be used anywhere. The cons include the color might fade in direct sunlight. Avoid placing it near windows or outdoors.
Decorating your teen-age child's room and want to hang a chair in it? This Dakota Feilds Chair hammock is a perfect addition to the room. It is a macrame chair and has a great visual appeal. This is an excellent choice for teens and can hold up to 550 lbs of weight. So, not only for teens, it can also be a good option for adults.
This hanging chair is sturdy, water-resistant, and has cotton netting, which makes it soft and flexible.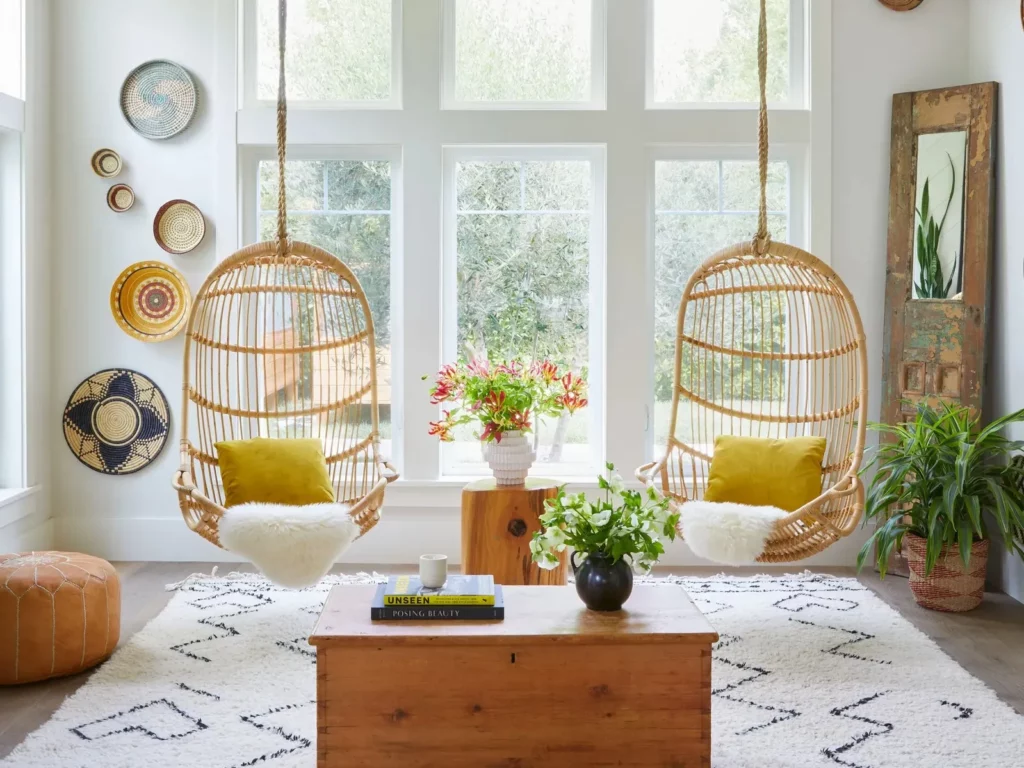 While this hanging chair only comes in one color, this color is so beautiful and versatile that it fits in all spaces, regardless of the kind of interior. Along with all this, the hanging chair comes with a steel chain, ceiling bracket, and bolts, with two carabiner clasps that make it easy to hang.
As a visual addition to this chair, you will get two strings of light that are battery-powered that, makes the room even more beautiful, which your teenagers will love.
The major highlighted pros of this chair are it has a new look with string lights connected and can lift heavy weights up to 550 lbs. The cons are it only comes in one color and also needs partial assembly.
If you are looking for a hanging chair that is less bohemian and more modern, this AllModern Bombay Porch Swing with stand is a great addition. As the name says, it has a metal frame and comes with unique faux rattan openwork that comes in a cool, classy way. It has a plush poly-filled cushion that gives great comfort.
The best part is it is easy to clean, too, because you can remove and wash them. Yes, it is a little pricey, but since it is very sturdy, it is durable. If you do not want a stand, you can also attach this chair to your ceiling, and you will be good to go.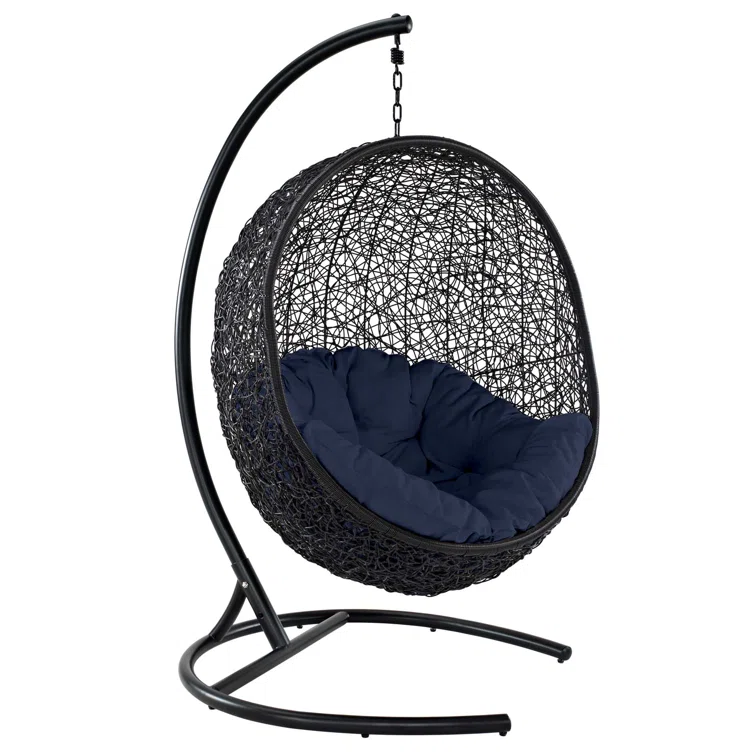 The list of pros and cons is very fair for this chair. We like that it comes in many colors and is easily washable. However, what we don't like is it is a little pricey and needs assembly. It does hold a weight capacity of 250 lbs. So, for some people, it might be low-wish weight capacity. However, that might not be a problem for everyone.
Things to Consider When Making a Choice for Hanging Chair
All these hanging chairs are great. However, in order to understand which one is best for you, you might want to consider some points. Here is what you should think before investing in a chair like this.
Decide your budget: Adding a hanging chair could be a little expensive and heavy on your budget. So, before you make an investment like such, it is important that you determine what your budget is. That will help you make a decision quickly.
Weight Capabilities: Averagely, most hanging chairs can hold upto 300lbs of weight. However, it is important that you check the weight capabilities of any chair you want specifically. It can change from chair to chair, and you will want one that fulfills your needs. Remember, it is always better to have higher capacities than lower ones.
Think of the future: A hanging chair is the kind of investment that will go long-term. If you are looking for a short turn, you can choose a rental or something that is easy to install. However, if you are looking for something long-term, maybe choose something that is more sturdy and durable. Remember, this is an investment that you will want to make only when you have found your forever home.
How to Style These Hanging Chairs? Tips and Tricks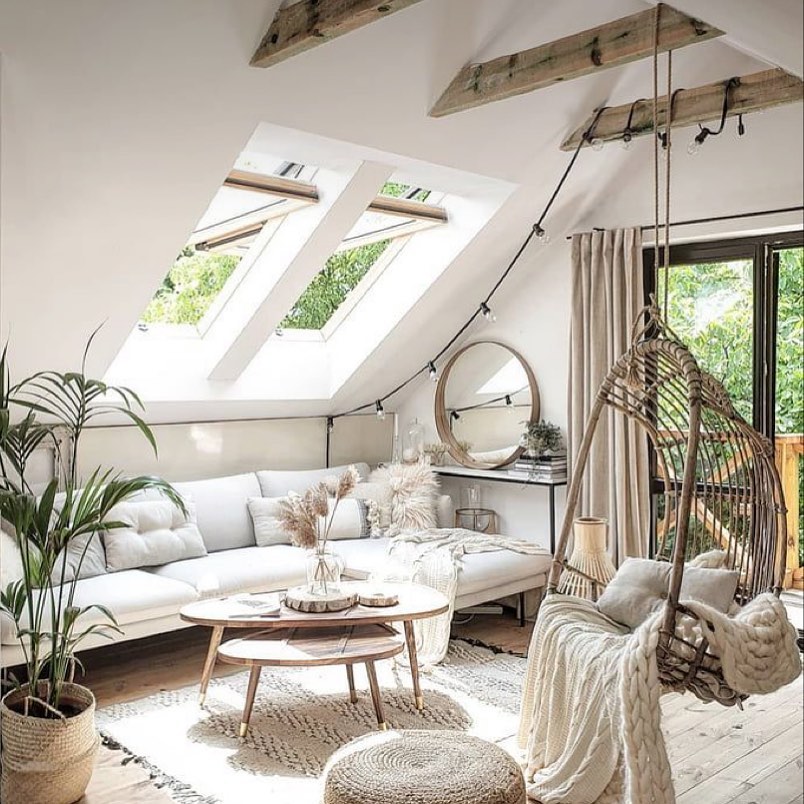 It is important that, along with buying these hanging chairs, you also style them in a way that elevates the whole look and experience. Here are some tips and tricks to do so.
Put It Close to a Window: If you are using a rattan or woven hanging chair, you can choose a beautiful sunny spot that will make it look very beautiful. You can also toss some pillows and a throw to make it more cozy and comfortable.
Put It in The Loft: Another great place to put your hanging chair is your loft. You can add natural accessories to add some texture and a string of lights in your loft and make this hanging chair feel at home. This will indeed be a great addition to your home.
Surround the Chair with Warm-Tone Elements: You can also keep your surroundings natural using warm-tone wood elements. This will soften the look of your space. Maybe, you can add some poufs on your hanging chair, and it will immediately elevate the look of your space.
Bring the Plants Into Your Home: You are bringing the outdoor element of plants inside your room; you can also bring some plants in. This will bring a lot of freshness into your home but also give you a natural tropic comfort. So, you can easily curl in your hanging chair while taking a feel of the outdoors.
The Balcony is a Great Idea: If you want to keep your hanging chairs inside but not in your halls, you can also hang them on your balcony. It is a great idea because you can curl up on your balcony and enjoy tea while reading a good book.
Conclusion
All these affordable hanging swings and hanging chairs are great for any home, but it is important that you make an informed choice. When choosing, make sure you choose the one chair that suits your style and the material you are comfortable with.
Also, make sure that you choose a chair that can hold the weight and is easy to clean. All the options in the list have their own pros and cons, and you can look through them to make a choice.
Remember, these chairs are an investment in your home, and they will make up to be a great one at that.