Looking for spray paint for furniture? We all have old, worn-out furniture that desperately needs a makeover. In many households, it's common to come across furniture items that have become outdated over time. Even though made out of sturdy wood featuring a beautiful design, these wooden items don't go with our modern home.
Good news! If you have wooden furniture that you really like, but it doesn't match the current colors or finishes, there's a cheap and satisfying solution.
Just give them a fresh coat of spray paint, and voila! They'll look updated and trendy again.
Choosing the Perfect Wooden Furniture to Revamp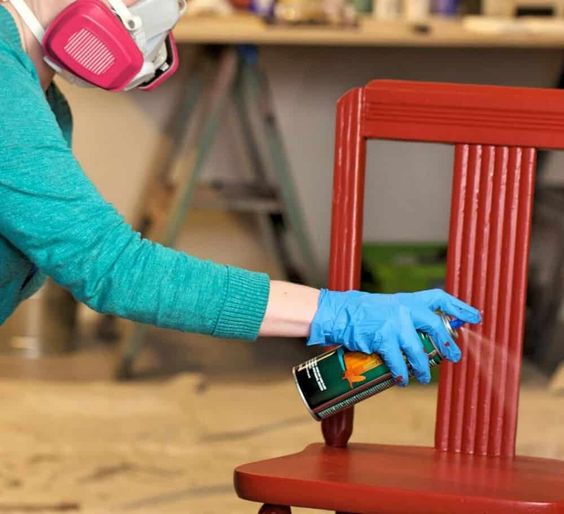 Before preparing the wooden furniture for a revamp, check if it meets the following criteria:
Sturdy craftsmanship, check for loose screws or hinges
The wood veneer that remains intact or can be easily removed
Focus on the piece's form and design, disregarding its current color
Optimal dimensions for your available space
Practicality and functionality that align with your specific needs
Guide to Prepping Wooden Furniture
After making sure your wooden furniture is ready to be spray painted, start with this step-by-step process:
Prepare a dust-free worksite outdoors, as it allows proper ventilation, like a garage or a shaded open space.
Preferably, set up your garage with a plastic sheet to avoid spray paint for furniture staining your floor.
Ensure there's proper lighting, as it is important to get the spray paint in every nook and cranny of the furniture.
With sandpaper, remove any loose finish that's peeling or flaking off, as it will affect the final finish for the paint.
Eliminate dust from the wooden furniture with a vacuum machine; make sure to do this with a brush attachment.
Clean up remaining leftover dust particles with a microfiber cloth; for best results, dampen the cloth with a little water.
Best Spray Paint for Furniture
Nature is truly magnificent, with its incredible beauty on full display. Just take a look at the vibrant colors, various sizes, and unique shapes of trees. Even when we turn these trees into lumber and create different furniture pieces or works of art, their beauty and ability to inspire us never fade away.
It's no surprise that creativity flourishes when it comes to painting wood. And it's not just limited to professional artists; even beginners can explore their artistic side. With a wide range of beautiful colors inspired by nature, you can achieve stunning results using spray paints for furniture.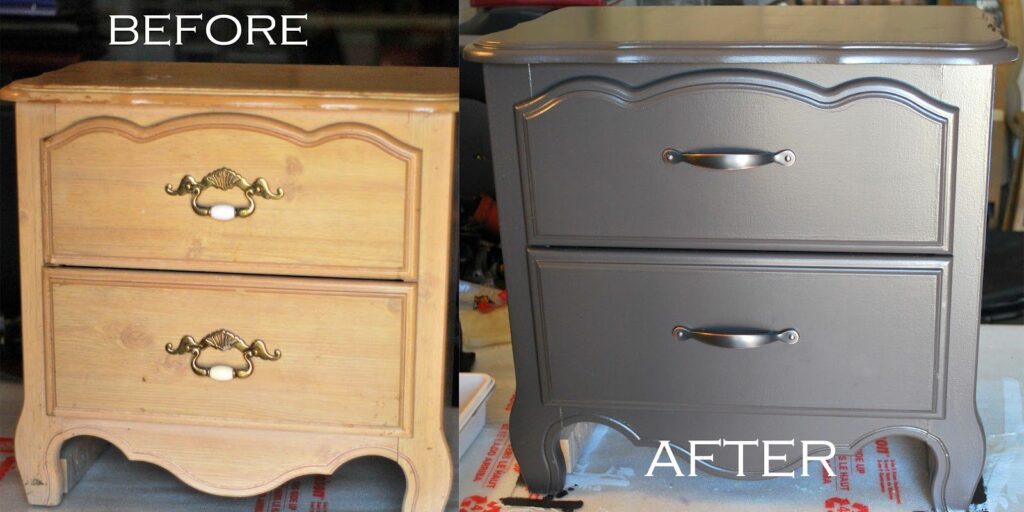 However, it's important to remember that not all spray paints are the same. Each has its own characteristics, like how easy it is to use, how vibrant the colors are, the texture it provides, and its overall quality.
On the other hand, every type of wood has its own unique texture and qualities that require specific preparation and compatibility with the chosen spray paint.
Here's a guide to choosing the best spray paint for furniture to make your wooden furniture flip DIY the most beautiful one.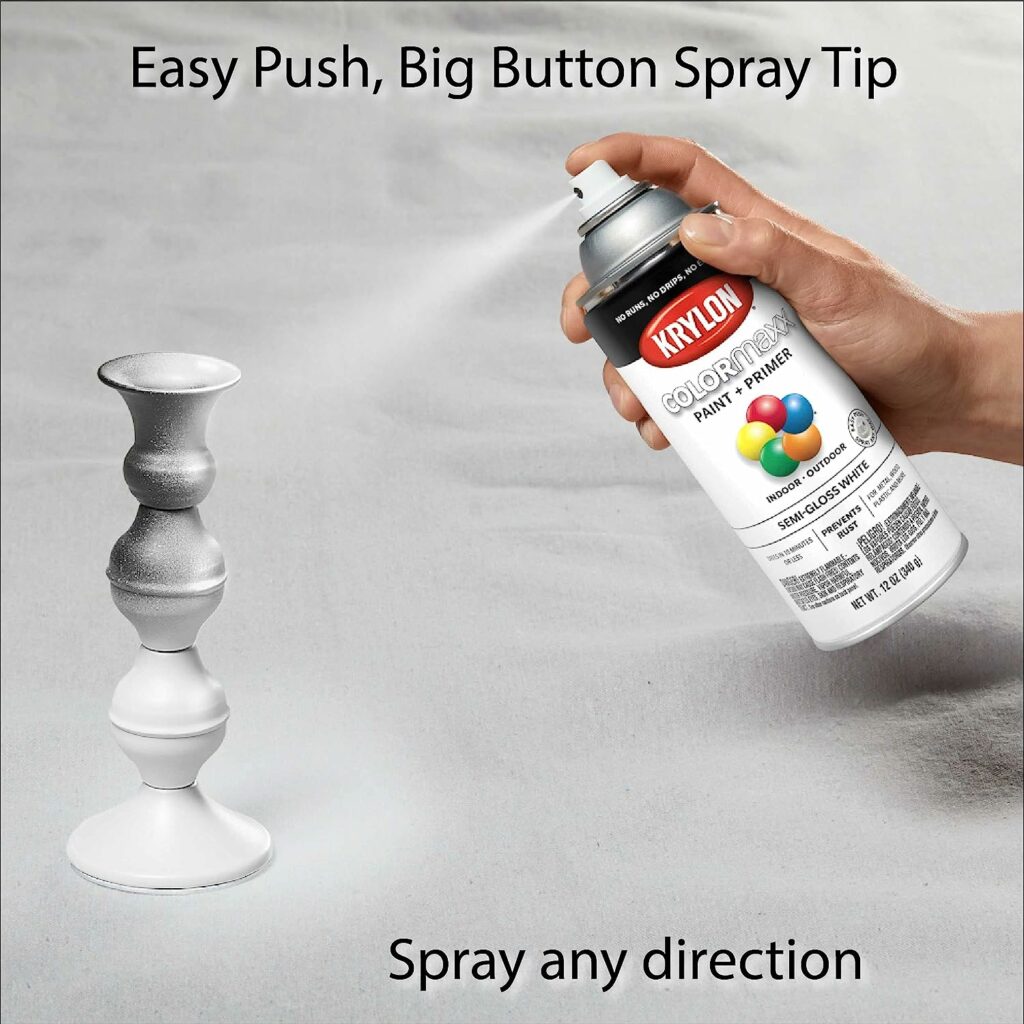 This flat white spray paint for furniture is designed specifically for wood and various surfaces. This 12 oz can is a perfect choice for tackling those big projects. And here's the great news: if you can handle larger jobs effortlessly, smaller ones will be a piece of cake!
What makes this paint stand out? Well, it boasts a unique, patented 360-dial tip that revolutionizes your painting experience. With a simple press, you can confidently spray as close as 6 to 8 inches away without any worries about messy runs or drips. This level of precision ensures accurate color application and a smooth finish.
One of the major advantages of this spray is how easy it is to use. Compared to other spray paint for furniture, it requires up to 80% less effort when pressing the tip. That means less finger fatigue, especially when working on those extensive projects. Additionally, it dries up in no time—within 10 minutes or less.
Not only is this spray economical, but it also gets the job done efficiently. A single spray provides excellent coverage, saving you both money and time. While it's recommended for indoor use, it's important to exercise caution.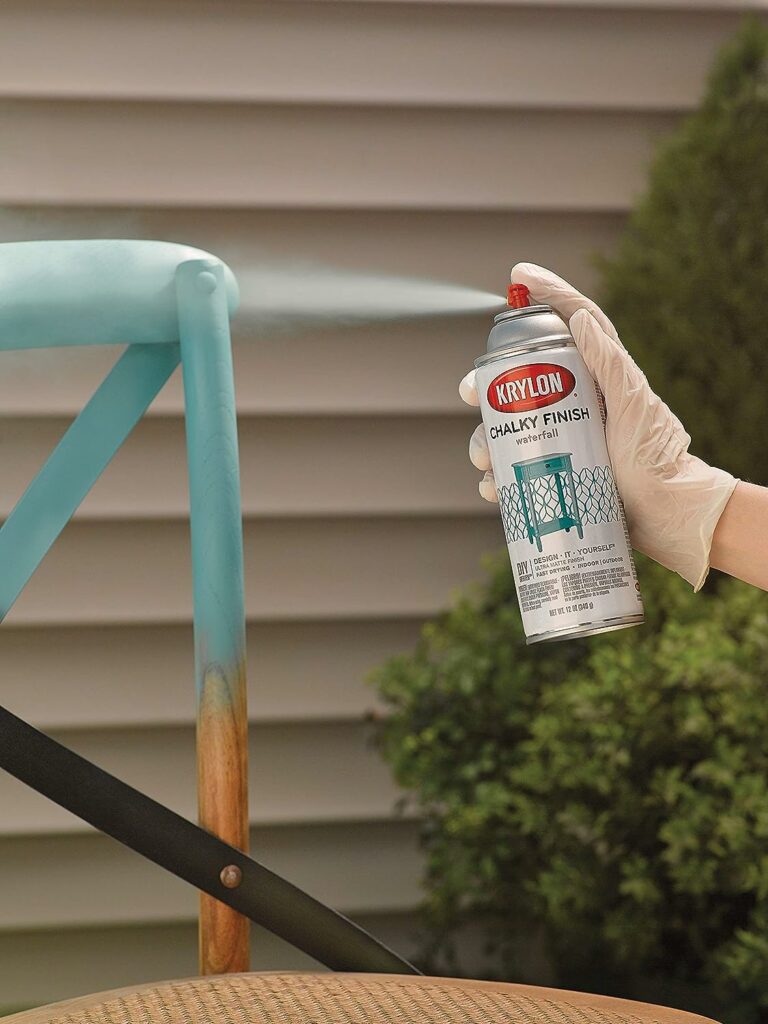 When it comes to upcycling and giving old furniture a fresh look, nothing quite compares to the unique quality of this chalk spray paint for furniture. This paint is formulated to provide exceptional adhesion, making it an excellent primer for additional coats or recoating.
If you desire an ultra-matte finish, this is the perfect choice for you. One thing to truly appreciate about this spray paint is how it breathes new life into old wooden furniture, combining traditional charm with modern durability.
Each 12-ounce can cover an impressive 12 square feet, depending on the surface preparation and application method. It requires approximately 1 hour to dry to the touch and another hour for recoating. While it may not be the quickest drying paint, the high-quality results make the wait worthwhile.
One of the standout features of this chalk paint is how easily and safely it can be cleaned with just soap and water. Simply give the can a good shake to ensure the colorant is thoroughly mixed before use, and you're ready to transform your furniture with ease.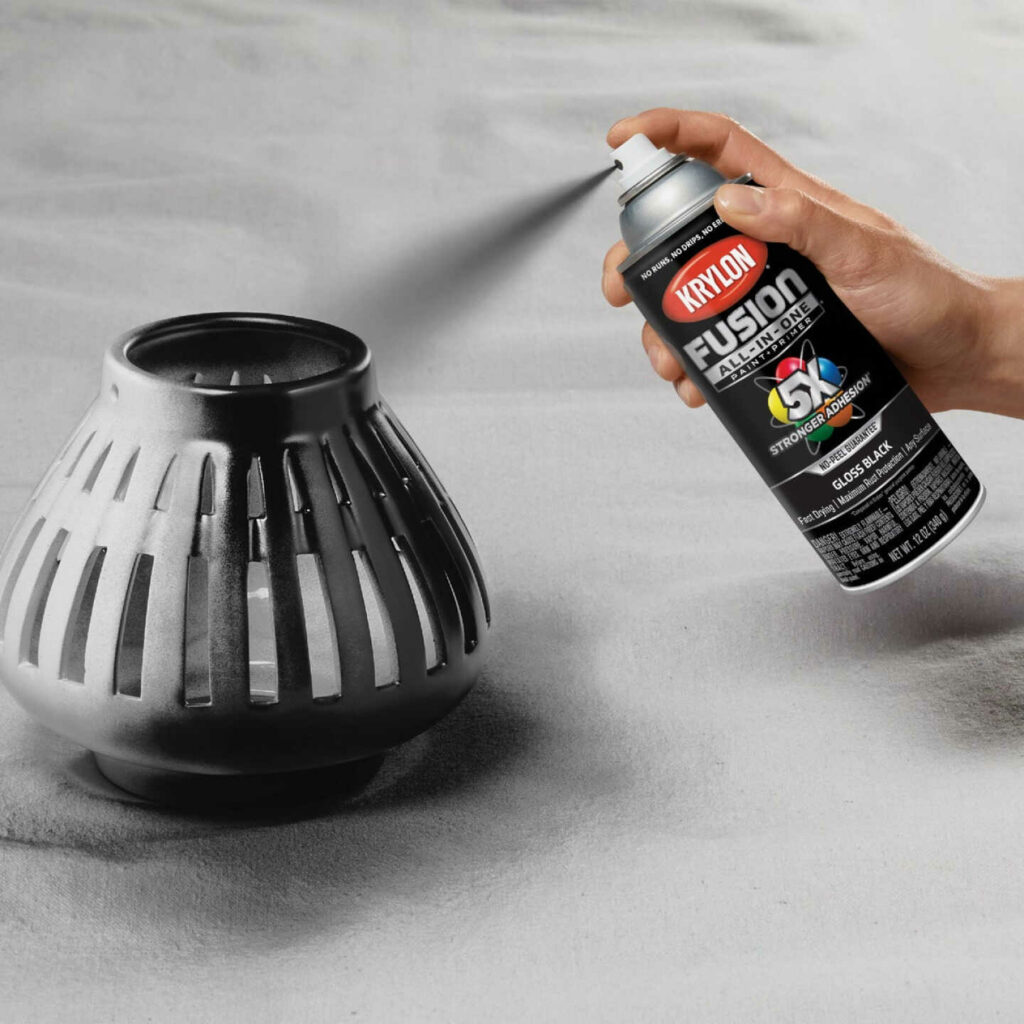 This is easily one of the best budget spray paint for furniture, making it the ultimate solution for all your painting needs. With a generous 25 square feet of coverage in a convenient 12-ounce can, this spray paint is a powerhouse.
What sets this spray paint apart is its remarkable adhesion. Say goodbye to sanding or priming difficult surfaces because this all-in-one wonder does the job effortlessly. Whether it's wood or any other surface, this spray paint delivers a warm and cozy satin gray finish that adds a touch of elegance to any project. With minimal cleaning and no sanding required, it effortlessly adheres to any surface.
You'll be amazed by the quick drying time. In just 20 minutes or less, your painted surface will be dry to the touch. For added peace of mind, wait for an hour before handling it. Plus, you can easily recoat within two hours.
The big button spray tip is a game-changer, reducing finger fatigue, especially when covering a large area of 25 square feet. Need to reach tricky corners or intricate spaces? Not a problem. This user-friendly spray paint allows you to aim at any angle, ensuring optimum coverage and maximum convenience.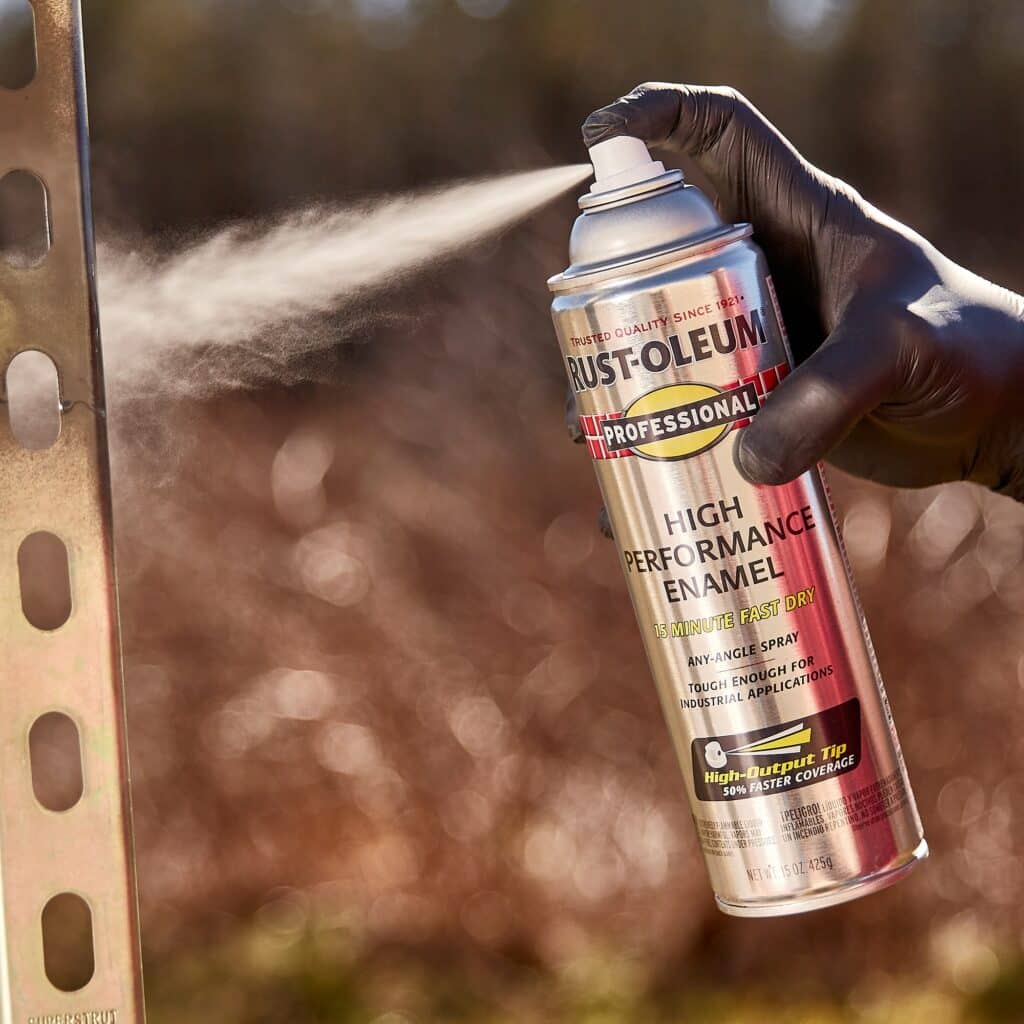 This spray paint for furniture is a great solution for those seeking durable and weather-resistant paint. When it comes to spray paints for furniture, there are ordinary ones, and then there are the tough, commercial-grade options. If you're looking for spray paint that can withstand the harshest weather conditions, especially on wood surfaces, this is the one for you.
Rely on this high-performance enamel paint for your industrial projects that demand exceptional resistance to abrasion, fading, chipping, and color dulling. It's the go-to white spray paint for outdoor furniture.
One of its standout features is the high-output spray tip, which allows for maximum control and even spraying from any angle, even upside down. It ensures timely and high-quality results, along with impressive durability.
Moreover, this spray paint exhibits heavy-duty, industrial-grade quality, capable of withstanding any weather condition that comes its way. With a quick drying time of just 15 minutes, you'll be ready for a recoat in just one hour. It is the ideal choice for those seeking tough and weather-resistant paint.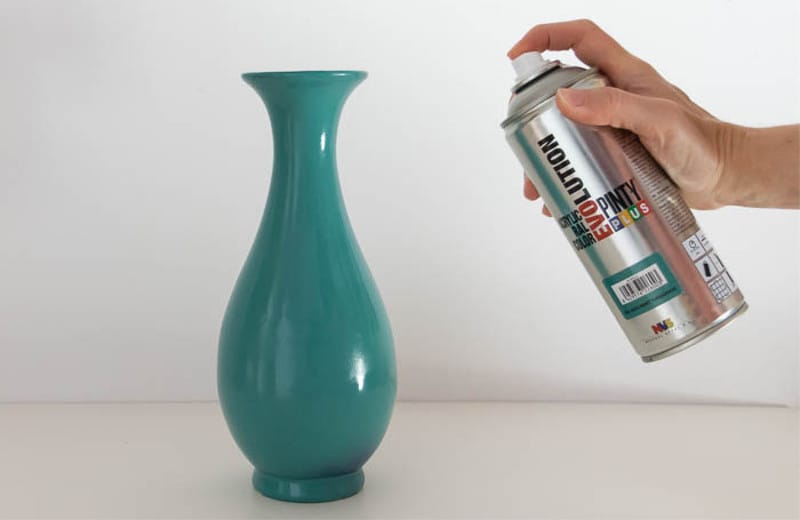 As easy as it gets, this is one of the ideal spray paint for furniture, as it acts as the go-to choice for those who value high-quality results and want to minimize messy drips and runs. When it comes to valuable projects like wooden furniture or indoor cabinets, we all desire to paint that delivers impeccable quality.
It provides a smooth, uniform, and glossy finish on wooden surfaces, enhancing their beauty. But its versatility doesn't end there. It's also perfect for metal, stone, paper, cardboard, and even certain plastic objects.
This spray paint on irregular and complex items works remarkably well. Each item gets evenly and beautifully painted without any noticeable brush marks or spray marks. It offers a seamless spray application that ensures a flawless finish.
Now, picture yourself facing the challenge of painting wood chairs with intricate spiral and carved designs. It can be quite daunting to reach every nook and cranny. But fear not, because this spray paint is the perfect solution for such unusual-shaped projects. Its precision and ease of application make it a reliable choice. Say goodbye to the frustration of painting challenging shapes and welcome a world of precise and flawless spray painting.

When it comes to durable spray paint for wood, having a formula that combines paint and primer is essential. This formulation ensures excellent adhesion and long-lasting results. Don't let the size fool you; the 8-ounce can deliver maximum coverage and impressive results.
Its versatile formulation allows it to work as a permanent paint and primer on multiple surfaces, including wood, metal, and plastic. With just a few sprays, it leaves behind brilliant colors and a smooth appearance. And let's not forget the gorgeous gloss finish that adds a stunning sheen to any surface.
This spray paint for furniture has a user-friendly design. The nozzles are easy to use, and a single press covers wide areas effortlessly without any spills or drips. Furthermore, the fast-drying process is a major advantage. In just 10 minutes, it's safe to touch, making it easy to determine if recoating is needed.
While it dries quickly, it's important to note that it fully cures in 24 hours, ensuring a durable and long-lasting finish. Its versatile formulation, easy application, and fast-drying process make it a reliable option for various surfaces. Achieve stunning results with this exceptional spray paint that delivers lasting beauty to your projects.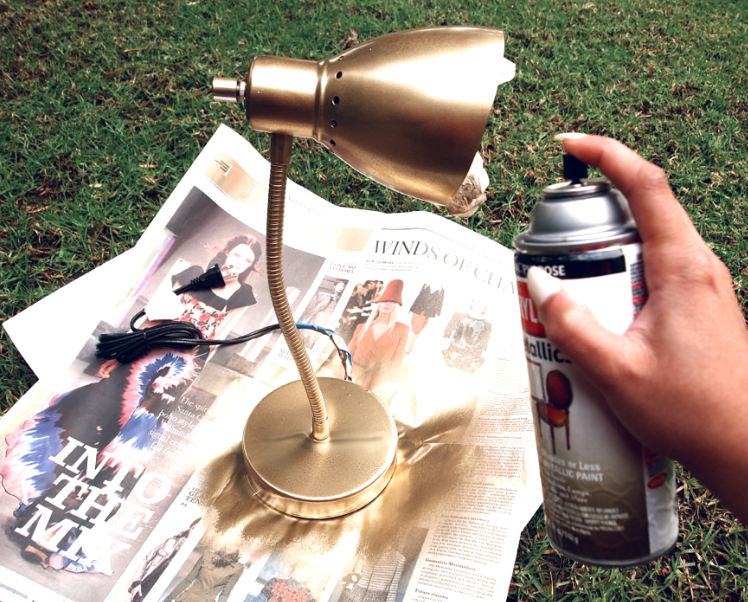 When it comes to adding a touch of bling, this is the most economical spray paint for furniture. The deep, lustrous finish of this spray paint is truly exceptional. The ease of application is worth mentioning. It sprays smoothly and effortlessly covers areas without any trouble, ensuring an even distribution of paint and eliminating ink blotches.
Its smooth and high gloss metallic appearance resembles genuine golden plating, giving your projects a luxurious and upgraded look that's hard to come by. There's something about 18-karat gold that exudes sophistication and style.
That's precisely why you'll love it – it effortlessly revamps objects, furniture, and crafts, adding an elegant touch that catches everyone's attention. What's more, the quick drying time of just 10 minutes allows you to see the beautiful effect on your project almost instantly. Within two hours, it's completely dry and ready to be handled.
With an 8-ounce can covering up to 20 square feet, you'll be amazed at how far this spray paint can go. A few simple tweaks and paint jobs are all it takes to give your projects a sophisticated transformation in no time.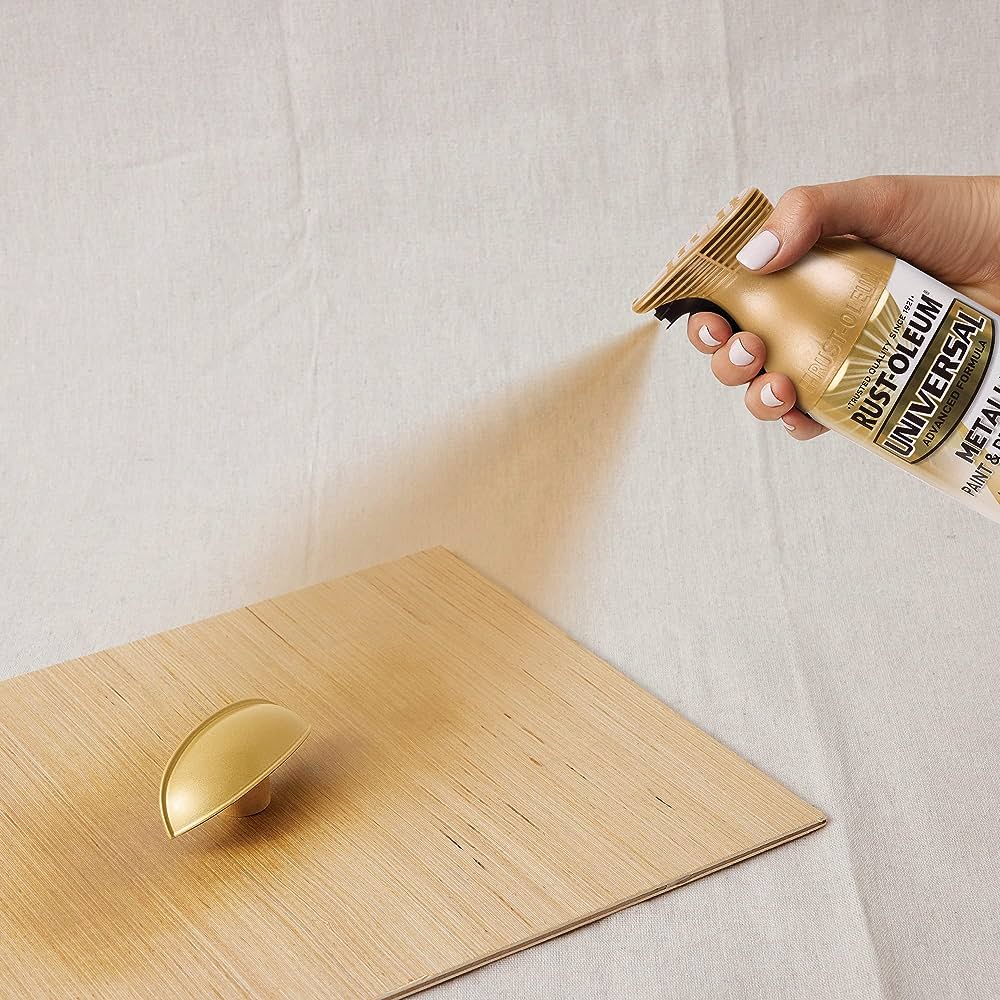 Among all the other spray paint for furniture, this one is for those who professionally take up wooden furniture revamping projects, as it offers exceptional adhesion, durability, and versatility. When it comes to painting, adhesion to various surfaces is key.
Paint professionals agree that if a paint can adhere to plastic and vinyl, it's also perfect for wood and metal surfaces. That's why you can wholeheartedly choose this oil-based paint formula, known for its superior adhesion and long-lasting durability. One standout feature of this spray paint for furniture is its ability to resist fading and chipping.
This formula ensures that your surfaces remain vibrant and pristine, even in the face of harsh conditions. A significant advantage of this spray paint is its ability to prevent rust, making it highly recommended for preserving and enhancing wooden surfaces.
The satin finish of this paint adds a touch of elegance. Quick drying time is another benefit of this spray paint. Within just 30 minutes, it's dry to the touch, allowing you to proceed with your project efficiently. The cap design, supported by any-angle spray, is a game-changer. It enables you to reach and paint those tricky and narrow areas effortlessly.
Conclusion
In conclusion, when it comes to painting wood projects, spray paint for furniture offer a host of advantages. While painting with a brush may seem cost-effective initially, spray painting is faster, yields more beautiful results, and provides longer-lasting finishes when proper surface preparation is done. Considering these factors, opting for spray paint proves to be the more practical choice.
However, finding the best spray paint for furniture can be a daunting task. That's where quality reviews come in handy, helping you make an informed decision. It's crucial to weigh the advantages and disadvantages of different products to ensure they meet your specific requirements in terms of suitability, comfort, and budget.
So, go ahead and explore the world of spray paint to enhance the beauty and longevity of your wood projects.