Painting is a fun activity people like to do in their free time. It is a good stress buster and enhances creativity. For an exceptional painting experience, you need high-quality material so that you enjoy working even more. Just like the other painting tools, painting too has a significant role in achieving a perfect finish for furniture or any other surface. The look of the object depends majorly on the paint selected and the finishing of the paint.
Therefore, it is important to select a good quality paint for smooth finishing. There are many paints available that have a unique set of characteristics. One such paint that has all the desirable qualities is heirlooms all in one paint.
Many people have used it and found it useful and a must-buy paint. In this article, you will find the reviews of the paint and also a guide on how to use this all-in-one paint.
What is an All-In-One Paint?
An all-in-one paint eliminates the use of separate products like sealant, top coat, and primer while painting the furniture. Therefore painting with all-in-one paint is quite easy as compared to conventional paints. This is the reason why it is gaining popularity amongst people who are new to the painting world.
As the name suggests, it can be used to paint the exterior as well as the interior of the house. Its use is not only limited to cabinets but can also be used to paint furniture, floors, etc. This makes it highly desirable.
When applied on various surfaces like brick, ceramic, wood, stone, metal, etc., you will achieve a smooth and very nice finish that will make you feel astonished. The paint is made with environmentally friendly material and contains low VOCs. It is a non-toxic and water-based paint.
With all these features available, another advantage of all-in-one paint is that there are many color options available, so you can choose the one you want to use to create stunning masterpieces.
There are approximately 50 color shades available from which you can select the suitable color for your furniture that will blend well with the surroundings and enhance its look.
Review of the Heirloom Traditions All-in-One Paint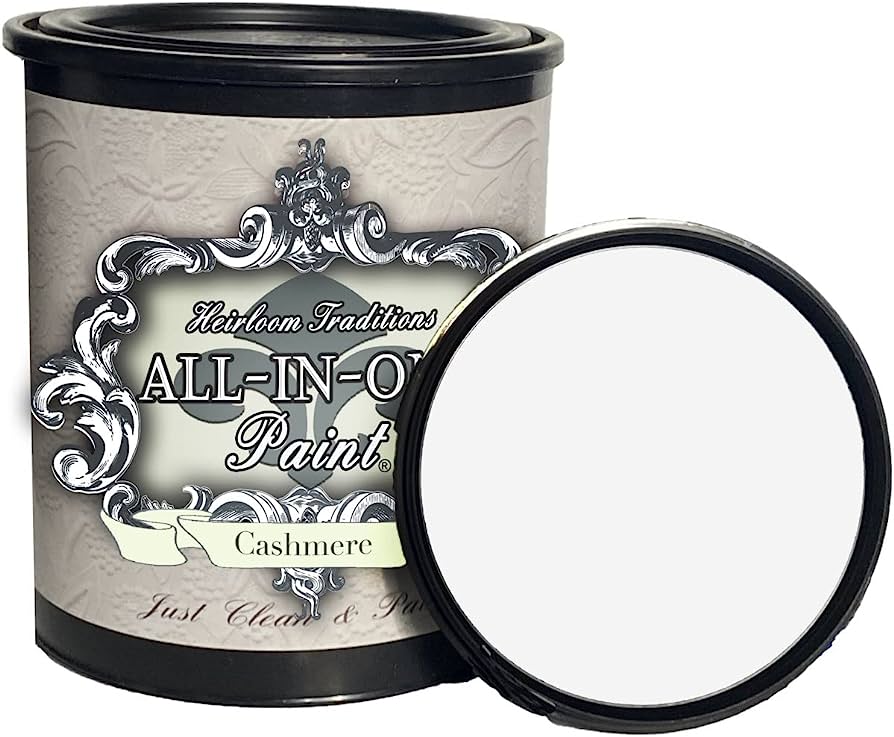 Many people have used all-in-one paint to paint furniture and have appreciated the paint. They were delighted with the final look achieved using all-in-one paint. They found it easy to use and time-saving. There are a few more advantages that are summarized below. If you are uncertain about whether to use all-in-one paint or not, you can order a free sample of the paint. If you are happy with the services, you can order paint.
1. It has a Very Smooth Appearance
The all-in-one paint has a very smooth finish on the surfaces. But for enhanced durability, you need first to clean the surface you are painting using sandpaper. This will assist in the process of achieving a smoother appearance. Now with the help of a foam brush, you can apply the first coat.
If you want to see the difference between the two, you can consider one surface that is not clean using sandpaper and another that is cleaned with sandpaper. You will clearly see the difference once you have applied the first coat on both surfaces. Therefore it is always recommended to clean the surface in advance using sandpaper.
2. The All-In-One Paint is Durable
The all-in-one paint has higher durability as compared to the other paints, so the look will not spoil, and the furniture of the walls will continue to shine for many years.
So it saves you from the expense of painting the surfaces frequently. It will enhance the durability of all surfaces, including walls, cabinets, wooden furniture, etc. You can also skip applying primer when using all-in-one paint. But if you are painting white, then; do not skip applying primer for a better finish.
It can also be used on old and damaged furniture, and the look achieved will be astonishing. It will give the appearance as if the surface was never damaged and painted just yesterday.
3. It is Made of High-Quality Material
The all-in-one paint is made of high-quality material, and; when painted on surfaces like furniture, ceilings, walls, etc., it gives a professional look. The high-quality paint will prevent your furniture from getting damaged due to external factors like dirt, grease, oil, moisture, etc.
For people opting for DIY projects, heirloom all-in-one paint is highly recommended as it will hide all the imperfections of the furniture, and if you are not able to perform all the steps efficiently, the look of the furniture won't be affected.
In fact, people painting furniture for the first time can go for heirloom traditions all in one paint because it will be able to eliminate imperfections themselves.
4. All-In-One Paint is Expensive
Many people found it expensive compared to other paints available in the market. But according to them, the finish achieved is glossy and perfect, and you need to apply lesser coats of all-in-one paint, so it is worth the money. You can achieve a super fine finish in lesser coats as compared to the other paints.
For example, if you are considering any other paint, then; the three coats of it will give a similar appearance to two coats of all-in-one paint.
So, in the long run, you can say that you will be spending the same amount of money but, with the lesser effort, you will be achieving similar looks, so all-in-one paint will help you to save time.
5. Easy to Use
The process of using heirloom all-in-one paint is not at all complicated. It can be used by beginners also to achieve a perfect finish for the furniture or any other surface they are using. And if you are a trained person, you will also observe the difference between all-in-one paint and other paints.
Many people love painting but hesitate to follow their passion because of the multiple products you need to mix and match while painting. In that case, one paint can be the savior for you as it contains a built-in primer and top quote, so there is no need for any preparation in advance.
6. The Paint has High Coverage
High coverage means that it will hide the underline layers, effectively giving an appearance that you have painted the surface for the first time. It has a higher concentration of pigments that hide the previous paint, giving higher coverage.
These pigments can penetrate the layers deep, thus, hiding any traces of the previous paint. So even if you go for light-colored all-in-one paint over darker furniture, the coating would be perfect and will conceal all the imperfections of the surface, giving an entirely new look to the furniture.
When opting for a light color, you also do not have to worry about any stains from previous paint because all-in-one paint will cover up everything flawlessly.
7. It Can Be Used in a Sprayer too
The heirloom all-in-one paint is not too thick, so you can even spray it on furniture with the help of a sprayer. If you like to work with a sprayer while painting, then; you can use the all-in-one paint without hesitation, as you will achieve a fine and single-layered finish using this paint.
You can achieve a uniform finish using a sprayer, also. But you need to be careful while using the sprayer because it is generally not recommended to use the paint sprayer, so first, use a small amount of paint and check the finish. If you find the finish to be good, then you can continue with using a sprayer.
8. It saves time
The coats of all-in-one paint dry quickly, so you don't have to wait for long hours before painting the other coat. It generally takes 30 to 45 minutes for the paint to dry, which is less compared to many other paints. So this is an ideal paint for people looking for time-saving options.
In addition to this, you do not have to waste time on a primer or top coat, so it helps to save time. If you wish, you can even start using the furniture after a few hours it has been painted.
That is why it is popular among people who are generally short on time but still want to paint their furniture themselves. As it dries quickly, so it is ideal for painting small surfaces. You need to work fast when working with all-in-one paint else irregularities will be observed.
How to Use Heirloom All-In-One Paint?
Heirloom all-in-one paint can be used easily without too many preparations. But you need to follow the precautions and the steps involved carefully; otherwise, you won't be able to achieve a fine finish.
To help the customers with the painting process, they have made various tutorials and videos that can be taken into consideration before painting the furniture. If you think you can cope with the process, then; only order the paint. The consistency of the paint is different from the other paints as it consists of primer also, so it is generally thicker.
And that is why you need to be careful while using heirloom traditions all in one paint because if not used carefully, you will see visible brush strokes on the surface. Below are all the steps mentioned that you should follow while painting the furniture using all and one painting.
Step 1: Clean the Surface Properly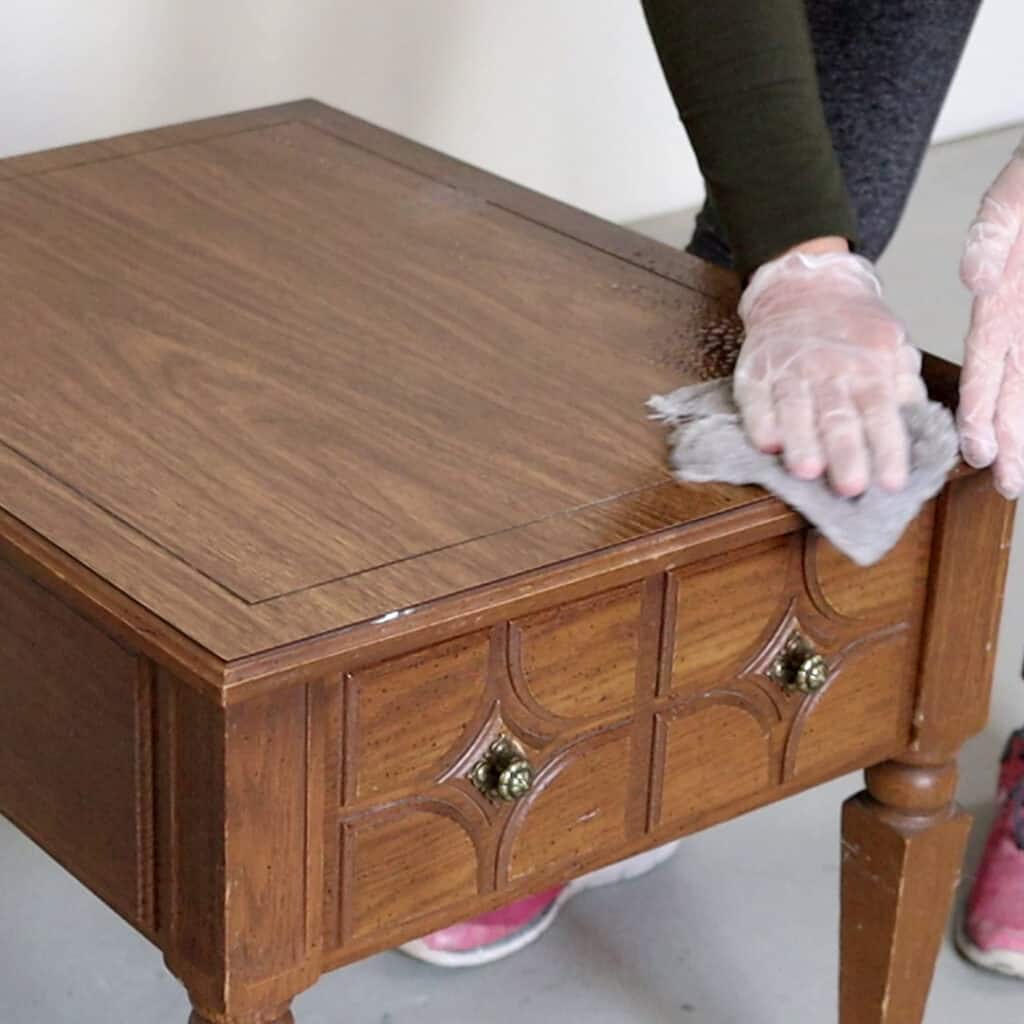 It is very important to clean the surface properly with the help of a cleansing agent. The cleaning agentwill remove all dirt, oil, or grease from the surface, making it ready to be painted. Once you have removed the dirt using a cleaning agent, do not forget to clean the surface with a wet cloth. If you want a more durable paint finish, you should sand the surface before painting. Many people have observed that sanding ensures a better adhesion between the paint and the surface.
Step 2: You are All Set to Paint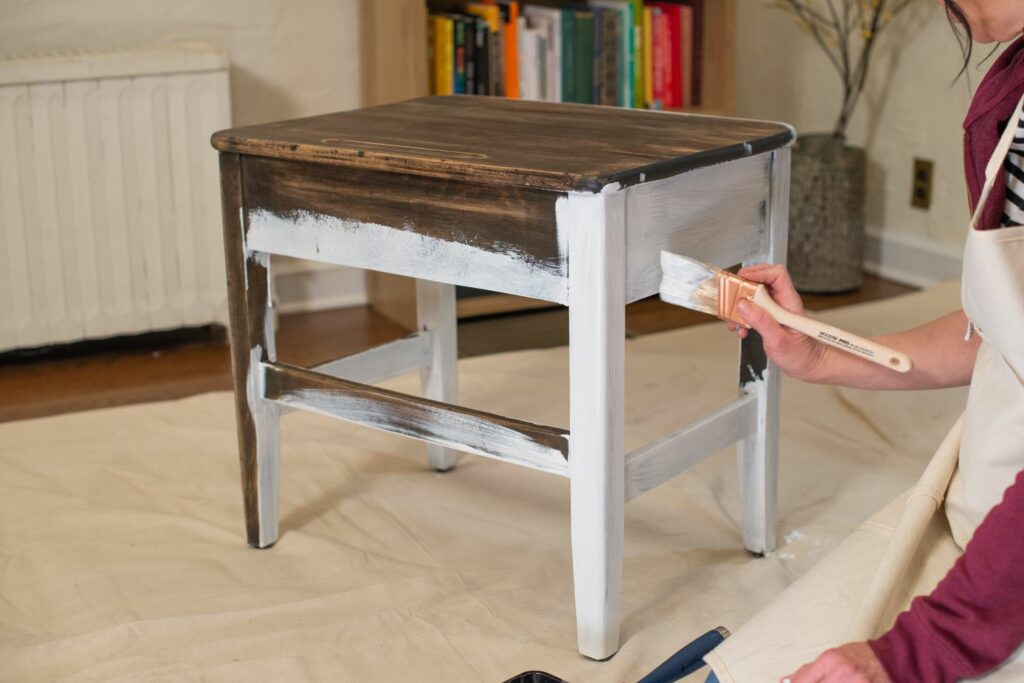 Sounds shocking, but that's true. Since using all-in-one eliminates the use of a primer, the next step after cleaning is painting the furniture. But while painting, you need to follow a particular technique different from the application technique of other paints as all in one paint is thicker than the other paints.
The two techniques involved in the painting process of all in one painting are mentioned below:
1. Brush and Stipple Technique
This technique involves first painting the furniture with thick coats using a paintbrush and then lightly patting the furniture with foam. This is patting with foam or stippling conceals the brush strokes and gives a smooth texture to the furniture. Do not be harsh while stippling else, and you might remove some paint from the surface of the furniture giving an uneven touch to the surface.
2. Brush and Roll Technique
The brush and roll technique is a widely used technique, where you use a brush to paint the furniture and then use the foam roller over the painted furniture. This will hide any irregularities on the surface, giving a fine finish. The brush and roll technique is ideal for large pieces of furniture and furniture that is plane i.e.there is no carving in the furniture.
If the surface has some design in it, then you have to take care while using a roller as it won't be able to cover the small corners, so to achieve a fine coating over there, keep some foam also with you.
Step 3: Apply This Second Coat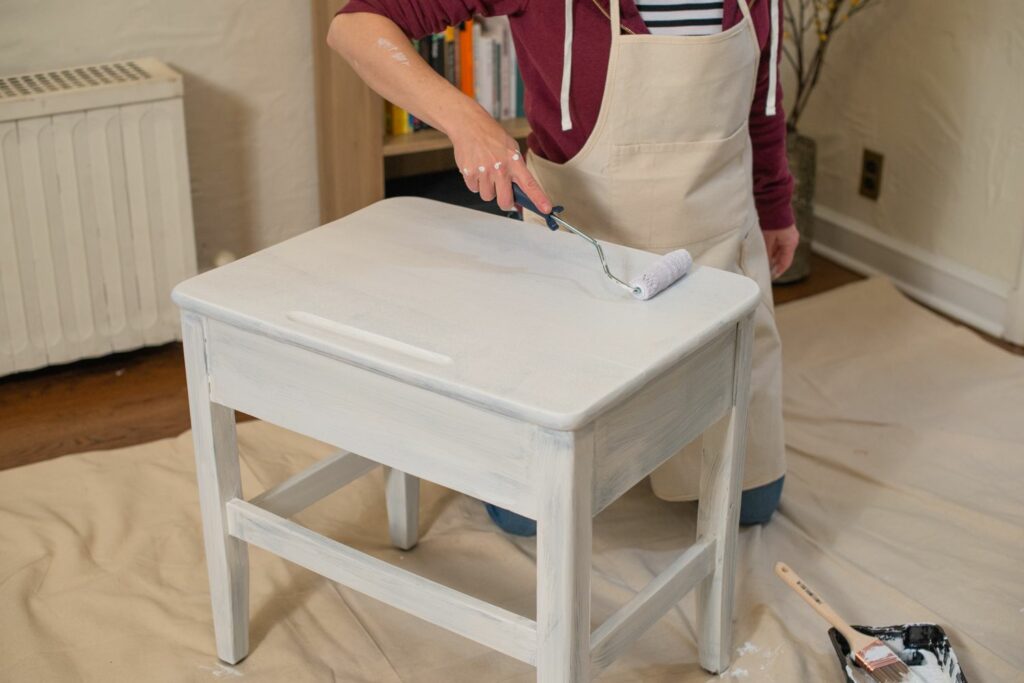 Once you have completed the first coat on the surface, you can now proceed to the second coat after the first coat has dried. The painting procedure is similar to the application of the first coat. After applying the second coat, if you do not find a fine finish, you can go for the third coat. You can opt for an extra coat when painting the top of the furniture; this will help to seal the paint effectively.
By following the above easy steps, you can paint your furniture yourself. Once the furniture has dried, you can keep your things in it and display them in your room. You will enjoy the painting process and the final look of the furniture and will love to paint more furniture once you are done.
Conclusion
Heirlooms' all-in-one paint can be used to add an exquisite touch to the furniture with minimum effort. It is a good paint for people who prefer to avoid multiple steps involved in the painting process. The finishing of the paint is appealing and will attract everyone's attention towards it. But to get a professional look for your furniture, you need to ensure that you paint the furniture according to the instructions. Else, you won't be able to achieve a nice look.
Other benefits that will surely attract your attention are its durability, time-saving ability, easy application, etc. So, if you are looking for such characteristics in paint, then; you should go for all-in-one paint. You will definitely enjoy working with it and will love to paint more furniture using this all-in-one paint.
So, without wasting time, go and select your favorite color and start painting your furniture for an astonishing look.