Renovating your house is a mentally straining task because of the number of macro and micro decisions that need to be made every minute. Bold or subtle? Vintage or Contemporary? Simplistic or Boho? Quick DIY or full-blown renovations? These choices can take a toll on your decision-making and hamper the end outcome of your home. Are you planning to decorate your TV wall and create an accent wall TV for your home? Simplify this laborious and time-consuming task by using simple hacks and ideas you are about to explore.
There are numerous options available on how your accent wall TV setup can be designed. Depending on the materials you use, such as paint, decal, or wallpaper, the end result varies quite drastically. Stay aware of the types of shelves or cabinets that you find appealing and match your style of personality.
Let's make your accent wall for TV the center point of your home and dive right into the decor of it all.
Choose the Background to Create an Eye-Catching TV Accent Wall
Before you get into how you want the final look to come, you need to decide on the texture, look, and finish of the accent wall. For this, choose from the materials that are commonly used while designing accent wall TV. The following raw materials are preferred for the wall based on your preference. Here are your choices
Wallpaper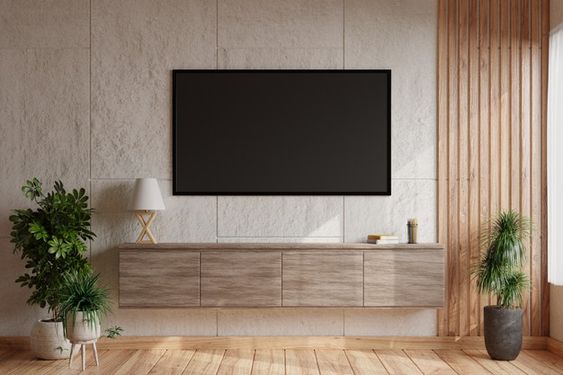 When looking to create a budget-friendly option for an accent wall tv, wallpapers are always a lucrative option. They are easy to apply and can be done in a matter of hours. The best reason to choose wallpaper is that it offers unmatched flexibility and designs. You can choose from the wide variety of designs that are available in wallpapers. Common patterns include:
Plain Bold Pattern– Choose plain colored wallpaper or one with big, bold patterned designs. This becomes a standout that attracts attention in the best way possible. Bold pattern wallpaper is ideal because the TV is generally placed in an area that is the center point of your home. It grabs visual interest and gives off a very exuberant look overall.
Textured Wallpaper – Textures are good. It adds depth and personality to your home. You can use textured wallpaper to bring in some much-needed definition to your accent wall. This includes a brick-like 3D design or wallpaper with a tactile differentiation.
Metallic Wallpaper– When you think sleek and stylish, metallic accents are usually the first thing to pop up in your mind. Choose stunning wallpaper designs with a metallic-like finish that gives an eye-catching shimmer when it reflects light. It works as the perfect base that highlights the TV even more.
Mural Wallpaper – This type of wallpaper is either a blown-out version of art or includes certain landscapes, cityscapes, or skyscapes, depending on your preference. It could be stunning abstract art that grabs attention on the wall even when the TV is turned off. It makes you think; it becomes a focal point of your house that fosters intrigue and conversations with guests, family, and friends.
Painting Done Right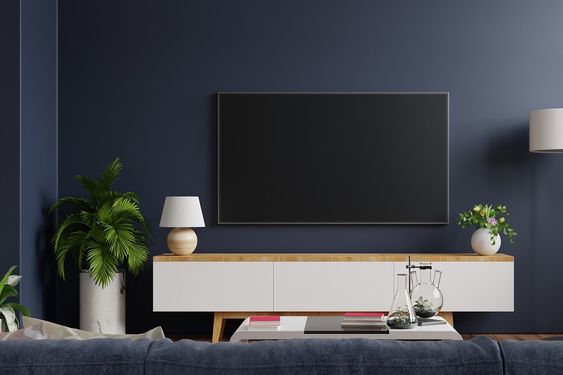 Permanent homes seek more permanent solutions when it comes to designing. While wallpapers may be brilliant for rental homes, painting is a more lucrative option for permanent homes. The overall look and finish of a painted wall differ significantly from any other type of wall. Now create your own accent wall TV using simple paint and play around with color schemes. Paint also allows for textures and patterns that are as interesting as a TV accent wall.
Artwork – Painting always doesn't necessarily mean painting a simple, bold color into the wall behind the TV. This could be graffiti, abstract art, or more. It adds a magnanimous appeal to your home.
Symmetry – Use your paint creatively to mix and match colors and create geometric patterns. Depending on the design or symmetry, this draws attention and can give the illusion of a bigger space.
Plain Bold Paint – When in doubt, go simple. Choosing simple paint is a great way to draw attention to your TV and nothing more. You can choose plain, bold paint colors such as deep blue, white, pastels, and more.
Design Elements to Choose for Your Accent Walls
Once you have decided on the core background, it's time to dive deep into the details. The second big decision you need to make is choosing what elements you want in the background.
1. Floating Shelves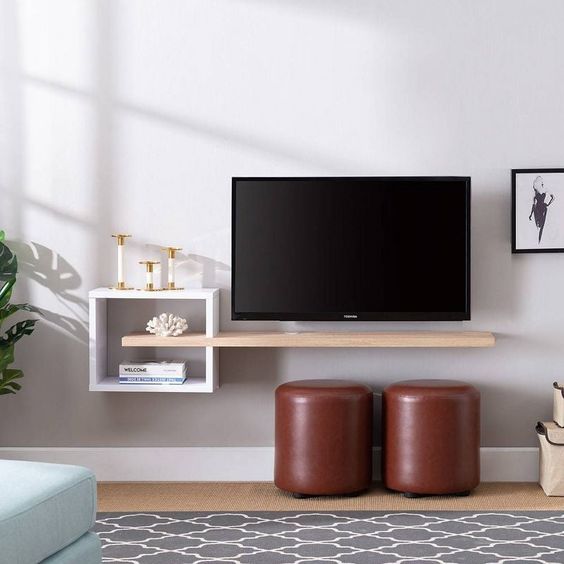 Why waste space behind accent wall TV? Use it ergonomically and tactfully to add interesting elements. Having floating shelves has its merits for multiple reasons. These shelves can act as storage to place your TV accessories like speakers, cable boxes, and remotes. In addition, it also gives you the flexibility to add items of art, decor, show pieces, and so much more.
For instance, you can give this wall a complete overhaul during Christmas by using your TV shelves and adding Christmas accessories. Floating shelves offer good functionality and amp up the overall look and feel of your wall.
2. Cabinets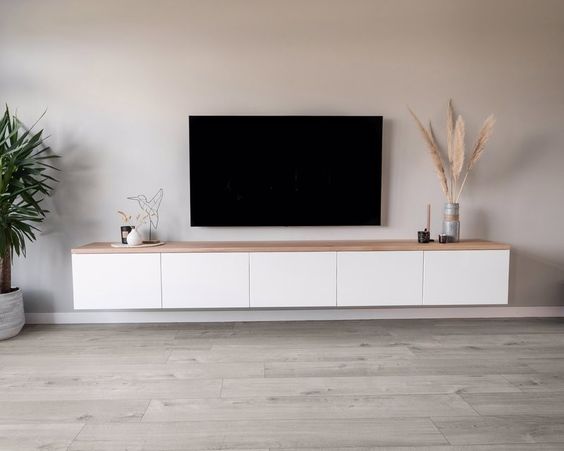 While your TV accent wall can be a plain and simple one, you can still choose to have cabinets around it. This cabinet-like design looks stylish and classy. The best part of having cabinets is beyond just storage. Every few years, you can give your accent wall TV a complete overhaul just on the basis of the accessories you put in the cabinets. If you are in the mood for a contemporary setup, use contemporary-styled showpieces, art frames, mirrors, and more.
If you feel vintage, change it up entirely by adding vintage knobs, vintage decor accessories, and art pieces. This gives you endless flexibility if you do not wish to commit to one single style.
3. Wall Panelling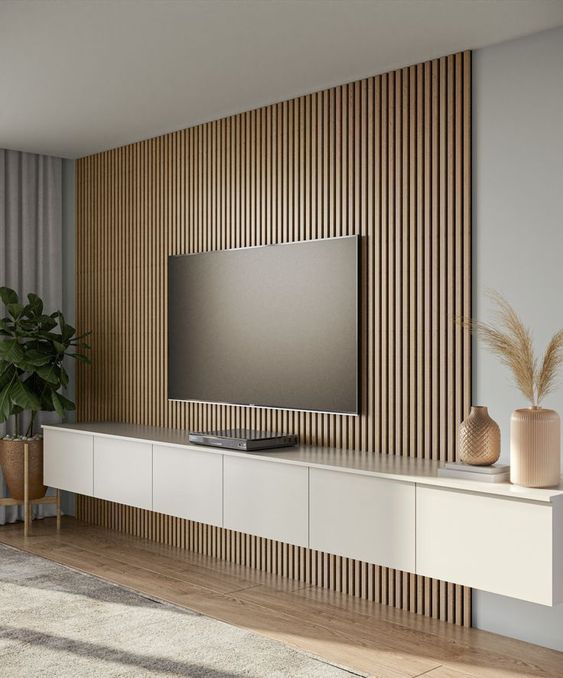 Simple basic wall background can get boring. Why choose boring when you can go flamboyant? Choose these stunning wall panels to refurbish your home into something bigger, better and more grand. Wall panels are an excellent design element that can totally transform the look and feel of your home in no time.
Wooden Panels – Panels come in all sizes, shapes, and forms. While there are various materials, such as wood, metal, and plastic, to choose from, wood gives off a very rustic, charming, and homely feeling. Enjoy the flexibility wood offers as you get to wood stain it to match the decor of the rest of your house perfectly. If your home is made of dark walnut-colored wood, you can match these wood panels to the same color.
Textured Panels – You can choose panels that come in various styles, such as carved wood panels, tile panels, brick wall-style panels, decals, and so much more. Simple textured panels can truly amp up your home decor and make your accent wall TV stand out like no other.
Furniture Selection for Your TV Accent Wall
Want your decor to match your personality? Want it to stand out beautifully? Then be mindful of the type of furniture you wish to add to your home. Using natural furniture styles that blend well with your personality is essential for your home. Here are a few furniture options that can go well with your home.
1. TV Stands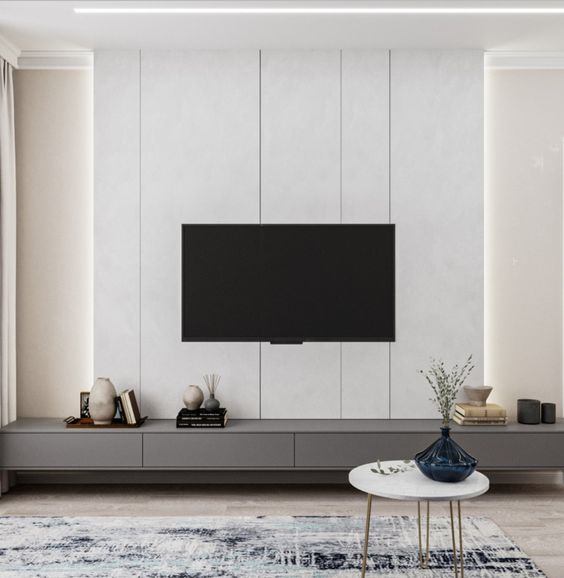 When looking to upgrade your basic wall into a stunning accent wall TV, be picky with the furniture selection. Get your hands on the wide variety of TV stands available online. You can get a simple plank-style TV stand, or you can choose one with ample cabinets and storage style to store your gaming consoles, remotes, attachments, and so much more.
This can also double up as a work desk if designed that way. This is ideal as it becomes multi-functional in nature, making it ideal for long-term use and storage. You can get your hands on classic wooden TV stands or choose metal and plastic stands too.
2. Mounted TV Console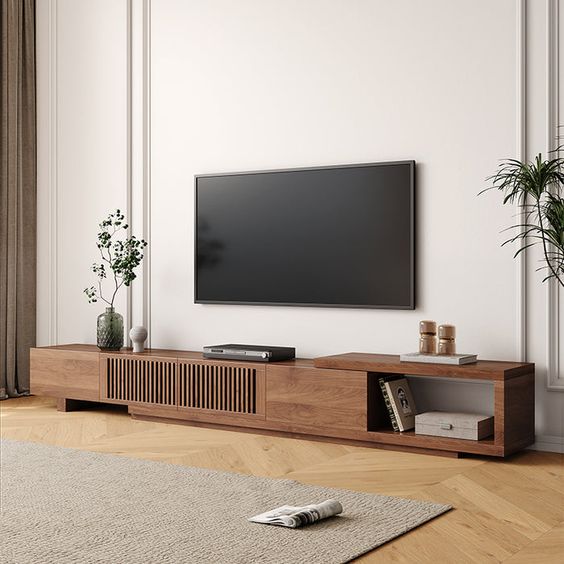 It has a clean and neat design that accommodates more than just your TV. Bring in an entire wall-mounted TV console. This includes media cabinets, storage cabinets at the bottom, shelves to set up some decor, books, planters, and more. It makes the best use of space, looks excellent as an accent wall TV, and has multi-functional utility.
3. Bookshelf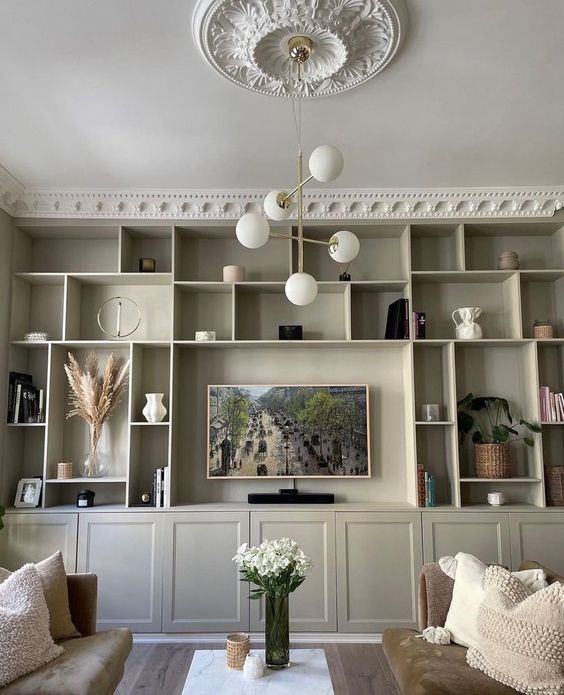 Nothing speaks more about a person's personality than a good-looking, resourceful bookshelf with a superior book collection. While a TV accent wall is great for your home, mixing this up with a stunning bookshelf is an excellent solution for your home. You can play around with the type of bookshelf you want, for instance, vintage bookshelf, farmhouse bookshelf, simple neutral bookshelf, and more. You can also use thrifted bookshelves as a way of amping up your home on a budget.
Lighting up Your Accent Wall TV
Once you have narrowed down on the type of background, furniture, and textures you want, it's time to come down to the lighting of your home. Make sure your home is bright and beautiful. Using the right kind of lighting for this specific wall can be the make or break for all your efforts. Choosing the right kind of light that highlights the wall and accentuates its beauty is important.
1. Try Backlit Walls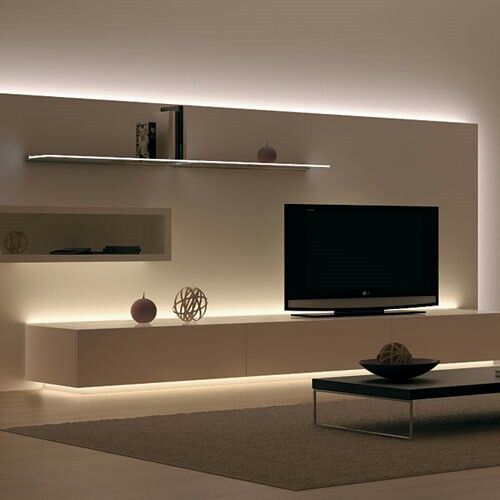 The perfect way to help your TV really stand out is to have backlit walls. With advancements in technology and smart systems in place, you can have your backlit in concurrence with your TV.
2. Spotlight Lighting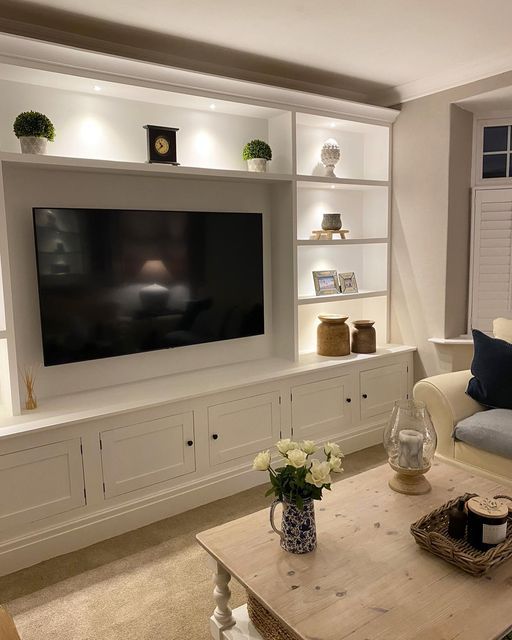 If you have floating shelves or just a bookshelf-type setup, you can have small spotlights-like setups to highlight your decor items.
3. Mood Lighting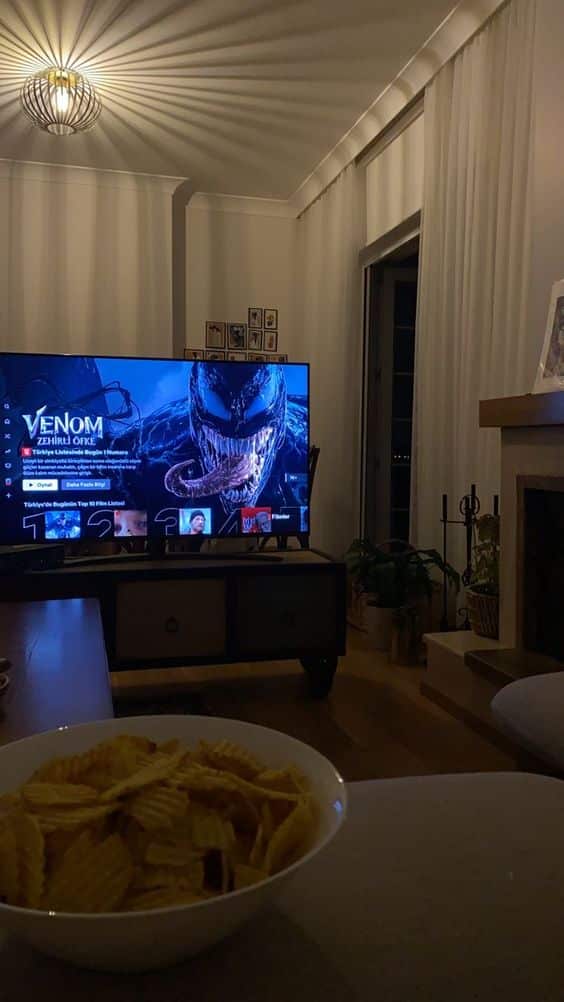 Your TV-watching session is often a family time where every member comes in and enjoys a good TV binge. This is the time just to dim down the lights, grab some snacks and watch your favorite TV show. Dim lighting creates the perfect setup that helps you unwind, relax and breathe after a long day.
Ways to Decorate Your Accent Wall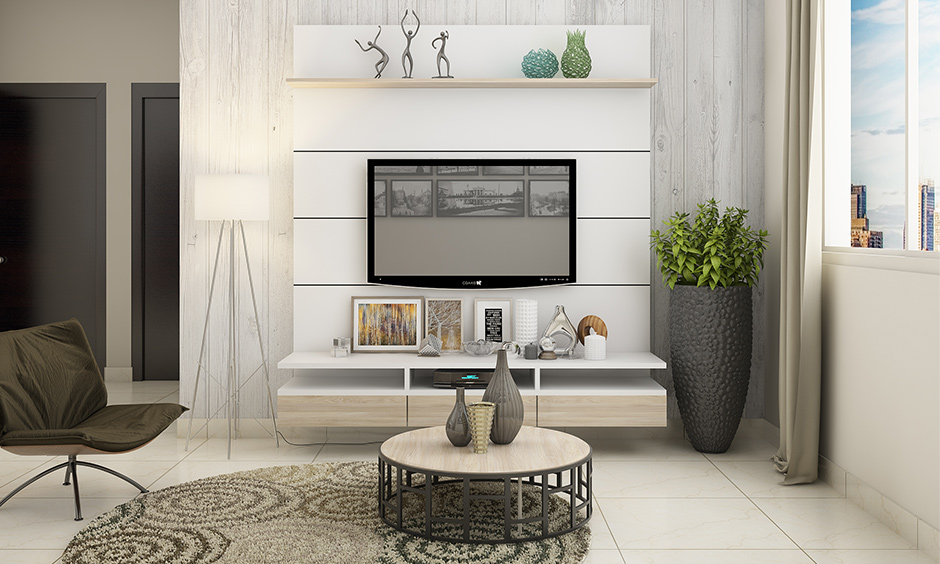 Once all your basic elements are in place, there are simple things you can use to decorate your accent wall and make the final look appealing.
Use bold artwork, self-made artwork, and simplistic or minimalist art, all depending on the kind of setup you prefer. You can alleviate your home using this simple setup and transform your simple accented wall into a rich, classy style statement.
You can use a mirror as a complete backdrop to your home, or you can use it as a single element to place on the shelf or the background. Ensure your mirror style and framing matches the overall look and feel of your accent wall TV.
Planters make everything more real, beautiful, and earthy. Elevate your home by opting for super convenient planters. You can choose indoor planters if there is a paucity of light, or you can choose artificial plants to have the same appeal without much effort.
Conclusion
It's time to get your creative thinking cap on and get started on the accent wall TV project you have been stalling for some time now. With these simple tricks and hacks, such as using wallpaper, planters, and wooden panels, you can transform a boring wall into an interesting centerpiece of your home. It's worth choosing high-quality materials that will last long.
To make things less complicated, just choose a theme such as contemporary, vintage, or eclectic, and then choose design elements, style, etc, based on the theme you have narrowed down on.
Frequently Asked Questions
How to Make a Homemade Accent Wall?
Choosing simple elements like wallpaper, painting your own wall, and bringing in simple, bold colors to paint are ways to make your homemade accent wall. You can use murals, simple geometric elements to make the wall stand out with minimal effort.
How to Make Cheap Accent Walls?
You can use a simple peel-and-stick wallpaper that gives brilliant results with minimal effort and on a budget. You can also use wood walls, faux brick walls, and decals to make cheap accent walls and beautify your accent wall TV.
hre