Picture yourself having complete free reign over how you design your house right from the foundation. Bloxburg, a popular virtual game on Roblox, an immersive simulation platform, allows you to go all guns blazing on fulfilling your design dreams. Players are expected to compete with one another, creating stunning and innovative house layouts. Players can design and build their dream home while exploring various layout styles and unleashing their creative imagination.
In this guide, you can explore a variety of inspiring Bloxburg house ideas and architectural styles, from cozy cottages to modern mansions inspiring you to create your perfect virtual abode.
Embark on an exciting journey of design aesthetics and personal expression through the world of Bloxburg.
Here are amazing, inspiring Bloxburg ideas based on various architectural styles.
1.Lakeside Cherry Blossom Mansion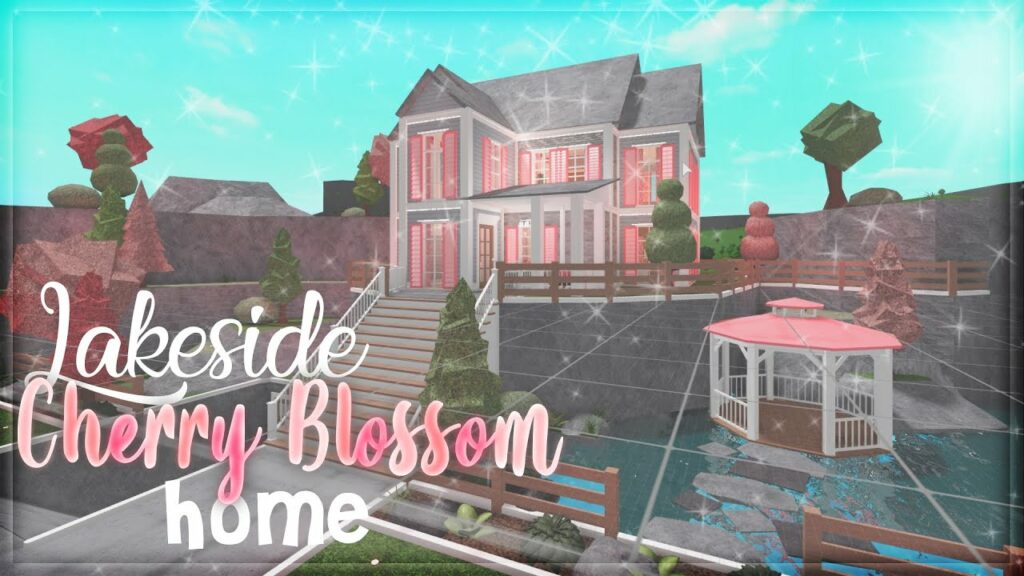 Lakeside cherry blossom home is bestowed with all modern amenities. The mansion has a stunning gazebo to relax and enjoy the serene natural beauty around. It also included a waterfall that is surrounded by different kinds of vegetation. The beautiful Sakura trees around you will make you feel like you are living in your favorite anime scene.
2. Mediterranean Modern Villa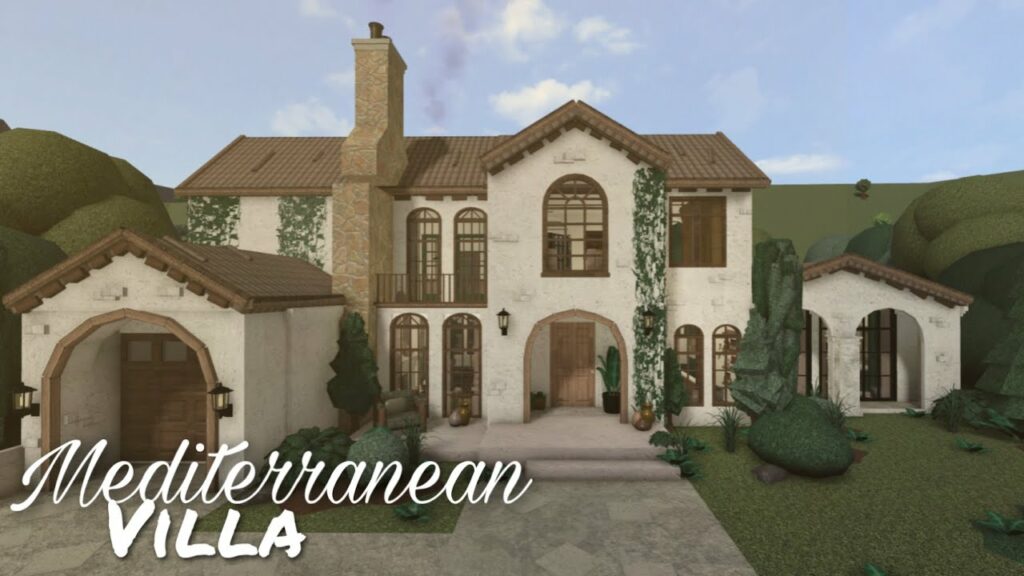 Explore the perfect blend of modern style with a Mediterranea n flair. It offers opulent windows, doors, and arches. It gives a sleek appearance with a geometric styling layout. You can access multiple bedrooms, baths, and even areas like a sprawling lawn and pool. Make it your own by adding a patio outdoors and add fun elements to the outdoors by adding a water fountain and making it look stunning.
3. Modern Bloxburg Mansion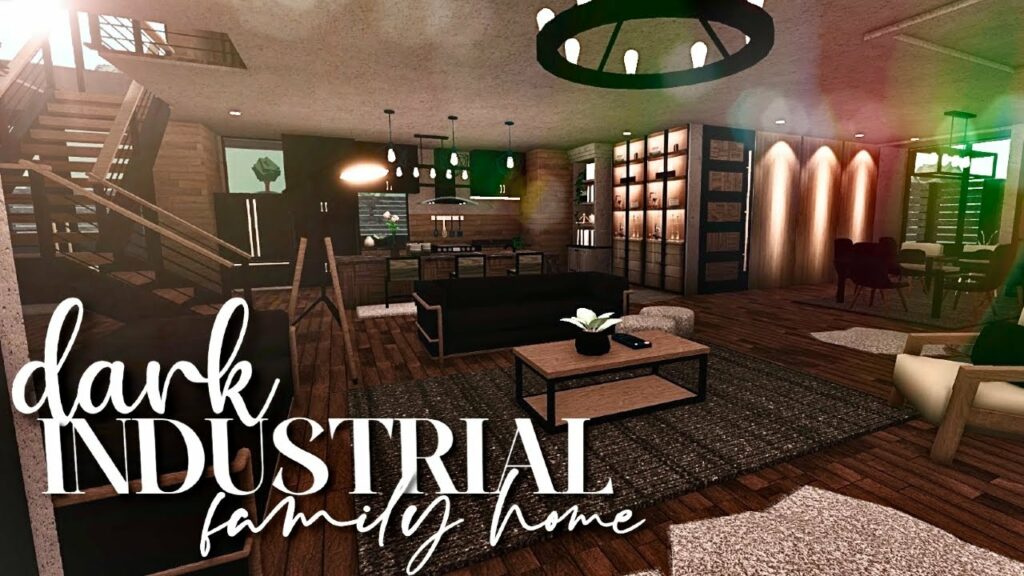 If you've always loved things the modern way, this is the mansion to have. Spacious rooms, enormous windows, and luxurious furnishings add elegance and class to this home. It highlights a modern layout with minimalistic furnishings, contemporary use of black, white, and greys add to the charm.
With top-of-the-line appliances, marble countertops, and a sizable island with seating for four, the kitchen is the ultimate chef's dream. You can explore the master bedroom, which features a large king-size bed, a balcony with the most breathtaking views, and a spa-like suite with a jacuzzi and walk-in shower.
4. Steampunk Bloxburg Houses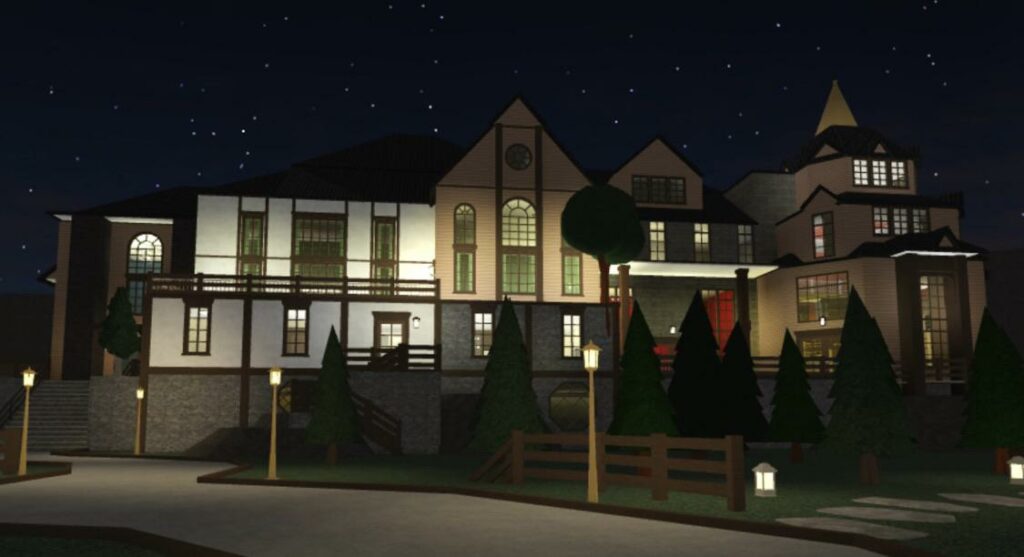 One of the best Bloxburg house ideas that combines the best of old and a futuristic edge. This cutting-edge, industrial design combines features like gears, pipes, and metal accents to create a kind of aesthetic that is influenced by science fiction and Victorian elegance.
With its daring and adventurous appearance, the steampunk house is going to attract the eye and make a statement in your neighborhood. Furthermore, it offers endless opportunities for modification and customization.
5. Rustic Log Cabin-styled Bloxburg House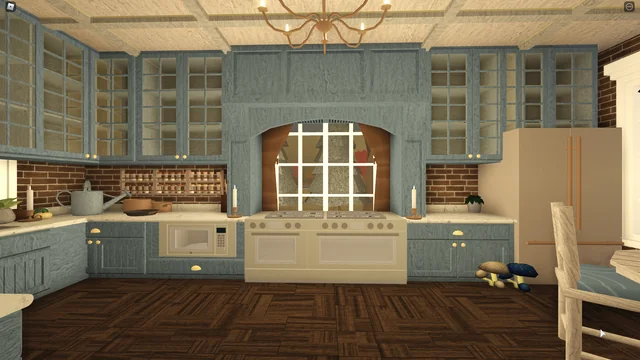 In Bloxburg, you can just go ahead and build the cabin of your dreams. It features a neat layout and an inviting environment. It usually has a simple rectangular design with a peaked roof and stunning windows to let in all that natural light.
The interior is typically roomy and open, with stunning exposed wood beams and a wood-burning fireplace to enhance the cabin feel.
6. Space Station-Inspired House
For those who like science fiction and space travel, a space station is one of the most unique and futuristic Bloxburg house ideas. The house has a spaceship resembling a structure with slender aerodynamic lines and an interior portal with a cutting-edge command center. With its futuristic architecture and advanced engineering, a space station is sure to stand out in any Bloxburg community.
7. Treehouse Bloxburg Ideas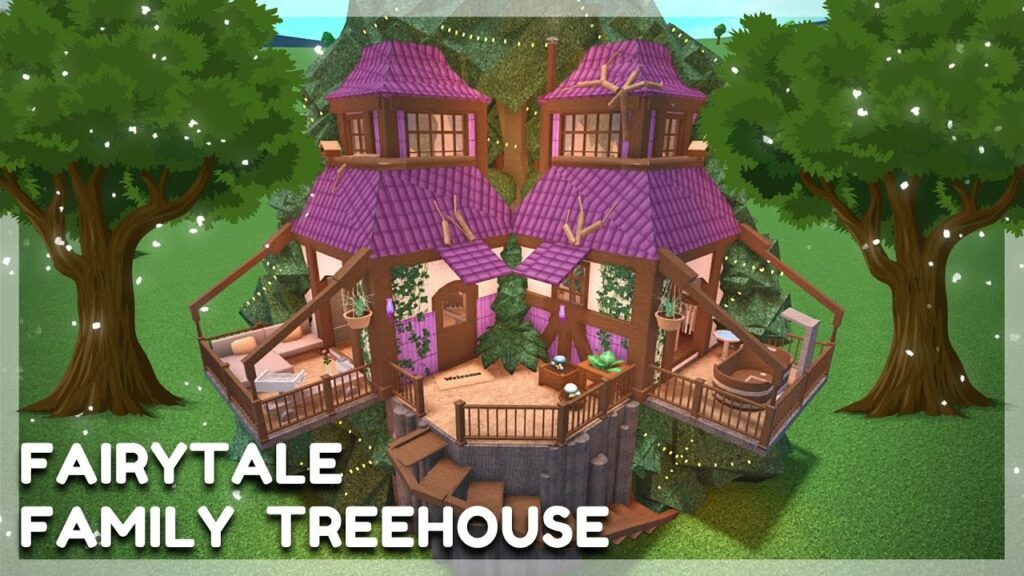 With this design, you can expand your horizon and live luxuriously. The architectural design is environmentally friendly and offers spectacular views. Create a multi-level treehouse with living and sleeping quarters on a solid platform high up in the forest.
A spacious balcony is perfect for sipping your morning coffee or hosting guests, and large windows provide stunning views of the nearby forest. Build the fairytale of your dreams in this Bloxburg world and fill it up with dreamy elements like a luscious green landscape, wooden stairwells going up into the house, and more!
8. Zen Bloxburg House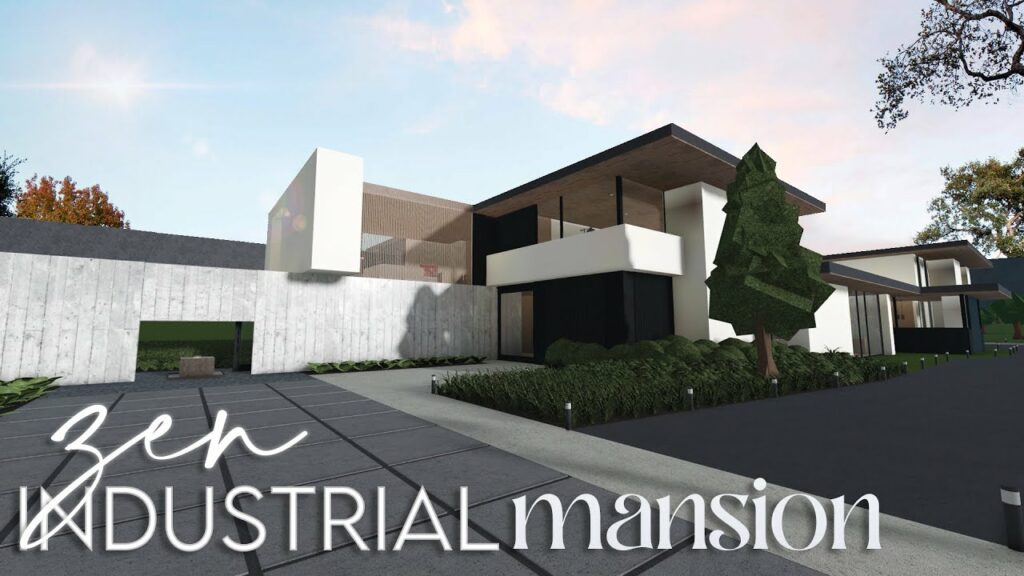 Consider Japanese-inspired design with areas that highlight nature and symmetry with balance. These Bloxburg house ideas are based on the concept of a relaxing home. A modern touch can be added to the design by having perfectly synchronized dark and bright tones in the room. Even a helipad and a pool can be easily incorporated into the design to plunge into the ultimate soothing space.
9. Beach Bloxburg Houses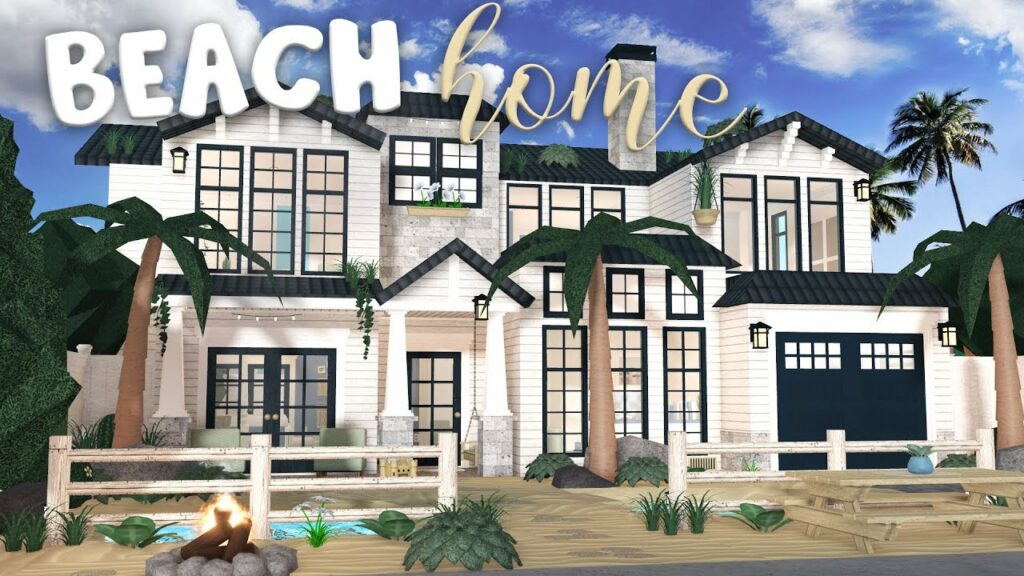 With its light and airy feel, the beach house perfectly encapsulates life by the sea. This property is perfect for those looking for a peaceful and quiet beach retreat. It has lots of light and stunning ocean views, making it beyond spectacular. The living room has plenty of space for entertaining guests, and the kitchen is right next to it.
Family and guests may enjoy lots of privacy and space in the elegant bedrooms, each with an ensuite bathroom.
10. Botanical Bloxburg House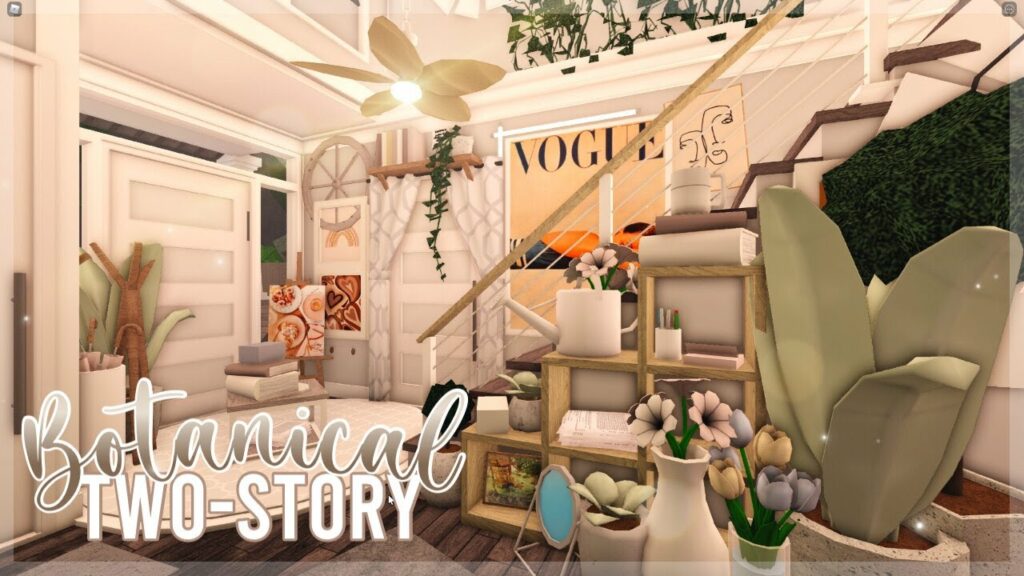 Botanical Bloxburg house ideas are all flowy and organic in contrast to the elegant and sleek modern mansions. This design is perfect for you if you admire nature and plants. With creepers, terrariums, planters, and garden beds, this design brings the outdoors inside to create a tranquil and refreshing ambiance.
The interior design of Bloxburg Botanical House features earthy tones, neutral colors, natural textures, and materials like wood, rattan, and stone. This creates a cozy, beautiful setup that is warm and welcoming.
11. Starter Roleplay House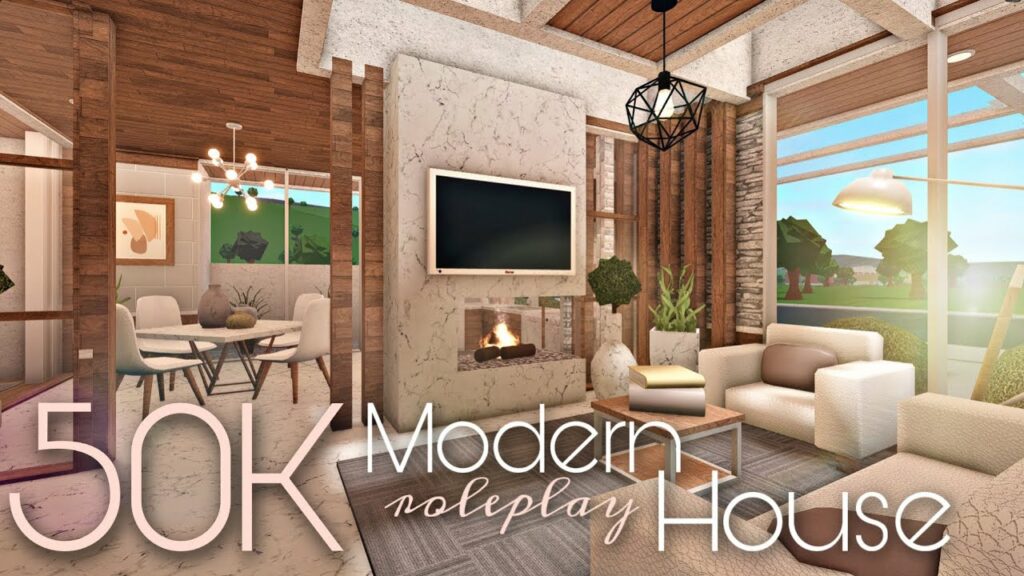 It is the perfect cozy tiny house that is fairly basic and simple to build. It has a welcoming layout and features one bathroom, one car garage, and two bedrooms that are all completely furnished. Having a starter roleplay house is a terrific idea when you are just starting out.
You'll be creating your own bespoke designs in no time. Both inside and outside the house, you get to see many plants that are a part of the natural design.
12. A-Frame Cottage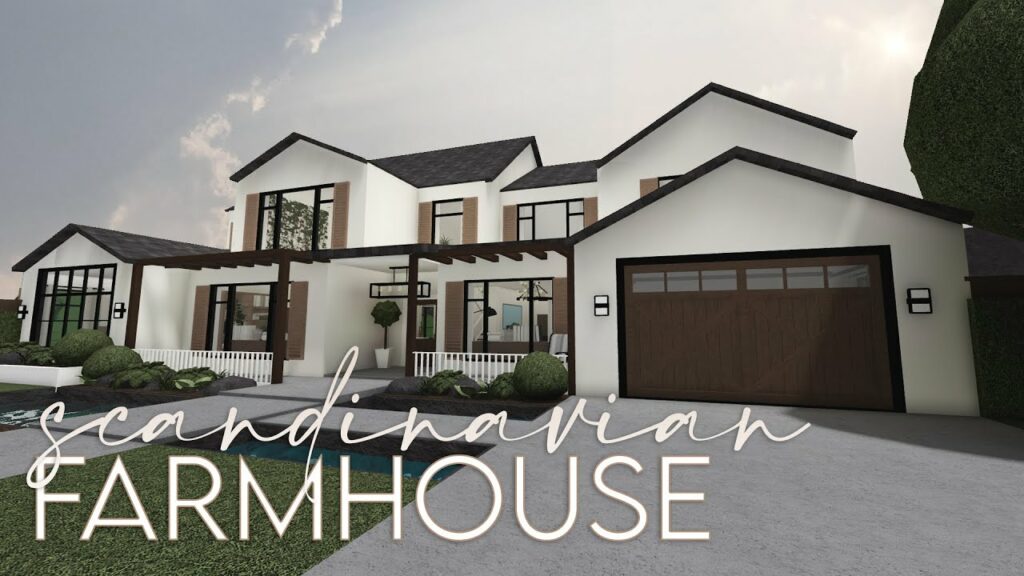 It features a stunning facade that appears to have come from a movie. The interior stone walls give the space a much brighter appearance. You will discover a sizable lovely balcony when you head upstairs. It offers you an outstanding view of the entire location. The A-frame design is a unique and attractive design for you to get started on your dream Bloxburg project. It exudes a classy elite vibe that keeps you coming back for more.
13. Contemporary Loft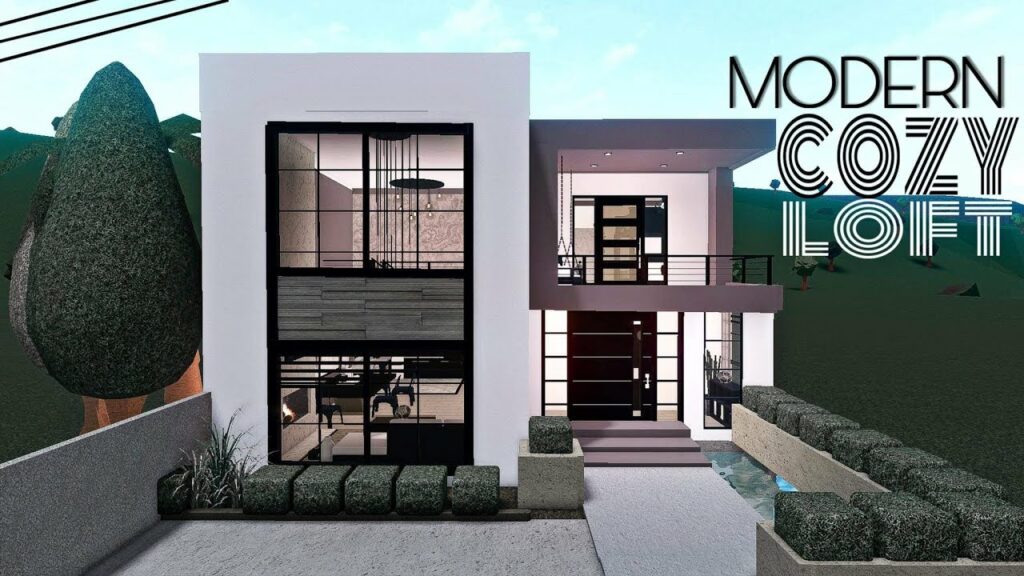 One of the most famous Bloxburg house ideas is the contemporary loft, with good reason. A tidy, beautiful living room is perfect for entertaining visitors or unwinding with family and friends. The home has a unique and chic appearance with its large windows, high ceilings, and industrial-inspired design.
The open-plan living area includes a luxurious kitchen and dining area. This space is perfect for entertaining and socializing with friends.
14.Scandinavian Bloxburg Mansion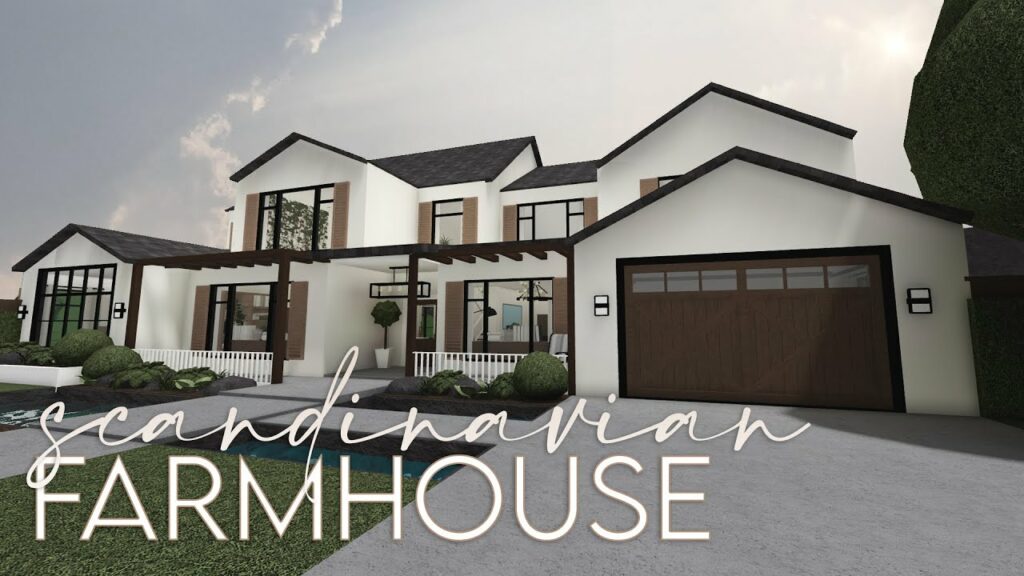 The interior of a Scandinavian-style house is a spacious open space bestowed with lots of natural light. In addition to the light-colored wood floors, get the light-colored wood cabinets too.
The Scandinavian kitsch is spacious and practical. You can customize it, use neutral tones, and have luxurious bedding made of natural fibers like cotton or linen. It has an inviting atmosphere perfect for leisure and relaxation.
15. Gothic Castle Styled Bloxburg Mansion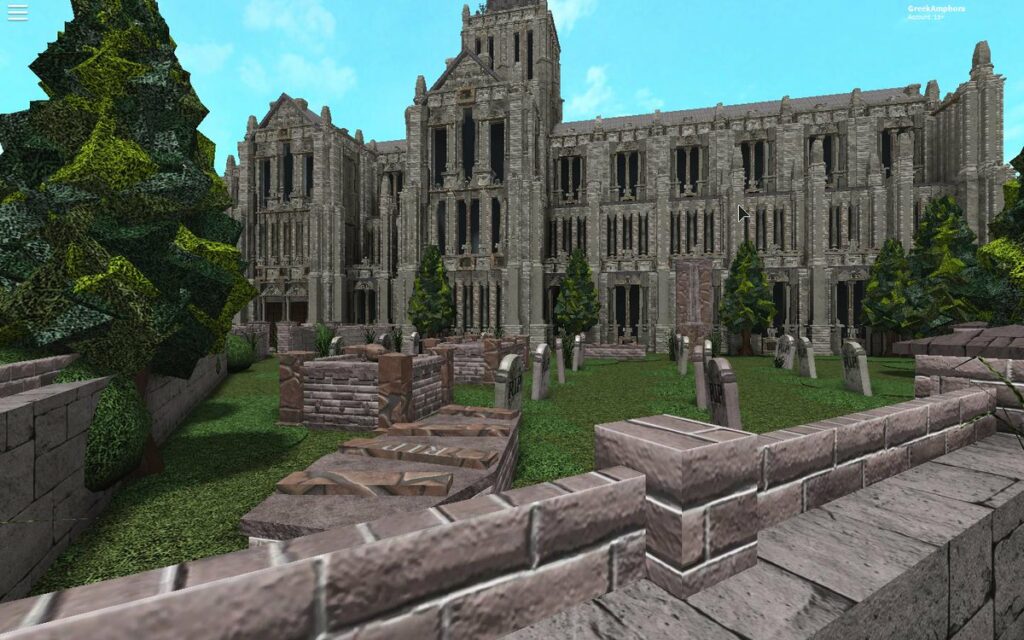 The Gothic Castle is one of the most fantastic Bloxburg house ideas if you are looking for a large and enigmatic housing design. The home design draws inspiration from medieval castles and uses gothic elements to provide a dramatic and enchanted feeling.
With Soaring towers, arched entrances, and intricate brickwork that will astound your guests, the Gothic Castle Exterior is defined by its grandeur and dominating presence. The roof of the castle usually has a steep pitch and elaborate carvings that accentuate its beauty and grandeur.
16. Industrial Styled Bloxburg Houses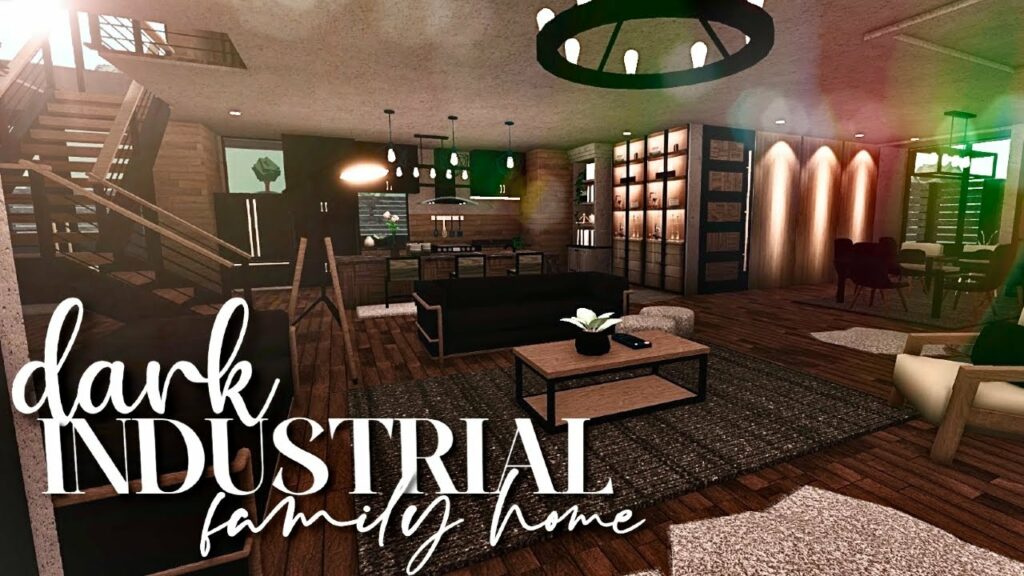 The industrial-styled home can be the best option if you are looking for a contemporary yet bold home design. These Bloxburg home designs are inspired by the urban loft aesthetic, with raw and untreated materials producing a chic and opulent ambiance.
An industrial-style kitchen has a sleek look with stainless steel appliances. It features spacious dark bedrooms with metal accents and textured materials that add to the edgy, modern impression.
17. The Cool Colonial Bloxburg House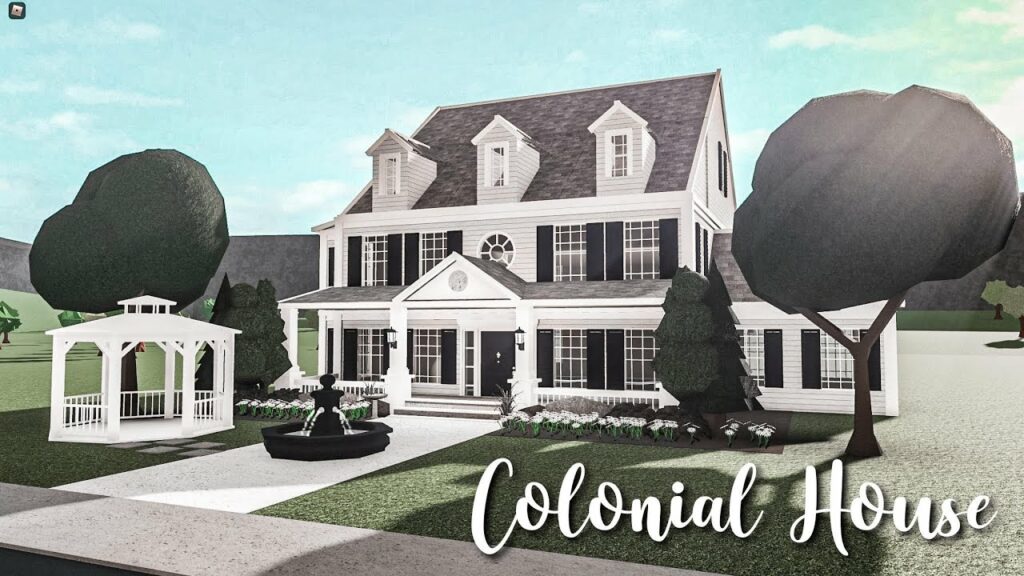 In real-world architecture as well as in Bloxburg house ideas, colonial homes have a touch of elegance to their designs. A post-residence features opulent interior furnishings, a sizable yard, and a pool.
Choose a structural design that also enhances the home's visual appeal. The interior spaces have enough room for a sizable kitchen, a living room, a kid's room, a bathroom, and bedrooms.
18. Eco-friendly Bloxburg House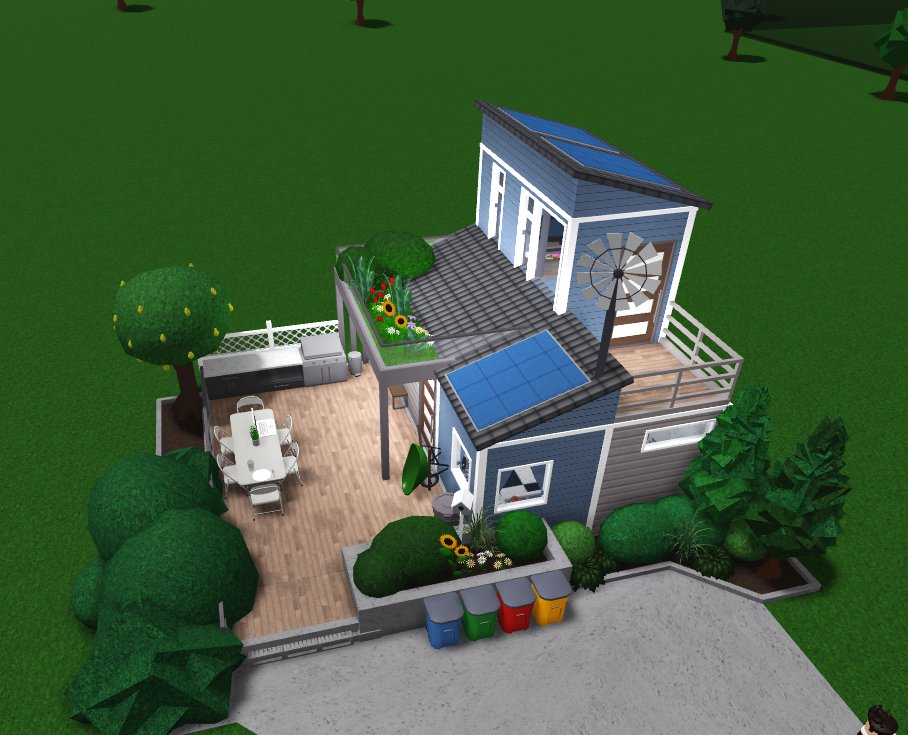 Even the virtual world has absorbed the idea of sustainability. This a unique and entertaining challenge for gamers who want to create sustainable living spaces.
Players may lower their environmental footprint and save money on utilities by installing features like solar panels, energy-saving appliances, rainwater harvesting systems, and natural ventilation.
19. Victorian Bloxburg Mansion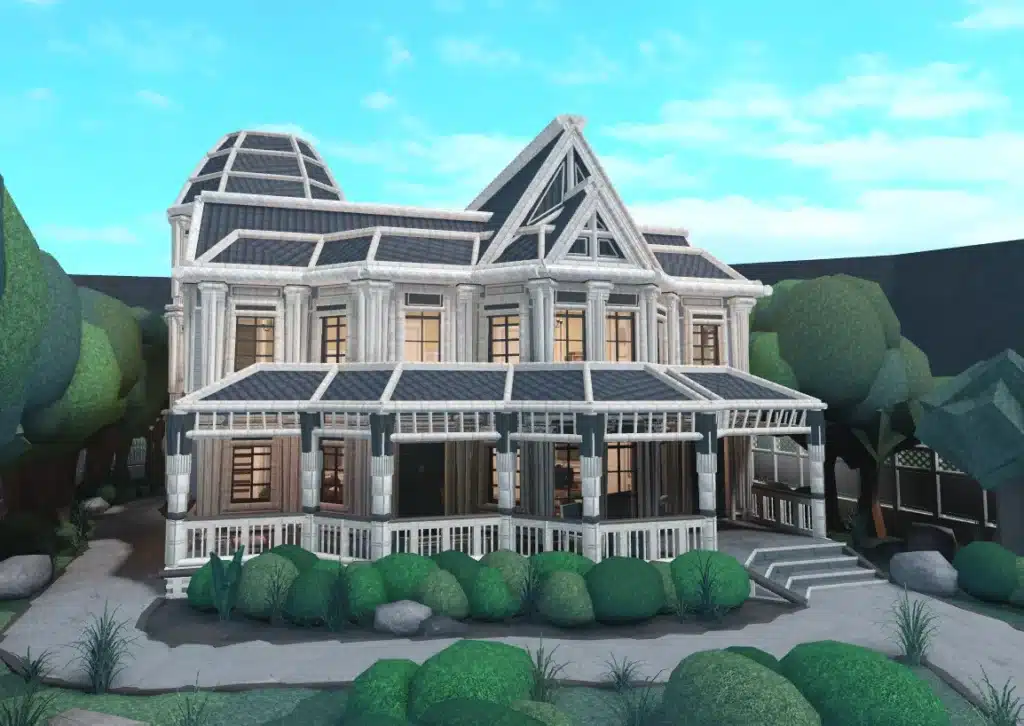 In the virtual world of the Bloxburg mansion, Victorian architecture has been popular because of its ageless aesthetics. Start by adding features to your Bloxburg Victorian-style home, such as steeply pitched roofs, bay windows, opulent balconies, and more.
The Victorian interior design looks extravagant and stunning, with details like chandeliers, engraved woodwork, and plush furnishings. In the world of Bloxburg house ideas, a Victorian-style palace with fine workmanship and opulent decor will turn heads.
20. Luxury Bloxburg Mansion in the Hills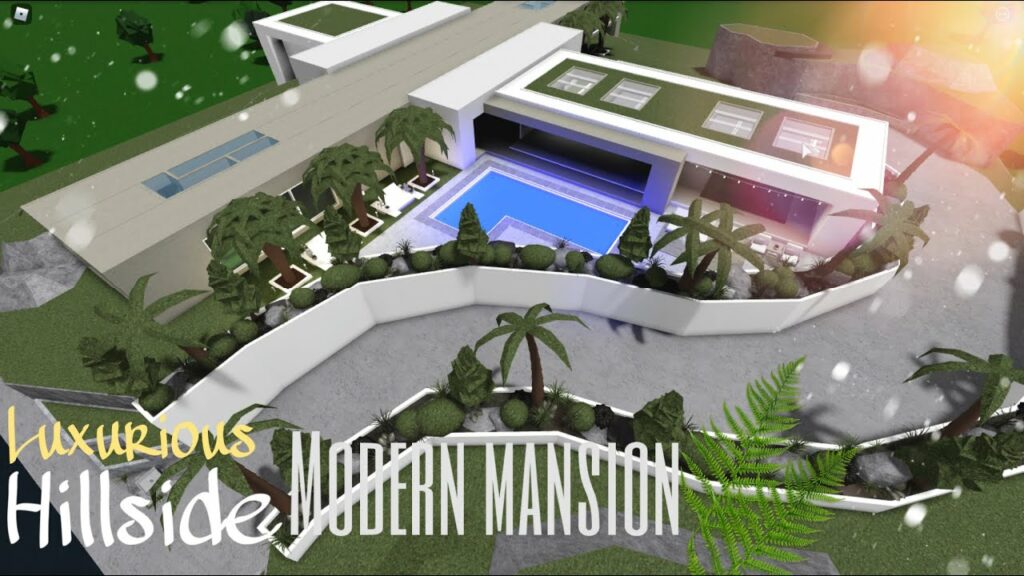 Play around with the opulent home amenities in your hillside luxury Bloxburg mansion if you wish to get creative with bold designs for your home. Countless luxurious enhancements can be included, such as a private pond, an artificial waterfall, and more.
To make the house feel more luxurious and inviting, leave lots of open spaces surrounding it. The luxurious entry passage lures you into this massive modern mission that has style and class to offer.
21. Mini Mansion Bloxburg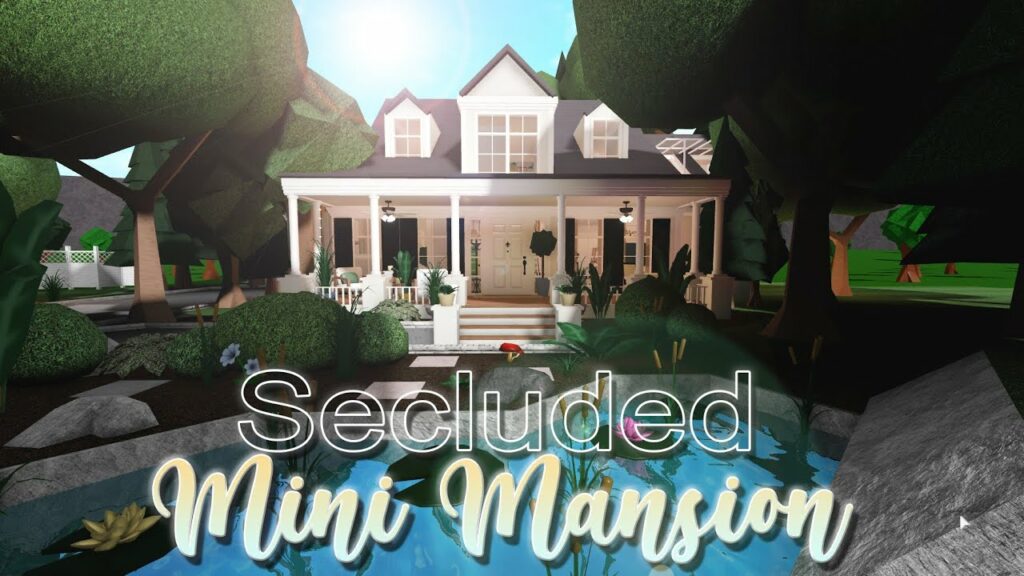 Think about creating a mini-mansion rather than spreading the house out over a huge area of land. Your Bloxburg homes can be expanded to two levels and come with a separate car garage.
Keep the area open and spacious to give it an air of royalty. Your Bloxburg house ideas may further include a variety of rooms and an extra study room too. This house is ideal for a family of three and gives off the most warm homely vibes. With ample brightness and light all around, you can make this space your own with your creativity.
How to Get Started with Your Bloxburg House Ideas?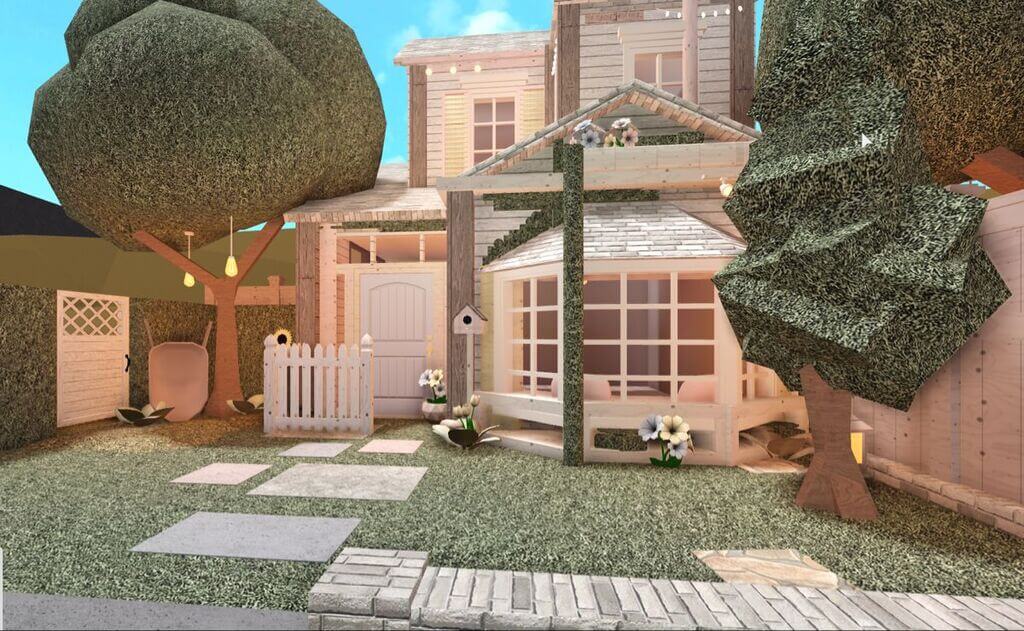 Hopefully, these Bloxburg house ideas inspired you to create something unique. Though the ideas sound thrilling, you need to know the right approach to simplify this process.
Let's take a look at the basic steps to get you started with these Bloxburg homes.
Fixing the land is the first step in carrying out the Bloxburg house ideas. Purchase the land you choose or opt for the given starter home. You can even list your house for sale in build mode.
To begin building your home, enter the build mode. You don't need to enter this mode if you've sold your home manually. You can work on various designs and concepts in this game mode.
Start by building walls once you have decided which Bloxburg house ideas you are going to work on. Build mode will make all of these elements available, allowing you to lay a solid foundation for the house.
Once the basic layout is complete, you can start working on external doors, windows, and exterior design. Pick the paint tab and then paint the facade with your chosen colors.
Add some customization to the interior as a finishing touch. You can outfit the house with your personalized accents and furnishings, from simple beds to curtains.
Conclusion
Ideas for Bloxburg houses offer many opportunities to create stunning, exemplary homes tailored to meet your needs and inclinations. Whether you want an opulent mansion or a cozy townhouse, there is something for everyone. With some creativity, helpful ideas, and techniques, you can create a lovely functional space that reflects your unique style and fulfills your needs.
It all starts with an idea to create beautiful homes that can be brought to completion by adding elements from your creative mind. Start with a basic design, or go full scale right from scratch while creating your very own Bloxburg home. Sell, buy, create, and do everything you would with a real home in your very own Bloxburg world.
So get your imagination rolling and start constructing your ideal Bloxburg home.
Frequently Asked Questions
Can You Sell Your Bloxburg Home?
Yes, players can sell their homes in Bloxburg by heading to the mailbox in front of their property and clicking on it. After that, they will have the option to sell their home and earn back a portion of their initial purchase price.
Can I Visit Other Players' Houses?
Yes, you can visit other players' Bloxburg properties by entering their usernames in the search bar. You can find this option in the games menu. To visit the property, you need to click on their house icon. It is important to note that you must add another player as a friend before visiting their house.