Do you want to design a work-friendly area where your creativity can flourish? A well-appointed home office can inspire your best performance and help you stay organized. Your home office space should not look like a half-thought-out solution. Many people make the mistake of hastily rearranging a corner of their apartment or villa to act as a temporary office.
The best thing is that even if you don't have an entire room to spare for your home-office space, you can find a small-yet-practical workspace anywhere in your home.
To help you create a productive space at your home where you can work happily all day long, we've pulled together some of the best home office decor ideas. Whether you're balancing multiple jobs, working 9-to-5, or searching for your next gig, these home office decor ideas will unlock your creativity.
Home Office Decor Ideas to Boost Your Productivity
Let's take a look at the best home office decor ideas that will get your creative juices flowing and inspire you to do your best work.
1. Simple White Home Office Decor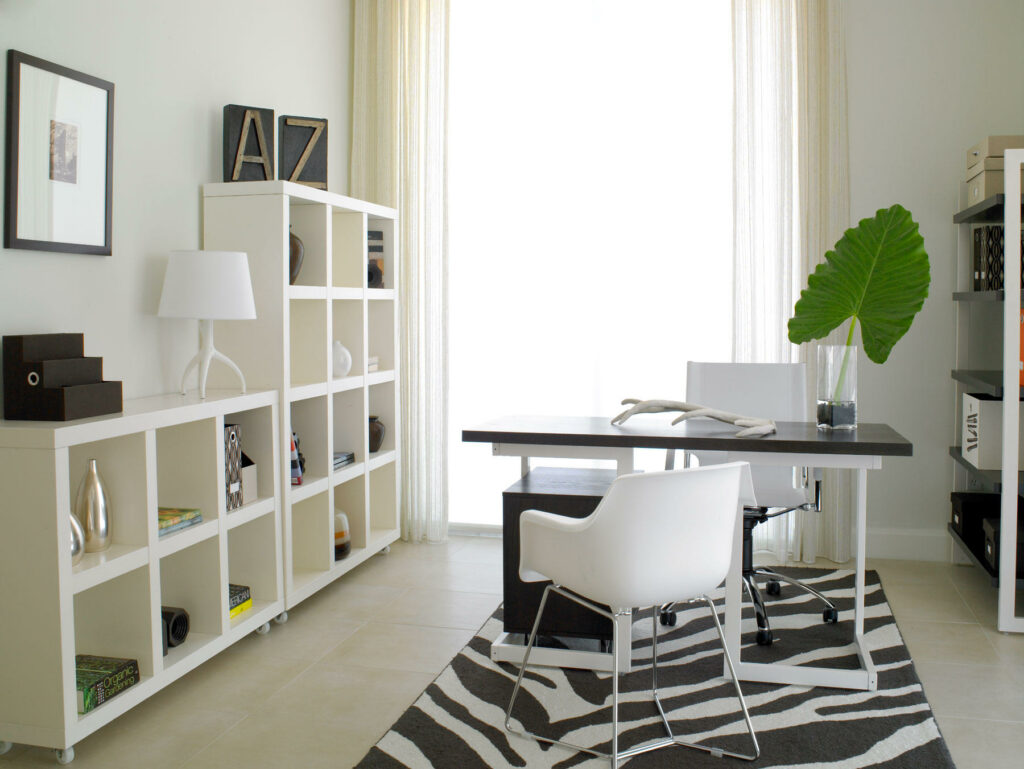 If you want your home office space to be elegant, crisp, and clean, then you can go for the simple white decor. You can transform any bland room in your home into an inspiring office space by layering textiles in different textures and colors. This will give an upscale yet cozy feel to the room. Keep your walls and foundation white, but add some neutral colors through shelving and wall art.
With an entirely white wall, it becomes important to give some texture and dimension to the walls. Find funky accessories to add your own personality to the space and spruce up the appearance of the room. Make the all-white home office more inspirational, spacious, and brighter by opening a window.
Don't put treatments over the window, and add beautiful lamps so that there is enough light in the room.
2. Creative Home Office Design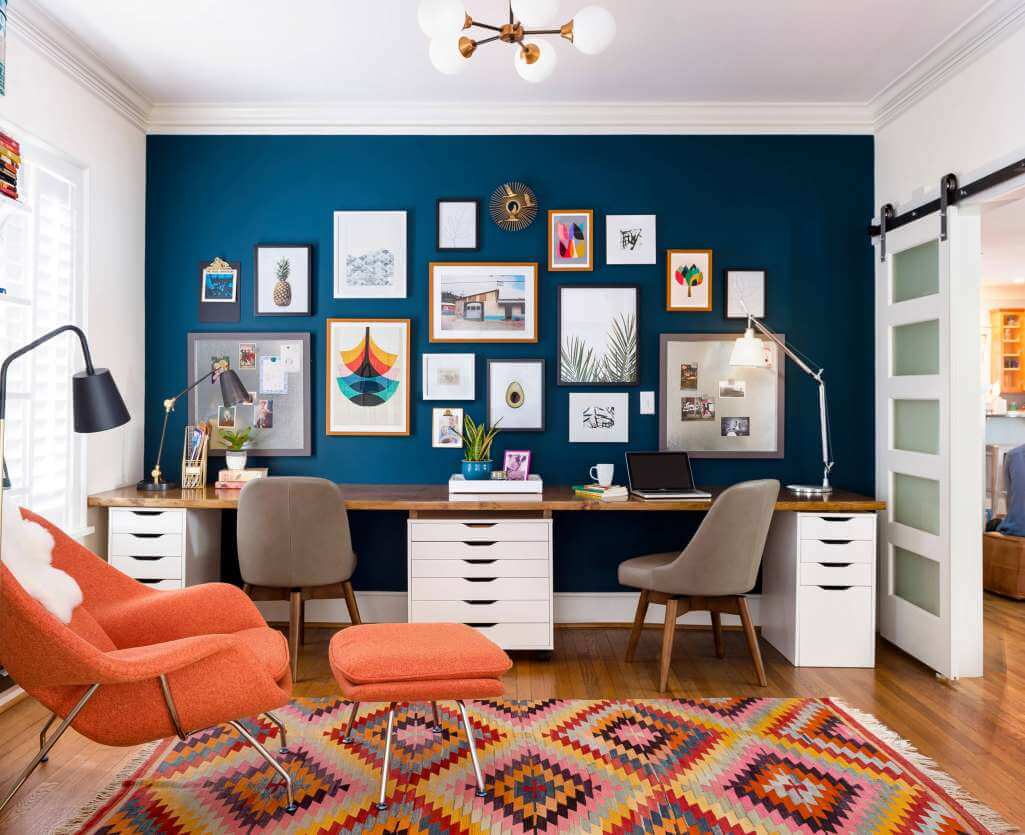 If you work in a creative field like interior designing, event planning, or content writing, you'll need ample space to envision your concepts. While creating your home office space, you can use any of the walls of your room as your vision board. You can implement playful art, colorful vases, pencils, pictures, fun frames, etc., on the wall to enhance your productivity. A gallery wall is the perfect way to showcase your favorite pieces of art and add personality to your space.
To create a gallery wall, gather your favorite photos or prints. You can mix and match frames, but stick to a single color scheme for a unified and polished look.
Replace harsh overhead lighting with table and floor lamps for a calming effect on your mind. You can also add a patterned rug to bring a pop of color and texture to your home office space.
3. Luxury Home Office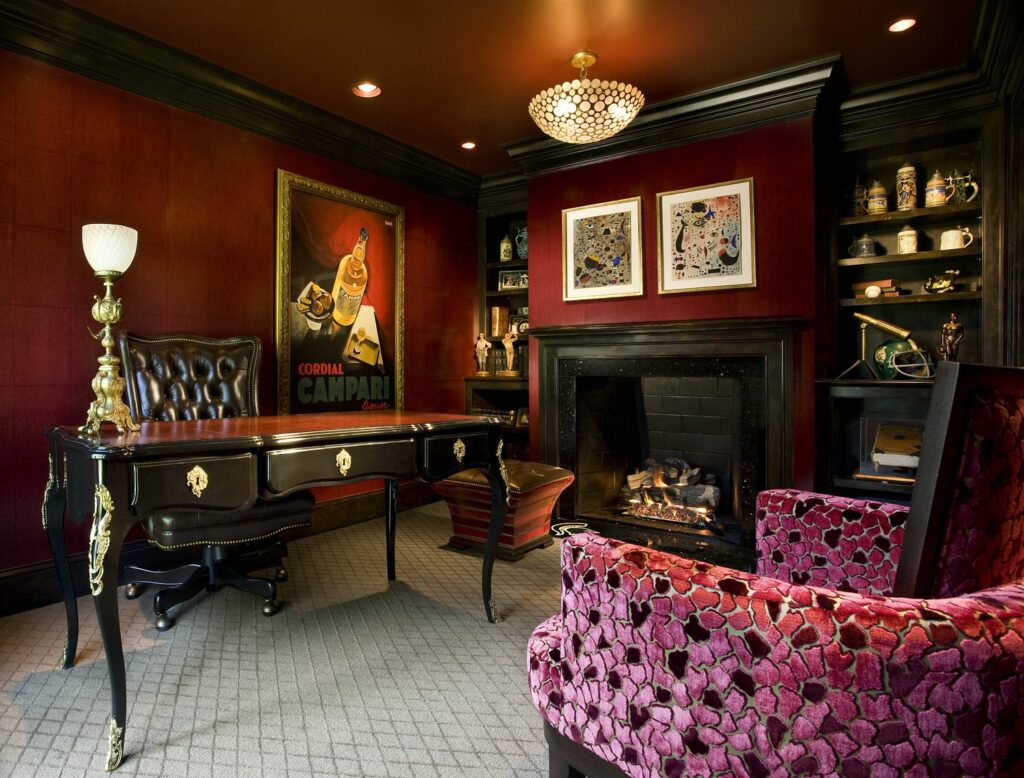 If you have got a huge budget and expansive space, you can easily build a luxury home office space that inspires productivity, creativity and focus. You can use marble, copper accents, and dark wood with a high-backed office chair to give a luxurious look to your home office. For an eclectic home office, you can use extensive built-in cabinetry and shelving, red walls, a chandelier, a custom-built green desk, and wood flooring.
Give an inviting feel to your office space by adding a few armchairs and a sofa to create a small seating area where you can relax when you don't want to sit at your desk and work. An incredible dome ceiling and wooden furniture can also give a luxurious look to your home office.
Attention to detail and careful planning is the key to creating the luxurious home office space of your dreams.
4. Go Dramatic and Dark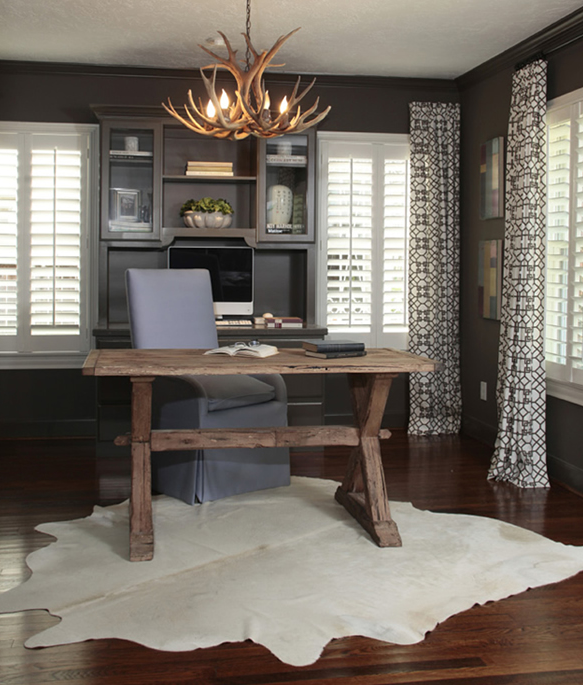 If you have a smaller space, then incorporate only one dark color in your home office to give it a dramatic look. A dark color on all four walls can make the room appear bigger in size. Dark-colored home offices are as charming and delightful as the ones in neutral, lighter hues.
Add white drapes, rugs, and carpets to a home office space with dark walls. This way, you will create a balance between dark and light elements. Textured black walls can be the perfect choice for rustic, farmhouse, and industrial home offices, while polished black finishes align with Scandinavian, modern, and contemporary styles.
Gold accents can also be used for a Hollywood Regency-style home office. You can also incorporate a dark ceiling to enhance the grandeur and luxury quotient of your home-office space.
5. Under the Stairs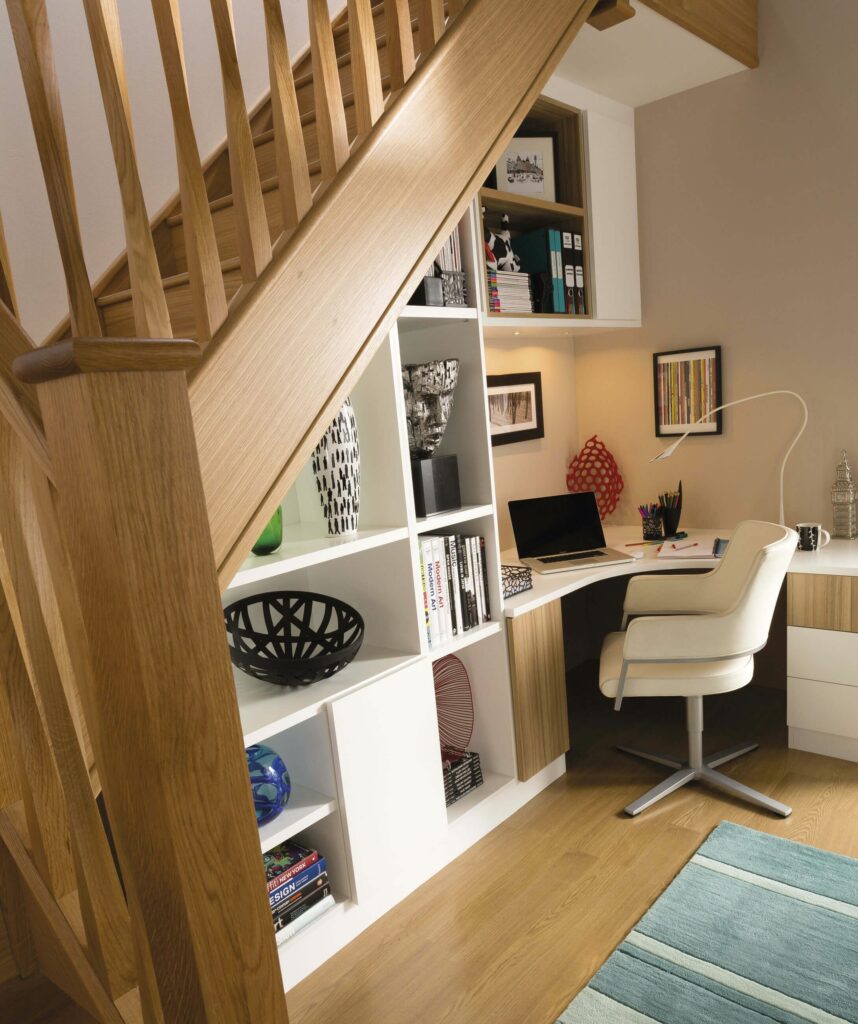 If you have limited space in your home, you can use the underutilized area and convert it into your office space. One such inspiring office space can be the area underneath your stairs. You can place a two-person desk underneath the stairs to transform the small space underneath into a workstation.
A variety of storage cubbies, cabinets, and shelves can also be placed to take full advantage of the available area. If you have enough space, you can even attach some cabinets to the wall. Ensure that the stairs blend in and seem to be an integral part of the overall design. You can also give a makeover to the walls to create a cozy and comfortable ambiance.
Use a desk lamp to ensure that there is sufficient lighting for work. You can take inspiration from this design idea wherein a floating desk and wooden cabinet have been placed for storage, and a plank screen has been used to separate the staircase.
6. A Corner Home Office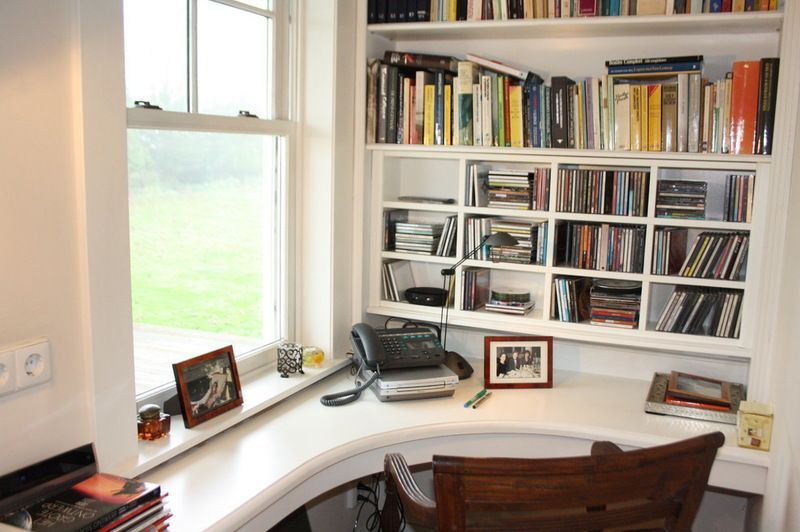 If you don't have an extra room that you can dedicate to work, you can utilize the empty corner in your home and turn it into your home office space. Set up a workspace next to an outside door, window or patio.
Choose a cabinet and one-piece office deskthat fits into the cramped space nicely. Pair with an elegant and sturdy office chair on wheels that you can roll away when not in use. Instead of a desk, you can also choose your kitchen island or counter as your office space.
With the right height bar stool, you can sit comfortably and complete your office-based tasks. You can also use a desk, bookshelves, and a daybed to create a home office space in the corner of your spare room.
The horizontal space under an attic can also be used as a home office space. Place a desk, office chair, and rug to make the empty space functional.
7. Rustic Industrial Office Style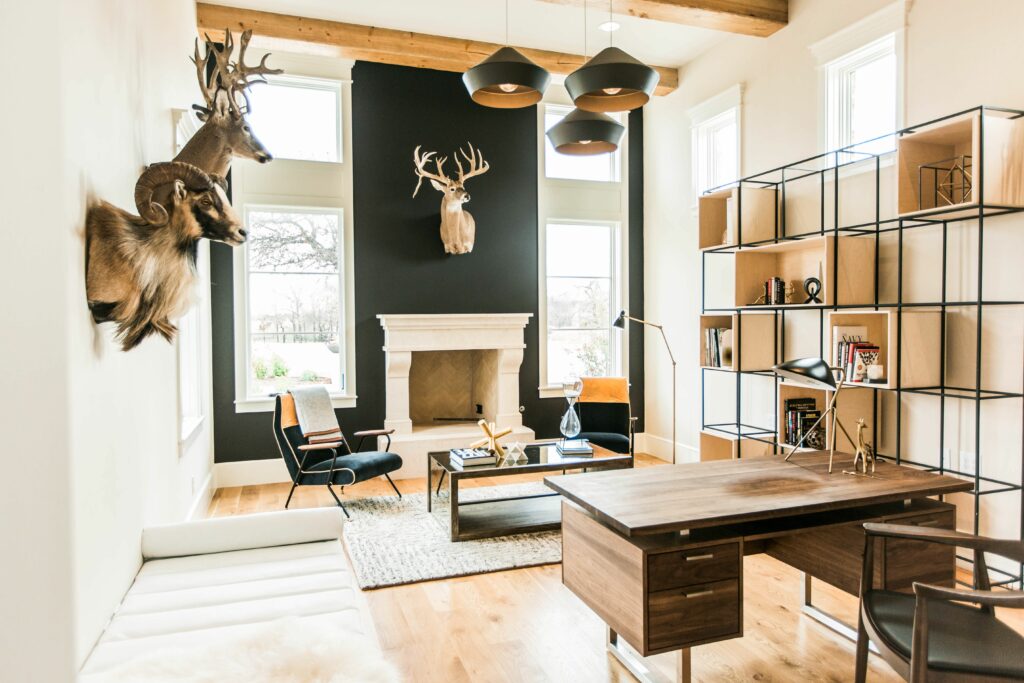 Want to integrate rustic office style into your home decor? Rustic office-home decor spaces have gained immense popularity recently as they have the perfect balance of polished elements and unfinished character. One of the essential elements of the rustic industrial office style is a rich color palette that mixes wooden shades, white and neutral browns.
You can use black accents to add character and create contrast. Use rustic furniture like low-profile desks and standing open shelving with stained wood surfaces and feature powder-coated metal frames and desk lamps with an iron base to make the space eye-catching. To complete the look, you can incorporate animal sculptures and other retro items.
Ensure that the furniture and the color palette that you select for rustic industrial home office space tie the room together thematically.
8. A Summerhouse Setup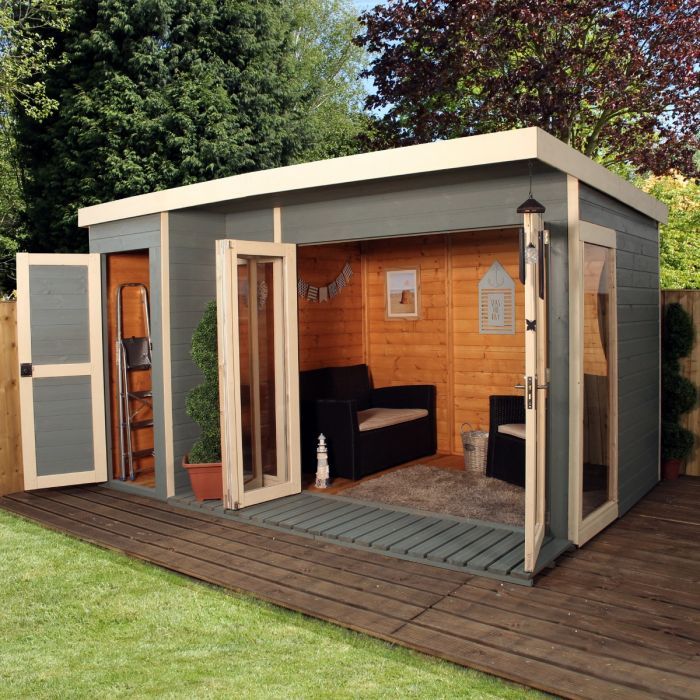 4
If you want to stay away from the distractions in your house, you can set up your home office space outside in your garden. This way, you will feel close to nature while ticking off your to-do list. You can either build a summer house or take advantage of the garden room that you already have.
If you want to create a dual-purpose room, invest in compact furniture and equipment like a desk or sofa that can be used as a table. You can also repurpose your summer house completely by removing all the extra decorations and chairs and replacing them with professional furniture like desks and filing cabinets.
Remove everything that distracts you, and try to incorporate things that will help you stay productive. If you have limited space, you can repurpose some of the furniture.
Avoid using any old and damaged furniture and decorations, as they might look filthy and unprofessional.
9. Nature-Inspired Home Office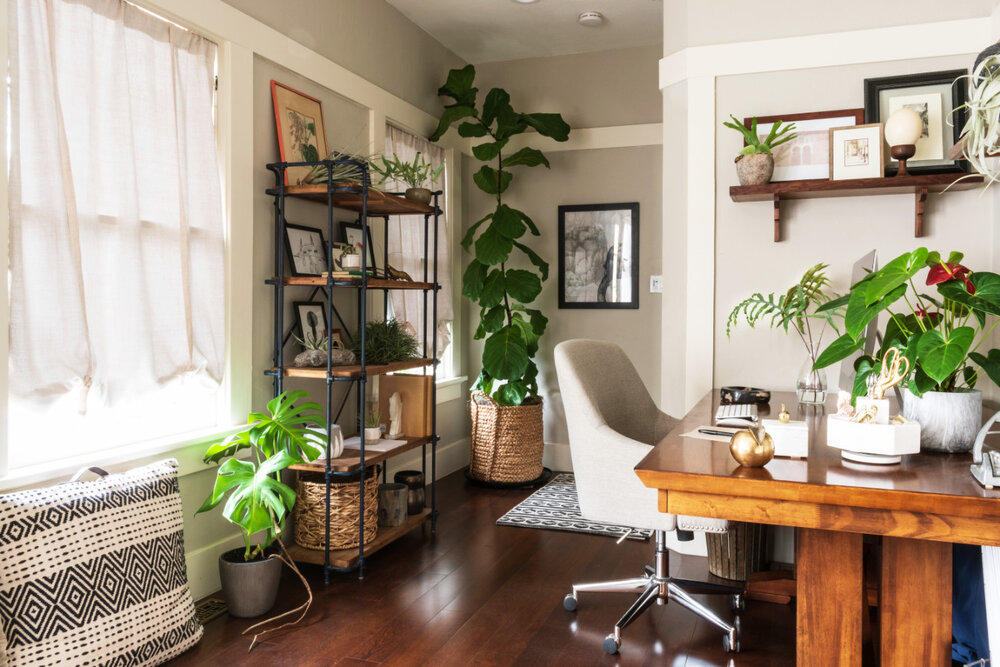 If your home office space doesn't have a window, you can create your own breathtaking view with the help of lush green plants. Arrange plants around your workspace at staggered intervals. You can arrange them on top of a hanging wall shelf and your desk. You can choose different sizes and types of plants to enliven your space and add depth to the arrangement. Plants also serve as privacy screens or natural dividers in home office spaces.
Place taller plants strategically between different workspace areas to delineate different zones for specific tasks like desk work, personal projects, and creative work. You can also suspend hanging plants from the ceiling and place potted plants on the floor to give a touch of nature to your work office area.
Natural wood furniture, and wooden office desk, and a white chair can also elevate the nature-inspired look of your home-office space.
10. Girly Home Office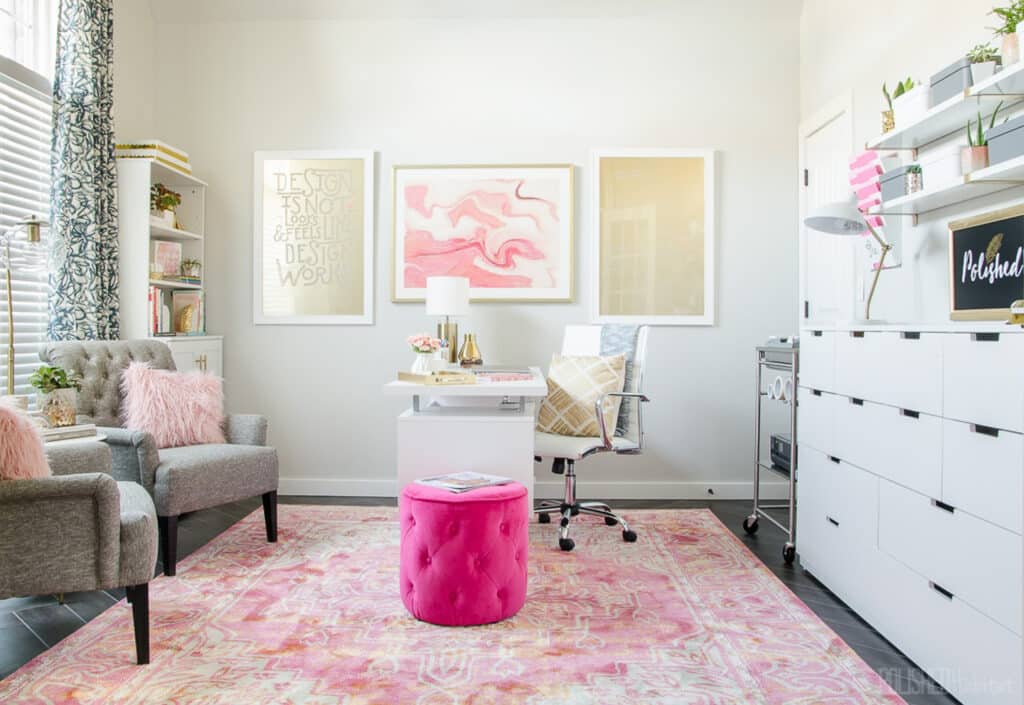 If you want to give a girly touch to your home office, then go for gold accents, soft colors, and beautiful details. Use pink pastel color cabinets to make a statement in the room. Paint the wall and the ceiling with light pink color.
You can also use a gold chandelier to tie together the feminine pink home office space perfectly. If you don't want to go with the pink theme, then you can opt for the soft and simple look with white color.
Go for light-wash hardwood floors and pristine white walls. Make the space look more spacious and bigger by placing a desk with clear sides. And the pink rug or throw pillows on the upholstered chairs elevate the girly look of your home office space. If you like lots of contrast and color, then the fuchsia, white, and black home office might be your ideal choice.
11. Coastal Style Home Office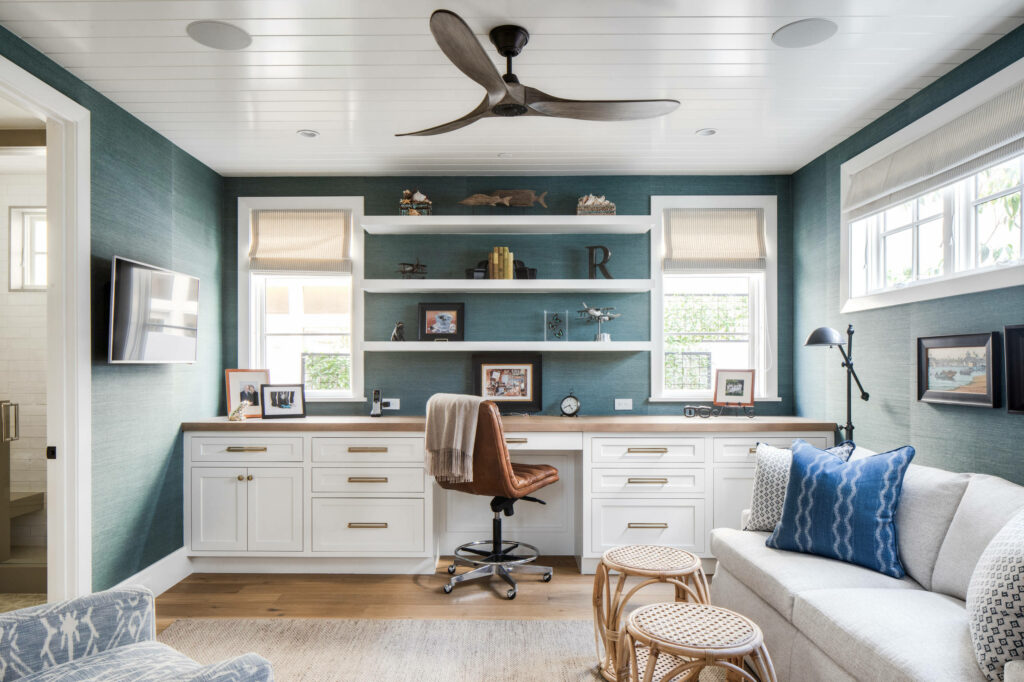 Do you want your home office space to exude coastal vibes? The coastal home office decor is all about green or blue tones and sea life motifs. This type of home office setting is perfect for people who want to have a more relaxed and less formal work atmosphere.
Go with a blue and white home office theme for a soothing ambiance. You can use rattan furniture, decorative accents, and lighting fixtures to give a coastal flair to your home office space.
Blue carpets and pillows can also be the perfect choice to give a modern coastal vibe to your space. Uplift the vibe of the room with beautiful beachy artwork, seashells, corals, and plants. Blue curtains can also be incorporated to enhance the beach-style home office concept.
Conclusion
A well-appointed home-office space can help in creating the right working environment and boost your productivity. If you don't have a huge space, you can fit a practical workspace anywhere in your home.
Whether you want a beachy vibe, minimal aesthetic, or feminine look, you can create your home office decor as you want. If you need some help in choosing the home office designs that you can easily incorporate into your work-from-home sanctuary, check out the ideas mentioned above.
These inspiring and productive home office decor ideas will create a delineation between fun time and work time and encourage creative thinking.
Frequently Asked Questions
What are Some of the Best Home Office Decor Ideas for Small Spaces?
If you have limited space in your home, you can utilize the area underneath the stairs or the empty corners of your home as office spaces. Install wall-mounted storage units or floating shelves to maximize vertical storage space. Use multifunctional furniture and invest in mirrors to make the room appear bigger.
How Should You Choose the Perfect Home Office?
When choosing the home office, keep in mind various factors such as shelving and storage, furniture, location, decor, and lighting. Whether your home office will be in a small living room, an annex, or the corner of a room, ensure that it has all the comfort features, offers privacy, and is away from distractions.