Do you want to make bay windows the focal point of your room? Dressing up your bay window with curtains is one of the best ways to glam up its appearance and turn them from ordinary to extraordinary.
But finding the right window curtain can be tricky because of the odd shape of the bay windows. If the bay windows are at your home's front side, you can choose a cafe curtain that covers the window partially to create privacy while still allowing natural light in.
For the bedroom, opt for heavier curtains, and for the living room, go for sheer curtains. Printed curtains look good in dining rooms as they enhance the overall vibe of the space.
You can also add a pop of color to your space with the help of vibrant window curtains. If you're still looking for ways to dress up your bay windows, check out the curtains for bay windows ideas.
Curtains for Bay Windows Ideas to Brighten Up Your Space
Let's take a look at curtains for bay windows ideas to accentuate the look of your bay windows.
1. Bold Window Curtain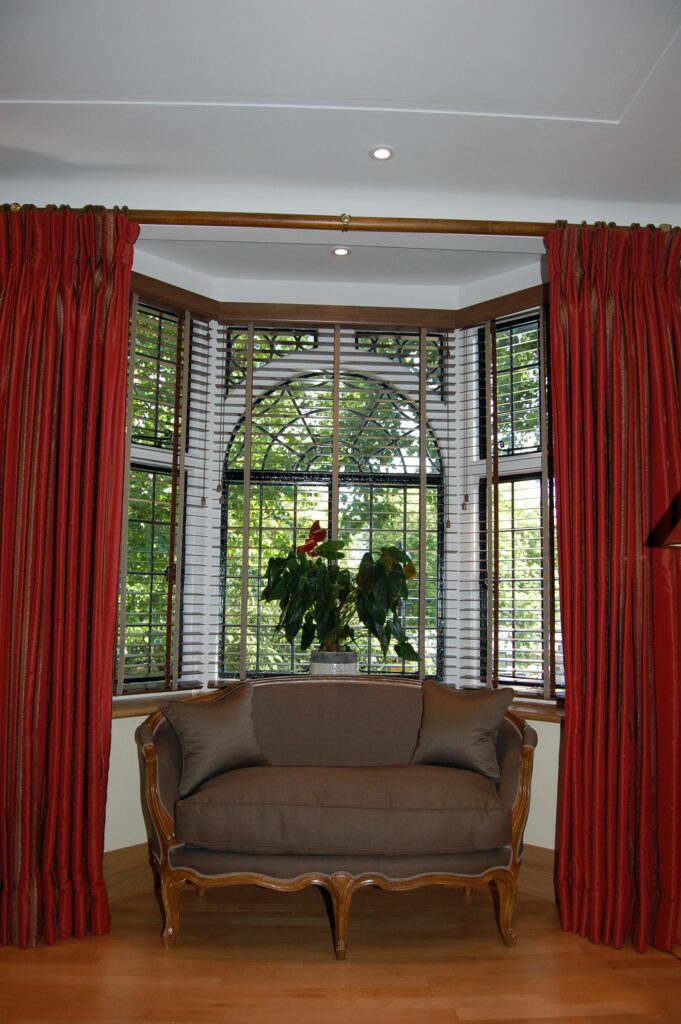 Gray, white, and neutrals are the most popular colors for bay window curtains, but you can also go for bolder choices like red, orange, and purple to give a dramatic look to your bay window.
The bold window curtain especially looks good in neutral rooms. In the dining room, where soft finishes and upholstery is less, you can choose a bay window curtain with a bolder pattern and color. Bold window curtains offer you more control over light and privacy.
But when you choose bold, bright bay window curtains, ensure that the other fixtures in the room are neutral. For example, if you're going for a red bay window curtain, ensure that the walls are in light shade to balance the entire look.
2. Dual Bay Window Curtain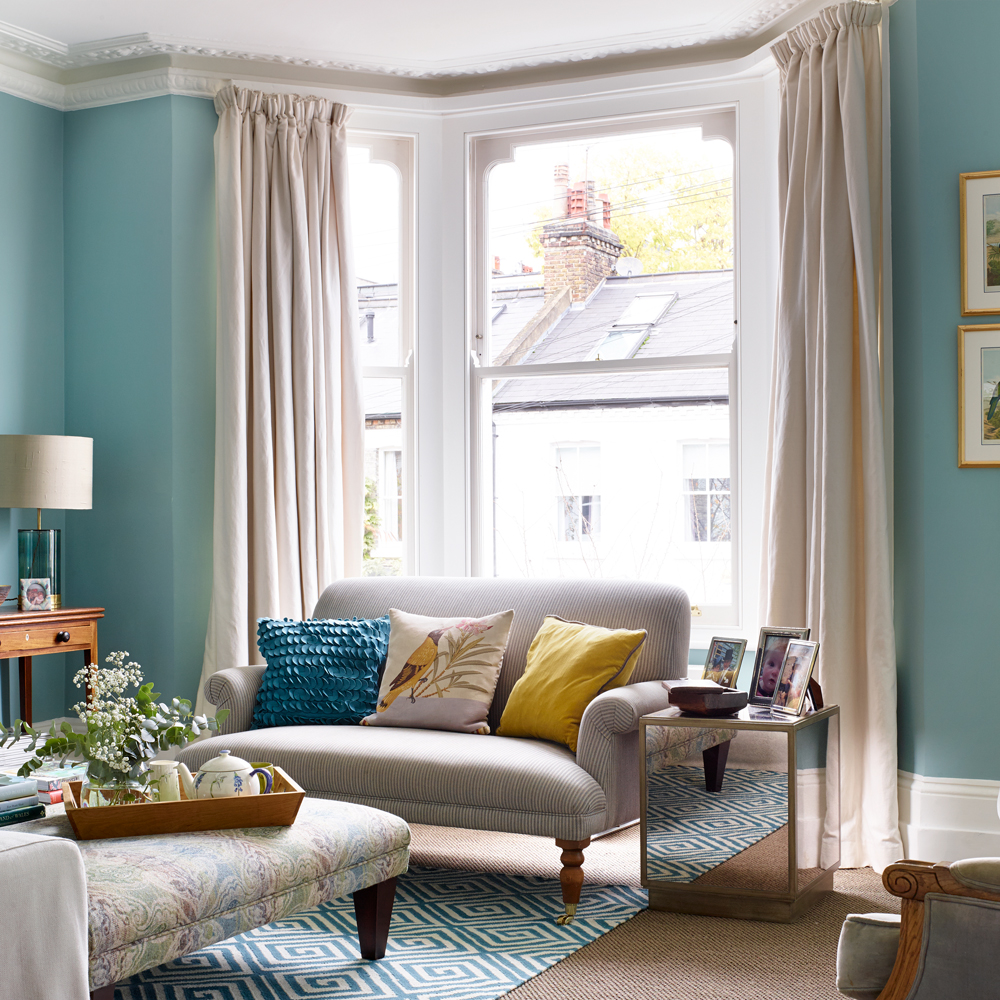 Dual bay window curtains can be used to add an extra decorative touch and bring dimension to your room. You can put two bay windows of the same color side by side on the bay window to create a unified look for a two-tone look and experiment with the color or pattern of the bay window curtains.
Dress your bay window in rattan Roman and breezy linen window curtains to create a contrast. You can also try the combination of Roman sheers and floor-length panels to make the view even more stunning!
You can seek inspiration from the above picture, wherein the bedroom bay windows feature both Roman shades and curtains over each individual pane for a mesmerizing look.
3. Floral Bay Window Curtain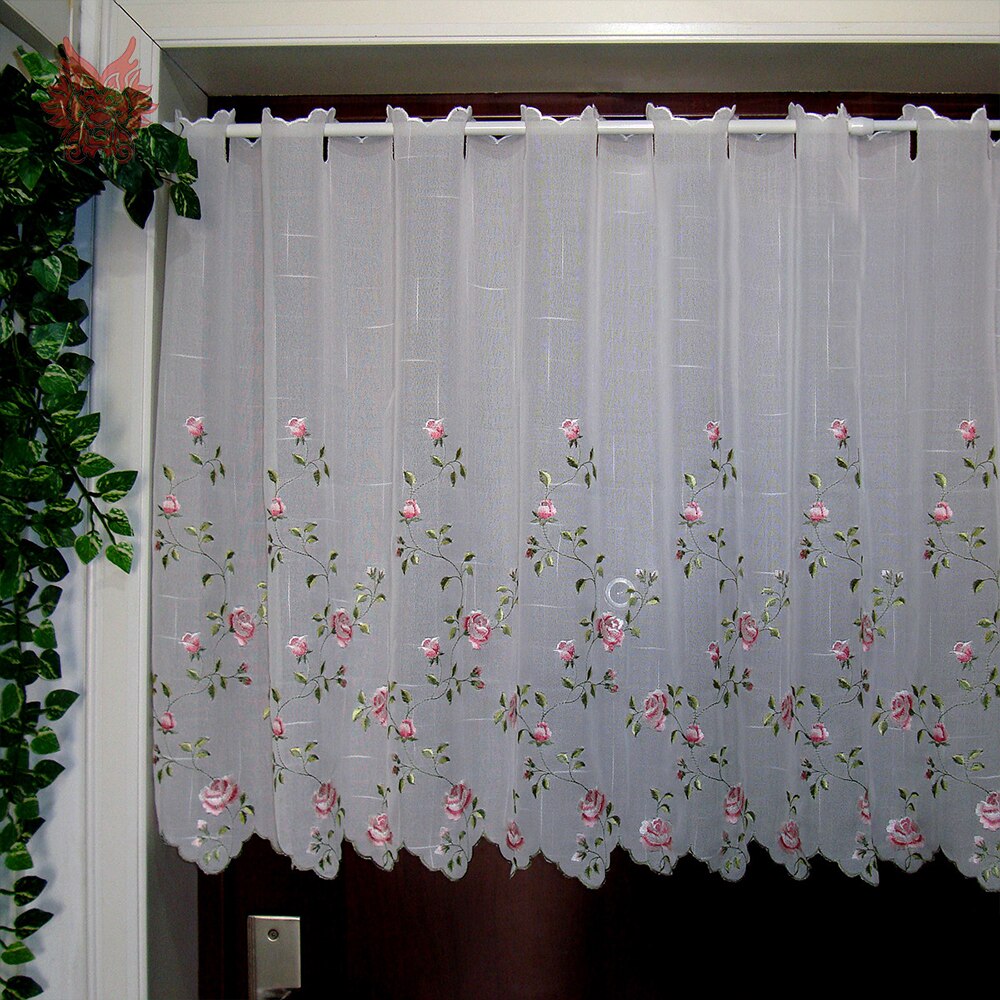 If you're looking for curtains for bay windows ideas, floral window curtains can be your best choice. You can opt for muted textured options or bold, colorful prints as per your preference and the design scheme of your room.
Bold floral curtains will draw attention to your room, and subtle ones will act as a finishing touch and align well with the theme of your space. Floral bay window curtains can also refresh your space and breathe life into it.
If you go for bold floral curtains, choose subtle decor and furniture, and if you choose subtle floral curtains, pick bolder throw pillows and paint to tie the space together.
4. Hang Bay Window Curtains Loosely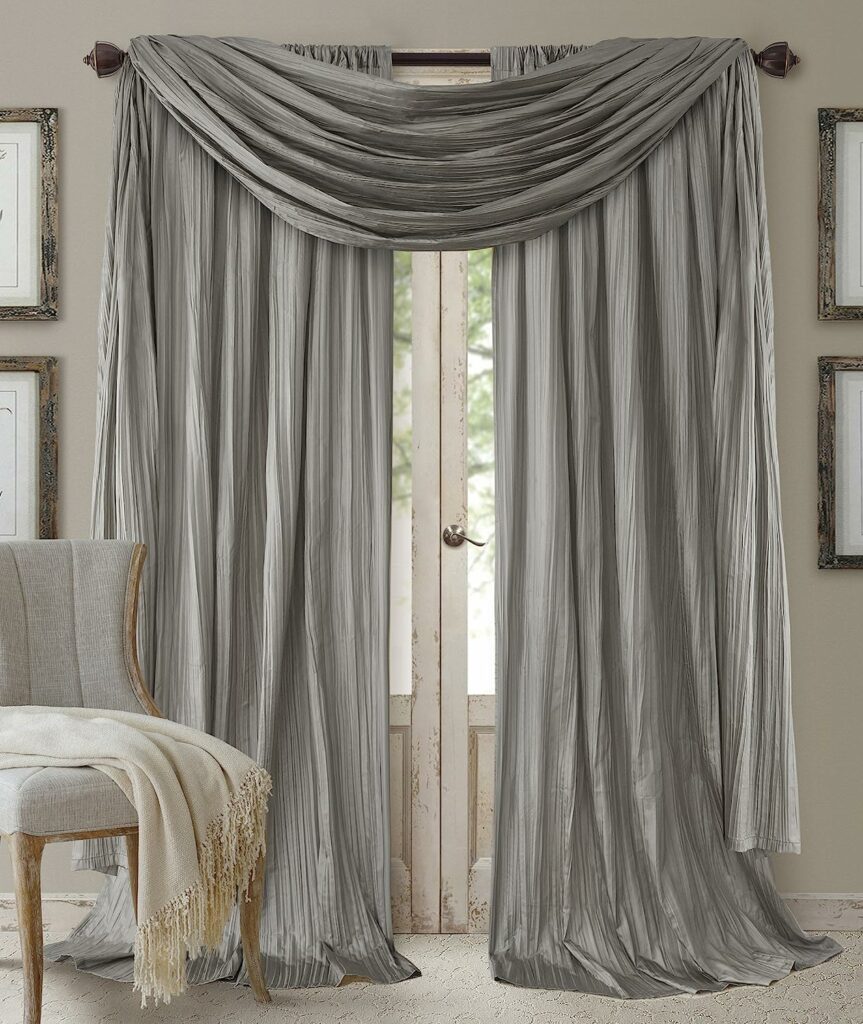 Another interesting curtain for bay windows idea is hanging bay window curtains loosely to give an airy feel to your room. This idea particularly works in bedrooms and living spaces where you want to have a relaxed vibe. Hang the curtains higher than the bay window to create an illusion that the window is larger and the ceilings are taller.
Choose heavier fabrics for rooms where you need more privacy, and go for lighter fabrics for spaces where you want a good amount of light to enter.
If you love patterns, opt for bay window curtains, throw pillows, and lampshades in the same pattern. To further enhance the look, throw fluffy, big pillows on your chairs or sofa.
5. Sheer Bay Window Curtains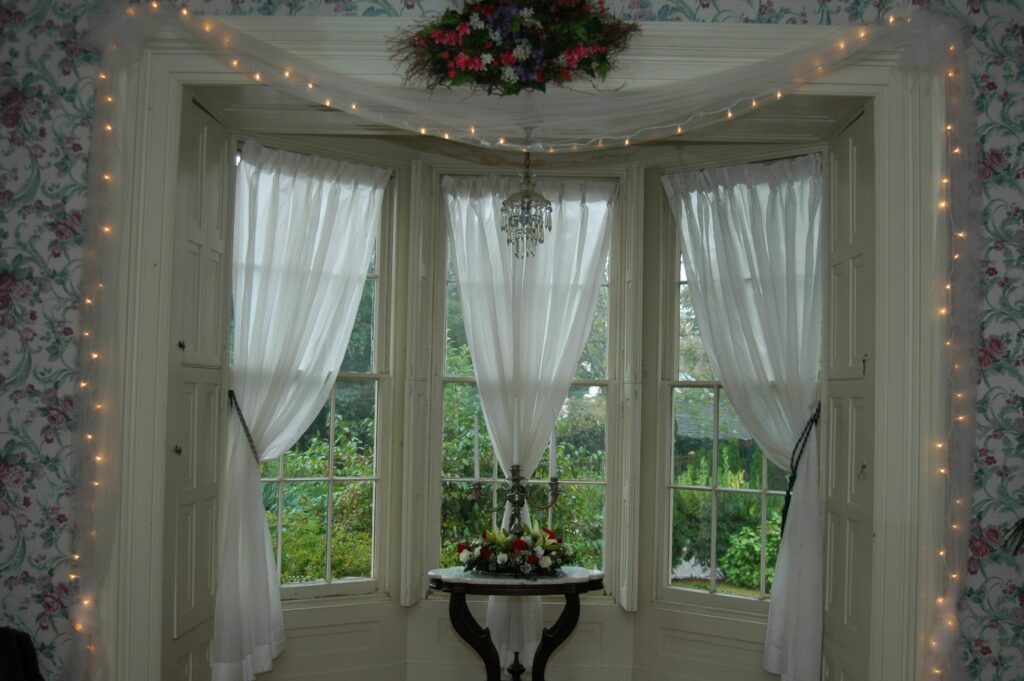 Sheer window curtains add a sense of softness to your bay windows. They can be used to create a sense of privacy without restricting the entry of natural light. The best thing is that they can be incorporated into all home designs, whether traditional, contemporary, rustic, or farmhouse style.
You can dress your bay windows with beautiful sheers to allow light to enter your home and give an elegant look to your room. Layer the sheer bay window curtains with full-length window panels for the perfect nighttime and daytime look. Sheer bay window curtains offer enough natural lighting during the day hours, eliminating the need for artificial lighting, like lamps.
They are available in dozens of textures, patterns, and colors, so you will find something that matches your décor.
6. Nature Inspired Bay Window Shades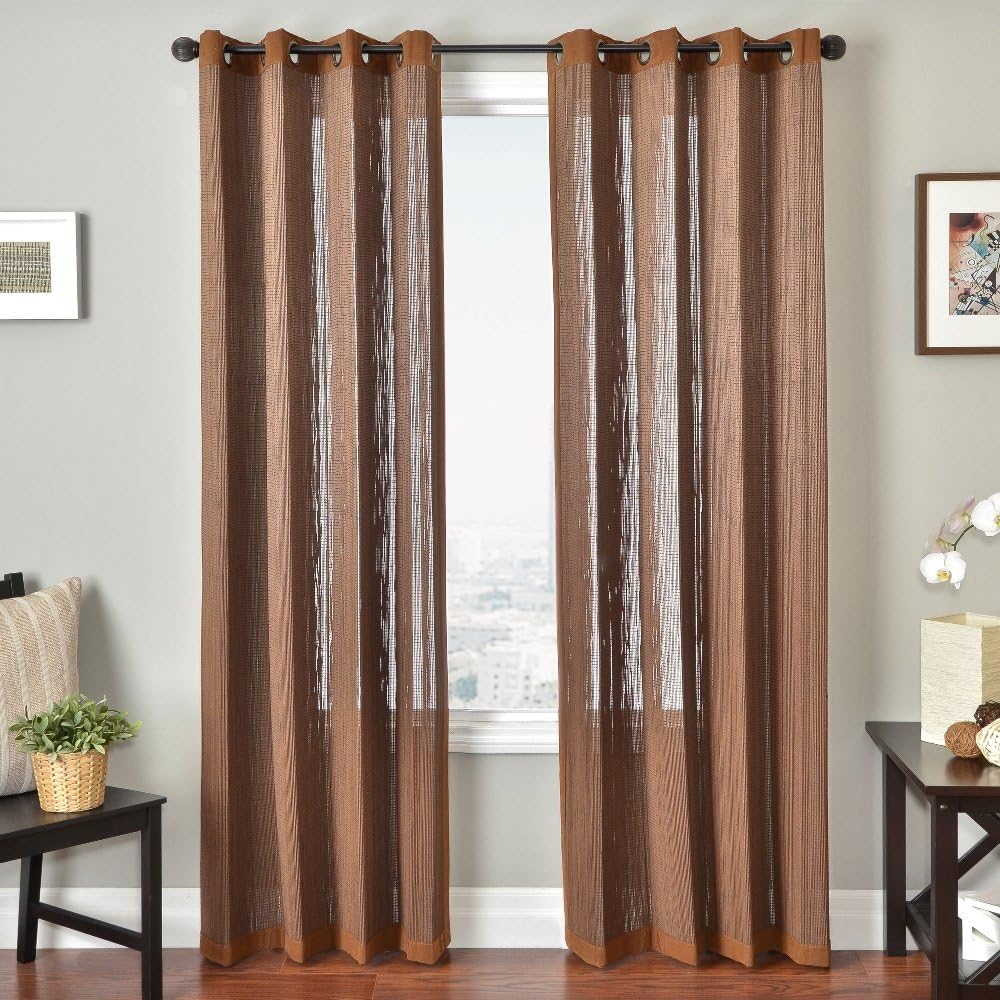 If you want to add a natural element to your living room or bedroom, nature-inspired bay window shades can be the best choice. You can choose bamboo Roman or woven rattan window shades to give a classic wooden look to your bay window. Bamboo Roman shades are available in light, dark, or medium shades and various natural wood tones. You will find the perfect Bamboo Roman shade to compliment your décor, furniture, and flooring.
They are also a desirable choice because they are easy to clean, install and maintain and give an instant facelift to your room. You can also attach a privacy liner or blackout linerto block out exposure from the outside and unwanted sunlight.
7. Floor to Ceiling Drapes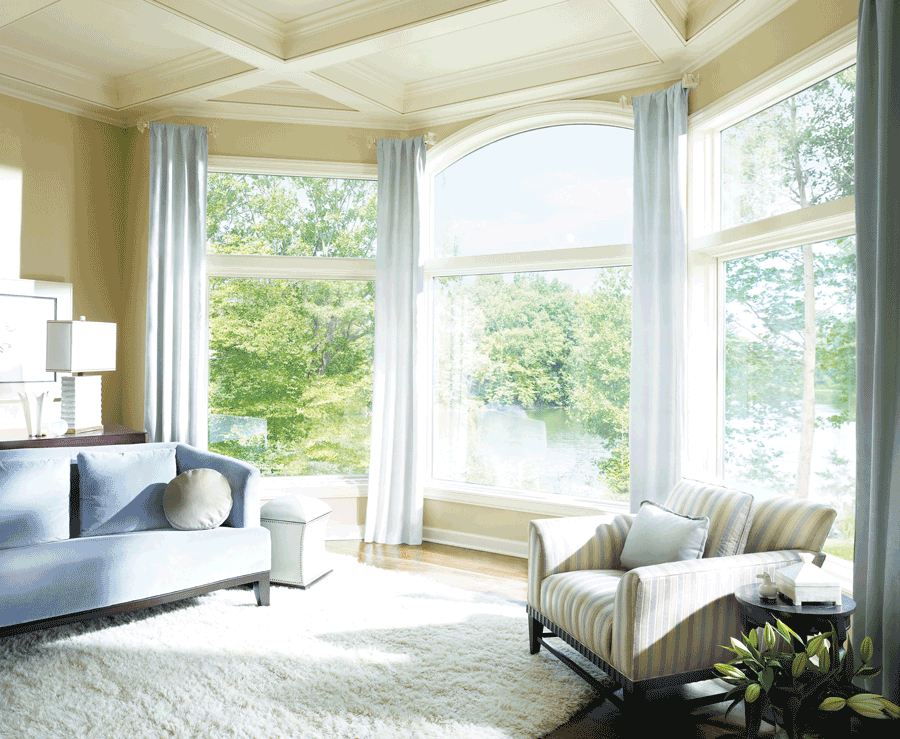 Do you want to make your bay window stand out? Floor-to-ceiling drapes can open up your room and refresh the look of your bay windows. They are a brilliant choice for traditional dining rooms due to their welcoming appeal. You can also hang them in your bedroom bay window to create a comfortable sleeping environment.
Choose a drapery fabric that complements existing room decor and meets your privacy and light needs. Consider drapery fabrics with a poppy print and pretty pattern to brighten up your space and neutral drapery palettes to create a soothing atmosphere.
You can hang it across the entire width of the bay window, and it will serve as a statement piece in itself, just like an accent wall.
8. Use Embellishments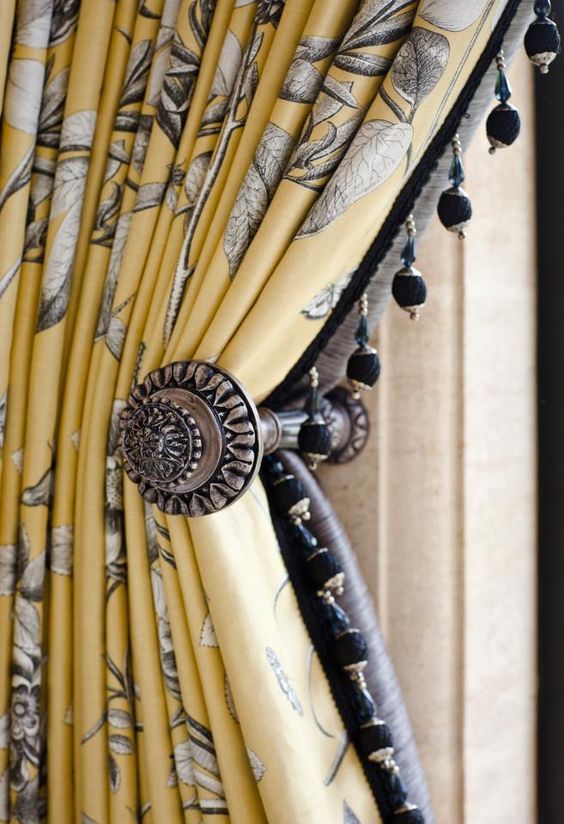 Make your bay window curtains the highlight of your room by adding embellishments like beadings and tassels. By using these embellishments, you can transform your bay window curtains into the most attention-grabbing element in your room. If your bay window curtains are not very formal, you can decorate them with satin scrunchie bow tiebacks. You can also use scarf swag with tasseled ropes to give an appealing look to the plain curtains.
Glam up the look of plain bay window curtains with the help of acrylic beads. You can choose embellishments having the same pattern as the bay window curtains to give a unified look to your space.
Adding an edge band, trim, or a leading edge is also an inexpensive way to add a bit of flair to your window treatment.
9. Match Your Bay Window Curtains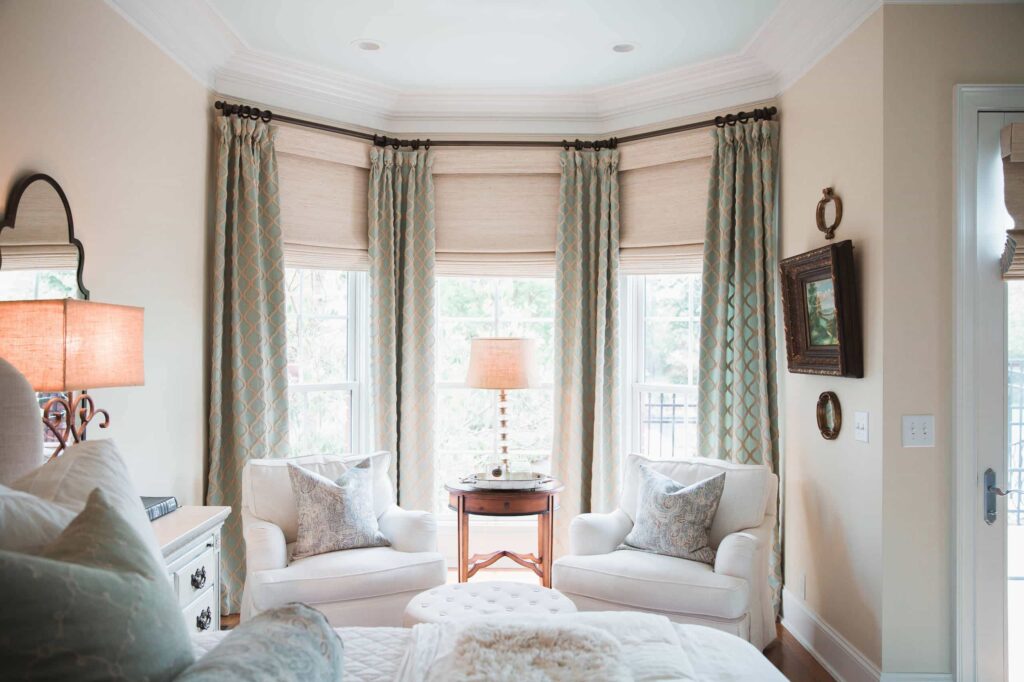 One of the best curtains for bay windows ideas is using the same color and style of window curtains on different bay windows in one room. If you have more than one bay window in your room, don't go for different colored window curtains, as they will break the entire look and give an uneven appearance to your room.
Dress up each window with its own set of bay window curtains to ensure that when you look at them together, they don't compete for attention. You can also match your bay window curtains with the doorway curtains to give a seamless look to your room. But when you go for this design scheme, ensure that your walls and furniture are not of the same color as the curtains.
Else the entire look will become very boring.
10. Heavy Brocade Bay Window Curtains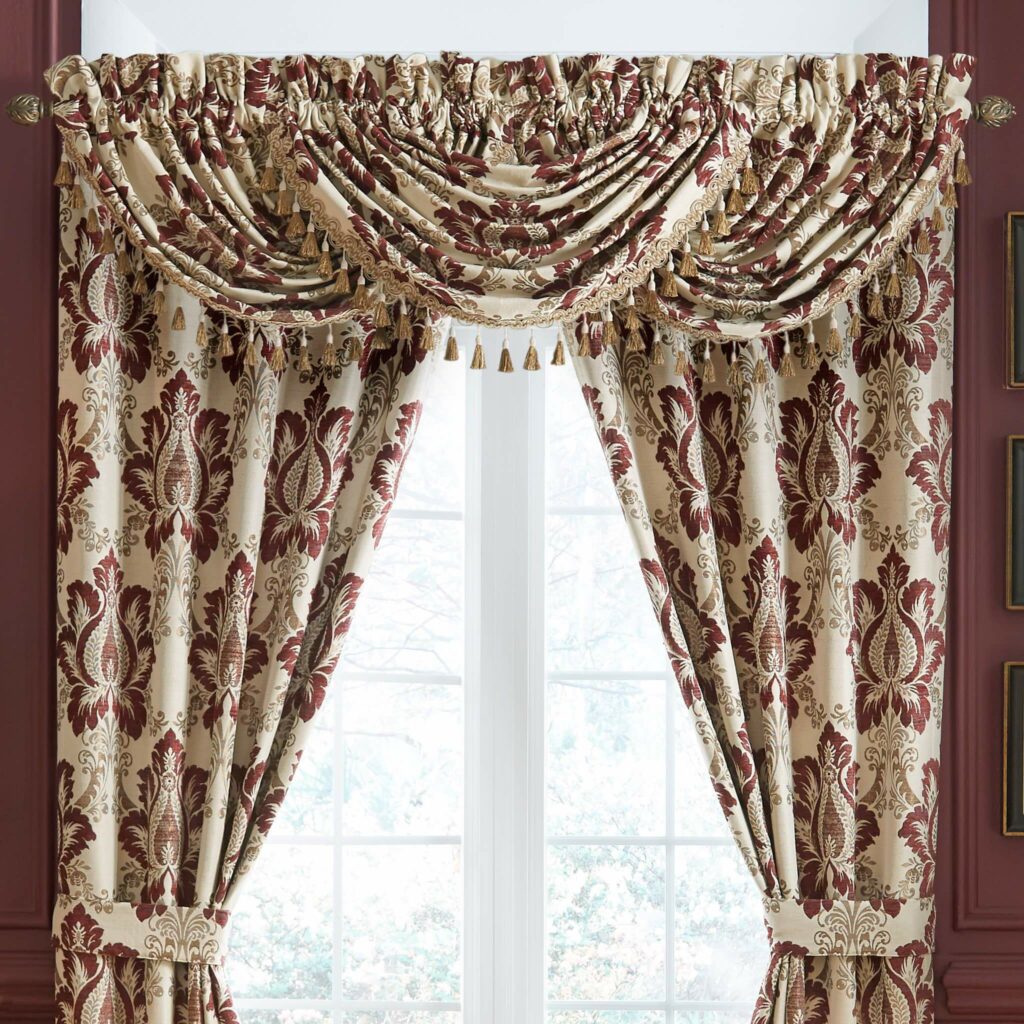 Give your bay window a grand and charismatic look by hanging heavy brocade bay window curtains. Brocade is a luxurious fabric made from closely-spaced, small squares or rectangles in a woven pattern which gives a high-end look to bay window curtains.
In the bedroom, you can use heavy brocade window treatments to create a soothing and comfortable atmosphere. Brocade bay window curtains block out light due to their thickness and create a sense of privacy in your room.
Since brocade is a heavy fabric, it holds its shape well, making it the right choice for bay window curtains, which will be moved around and pulled closed often.
11. Use Multiple Layers of Draperies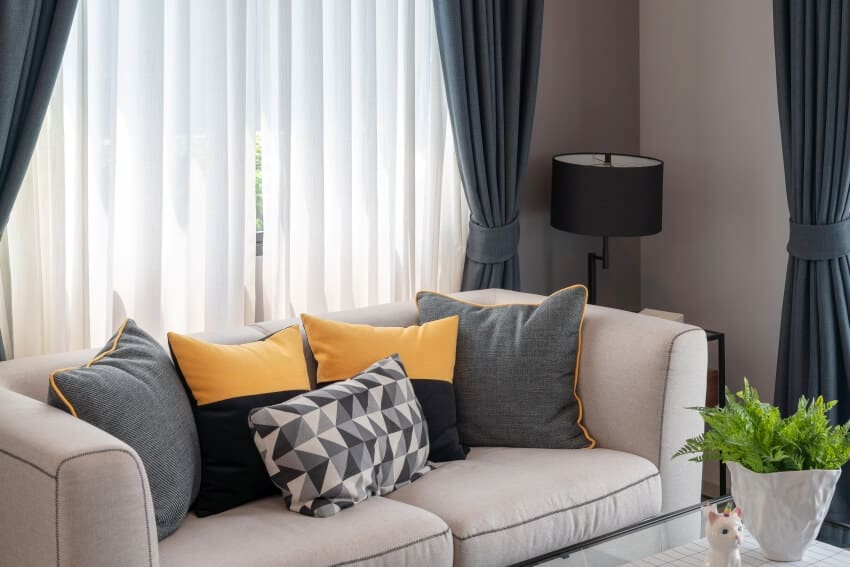 Layering different curtain fabrics is one of the best ways to give a high-end look to your bay window. You can layer different fabrics on top of each other in the same direction for a symmetrical effect. For an asymmetrical effect, layer multiple fabrics on top of each other at different angles.
By having multiple layers of curtains, your windows will be better insulated against outside temperatures. But layered window curtains don't need to look heavy. With the combination of sheers and stationary panels, you can dress up your bay window in an elegant way.
Layering the curtain fabrics is one of the best ways to increase your room's wintertime insulation and summertime shade. Even if the weather is very hot outside, the light inside the room won't be very bright.
Conclusion
Curtains are the perfect way to frame your bay windows. You can go for bold and bright or chic and understated curtains to highlight your bay window's beauty.
They offer insulation and add dimension and depth to your room. But keep in mind the decor, furniture, wall paint, and aesthetics of your room while choosing the bay window curtain. Don't go for bold curtains if your room is already very dark and dramatic. When choosing bay window curtains, think about how much light you want to enter the room and how much privacy you want. You can check out the curtains for bay windows ideas mentioned above to give an elegant and glamorous touch to your bay windows.
By using these ideas, you can achieve the dreamy look you want for your bay windows and give your home a high-end luxury feel.