Do you want to convert your compact hallway into an Instagram-worthy space? Your hallway should feel like a part of your home and should be in line with the rest of your interior. Even if your hallway has a narrow layout, you can make it look bigger and airy with a few impactful tweaks here and there.
If your hallway lacks space, you can install an overhead fixture to create a sense of height. You can also add character and color to your boring hallway with the help of traditional and modern art collections. Built-in storage is also the perfect way to maximize the space available in your entryway and keep clutter hidden away. You can treat your hallway like a room and decorate it with various decor pieces.
If you're still looking for some inspiration, take a look at the small hall decorating ideas that will make it the most lovable part of your home.
Small Hallway Decorating Ideas to Convert it into a Welcoming Space
We have curated a list of the best hall decorating ideas that will transform your awkward hall layout into functional and stylish.
1. Add Interest with Wallpaper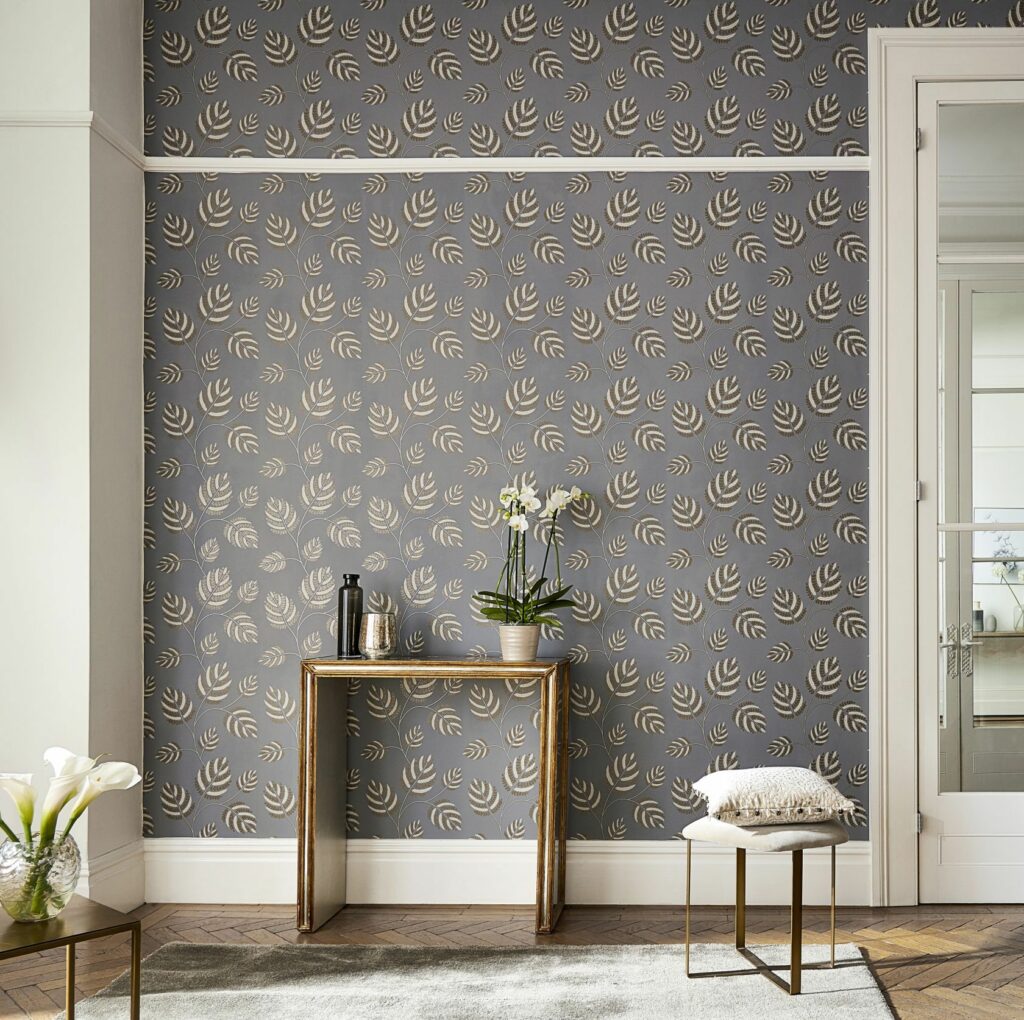 If your hallway is too narrow to incorporate any furniture or huge decorative pieces, you can add an accent wall with wallpaper. Patterned wallpaper can add interest to dull hallways. You can opt for neutral and subtle or bold wallpaper to add interest to your hallway. If you want to create a dainty and soft accent wall in your hallway, use linen-fiber wallpaper, and if your hallway has a lot of harsh metal elements, you can go for a marbled-texture wallpaper. When choosing wallpaper, consider how it will look with the lighting, flooring, and other decor.
2. Make the Floor the Focal Point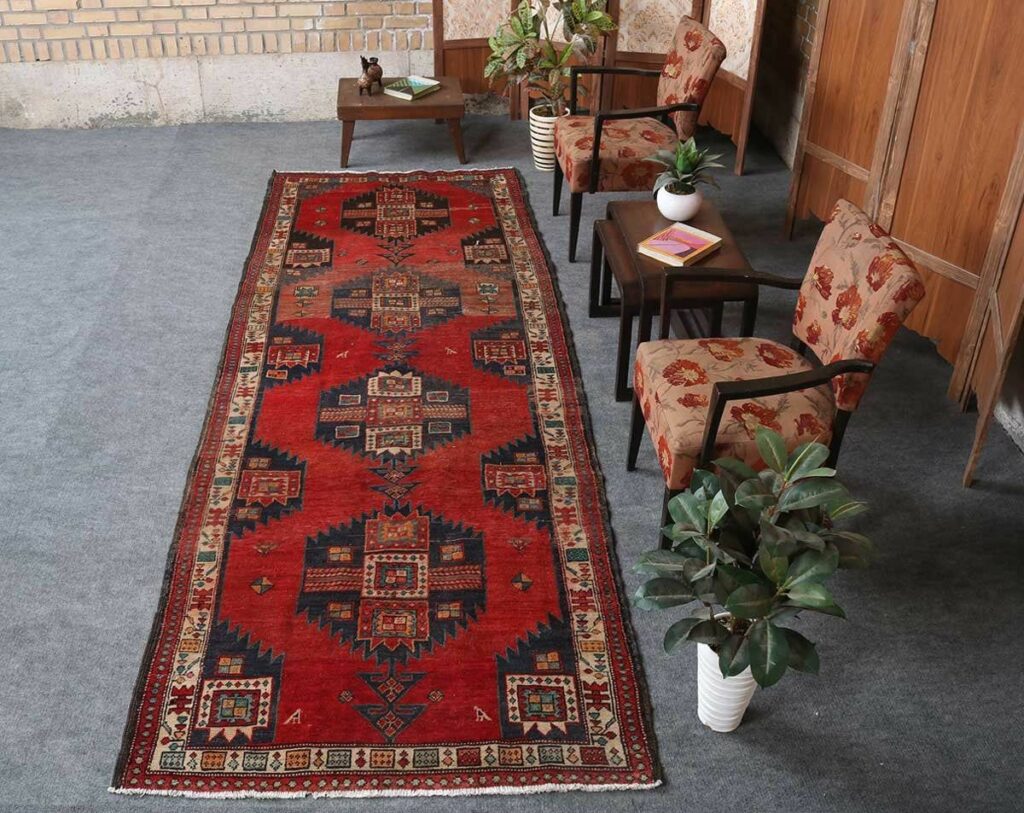 Flooring can have a huge impact on the feel and look of your entryway. Make the floor the star element of your hallway by using a series of small patterned runners. You can use antique runners to make your traditional hallway feel welcoming and homely. Bold, bright colors and geometric design runners will give your entryway a wow factor when mixed with minimalist accessories and furniture.
But use runners made from durable materials as entryways have heavy foot traffic. Wool is one of the best materials for entryway runners as it can withstand stains and is very durable.
3. The Minimalist Hallway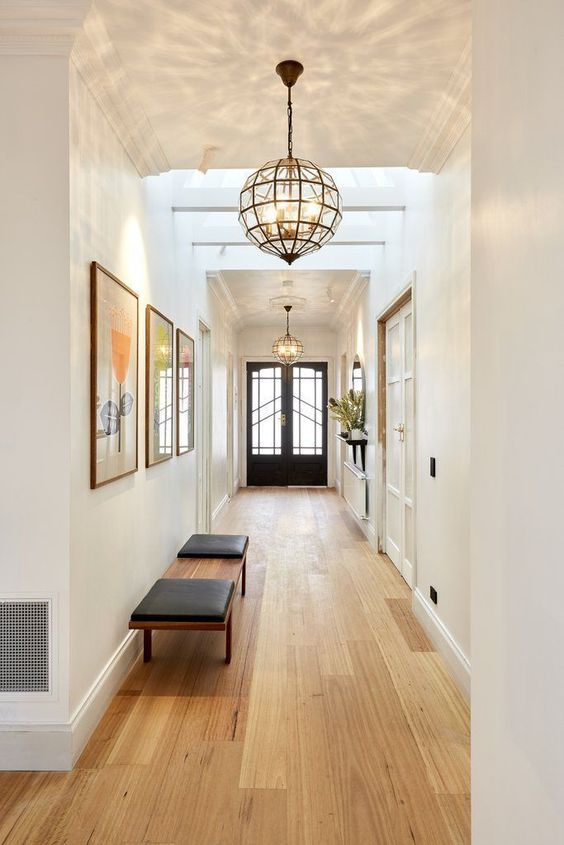 Add a fresh vibe to your compact hallway by keeping the decor minimal. In a small hallway, there is very little scope for experimentation, so stick to the basics to make an impact on your guests. You can opt for simple statement pieces like a leather bench and some beautiful pictures to make the space feel simple and functional.
Another way to beautify your compact hallway is with the help of gorgeous pendant lights. When going for this design approach, keep the paint color white and finish accessorizing with a wall painting. Another easy hack is to hang a large round mirror near your entry door.
4. Make the Hallway Open with a Cream Color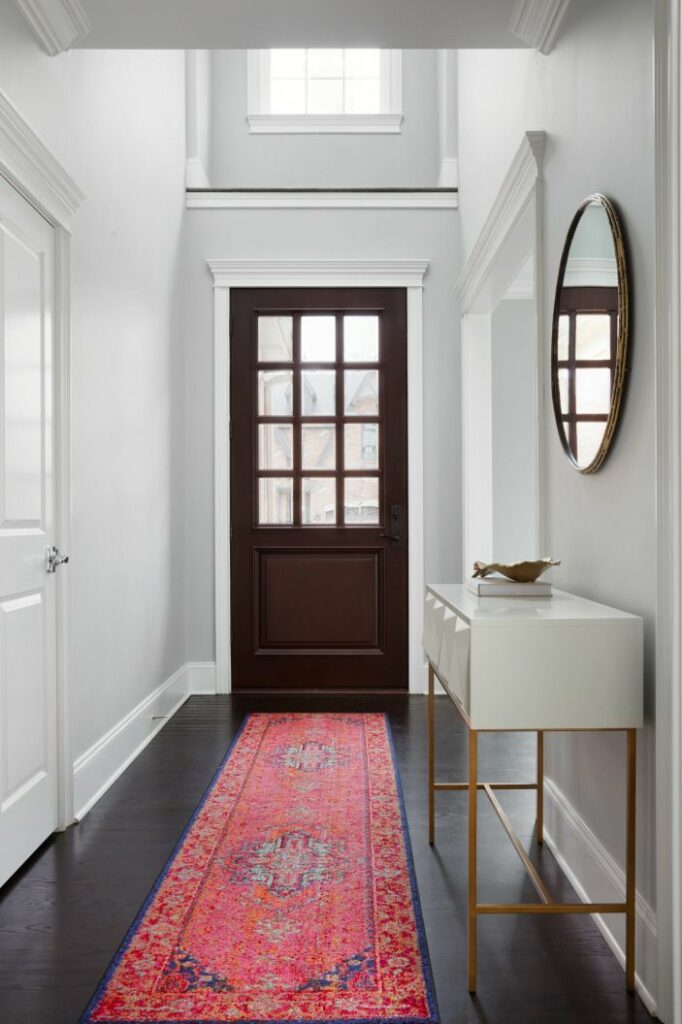 Painting narrow hallways with cream color is one of the best small hall decorating ideas to avoid making the space feel constricted. The cream is one of the best colors you can choose to give an open and welcoming feel to your entryway. But when painting your wall with white color, place a vibrant runner on the floor to ensure that the hallway doesn't look monotonous.
If you think that an all-white color scheme on the wall and the ceiling will make your entryway look dull, install a vibrant-colored door at the end of the hallway. You can also go for black doors and a white entryway look to give your space a welcoming vibe.
5. Display Your Favorite Collection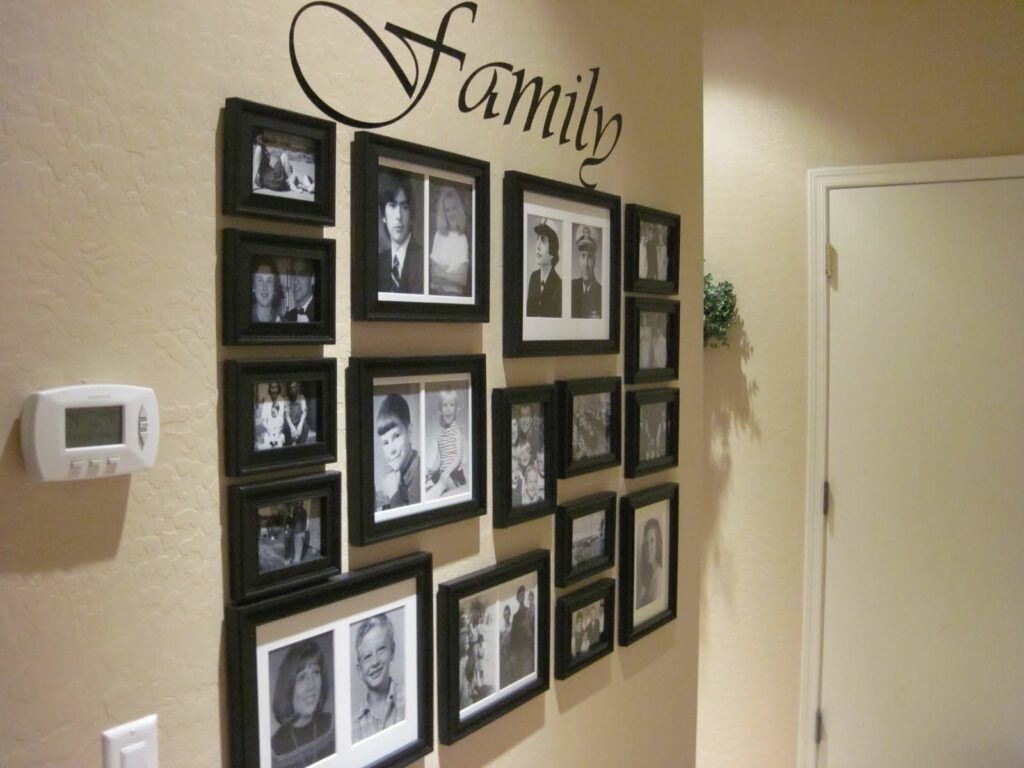 A brilliant way to spruce up the appearance of your hallway is by displaying your pictures from favorite events and vacation spots. You can also display family portraits to give a personal feel to your hallway. Select items that are very close to your heart and reflect your personality. You can display them in a mishmash of frames for a cheerful look or a grid style with matching frames. Highlight your gallery wall with lighting so that they become the focal point of your hallway.
When your guests see these photos and albums, they will appreciate the feeling of togetherness you share with each member of your family.
6. Update Lighting Fixtures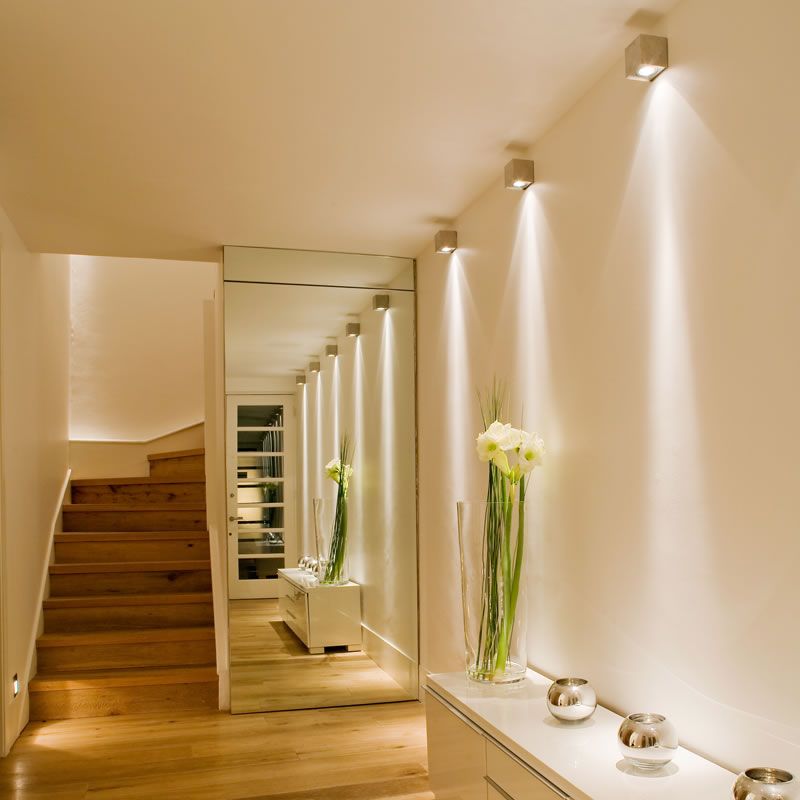 You can't ignore the lighting when it comes to creating the perfect entrance to your home. A dark entrance hall not only looks visually unappealing but also gives a gloomy and distressed feel to the visitors. Add interest and height to your small hallway by grouping singular lights. You can also choose different light sources to serve different purposes.
You can use a table lamp for a warmer feel when guests arrive and a top light for day-to-day use. If you want to illuminate specific zones of your hallway, use wall lighting. For hallways with higher ceilings, lantern lighting can be the best choice. Hallways are mostly dimly lit, so by adding beautiful lighting, you can create a space that is both functional and inviting.
7. Hang Mirrors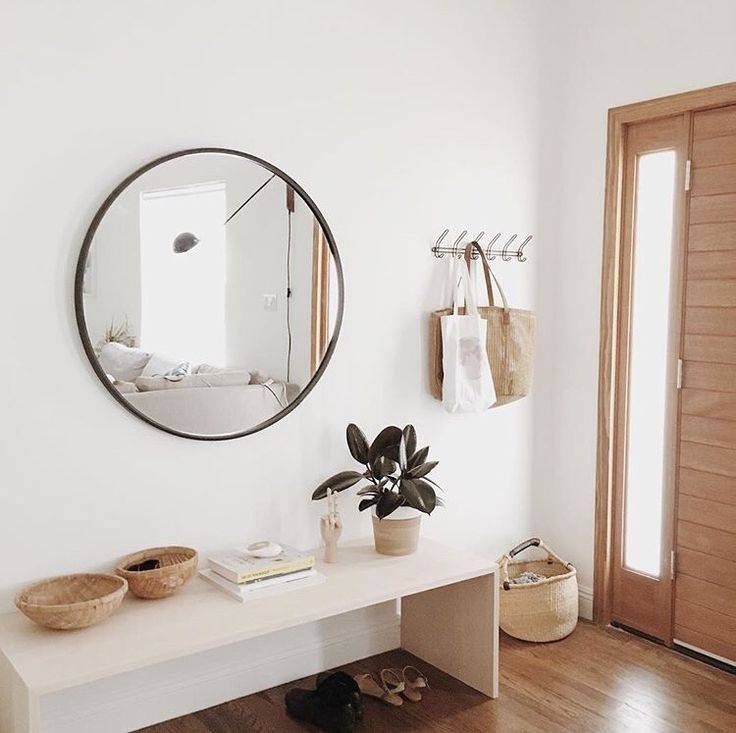 Do you want to make your entryway brighter and bigger? One of the easiest small hall decorating ideas to open up your cramped space is by hanging mirrors. Skip the traditional rectangular and square mirror and go for a round mirror to add style and personality to your hallway. As the entryway is often paved with hard flooring and rustic furniture, it can sometimes feel uninviting, but by adding a circular mirror, you can soften the space.
You can hang a mirror by the front door for a last-minute outfit check or makeup application before you leave the house. A floor-to-ceiling mirrored surface can also be a great way to bring more light into your space.
8. Paint Any Existing Furniture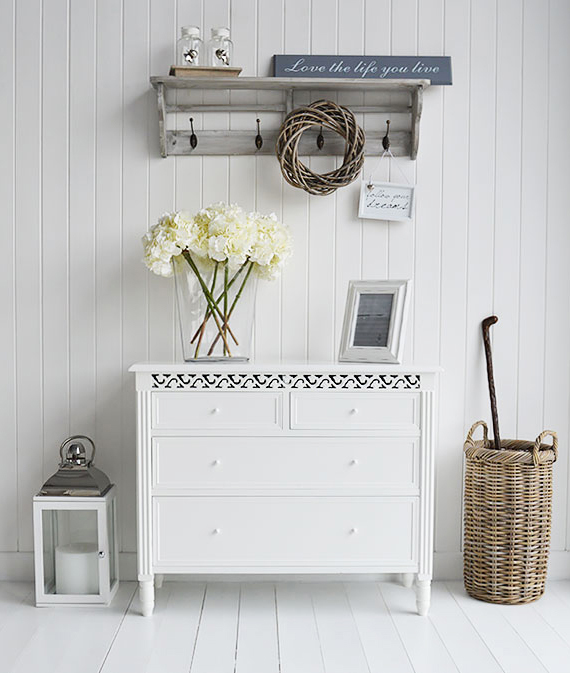 If you have old and outdated furniture in your hallway, it's time to paint them to give them a fresh look. Painting furniture is the best way to breathe life into them and transform their appearance. Any furniture in your small entryway, like a desk, shoe rack, or console table, should blend in with the overall design scheme of the space.
Upcycle your old furniture by painting it to the color or tone of the walls so that it perfectly blends into the background. You don't need to choose the exact color for your furniture as the walls. Go one or two shades lighter or darker to create some contrast.
9. Add Window Shutters Instead of Curtains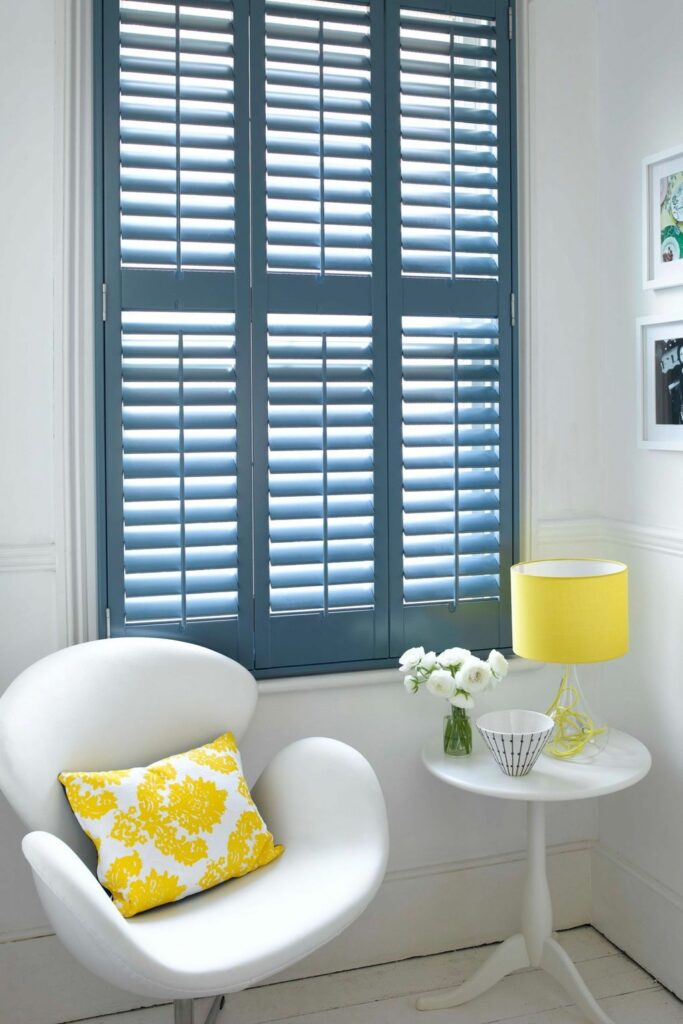 If your small hallway has a window, avoid hanging curtains, as they will take up space on the surrounding wall. You can use shutters as a space-saving alternative. Shutters fit within the window's recess and hence don't take up any extra space. Shutters also draw all the attention to the window, making the hallway feel brighter.
Another reason to use shutters is that their aesthetically timeless and minimalistic design fits into any entryway style. They are durable and don't need regular maintenance like the curtains, so they will last for years and can be used in a fuss-free way.
10. Multifunctional Pieces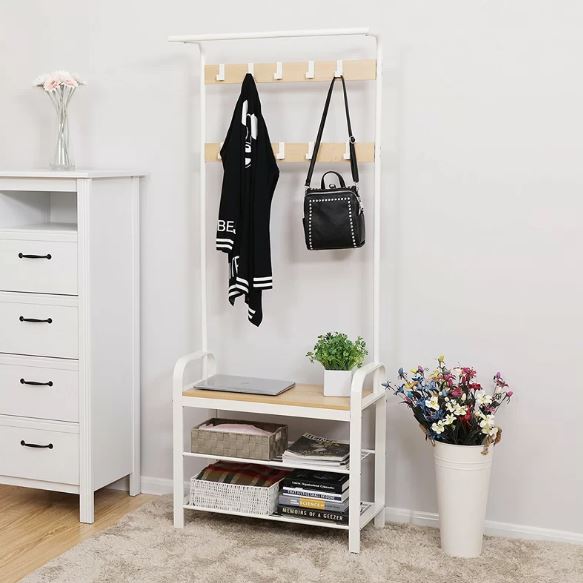 Multifunctional Furniture can be a great addition to small hallway spaces. Look for units with open and hidden storage, like a console table with open shelving and drawers. Place the furniture against a wall and save on floor space by investing in pieces that utilize height over width. You can also add an ottoman or a storage seat and pair it with a high-pile rug. Another interesting space-saving idea is to opt for furniture with hidden storage to keep your hallway clutter-free.
When one piece of furniture can be used for multiple purposes, you don't need to spend money buying different pieces to give your hallway a functional and stylish look.
11. Fake a Window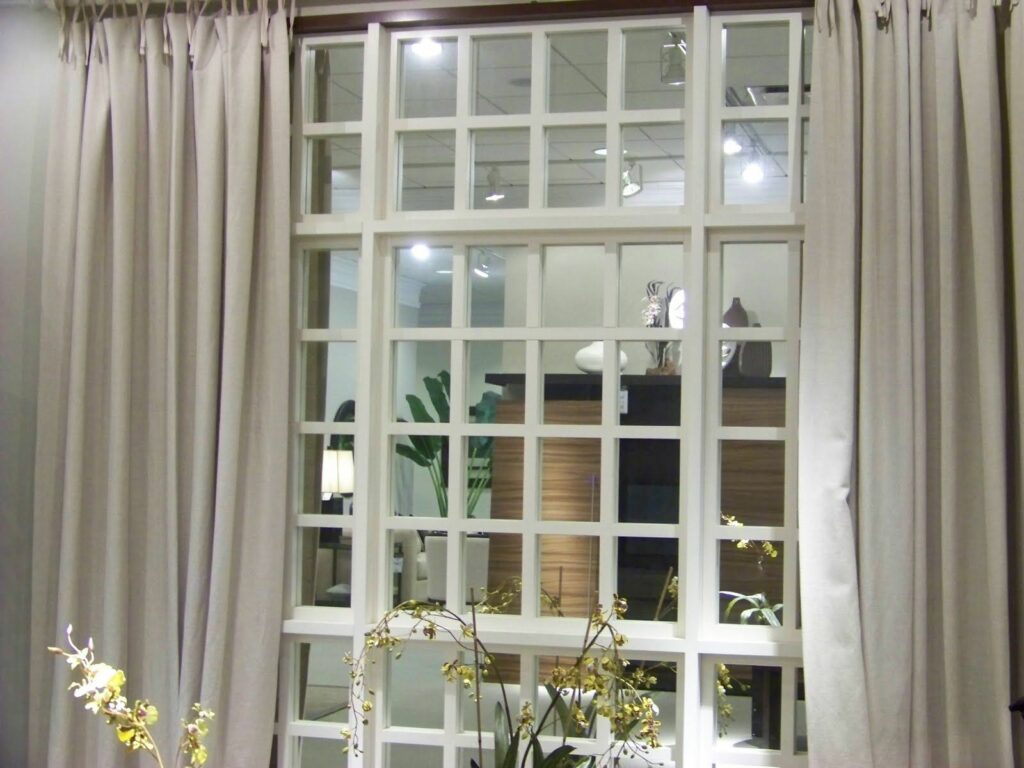 In case your small hallway does not have access to natural light, a false window can be the best choice to make the space look bigger. You can choose a medium-sized mirror with a window pane look, or you can even use some black electrical tape and a plain mirror to fake a window. Once you hang the mirror at the desired place, install a curtain rod above.
To mimic the look of the window, you can even add your favorite drapes. Mirrors reflect light and create the illusion of extra space, and this is what you need in the narrowest part of your house.
Tips to Decorate Small Hallways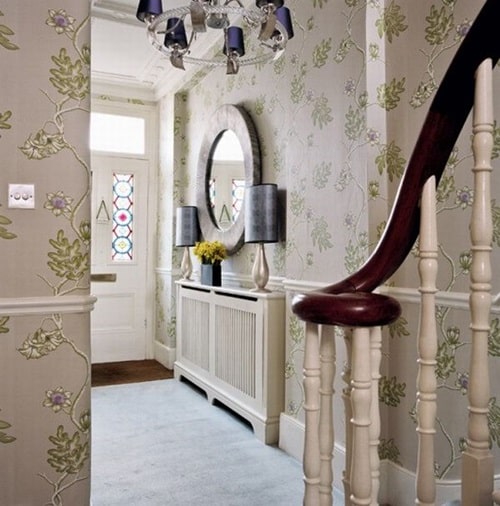 Transform your compact and unappealing hallway into a showstopper space with these valuable tips:
Select furniture pieces according to the size of your hallway. Oversized entry tables, chairs, and consoles can make your small entryway feel cramped and narrow.
Choose the same color furniture as the walls, as they will blend into the surrounding, making your hallway look wider.
One of the best small hall decorating ideas to give an open and extended look to your hallway is keeping it clutter-free. Keep your hallway organized and remove things that are not needed.
If you want to widen a narrow, long room, paint the wall at the end a darker color than the adjacent and opposite walls.
Light colors like light gray or creamy white can brighten the hallway and make it look larger.
To make your hallway wider, you can paint horizontal stripes on the wall, and to make the space taller, you can paint vertical stripes.
Dark corners and dim lighting can make your hallway appear cramped and small, so position a table or floor lamp in a corner to expand the area visually.
Utilize every corner of your hallway efficiently. Paint the wall with blackboard paint and write reminders and messages. You can also hang a pegboard with a mixture of shelves and hooks to provide small storage options.
Don't add many design elements to make your hallway stand out. If you're incorporating wall murals, don't put paintings or artwork. Else it will give a cramped look to your hallway.
Conclusion
Rather than considering your entryway as a pass-through space, treat it as an entry point to your home. Utilize decorative mirrors, fancy lighting, and patterned rug to give your hallway a high-end feel and an airy look. You can also paint the wall in light colors to give an open feel to your hallway. Use multipurpose furniture to avoid clutter and save on floor space.
To give a personal touch to your hallway, you can also hang vacation pictures or family photos on the walls. If you still need some inspiration, you can follow the above-mentioned small hall decorating ideas to turn your hallway from boring to stunning.
With these tips, your hallway will become the space of your dreams.
Frequently Asked Questions
What Color Can You Choose to Make Your Hallway Appear Larger?
Lighter colors like light gray or creamy white are the best for compact hallways as they reflect light and make the space look bigger. Don't use dark colors if your hallway is small, as it will give a cramped and compact feel to your entryway.
How Can You Give an Interesting Look to Your Small Hallway?
There are many small hall decorating ideas that you can follow to give an interesting look to your hallway. You can hang mirrors, update lighting fixtures, add a shutter, and display your favorite collection on the walls to give an interesting look to your small hallway.