Are you looking for simple basement finishing ideas that can convert your unfinished basement into a utilitarian space? Many homeowners have the luxury of a basement, but only a few of them utilize the space efficiently. Unfinished basements look dark and often become a drop zone for unused items.
By finishing your basement, you'll get more usable square footage, and you can use it for different purposes. You can use it as your home office, craft room, workout space, or even a more organized spot for storage.
A finished basement should be livable like any other room, and you can achieve this by ensuring that the space is properly painted and insulated, there's trim, flooring, electricity, and temperature control. While finishing your basement, your main goal should be to keep the changes at a minimum which will, in return, help you keep the cost less expensive.
You can check out the unfinished basement ideas to convert your basement into a more livable space without the need for a complete renovation.
Simple Basement Finishing Ideas on a Budget
Let's take a look at the simple basement finishing ideas that will make your space more inviting and functional.
1. Paint Your Concrete Floors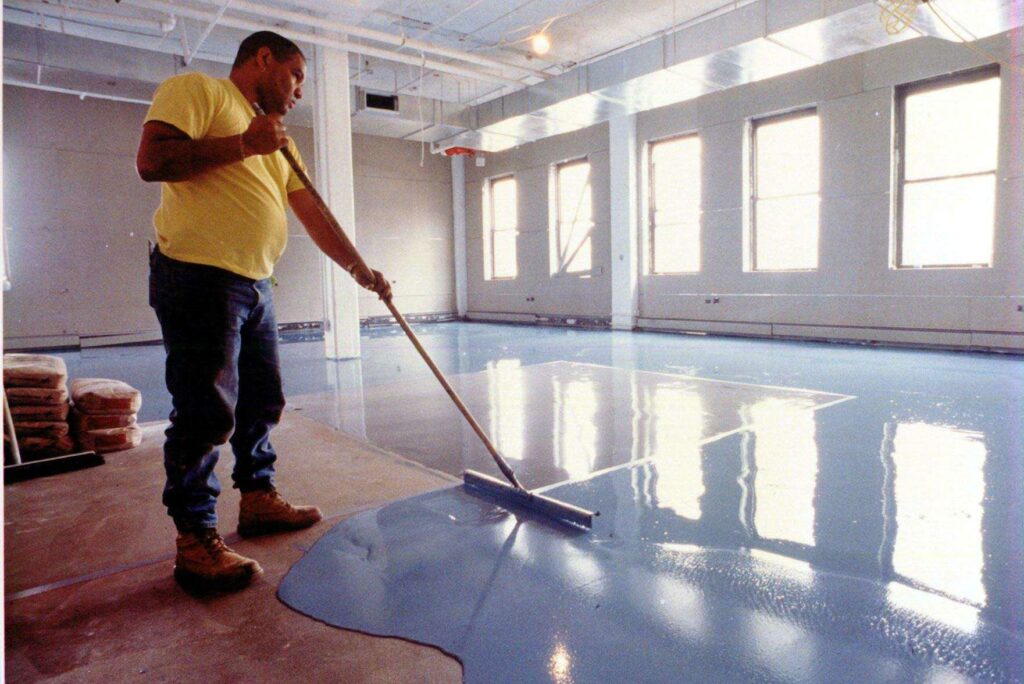 Painting the concrete floors is one of the most inexpensive upgrades that can be made to your basement. A two-part epoxy finish can be used to turn the drab basement concrete floor into an attractive surface. Basements are damp because they're built close to the water table into the ground, and lots of moisture comes up through the floor.
Epoxy not only blocks moisture but also looks great and is mold-resistant. Epoxy comes in a wide range of hues, from flecked overlays to solid colors to faux stone finishes, so that you can choose the desired finish as per your preference.
If you want to be creative, you can even paint the concrete floor of your basement with two or three different colors of epoxy.
2. Add Area Rugs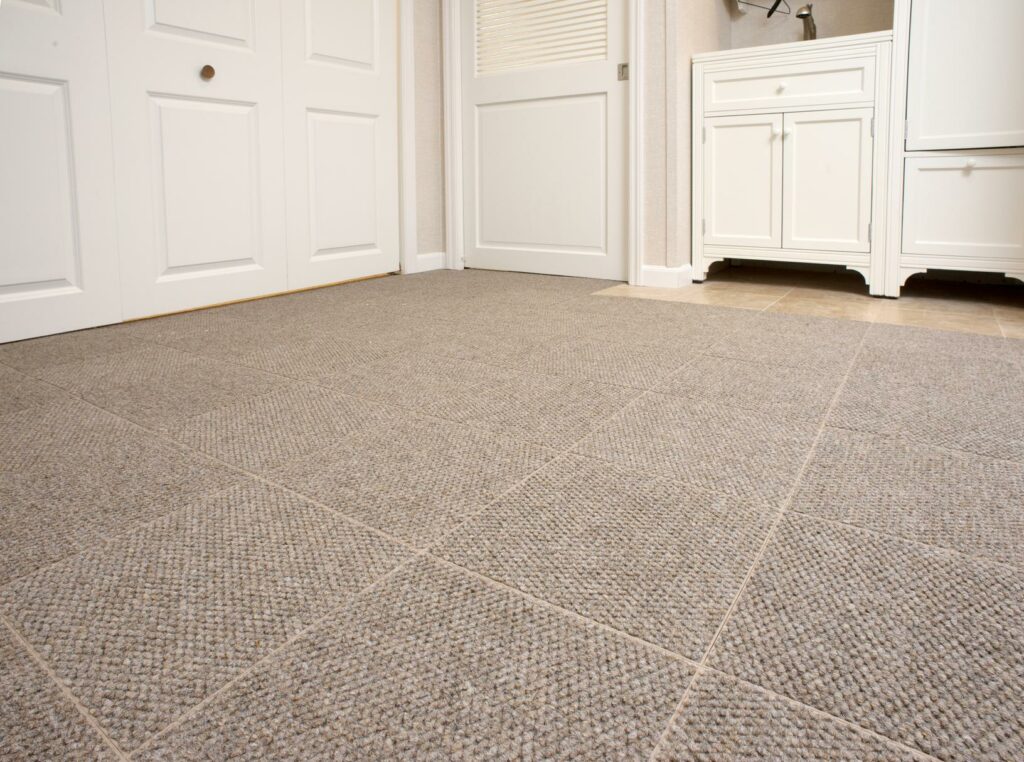 If you want to soften the dark and dingy look of your basement, adding an area rug can be a good choice. Area rugs can add warmth and coziness to your basement and give it a home-like ambiance.
If you have a large basement, avoid using one large rug. Layer a couple of rugs in the same pattern and color in your basement to enhance its design aesthetic.
When buying the basement rug, opt for a mold-resistant material, like polyester, nylon, or acrylic. These carpet fibers resist stains and don't hold onto damaging moisture.
Area rugs are also good heat insulators, so they will make your basement's air temperature several degrees warmer.
3. Hang Some String Lights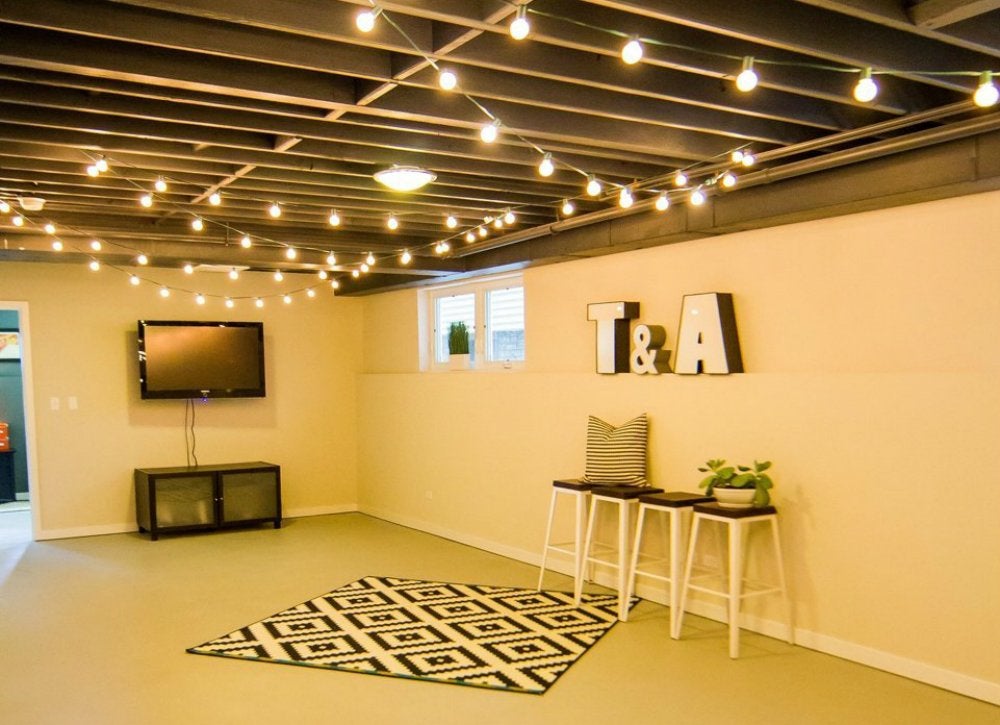 Most unfinished basements have naked bulb fixtures mounted in the ceiling. You can bring more light to your basement by hanging some string lights. String lights help in creating a playful ambiance and can transform your basement from dreary and dark to bright and welcoming.
String lights can be installed on or between support joists to create an ambient atmosphere. You can also combine string lights with additional lighting features for more lighting.
If you want to get fancy, add some fabric panels to the string lights and create a faux ceiling or wall. Avoid using fluorescent tubes as they look uninviting in damp basements due to their harsh lighting.
4. Hang Curtains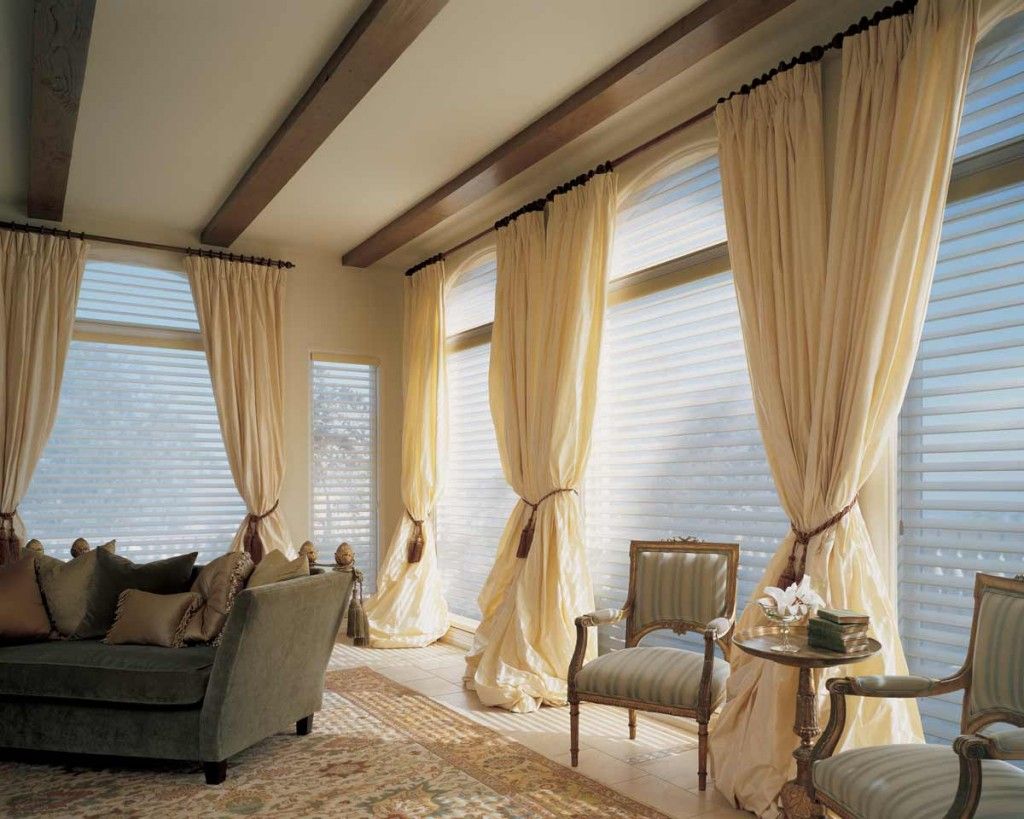 Do you know that you can add dimension to your unfinished basement by hanging curtains? But hanging curtains can be a challenge in an unfinished basement due to their odd appearance and too high windows.
If the height of the ceiling is too low, use a tension rod. You should also ensure that the rod is not too close to the window, or else it will cause issues with privacy and light. If you want more light, hang the curtains on the wall opposite the window.
This will ensure that the curtains don't block any natural light entering your basement. Curtains are not just for windows, but they can also be considered ready-to-hang fabric walls. You can choose from different kinds of curtains, such as sheer, decorative, or blackout.
5. Paint the Ceiling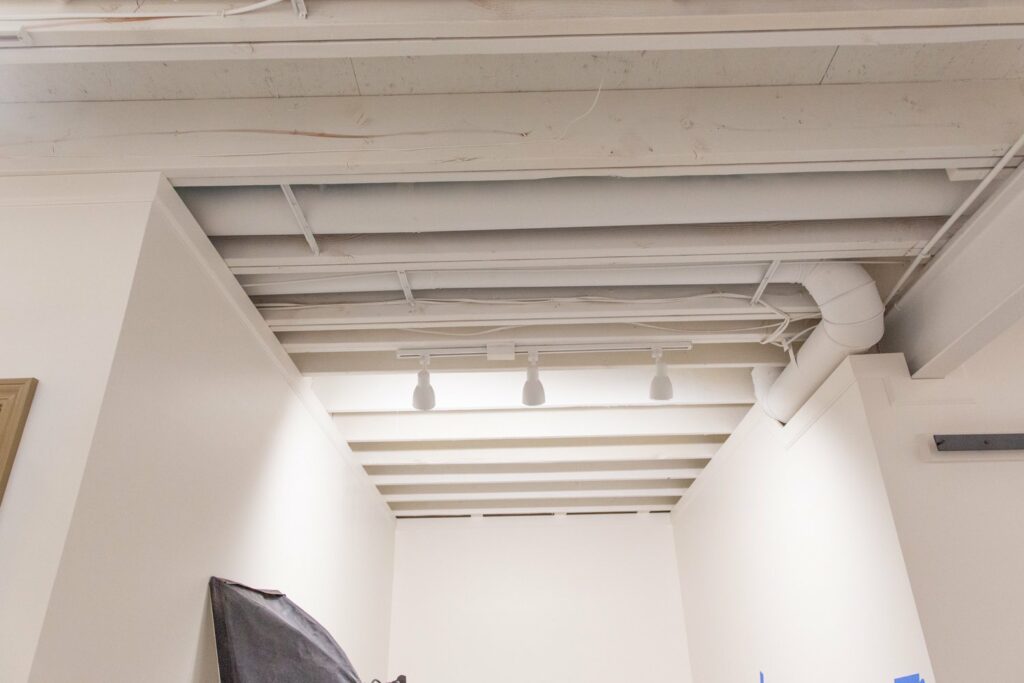 Painting the ceiling is one of the simple basement finishing ideas to give your space a finished look. By painting your basement's ceiling, you can also make it look bigger. You can paint the ceiling white to make your basement look brighter. A white ceiling boosts the amount of light that reflects around the basement.
An important hack is to paint the ductwork and ceiling but leave the wires exposed. This will create a classic industrial aesthetic and make a short ceiling look taller.
You can also cover the ductwork and pipes in your basement with paint. Ensure that the paint you select is ideal for the basement surfaces you want to cover.
6. Add a Glass Exterior Door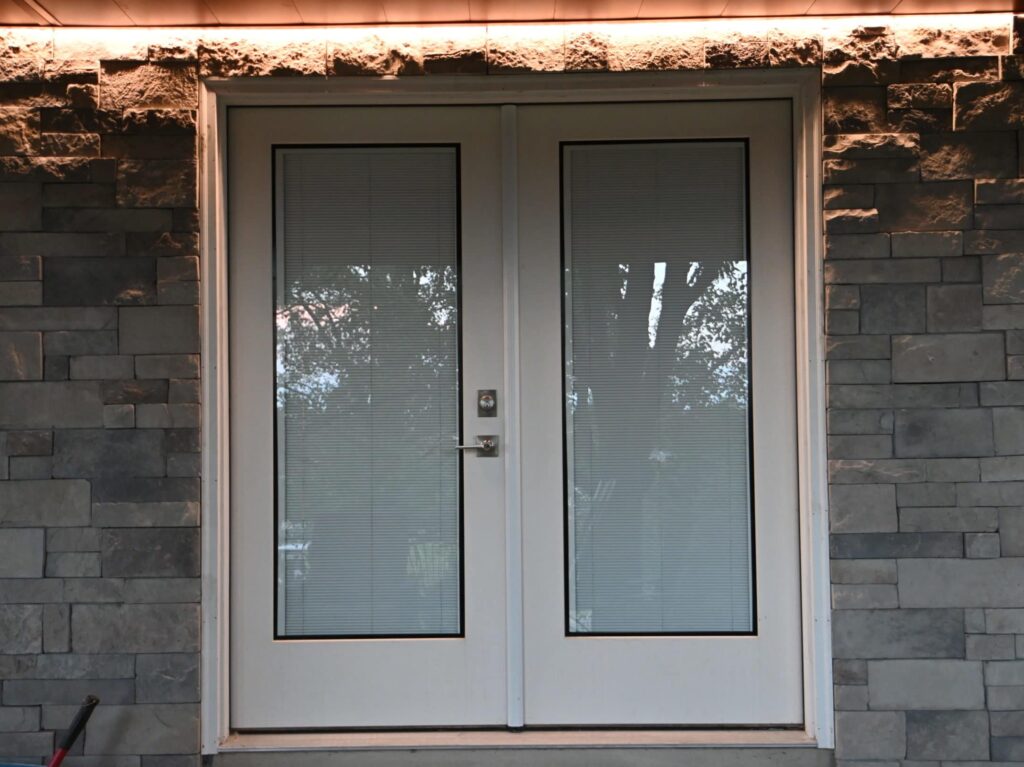 One of the easiest hacks to create a luxurious basement is by adding a full-length glass exterior door. A full-length glass door will allow an ample amount of sunlight to enter your basement, making it look airy and bright. This can especially be a practical solution in basements that do not have windows. Choose a glass door that will resist dampness. Don't go for solid wood doors as they do not insulate well and, if not protected, are prone to rotting. Opt for a double-paned glass door that has been designed to prevent heat from escaping your basement.
7. French Drain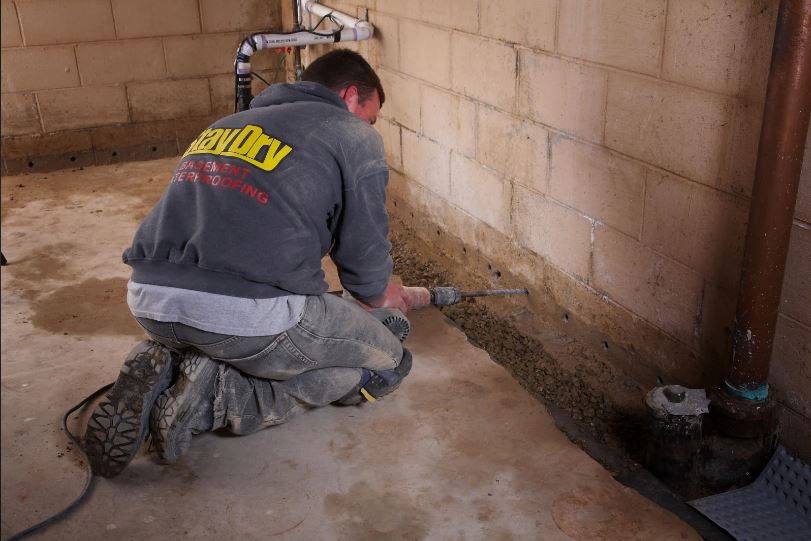 A properly installed French drain can prevent your basement from any kind of water damage. A French drain removes water by collecting moisture in a shallow trench. It then pulls the collected water into a perforated pipe and expels it to a sump pump and basin.
By installing a French drain in your basement, you can redirect water from rain away from your basement.
The French drain should be installed away from your basement exterior wall. You can also make the French drains aesthetically pleasing by covering them with plants, small rocks, and decorative grates.
8. Transform Your Basement into Billiard Room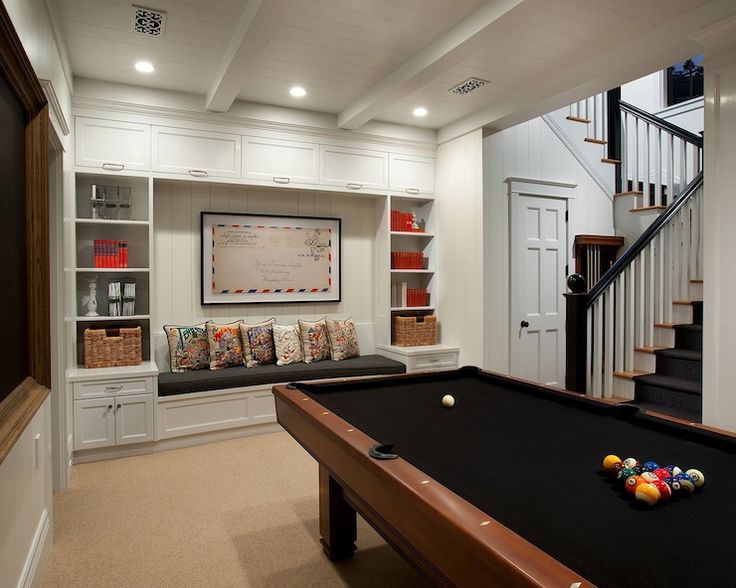 Turning your basement into a game room is one of the simple basement finishing ideas to add functionality to your space. Design your basement in a way that it can host many types of game night activities, including poker, shuffleboard, and air hockey. Soundproof the basement to improve the sound quality and ensure that your neighbors are not disturbed.
You can add framing to walls and ceilings and use layers of drywalls or insulating foam designed specifically for noise control.
You can also incorporate built-in storage, a gaming console, hardwood flooring, a wall-mount TV, and a cover wall in teal patterned wallpaper to turn your basement into a high-end gamer haven.
9. Create a Home Theater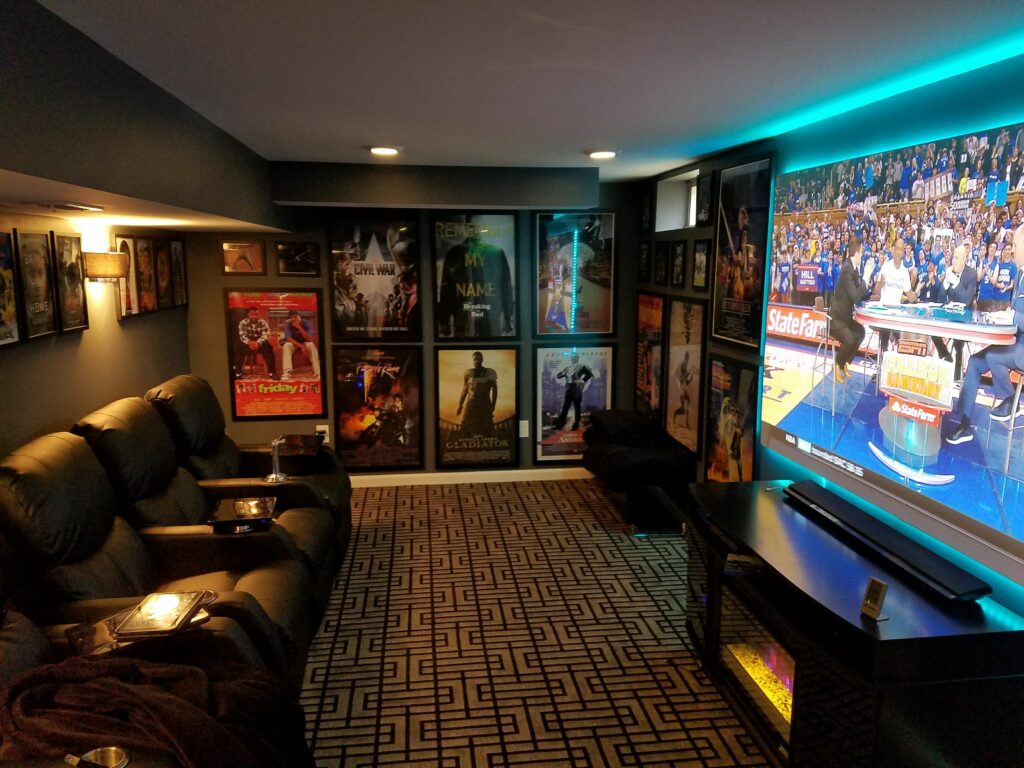 Why go out to watch movies when you can create a stylish entertainment space in your basement? Basement home theaters offer immense entertainment value for families and increase a home's resale price. If you love old movies, turn your basement into a classic home theater. Keep decor simple with posters of your favorite Hollywood stars and stadium-style seating. Add fun touches, like a beautiful carpet and wall lights, to make it feel like a theater. If you want to give your basement a simple media room feel, add a leather sectional sofa. Use part of the space for watching TV and the other half as an office space, bar, or recreational room.
10. Home Gym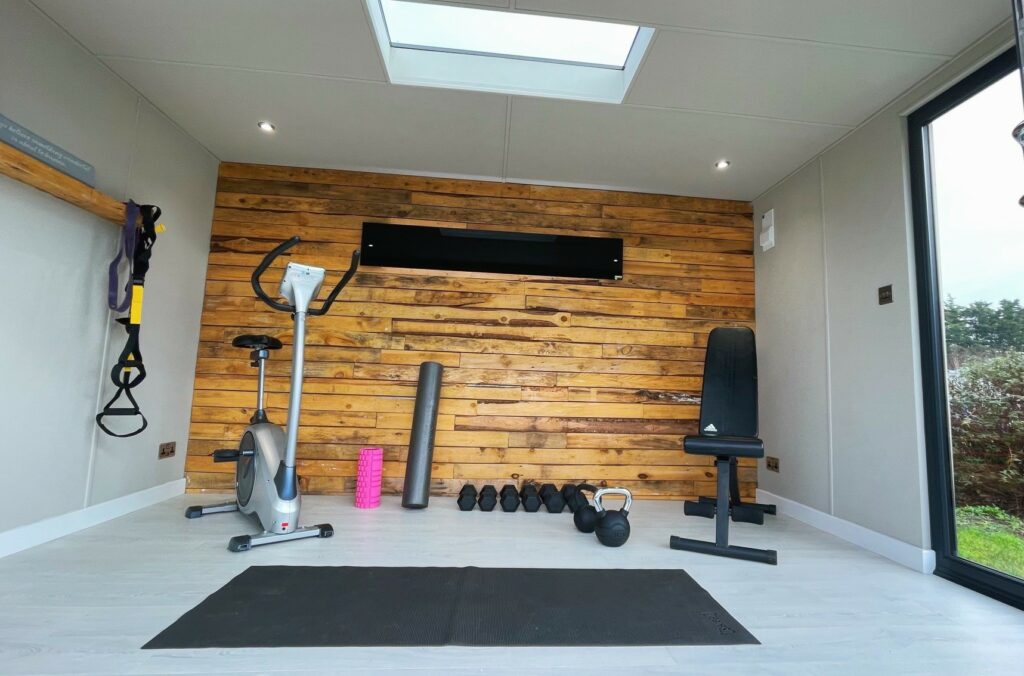 Turning your basement into your personal workout space is an easy process, as you don't need to do any remodeling. Leave the raw concrete floor and unfinished basement ceiling as it is. Some things that you can add are rubber mats and a large wall mirror to make working out easier.
Consider the type of equipment you'll use. Are you looking for cardio workouts or weight training, or yoga? A treadmill will need more square footage than a weight bench, so think beforehand as you plan the room.
Install lots of artificial lighting as a well-lit home gym brings energy to the space. Hang slogans, frames, and photographs to keep you inspired and focused as you exercise.
11. Create an Office Space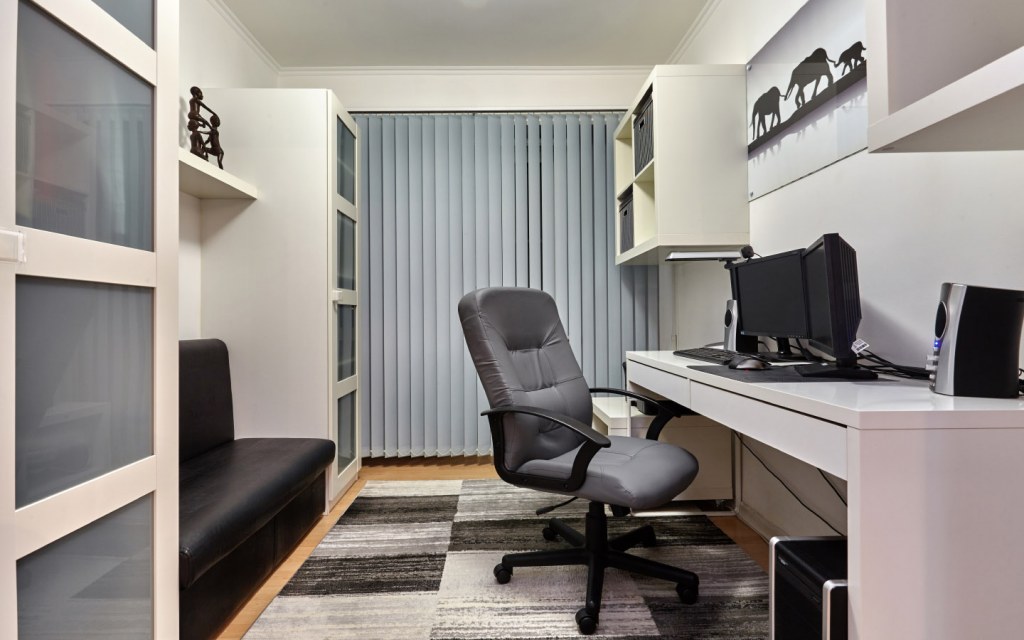 Do you know that you can transform your unfinished basement into a noise-free home office? Define your needs while creating the home office space because the nature of your work will dictate the lighting, layout, furniture, and overall design. To create an ideal home office space in your basement, you'll need enough room for a chair and desk.
You'll also need good lighting and electricity to power your electronics. If the space is limited, use every nook and cranny efficiently. Rather than placing cabinets on the floor, you can hang them on the wall. Keep the accessories to a minimum to give your home office a spacious feel.
12. Create a Mini Bar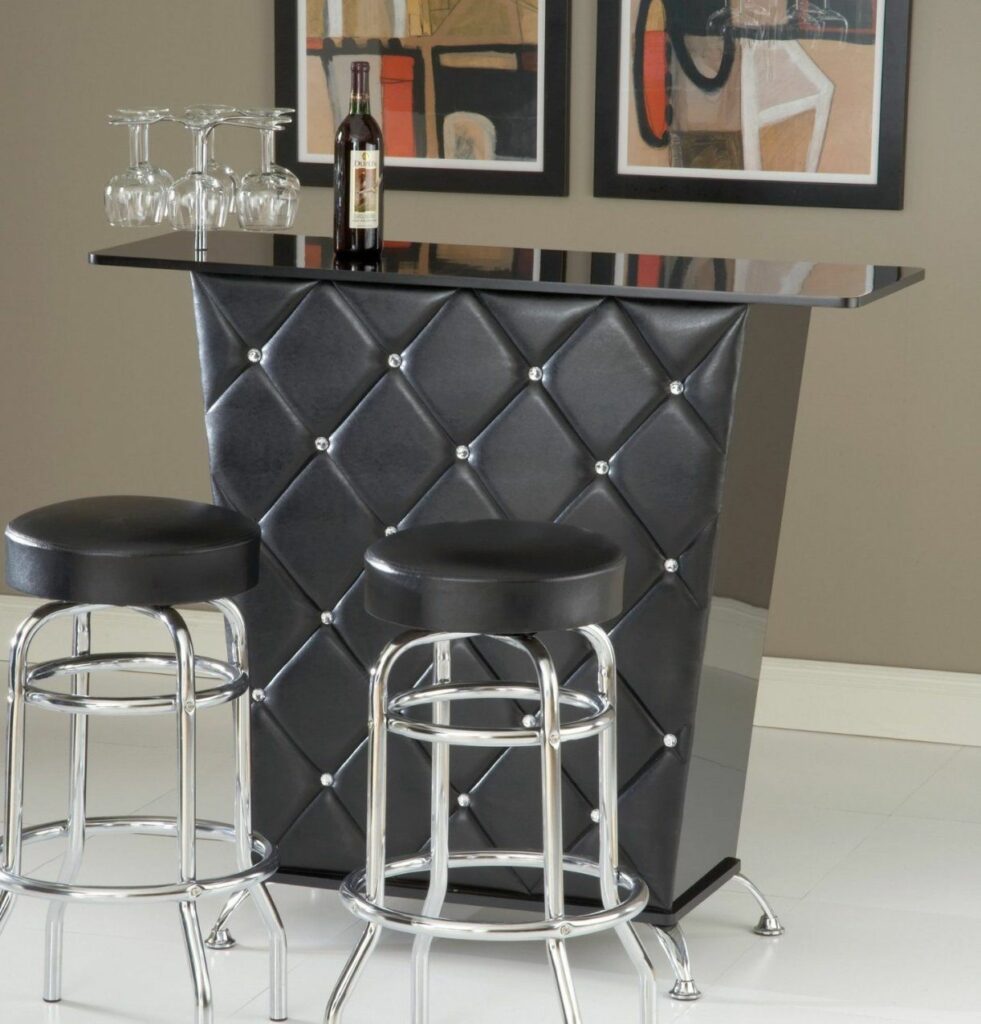 If you want to utilize the extra space in your basement, then creating a mini bar can be a good idea. A stylish basement bar should feature new cabinets, custom fixtures, a sleek countertop, and comfortable bar stools. You can also add ring lighting to create the perfect mood to enjoy your drinks.
If natural light doesn't enter your basement, use layered lighting in the form of gold chrome wall sconces and recessed ceiling lights to keep the space feeling bright.
You can build a corner bar if you don't want to dedicate the entire space of your basement to the bar. If you're a wine collector, then you can also store wines in your basement.
13. Extra Bedroom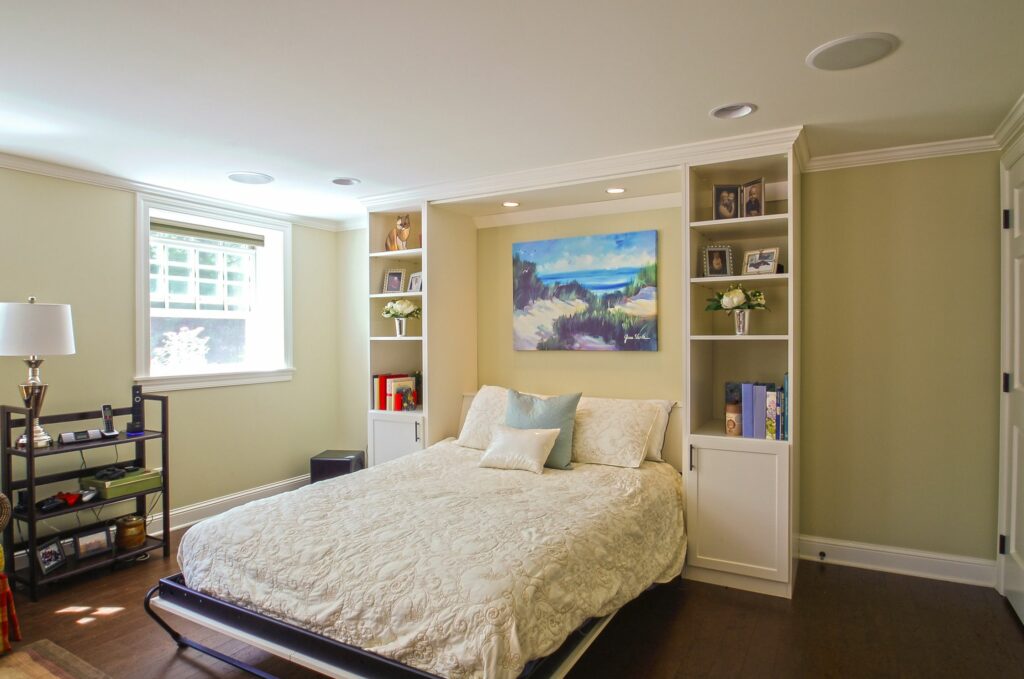 Growing families are often in need of extra space, but they often overlook the basement. You don't have to put much effort into creating a bedroom basement space. Through vibrant color combinations and creative lighting techniques, you can turn your drab basement into a cheerful bedroom.
While turning your basement into an extra bedroom, ensure that it mimics the rest of the house's style. This includes theme, fixtures, paint colors, and overall décor. Add a comfy bed, lamps, and bedside table to ensure that your guests feel welcomed.
14. Basement Laundry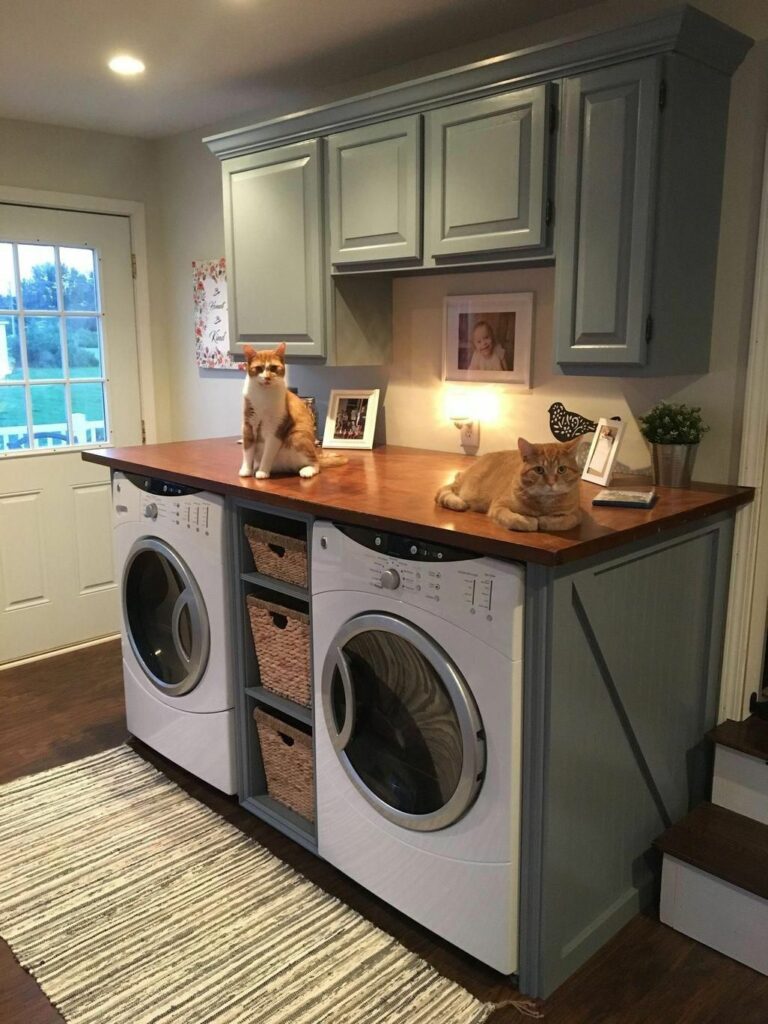 Bulky dryers and washers take up a lot of space. If you do not have a laundry room turning your basement into a designated space for your laundry needs can be a good idea. This way, you'll get a comfortable and spacious laundry space wherein you'll be able to do weekend washing without disturbing your family.
Since natural light is restricted in the basement, use a chandelier, recessed lights, or other kinds of lighting to make the room well-lit. Stick to neutral or light color combinations to make your basement laundry room appear more inviting and bright.
15. Basement Library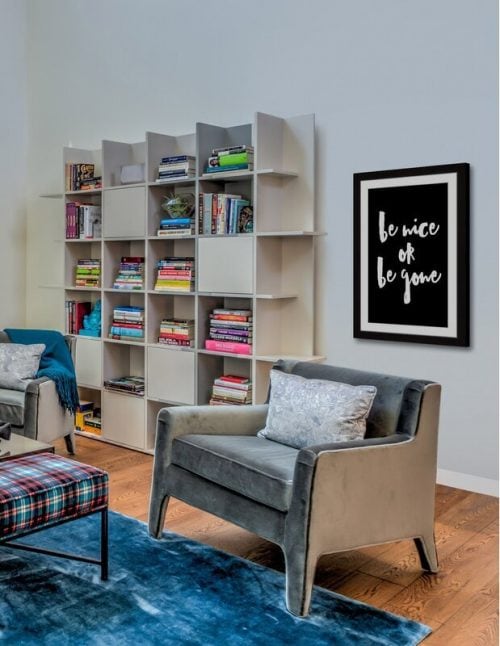 Suppose you want to display your books but do not have enough space in your home for the library. Why not make use of your basement? You can arrange all your books and magazines in your basement. To give your basement library a warm and cozy appeal, go for comfy chairs and soft carpets.
Choose unusual-shaped cupboards and bookshelves to add more character to your basement library. Ensure that your basement library has good lighting or plenty of wall outlets to plug in lamps so that you can read your favorite books comfortably.
16. Coffee Bar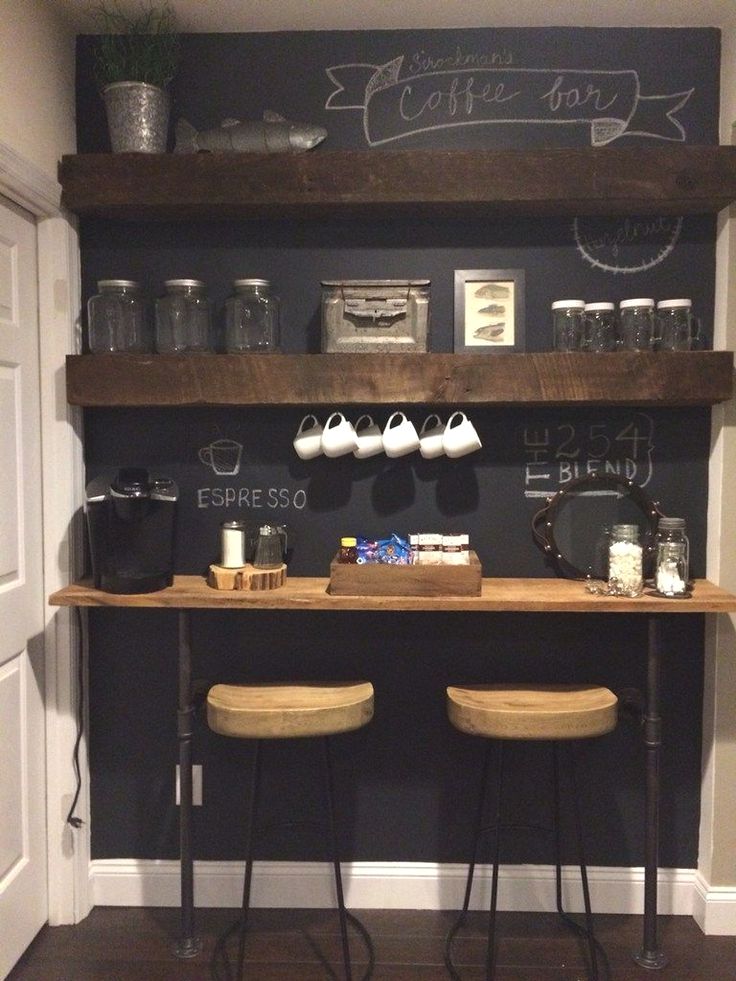 If you're a coffee lover, you can turn your unfinished basement corner into a mini cafe or a coffee bar. You'll need hanging shelves to stash coffee beans and mugs. Add color to your coffee bar by displaying mugs in different hues. Glassware and candy jars can also be used to house sugar cubes and straws.
You can also include a seating area to relish coffee with your loved ones. If you love farmhouse decor, you can add baskets to the display.
17. Create an Art Studio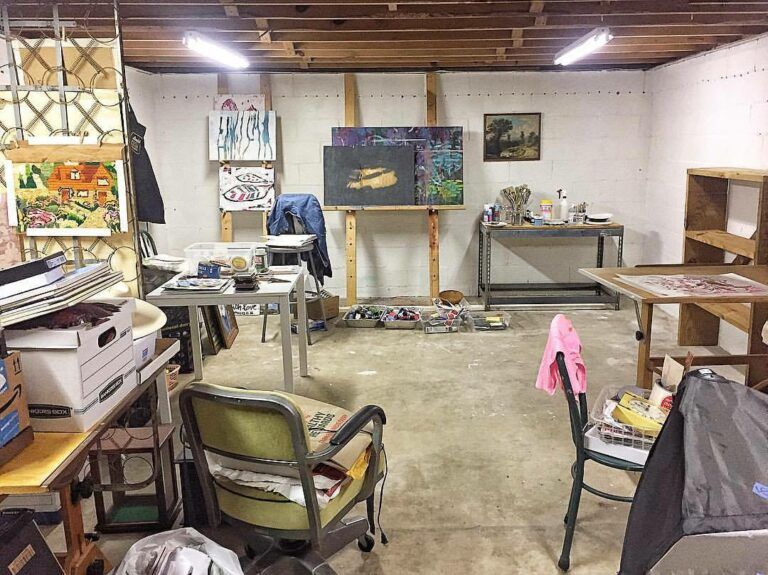 If you're looking for simple basement finishing ideas, why not convert your basement into an art studio where you can showcase your artistic side? Place your painting supplies and canvas in the basement to let your creative juices flow. You can also place a comfortable chair where you can sit and relax.
Rather than buying new furniture, you can use an old table, chair, or shelf unit as a part of your studio! You can also hang your beautiful creations on the walls to inspire you to create many more masterpieces.
Conclusion
Basements are no longer unappealing and poorly lit storage spaces. Homeowners are turning their basements into welcoming spaces with the help of the right lights, paint, decoration, and furniture.
Consider your priorities and the condition and size of your basement to decide what kind of setup will work well. You can add rugs, paint the ceiling and walls or hang curtains to breathe life into your unfinished basement.
If your unfinished basement looks dark and gloomy, you can use the above-mentioned simple basement finishing ideas to turn it into a usable, functional space. By using these ideas, you can make maximum use of your unfinished basement and make it a part of your home's design scheme.