Do you want to turn your console table into a statement piece of your room? A beautifully styled console table can brighten your space and lift the overall vibe of your room. Console table styling doesn't need to be complicated. You just need to follow a few rules for color, layout, and size to decorate your console table like a pro.
When decorating a console table in your entryway, opt for minimal artwork so that your space looks uncluttered. You can also place a picture or a statement-making art piece above the console table to elevate its design. For a homey, warm, and welcoming living room, you can incorporate personal items into your console table.
You can also accessorize your coffee table in a way that showcases your room's color scheme. If your console table looks lustreless, you can try out the console table decorating ideas to refresh its look.
Console Table Decorating Ideas to Breathe Life Into Your Room
Make your console table the centerpiece of your room by following these console table decorating tips.
1. Showcase Objects of Various Height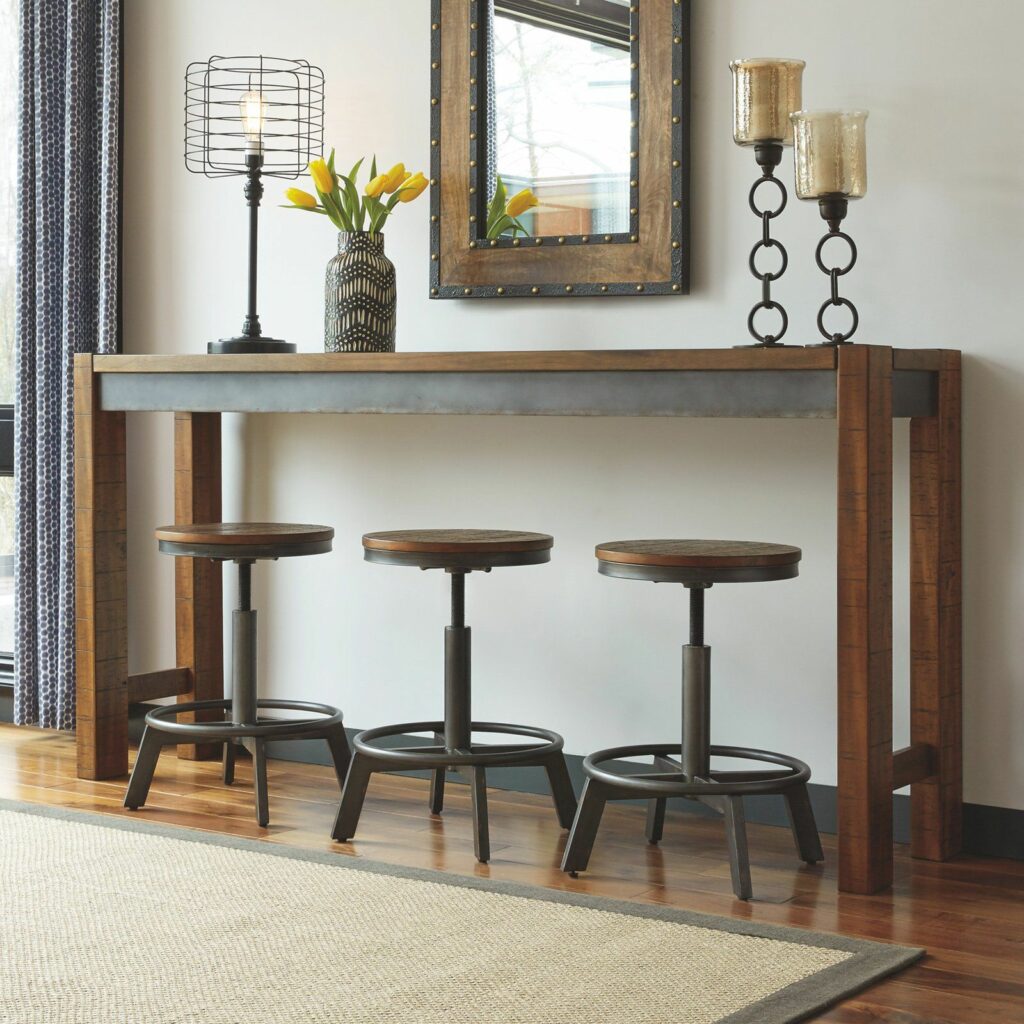 If you want to add a wow factor to your console table, give it a raised effect by placing items of varying textures and heights. You can place one tall object like a decorative planter, sculpture, or globe to create visual interest. Another way to add height is by adding a table lamp. You can turn on the table light in the evening to create a moonlight effect.
Decide the functionality of the light while choosing it. Consider a lamp under 10 inches for a subtle glow, a 30-inch tall lamp for ambient lighting, and a light over 36 inches to attract the eye.
You can also plan the arrangement of the objects in a way that some are short, some are tall, and others fall in between. For example, you can place tall objects like candlesticks and flowers, a small stack of books, and shorter objects like photo albums and trinket boxes.
2. Add Some Greenery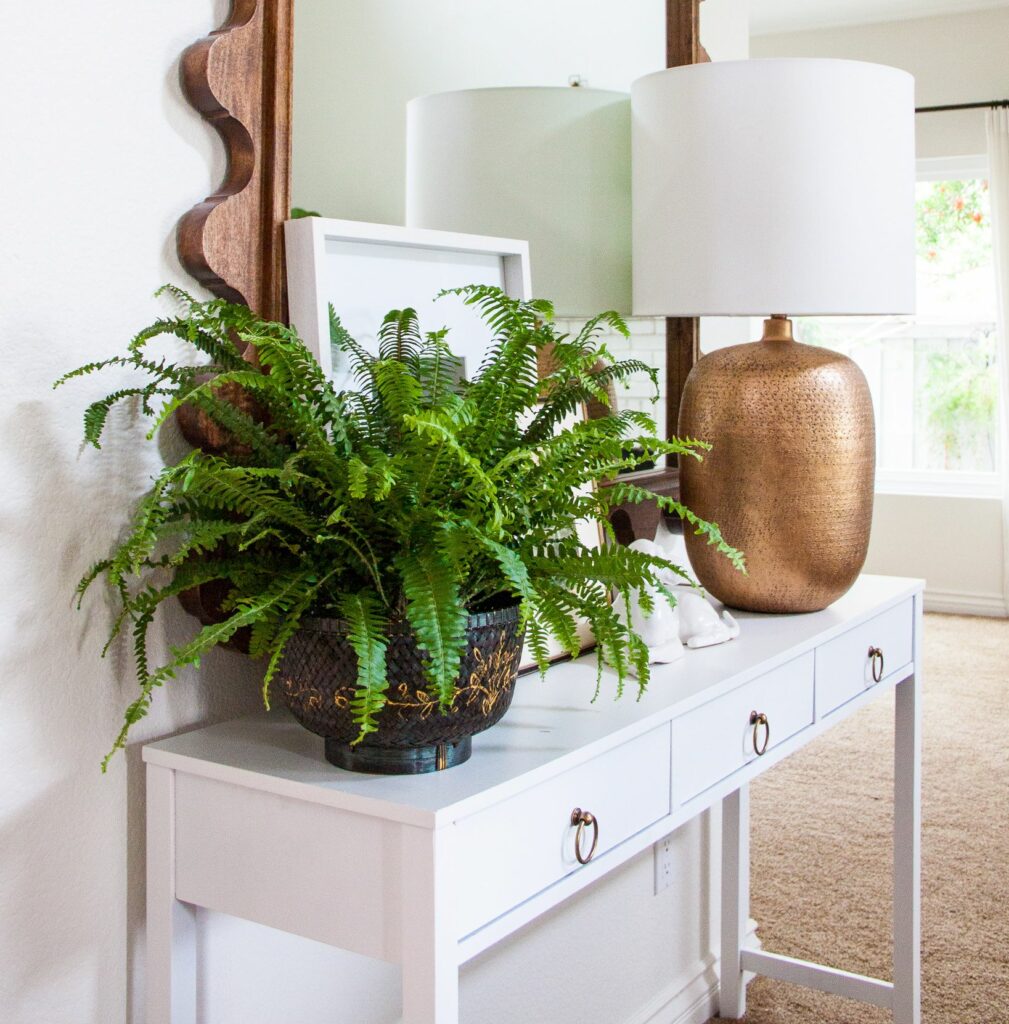 Create an elegant display in your entryway and other areas of your room by adding some greenery to your console table. You can place a couple of succulents in a beautiful planter on your console table. This will not only elevate the aesthetics of your space but will also energize your room with natural elements.
To give some height to your console table, you can even stack the potted plant on top of some books. If you don't want to go with natural plants and flowers, you can also opt for faux flowers that will remain fresh year-round.
But if you're decorating the console table with plants or flowers, ensure that you don't cover the entire surface with plants else. It will look overdone.
3. Play with Symmetry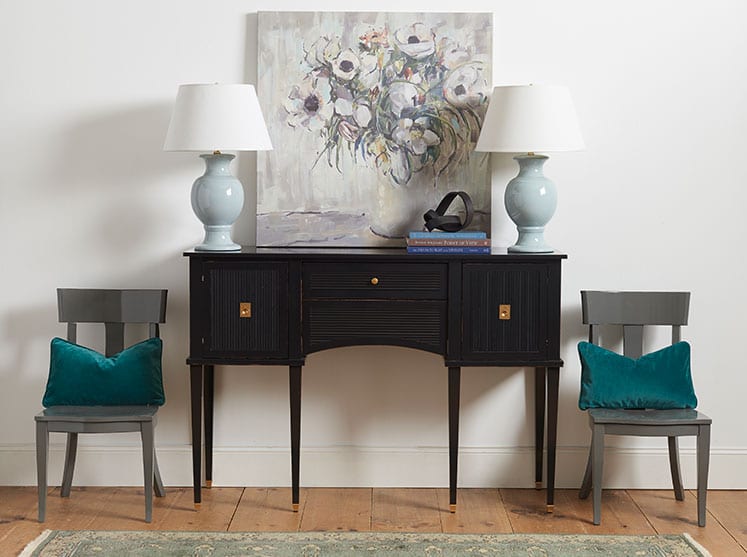 When styling a console table, aim to create a balanced symmetry with the help of decorative objects, vases, and lamps. Try grouping a vase of flowers, a statement lamp, and a piece of sculpture for a look that is balanced and symmetrical.
If you have placed a tall candlestick at one end of the console table, put a tall lamp at the other end to balance out the look. You can also place geometric objects of different shapes and sizes symmetrically on the console table.
Complete the design scheme with the help of a beautiful rug and a modern painting. If your console table is small, it becomes even more important to decorate it in a symmetrical way to create a feeling of enhanced space. But while doing this, don't clutter your console table; rather, keep it simple.
4. Drape Some Fabric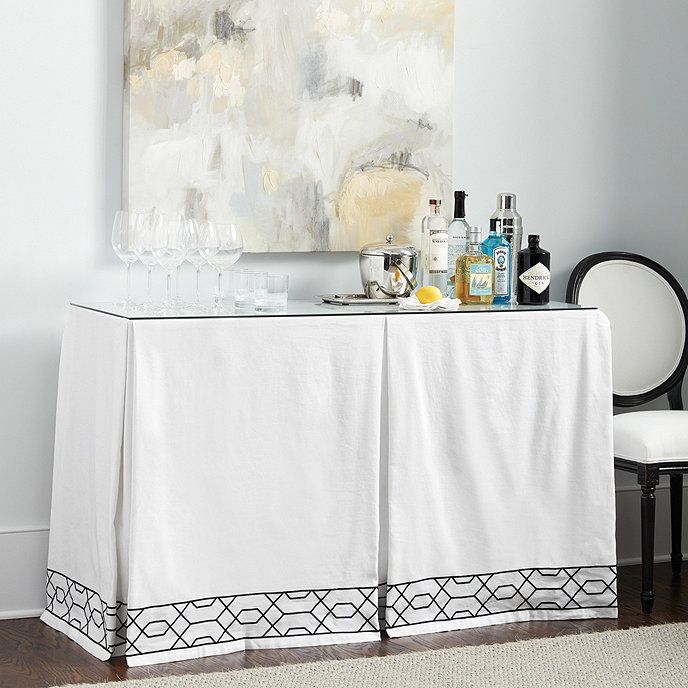 If you're not happy with how your console table looks, you can drape it with the fabric of your choice and make it a decorative addition to your room. Draping fabric is also an excellent choice for covering console tables that are withered and full of scratches. From silk to linen and woven to knitted fabric clothes, you can cover your console table with any fabric.
You can also opt for high-drape or low-drape fabrics. High-drape fabrics are flowy and fall straight down into small creases and folds, and low-drape fabrics have fewer folds and give a fuller look to your console table.
But when you drape fabric on your console table, wash it after every few days to ensure that it doesn't look untidy. You can also place a flower vase on the tabletop to give it an appealing look.
5. Layer in Textures and Colors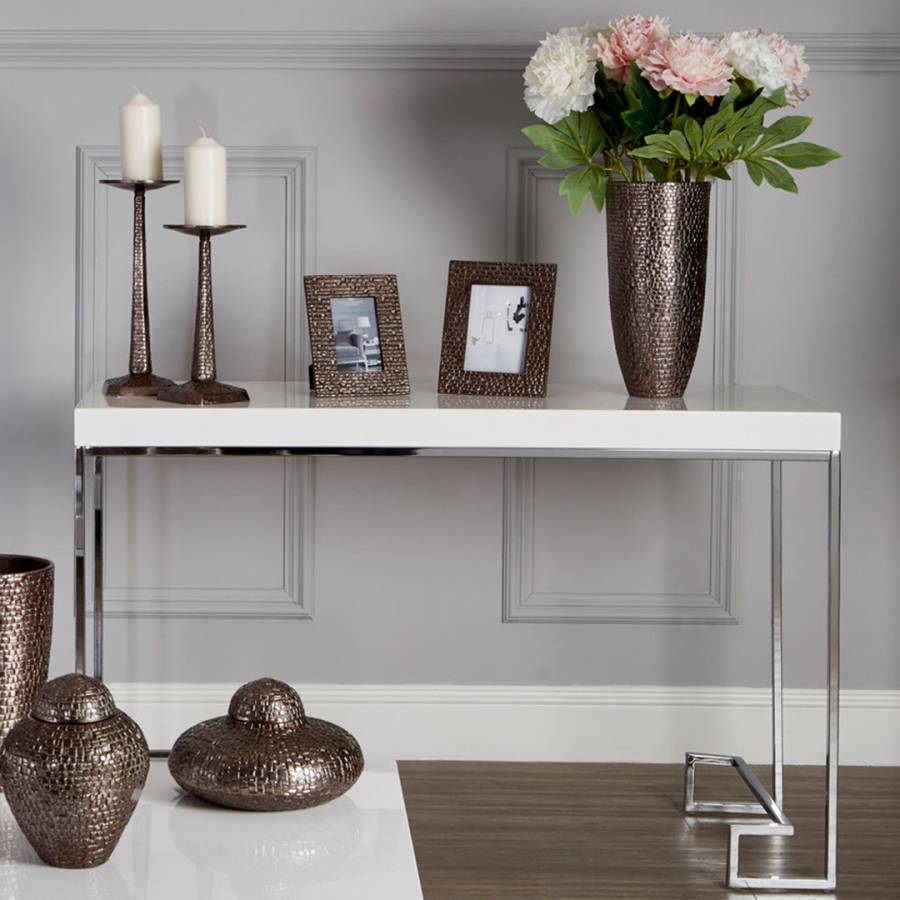 The mix of textures, colors, and styles is one of the best ways to create a comfortable and relaxed ambiance in your room. Play with textures and colors to give your console table a stylish and appealing look. If your console table is plain white, it can look a bit dull and unappealing. You can add interest to it by layering items in different textures and colors.
Don't stick to one color or texture while decorating your console table. For dark or black wood console tables, you can opt for crisp white or metallic tabletop items. A white marble console table can be decorated with a small stack of black books and a rustic wooden flower vase.
If your living room is filled with bold patterns and saturated colors, limit your console table's color palette. Neutral-colored decorative items can be used to decorate vibrant and bold-hued console tables.
6. Add a Mirror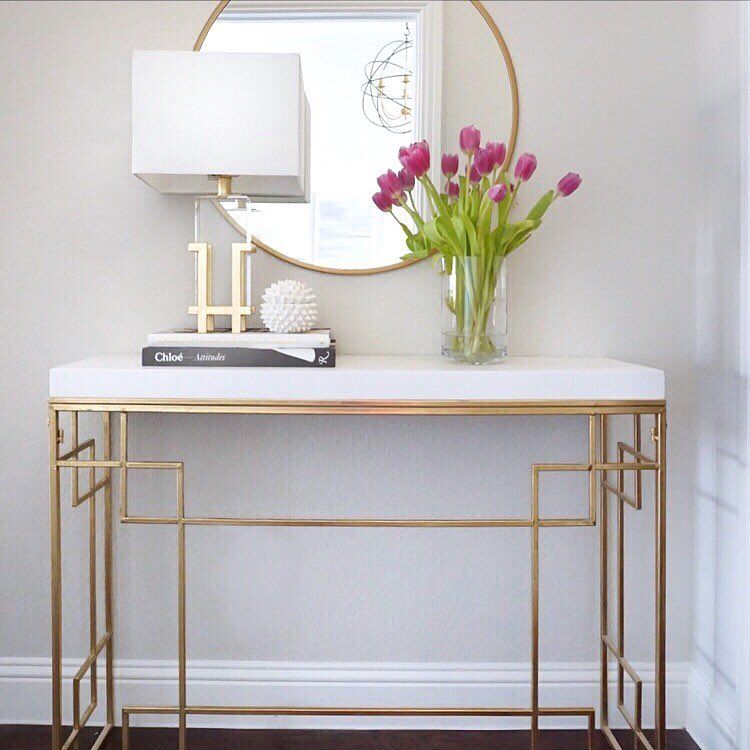 A mirror can be one of the best decorative additions to your console table. But always consider the size of your console table while choosing the mirror. If you have a small console table, hang a tiny mirror above it, and if you have a large console table, hang a huge mirror above it.
Hang the mirror at the right height to ensure that you can check out your makeup while going out. You can also hang a mirror low enough so that it reflects the objects on display at the table.
Mirrors are available in various shapes ranging from rectangular to circular and oval, and you can choose any of them as per your preference.
By adding a mirror over a console in a tight hallway or cramped room, you can make your space look big. Mirrors have reflective properties that make even the tiniest spaces feel bigger.
So make use of a mirror to enhance the appearance of your space and add grandness to your console table.
Designer-Approved Console Table Decorating Tips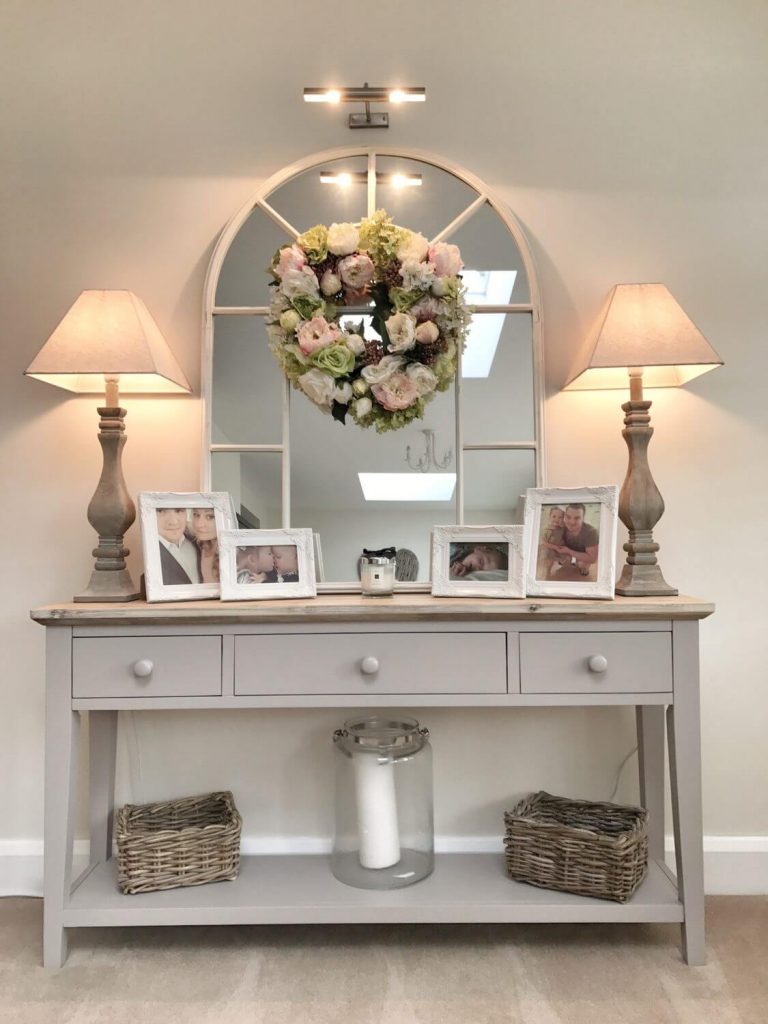 Let's take a look at the designer-approved console table decorating tips that will make your console table the showstopper element of your room.
If you're planning to place a large collection of small knick-knacks on your console table, then avoid making this mistake, as it can give a cluttered look to your console table. A smart console table decorating tip is to opt for minimal artwork and avoid using too many things at the same time.
You can make a small plant or a textured flower vase the star of your console table. This way, you can breathe life into your space and keep everything well-arranged.
You can also make seasonal swap-outs to give a fresh look to your console table. For example, during spring, you can place a vase of fresh tulips, and in summer, you can put a beautiful sea conch on a stack of books.
You can also place a few playful options like a deck of cards or a vintage board game to keep your guests entertained.
One of the best console table decorating tips is to look at your table from every angle and assess how the items you have put on it are looking. If you find that any item placed on your console table is not looking good from a certain angle, remove it. For example, picture frames look good from only one angle, so you must not use them to decorate your console table.
Decorating a console table is a creative process, and you should never place many items that look the same. For example, if you love candles and are confused about which ones to display, opt for the best-smelling candles instead of putting four or five.
If you do not have a console table that is double-tiered, you can still create extra space for decorative objects and books. You can get creative and use an accent stool that you're not using as a seat.
You can use the open space underneath the console table for ottomans that you can easily pull out for additional seating.
Conclusion
A console table is one of the most important pieces of furniture in your room. But if you don't decorate it well and leave it to accumulate dust, it can become an eyesore. So get creative and decorate your console table in a fun way and give it an aesthetically pleasing display. It can be difficult to decide which decor items to add to your console table.
You might want to put a vase full of flowers, a stack of your favorite books, candles, and a few coasters, but loading the tabletop with everything that you desire can make it look messy. Play with the textures and colors of the items you decide to place on your console table.
Whether you're a maximalist or a minimalist, you can follow the console table decorating tips mentioned above to give a cute look to your console table and boost the appearance of your space.
Frequently Asked Questions
How Can You Make Your Console Table Look Expensive?
If you want to make your console table look expensive, keep it clutter and dust free. Put lamps at both the end of the table and a vase of flowers in the center. You can also hang a mirror three to four inches above the table's surface to give it a polished and upscale look.
What are the Uses of a Console Table?
You can use the console table to display your artwork and decorative pieces. Because of their slim appearance, they are perfect for narrow spaces like hallways and entryways. You can also place the console table near your dining table to provide an extra tabletop surface for items that are not needed on the main table.