Modular kitchens come with tons of big cabinets to store every necessary utensil. But sometimes, having cabinets above the head makes the room look small and crowded. A way around that is to replace some of those cabinets with ordinary open shelves. These shelves offer plenty of space, and they also show off your collection of pretty tableware, making it a win-win.
But updating a kitchen with new kitchen shelve ideas requires choosing the right kind of shelves and decor. There are many aesthetics to consider, as well as the best material to choose for the new shelves.
And here in this article, we have mentioned some of the best kitchen shelve decor out there.
1. Use the Corners
While installing shelves and cabinets in a kitchen, the corners of the room are often wasted. The shelves that run through an entire wall just stop before the corners. But that space can be easily customized to store the random appliances that are often needed. Adding open shelves in the corner will help you make the most of the whole room.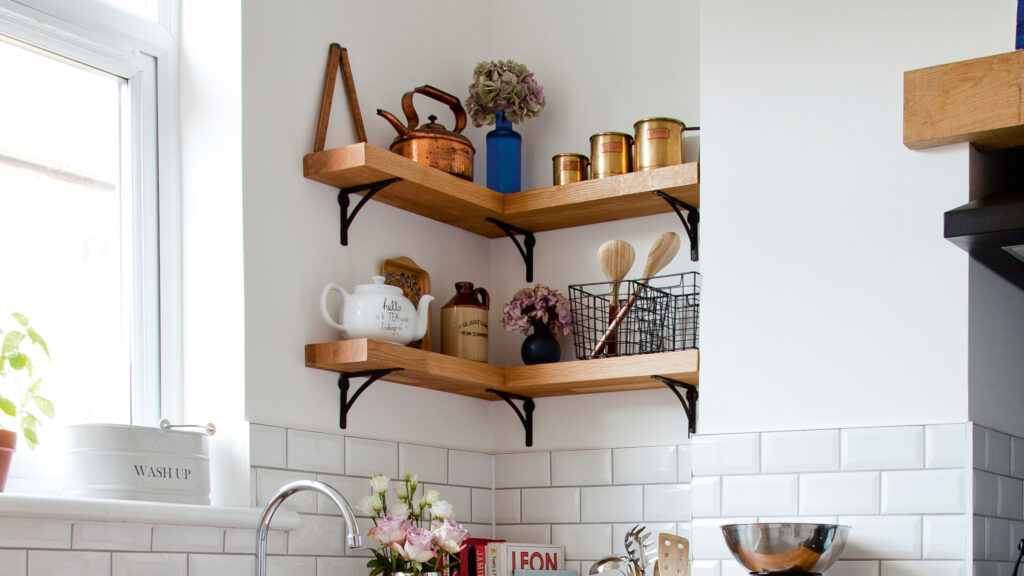 Open shelves are preferred in the corner as the unit itself will not take up too much space. An L- shape will create the right angle and can be used to store a variety of small items. Kitchen shelve ideas like this will also help you keep your kitchen tidy by hiding certain appliances out of sight.
Wall-mount floating shelves are a great way to add some storage to your kitchen corners. These will easily be able to hold minor appliances like microwaves and toasters. Or you can decorate the space and add coffee cups to the mix.
2. Lean into the Farmhouse Rustic Decor
Plain white kitchens have their charm and are timeless by themself. But if you want to give it a fabulous makeover, convert the space into a farmhouse-themed one. The idea may be daunting, but the process is simple and functional. The farmhouse decor also focuses on the practical aspect so that you will have an optimized but rustic kitchen nonetheless.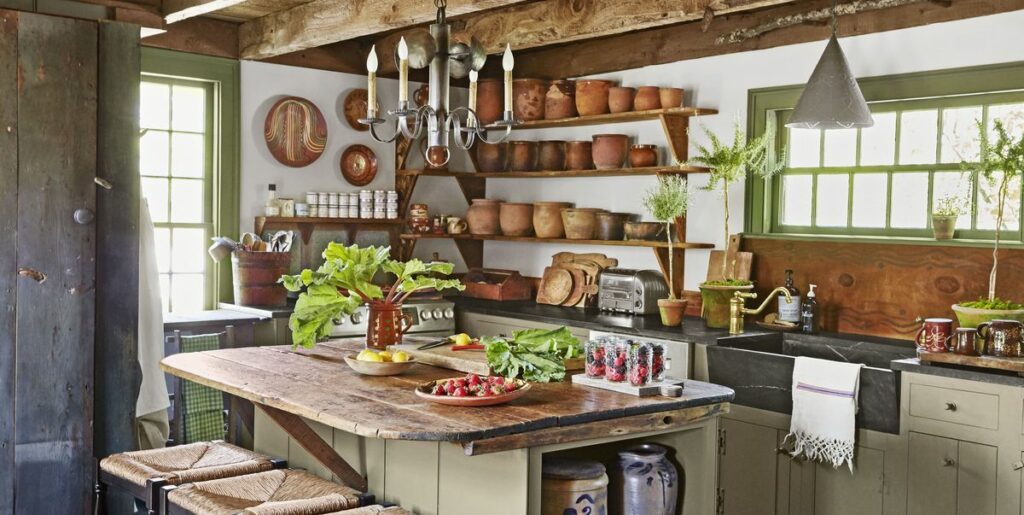 To get some kitchen shelve ideas that lean into the farmhouse style of decor, opt for natural materials. Wooden cabinets are the primary choice to give your kitchen a rustic look. The dark wood pairs well with the white background and gives the place character. You can easily update the plain walls of your kitchen with a couple of wooden open shelves.
There are many ways to accentuate your shelve decor so that it's on theme with the aesthetic. But the best technique is to display all your earthenware on the wooden shelf to provide a stark contrast.
3. Hooks, Pots, and Pans
Plain floating shelves or big bulky cabinets are not the only kind of storage units you can install in your kitchen. Hooks are a great storage option that takes up virtually no space on the wall. All you need are some drillable hanger hooks to screw onto the bottom of your shelves. These hooks also come with safety buckles making your utensils will not fall.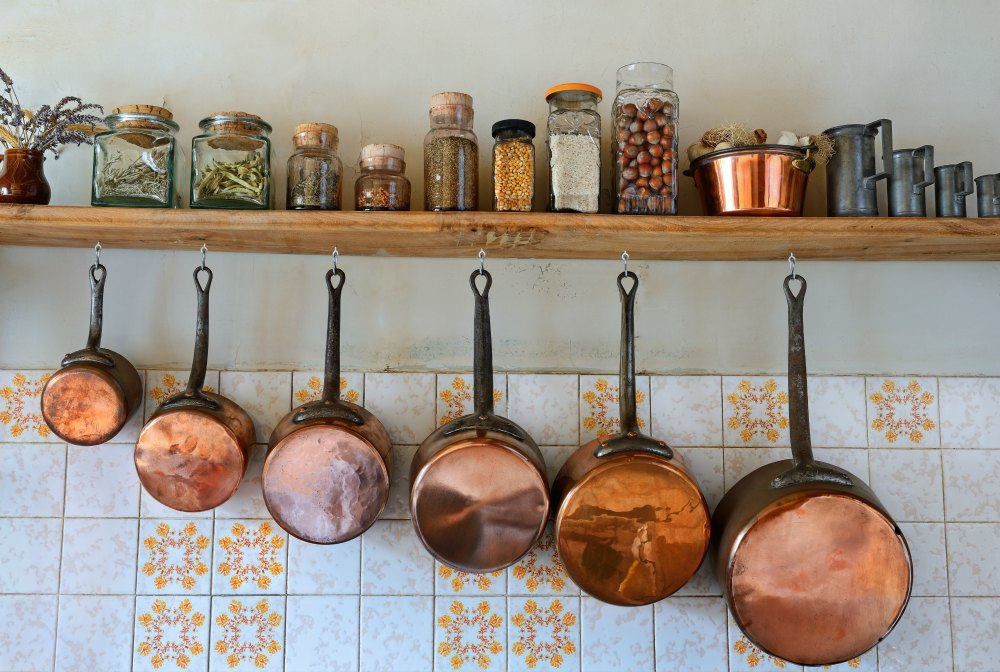 Apart from that, you can also make a DIY hanger with some pipes and a couple of S-hooks. The pipe will keep the utensils from touching the wall. And the sliding hooks will give you ample space for bigger and bulkier pans.
Different kitchen shelve ideas also include decors and ways to make your kitchen look picture-perfect. While pots and pans together may look cluttered, arranging them according to size is a great way to organize them. Lining them up like that makes your cooking simpler.
4. Plants in Nooks and Crannies
A kitchen can sometimes look too stifling with all the appliances and utensils. A big window that lets the light in is, therefore, a necessity. Plants can also easily convert a jam-packed kitchen into something light and airy. A little greenery goes a long way to bring freshness into a room.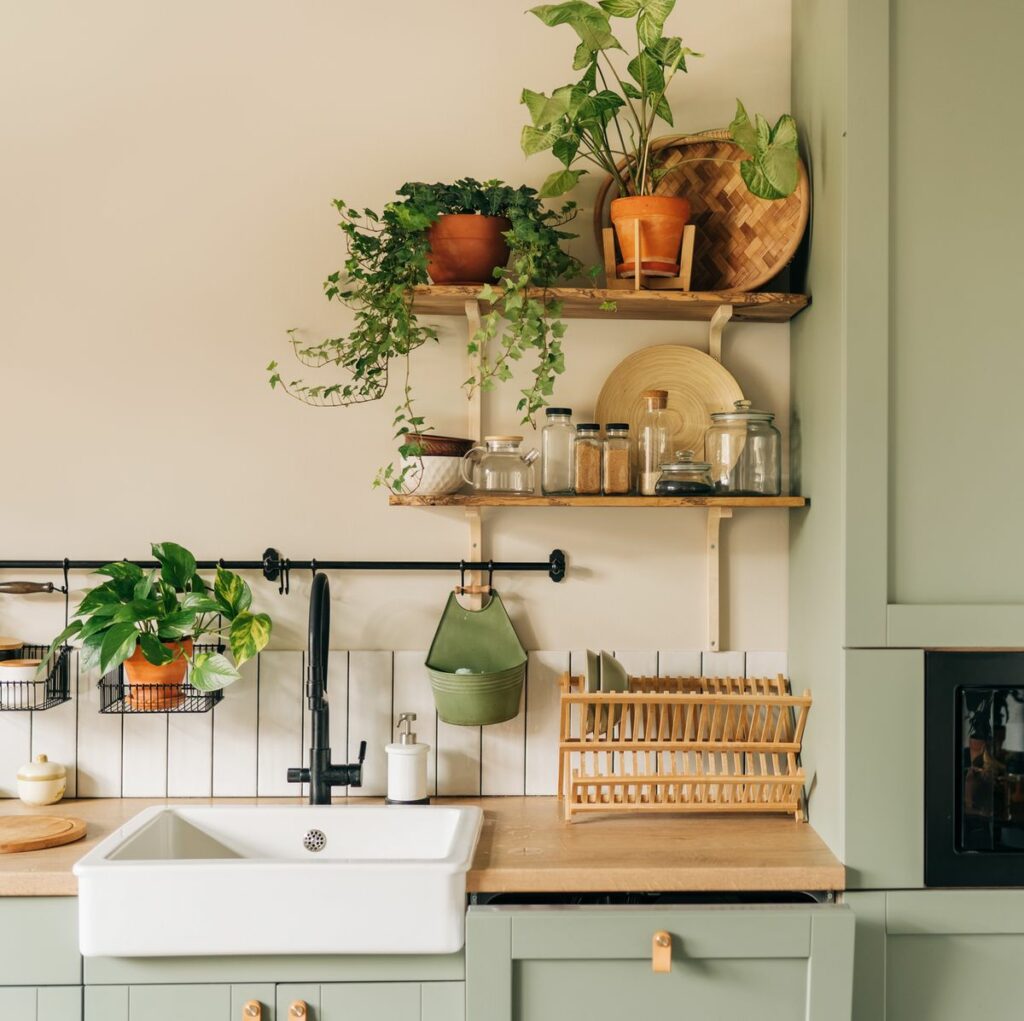 The most popular place to put potted plants is open shelves around the kitchen wall. A position near big windows is perfect for the little shrubs to bloom. Plants are also to accentuate most kitchen shelve ideas as they go along with every kind of decor. The pop of greenery in the sunny corners of your kitchen is sure to look fabulous.
Many kinds of indoor plants thrive in a kitchen. Be sure to choose the types that do not need too much sunlight. However, planting some easily harvestable herbs like thyme or rosemary is also a great hack.
5. Plenty of Space Around the Chimney
Choosing the right place to affix your kitchen shelves can become a big problem. However, all you need to do is think about the most practical places. The location should also not create a problem for storing or retrieving certain items. One such place which always goes unutilized is the space around your chimney. And to make the most of your wall space, frame the area above the stove.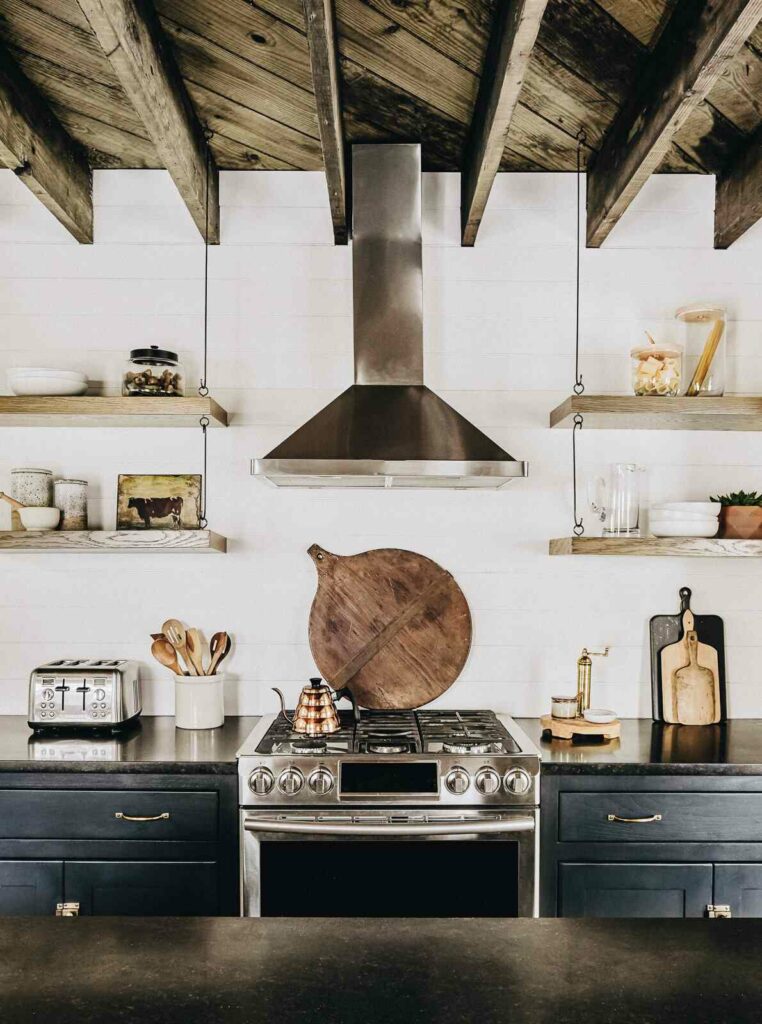 By installing a new set of shelves around the stove, you will not just be creating a stunning focal point. Shelves attract the eyes wherever you put them. But the area above the stove is solely for practical reasons. By making it into a mini-pantry, you will not have to step away from the area even once while cooking.
When it comes to kitchen shelve ideas, new locations can be hard to work with. But this project is sure to get you a kitchen that is useful as well as beautiful.
6. Make the Colors Pop
If you want to upgrade your kitchen in a small but significant way, opt for a paint job. A few coats of paint and your old kitchen will look just as new. This is also applicable to the fixtures and storage units there. If your cabinets and shelves do not present a cohesive visual, color them the same, and voila, you have a matching set.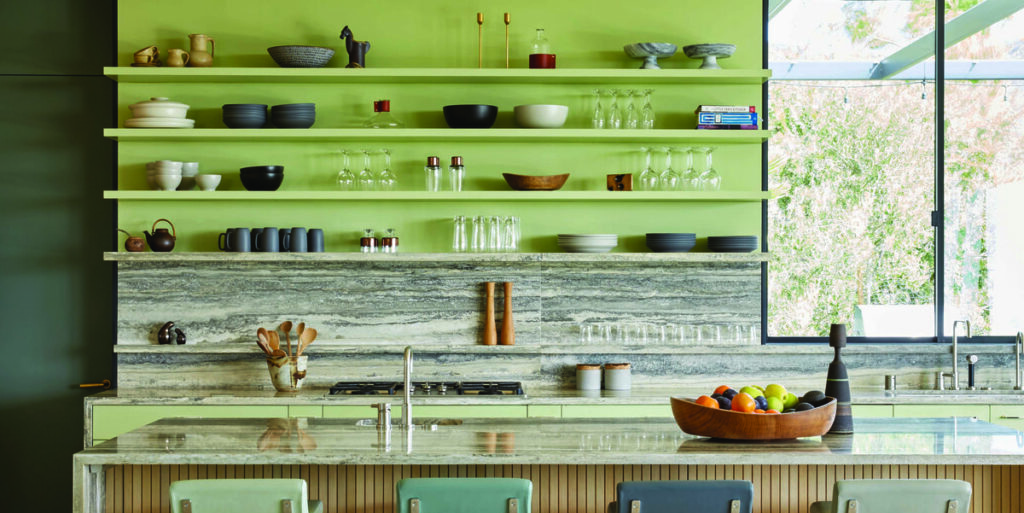 Open wall shelves are not everyone's cup of tea when they consider shelving ideas. But if you do not want to uproot the existing fixture, just take off the doors. Then your bulky upper cabinets will turn into charming open shelves. You can also make them match your theme by coloring the insides the same color as your cabinets or wall. This way, new kitchen shelve ideas are easily attained.
7. Welcome the Seasons
The seasonal decor brings a breath of fresh air into any room you wish to decorate. And the best thing about it is it's recyclable. You can use the same decor items every few months and still have the room looking new. Seasonal decor is also best displayed on open shelves, so your kitchen would need some storage units other than cabinets.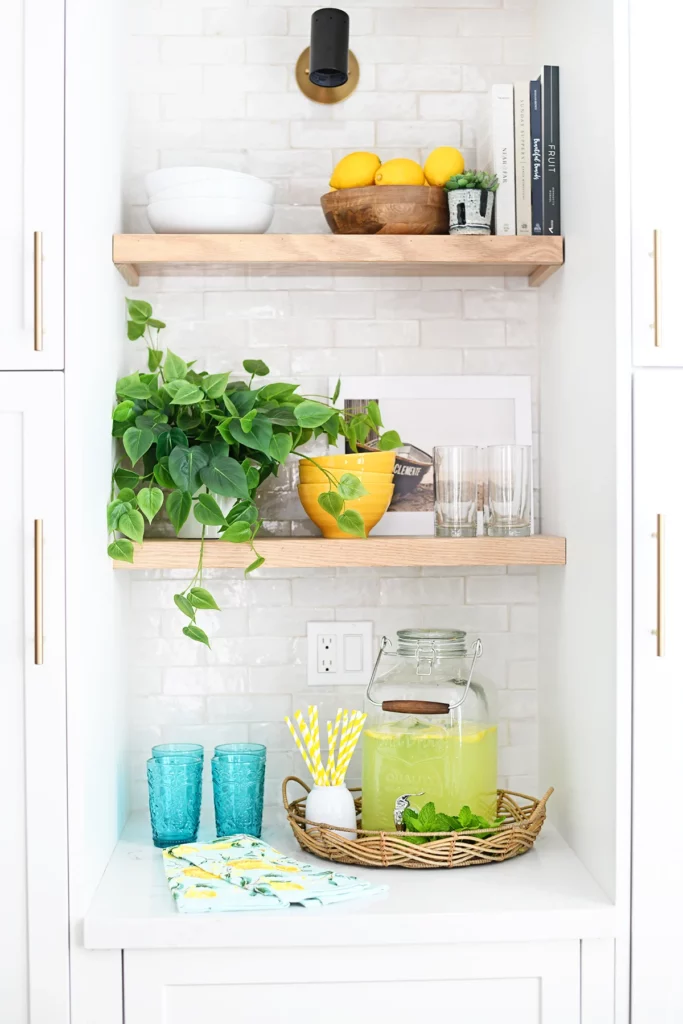 One of the most common ways to incorporate the different seasons in your kitchen is by colors. For summer, the use of bright yellow will help you pop off the whites and greys of your kitchen. Take a bunch of fresh lemons and keep them lying on your shelves to be used daily. Or you can buy a bunch of faux lemons that will remain fresh-looking for years to come.
8. A Bar Nook for the Prized Glassware
New kitchen shelve ideas that are easy and make a statement are hard to come by. But it is also very satisfying to put together. And if you are a coffee enthusiast who has lots of coffee cups, you have the perfect theme ready. A brand new coffee bar on your kitchen shelves will make you wake up early and excited to start the day.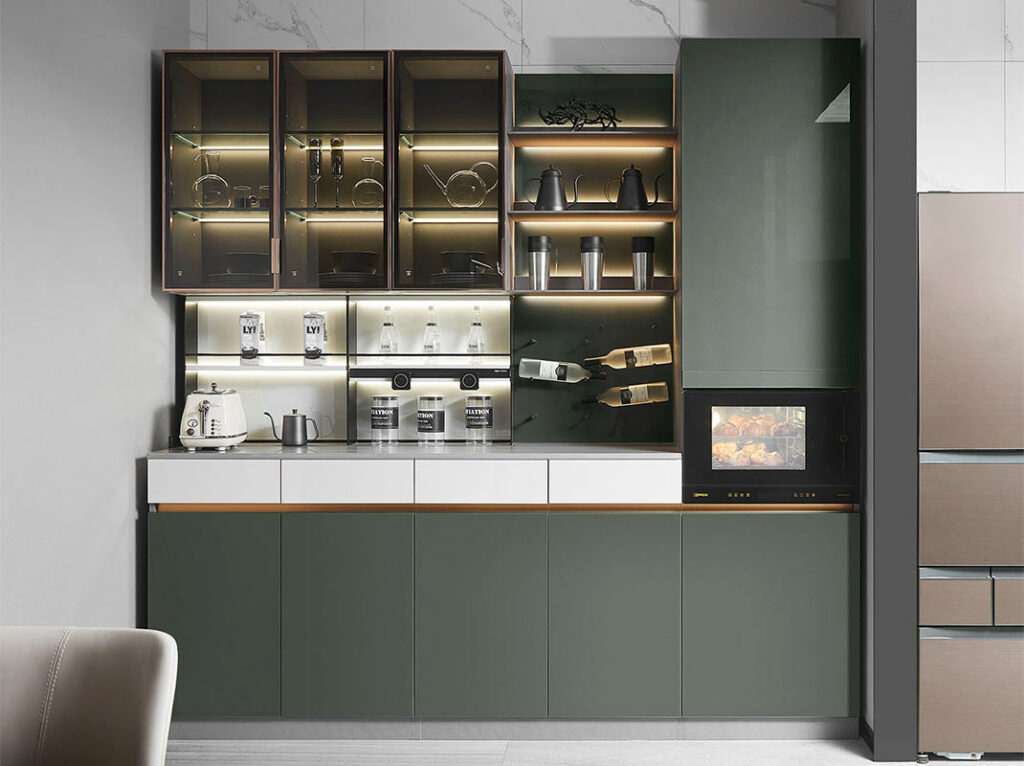 The project may sound complicated, but it is as easy as installing a couple of shelves. Then all you have to do is arrange your mugs, pot, and beans in an artsy way. You can also convert the space into a full-on mini-bar with your favorite liquors. The setup can be elaborate or simple, depending on your preference.
9. Dark and Light Symmetry
Creating symmetry in a kitchen directs its flow and makes it all together much more comfortable. And you can easily achieve that by setting a color scheme for the entire room. By using two contrasting colors, the space would become cohesive and balanced. And the most popular choice to create a balancing aura is the colors black and white.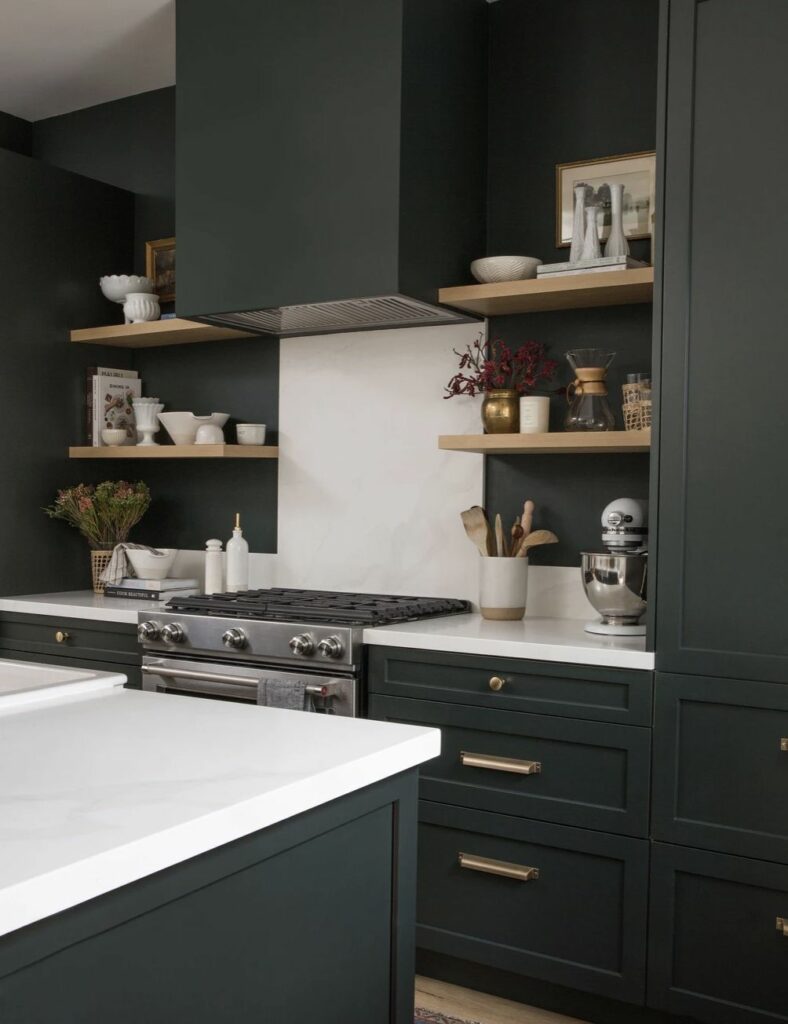 If you have a dark backsplash, choose white open shelves to store your utensils. This kind of storage unit will also allow you to display a pop of color in a monochromatic kitchen. And while buying tableware, make sure the colors are neutrals so that they will look artistic even when clumped together.
10. Shiftable Open Shelves
Mounting lots of floating shelves on walls can be a huge project to undertake, especially when you are just starting. So instead of planning out which walls need shelves and how long they have to be, just buy a moveable shelf. Stand-alone shelves would also be a new and exciting vision for the kitchen.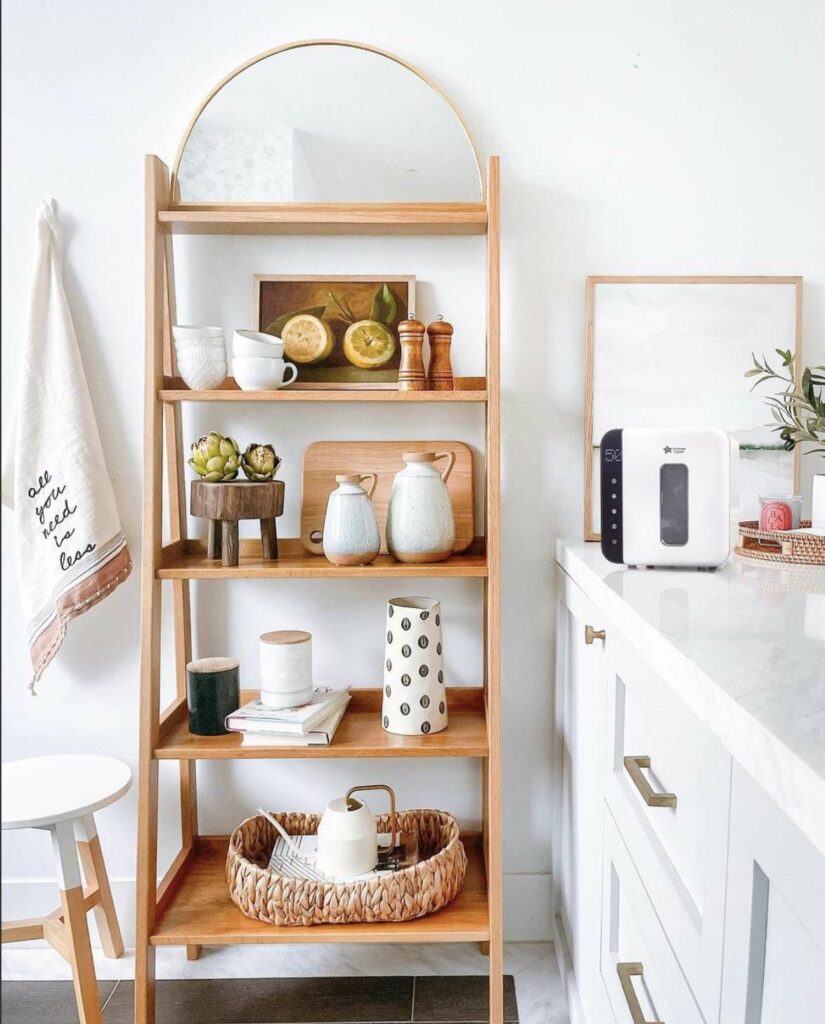 Storage units like a single bookcase rack are versatile as well as sturdy. You can put anything on them, from appliances to bulky utensils and glassware, and they would be safe. You can also move them at your convenience and put them to other use if not needed in the kitchen. When it comes to new kitchen shelving ideas that are multi-tiered, this is perfect to show off your decorative pieces.
11. Barely there Glass Shelves
Open shelves are perfect for displaying your precious tableware without making the room look cluttered. But when the shelves are made out of glass and accompanied by brass brackets, the result becomes stunning. The sheerness of the glass pairs well with beautiful colored backsplashes, lighting up the wall behind it.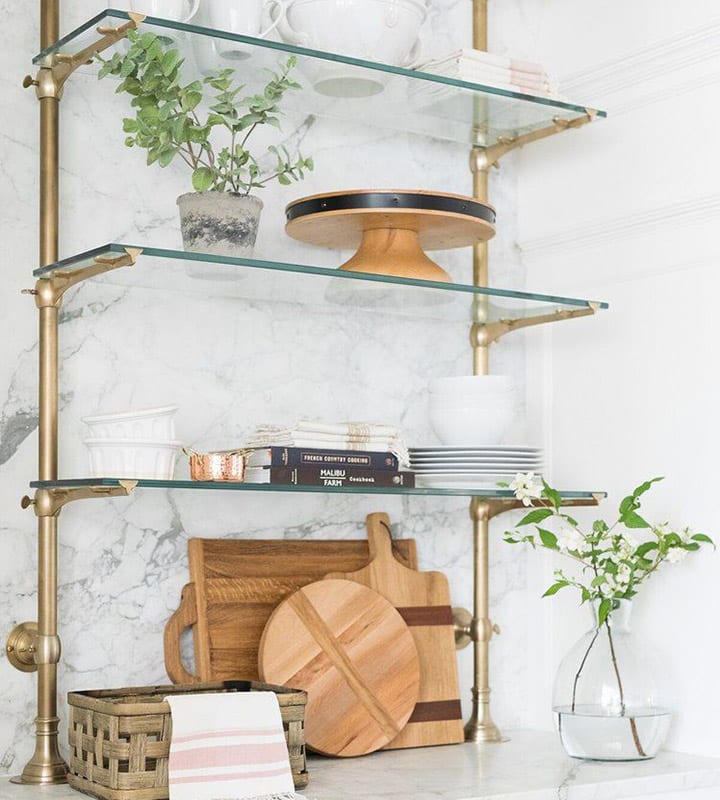 And if you are looking for new kitchen shelving ideas that do not need costly wood, try glass racks. The polished brass lines also add a metallic glint to the room, making it look like shiny jewelry. The material may look flimsy, but rest assured, you can put anything on those racks without fear.
Bottom Line
Decorating your kitchen the right way is no mean feat. You have to plan everything. But on the other hand, choosing open shelves instead of big cabinets is very easy. Just think of all the open space you can use to show off your prized possessions. However, the right kind of shelves need to be chosen with a little care and forethought.
A white cookie-cutter kitchen will benefit hugely from rustic wooden shelves to ground them. But a chic and edgy kitchen will need brand new kitchen shelve ideas like glass racks. Which one will you be choosing? Don't forget to let us know in the comments below.
Frequently Asked Questions
How Do I Make My Shelves Look Nice?
The best way to decorate shelves is to put your favorite knick-knacks on them. Small, delicate, or lean artworks often go well with heavier objects like books. Every shelf, be it a bookcase or an open shelf in the kitchen, benefits from an artwork that brings out its depth.
What is the Alternative to Wood Shelves?
Wooden shelves have a rustic charm to them, but they can be a costly affair to install. However, a great alternative is Melamine. Melamine is an organic compound that is derived from wood but is pressed into flat plants. The planks are then covered with a plasticine coating. This material is strong and reasonably recede, making them perfect while considering kitchen shelve ideas.
What Size Should Shelves Be?
The size and depth of shelves depend on their location and the items that are to be stored in them. The general depth of shelves varies from 6 to 24 inches. Bookshelves are different from kitchen shelves and only are about 10 to 12 inches deep.