How about styling your living room for a refreshing look? Go through these 6 easy steps to make the living room more spacious and functional. Designing a living room is very essential part of the interior and home decor as it is a place that has a higher utility than other rooms.
Decorating a living room is easier if the living room furniture and its interior design are figured out before handily. The living room is one of the most important places in the entire house, as everyone will sit back after a long day, host friends, and enjoy watching television.
This makes it necessary to decorate a living room that is functional, aesthetic, and has quality furniture. Living rooms can be decorated as per the space availability, and even a studio apartment can be transformed into a cozy living room.The use of certain neutral colors, like white, beige, etc., can make the room look bigger, and these colors prove to be the perfect backdrop as they blend with your furniture. Apart from this, using neutral colors in your living room will always remain trendy and timeless.
Here is a compilation of how to decorate your living room in 6 easy steps to make the place comfortable and look visually interesting.
1. Take Measurement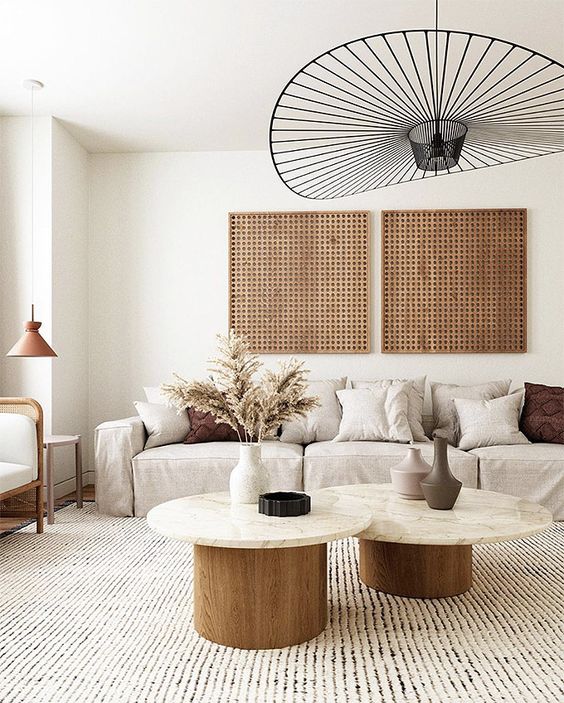 The living room is the first place in the entire house where all interaction and unwinding will occur. The place should have ample light, soothing colors, and a nice seating area. There are different ways of decorating the living room, which in turn showcases your taste and style. The living room is a versatile space where many activities take place during the day, from television watching and workstations to get-togethers. This makes it essential to include elements like sofas, coffee tables, rugs, and decor items for comfort and aesthetics.
The manner in which the living room is decorated creates a lasting impression on visitors, so it is necessary to have a well-designed and well-lit living room. For decorating your living room or renovating, the first step is to create a proper layout of the space on paper. This will give you a proper picture of the elements' position, like a window, fireplace, television unit, etc.
With the help of measuring tape, measure the length and width of the room, and jot them down on the paper. This will be helpful when you are buying furniture and other storage cabinets, as they'll come in proper dimensions and save you time and money.
While designing your living room, it is necessary to have a layout and take measurements so you can get enough floor space. You get the benefit of selecting the furniture that fits the space once you have done the proper measurements. A layout on paper will help you get a 2D picture of how your living room will look. Consider installing multi-functional furniture in your space that not only saves space but looks aesthetic and remains trendy for years.
Go through this stepwise guide on how to decorate the living room in easy steps.
2. Deciding the Color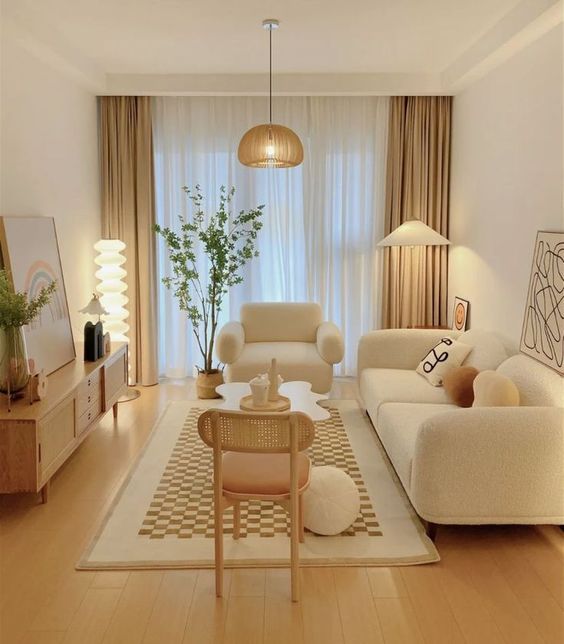 Decorating a living room is all about inputting your creativity and dream elements in one space. When it comes to the interiors of the house, the less is more concept works well. Many different types of elements come together to form a cozy living room. This includes wall colors, the use of vertical space, windows, curtain styles, and rug design. Decorating a living room will help you declutter and organize all the stuff in place. This makes the space look spacious and tidy. Decorating does not mean filling the whole room with decor items. You can use minimal materials like canvas painting, succulents, and a few black accents that blend well with all kinds of furniture and wall colors.
While deciding the color palette for decorating a living room, choose neutral or light colors on walls and ceilings. Neutral colors reflect more light, making the room look spacious and brighter. The white-colored living room will never leave the trend and look aesthetic with accents in beige, gray, black, and bright colors like blue. White-colored walls and ceilings can be paired with wooden floors and beams for a rustic look. You can also add a brick wall or brick fireplace as an accent, which will work well with the whites.
When deciding on the living room decor, wall colors play a vital role as they make the space look aesthetic. You can consider using light or neutral colors on maximum walls and pair them with a few textures and a darker shade to create an accent wall. This makes the living area look beautiful and spacious because of the nice blend of light colors. You can choose to add white curtains and a white couch. Decorate the couch with striped and patterned throw pillows, a wooden coffee table, and a gray rug for a picturesque view.
3. Ensuring a Well-Lit Room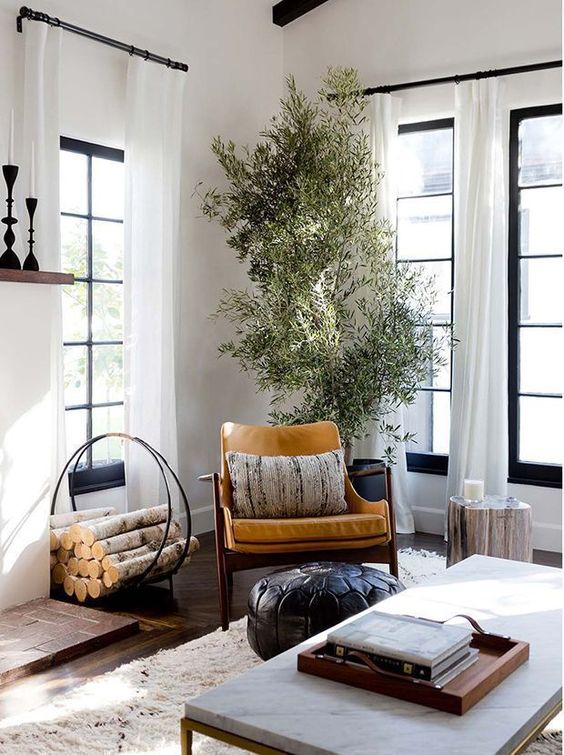 The living room is the prime area where all the family and friends gather, and conversations take plac A well-designed living room will reflect your style and taste in design and also make a bold statement. Living room elements like furniture and accessories create a cozy ambiance, which not only the guests but also you enjoy at the end of the day. A well-designed and well-lit living room makes the entire house feel welcoming and beautiful.
Living rooms are usually equipped with windows or glass slides. This helps to provide an ample amount of natural light in the space, making it appear airy. While decorating a living room, you can consider an open-living area concept, where the living area, dining area, and kitchen are not separated by walls. This way, you can get a spacious and functional living room where there is a seamless flow between different rooms. You can also choose to keep glass slides as a separation between the living room and dining area. This will keep all the areas well-lit and isolated at one time.
Apart from natural lights, artificial lights like lamps, pendant lights, etc., play an important role in imparting a creative touch to the living room decor. These lights should be selected in a way that blends with the wooden furniture, flooring, and fans and elevates the look of the living room. Along with this, lights play a functional role in brightening up the wall color and room. There are different types of creative lighting that offer practicality and style to the living room. For lighting up the entire room, you can consider using ceiling and pendant lights. Accent lights can be used to grab attention by placing them in a dining area or a coffee table.
4. Comfortable Furniture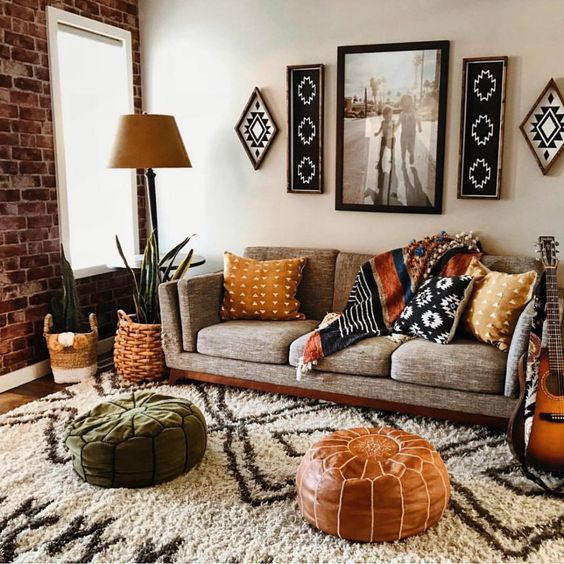 Decorating a living room can be beneficial to homeowners, too; it will give you a welcoming and refreshing look every time you enter the space. Besides this, a well-designed and maintained living room will remain in perfect condition and trendy for years. By decorating your living room, you can easily impress your family and guests and show them your creative skills. Living room elements like sofa, chairs, coffee table, and storage coordinate with each other in an elegant manner creating a picturesque view.
While using all this furniture in one space, you can choose to be creative by using different colors on the sofa, rug, wall, and decor items to make it look contrasting and complementing at the same time. Another option is using the same color for the sofa, wall, and curtains and contrasting them with a different textured rug, throw pillows, and canvas paintings.
While decorating the living room, choose furniture like sofas, ottomans, and chairs that are comfy and durable rather than trendy furniture. It is good to have a small couch equipped with chairs, in order to make the living area more spacious and with more floor space. A comfortable piece of furniture will not only provide relaxation to you while watching television but also awe your guests.
It is better not to use large and bulky sofas that take up a lot of floor space and become hard while relocating. Instead, you can use ottomans that are multi-purpose which turn into a coffee table or a seat and have storage beneath.
By selecting a comfortable piece of furniture for the living area, you not only bring comfort to the inside space but also add character. You can choose a white colored sofa as it goes well with all wall colors and flooring. For aesthetics, pair the sofa with an accent chair, different colored pillows, and a rug.
5. Wall Decor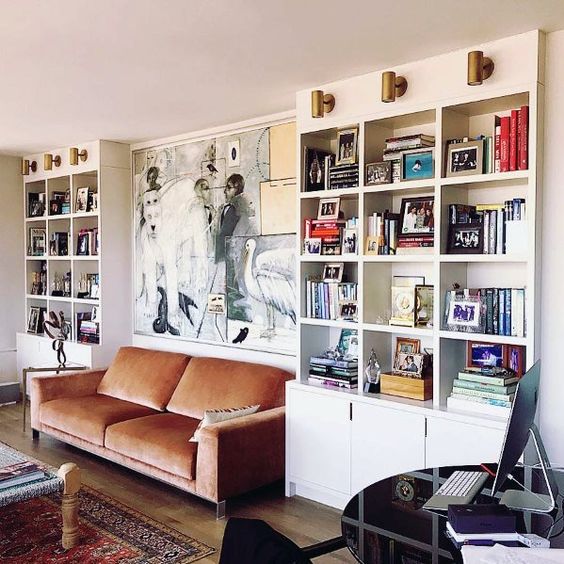 Decorating a living room can be made easy when furniture like a sofa and cabinets are installed in proper proportion. This way, you can get a floor space and better flow from one room to the other. Living rooms give you the leverage to be creative with wall colors, floorings, and other decorative materials. One of the most creative features that can be placed in a living room is a media wall. This feature involves placing a large-screen television mounted inside the wall with cabinets and storage surrounded by it. This gives the living room a nice modern and well-equipped touch.
Media walls occupy the floor-to-ceiling space, giving you the provisions to use it efficiently. You can make cozy cubbies around it for keeping your books, souvenirs, and artifacts. Moreover, you can choose to install a fireplace at the bottom to make maximum use of the wall. You can choose to add accent lights on the cabinets for aesthetics.
Another option for using the vertical space is decorating the wall with paintings, portraits, nice signs, and photos to create an accent wall. You can choose to add wallpapers, colorful tiles, bricks, or stone blocks to one wall, which will grab the attention and decorate the living room in an elegant manner.
For all book lovers, the living room is a perfect place to showcase your collections. You can make a floor-to-ceiling library paired with a ladder and different sizes of shelves to harbor pictures, souvenirs, etc. Those who are into art can grab some acrylic paints and make some nice prints on one wall to showcase their skills and make the living room colorful.
You can take inspiration from this compilation in order to create something unique and creative for the walls.
6. Various Textures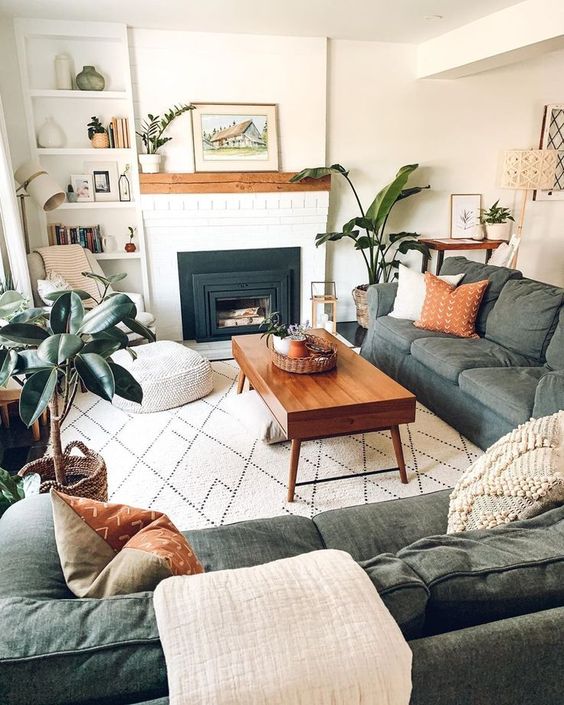 There is no thumb rule for decorating a living room, and it is totally based on creativity and increasing functionality of the space. You can choose to decorate your living room as per your choice, including a modern living room design that has statement pieces of furniture, rich textured rugs, and striking decor. Suppose you are a fan of collecting different pieces of furniture like natural wood furniture, minimum decor in sofas and chairs, and incorporating them into one space. In that case, the rustic living room is your perfect match.
You can also choose a living room that takes inspiration from a coastal theme, a contemporary living room, minimalist living rooms, and traditional living room designs. Each type of living room decor comes with sleek furniture that adds statement and grace to the room. Nowadays nature inspired living room decor has made its place in many homes. The different shades of green connect the inside to out and make the place look calmer and more beautiful. You can choose to pair your white-colored walls with an olive-green shade of mantle or accent chair. Along with this, add wooden decor like a coffee table and beam for a rustic look.
Decorating your living room means you get a chance to add creativity and life to the four walls. You can turn the space into a more colorful one just by adding bright-colored curtains, throw pillows, and storage like a dresser. A cheerful living room can include colors like orange, grass green, navy blue, and turquoise in sofas, accent walls, cushions, etc., which work well with a white-colored wall.
Conclusion
Decorating a living room requires a foolproof layout, measurement, and inspiration of the design.Small spaces can also be well-equipped with minimal furniture. The wooden decor not only makes a bold statement but also helps organize stuff and de-clutter. Simple and elegant furniture has nice clean lines, and the wooden tones add visual interest to the space.
Living rooms have the tendency to reflect your style and knowledge of interior design. You can choose any shade from the color palette to pair the white walls to elevate the entire house interior. Along with this, using multifunctional and comfortable furniture makes it easier to equip guests and unwind in the living room.
Decorating the living room can involve using mirrors to make the place look bigger, using glass slides instead of hard walls, and using different textures like greens, wood, etc, as accent pieces.
Follow these 6 easy steps on how to decorate your living room and make your space the focal point of your house.
You'll surely get inspiration from these steps, and they will help you make the living room more people-friendly, elegant, and functional.