Quaint afternoons reading your favorite book AGAIN for the 100th time. Buying more books than you have the time to ready. Adding books to a cart is like you have a sponsor for your book-shopping sprees. These are all the quintessential traits of a dedicated book lover. If you have made your whole personality about being a voracious book reader, then there's absolutely nothing wrong with that.
Just own it, flaunt it wholeheartedly. Want to make your bookshelf more your own style without spending a fortune on it?
You can now decorate your bookshelves in fun and interesting ways and make them a showstopper in your home or your bedroom. Take up the role of the designated bookworm seriously, but don't miss out on adding some much-needed creativity into this lifestyle.
Easy to execute tips. Wondering how to decorate bookshelves in your own space? With these unique, easy-to-implement ideas, you can finally give your bookshelf the complete overhaul it deserves. (p.s – it will also take your time off books for some time, and you never know if cute decor projects might just intrigue your nerdy brain!).
Let's dive right into these cute bookshelf decor ideas.
1. Cheapskate Bookshelf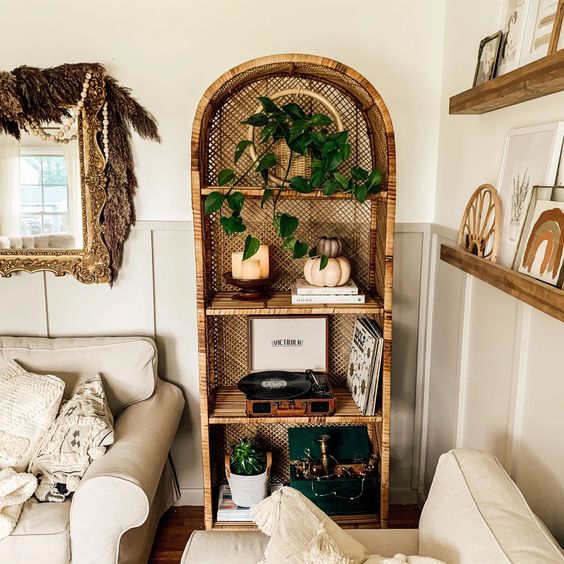 Who said you need to spend a fortune on creating your bookshelf? If you are a lazy book nerd who likes things done the simple way, choose to use a cheap, thrifted bookshelf from a local store or garage sale or upcycle an old shelf. All you need to do is sandpaper it down and add a protective coat to prevent wood damage.
This type of a half-done, DIY look is now a trend that is popular across the globe. It adds a good character and personality to your bookshelf without making you lose that hard-earned money. To make it a bit more unique, you can order some bookshelf legs or buy them locally.
Opt for metal legs that have some character or personality, thus giving the entire look the upgrade it deserves. Remember, it must not look cheap; it must look intentionally cheap.
2. Simply Understated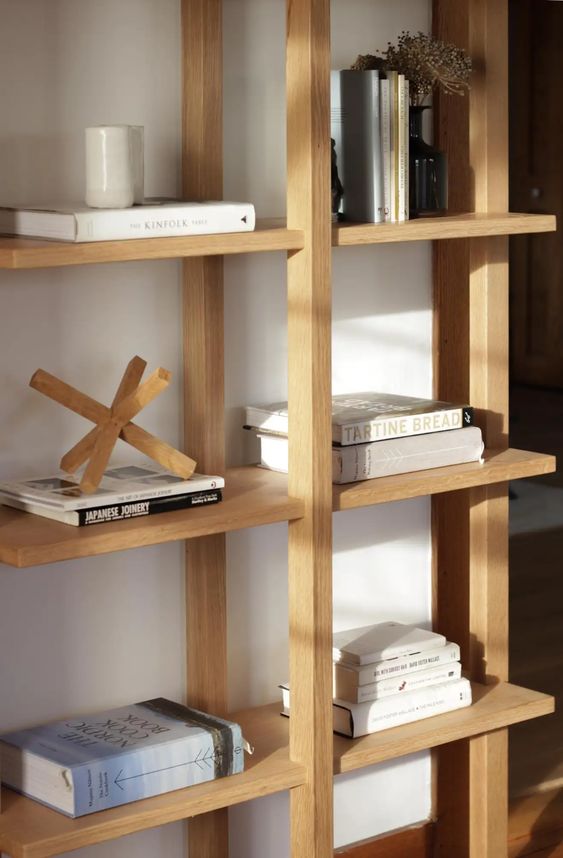 There is nothing wrong with opting for a simple and sober decor look. Simple Bookshelves will always grab the attention of a passerby for the simple, grounded, and homely feel it exudes. Just give your bookshelf a new coat of paint in light colors such as white, off-white, and pastels. You can add in some elements to amp up the overall look and feel. This includes adding in some small plants, either real or fake, depending on how much sunlight the plant may get.
You can also add in some artificial planters and aesthetic stationery such as file racks, shelf dividers, and more to make your bookshelf look perfect. A more personalized touch would be to add some photos to make it endearing.
Add in some cane baskets, and you are good to go with your simple and understated bookshelf.
3. Accent Book Shelf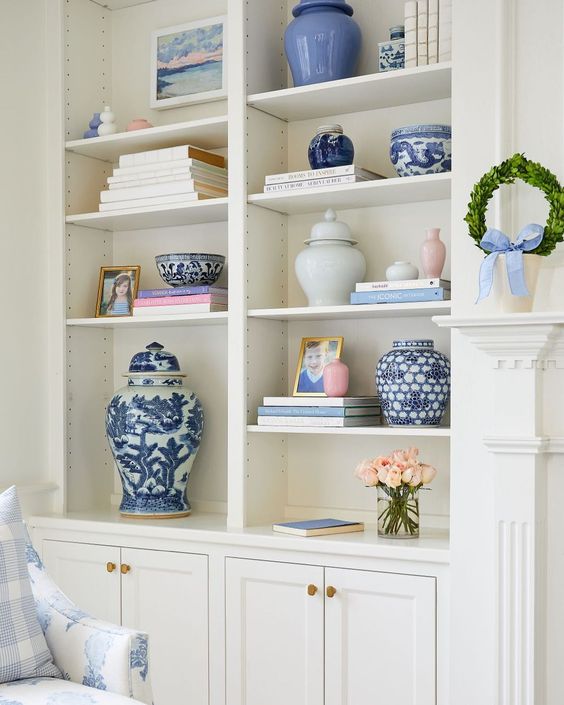 Accents have been trending in the world of decor. Be it wall paints, door frames, or more, the charm of accented walls has been charming people across the world. A good accented bookshelf can be the perfect addition to your home. For this, you can either paint the backdrop of your bookshelf in an accented pattern or use some objects that give an accented look.
Colorful seashells or corals, colorful gemstones, geodes, and stone formations are all things you can add to the bookshelf to make it look a cut above the rest. Ensure you do not go overboard with this, as it can take the attention away from the books. Use these accents sparingly, conservatively, and judiciously.
4. Modern Bookshelf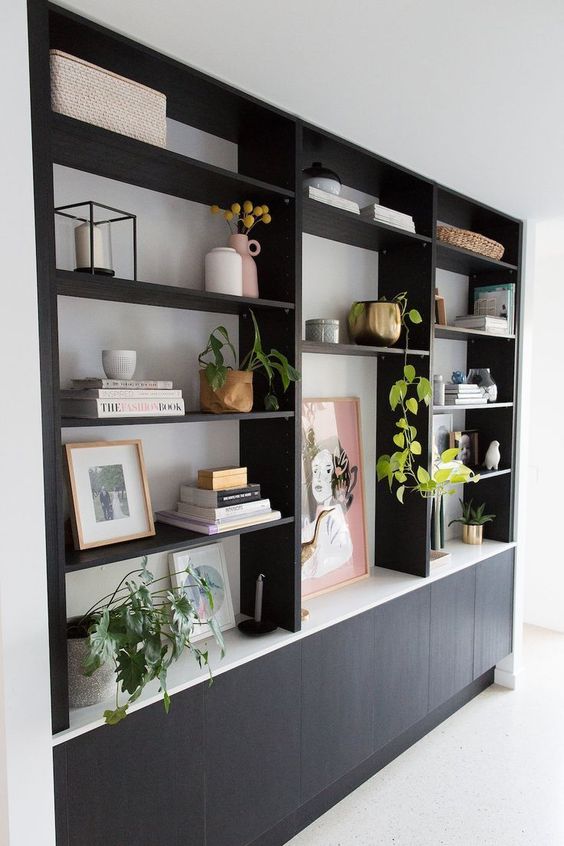 This one is all about the chic look and feel of the bookshelf. The aim is to make the bookshelf an active part of your decor items that blend in perfectly with the rest. If your home decor has more modern musings, your bookshelf must complement the rest perfectly. Amp up your boring old bookshelf and let it fit right in with your modern home.
You can add modern accessories, vases, and abstract items that give it the much-needed modern touch. Modern paintings or unique contemporary artworks will go perfectly well with this setup.
5. Symmetrical Bookshelf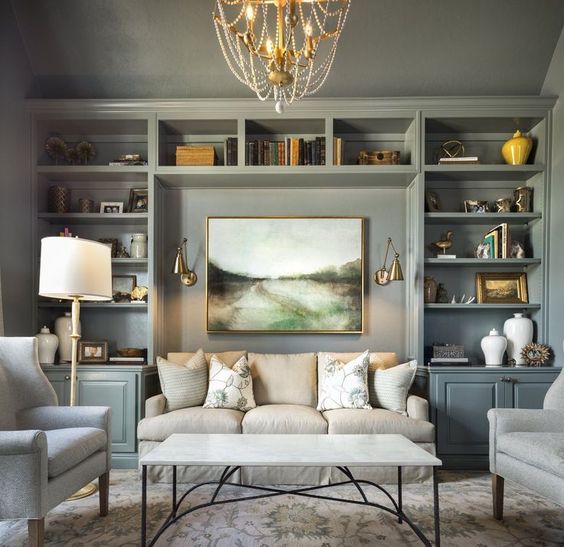 If your home is a spacious abode, you are lucky because you can choose to have a symmetrical bookshelf. This type of shelf is a spacious book haven that can accommodate a fireplace at the center with bookshelves on either side. This mirror image kind of pattern is ideal as it ensures you have a sprawling bookcase that is aesthetic to look at and can easily accommodate hundreds of books.
Given the space, you can add some vintage book copies to add rustic charm and flavor.
6. Bold Coloured Bookshelves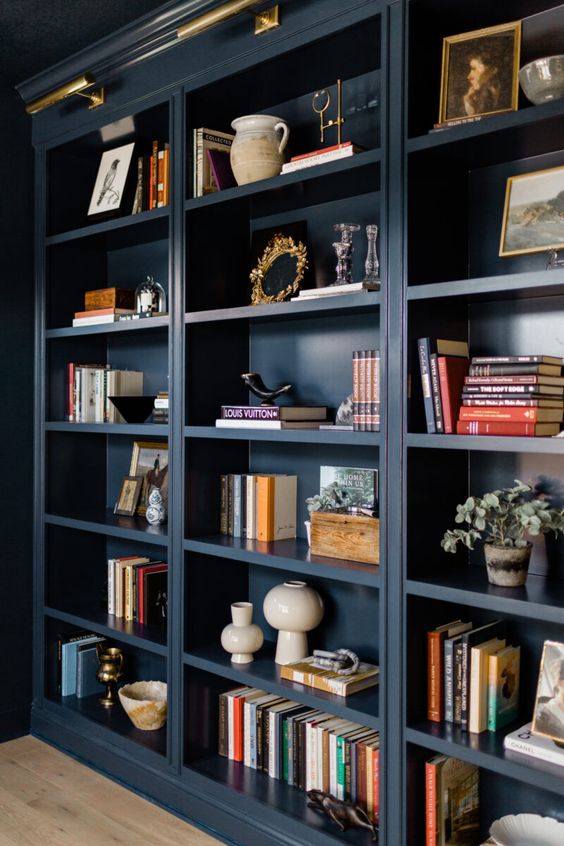 When the question arises, 'How to make bookshelves in the simplest way possible?' the answer is – Just color contrast it. You can play around endlessly with colors, patterns, and accents to make your bookshelf a showstopper. If you love bold colors against simple light-colored walls, a bold monochrome bookshelf can truly upgrade the look and feel of your home.
You can have the vertical panels differently colored than the background panel of your bookshelf. This gives some much-needed dimension to the bookshelf and adds definition to it.
7. Make it Pretty with Bookends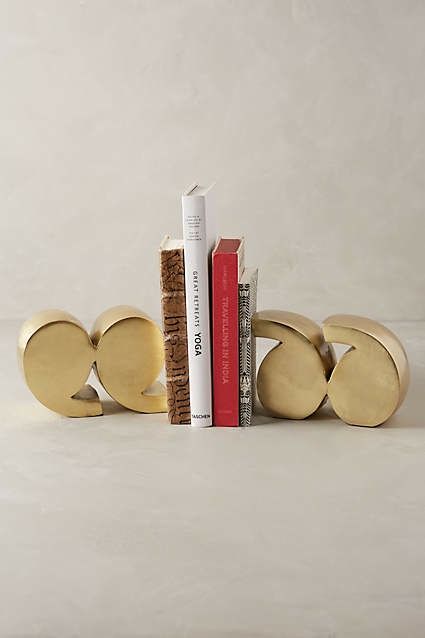 When you make a small change or pay attention to detail in the smallest of factors, it impacts the overall look and appearance of the bookshelf. Now choose to upgrade your bookshelf by adding stunning bookends to it. These could be simple dividers or artistic curvy pieces of wood designed as bookends. If you want to make the best out of waste, it is ideal to use unused wood pieces, get them carved beautifully, and repurpose them as bookends.
You can get artistic bookends online or in thrift stores at a low cost. Upgrading your home bookshelf using this small hack positively impacts the final output of your bookshelf.
8. Color-Coded Dreamy Bookshelf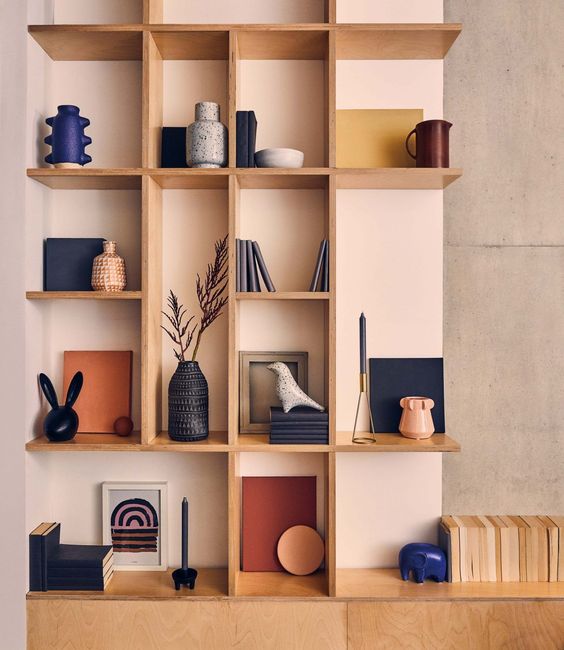 For those who like things in perfect order and unmatched symmetry, this color-coded bookshelf is the ultimate dream. You make the best use of your obsessive need to align things in a certain order and arrange your books in a color-coded order. This means you can have a simple and manageable color code. Start with the bright books on one corner, and go all the way to the darker ones. You are sure to grab some attention for this unique bookshelf every time a guest or friend enters the room.
To give some more attention to details, you can simply add some more colored objects, such as blue artificial flowers, next to blue books. A yellow sun cutout next to yellow & orange books. Green plants next to green books, and so on and so forth.
9. Neutral BookShelf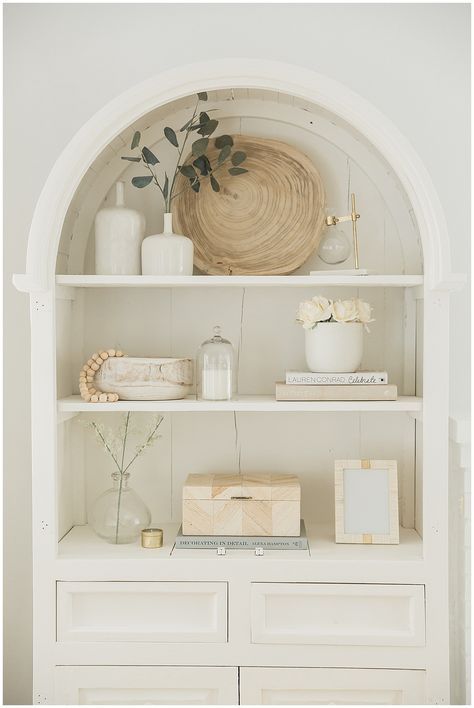 When in doubt, go neutral. A good neutral bookshelf goes a long way, lasts through different trends, and survives Instagram hacks and beyond. The best part about choosing a neutral shelf is that you can go crazy with all the styling and elements. Or you can simply incorporate a simple yet stunning art piece into it.
You can buy simple art pieces that grab your attention or match your style and aesthetic. If you want to put in zero effort in terms of styling ideation, just go with plants. There is a safe alternative, and it still beautifully brings out the flamboyance of a neutral wall.
10. Pastel Bookshelf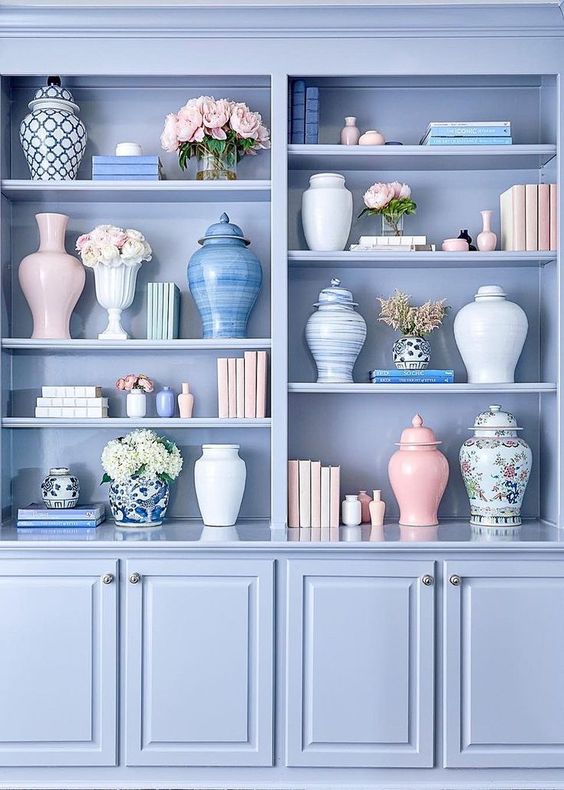 In the world that we live in today, nothing escapes the pastel shade decor ideas. And for a good reason! Pastels have a great soothing and calming effect without looking 'too much.' They have a somber effect that adds just enough personality to any wall. Choose from the wide variety of pastel shades available and color your bookshelf.
Pastel shades go very well with other pastel shades too. So if your home theme is pastel, you still have ample scope to play around with pastels.
11. Functional Bedroom BookShelf Idea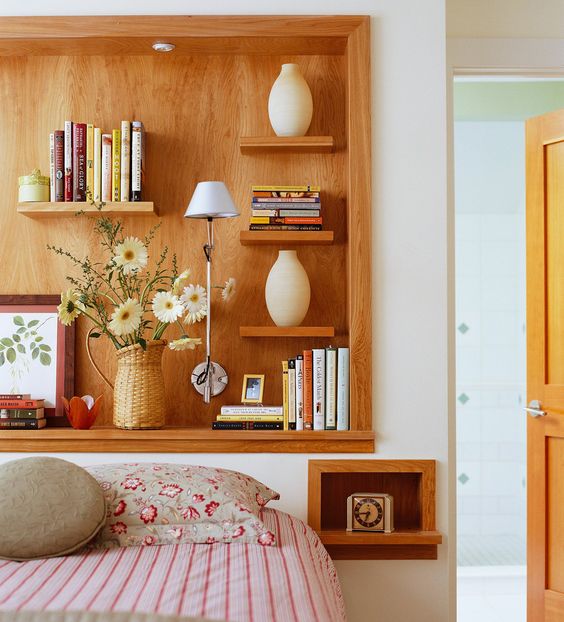 We live in a world where making the best out of the least space is the only way forward. City homes are crammed up and barely have any extra space to use and decorate. Therefore, making the best functional use of any space is very important. For instance, using the backrest of your bed is a great way to ensure you amplify your home space.
You can use this area in a way that makes the best use of it. Add your books, your basket of utilities, and some good decor elements into it, and you have with you a super functional multipurpose space. It not only adds to your bedroom's aesthetic but improves that space's overall utility.
12. Wallpaper Bookshelf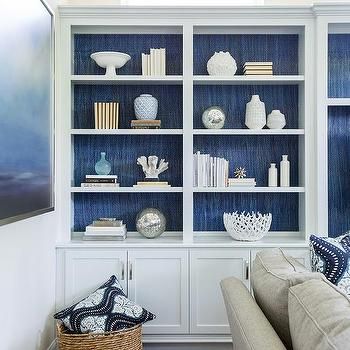 Looking for a cheap and easy-to-install bookshelf decor idea? Just go with Wallpaper. Wallpaper is the ideal decor solution that helps you elevate your home decor without spending a lot on it. You can choose a wallpaper theme that matches your home decor. If you have blue wall accents, you could opt for blue-colored floral Wallpaper to amp up an otherwise boring shelf.
With Wallpaper, you can choose from a wide variety of designs, colors, and themes available. You can mix and match and paint the corresponding vertical panel in a similar theme and add in class into your home.
13. Go Floral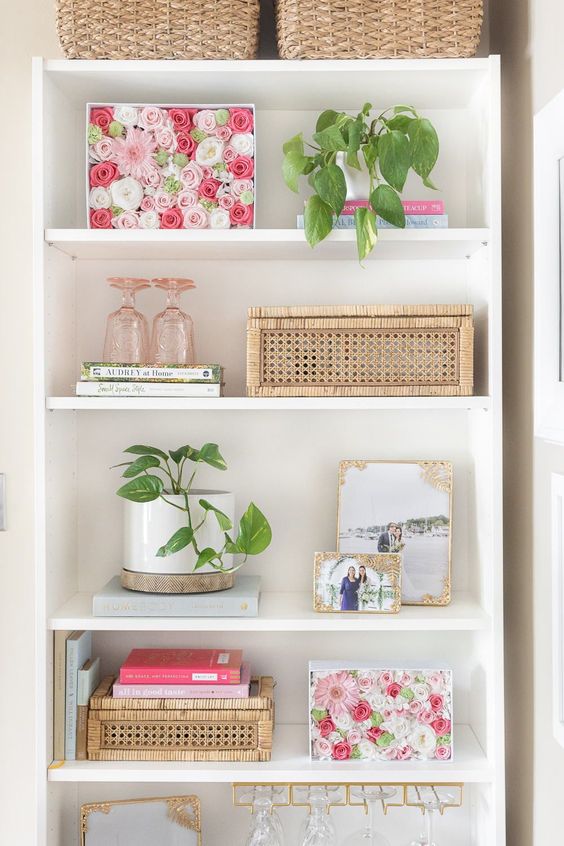 Florals are safe because flowers are pretty. Everyone likes some good old floral decoration that is always easy to maintain and manage. Try placing flowering plants on a bookshelf that has a plain look. You can have multi-colored flowers or choose a simple, easy-to-manage one. Using artificial flowers is also a great way to have a more low-effort home decor set up. Choose a simple, easy-to-manage setup by opting for faux flowers that are washable.
They remain radiant and never let the brightness and radiance of your shelf wash away while always looking super aesthetic.
14. Pretty Pink Bookshelf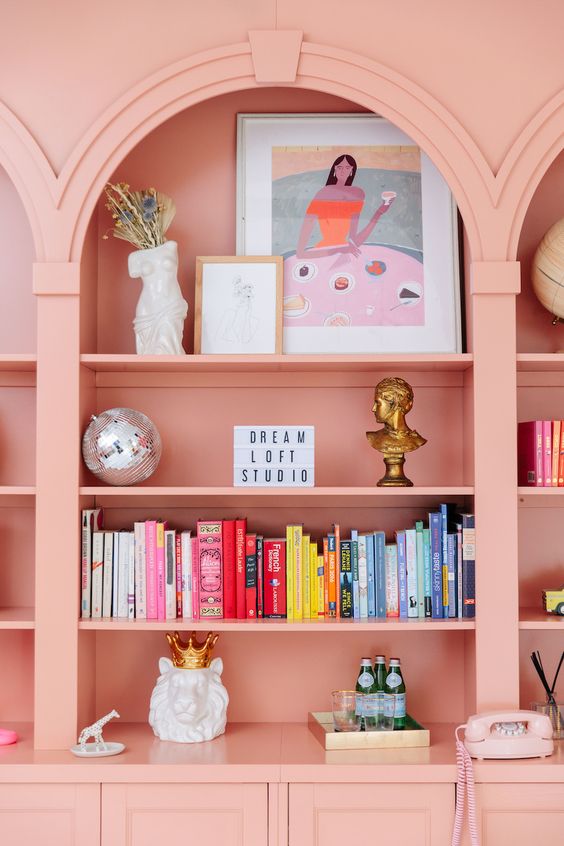 Wondering how to decorate the bookshelf for your kid's room? Use the simple hack of opting for a baby pink-colored theme. Pink goes perfectly well with all kinds of children's decor options. Add in some toys, children's books, educational reading material, and soft toys and beautify your home. Kids will love the light-colored bookshelves; they are easy on the eyes and simple to clean and manage. This bookshelf can also double up as a space where you can place all the kid's stuff, like toys and more.
Such a setup acts as a general shelf as well as a bookshelf. Pink shelves, however, aren't just limited to kids; they can also be a great option for teens and working adults. And, of course, ideal for anyone and everyone who loves the soothing color pink.
15. Bar Cum Bookshelf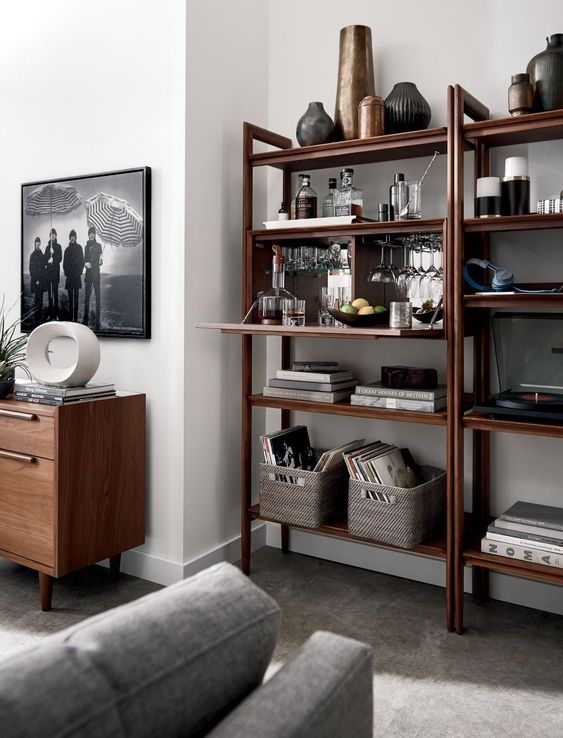 Multifunctional usage is one of the best ways to make the best use of any space or product at home. Who says a bookshelf needs to be just that? Repurpose your space in a way that it can accommodate both books and a few stunning bottles of wine, and more. Make this bookshelf into your very own bar corner and fit in both books and wine.
Nothing speaks and exemplifies luxury as much as books and bars. This is a rather inventive and unique approach to revamping your home space into something more beautiful and utility driven. Add in some frames, unique vases, and more to add to the aesthetic appeal of your bar cum bookshelf.
16. Farmhouse Themed Bookshelf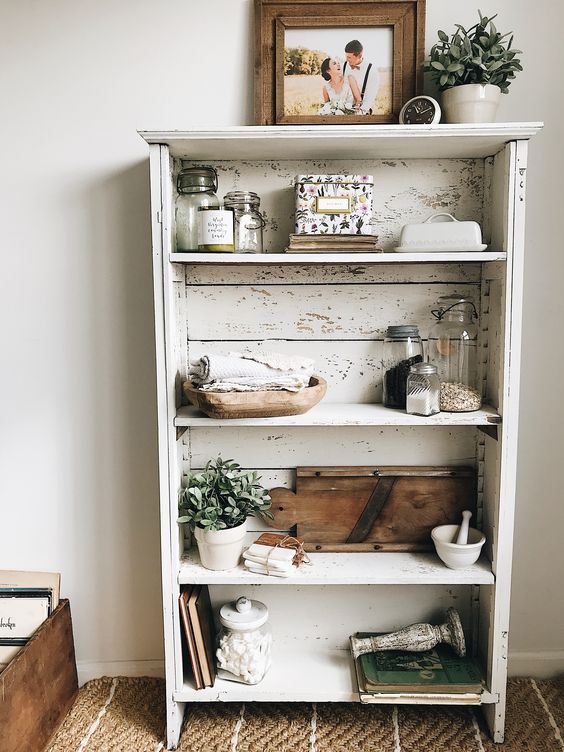 Do you yearn for the class and simplicity of that age-old farmhouse-style decor you see so often in the movies? Let your style make a statement by opting for this farmhouse-styled bookshelf. This rustic, wood-base bookshelf is perfect for a home that has an old-school personality. It can have doors with latches in the classic old-school way.
You can further add book enders to hold the look and feel of the entire piece together. Choose good old dark stained wood to maximize your home decor and make your home the place to be.
With this farmhouse design, you will have guests being pulled towards your bookshelf, given the classic, tasteful personality it delivers.
17. Artsy Bookshelf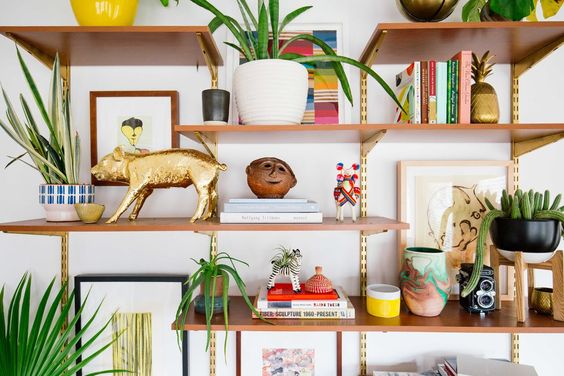 An artsy bookshelf is one wherein you can either have your very own hand-painted pieces put in or purchased. If you are a creative person and like adding a touch of your very own art style, you can hand paint this yourself. It adds a more personal touch and makes your bookshelf into a one-of-a-kind, irreplaceable statement piece in your home.
Make it the Centrepoint by adding some familiar memorabilia of places you have visited, crafts you have created, and unique things you have collected over the years. It automatically becomes the center point of your home, where people are urged to stop and stare.
18. Beadboard Backed Bookshelf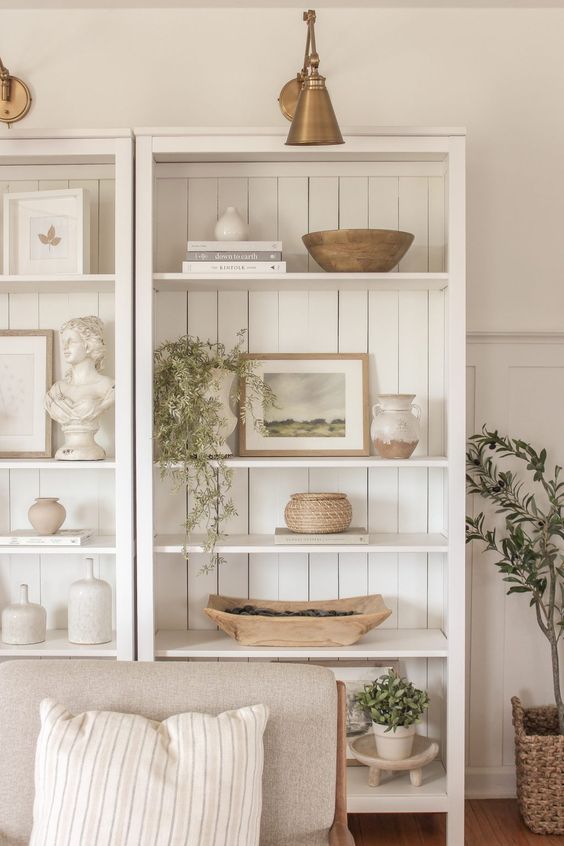 A good beadboard-backed bookshelf brings a classic and rustic vibe to your home. This bookshelf prep is a great DIY project that you can take upon yourself this summer. It is fairly simple yet challenging enough to make you feel fulfilled and satisfied. Take this beadboard backing project head-on and create your very own simple and functional bookshelf for your home.
It gives you the liberty to use colors and themes based on your liking. You can always feel more connected to the piece when you have spent your valuable time redoing your own bookshelf in a beadboard backing pattern.
19. Royal Bookcase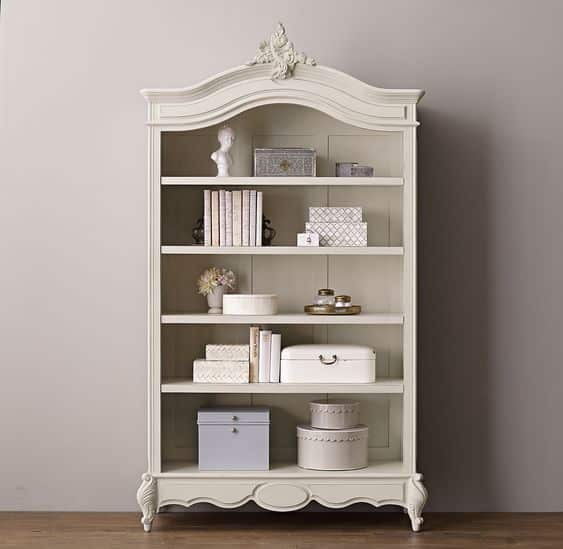 Who doesn't like a touch of vintage in their homes? If you have a yearning for all things old school, opt for this royal bookshelf-themed design. Royal bookshelves have an elegance and grandeur that is hard to overlook. It makes you stop and adore with unmatched adulation. You can either buy an old vintage-styled bookshelf in good condition or refurbish it to look new while maintaining the rustic charm.
With the availability of vintage knobs and panels, you can even turn your otherwise boring old wood shelf into a beautiful royal bookshelf. Don't forget to add in the classic elements like small dainty drawers and lighting fixtures added to it. Complete the whole look by adding vintage-looking books.
20. Thrifted Bookshelf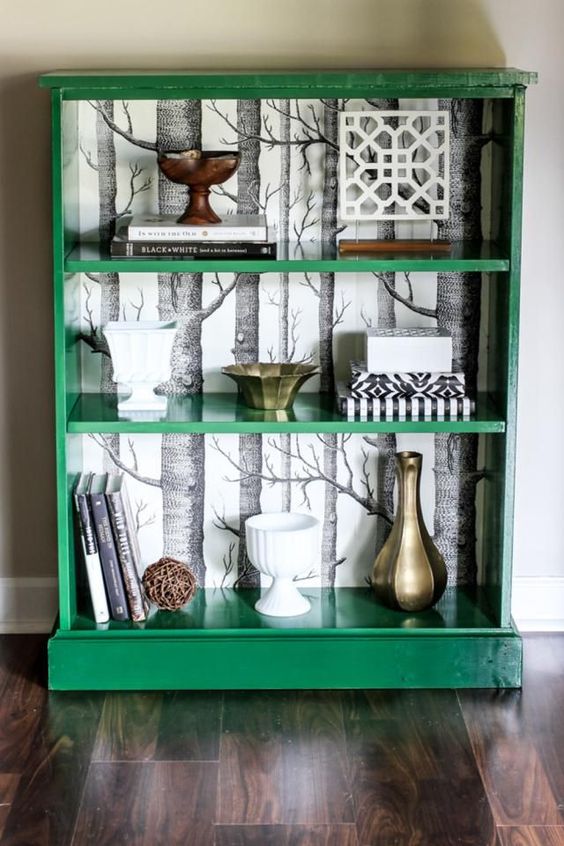 Moved into a new home and trying to save a buck or two? Try thrifting a bookshelf from a local yard sale or from relatives and friends who have an unused shelf. If you are lucky, you may end up getting your hands on beautiful bookshelves that people are ready to part ways with. Breathe fresh life into this piece by giving it a new layer of paint job it deserves. Match it with your home decor and elevate your home.
21. Ikea Bookshelf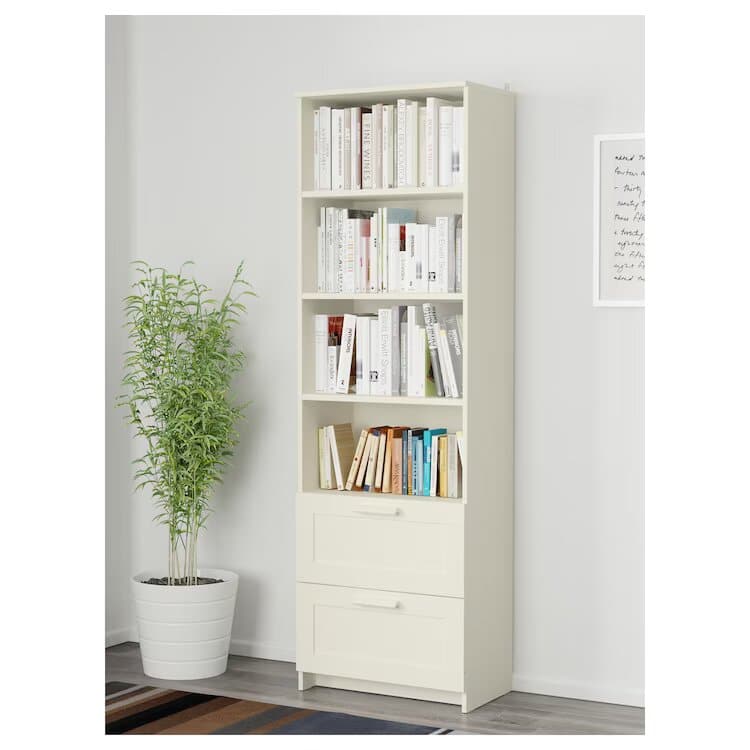 When in doubt, always go for safe and sturdy ikea offerings. Ikea's bookshelf is a blank canvas you can play around with. The bookcase is stunning to be left as it is in your bedroom corner, or it can be decorated in a multitude of ways. Choose this simple Ikea shelf, place it in some baskets and planters, and you have a stunning bookshelf with you.
22. Metallic Bookshelf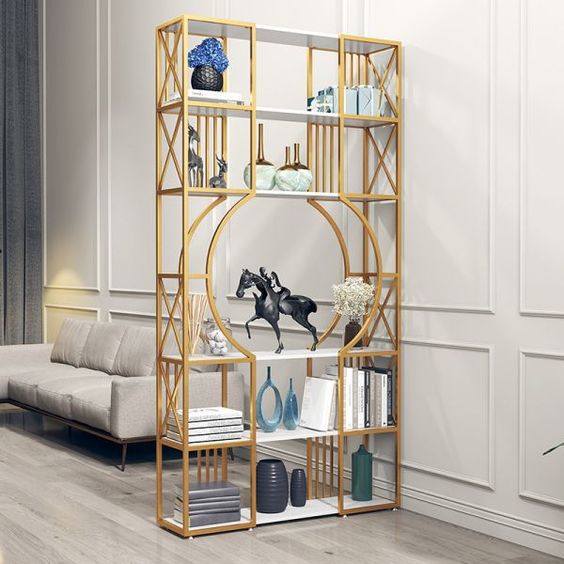 When you think of bookshelves, inevitably, the first thing to pop up is a good old wooden bookshelf, weathered down with time. How about adding a touch of class and elegance to your bookshelf and opting for a metallic bookshelf? These racks can be decorated with artistic elements, flowers, pots, and more. The metallic bookshelf looks best with artistic drawings and some sci-fi books to accompany it.
23. Office Cabinet Bookshelf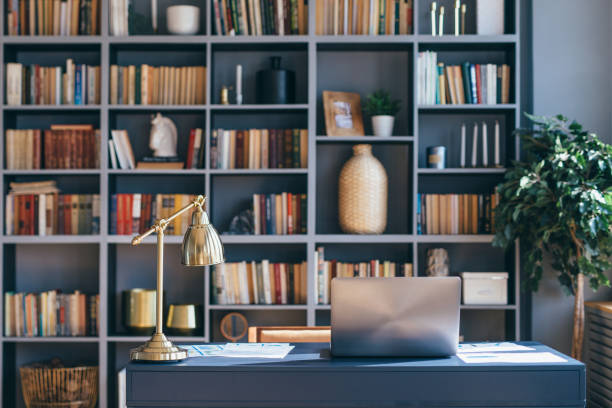 Not everything needs to be pretty, dolled up, and aesthetic. There is merit in having a simple bookshelf that does the job, looks clean, and fits perfectly in the bedroom corner. Go for this office cabinet bookshelf that allows for artsy decor pieces and books and also has functional cabinets at the bottom to fit in important documents and more.
24. Window Bookshelf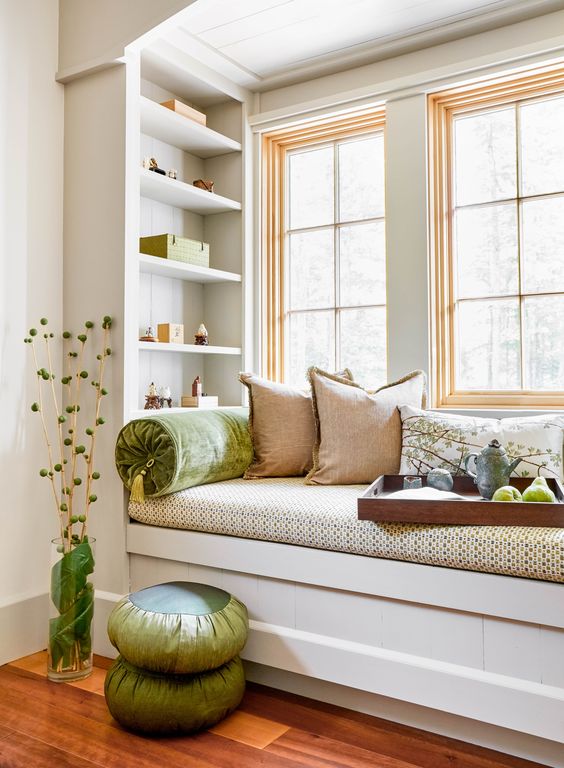 Do you have a cozy upholstery by the window that makes for a perfect reading corner on a rainy day? You can now frame the lining of the windows and create a unique bookshelf space. Window bookshelves are great as they are neatly tucked away in a corner and do not demand added extra space that needs to be dedicated. Great for homes of all sizes as it doubles up as a seating corner and a reading escapade too.
Not only does it accommodate your books and makes them reachable, but it also adds to the aesthetic of your little reading corner.
25. Glass Bookshelf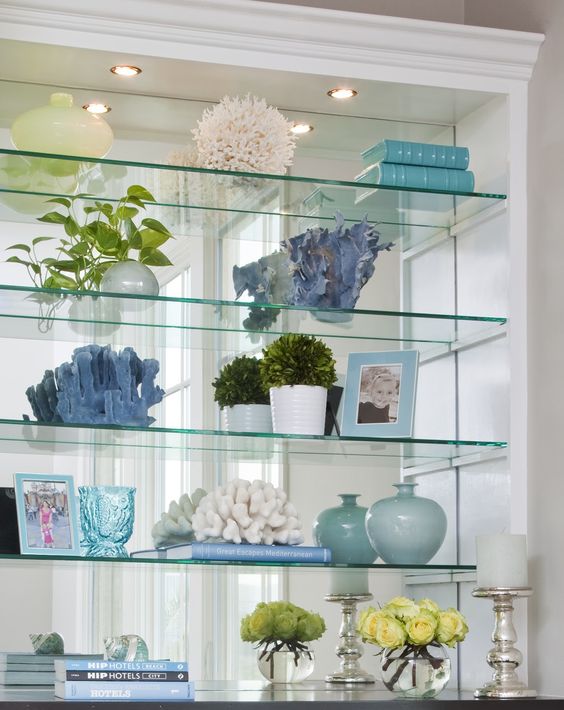 Opt for a simple and hassle-free bookshelf design, i.e., glass bookshelf. These are just parallel glass shelves placed one on top of another on a dedicated wall that fits your books well. It is easy to maintain and can be detached when not in use. Glass Bookshelves look very aesthetic and classy, giving off a very uber-stylish appeal to your home. If you place it in front of a mirror, it adds to the overall design aesthetic while also making your space look bigger, thus offering multi-functional benefits.
26. Cube Bookshelf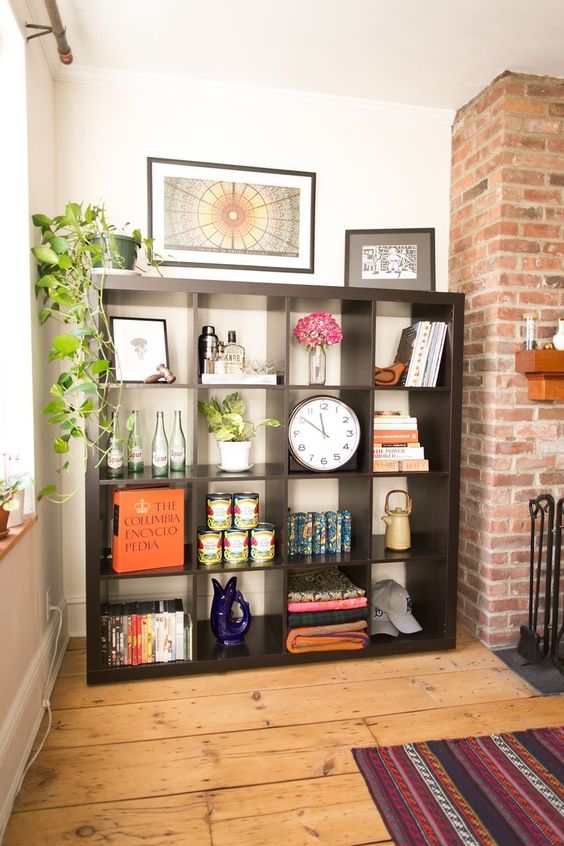 This new-age design works best for contemporary homes. You can place your books within the boxed shelves while placing unique decor items on the top of each box. Great design, with added utility. This simple design can be used in a plethora of ways and offers great decoration flexibility. Add in planters, books, glassware, and so much more.
Conclusion
If you have been wondering how to make a bookshelf, these unique ideas are a great starting point to kick-start your bookshelf project. As a voracious book reader, it is important to have a dedicated space to flaunt, store and reminisce about some of the best books you come across in your lifetime. Take on the role of elevating your bookshelf to the next level and add some personality to it. Play with colors, elements, art, lighting, and more to make it the center point of your home.
Choose from a myriad of themes like vintage, contemporary, and minimalist to match a design that aligns with your design sensibilities. If you are wondering how to decorate a bookshelf, know that it can be as simple as color-coding your books or as complex as a complete design overhaul.
Add to this some interesting design elements, and you have the perfect bookshelf.
Frequently Asked Questions
How to Decorate Bookshelves without Books?
Adding some fun elements to your bookshelves makes it more than just a book storage space. Using things such as art pieces and designer elements like showpieces, mirrors, planters, baskets, and candles are all ideas in which you can decorate the bookshelves beyond just the books.
How to Decorate Bookshelves in The Living Room?
In order to have a bookshelf in the living room, you need to add more elements, such as lighting futures, art frames, and vases that can fit flowers, etc, into your bookshelf space. In order to make the living room bookshelf more engaging, add elements such as eye-catching art frames, DIY crafts, and mood lighting to elevate your bookshelf.