Are you looking for a well-designed small dining table for 4 members?
A piece of furniture in your dining area has to be comfortable, classy, and elegant. Searching for all three qualities in a single piece can be exhausting. Beyond serving its purpose of having lunch/dinner, it is a prominent part of the home interior. A suitable set-up of your dining area brings out the beauty of your interior.
To make it easier for you, we have hand-picked over 15 unique dining table sets for a family of 4. This article gets into the details of the design, materials, colors, and structure of each option. Read ahead to be a part of this exploration, and select the one you resonate with.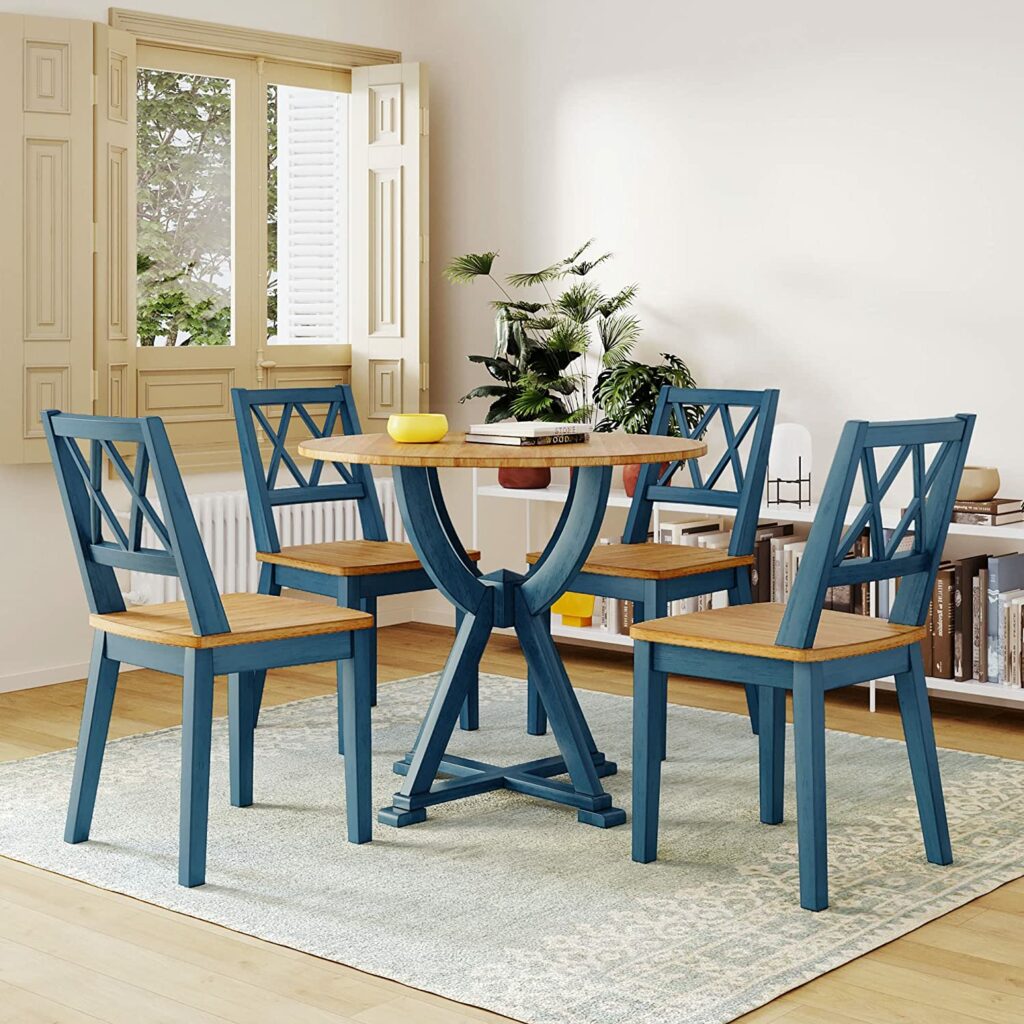 The antique blue and oak-shaded dining set is an aesthetic small dining table for 4. The tabletop and chair seats use solid rubberwood. It makes them durable and stable to hold a maximum weight of 250 lbs. Moreover, the traditional tabletop looks beautiful with a modern leg design. This unique leg design is attractive and provides support to the table too!
The classical X-back chair has large reclining angles for resting. This dining set is ideal for kitchens, dining areas, and restaurants. This set is perfect for a space themed on mid-century modern design. Bring home a structurally sound, solid, and well-built combination of tables and chairs for your meal time.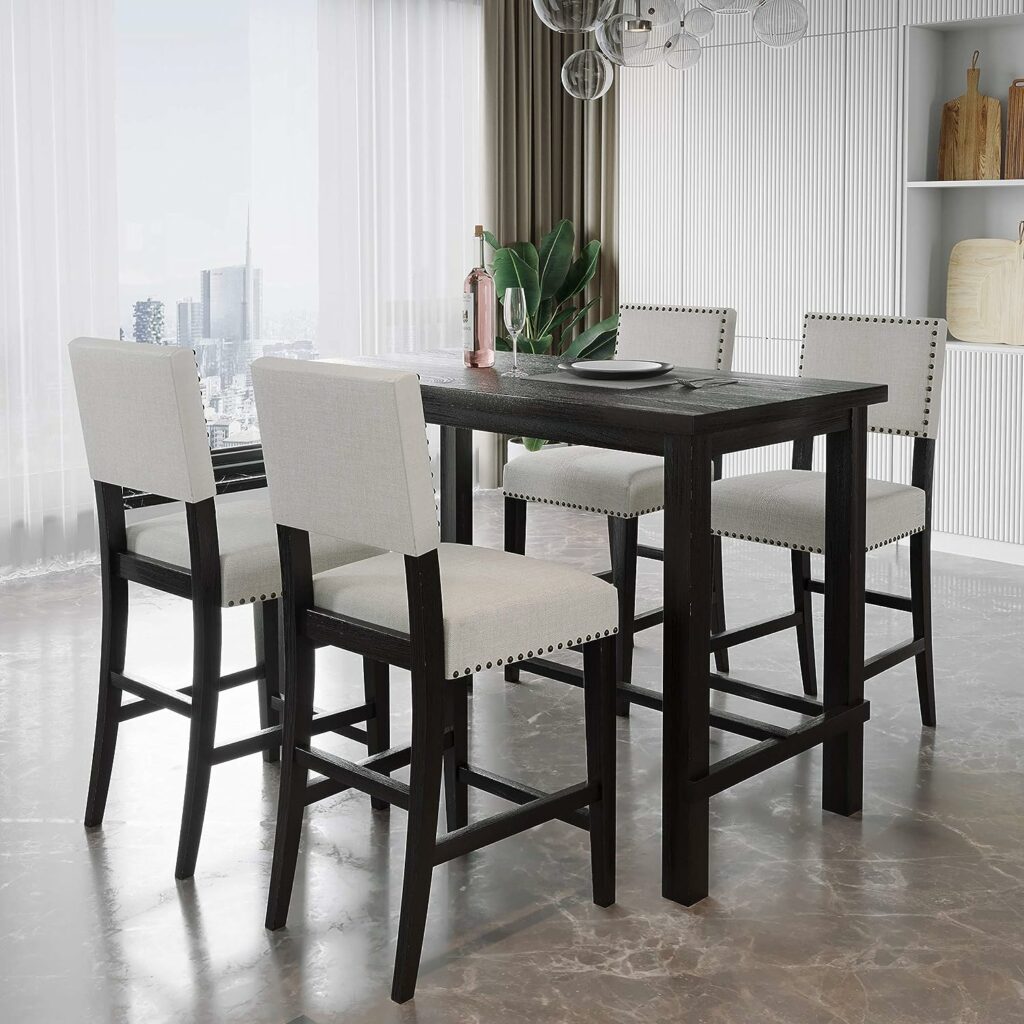 A classic yet elegant piece of dining set, a combination of espresso and beige, is best for your kitchen. The wooden table set uses high-quality MDF and rubber wood framework, making them highly reliable and sturdy. The cushioned chairs with nail-head trim make it the most eye-catching aspect.
Along with being aesthetically pleasing, the chairs are equally comfortable to sit on. It gives the best support with curved backrests and soft linen material. The bars in the bottom area provide proper space to rest your legs while having a meal. A 3.9-inch thick seat assures your convenience while sitting on the chair.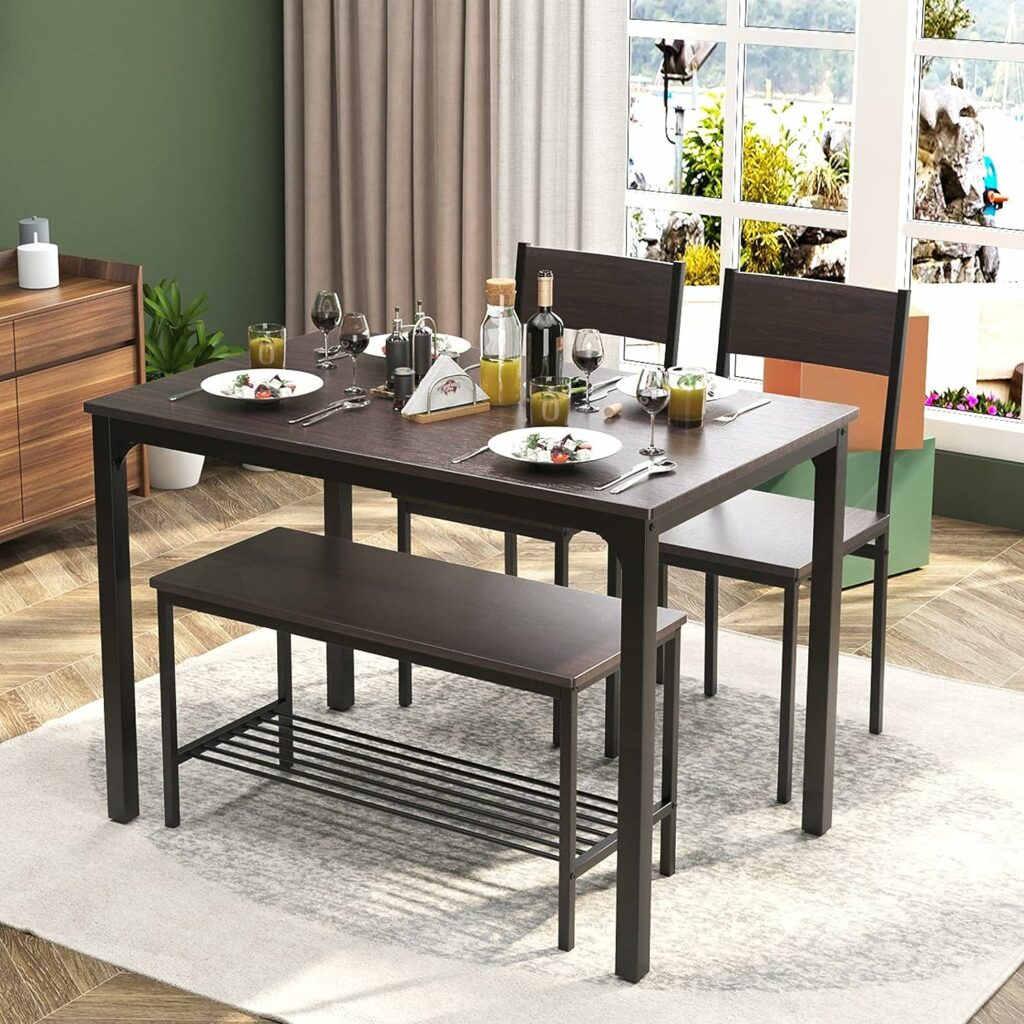 If you are willing to bring home a dining table with unique seating, then this one is perfect for you. It has a wooden table with a shining surface accompanied by 2 chairs and a bench. This creative setup can be the best when you have kids. A bench allows the other two individuals to share the space and come closer to each other.
The bench will also save a lot of space in comparison to chairs. The small rack below allows you to store any kitchen or food essentials for need. This set uses E1 grade MDF and heavy-duty metal frames for extended service life. The round finishing of the corners assures the safety of your family.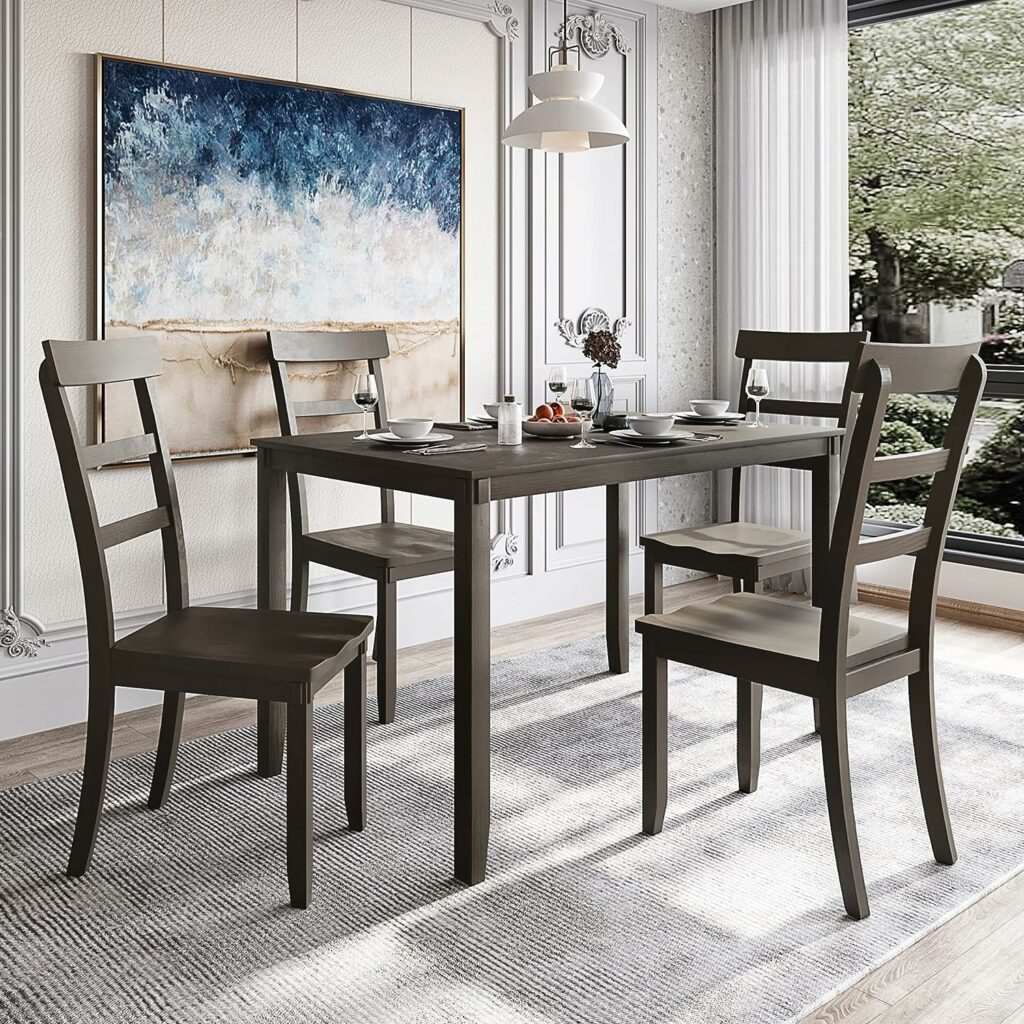 This raw and charming retro dining set for four members comes with its natural shade. The ergonomic design of the backrest in every chair perfectly fits the body curve.
Moreover, the detachable backrest can be removed to stack the chairs afterward. The dining table emits the beauty of raw wood and adds a refining sensation to your space.
The chairs are made with heavy-duty steel frames and can bear a maximum weight of 330 lbs. The surface uses powder spraying treatment to enhance the rust resistance capacity of the chairs.
The considerate footrest assures ultimate comfort for the individual sitting on the chair. This antique style of set makes it suitable for any home design.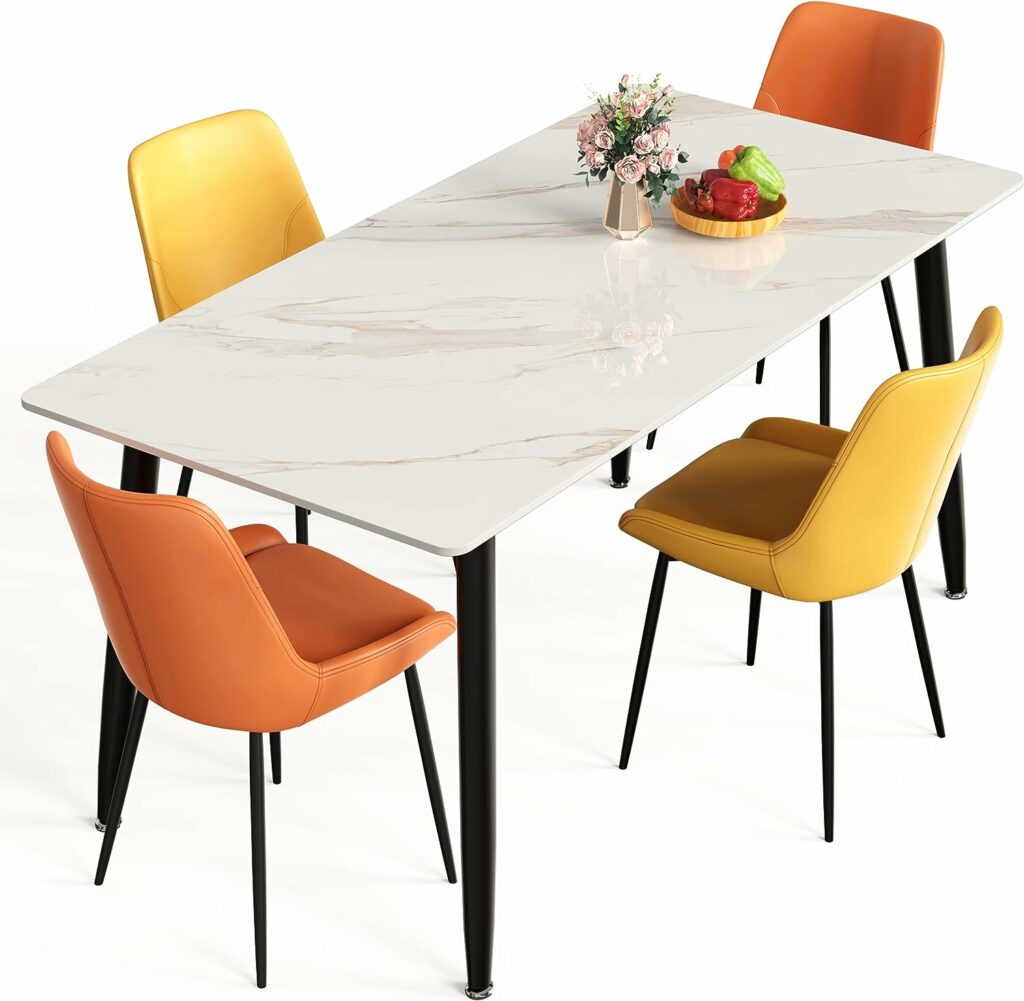 Do you like the feel of the stone around you? Their shine and smooth texture rarely go unnoticed. This modern, colorful small dining table for 4 brings that sharp stone vibe to your kitchen. The table top uses sintered stone created under high pressure and temperatures. It leads to excellent hardness and scratch-fade resistance. It is also easier to clean such surfaces.
Along with this classic table, you can pair some colorful chairs that contrast the simplicity of white. The above arrangement of yellow and orange chairs with this table looks perfect for a modern interior design. Feel free to experiment with chairs of different sizes and shapes to get the best look for your kitchen.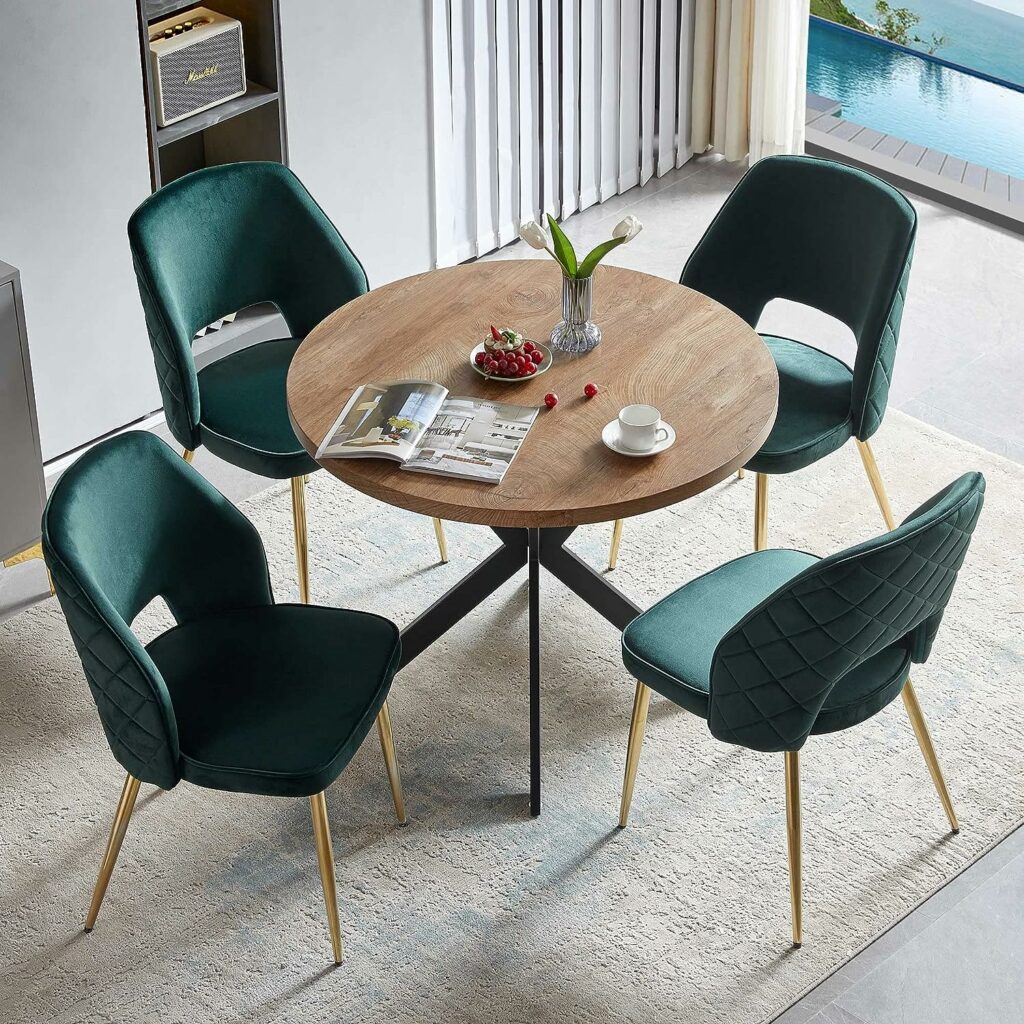 Get the creative feel of being surrounded by the greens with the lavishing forest green velvet dining set. The rustic tabletop and matte black steel frame add a glamorous industrial look to your kitchen area. A glass centerpiece in the middle of this rustic wood grain enhances the beauty of your dining space.
The modern design of the velvet chair reflects a contemporary style. The soft feel of velvet and the strong metal frame build a sturdy and comfortable structure. This set of chairs is perfect for nature lovers. So, when are you bringing home the forest green feels?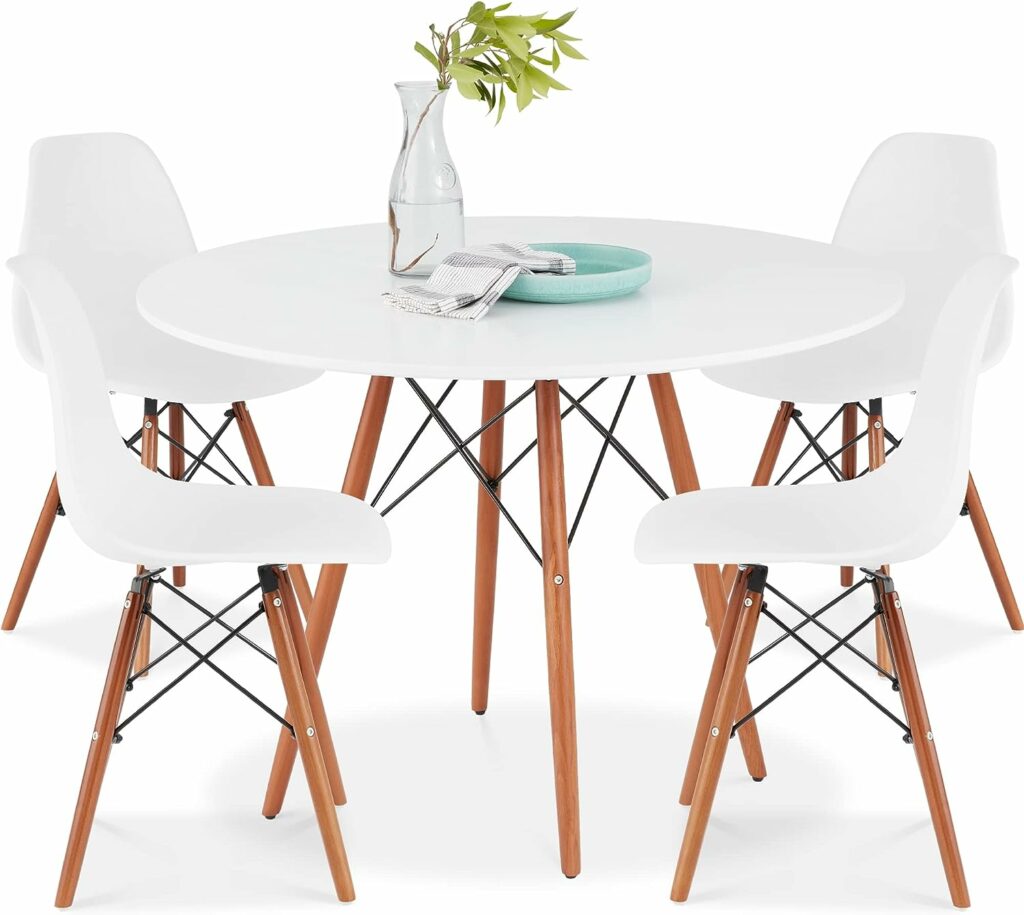 White is a color that looks simple yet elegant. This small dining table for 4 is a compact mid-century design. The combination of brown and white is perfect for an interior with neutral colors. The structure of this dining set allows you to tuck in the chairs to save space. It makes the shining white dining set best for small apartments and rooms.
The wooden legs support the MDF tabletop and quality plastic seats. The solid beech wood is sturdy with a metal wire detail design that will last years.
The round table allows easy and fun conversation with your friends and family.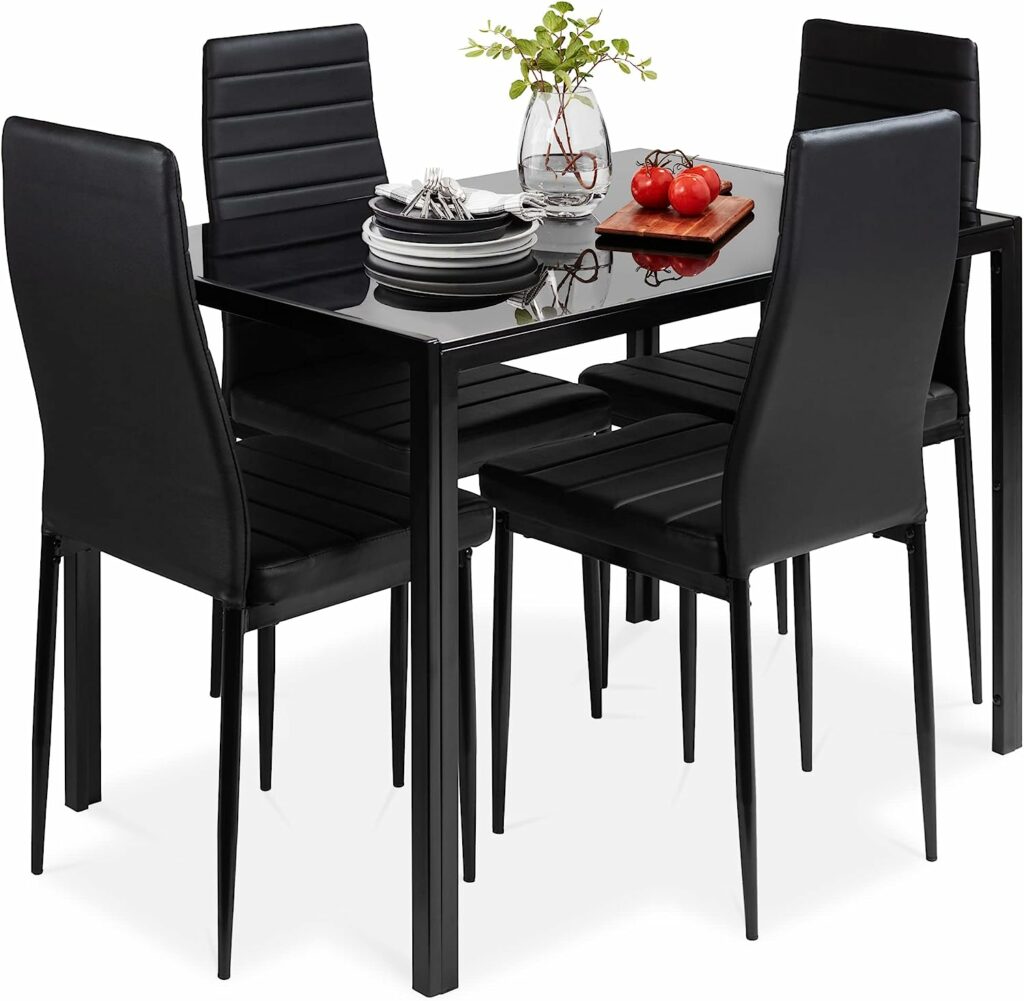 Are you also a fan of black furniture? You don't want to clean your table every now and then to hide the visible dust? Then, this Black dinette with a glass tabletop is the best option for you. This modern and sophisticated design is highly durable and easy maintenance.
Chairs are padded with faux leather and have a curved backrest to give you comfort as you eat. The heightened backrest also allows you to rest your head after meals.
There will be no compromise between relaxing and comfort with this dinette.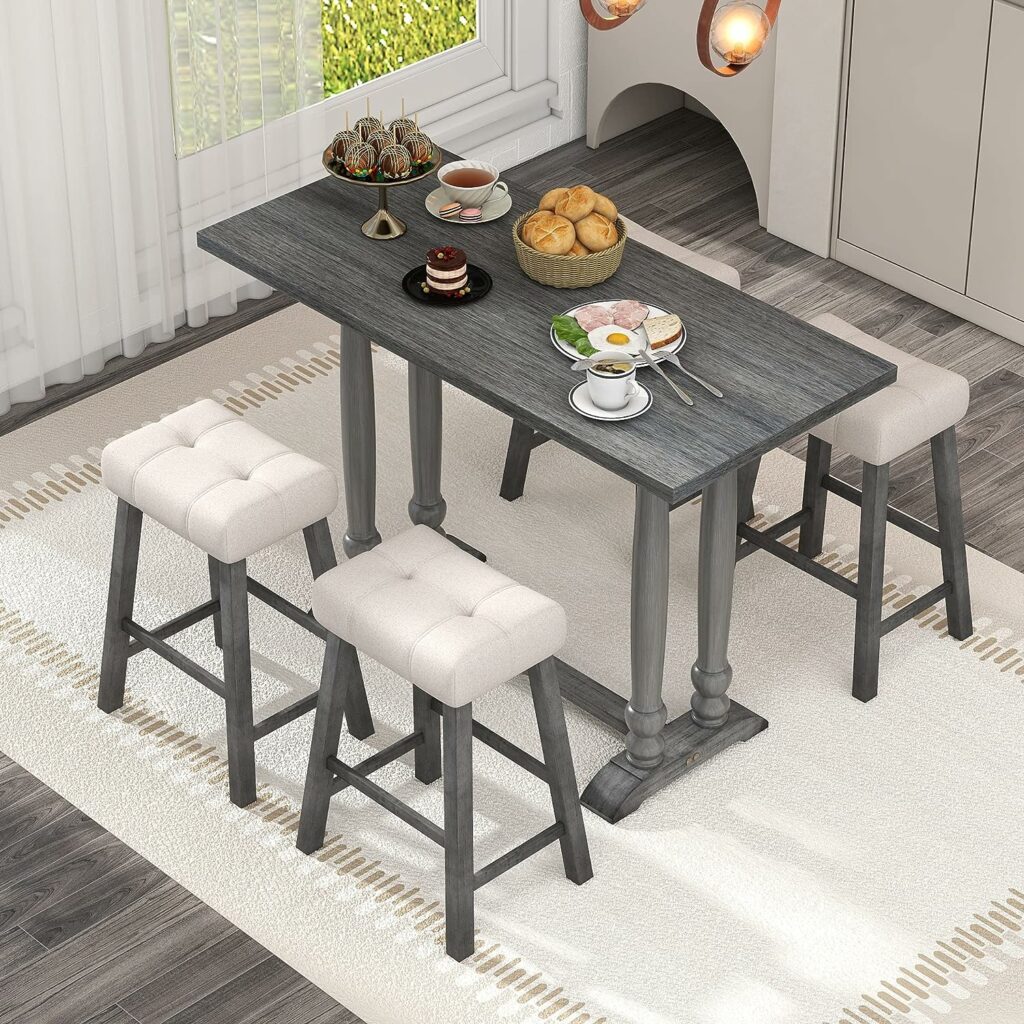 This gray dining table set consists of upholstered stools and a rustic table. The sturdy table uses MDF and rubber wood to get its strength. It provides ample space for four people to have the meal comfortably. The stools have a soft beige fabric cushion with a border on the periphery. Along with a graceful pattern, the cushion gives a comfortable sitting experience.
The sturdy wood legs of the table and chairs are reinforced by LVL cross bars. The chairs can withhold a capacity of 220 lbs. While cleaning the tabletop, avoid chemical cleaners to keep the finishing intact. A damp cloth or sponge is the best option to clean any stains on the table.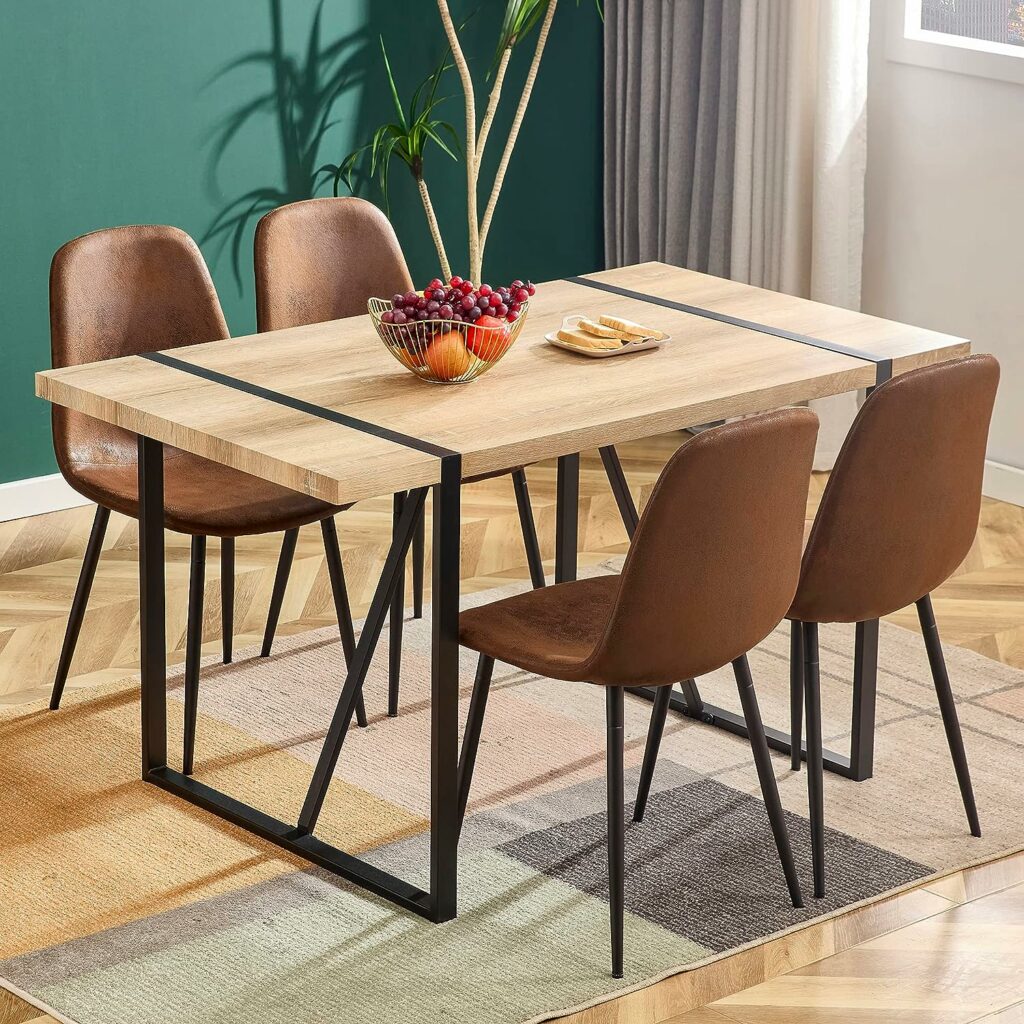 This is the best choice if you are looking for a small dining table for 4 members in your countryside home. The country-rustic theme of the design makes it the best fit. The structural design and sturdiness come with lots of comforts in this dinette. The chairs are upholstered in a soft fabric to ensure convenience during long meals and conversations.
The dark rustic tabletop beautifully contrasts the black powder-coated metal frame, adding a design to the surface.
Such a stunning piece of furniture is sure to impress your guests and amaze you every time you have your meal.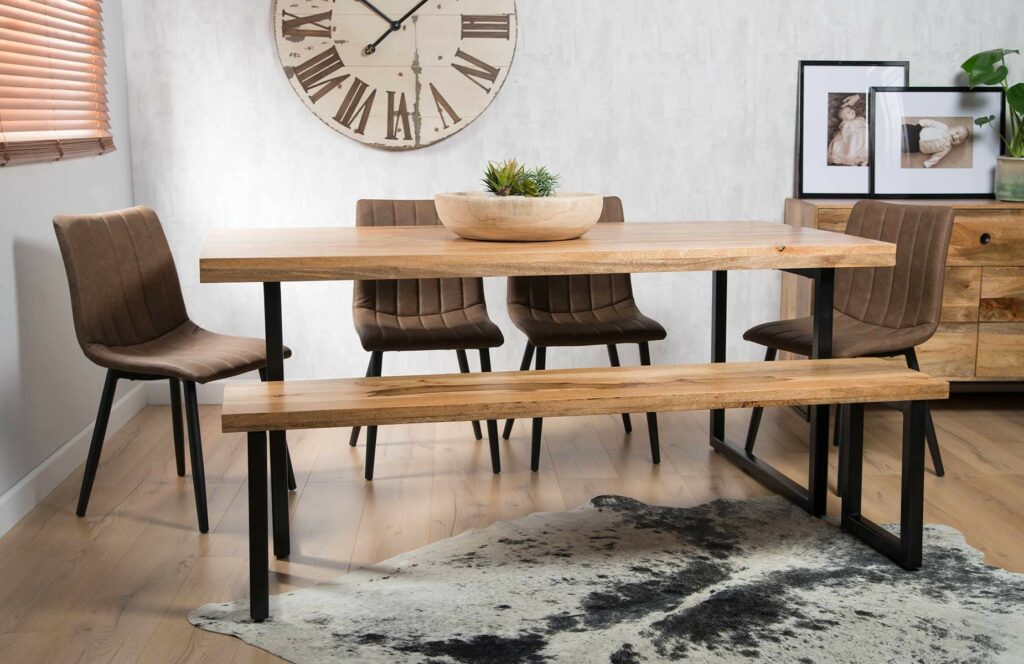 Benches remind you of parks and school time meals, right? Having them in your home as a dining space can be wonderful. It allows you to comfortably sit without boundaries and share the extended space with your loved ones. Benches also cherish your childhood memories and create new memories for your little ones.
This small dining table for 4 has smooth lines, a bright appearance, and an aesthetic woodgrain design. The brown shade makes it suitable for a rustic interior theme.
The 3-piece dining set brings modernity and elegance to your dining space.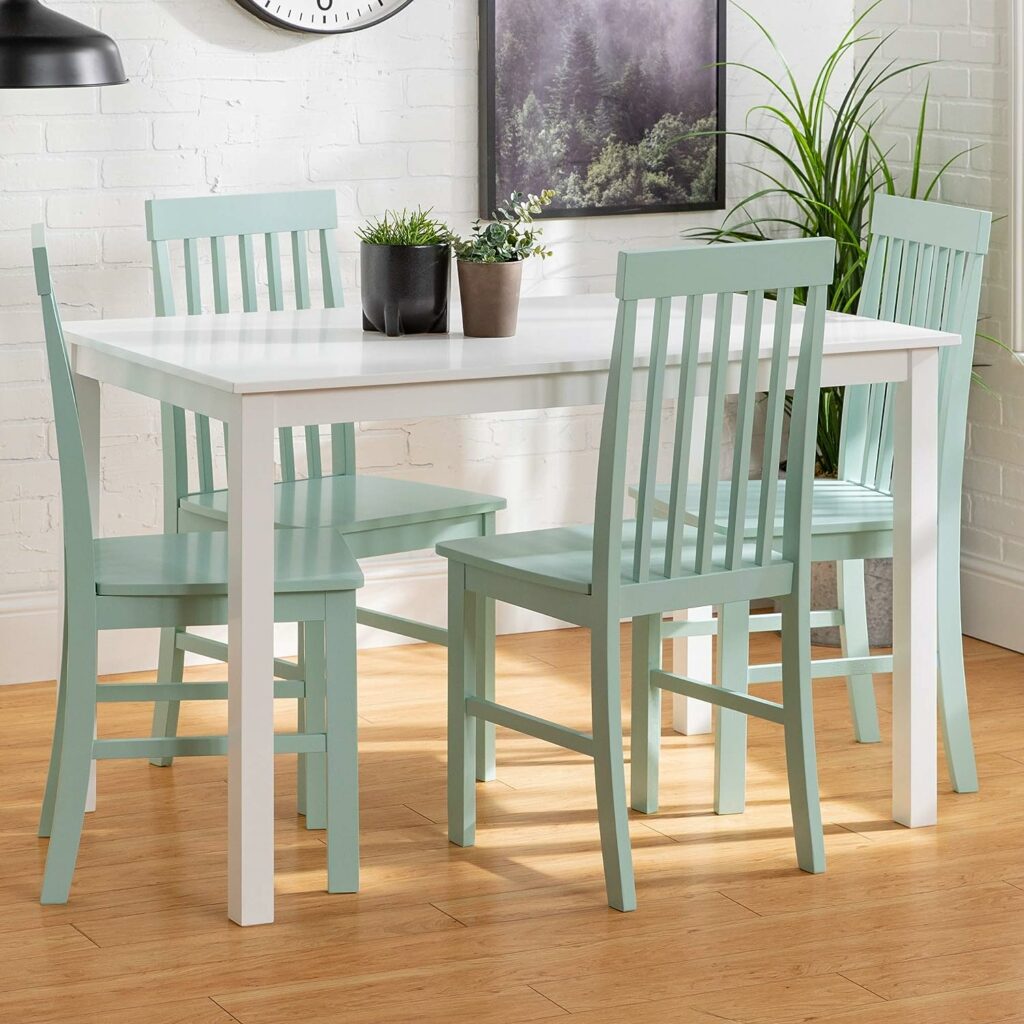 This dining set has a calming tone of white and sage green that reminds of serenity. The vast backrest allows you to lean back without any worries. The intricate line designs emit a simple yet geometrical vibe. The shade of white and sage green merge into each other when placed together.
The solid wood and high-grade MDF construction make this delicate structure long-lasting and sturdy. Each chair can support a weight of up to 100 lbs.
Enhance the beauty of this soothing dining set by placing small indoor plants on the table.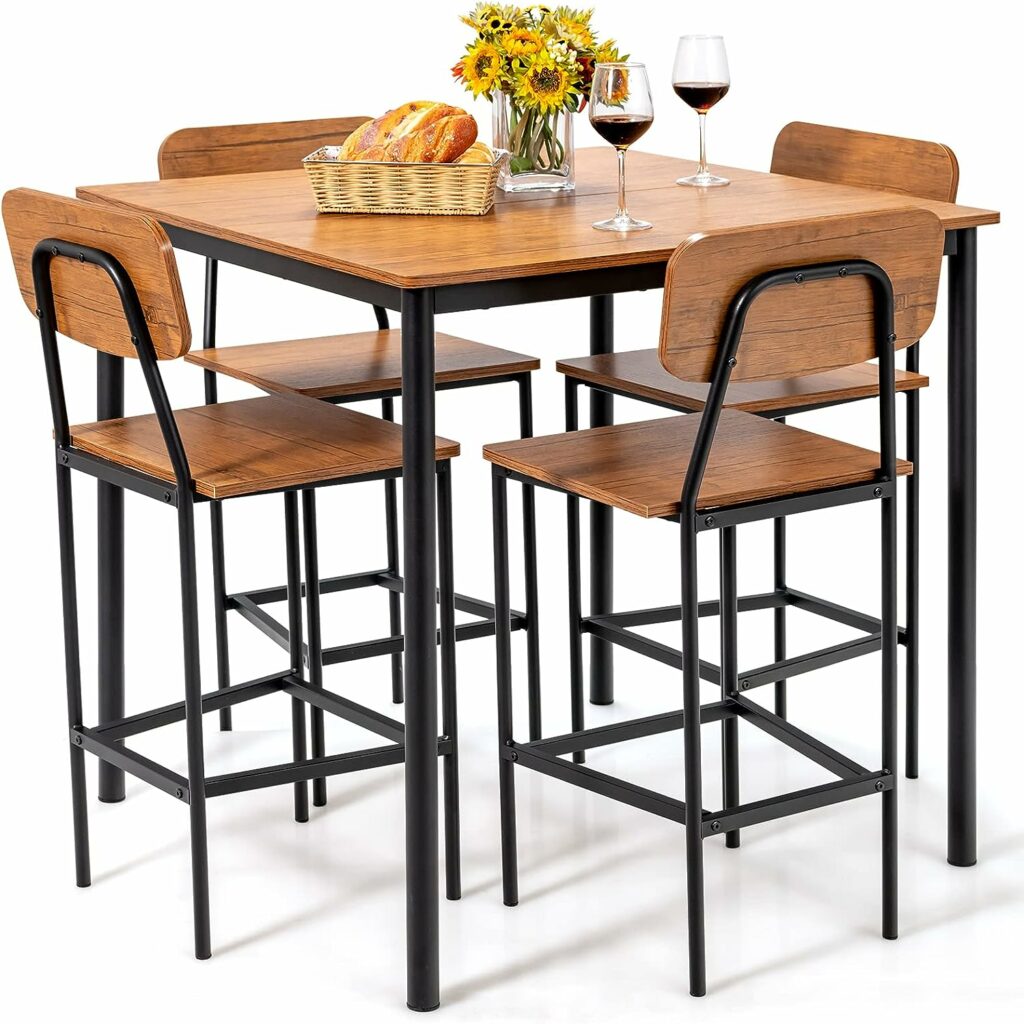 If you are looking for a dining set that can be useful in your bar, then this is the perfect one for you! The long chairs with comfortable back support can be easily shifted to your bar whenever needed. The ergonomic backrest adjusts to your body curves and relieves back pain.
Enjoy your meals at the table and take the chair wherever you need! It uses MDF boards with premium paintings that are waterproof and scratch resistant.
The anti-rust powder-coated steel frame provides support and stability. The walnut shade of this dining set allows it to merge into any interior theme.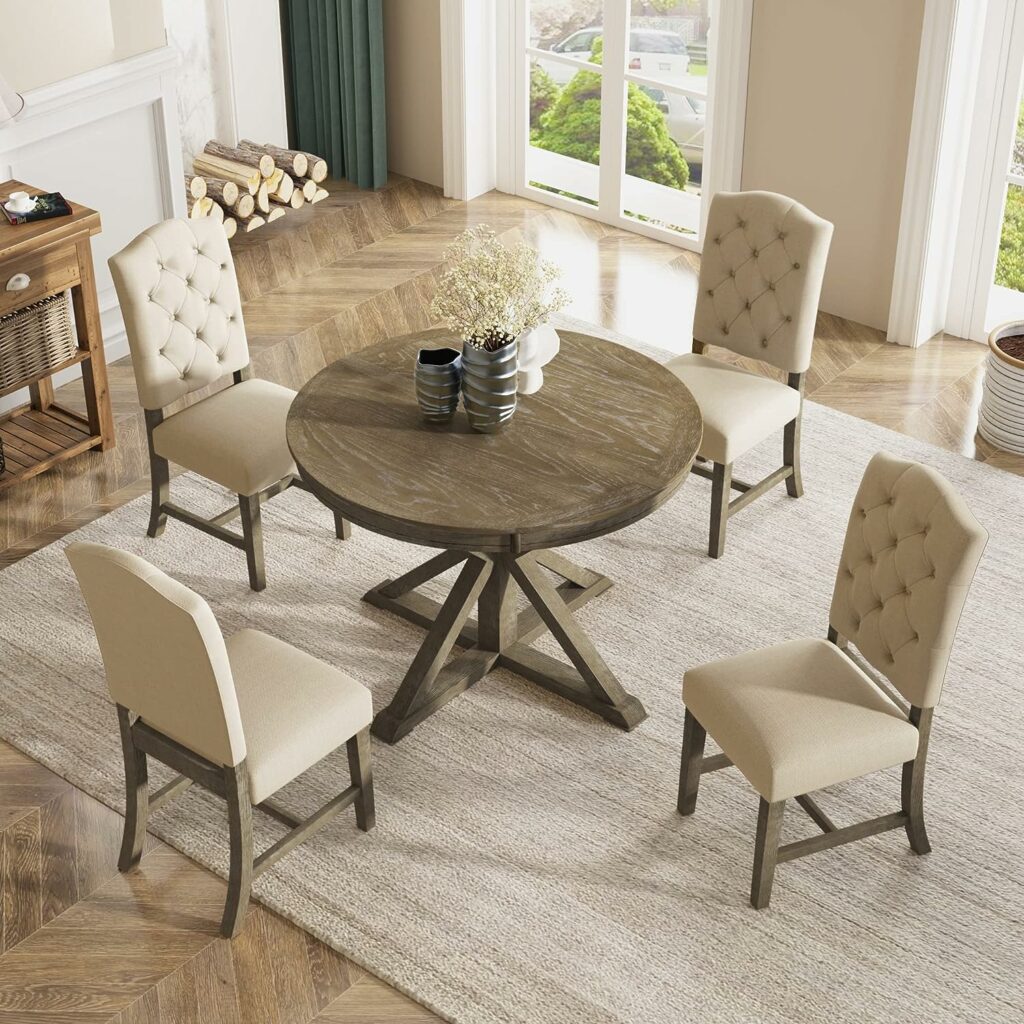 This small dining table for 4 is a mix of retro and luxury. Enhance the charm of your dining area with four classic chairs and a butterfly-leaf dining table. The table is extendable to an oval dining table to accommodate more food items. The oak veneer tabletop with silk pressing patterns adds grace to the setup.
The high-density foam, black flared legs, and delicate button tuftings exhibit thoughtfulness in creation. Along with a comfortable sitting experience, it also imparts a luxurious feel.
The natural wood wash color shines bright during the day and night.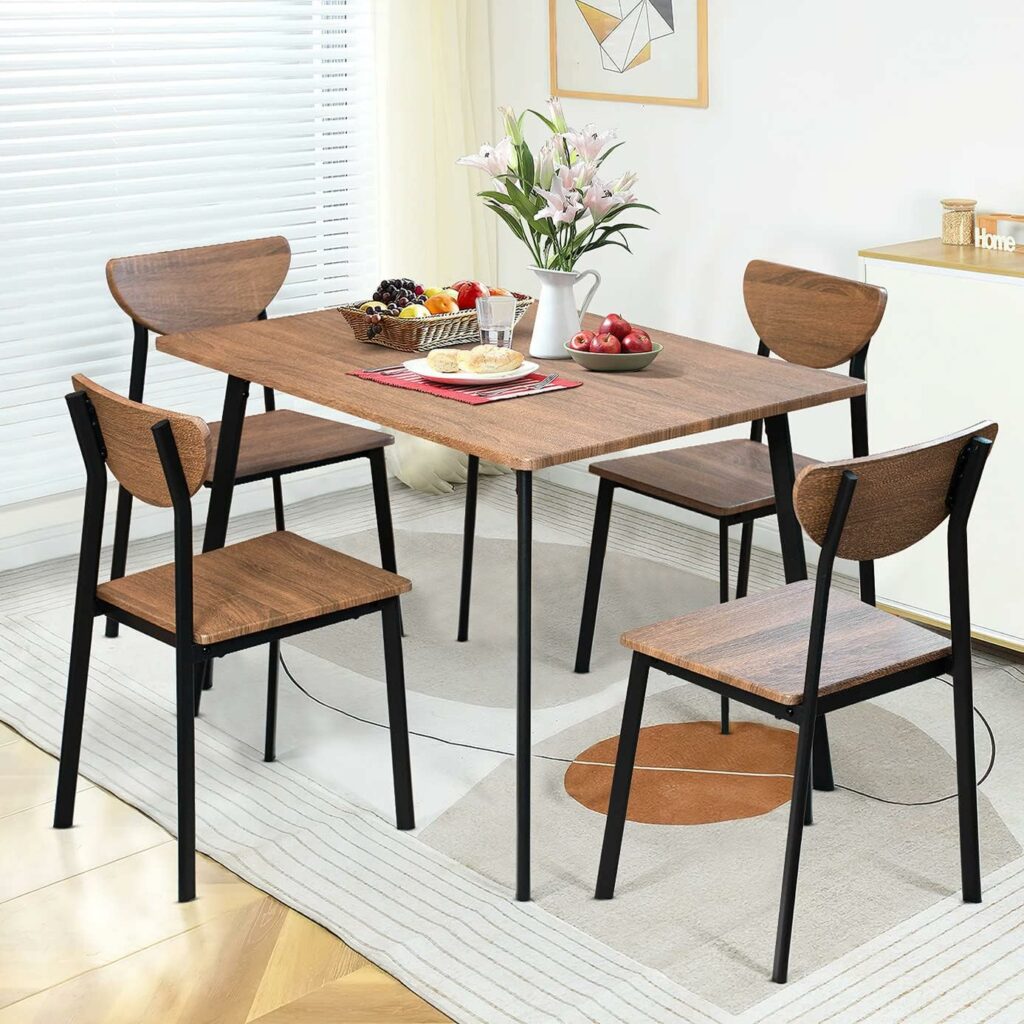 This dining table's powerful combination of brown and black makes it the showstopper. The sleek finish and simple lines on the vintage tabletop are hard to ignore. When adorned with a flower vase and a bowl of fruits, the beauty of this surface shines.
If you want this small dining table for 4 to be the center of your space, keep them amidst light-colored walls like white, beige, or cream. However, when placed in a rustic or country theme, they merge with the surroundings and complement them.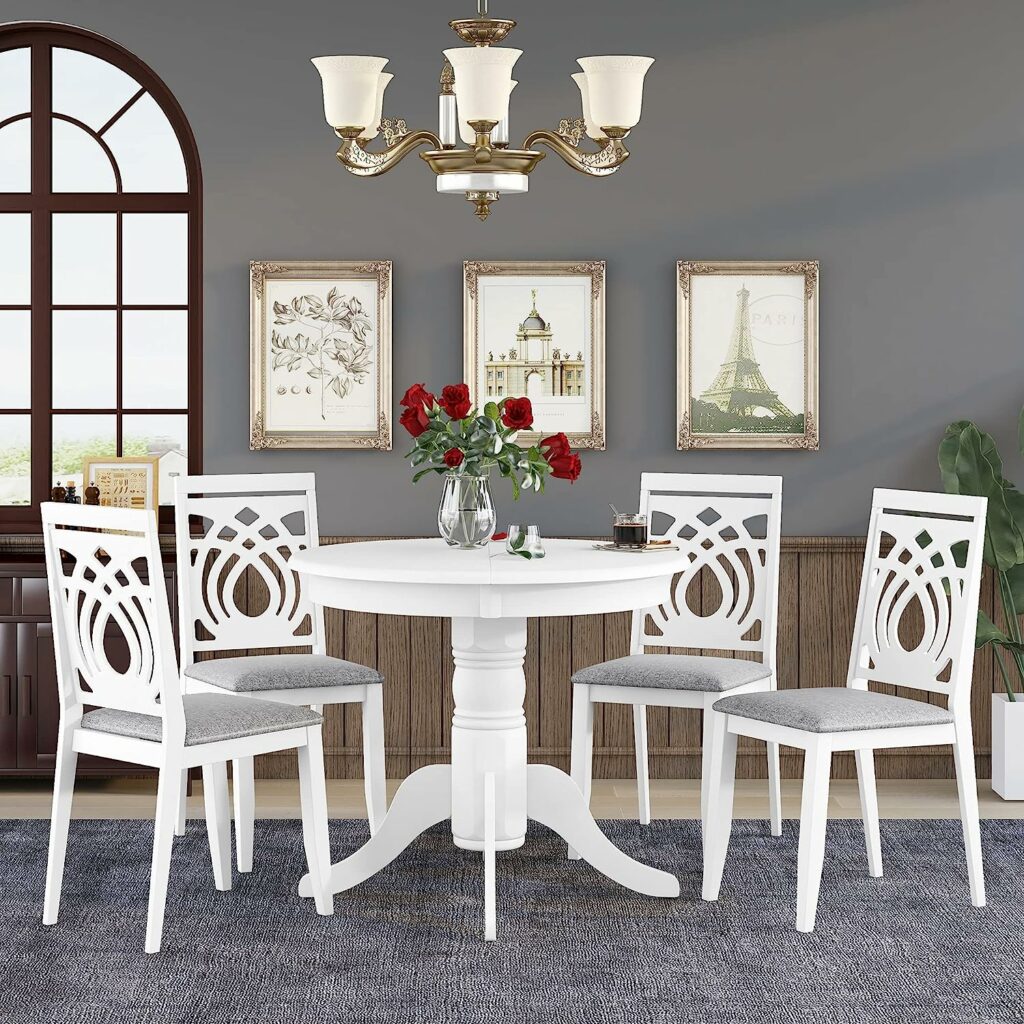 At first sight, this might seem like a small dining table for 4. However, it is extendible for up to 6 people. The flexible design of the 13-inch butterfly leaf on the table allows you to adjust its length. The whole dining table stands on a heavy pedestal with curly feet that adds support and enhance the decor.
The chairs are cushioned with high-quality fabrics for a premium sitting experience. The appealing work on the chairs will leave your guests enchanted throughout their meals. Bring home this exuberant dining set with a featured classic white design.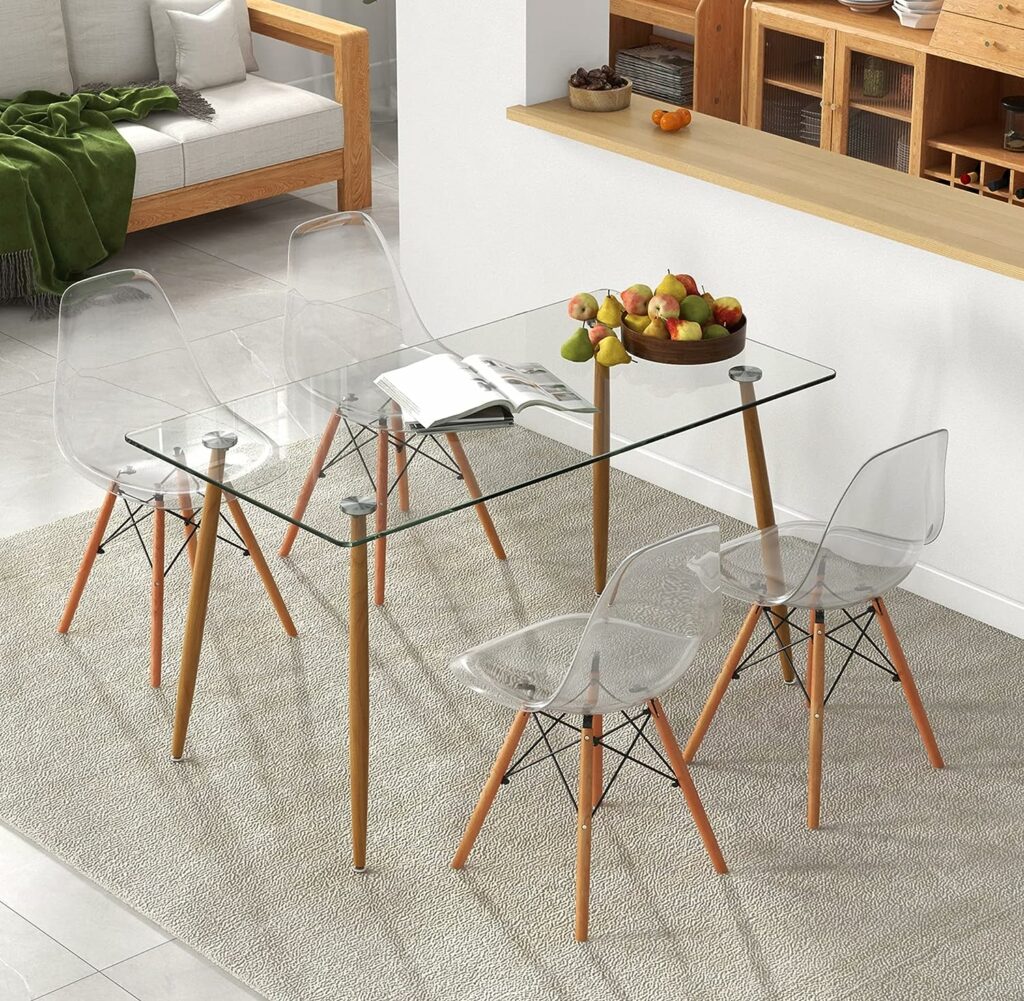 This is a one of its kind dining set with transparent chairs and tables. Although the material used in both furniture is different, they look the same. The glass dining table has a thickness of 0.3" and has a support of a metal leg. With high bearing capacity, the table maintains perfect stability on rough surfaces.
The clear table set has chairs with ample space and an ergonomic high back. It reduces pressure and fatigue from the back to improve blood circulation.
So you also improve your health through such postures as you enjoy your meals. Bring home the clear table sets and set an unforgettable impression on your family and friends.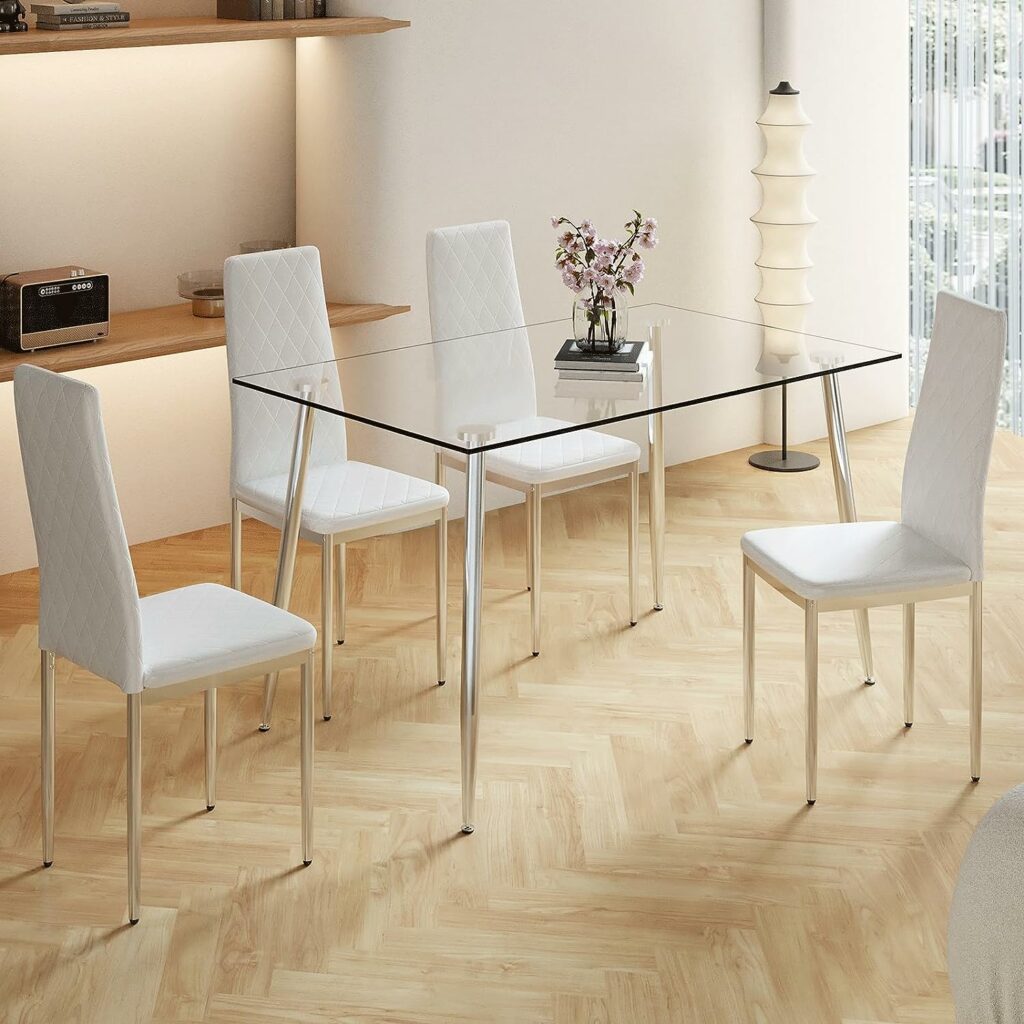 This modern dining set has white chairs and a glass dining table. The transparent glass table top is heat-resistant and stain resistant. So, you do not need to worry before placing a hot pan or bowl with your food. However, it is always better to use placemats for support.
The upholstered faux PU dining chair with a high backrest relaxes your body and soothes your mind. This set emits a classy and sharp look in your kitchen area. A delicate yet unique decor will be the best to place as a centerpiece on the table.
Are You Ready to Dine with the Best Dining Set?
A small dining table for 4 is more than just a piece of furniture. It is the space where you take nutrition for your body, spend time with your loved one's and have the most meaningful/fun conversations. The selection of a dining set defines the emotions and values a family holds. Take your time to think and bring home a dining set with which your home feels connected.
More than the trend and fashion, it needs to give you that comfort and feel to enjoy the meal!
View it as a space to nourish your body and relationships to make the best choice of dinette for your home.