Is your tablescape ready for the celebration?
This article will bring the needed clarity on how you can begin the process. Tablescape is an arrangement that includes the decoration on the table and the settings surrounding the table. Whenever a guest arrives for lunch or dinner, it is best to express your care. Such gestures make them feel unique and valued. Creating such a setup may not cost much, but it might ask for your time.
Creating this arrangement is the best way to welcome your guests and show them your eagerness for their presence. The theme of your decoration depends upon the occasion and elements you have at home. You can also buy some decor materials to enhance the table's beauty. However, it's more about the labor of love than spending money.
This blog shares tips to get the best tablescape with what you already have at home.
Learn How to Create a Tablescape Step-By-Step
1. Choose a Theme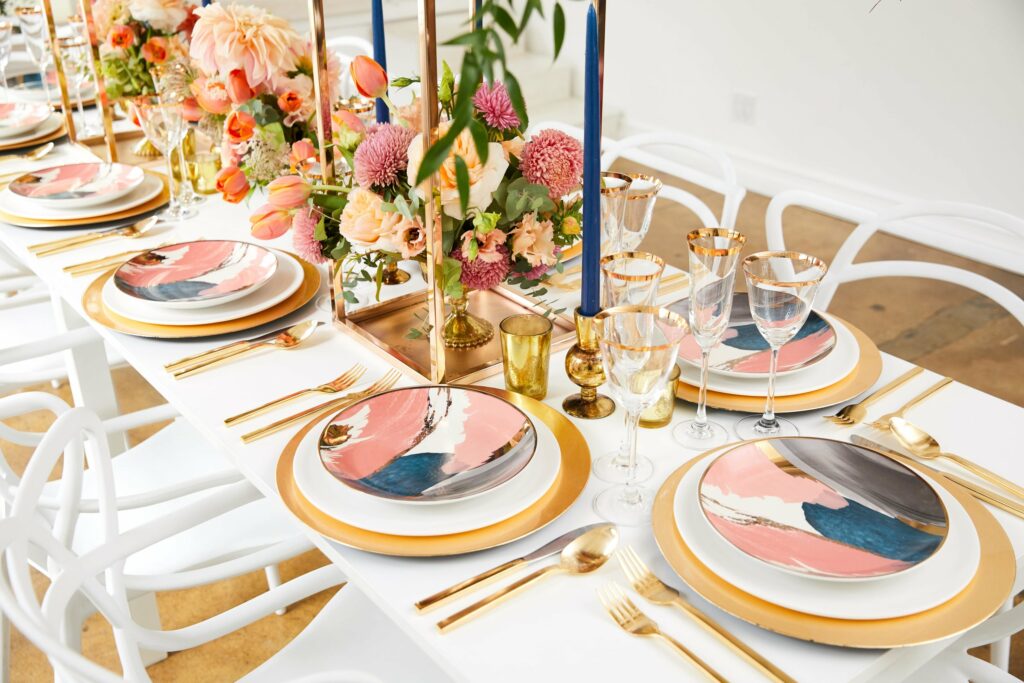 The first and foremost step is to decide on the theme of your tablescape. It depends upon the occasion or the reason for the celebration. Are you all gathering for some festival like Christmas, Thanksgiving, New Year, Easter, or Halloween? Or is it a personal celebration of a Birthday, Anniversary, Baby Shower, Retirement, Marriage Announcement, or House Warming Party?
Every occasion has a unique color and feeling related to it. For example, when we talk about Christmas, red and green color pops up in our mind. Whereas, when talking about Halloween, a spooky feeling surrounds us with orange pumpkins and shades of black and grey.
A Birthday party reminds us of bright decorations with yellow, orange, blue, pink, red, and silver shades of balloons. A retirement celebration will rather have calm yet elegant shades of beige, white, green, and brown.
If the gathering is casual and not connected to any occasion, think about the current season. If it's autumn, you can plan a fall theme decoration.
If it's spring, you can plan a colorful and floral arrangement. Before deciding on the final theme, ask yourself, "How do I want my guests to feel?" This question will help you decide on the final decoration color and theme of the tablescape.
2. List Down the Elements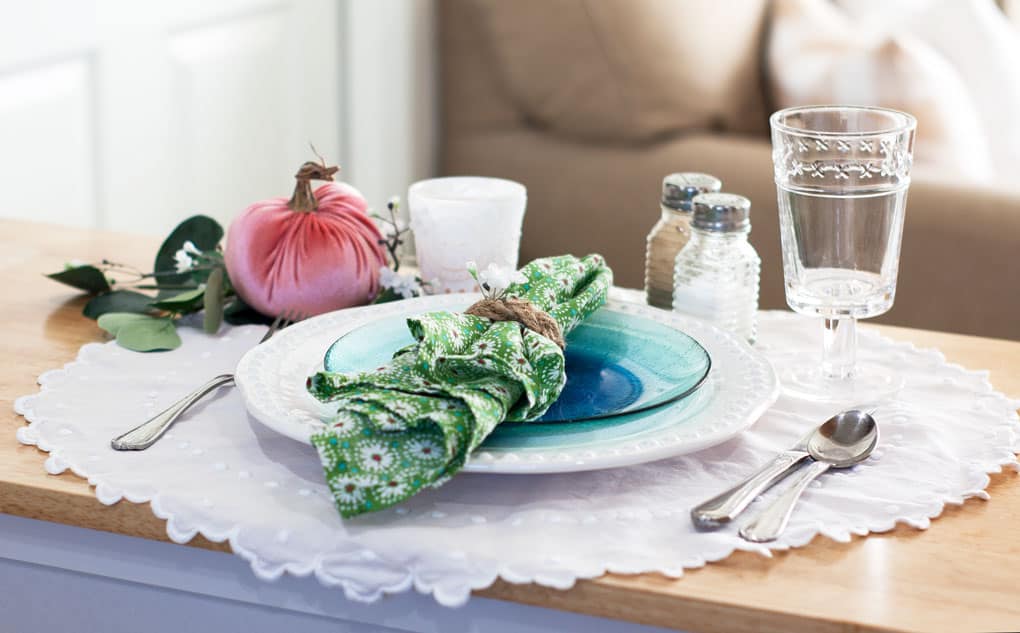 Once you have decided on the theme, it's time to list the needed elements for decorating your table. You don't need to plan a specific location for everything yet.
Just collect the things that relate to your theme and put them aside. Now the biggest question that might come to your mind will be, "What things can be kept on the table to create a beautiful look?" Well, here's a brief on how to gather the decor elements from your surroundings.
Let us begin with the basics and keep aside the dishes, spoons, napkins, placemats, table-runner, serving dishes, glassware, glasses, and other required utensils. Once you collect the dinner table items, it's time to search for the decor. To enhance the beauty of your table, gather some colorful candles, flowers, and any antique items you have in your home.
Do not hesitate to use natural elements in your design. Flowers, fruits, foliage, or unique wooden branch enhances the texture, color, and fragrance. Displaying the natural elements is a great way to connect with the ongoing seasons.
You can have multiple elements with different heights. However, take care that any object should not prevent the guests from seeing or speaking to each other across the table.
3. Importance of a Setting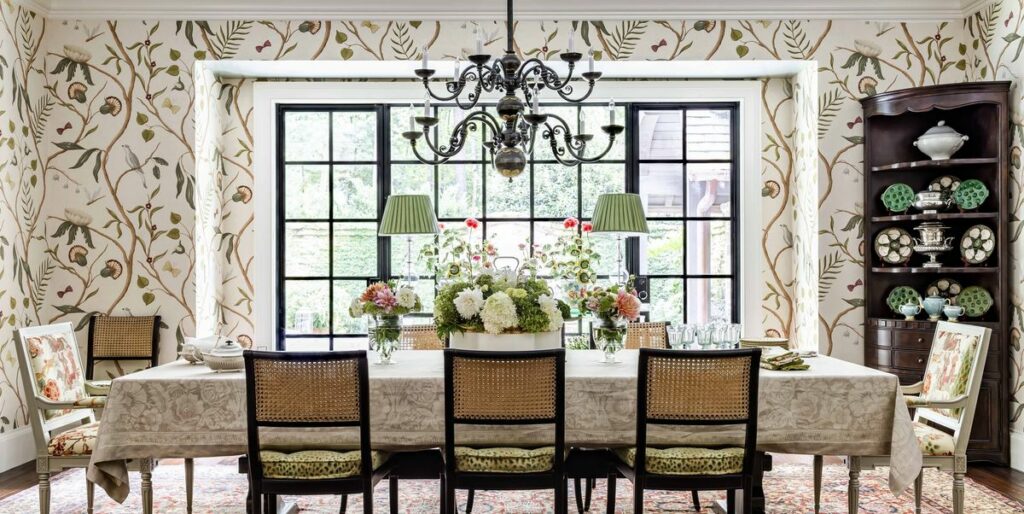 While talking about table decoration, table surface decor is not the only crucial aspect. However, the surrounding settings are also an important part of the tablescape. If you have a dull dining area, and your table is filled with aesthetically pleasing elements, that won't look good. You can enhance the surrounding area with the help of a wall or hanging decor item.
If your dining set is not heavy-weight, you can relocate it to a space that is visually appealing and matches the theme of your decor. Outdoor locations are the best way to get a suitable setting.
Planning an outdoor tablescape will automatically create a beautiful setting. The best place is when you are surrounded by trees, plants, and lush greenery in your backyard or patio area.
Before you assemble the elements on your table, ensure that the table is in a place that complements the theme of your tabletop arrangement. Create a memorable experience for all your guests so that they cherish those moments for a lifetime.
4. Create a Foundation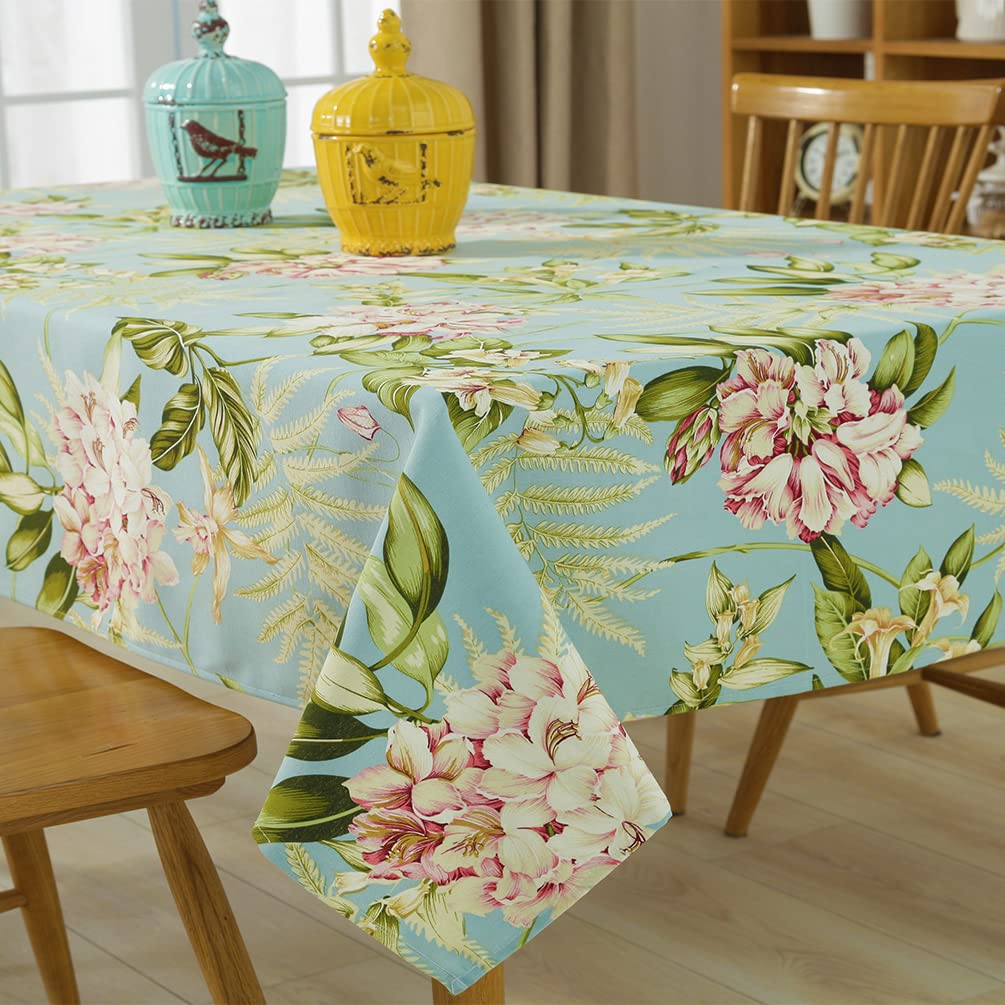 Creating an aesthetic and beautiful tablescape is the art of creating multiple layers. This step is about creating the foundational layer, which will hold the other layers. However, before we begin this process, clean the whole table with a damp cloth. The table should be fully empty as you begin this process. There can be two options while creating the foundation. The surface of the table will either be visible or invisible.
If you have a dining table with a unique design and want it to be visible, then begin your foundation with a table runner and placemats. It will keep the surrounding area open for visibility.
However, if you choose to cover the whole surface, place a tablecloth of a suitable design. On the cover, you can place the table runner and the mats for plates and glass.
If you fail to find a table runner or cloth that matches your theme, use a scarf or a piece of fabric from your closet. Placemats come in a variety of colors and materials. For a simple decor theme, use a cotton placemat that is easy to store and clean. Silicone placemat is the most durable and can withstand extreme temperatures.
Use a rattan placemat to add a natural element to the table. The tablecloth, table runner, and placemat should all be aligned and complement each other.
5. Arrange the Decor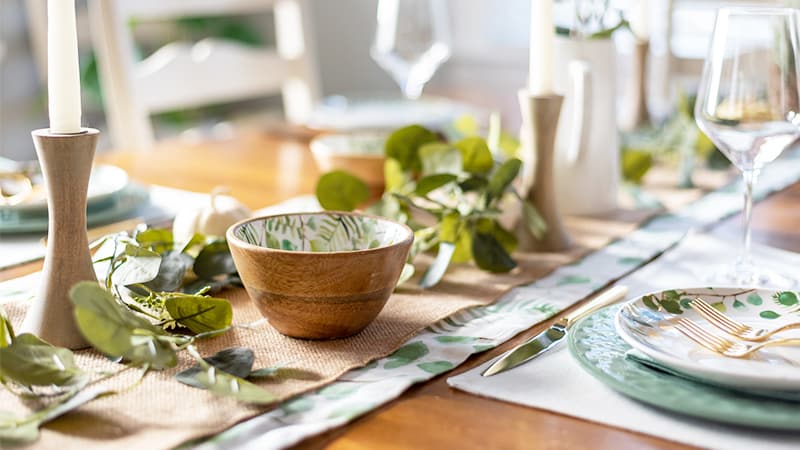 After creating the foundational layer, it's time to arrange the decor. The two main elements of table decor are a centerpiece and the surrounding arrangements. You can use a DIY creation made with flowers, wood, or other natural elements for a centerpiece. You can also buy a unique and colorful set of vases, metal pots, or lighted glass jars.
If you are hosting a lunch, avoid using candles or any other lighted decor. However, if you are gathering for dinner, using natural or artificial lights will enhance the beauty of your tablescape.
Assure that the elements on the table do not exhibit more than 3 shades of color. Too many colors on the table will fail to showcase the theme that you wish to create.
Decor items used in excess amounts can make your table look cluttered and chaotic instead of aesthetic. While decorating the table, 'Less is More' is the mantra we all should live by. Add height by using long vases and jars to enhance the beauty of your natural elements. If you are plucking flowers from your yard for the decor, place them in a water-filled jar so they remain fresh until the gathering concludes.
6. Layer it with Tableware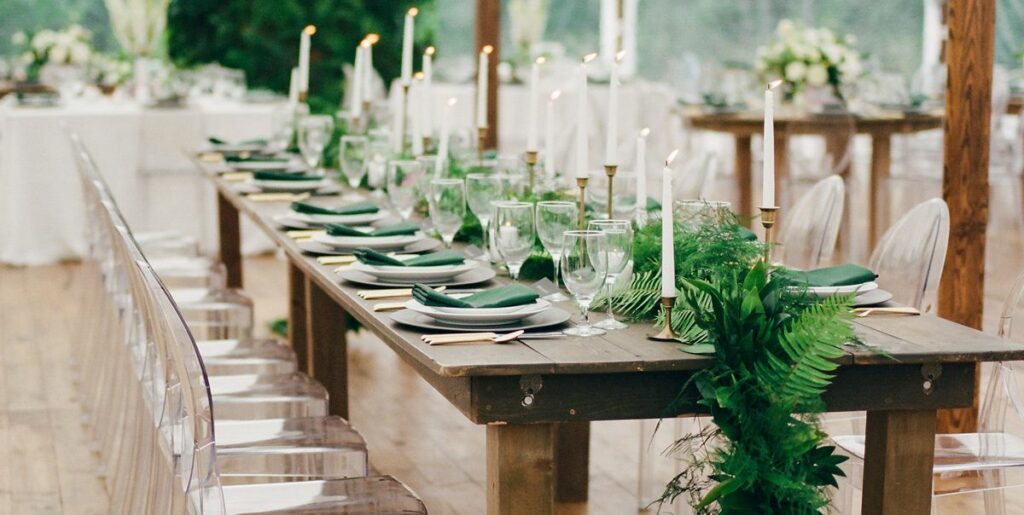 Once you are done with the decoration, it's time to place the essentials needed to have dinner finally. Choose the set of dishes, bowls, and spoons that go along with the overall theme of your tablescape. Opt for a plain white shade if you do not have theme-based tableware. The color white merges into any theme. Arrange all the dinnerware, kitchenware, and tableware according to the rules of etiquette that you normally follow.
If you want to experiment, mix and match different dishes from different sets and create a colorful theme. The colorful visuals will create excitement for your guests as they view the table.
Now is the time to place your napkins on top of the plates. Are you creative enough to fold the napkin in a unique style and place it on the table? If not, a simple placement will also do! However, if you are willing to make some effort, here is a helpful video that teaches you how to create the best tablescape by adding uniquely folded napkins.
You can either serve the guests, or food can be on the table where they help themselves. If you plan to have the main dishes on the table, make proper space for them amidst the decor items. With limited space on the dining table, it becomes necessary to arrange it well to accommodate decor and food items.
7. Add a Personalized Touch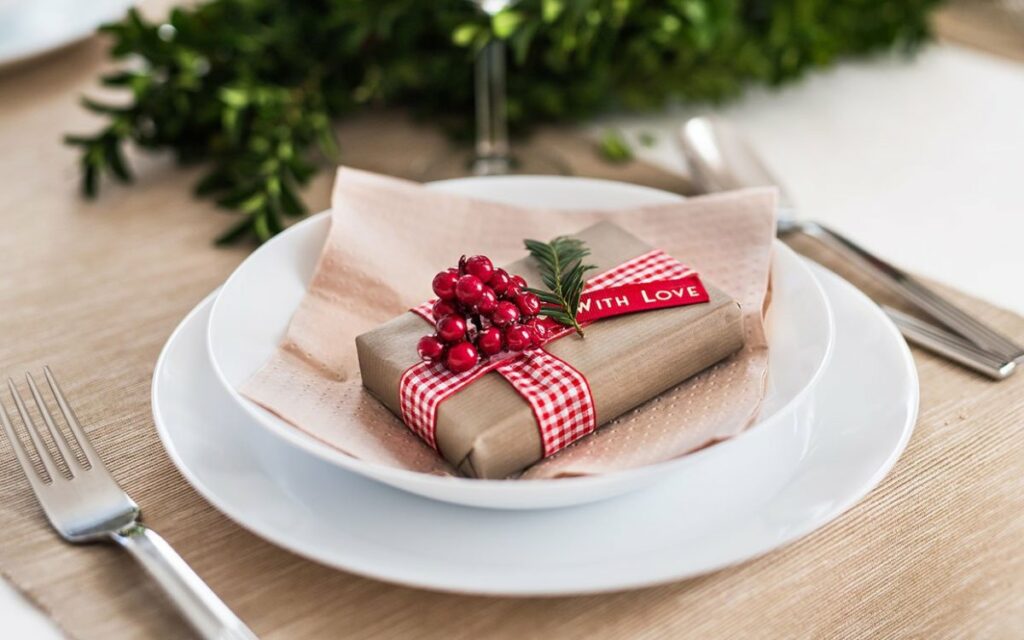 The last and final step is to add personalization to your table. How to add a personal effect to the design depends on your relationship with the guests. If you want to keep it formal and professional, add a personal note or a small card. To make it more fun and joyful, you can add a small toy or a cookie. You can also get the napkins printed with the name or initials of the guest.
A scented candle is also a wonderful gift for your guests for a festive celebration like Christmas and Thanksgiving. You can place these gifts next to their plates on the table.
It will enhance the beauty of the table and leave your guest with a surprising look as they approach their seat. You can also invite your guests to take away any natural element from the decor that they love the most.
When you have flowers and unique leaves as a part of table decor, this is the best way to gift them a part of that gathering. This way, the natural element will not go to waste after its use. Moreover, they will carry a memory from the gathering and remember it whenever it comes to their sight.
8. Let Your Guests Enjoy the Decor and Food!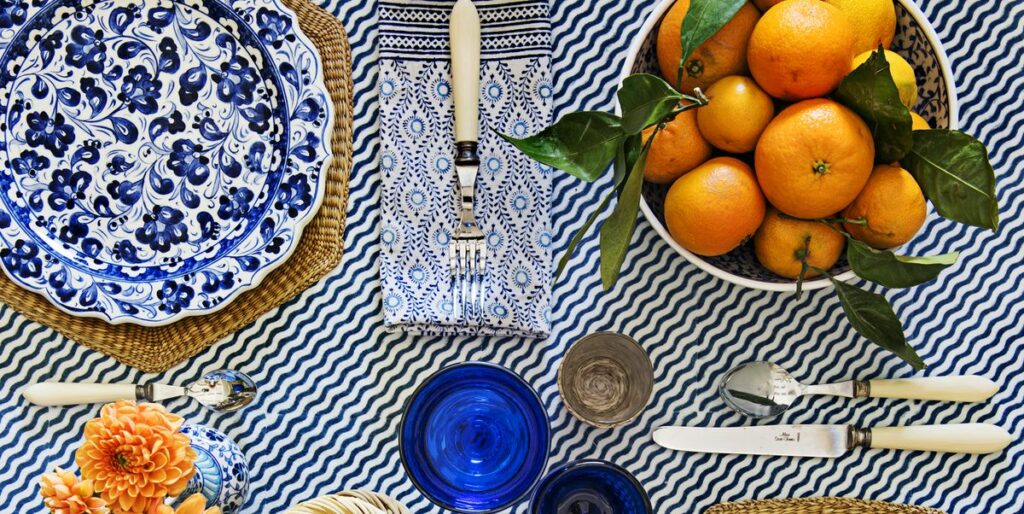 The last thing to do after the table is ready is welcome your guests. Introduce your guests to the table and show them the assigned seats. Also, help them with the menu for the day. If you have the space and resources, create a small menu card to place on the table on both ends.
Don't miss clicking innumerable pictures with your guests and decor to keep a memory of your best moments. After all, these are the moments for which we live. The quality time spent with our near and dear ones in a comfortable and creative space brings us together.
Are You Ready to Design Your Tablescape for the Next Celebration?
Tablescape is all about putting your care and creativity on the table. It is just the basic step-by-step procedure to arrange the items. Feel free to experiment with any other elements you wish to add to your table. You can create a beautiful set-up with existing items from your home. However, if you need to buy any accessory, let it be a versatile item that serves multiple decor purposes.
With this article, you will be able to highlight the beauty of your home and create an aesthetically pleasing dining arrangement. Let your loved one's know that you care about their presence in your life with thoughtful decor.
Welcome them with open arms and lots of love for your next celebration!