Are you planning to elevate the complete aesthetics of the bathroom? The best way to upgrade your bathroom decor is by incorporating a walk-in shower that not only enhances the bathroom aesthetics but also transforms the shower time into a relaxing and refreshing experience. Today, we will explore some master bathroom walk-in shower ideas to get inspiration.
A walk-in shower offers a spacious and accessible shower design. It is easier to clean, maintain, and provide a luxurious experience in the comfort of your home. You can enjoy the type of shower you love, the long relaxing showers or the quick showers. These walk-in showers will give you a satisfying experience.
A walk-in shower should be the place where you give your day a kick-start or end it on a calm note. Walk-in showers are practical and attractive choices for both small and big bathrooms.
Types of Master Bathroom Showers
A good relaxing shower is a long-time investment but worth all of it. There are plenty of options for bathroom showers available in the market. Some of the trendiest and most elegant showers are as follows.
1. Waterfall Shower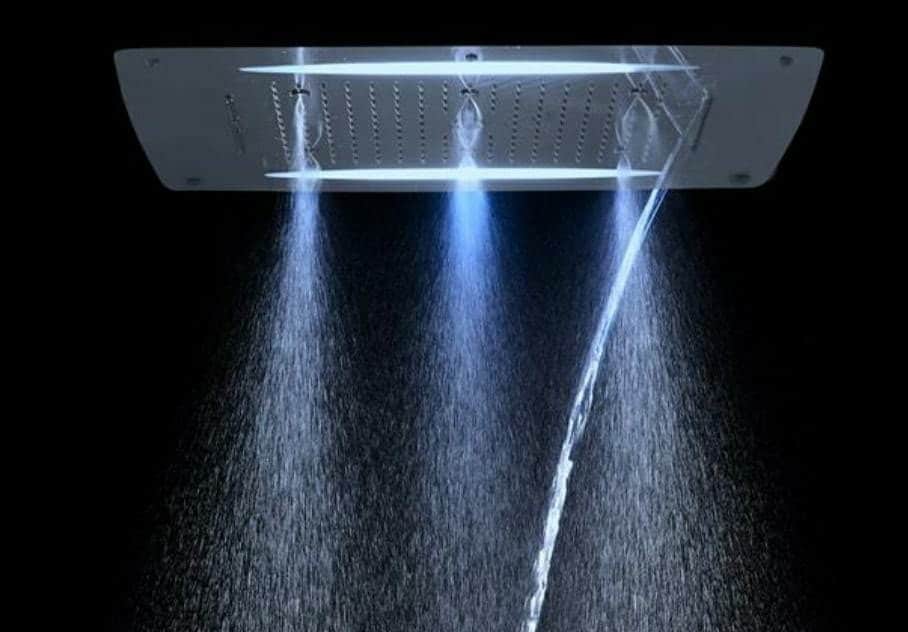 A waterfall shower is exactly as its name signifies. It has a shower head that throws a stream of water instead of small jets. It gives a near-to-realistic experience of standing under a waterfall or hot spring.
It is not popular to be installed in houses which are located in areas with water shortage problems as it expends more water as compared to usual showers.
2. Rainfall Shower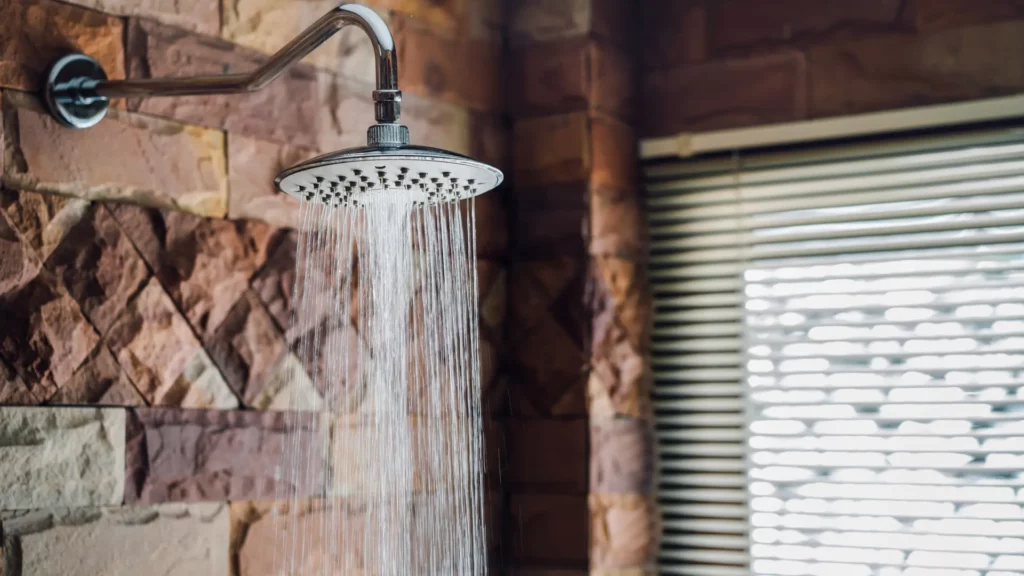 A rainfall shower is mounted on the ceiling and delivers water as if you are standing in the rain. The shower head is large to give a realistic rainfall feeling. A rainfall shower is also avoided in areas with water shortage problems.
3. Steam Shower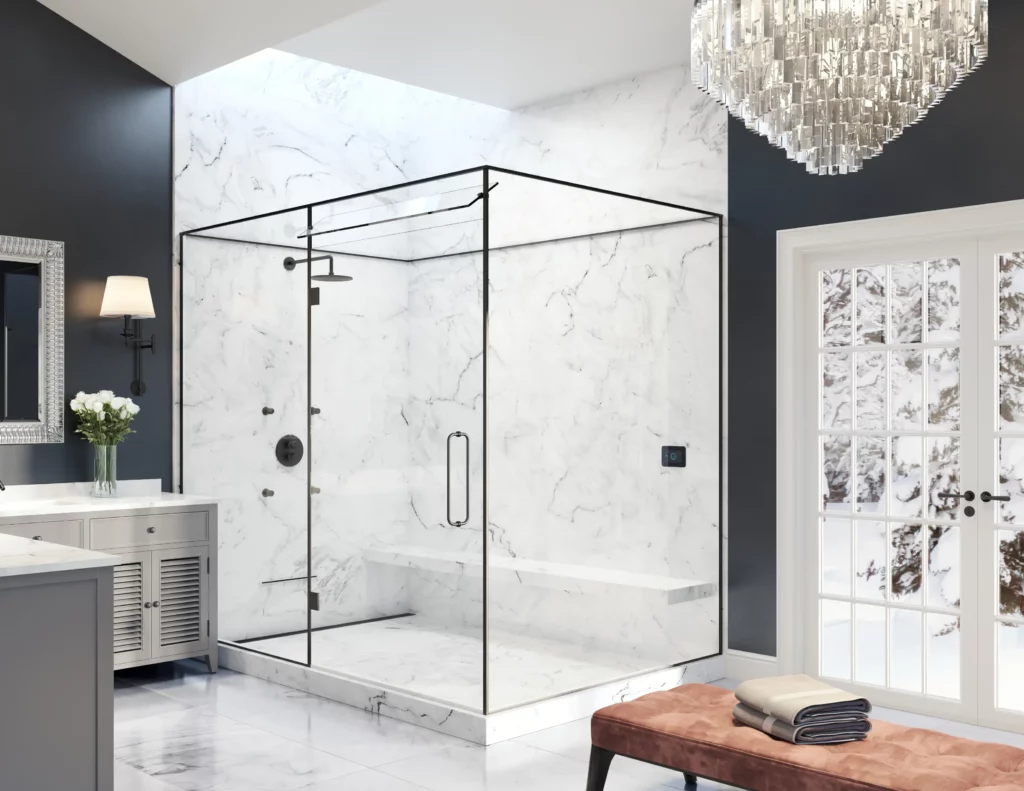 Steam showers provide an exclusive, luxurious experience with steam generators and a moisture seal enclosing the shower space. This type of shower is installed by professionals to avoid leakage of steam.
4. Body Shower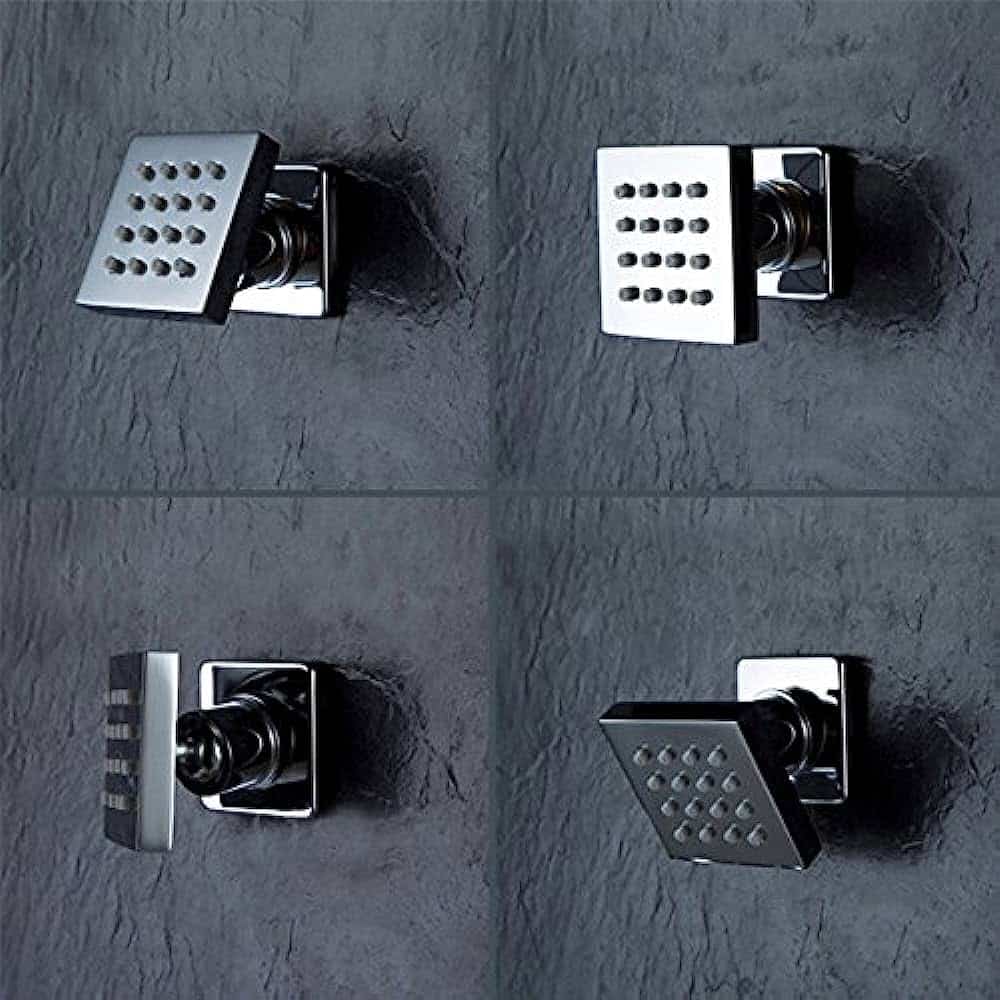 A body shower has multiple water sprinkles installed at different heights to give a nice massage experience to the entire body with gentle water streams. These showers also have the option to be added with steam to experience steam showers as well.
A body shower helps to save water as it delivers precise amounts of water through multiple water sprinklers.
Now, we have got an understanding of different types of bathroom showers to choose from according to the budget and our personal preferences. Also, let's dive into different unique and stylish master bathroom walk-in shower ideas to make our shower experience the most relaxing. After reaching the end of this blog, you will be so thrilled and filled with walk-in shower renovation or setup ideas that it will become difficult to control implementing them yourself.
So, let's get a detailed understanding of the 19 amazing master bathroom walk-in shower ideas to add vibrancy and elegance to your bathroom.
19 Master Bathroom Walk In Shower Ideas
Create a luxurious and gorgeous shower space with our master bathroom walk-in shower ideas with all the detailing about layout, lighting, tiles, and storage. Whether you have a space crunch or a room to fill, these master bathroom walk-in shower ideas will add luxury to your day-to-day life.
1. Door-Less Shower Space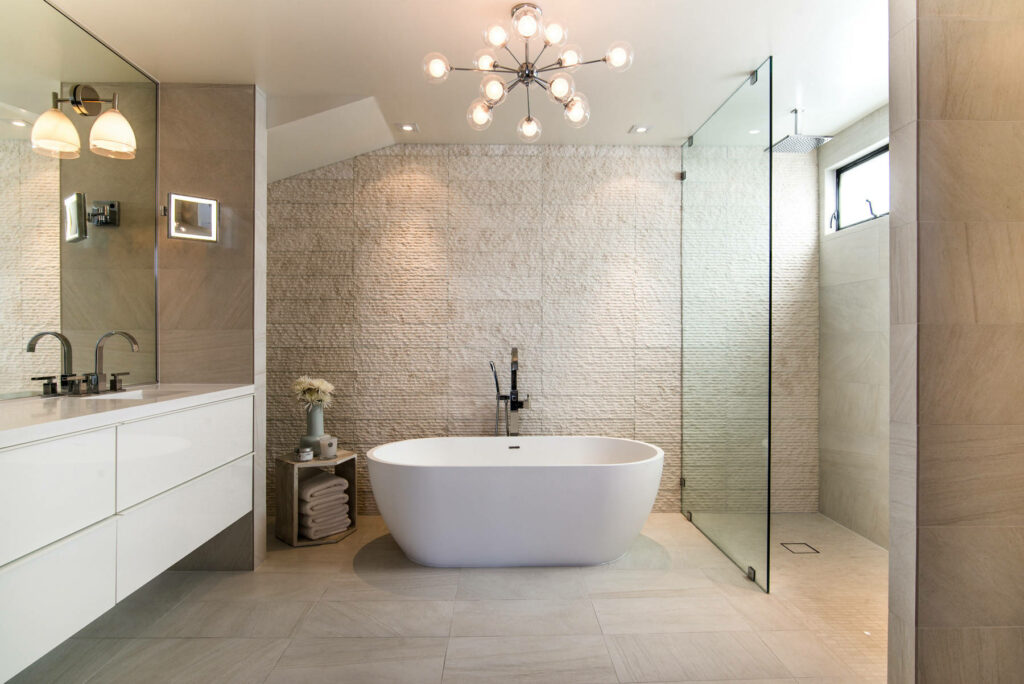 For all those looking for shower ideas with a major focus on spaciousness, a doorless shower space will be a fantastic solution to this. To design a doorless walk-in shower, the use of fixed glass will help to give the walk-in shower a look and replace the outdated tub design. Fine-quality ceramic tiles can be used on the floor as well as on the walls of the shower area to ensure the shower space is waterproof. The use of high-quality ceramic tiles enhances the durability of the shower as well as elevates the visual aesthetics of the space.
2. Corner Shower Space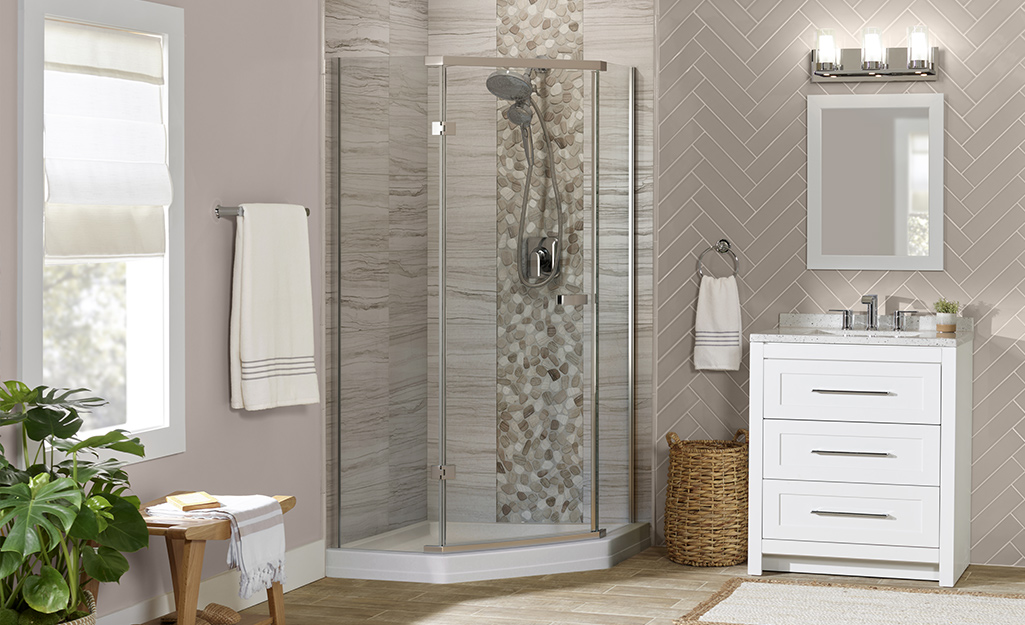 Another solution to maximize the bathroom space is to incorporate a corner-style shower space. Utilizing the corner area, which is usually overlooked, can be highly effective as a shower area. One can use a sliding glass door, and the corner shower space provides a separate space for showers. The shower fixtures can be chosen based on the remaining aesthetics of the bathroom so that the corner and complete bathroom has an elegant look.
Corner shower designs are practical as well as stylish to utilize the entire space of the bathroom effectively.
3. Black and White Themed Shower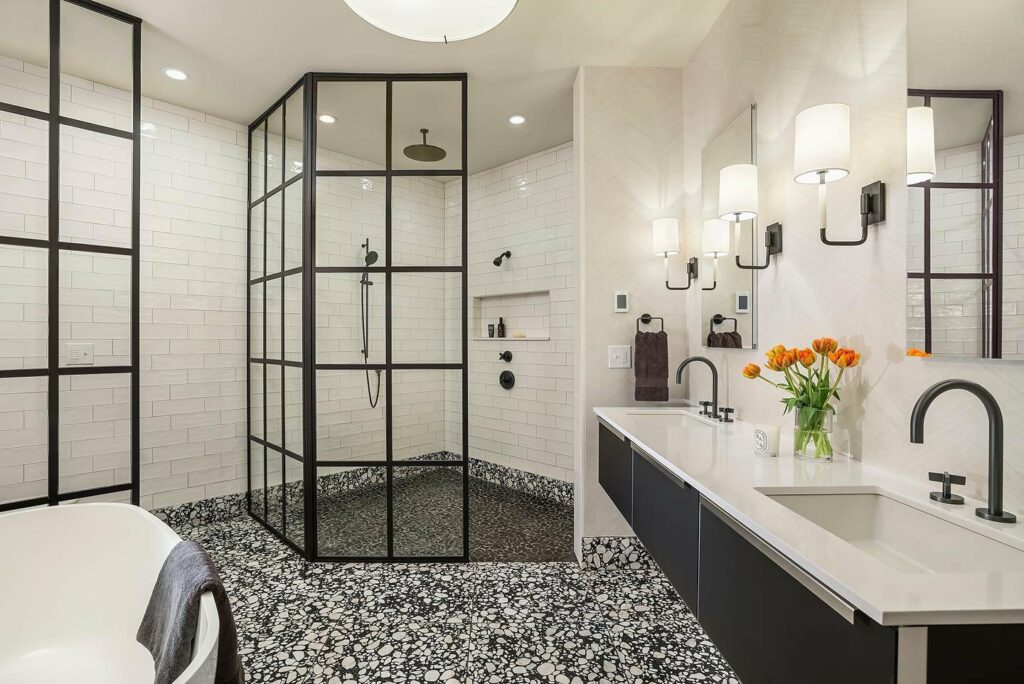 Want an everlasting and permanent in-style shower design? A black and white-themed shower can never get outdated and offers a timeless and sophisticated look. The duo of black and white contrasts perfectly with each other resulting in an awesome visual appearance. This combo adds a little drama and elegance to the bathroom and can be styled in a classic or sleek way.
People who prefer a classic look can go for white and black mosaic tiles, while those who like sleek and monochromatic looks can use large-format tiles. Adding chrome fixtures enhances the modern feel. Black and white showers are versatile and complement multiple design styles, from minimalist to retro, resulting in a chic bathroom.
4. Glass Shower Space with Tub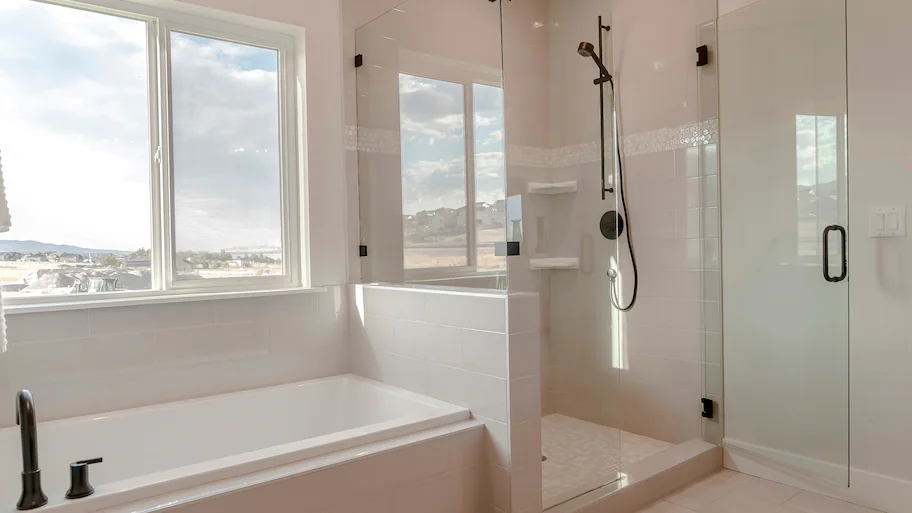 A very bright, natural, and sunny walk-in shower and bathroom design idea can be a glass shower space with a bathtub. Get the bathtub incorporated next to the glass walk-in shower space. Give a very subtle and natural look to make the shower and bathroom look even more spacious. Pair a bright-colored shower with light-colored accessories to make the walk-in shower even more elegant.
5. Tile Shower Space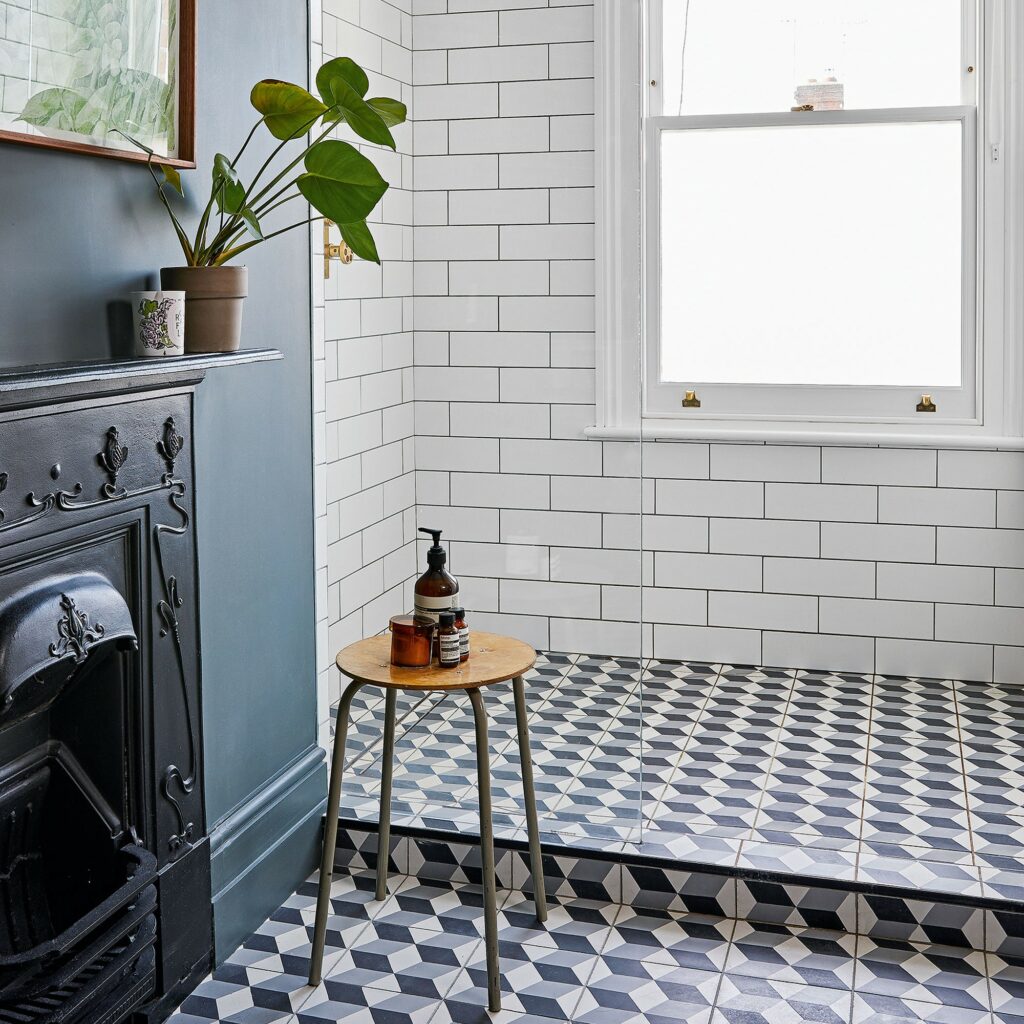 If you love tiles for the clean and finished look they provide, give your walk-in shower the same look. Subway tiles look very aesthetic in the walk-in shower space installed from the floor to the top, as well as outside the shower space. They are visually appealing and are a timeless design element. To portray the tile work from the outside, a glass door is added to the walk-in shower area. Being timeless, you will not regret your decision for a long time.
6. Patterned Tile Shower Space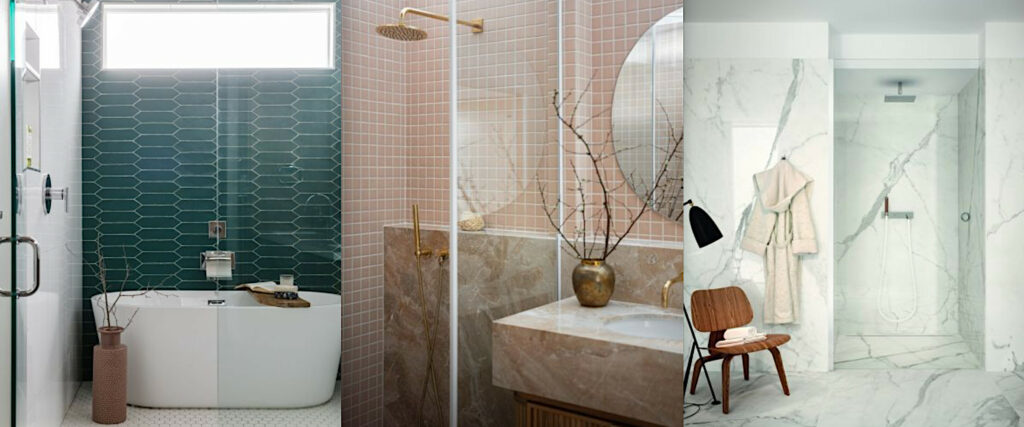 Let your walk-in shower highlight separately from the rest of the bathroom with the patterned or mosaic tile design. Design a patterned design by matching the shower shelves with the tiles of the bathroom and the rest of the shower space with other colored tiles. Matte black fixtures and accessories give a chic look to the complete bathroom.
7. Stone Walk-In Shower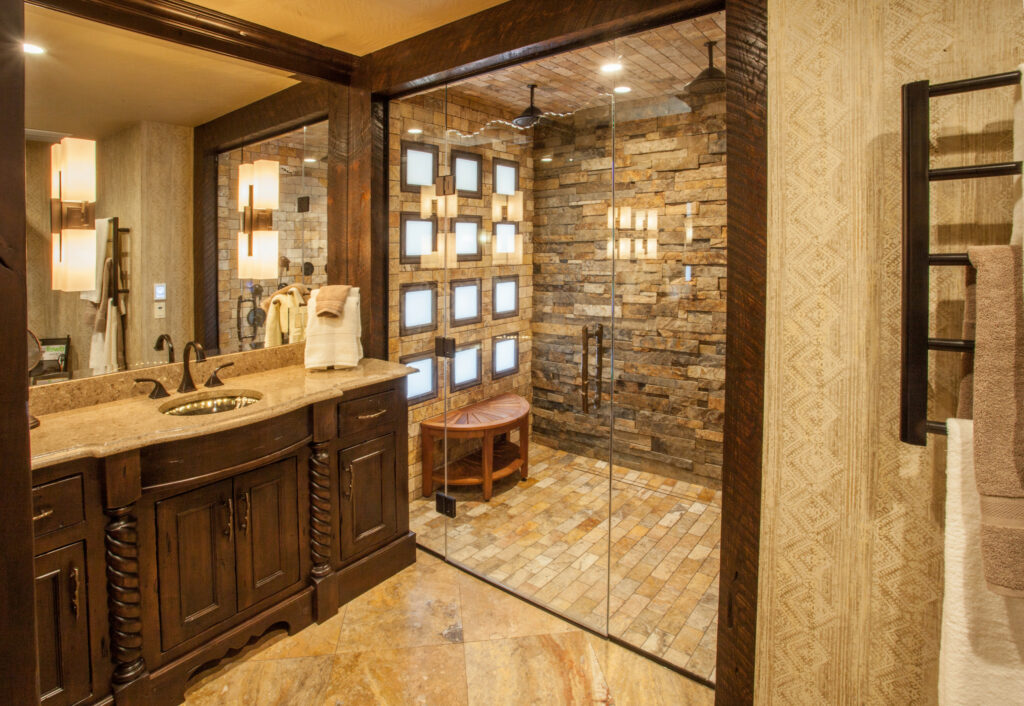 An elegant walk-in shower space can be built with a stonework wall next to a large walk-in shower that gives a contrasting brick bathroom look. For the bottom of the walk-in shower space, pebble flooring is the perfect natural solution. Now, with a rain shower or a hand-held shower, every day you can have a spa day.
8. Traditional Style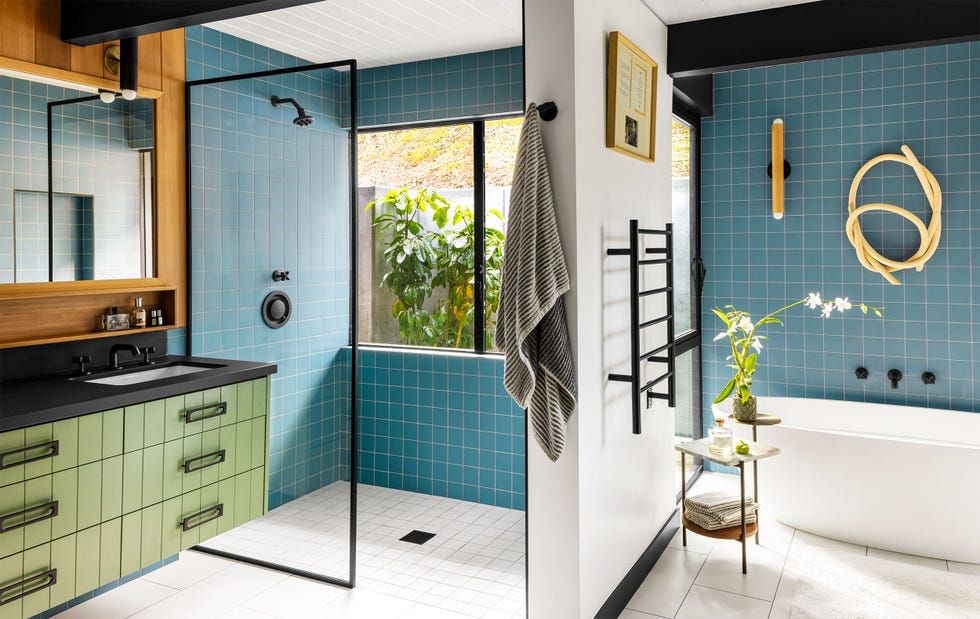 For a traditional or classic themed shower space, incorporate a dark color and white combination, such as blue and white. Duo-colored tiles with glass walls provide an airy and open space along with natural light from nearby windows or other light sources. Natural lighting with a traditional-themed walk-in shower gives a very classic look to the bathroom.
9. Built-In Shower Space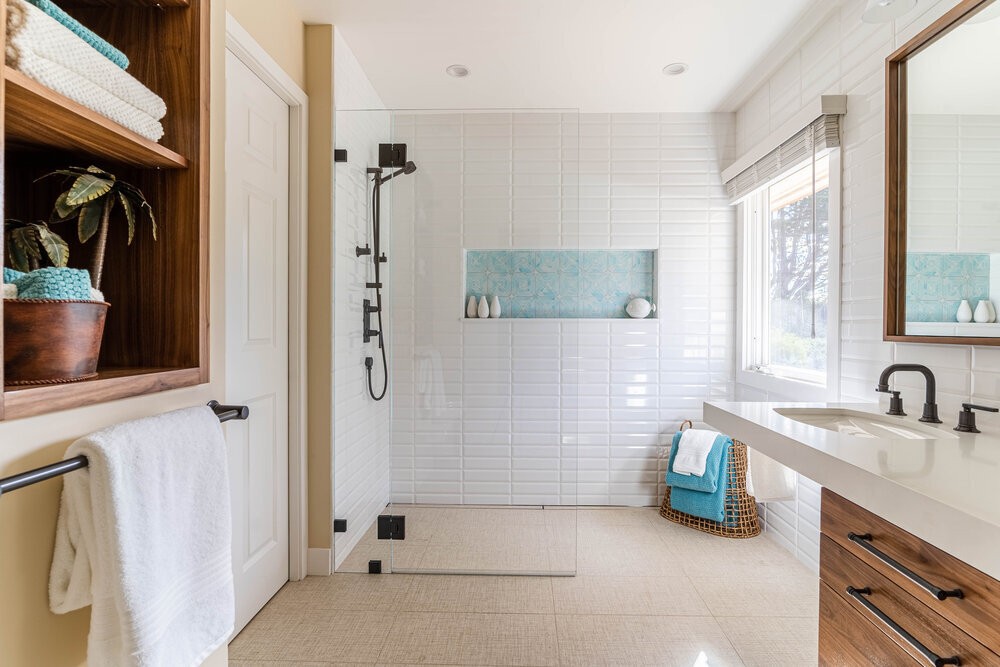 Usually, walk-in showers don't have any shelves for storing soaps, shampoos, and other accessories. But, instead of leaving them on the floor, consider a built-in shower space with a wall shelf built to store all accessories. This built-in shower design is very functional and complete. To enhance storage space, you can also consider building a shelf outside the walk-in shower to hold towels and toiletries.
10. Arched-Style Shower Space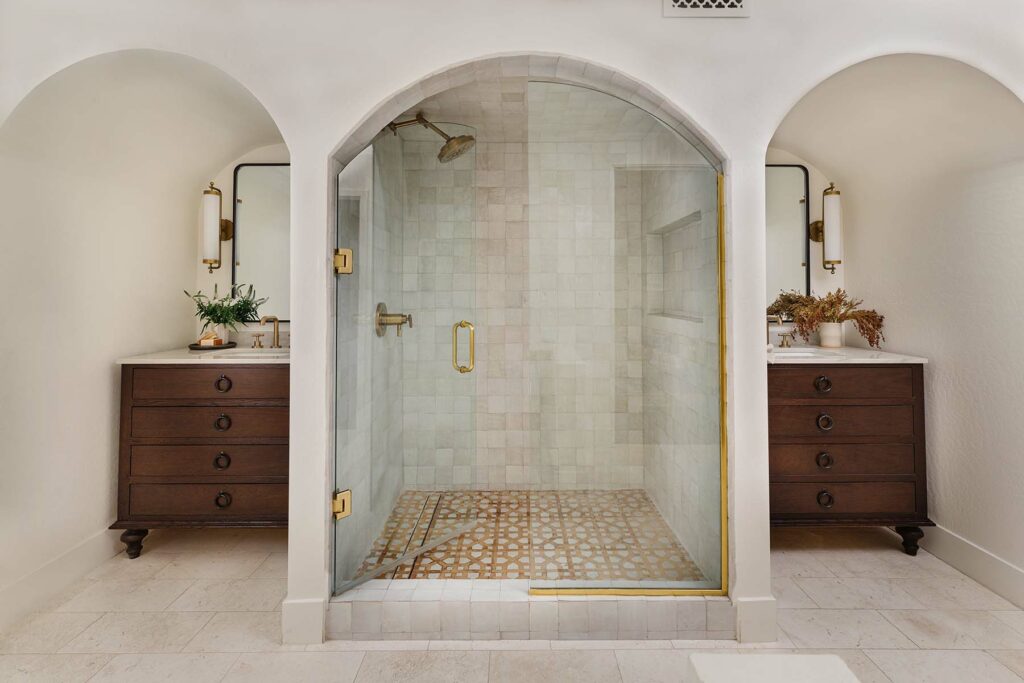 An arched-style shower space brings a touch of grandeur with its elegant entrance. An inward swinging door ensures open movement in the bathroom. To enhance the overall aesthetics of the bathroom, the shower space is covered with tiles and marble from top to bottom. A marble bench sitting is added to provide seating and also space for shampoo and soaps. These little additions make the arched-style shower space functional as well as stylish. This shower space is the best way to add a statement to the bathroom with its grand and elegant entrance.
11. Spa-Style Shower Space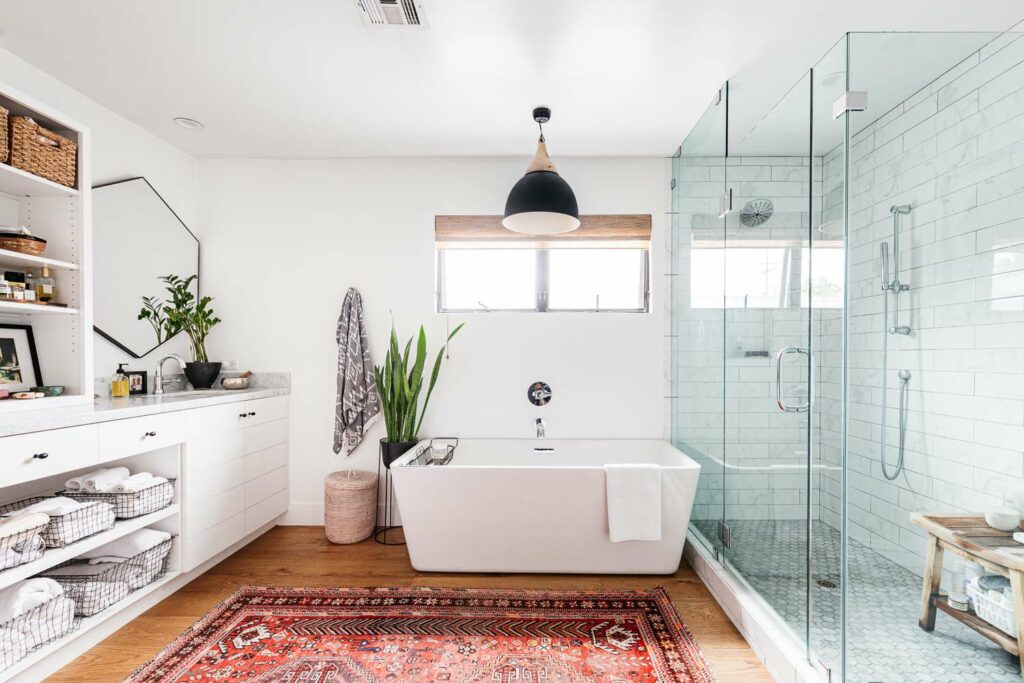 A walk-in shower with glass walls creates an airy look as worthy as a luxurious spa. This ultimate relaxing shower design can be complemented with any of these three shower heads- handheld showers, rainfall showers, or a wall mount shower. To elevate the aesthetics, it can be complemented with wood vanity, bamboo Roman shades, and a complete bathtub setup.
12. Shower in Sitting Space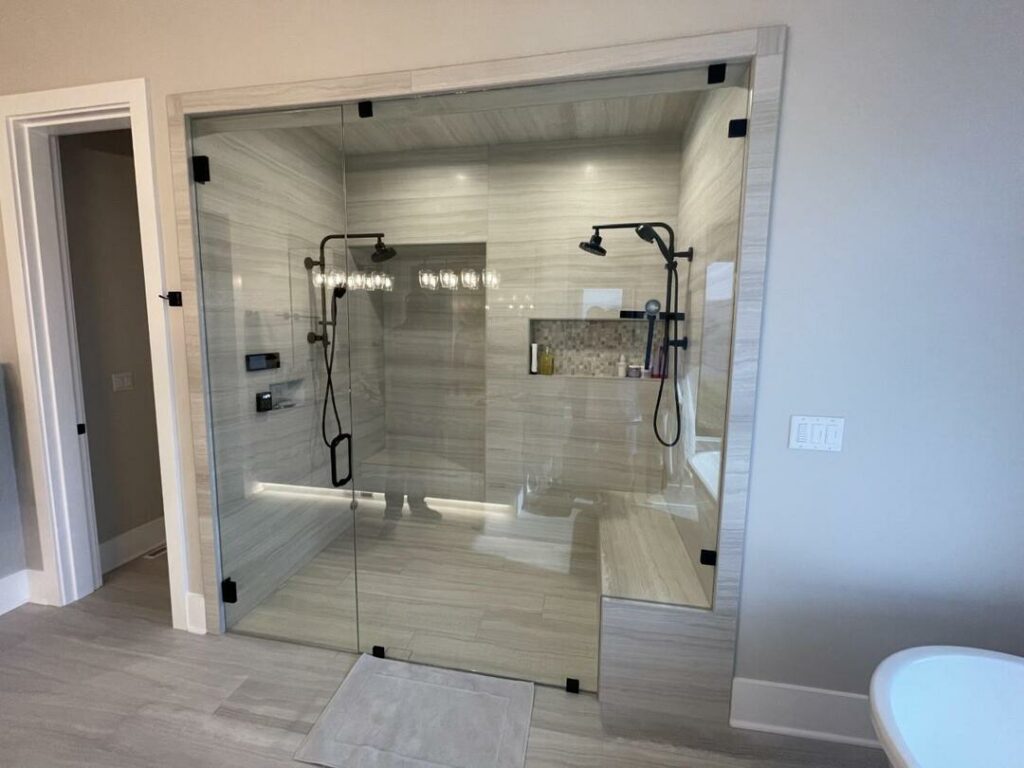 Some people avoid walk-in showers as they prefer a sitting space to sit and relax. For all those people, the master bathroom walk-in shower idea can be complemented with a sitting space inside the shower space. This way, you can take your time to relax without the need for a tub. A marble slab floating at some level above the ground can be installed, which will act as a spa seat. One can use this space to prep their legs for shaving or keep shampoos and soaps to avoid dropping them on the floor.
13. Contemporary Shower Space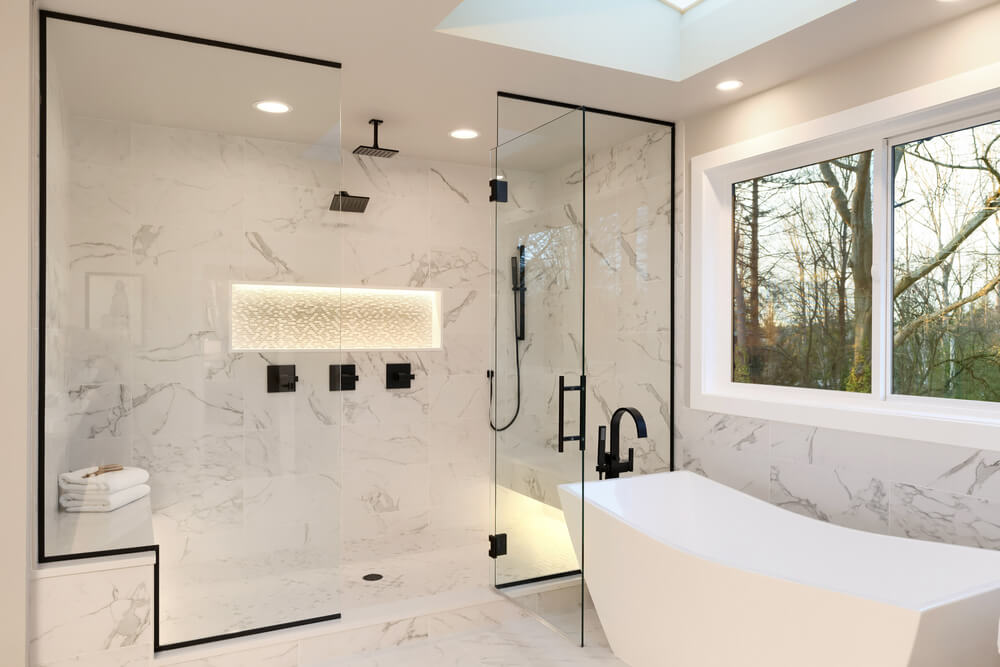 When planning to design the shower space, you can consider a contemporary-styled shower space. A frameless glass door with statement handles gives your walk-in shower a modern look. For the contemporary look, a mix of glass and terrazzo tiles are used to cover the floor to ceiling to add additional magic to the overall look.
14. Steam and Shower Duo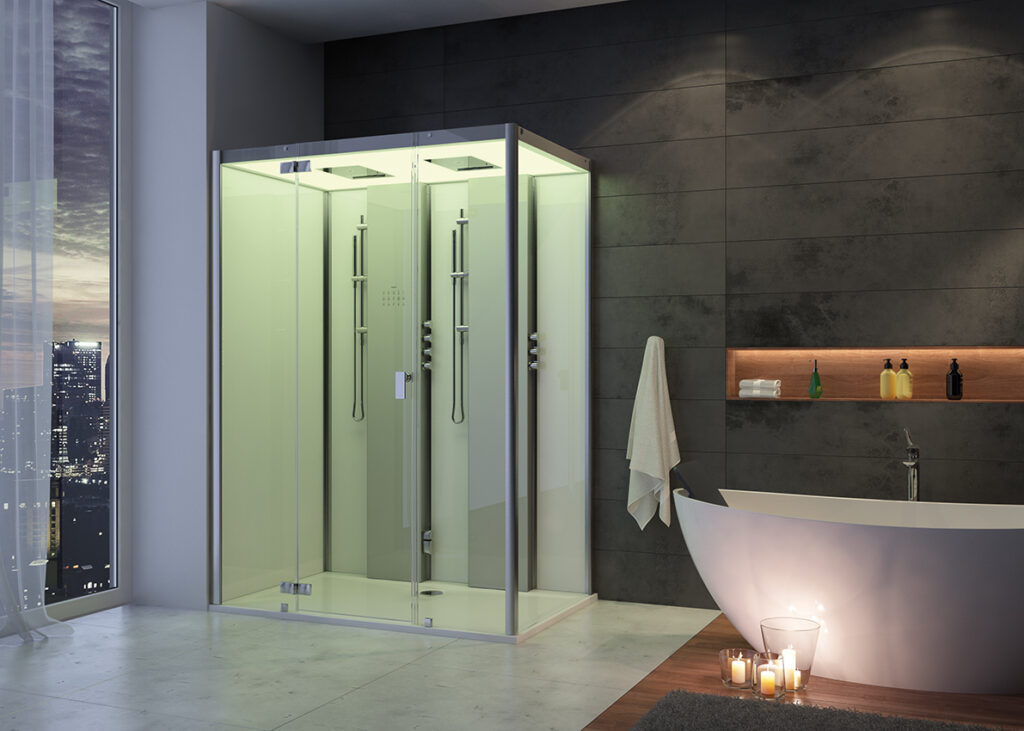 An extra luxurious walk-in shower design is a floor-to-ceiling enclosing shower area with a hidden steam generator. A transom window helps in ventilation when only a shower is in use. Dual showers with green subway tiles give the shower a spa-like atmosphere.
15. Nature-Inspired Shower Space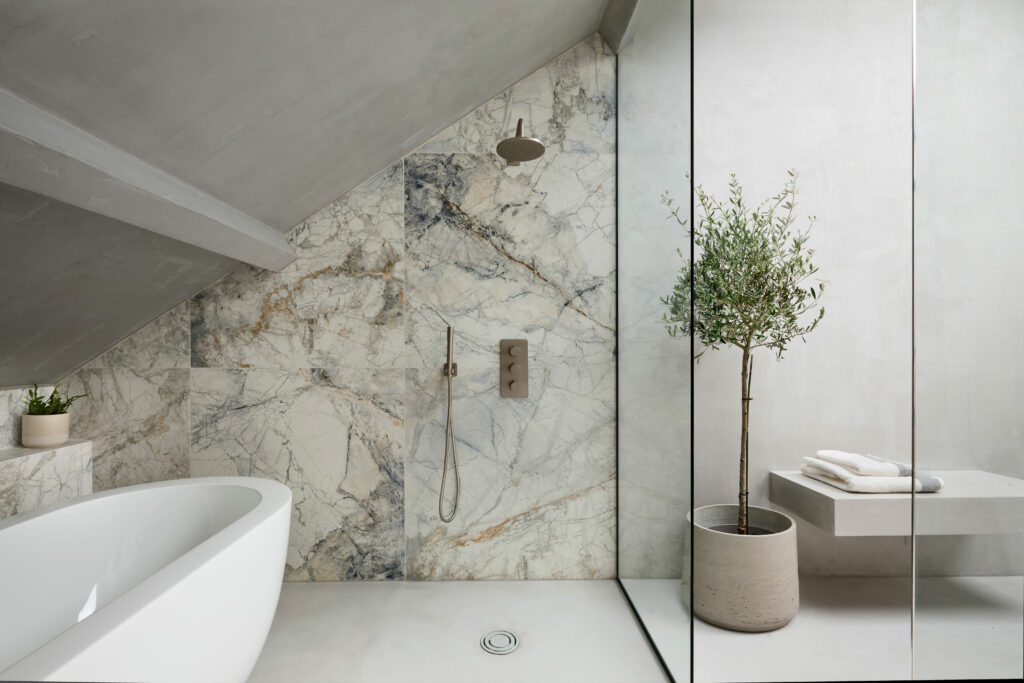 Are you a nature lover and love your house to have a natural look? Let's give a nature-inspired look to our shower space to add freshness to the bathroom. Natural-finish oak and limestone surfaces maintain the natural tone of the space and allow light in the bathroom. For a nature-inspired shower space, choose a special glass door without color distortion to add transparency. If you want to experience a luxurious spa experience, you can add multiple shower heads.
16. Elegant Walk-In Shower Room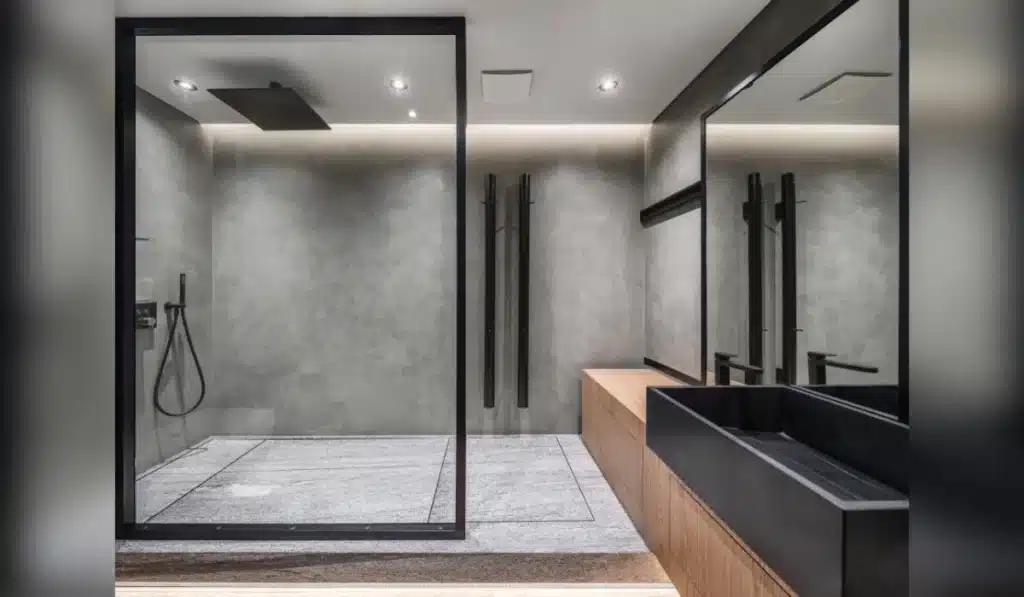 Do you prefer long showers? If yes, then you must be leaving all other members of the house waiting to use the bathroom. So, instead of installing a walk-in shower in the corner or a doorless shower in the bathroom, consider making a separate walk-in shower room. To give this room an aesthetic look, pair the honey-hued mosaic tiles with large neutral marble tiles. To add extra functionality, add a built-in bench and a large glass door. This elegant walk-in shower room gives a timeless appearance.
17. Multiple-Tile Shower Design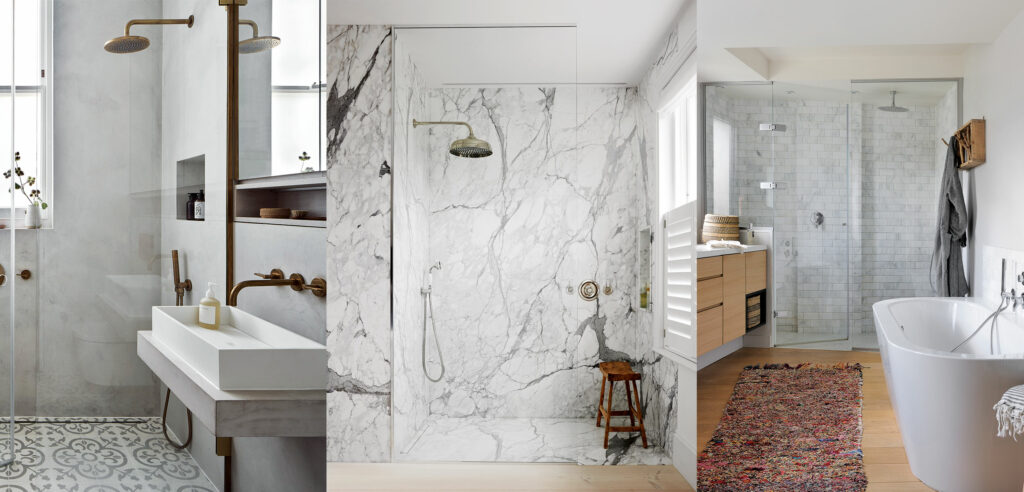 To give your walk-in shower space a unique touch, mix different tiles of different colors and patterns that complement each other. This gives the shower space a unique texture and adds contrast. Add mosaic tiles on the floor of the shower to complete this visually appealing design.
18. Open Light Source Shower Space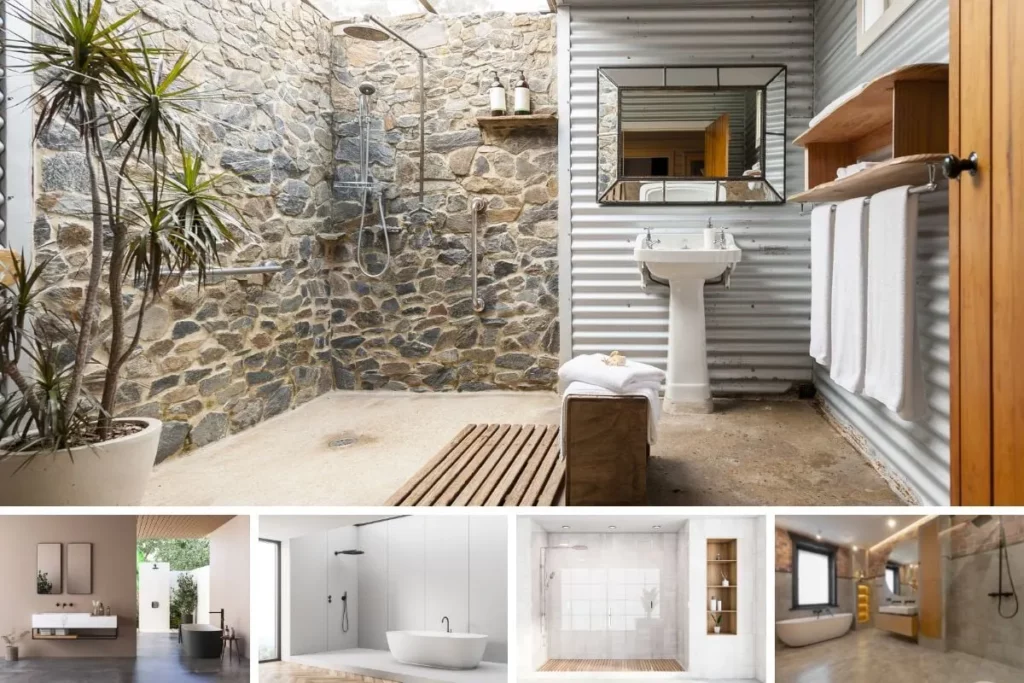 Showers in dormers feel like a cave, but adding a natural skylight is the proper solution to this. It gives an oasis-like feel with a bright skylight. Use contrasting tiles on the floor and the side walls to elevate the look. To unify the spaces, use textured stone tiles on the walls.
19. Simple Walk-in Shower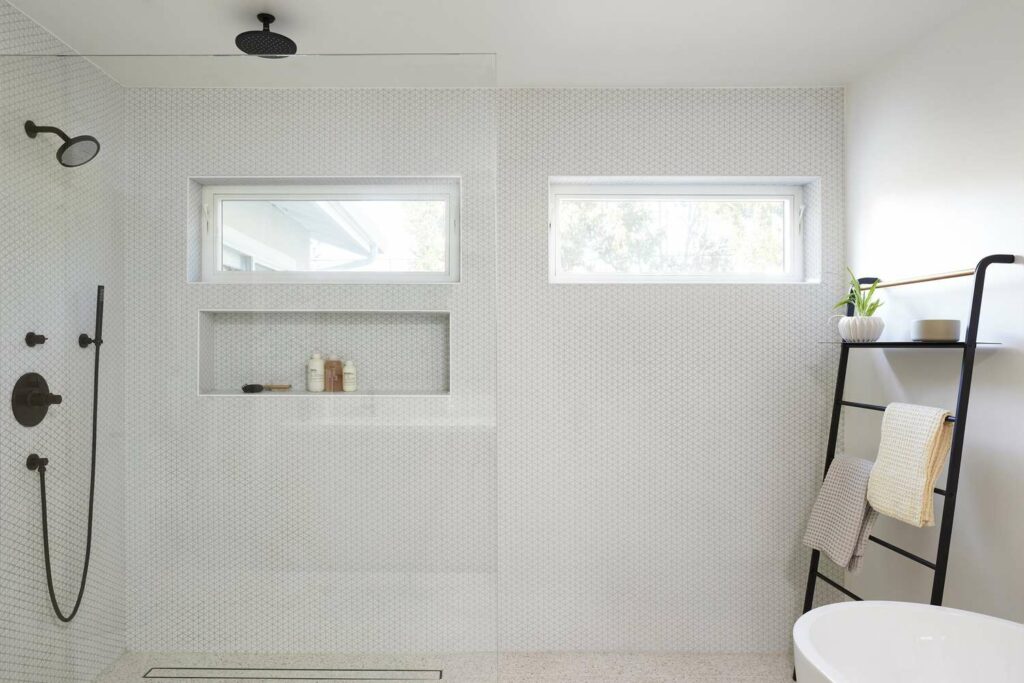 Simplicity speaks volumes. For budget-friendly walk-in showers, consider a basic fiberglass shower with built-in amenities. A simple walk-in shower is perfect in terms of functionality and elegance. They go well with traditional as well as modern bathroom designs.
How to Choose the Best Shower Design for Your Bathroom Decor?
Elegant and aesthetic walk-in showers don't mean they can't be relaxing, soothing, and serene. Some of the deciding considerations for master bathroom walk-in shower ideas are as follows.
Space and Layout of The Bathroom: Look out for the space of your bathroom and decide on the layout accordingly. A spacious walk-in shower can be incorporated into the bathroom, or a compact shower corner would go best according to the space. While evaluating the space and layout, consider the walking path, door swing area, and other fixtures in the bathroom to have maximum functionality.
Style and Theme of The Bathroom: Analyze the existing style and theme of your bathroom and choose a shower design according to it. For instance, a contemporary bathroom complements a minimalist and chic shower area, while a traditional or vintage bathroom calls for a detailed shower space design.
Shower's Functionality: Determine and evaluate all the necessary shower functionalities according to you. Decide whether you prefer handheld showers or a rainfall shower experience. Also, consider small features like temperature control, water pressure as well as ease of using the shower space for a wonderful and relaxing experience.
Maintenance and Cleaning: Be very practical while deciding on your shower design for maintenance and cleaning purposes. Incorporate materials and finishes that are easy to clean, resistant to water, and need minimal maintenance. Look out for factors that require regular upkeep, such as grout lines and glass surfaces.
Budget: Set a budget for your shower space design. First, have an estimate of how much you want to spend on fixtures, materials, and installation, and then compare prices. Proper research and price comparison will help you find options that fit in your space and are appropriate for your master bathroom walk-in shower idea with proper functionality.
Lightning and Ventilation: Analyze the lighting and ventilation of your bathroom and make sure there is plenty of lighting. as it is important for safety as well as the ambiance of the bathroom. Incorporate lights in and around the lightning space. The bathroom should have proper ventilation to avoid moisture build-up and mold issues.
Accessibility: If accessibility is your priority, consider bench-setting and low barrier-free showers. These additional features enhance safety and make them easily accessible to all individuals with mobility issues.
Your Personal Preference: Along with all the features, finally, choose a shower design that matches well with your personality and style and as per your personal preferences. Before finalizing any shower design, consider your daily routine and frequency of shower use. Also, consider other elements and factors that would elevate the complete shower experience.
Gist on Master Bathroom Walk-In Shower Ideas
Are you moving to a new house or planning to renovate your bathroom? A walk-in shower is a must to have a wonderful spa-like and relaxing experience. Now, you have a fair idea about multiple unique and trendy main bathroom walk-in shower ideas.
So, what are you waiting for? Plan your bathroom renovation soon to implement some amazing ideas to give your bathrooms a relaxing experience. Have you still got doubts or queries regarding the walk-in shower ideas?
Don't worry. Comment below, and we will gladly help you with all your doubts.
Happy Living!!