Sofas are an integral part of any living room, and having a good quality and comfortable sofa is important. But what if you are someone who has a small living room? This is where sectionals come into play. As the name suggests, a sectional is a sofa made in sections that can be easily turned into chairs. It is a very popular choice among house owners as it is perfect for maximizing small living spaces. Small living room sectionals can easily accommodate a large number of people and come in various shapes, L-shaped and U-shaped.
The specialty of sectionals is that it is extremely versatile, as their sections can be arranged according to your preferences. It also provides an extra seating space and a lounge experience. And last but not least, it is cost-effective and is perfect for bachelors or newly-married couples who don't want to spend much in the beginning.
Many people don't have much idea of which sectional idea to select. So in this article, I'll provide the top 24 small living room sectional ideas.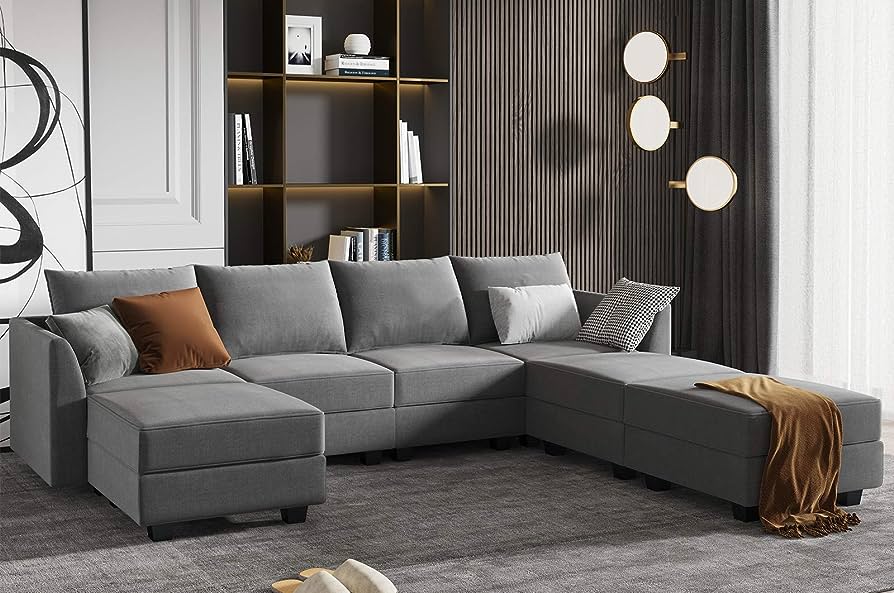 This small living room sectional is a type of sofa that is made of multiple individual pieces or modules which are arranged in various shapes like L-shaped or U-shaped. It can be easily customized according to your needs and is very versatile.
It can change to any seating arrangement according to the occasion at your house. It is also very stylish and will go perfectly with the decor of your living room. Lastly, it's very easy to maintain and clean from stains and spills.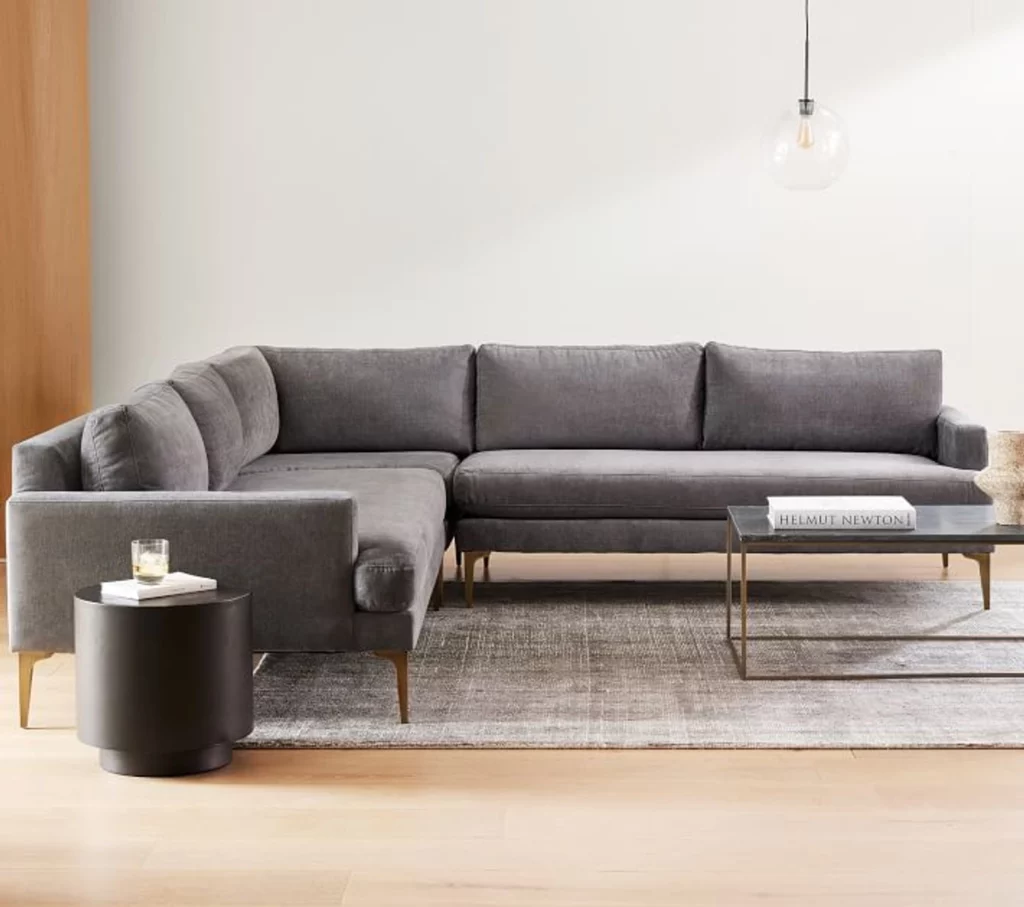 As the name suggests, this small living room sectional has the shape of the alphabet L. This sofa can either be made by joining a sofa and a chaise lounge or connecting two sofas at a right angle. These sectionals come in various sizes, styles, and designs.
Some of the benefits are that it provides extra seating space, and you can easily increase the efficiency of the room by putting it in one of the corners. It also provides a casual and comfortable environment with its looks so you can invite friends over for parties.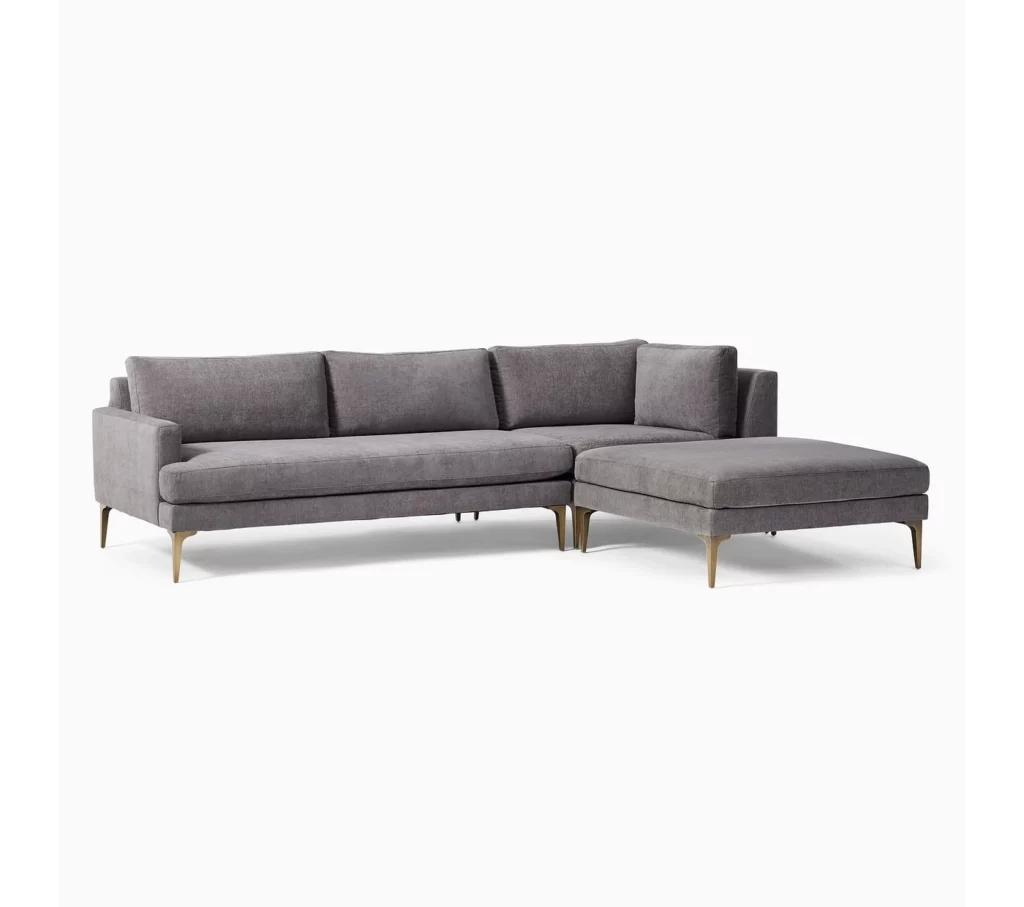 This type of sofa comprises two or more pieces which include a lounge compartment. This provides an ample seating area for family members as well as guests.
This sectional is perfect for a small living room as it's a perfect solution for space-saving. After adding a lounge section, it can be used either as a seating area or for lounging without adding any extra chairs.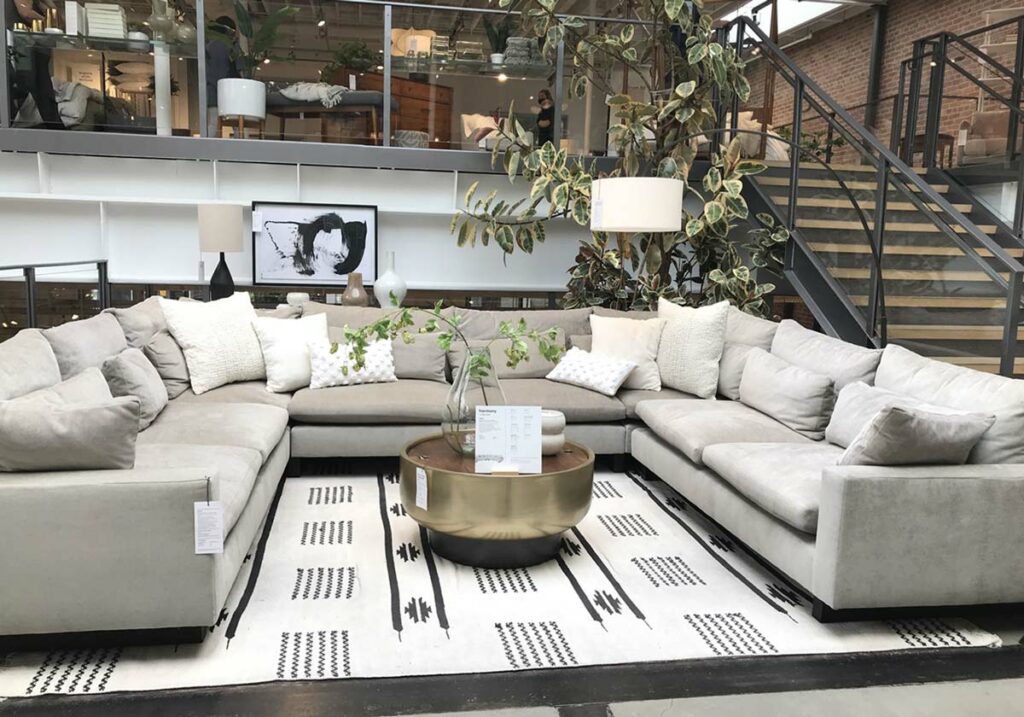 Just like the L-shaped sectionals, this small living room sectional is in the shape of the alphabet U. One of the unique selling points of this sofa is that it is perfect for social interaction.
Because of its U shape, people usually sit facing each other, which is perfect for gatherings and meetings. It is also very flexible and can be rearranged according to your needs. This sofa adds a sense of sophistication and elegance to the living room.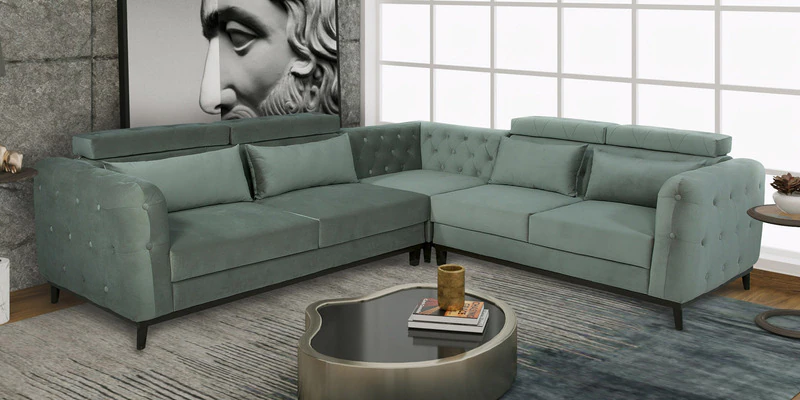 The name says it all, it is specially made to fit easily in the corner of a living room and be space-friendly. Having this in your living room will maximize the space and will be perfect for small spaces.
This sofa also provides an intimate and cozy feeling which makes it perfect for conversations. Corner sectionals come in various sizes and designs, giving its customers an open opportunity to select. Lastly, it is very easy to maintain a corner sectional from dirt and dust.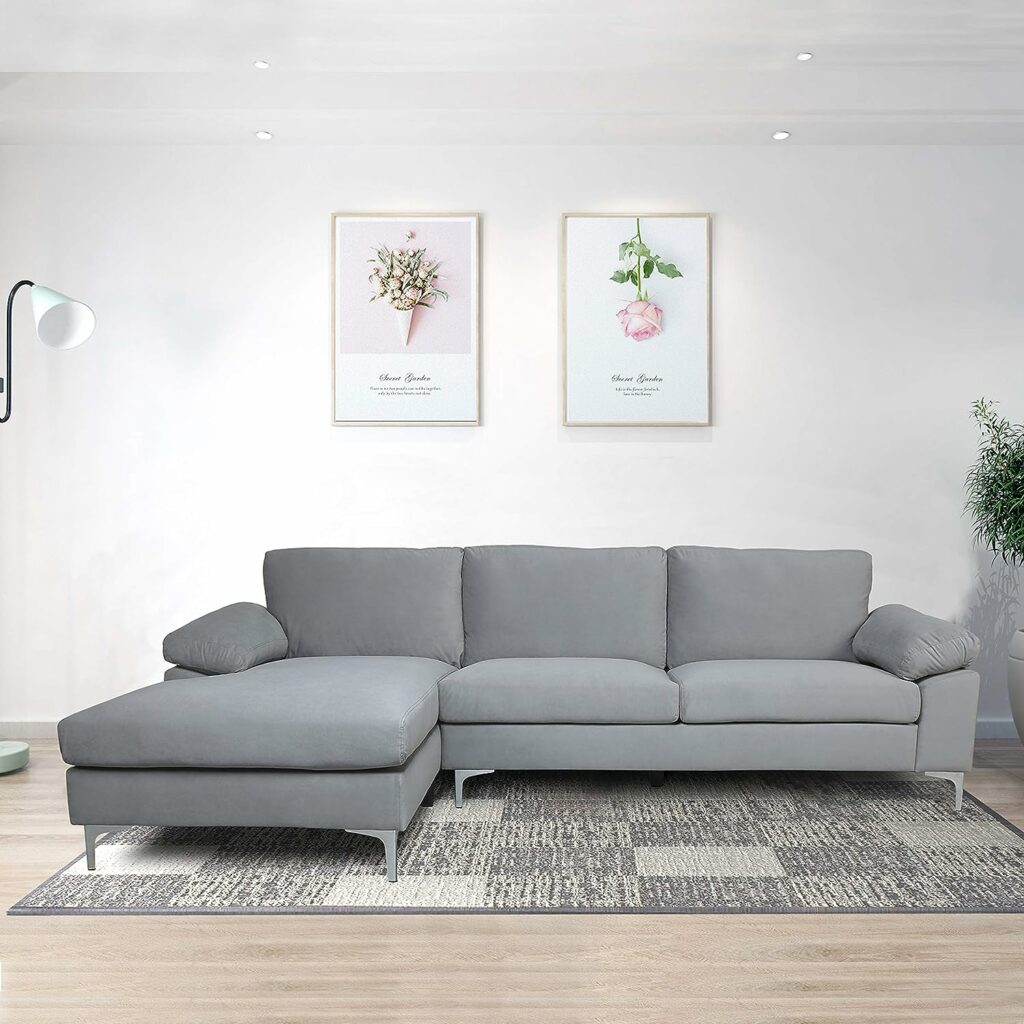 If you have a small living area but are looking for a sofa, then this sectional is the one. The specialty of this sectional is that it is specially designed and tailored to fit in small rooms, especially corners.
These are usually shorter and narrower than the traditional sectionals. It is very mobile because of its lightweight and can be easily moved from one place to another. It makes it perfect for small apartments.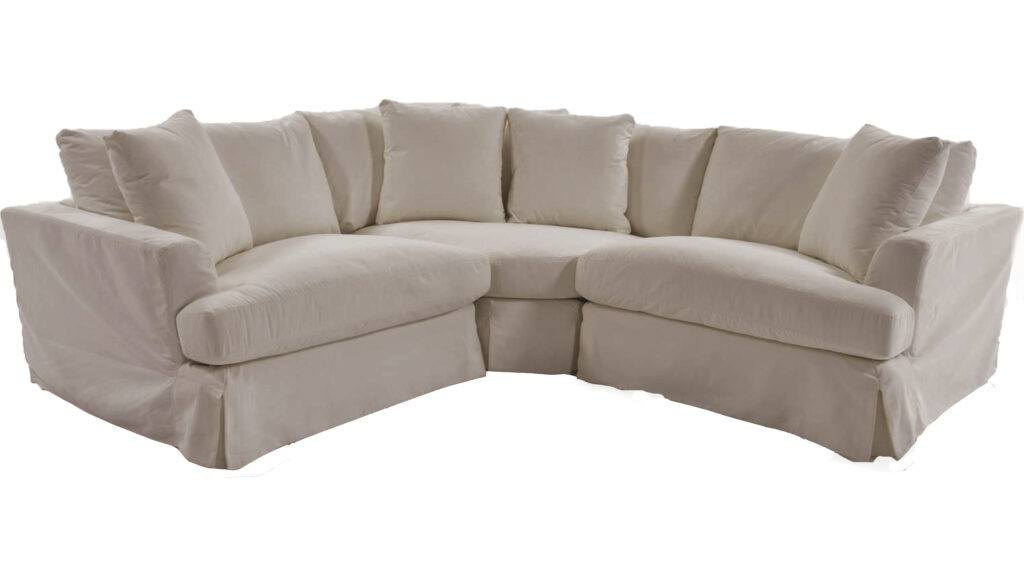 The unique selling point (USP) for this sectional is that its fabric covers can be removed, washed, and again put on the sofa to use. This makes it very easy to maintain and clean all the dirt and stain. It comes in a variety of colors, styles, and quality fabrics.
With the help of this, your sofa will always be fresh, and you don't have to buy new covers for it. It'll be a perfect choice for families with kids and pets because these washable slipcovers will make the work easier from all the spills and stains.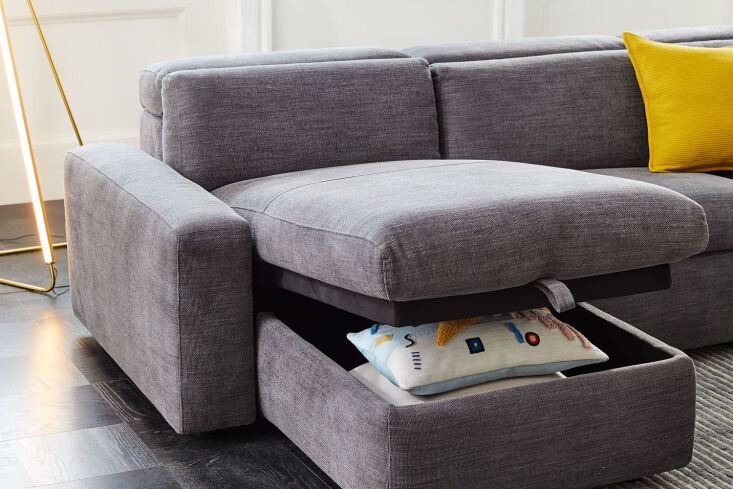 Storage Sectionals is a type of sofa made by combining the functions of a sofa with built-in storage compartments. So it has dual functionality as it provides ample space for seating as well as enough storage space. You can lounge, relax, play video games, have long conversations with your family and friends, etc.
Having a storage compartment will also make sure that your living room is neat and tidy. You could keep seasonal clothes, extra beds, and other unimportant stuff in that section.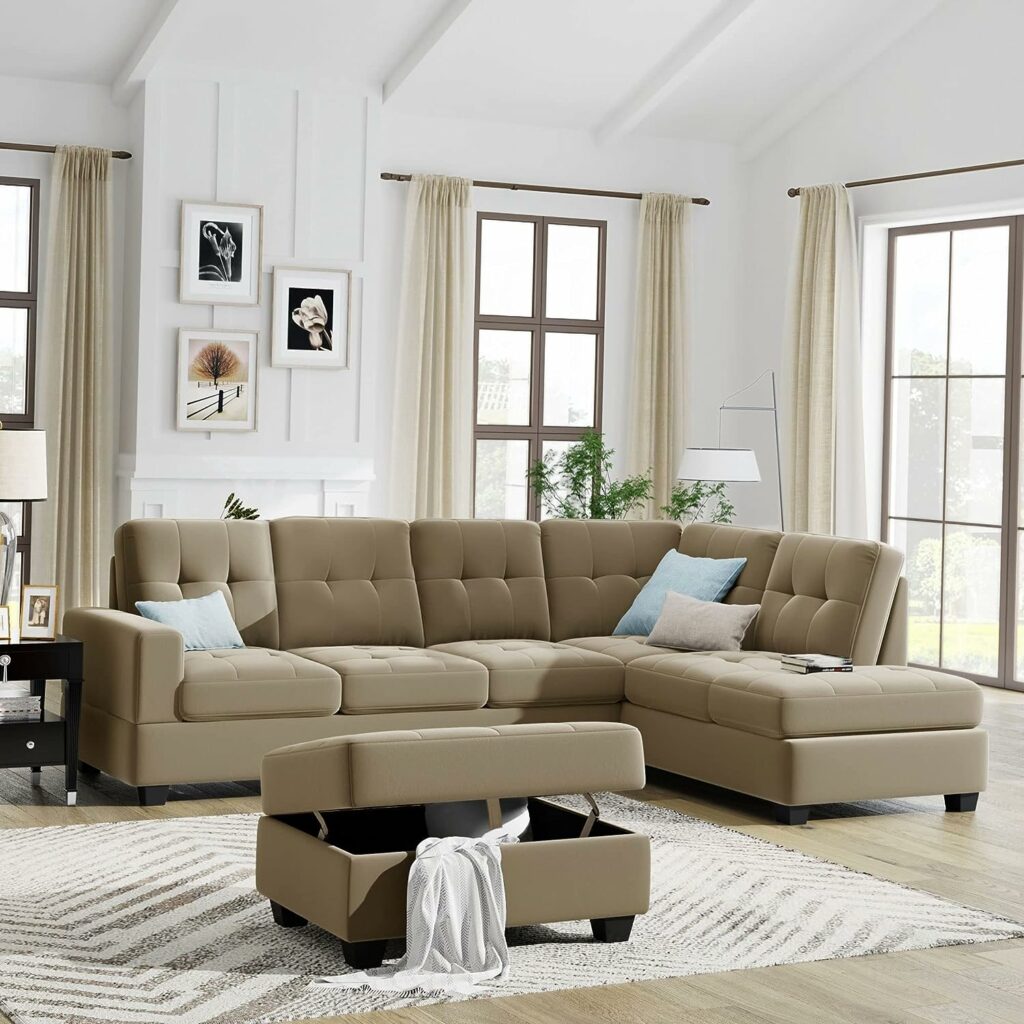 This type of small living room sectional consists of various sections or pieces which can be arranged in various configurations to fit according to the seating needs. It also provides a comfortable experience to the people sitting and lounging on it. It comes in various shapes and sizes.
It gives you the option of customization, as you can select the number of sections, armrest styles, fabric options, etc.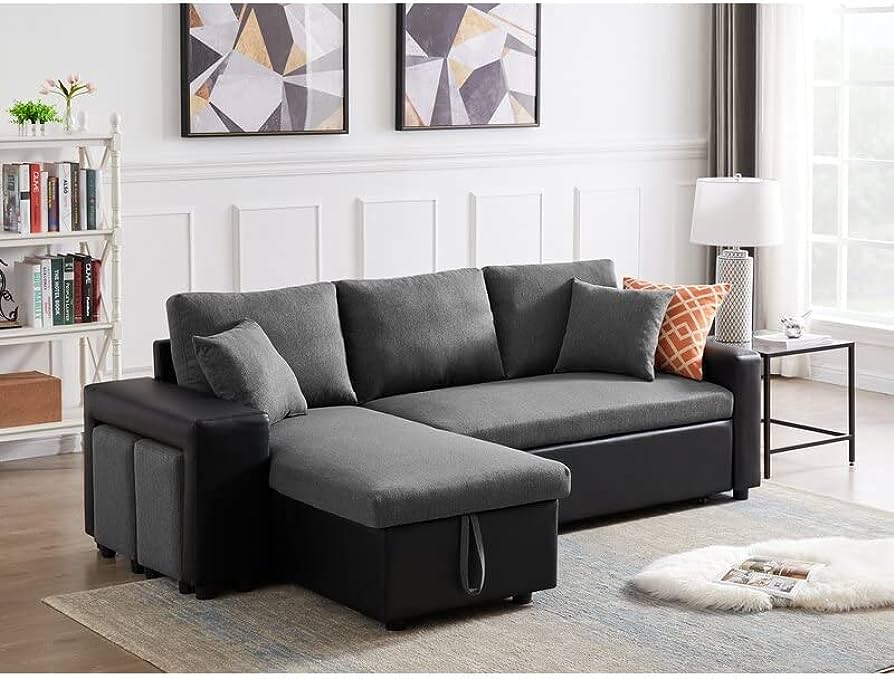 As the name suggests, modern sectionals come in different modular designs, which makes it easy for the customer to rearrange the different components according to its need. It is great for large gatherings like family movie nights or housewarming parties. It is also very flexible, so if you're someone who constantly moves from one place to another, this one's perfect for you.
It doesn't matter if your style is contemporary, mid-century, or minimalist. A modern sectional will fit well with the decor of your room.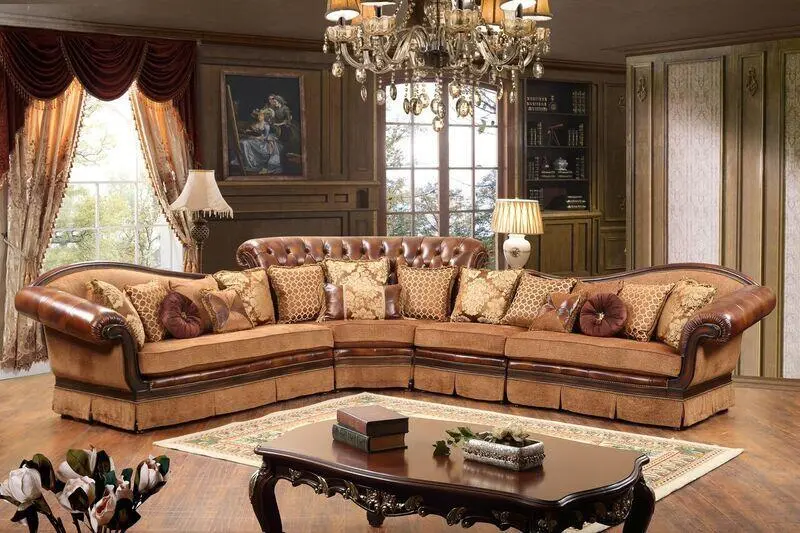 Traditional sectionals provide a vintage and traditional environment to the room. So if you are someone who loves old-school stuff in his/her house, then this one's for you.
The traditional sectionals provide more seating areas compared to traditional sofas, which include multiple sections and sofas. Usually, it contains padded back cushions and designer arms. With its traditional style, it provides an aesthetic vibe to the decor of the living room.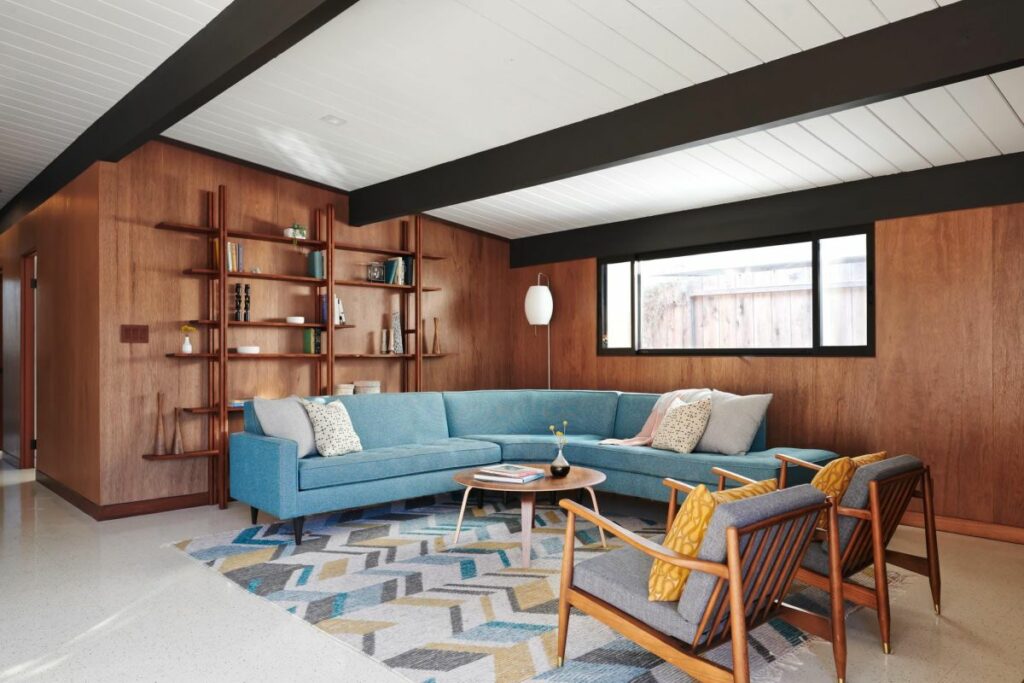 These types of small-living room sectionals portray the style and vibe of a mid-20th century. It often consists of wooden structures made from teak with curve designs. It has gained popularity because of the aesthetic vibes it brings to a living room.
It is a timeless design that has remained popular for decades and will remain one of the most demanded styles for sure. Mid-century modern sectionals are also known for their quality craftsmanship and durable woods.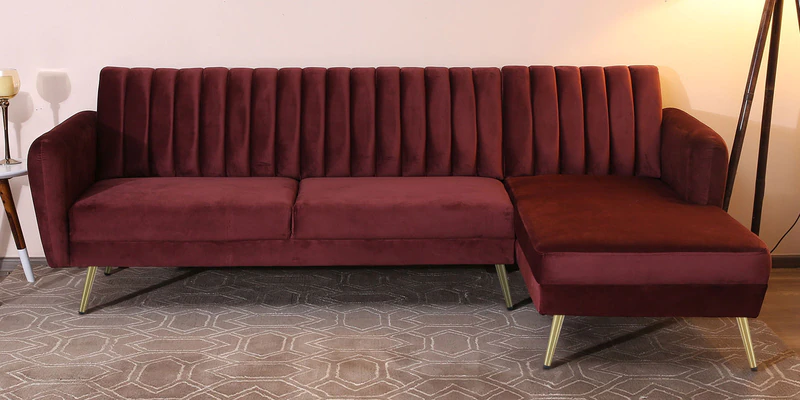 This small living room sectional mostly caters to customers who are looking for a luxurious sofa. The Velvet sectional is made out of velvet fabric which makes it softer and also has a plush texture.
Because of this quality, it provides a sense of sophistication in the room. It is also very cozy and inviting, allowing anyone to relax after a tiring day. It comes in various styles and designs, giving customers the best options to select for their living room.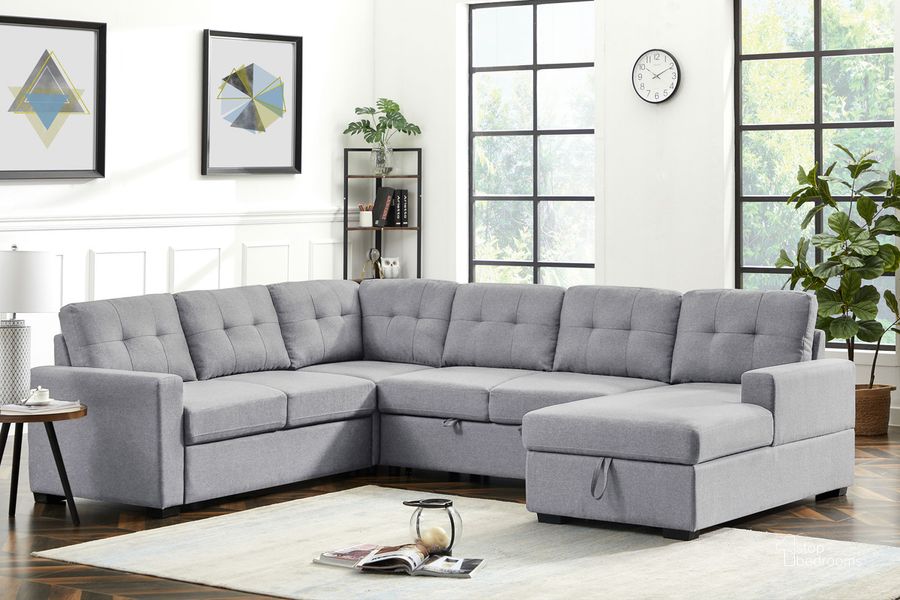 Just like the velvet sectional, a linen-sleeper sectional is made from fabric linen. So it is the combination of both the linen fabric quality as well as a sectional sofa. It serves multiple purposes by providing an ample seating area for family and friends as well as a comfortable bed to sleep on.
One of the biggest advantages of this is that it provides an extra bed for the guests who want to stay after a party. So you don't have to worry about the sleeping arrangements for uninvited guests.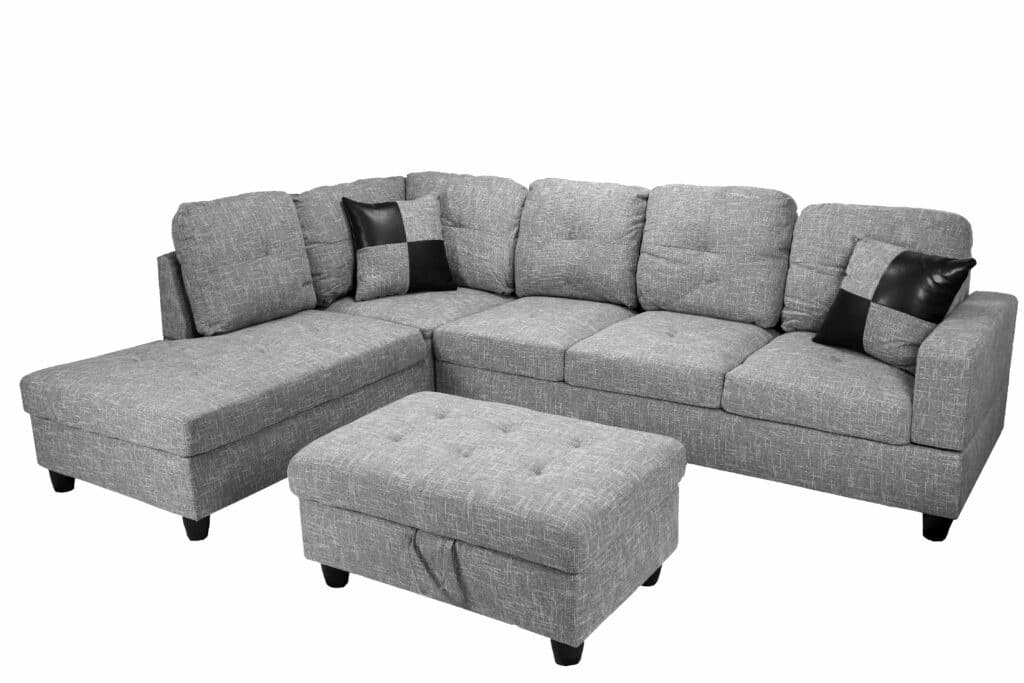 In a left-facing sectional, the armrest lies on the left-hand side of the sofa while facing it. Usually, it is designed of two or more modular pieces that can be arranged and combined into any room layout. It is specially made to optimize the remaining space in any room.
These types of sofas include plush cushions and ample seating space, making them comfortable for anyone. It comes with various designs and sizes, which gives the customer an option to choose according to their aesthetic preference.
Light-colored sectionals always become the focal point of the room as they can serve as an inspirational showpiece. It also enhances the living room with its vibrancy and visual interest.
One of the benefits of this sectional is that it is versatile and can match any decor of the living room. Having this in the living room gives a modern touch and creates a stylish and sophisticated atmosphere. Having a light-colored sectional can speak a lot about your personality and design sense.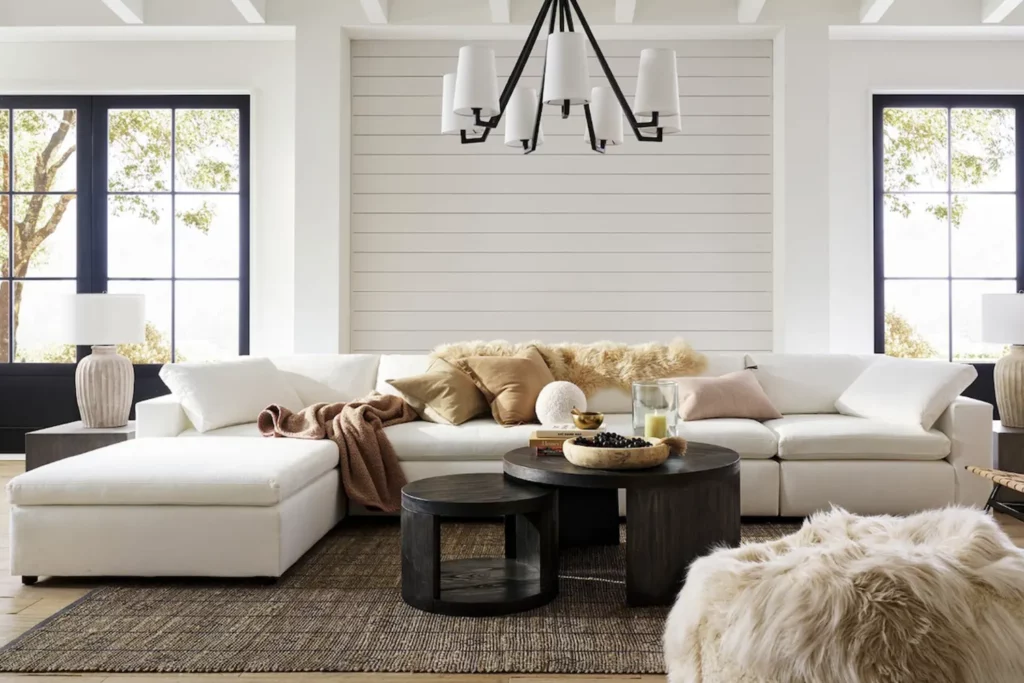 This small living room sectional is a versatile and stylish seating option for its customers. It has a lot of features like a sleek profile, trim arms, loose cushions, and a high back for a comfortable seating experience. You'll also get an option for customization of designs as well as the fabrics according to your choice.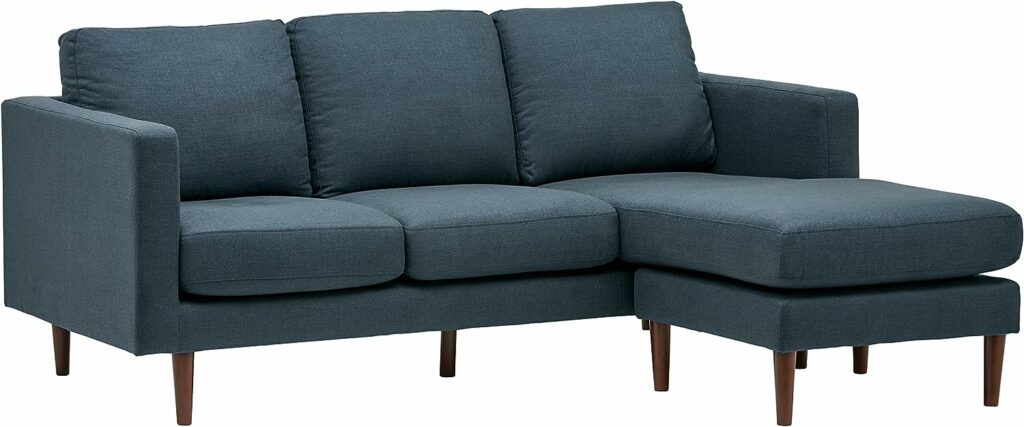 This sectional is one of the most demanded in the market. The quality of this sofa consists of a sturdy hardwood frame, durable polyester upholstery, and foam padding, which is firm but not too much. It is designed beautifully for anyone to sleep and relax comfortably. The design and style of this sectional are customizable according to your needs.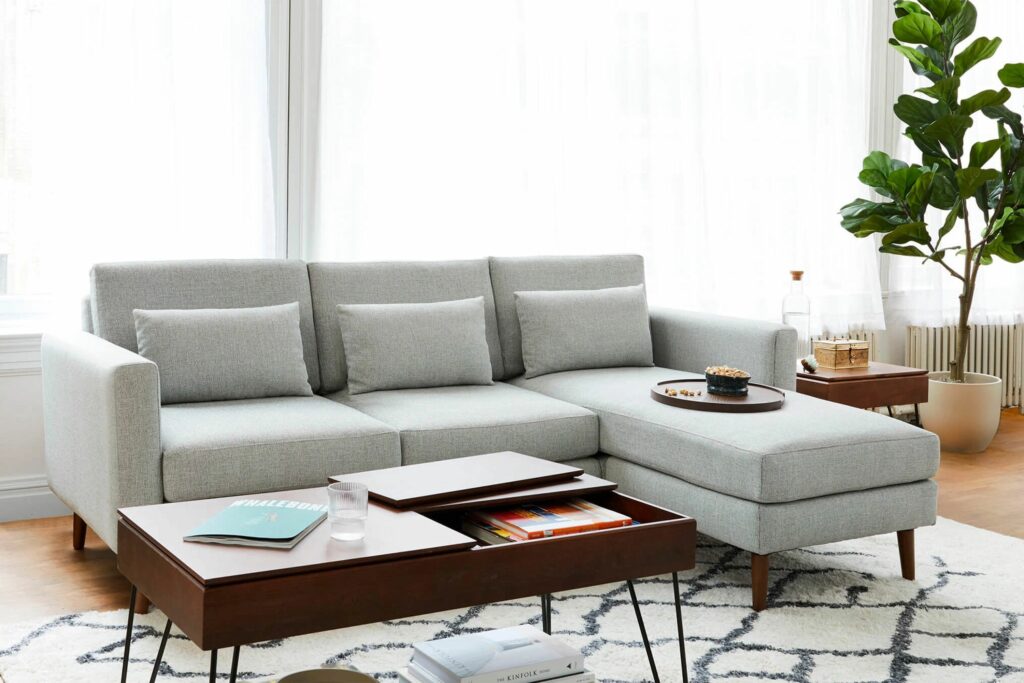 This small living room sectional provides a versatile and customizable seating option to its customers to create an ideal sofa. It comes in various forms, from U-shaped to L-shaped sectionals as well as corner sectionals. One of the unique selling points of this sectional is that it is very easy to assemble without the help of any tools.
This makes it very mobile, too, as you can move from one place to another without much hassle. The materials used to make this product are of high quality, which increases its longevity and durability.

This sectional can be used for multiple purposes as it provides both comfort and functionality. It includes ample space for lounging as well as has hidden storage to store bedding and extra blankets. It offers a mid-century design that can fit easily with any decor of the living room and gives a retro experience.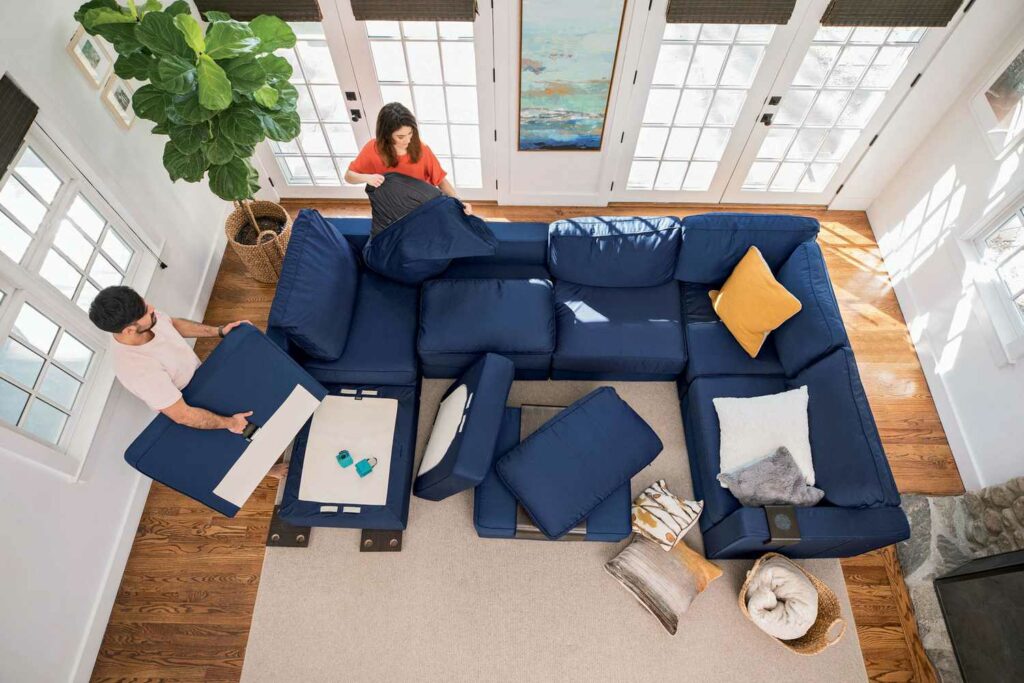 This small living room sectional is famous for its high level of customization. A customer can arrange and rearrange different components and seats according to his choice. Lovesac Sectional is also known for its comfortable, relaxing experience and longevity. For comfort, it also comes with high-quality cushions and upholstery. It also comes with additional features like hidden speakers, which you can connect with your home theaters for a quality audio experience.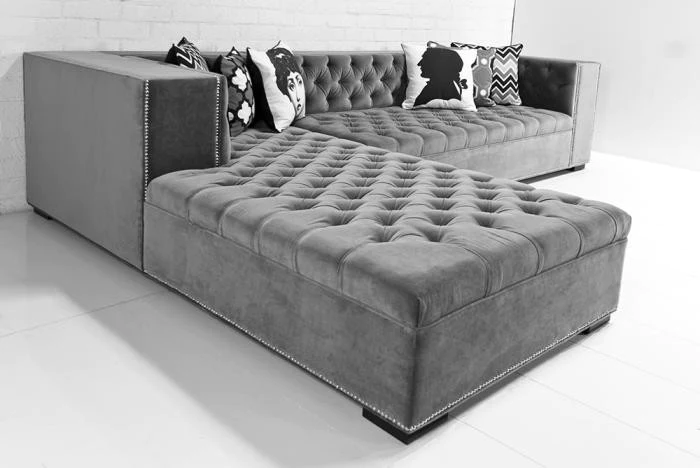 This sectional, as the name suggests, uses the craft of tufting. It is the process of creating small indents either in the fabric or leather by threading through layers of material. This style has been in the market since England's Victorian age, which makes it a timeless style. Having a tufted sectional in your living room will add a sense of elegance and sophistication to the environment. Another benefit of the tufted style is that even after regular use, it remains comfortable and retains its shape.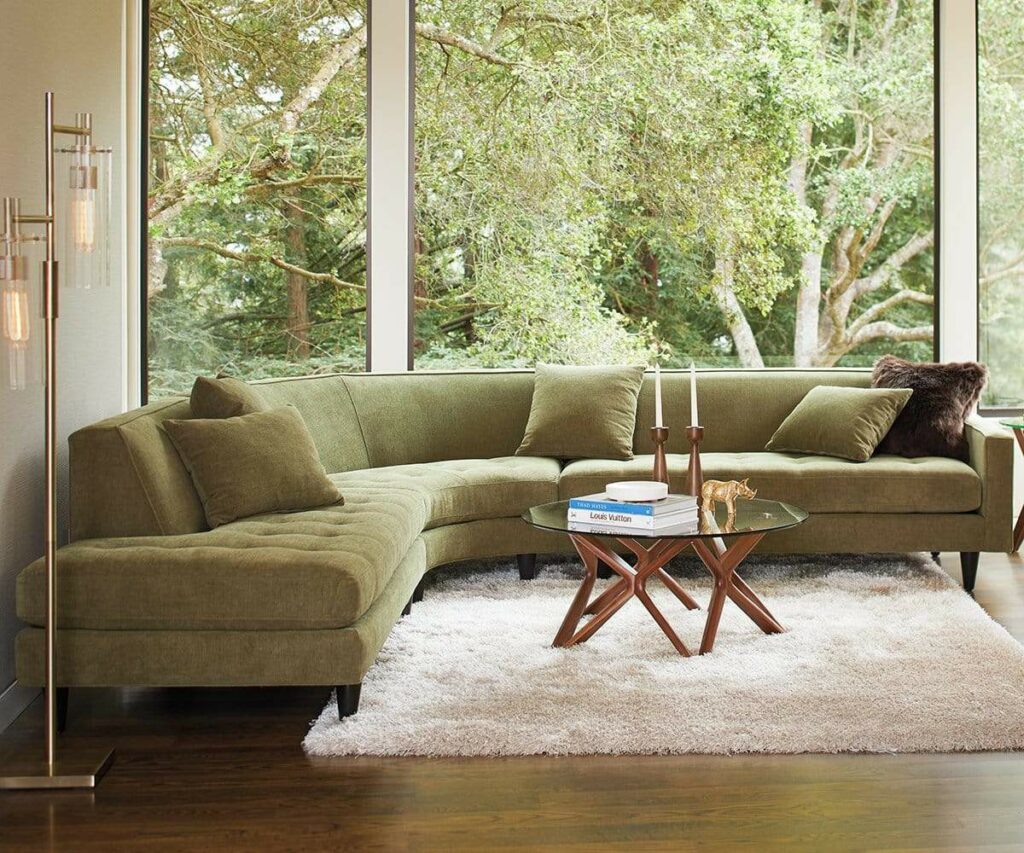 This small living room sectional style belongs to Denmark, Finland, Norway, and Sweden. It includes clean lines and minimalistic aesthetics. It comes in multiple colors like black, brown, gray, and other vibrant colors. Natural materials like wood and leather are commonly used to manufacture this sectional.
With the natural materials, the craftsmanship is top-notch, and premium materials and skills are used to build this product. This ensures the longevity of the sectional.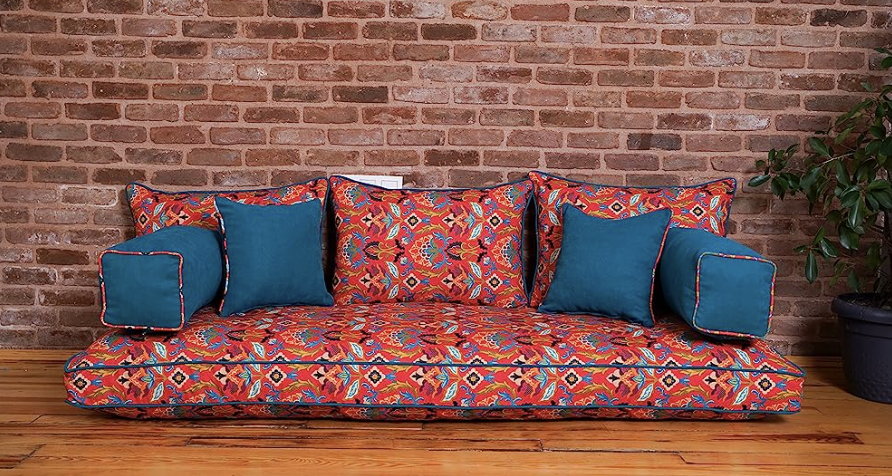 The Bohemian style started in Paris, France, in the 19th century. The Boho style is famous because of its eclectic and unique design elements. Because of its colorful, fun, and textured appearance, it adds a vibrant and lively environment.
Bohemian Sectionals also offer you to add your own creativity and customize your own sectionals. It is also very easy to rearrange, which gives the customer the freedom to arrange it according to the seating needs.
Conclusion
Slowly Sectionals are capturing the market and are replacing the old fashioned sofas. Because of its multipurpose, it is a way better option for customers. Some of its functions are that it can be changed from a sofa to a lounging area as well as a seating area. It also has storage options to keep the extra bedding and blankets for emergency situations. Some of the sectionals also include audio systems which can easily enhance any home theater.
A sofa doesn't provide the option of customization, whereas a sectional gives a customer the freedom to customize according to his/her needs. Unlike a sofa, a sectional comes with various shapes to fit in a room, like an L-shaped as well as a corner-shaped one. There were many styles of sectionals, but the above 24 are the most demanded styles in the market.
Research thoroughly and pick out the best sectional for your small living room to match perfectly with your decor.