The kitchen occupies a special place in any home. In that hub, countertops are a key focal point. A white countertop kitchen continues to be a top choice in most kitchen remodeling projects. No matter whether you are revamping the existing kitchen or building a dream kitchen from scratch, white quartz countertops remain an aspiration element thanks to their style, stability, and longevity.
Other countertop alternatives to quartz are granite, marble, porcelain, laminate, and wood. Among all the countertop materials, white quartz countertops are the sought-after ones because of their clean vibes, elegance, and a touch of class, plus amazing durability.
Now let us dive into the domain of countertops and explore the interesting characteristics of quartz countertops.
Attraction of White Countertops
Premium quartz countertop lures with gray flecks and veins. Quartz adds a feel of luxury, and its glitter under different lights is enchanting. For a nice, clean, and bright kitchen, white countertops are the obvious choice. Homemakers love it as they no longer want spaces to look dark and push elements out of harmony and defy the soul of unity in modern styles.
In kitchen remodeling, a white quartz countertop easily helps to attain a warm, personal, minimal, and modern farmhouse style. The white countertop kitchen with the engineered product, quartz, has 70 percent natural ground quartz compressed with polymer resins under high pressure and heat.
White Quartz Countertops and the Art of Making the Right Choice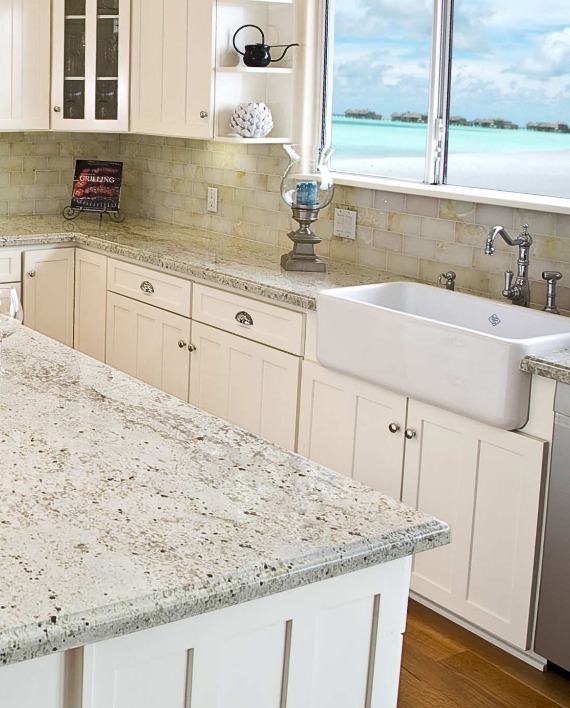 Quartz is a natural mineral, but quartz kitchen countertops are made by mixing crushed crystals with pigments and resins to produce patterns such as spots and swirls. Natural stone slabs differ from quartz countertops because the latter have non-porous surfaces, making them less prone to scratches and stains.
According to the US 2021 Houzz Kitchen Trends Survey, engineered quartz has become the most popular material for countertop upgrades. Quartz, with a timeless appeal, adapts to any design style and is easy to clean even in a messy or busy kitchen.
Once you have taken the call to install white quartz countertops, choosing the right white quartz is the next step. This may pose a slight challenge for many homeowners, but it need not be that stressful if some tips are followed.
Tips for Choosing Countertop Materials and Shades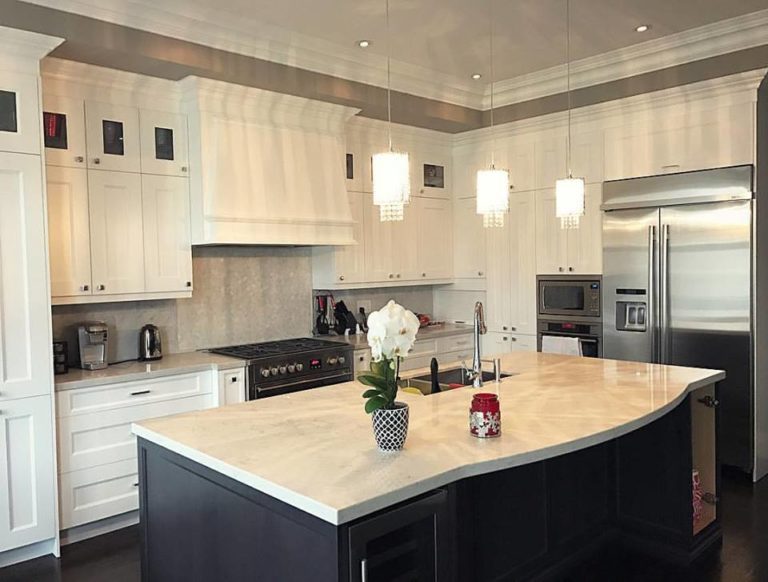 When choosing the perfect shade from a variety of white quartz slabs, there are several factors to consider before making a safe choice. Among them, kitchen lighting is an important point to consider. Determine if there is too much artificial light in the room or if the space has enough natural light. Also, how many windows are there in the room?
Lighting directly affects the tone of a quartz countertop. If you have a lot of artificial lighting, you should install a white quartz countertop to brighten up. On the other hand, if you are blessed with an abundance of natural light, the choice can be either warm or cool shades of white quartz.
In any white countertop kitchen, the choice of other elements calls for a certain amount of discretion. Any random selection of elements under the optimism that they will synchronize seamlessly and create the desired aesthetic will be a mistake.
To make the most of your space, you should consider how your floors, countertops, cabinets, and furniture work together. Countertops placed between cabinets must converge with the tones of quartz countertops. So, the choice of warm or cool colors for the countertop depends on the color scheme you want.
Quartz White Tops are Easy to Maintain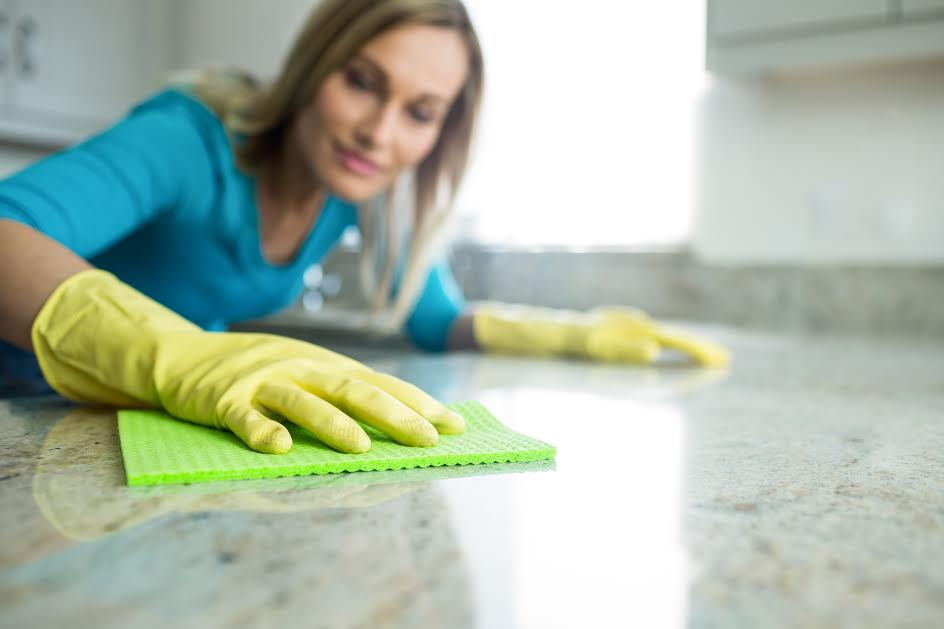 Quartz countertops get polished during manufacturing, so technically there is no need to seal the countertop in any white countertop kitchen. You can keep your quartz surface in top shape by simply rubbing it with a mild or all-purpose cleaner and a cloth. Dirt can be removed using glass cleaner with a non-abrasive sponge.
To kill bacteria, you can wipe the quartz surface with a solution of half rubbing alcohol and half water. However, the quartz surface is vulnerable to damage from extreme heat. Therefore, use a trivet or a protective mat when placing hot pots and pans on the worktop.
Quartz Countertops with Mixed Pigments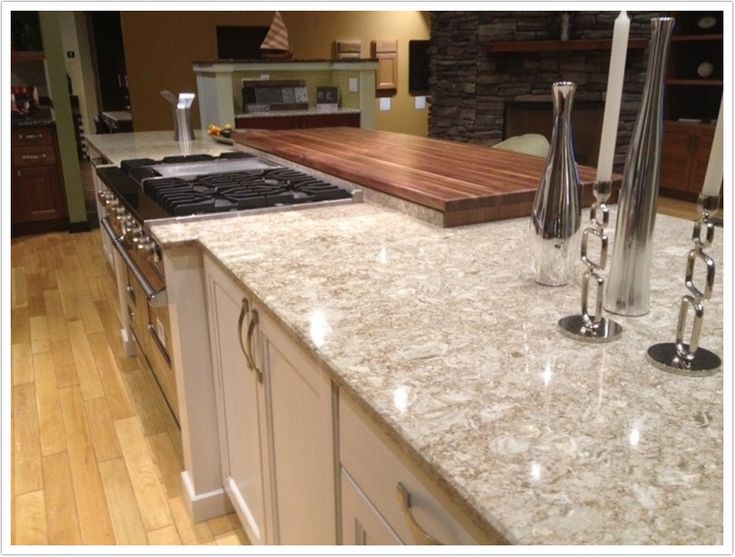 Mixed pigment quartz is available in many colors. Unlike natural stones, there is an appreciation that quartz material is homogeneous and available in uniform colors and patterns, helping for an easier match with tiles and slabs during installation. The appearance of the surface veins depends on the size of the quartz grains. However, avoid large particles as they will give your worktop a restless look.
Before finalizing a particular brand or shade for the white countertop or kitchen, you must assess the patterns by doing a scratch and stain test. Drip coffee, red wine, and oil on the piece and keep it overnight to see how the stain develops.
Boost Color Tone with White Quartz Countertop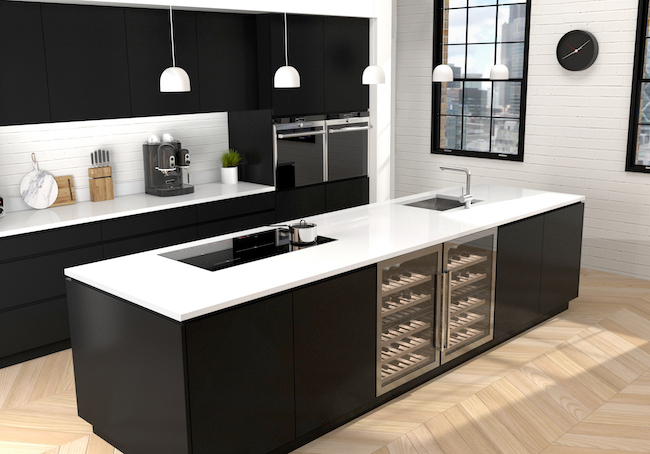 For the right color tones in your kitchen space, decide whether the white countertop in your kitchen must work as a contrasting element against a dark floor or cabinet with your all-white kitchen.
Color tones in the kitchen are important to coordinate with all elements, such as countertops, floors, cabinets, and fixtures. Quartz countertops come in a variety of shades. For a warm kitchen, white quartz countertops with a red or yellow hue are preferred. You can also use continuous striped countertops.
If you want white to dominate, choose white quartz with appropriate shades and tones. If the rest of your white items are cool colors, then go with the flow and avoid warm countertops. White quartz surface contains a lot of high-quality quartz, which enhances the color brilliance by reflecting light. You can find the perfect white in no time, regardless of the color of your cabinets or flooring.
If you want a white countertop kitchen, choose one that makes white a contrast to the dark part of your kitchen. The signature long dark streak countertop will be a wise choice and amaze your guests, whether installed as a countertop, kitchen bounce, accent wall, or waterfall island.
The timeless looks will keep your kitchen fresh for years to come. If you want understated yet expressive quartz with a dramatic look, a soft white piece with dramatic gray streaks is the way to go.
Any kind of light gray-streaked quartz renders a refreshing feel. The high-quality shows through impressive looks and durability. The soft white background makes it suitable for any room. Neutral or contrasting cabinets are fine here.
For homes with natural or artificial light in equal measure, a cool white quartz countertop kitchen is ideal. The versatile slab, offering cool vibes regardless of lighting, is an all-time plus. The soft white background features highlight veins throughout the slab, delighting you with a timeless marble look that will never fade.
The Latest Trends are Bright, Neutral Shades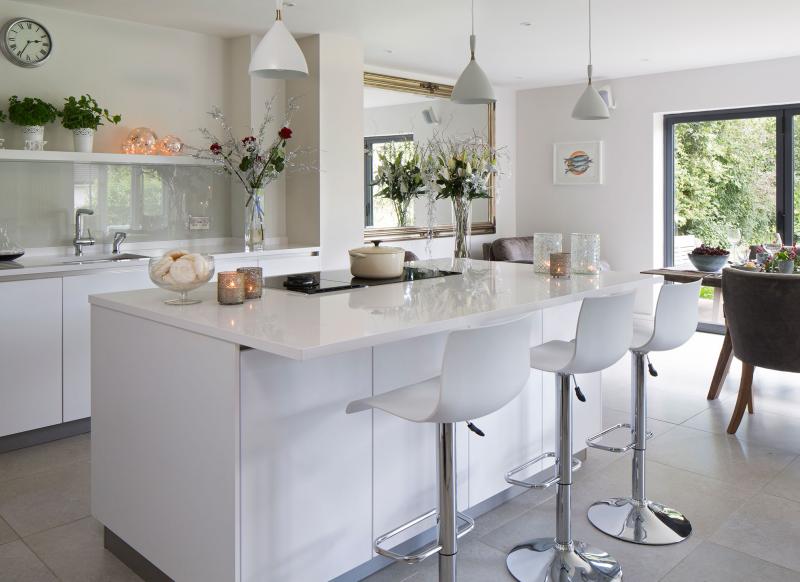 In the latest countertop trends, quartz maintains its hold with a bright, neutral tone with minimal play of patterns. Many homeowners with white countertop kitchens would love to extend the same material to other applications, including the backsplash for cohesion.
As noted already, when choosing a material for your kitchen countertop, look no further than white quartz. Combining versatility and functionality, white quartz (faux quartz) countertops are timeless in terms of looks and functionality. A smoother and more beautiful surface resists scratches, dents, stains, and the spread of bacteria. White quartz countertops continue to soar in popularity largely because of the innovative leaps in design.
Decor Advantages with Varied Patterns and Designs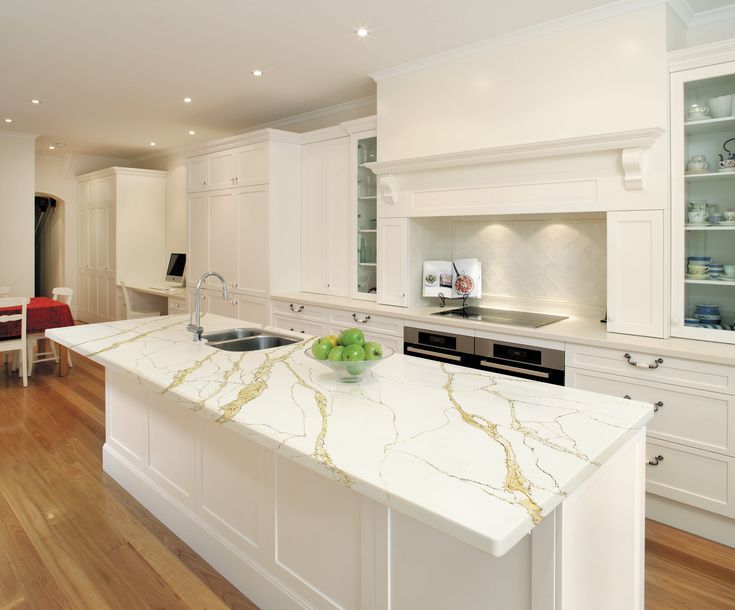 The advantage of a countertop made of white quartz lies in the material's timeless beauty. In an all-white kitchen with cloud-like countertops and an eye-catching dramatic wood grain pattern, quartz countertops complement any decor. As with the natural stone option, white quartz countertops offer plenty of design flexibility and room for customization. The finish can be left polished, which is the typical factory standard, or sanded or leathered for a matte, more natural look.
The Factors Governing Purchase of the Best Countertops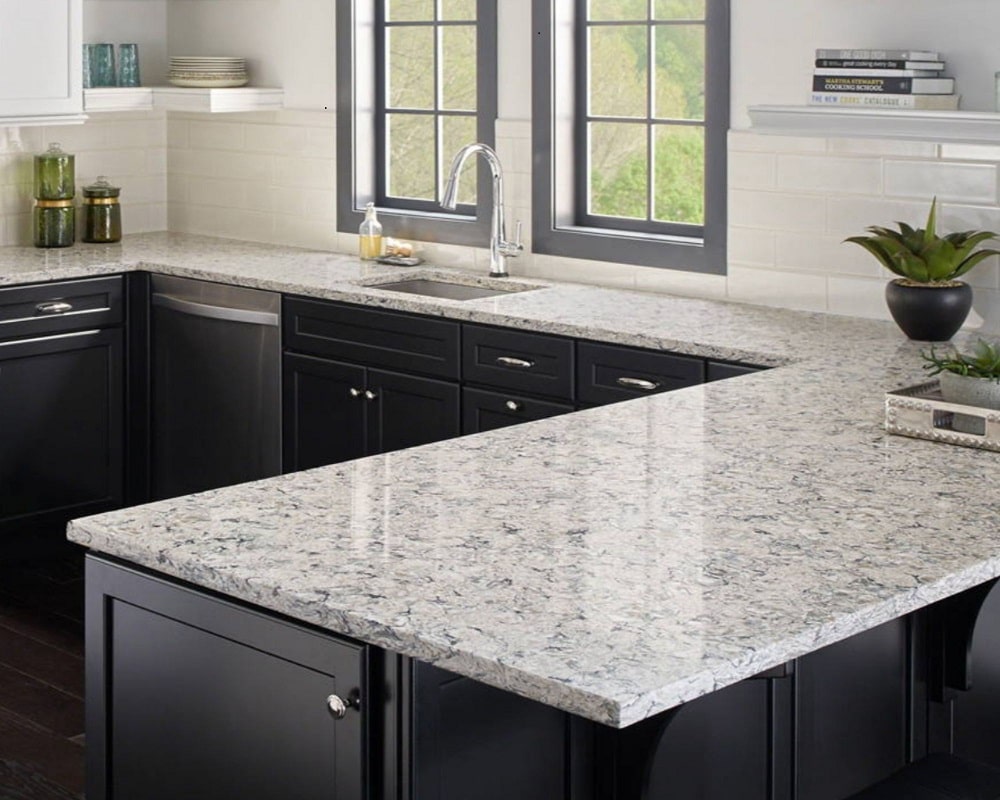 Aesthetics, functionality, and cost weigh in when choosing a new kitchen countertop. First, the countertop must be within your budget. From an aesthetic point of view, you have two options: follow the trend or ignore the trend. Many people will give priority to their favorite patterns and colors. As long as you do not plan to sell the house soon, that is fine. In case you want to sell, keep an eye out for the latest design trends.
Costs of quartz countertops: The price of quartz kitchen countertops depends on the level of processing the material has undergone. Installing a countertop entailing a lot of cuts, seams, and edge details will cost you more than a single standard countertop.
The quartz plate is heavy and difficult to handle. Quartz countertops can chip at the edges and are difficult to repair. Hiring a professional to repair the damage will shoot up the overall cost of quartz countertops. However, the advantages of white quartz countertops always outweigh other factors.
The Thriving Market of Quartz Countertops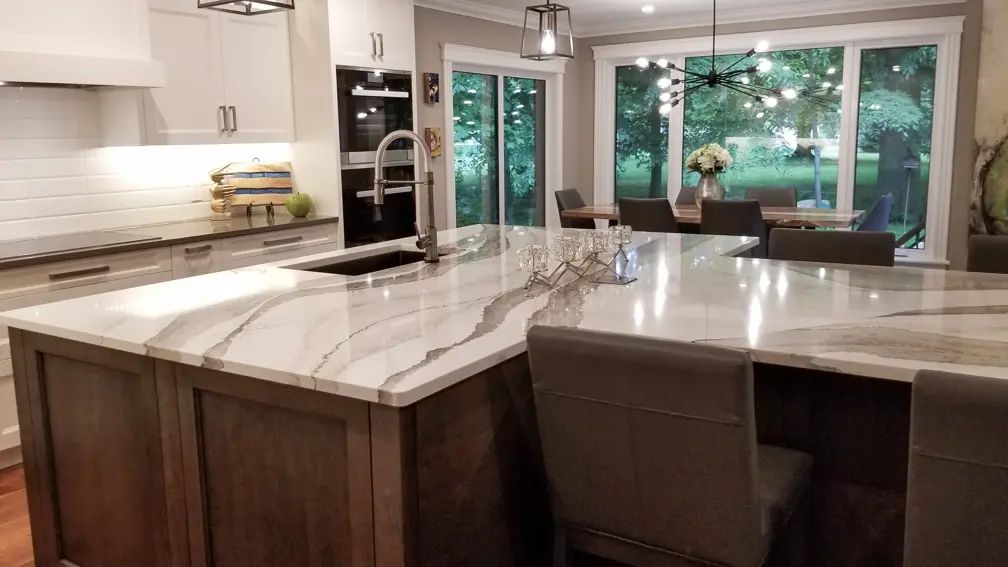 The white quartz surface dates back to the 1970s. Breton of Italy patented the combination of quartz and resin. You can notice white countertop kitchens flaunting brands such as Cambria, Caesarstone, MSI, and Silestone with a huge variety of designs and patterns. The speed with which designs change has made white quartz countertops and stripes indistinguishable to the untrained eye placing tough competition to expensive natural stone competitors.
Home remodels, and upgrades select countertops of varying thicknesses, which range from 1 cm to 3 cm, longer than conventional stone slabs. In most white countertop kitchens, white quartz countertops with prominent veining help designers do a good job of creating patterns for a dramatic effect to induce high-end designs. There had been accolades for Suzann Kletzien, an ace interior designer, for her innovations with semi-thick quartz toppers on the kitchen island and thin slab toppers for the main cooking zone.
Basis of Successful Countertop Selection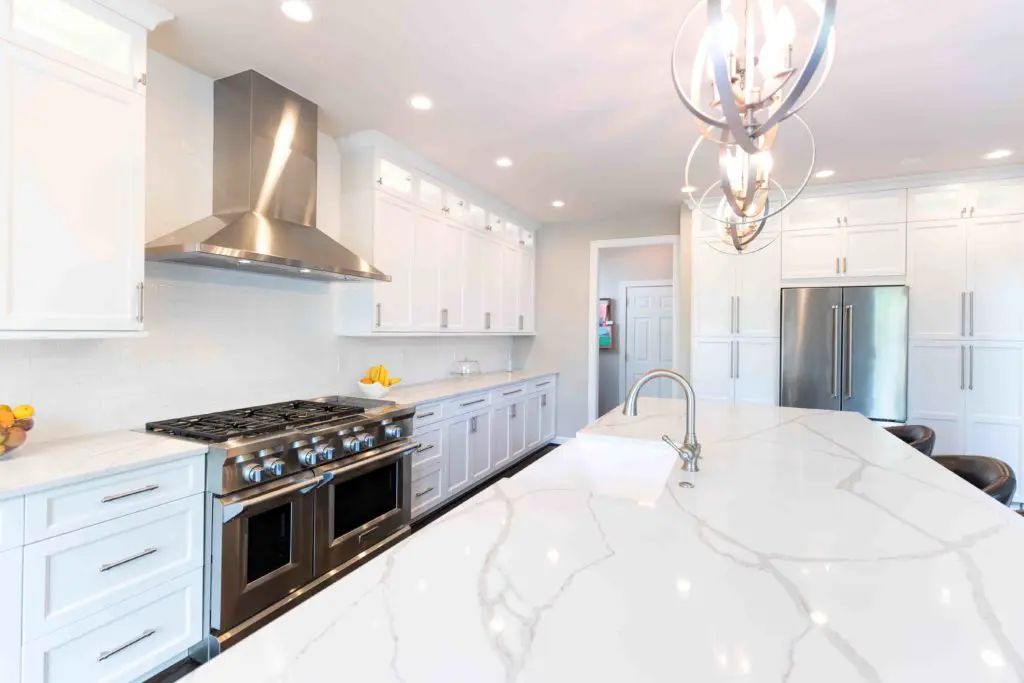 All white quartz worktops are not made equal. When it comes to choosing the right white quartz countertop for your kitchen, the onus is on you to finalize the product after checking computability with all your goals.
What you found as a fascinating cloud-like piece in a showroom may appear yellowish in your kitchen. So, take home as many samples as you can, testing each alongside whatever finishes you have for your space, such as paint, flooring, cabinets, and hardware, and watch their appearance throughout the day.
The craving for a white countertop kitchen is obvious for a slew of reasons. Countertops, as the most important element of kitchen design, attract any visitor when they step into the kitchen space. It is a focal point and one of the few continuous pieces in the kitchen, and they do a great job of organizing the space.
Sourcing Tips for Best Kitchen Worktops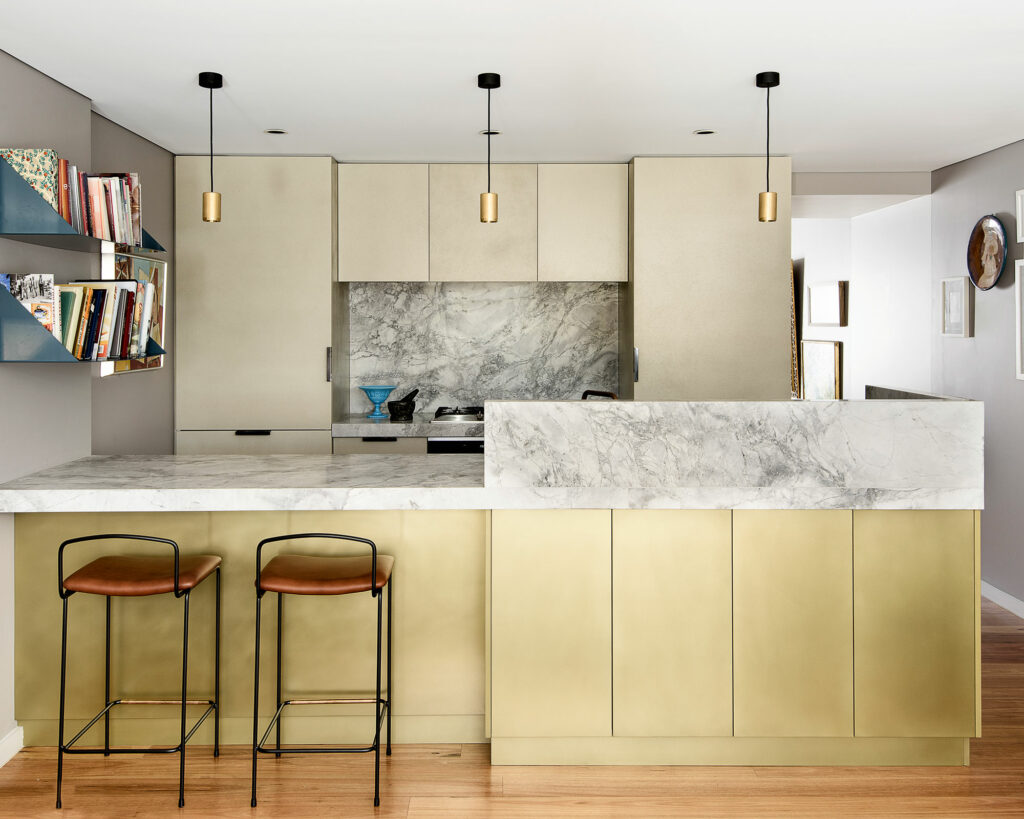 In your kitchen remodeling task, if you have an architect or designer to consult, then that expert can recommend you the best places to buy quartz countertops. Due to supply chain restrictions, there is always the possibility of a longer turnaround time to deliver the desired parts. Therefore, plan your quartz countertop sourcing suitably so that project execution time stays under control.
You can buy white quartz from hardware stores such as The Home Depot and Lowe's for your white countertop kitchen project. These are sort of one-stop shops for countertop installation, offering variety, design advice, and paid installation services. One limitation is that you have to satisfy with the handful of brands they showcase in the stock, and you only see samples of materials, not whole sheets.
In kitchen and bathroom showrooms, you gain from the experienced sales staff with design experience who can guide you through various premium materials. There will be primary, commercial, and secondary quartz offerings to choose from. However, the price per square foot can be double that of products available at home improvement stores.
Showrooms best for picking veining quartz: If you want a white quartz countertop with lots of veining or details, go to a showroom that has the design in the full slab or installed into a sample kitchen. Otherwise, it will be difficult to evaluate the streaks from a small sample, and you will not like the color when viewed on a large scale.
Quartz countertops have a reputation as an affordable alternative to the stone look. Aspirants of white countertop kitchens will be happy to learn that prices for white quartz countertops vary, and it is not uncommon to find them in the range of $50 to $200 per square foot.
Price Determining Factors of Countertop Materials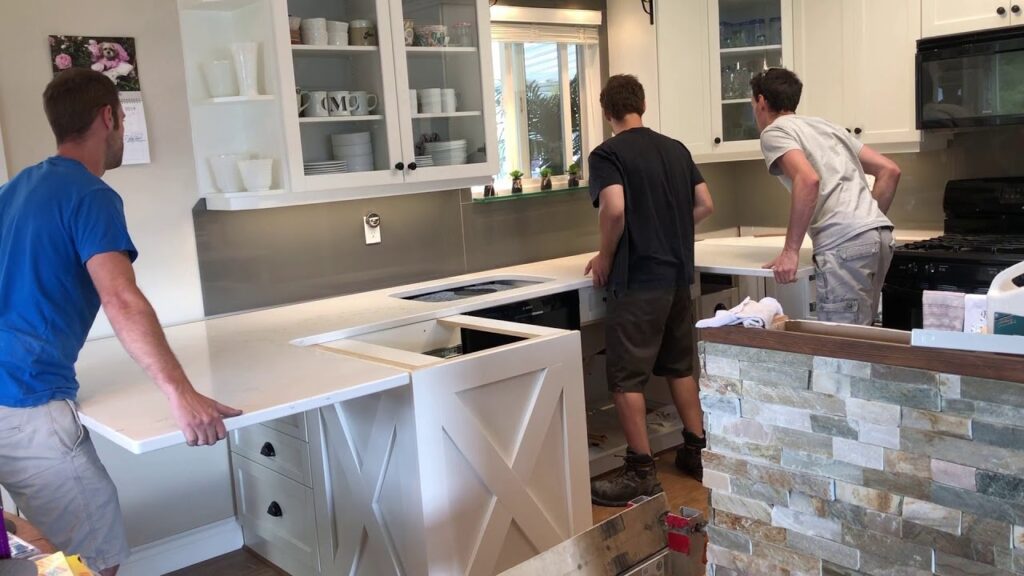 The price of quartz mainly depends on the dimensions and shape of the countertop. The space where it is going to be installed matters a lot. If you have a wide peninsula, nooks, and crannies, then the cost will go up. This is because sink prices are skyrocketing due to increased demand, and installation costs are also high.
A bulk of the manufacturers price quartz products in a premium mode, leveraging its luxury appeal. But homeowners seeking white countertop kitchen remodel need not despair as they can search wide for countertop manufacturers that offer a price advantage.
While executing your white countertop kitchen plan, you can look for a countertop installation company that will pay for countertop installation with the removal of the old countertop. This is said to work for ideas such as pairing quartz countertops with a white subway tile backsplash.
You can also look for countertops with a natural look and less resin under modest prices. Choose wisely from quartz countertops of gray or mottled flecks or uniform finish. That will also help for a minimalist modern farmhouse style, and it can be paired with white subway tiles.
Conclusion
Quartz brands often offer 15-30 year warranties. Its cleaning is also easy with a little baking soda or ceramic glass cleaner. Quartz's advantages always outweigh its disadvantages.
The above discussion has given a comprehensive account of the benefits, luxe appeal, and decor-enhancing capabilities of a white countertop kitchen with a special focus on quartz.
You can now feel confident enough to go for a kitchen upgrade and enjoy the perks of a new lifestyle with all its glamour.