Do you want to change the look of your master bedroom? Accent walls can be the perfect way to add life to your lifeless master bedroom. Depending on your style or budget, you can use painting techniques, color, or wallpaper to create the accent wall.
A bedroom wallpaper accent wall can give your master bedroom a picture-perfect look. An ideal place to introduce an accent wall is the wall behind your bed. If it doesn't seem appealing to you, focus on the wall that you see when you walk into the bedroom. If the walls in your bedroom are of neutral color, you can go a shade deeper for your accent wall. You can also use wood paneling to give your master bedroom a cabin-like feel.
We have curated a list of stylish bedroom accent wall ideas that will turn your bedroom into the best-dressed room in your home.
Give Life to Your Master Bedroom With Stunning Accent Wall Ideas
Let's take a look at the stunning accent wall ideas that will turn your master bedroom into an oasis of relaxation and comfort.
1. Wood Wall Panels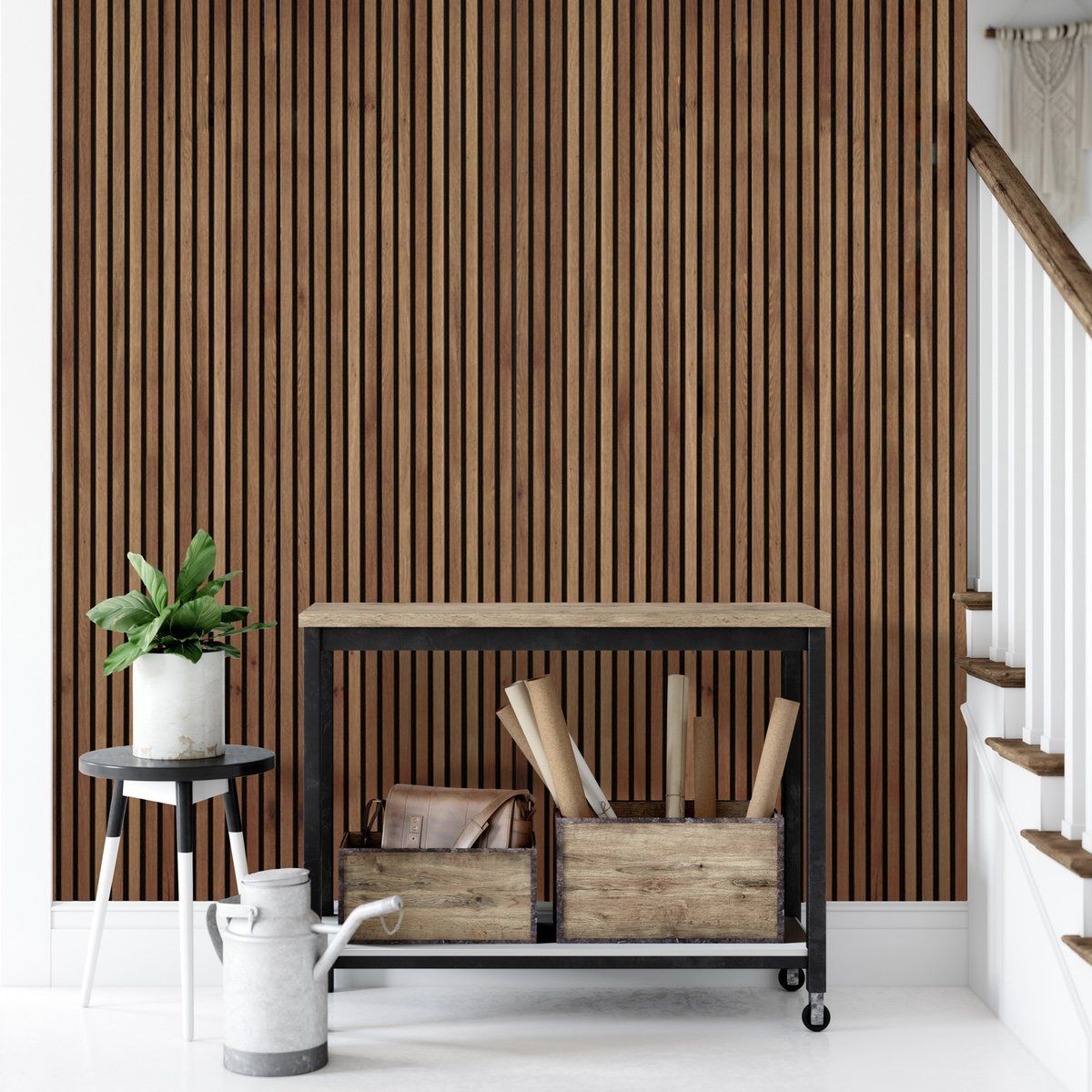 Wood accent panels are a stylish design element that can create a textured and charming backdrop to your master bedroom. If you have a bland TV wall area in your master bedroom, you can use wood wall panels to create an artistic element. You can customize the wood accent wall in multiple ways.
If you prefer a modern, minimal design, you can use wood to create a geometric backdrop. You can think out of the box and use flooring as a wall feature. Since wood is a natural material, it creates an indoor/outdoor feel in your master bedroom.
If you have a large window in your master bedroom, design a wood accent wall near it to draw the outdoors in.
2. Whimsical Wallpaper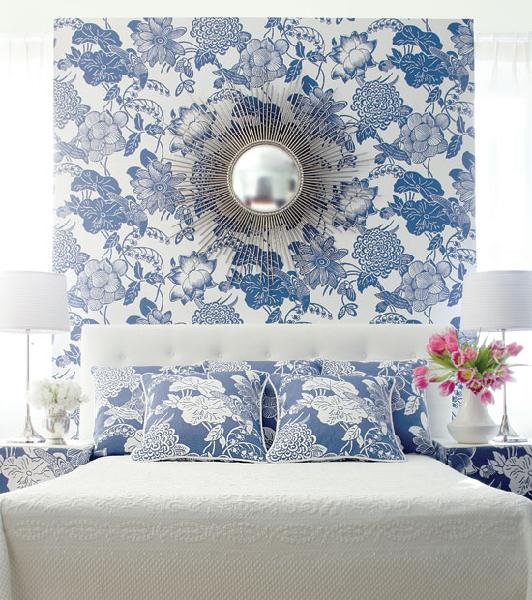 If you need inspiration for your next master bedroom refresh, then try experimenting with the accent wall. A bedroom wallpaper accent wall can add vibrancy and color to your bland master bedroom. Whether you want to turn your bedroom into a peaceful sanctuary, a cozy retreat, or a modern room, wallpaper can be the best part of the bedroom design.
Choose a bold and bright wallpaper and use it on the accent wall of your master bedroom. You can use floral wallpaper to give an elegant look to your bedroom or black and white wallpaper to add texture to your master bedroom.
The pattern, texture, and color of the wallpaper used on the accent wall can create the desired atmosphere and look in your bedroom.
3. Canopy Bed Effect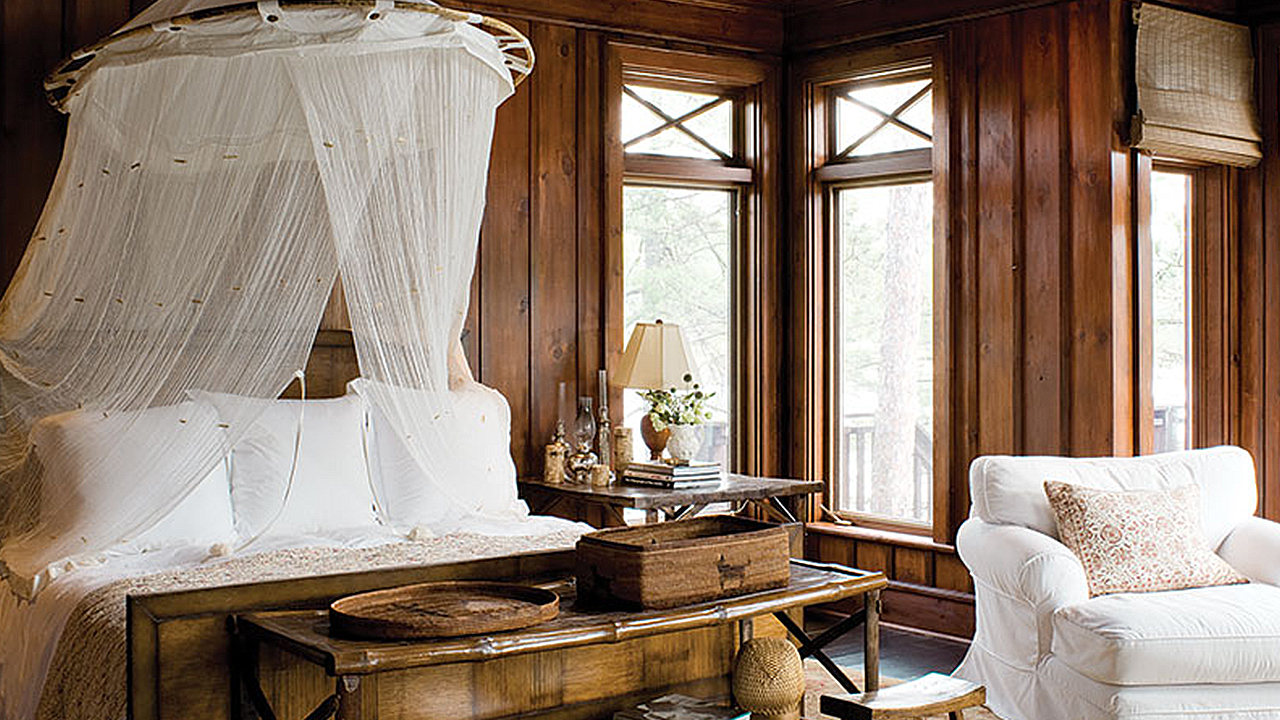 Suppose you don't want to make the accent wall the star of your master bedroom, then you can create a canopy effect and let it steal all the limelight. Add colorful draperies behind the headboard of your bed to create a canopy-bed effect without the canopy.
You can also hang a rod from the ceiling of your bedroom and drape a curtain through it vertically to create a canopy-like effect. If you prefer a canopy laying flat against your wall, use the linens or curtains you have in your home.
But if you want something more traditional, buy a proper canopy. Opt for a beautiful poster that matches your canopy bed. Hang it in your bed frame's center to create a greater impact on your guests.
4. Two-Tone Effect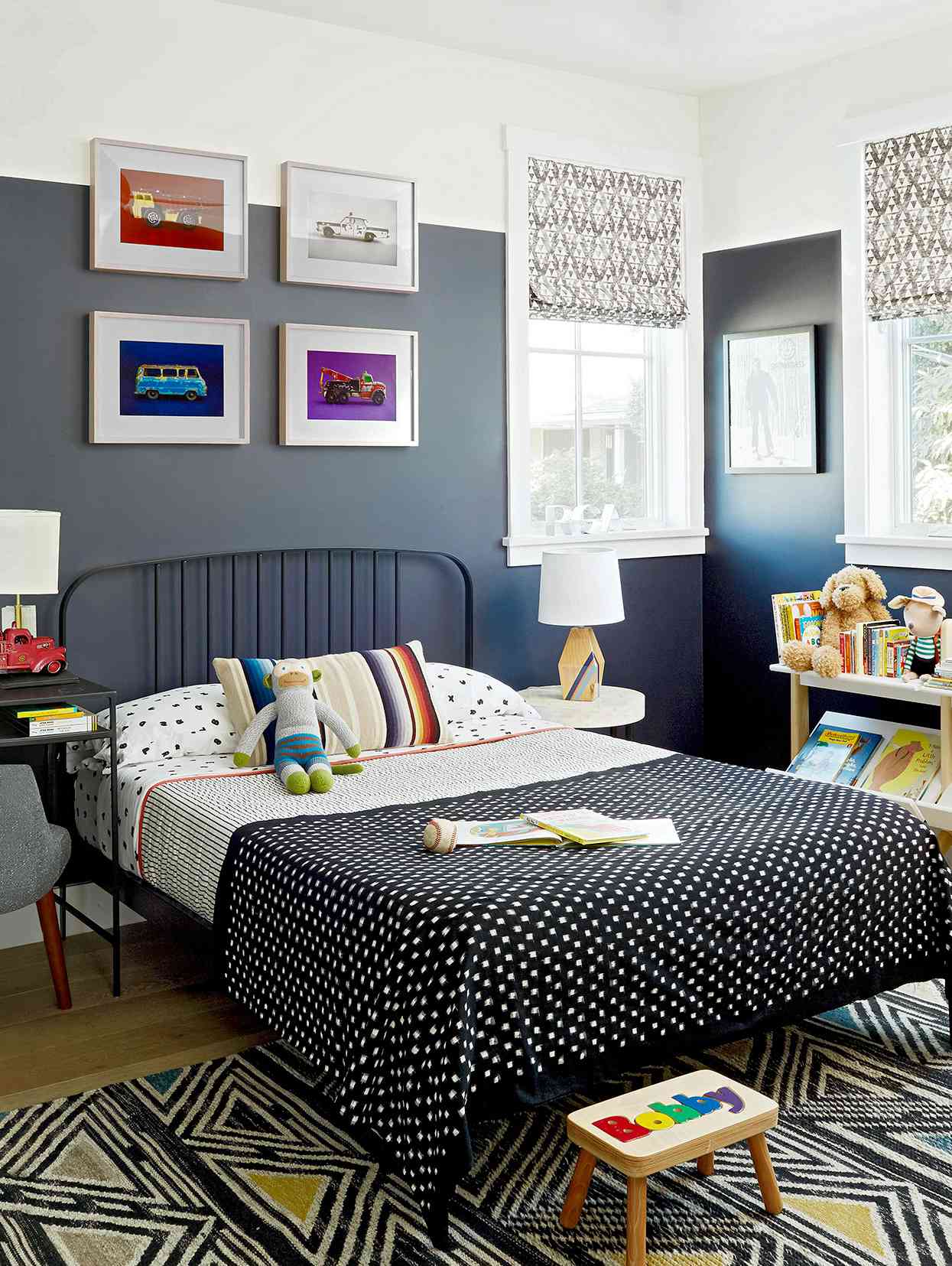 The single-painted accent wall can add a splash of color to your master bedroom without the need for a whole-room paint job. But homeowners and designers are now embracing two-tone bedroom walls to create an architectural interest with a few paint strokes. The two-toned accent wall adds dimension to your bedroom.
Pick two of your favorite bold shades for a color-on-color, high-energy effect. Stick to one paint sheen if you want to keep the two-tone treatment minimalistic.
You can also pair a light neutral or white color with bright colors to add depth to a certain area of your bedroom. Whether you go with a muted pastel treatment or a vibrant color combination, two-tone walls are bound to create a modern impact.
5. Map Wall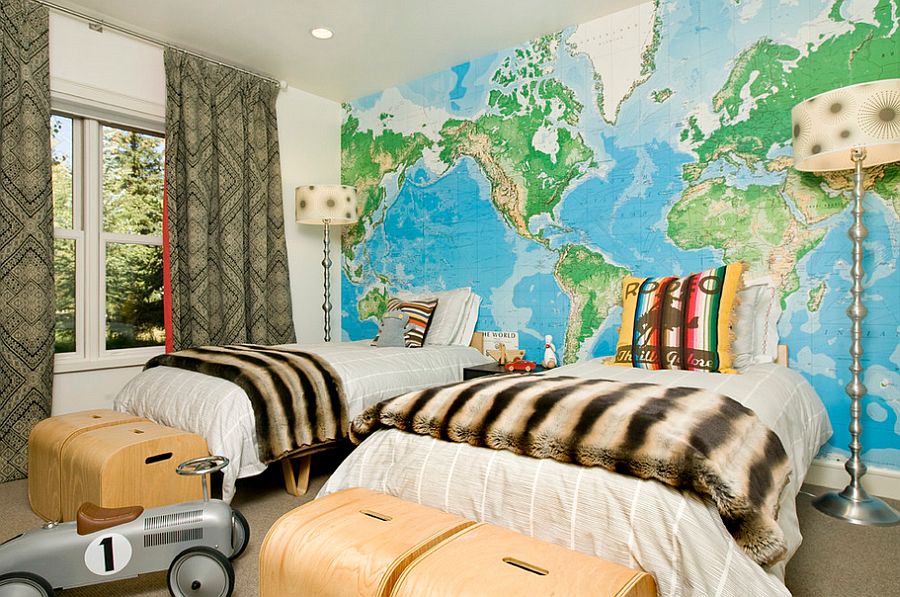 If you love traveling and want to introduce the same vibe in your master bedroom, then try using a mammoth-sized map as an accent wall. If you can't gather up enough vintage maps to cover your entire bedroom wall, fake it with vintage-look map wallpaper. But since the look you get with a map is very dramatic, limit it to only one accent wall. Map accent wall is a great way to infuse a sense of travel inspiration and adventure into your bedroom.
A bedroom accent wall covered in a world map can also fuel the interest of your kids in travel. A map wall also offers a chance to learn about different geographical features, continents, and countries.
6. Scenic Mural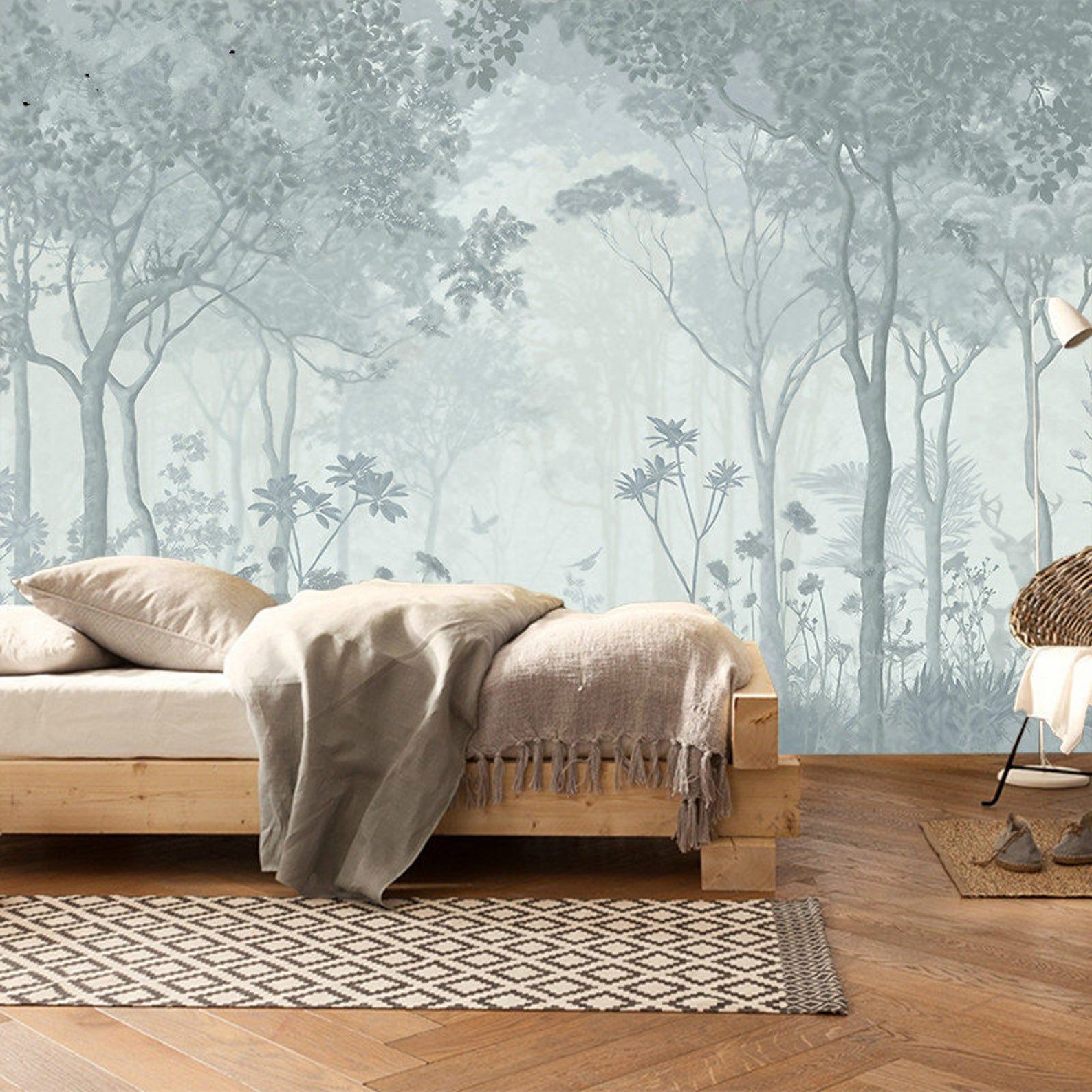 A well-placed wall mural accent can enhance the overall ambiance of your master bedroom. Murals depicting larger-than-life designs can be used to deliver depth and drama to your accent walls.
You can choose botanical-motif wall murals to create a moody atmosphere and traditional-style mural wallpaper to give your walls a hand-painted look. Watercolor-like dreamy landscapes can be used to create a soothing effect in your master bedroom.
If you're confused about where to hang a mural, consider areas where its grandness can be showcased in the best way. Place the mural on one bedroom wallpaper accent wall to make it the focal point of your bedroom.
7. Make Your Ceiling the Centerpiece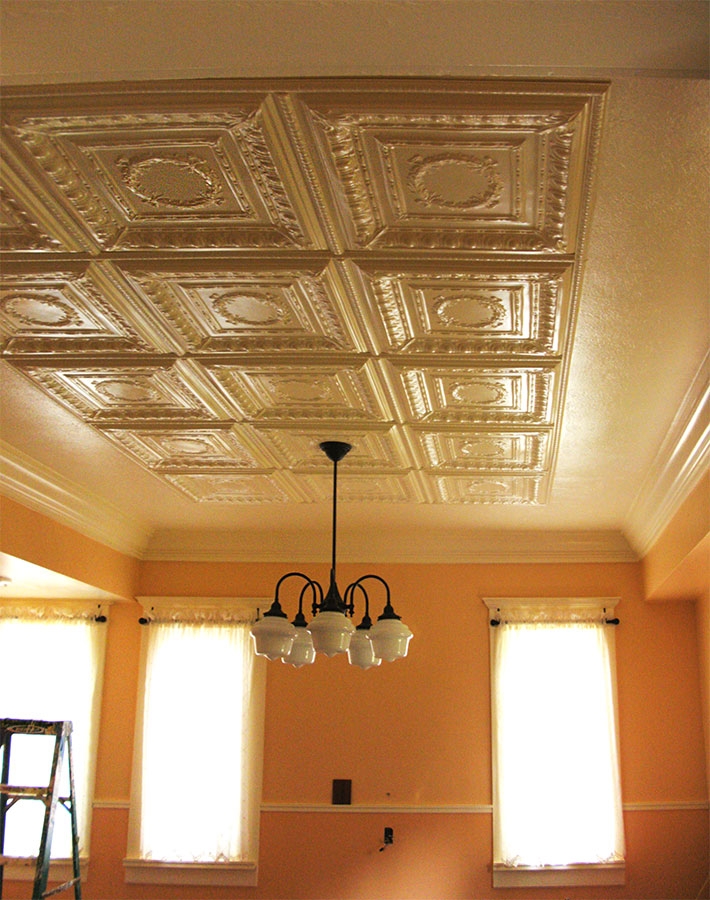 If you think that the accent wall needs to be one of the four corners of your bedroom, then you're wrong. You can add interest overhead and make your ceiling the centerpiece of your bedroom. Paint the ceiling in a different color than the walls, or install tile or wallpaper on it to make it a focal point.
Ceiling accents can enhance the look of your bedroom and give your master bedroom amore open appearance. To make your small bedroom feel larger, paint your walls and ceiling the same color.
This will extend the eye up, making your bedroom feel more open. For larger bedrooms, paint the ceiling a darker color than the walls to give it a cozy feel.
8. Build in a Bookcase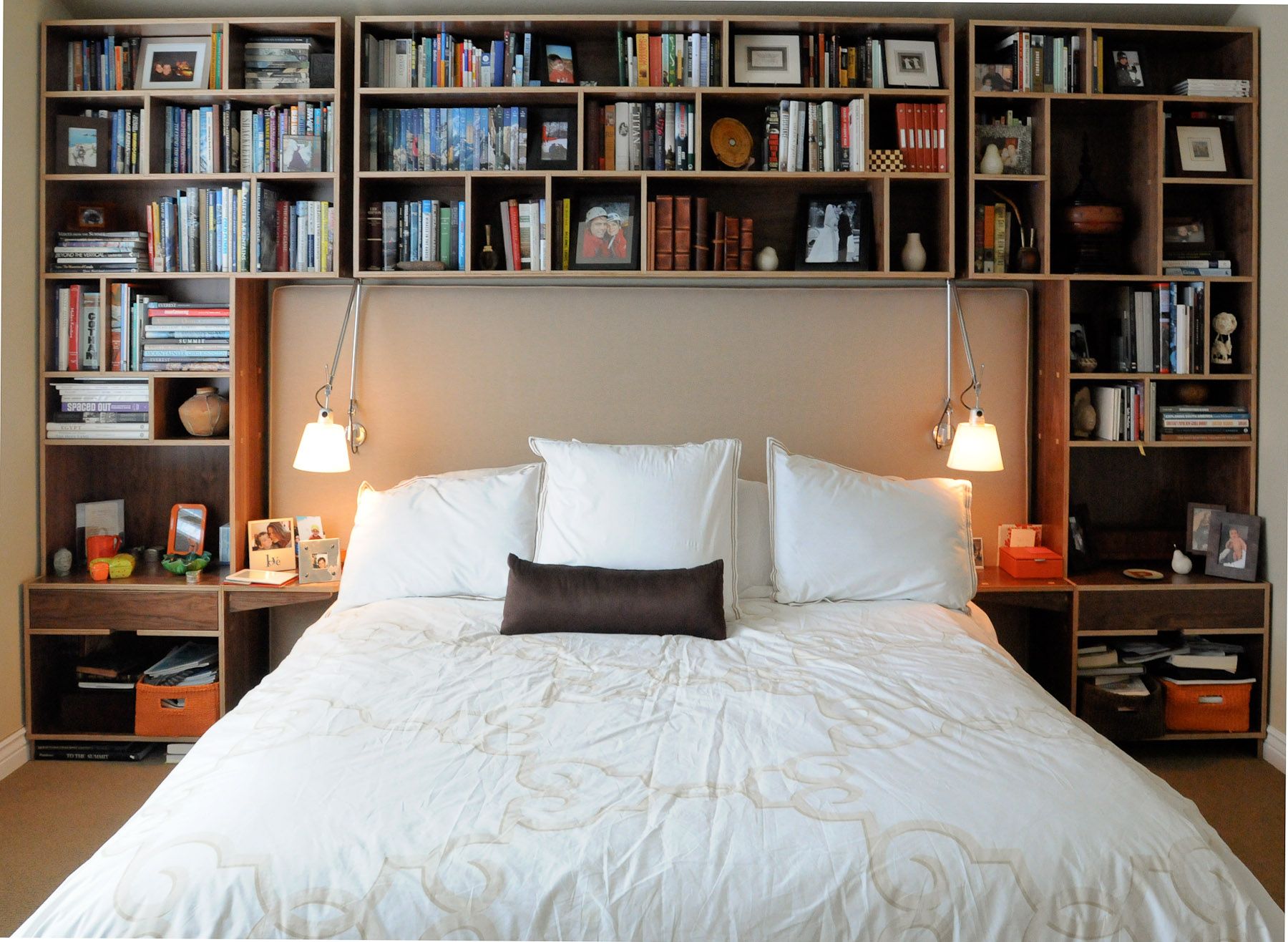 Put an accent wall in your master bedroom to work with the help of custom bookshelves. Ensure that the custom bookshelves are not very plain and minimalist. They should be very grand and draw everyone's eye towards them. You can take advantage of the unused wall space around and above your bed to create custom bookshelf or storage-rich cabinets.
This way, you will not only make smart use of the unused space but also turn it into the showstopper area of your bedroom. Match the built-in bookcase design to other wood finishes in your bedroom. Keep its silhouettes streamlined to ensure it doesn't disrupt your bedroom's peaceful aura.
9. Exposed Brick Accent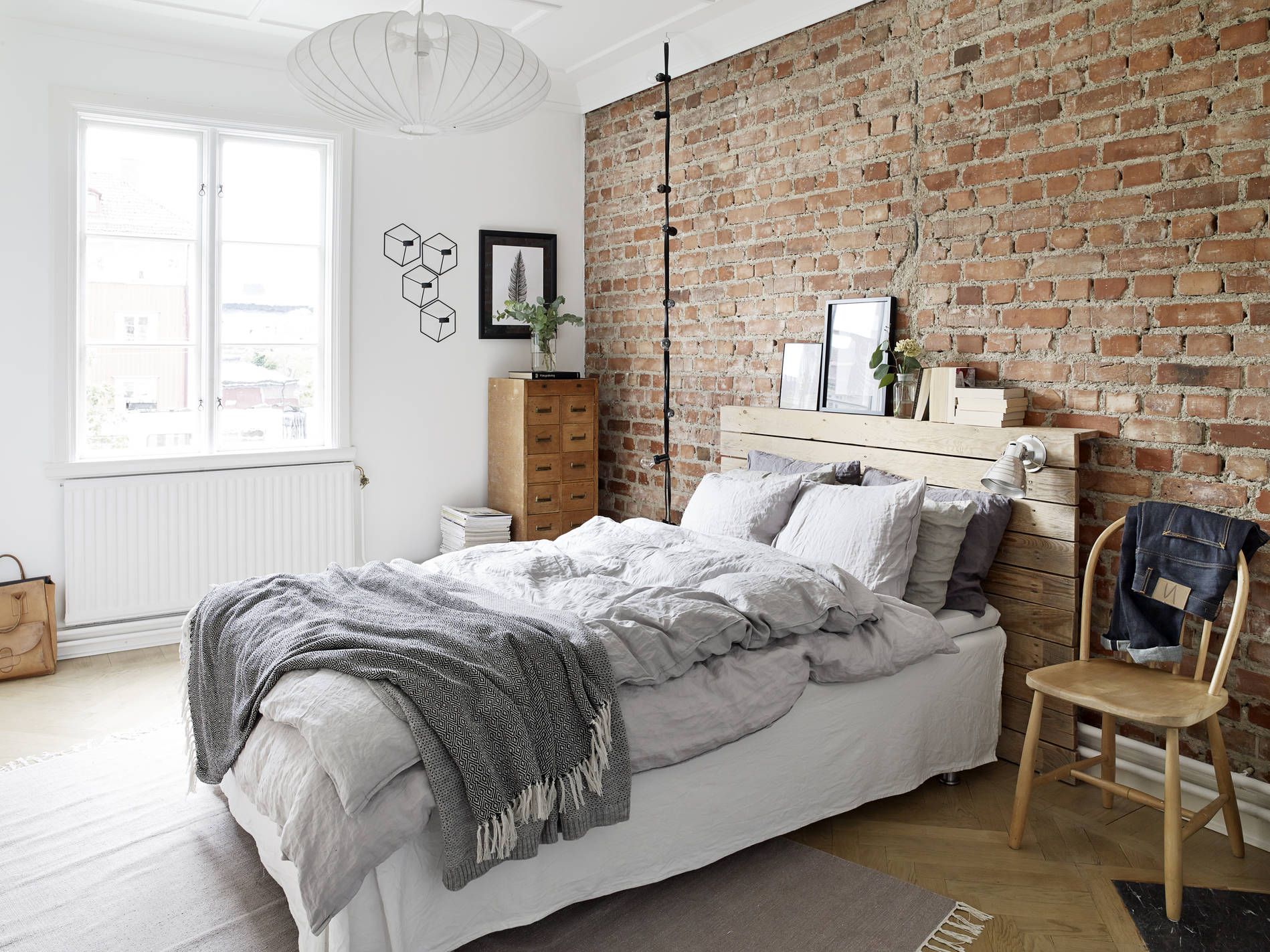 Need a beautiful accent in your master bedroom? You can go for the exposed brick wall. The natural beauty of exposed brick makes it a desirable trait in your bedroom. An exposed brick wall can be the perfect addition to an industrial, masculine, or moody bedroom. You can paint the brick wall with bold colors to make it the focal point of your master bedroom.
Accent brick walls look perfect with any décor style, and you can use it in different ways to give the desired effect to your master bedroom. So whether you have a contemporary, bohemian, industrial, or rustic bedroom, exposed brick accents will work everywhere.
10. Geometric Print Accent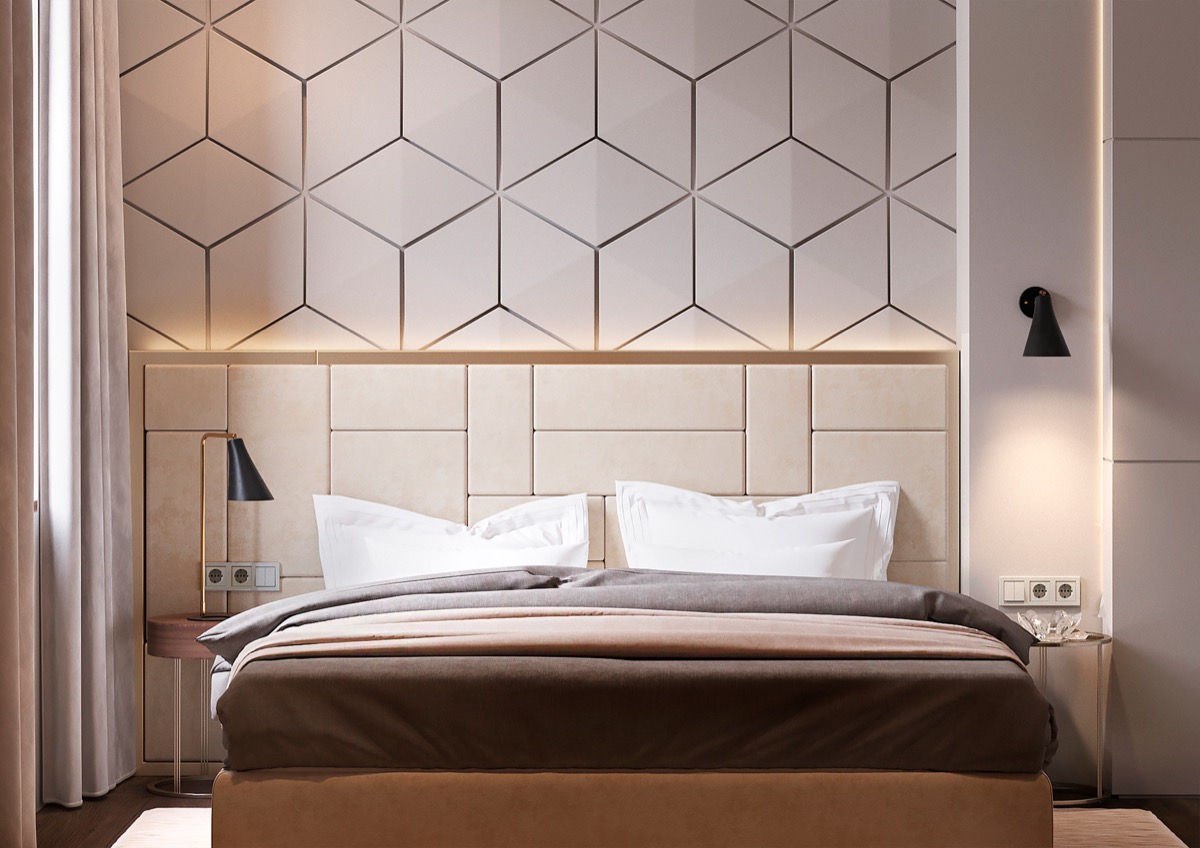 Make a statement in your master bedroom with a geometric print accent wall. Geometric accent walls can add a pop of color or modern flare to your bedroom. From subtle patterns to bold shapes, you can choose tons of geometric accent wall options to bring the vision of your dream bedroom to life.
Choose the shape of the geometric pattern in a way that it coordinates with the rest of the elements of your bedroom. You can cut plywood panels into geometric shapes, like hexagons, triangles, or diamonds, and arrange them in various patterns and designs to create a gorgeous feature wall.
If you have black wood furniture in your bedroom, then a dark gray geometric pattern with bright spots can be the ideal choice.
11. Textured Wall Accent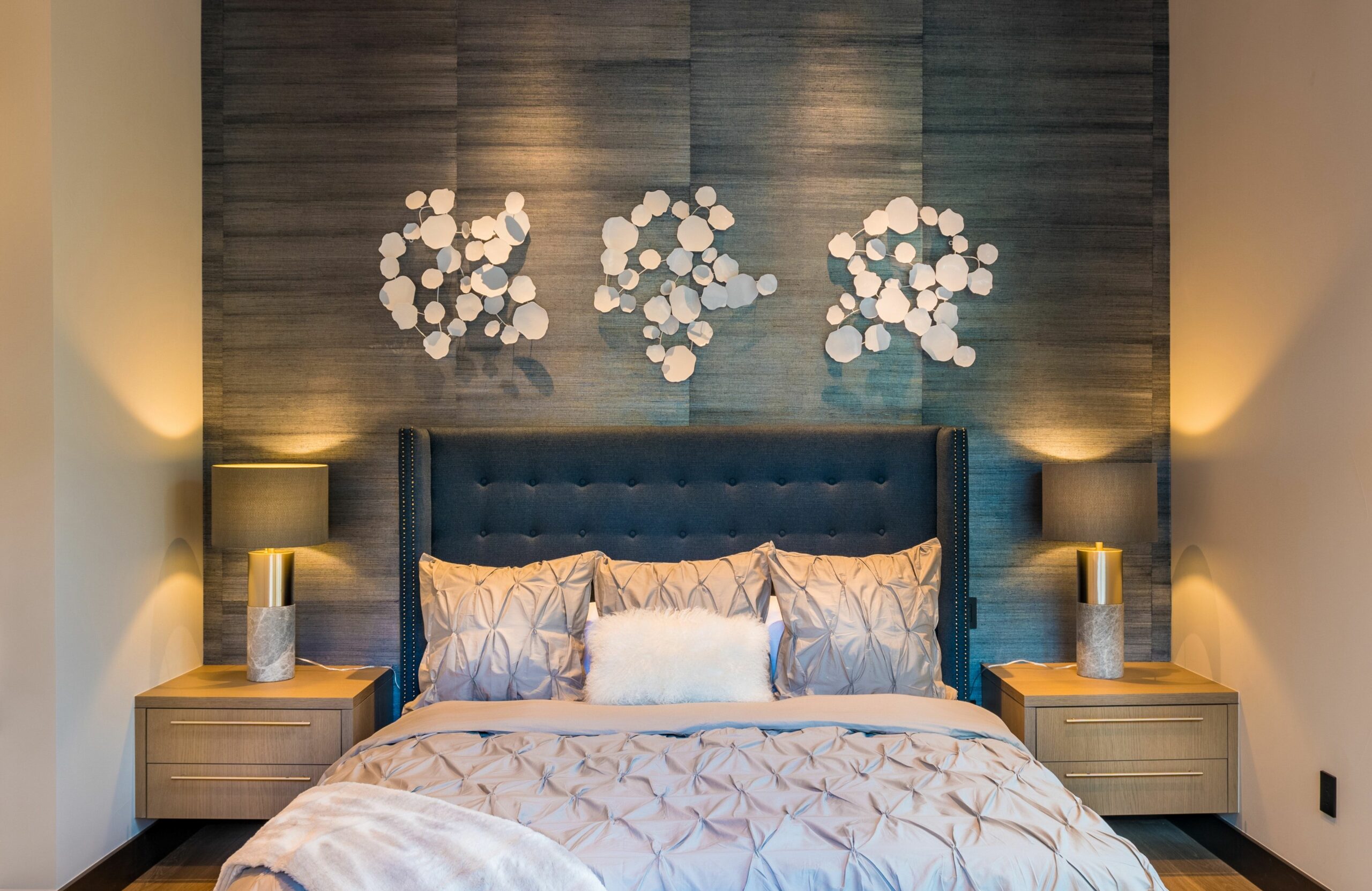 If you think that creating an accent wall is only limited to applying a fresh coat of paint, then you are wrong. You can add different textures to the accent wall to give it a unique look.
Try adding interesting texture to your master bedroom's painted accent wall. You can use wooden panels and textured wallpapers to give a one-of-a-kind look to your bedroom wallpaper accent wall. You can also use wood, natural stone, or bricks to create a textured wall accent.
Aged metal, concrete, paneling, 3D panels in various colors, paper, and even empty frames attached to the wall can add texture. Extensive cabinets or shelving can also work as an accent wall in a master bedroom room that lacks storage and an architectural feature.
12. Think Beyond Solid Colors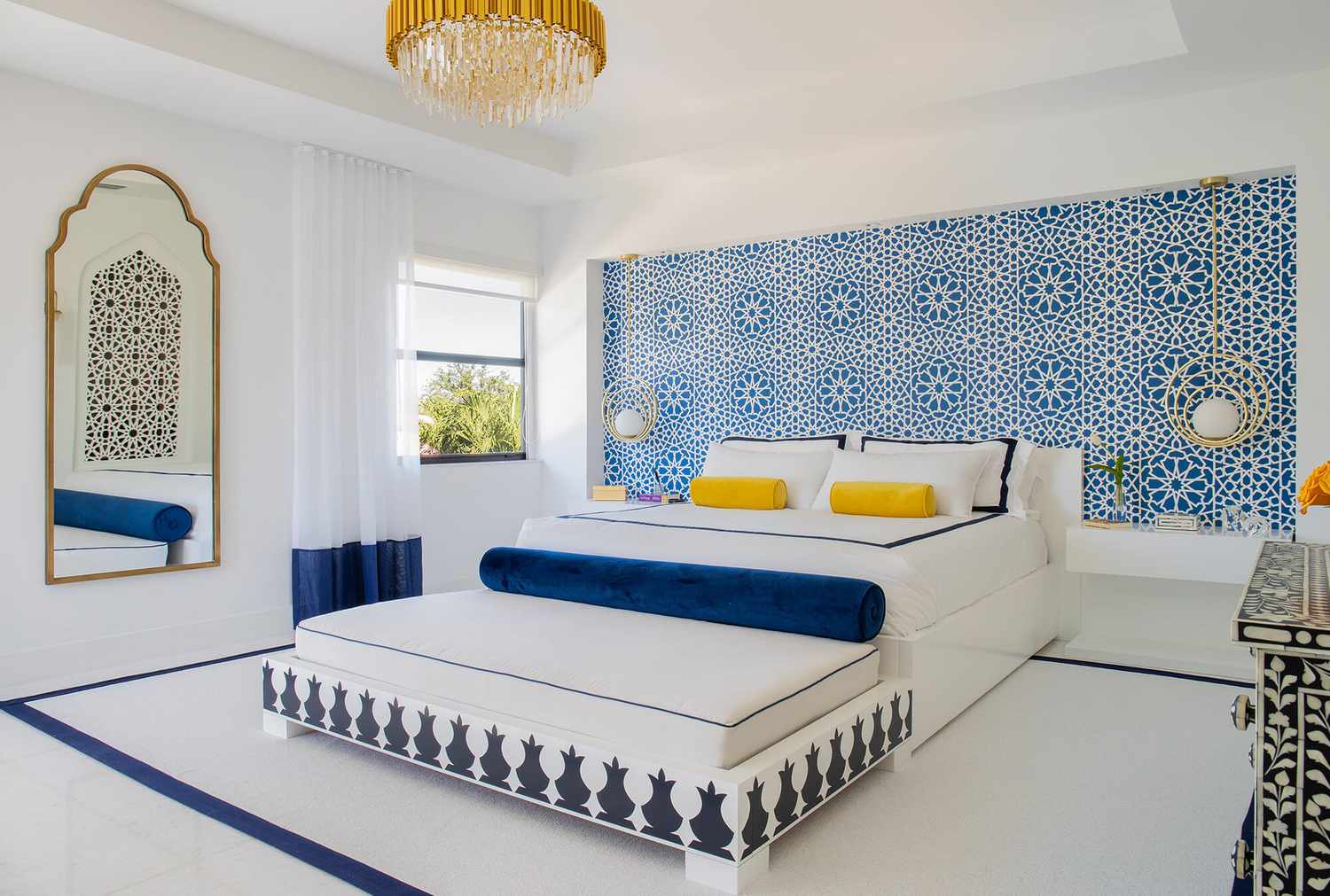 Solid colors are the best choice for bedroom wallpaper accent walls. But metallic wall finishes can also turn your accent wall into a standout feature. An aqua-blue wall accent can be the best way to bring the sea inside your bedroom. A peachy hue on the wall accent can also give your bedroom a new dimension. This color goes well with white, brown hues, and several pink variations.
Keep your adjacent walls painted in a milder neutral tone or white color, and keep your accent wall one or two tones darker to make it stand out. You can even try ombre, stripes, and a specialty paint finish on your accent wall if you don't want to paint your accent walls in bold colors.
13. Seascape Bedroom Gallery Wall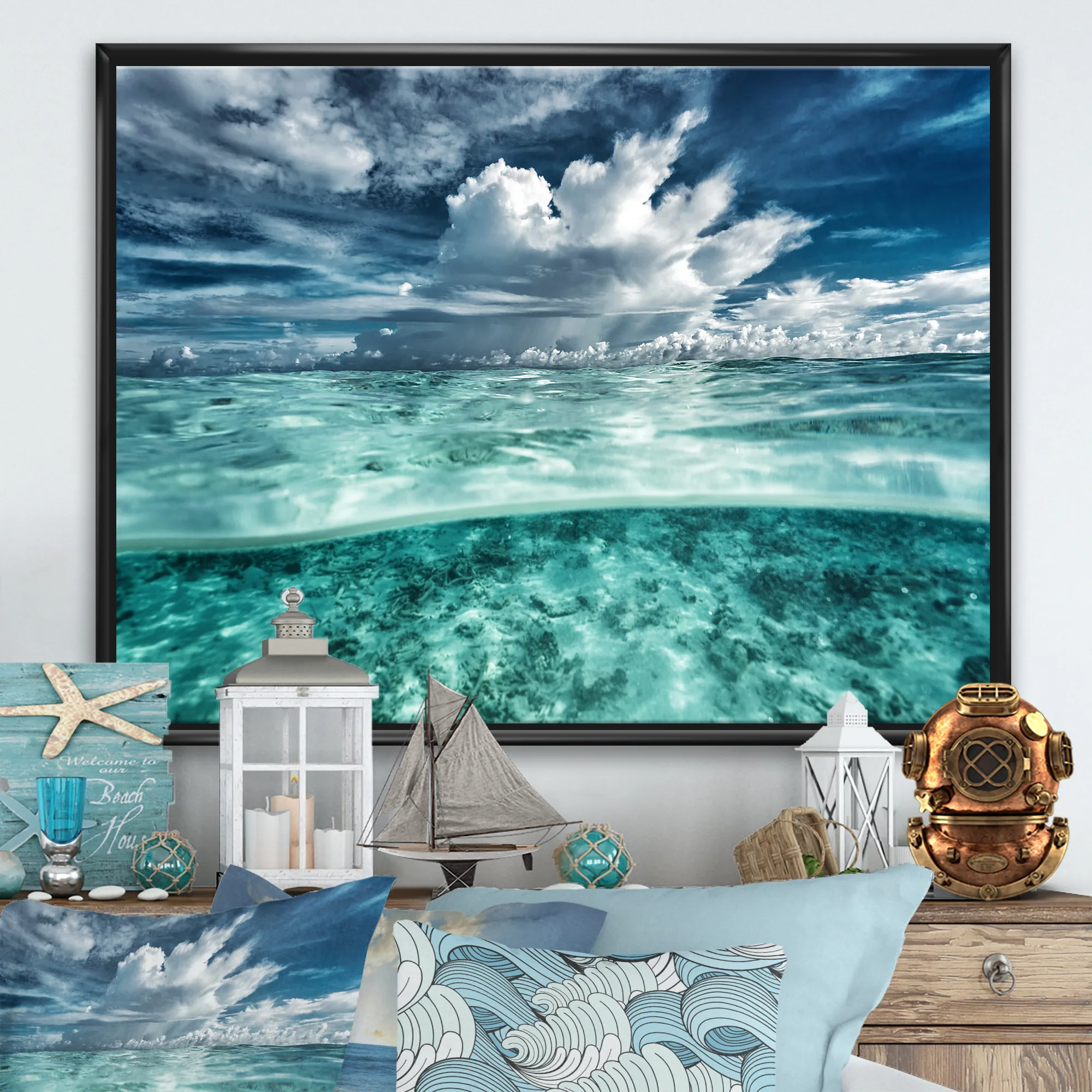 If you want to give your bedroom a vacation-like feel year around, a seascape bedroom gallery wall can be the ideal option. Bring the seaside indoors by decorating the plain wall with mirrors and posters of fountains, oceans, and waterfalls. If you have a vertical space in your master bedroom, you can take advantage of it to create your very own seascape.
Fill the entire vertical space with posters of different water features to make that area stand out in your bedroom.
Add coastal accents like old window frames or oars for an inexpensive DIY project or beach accessories like straw hats to give a coastal feel to your master bedroom. You can also use a wave tapestry to make a statement in your bedroom.
14. White on White Bedroom Wall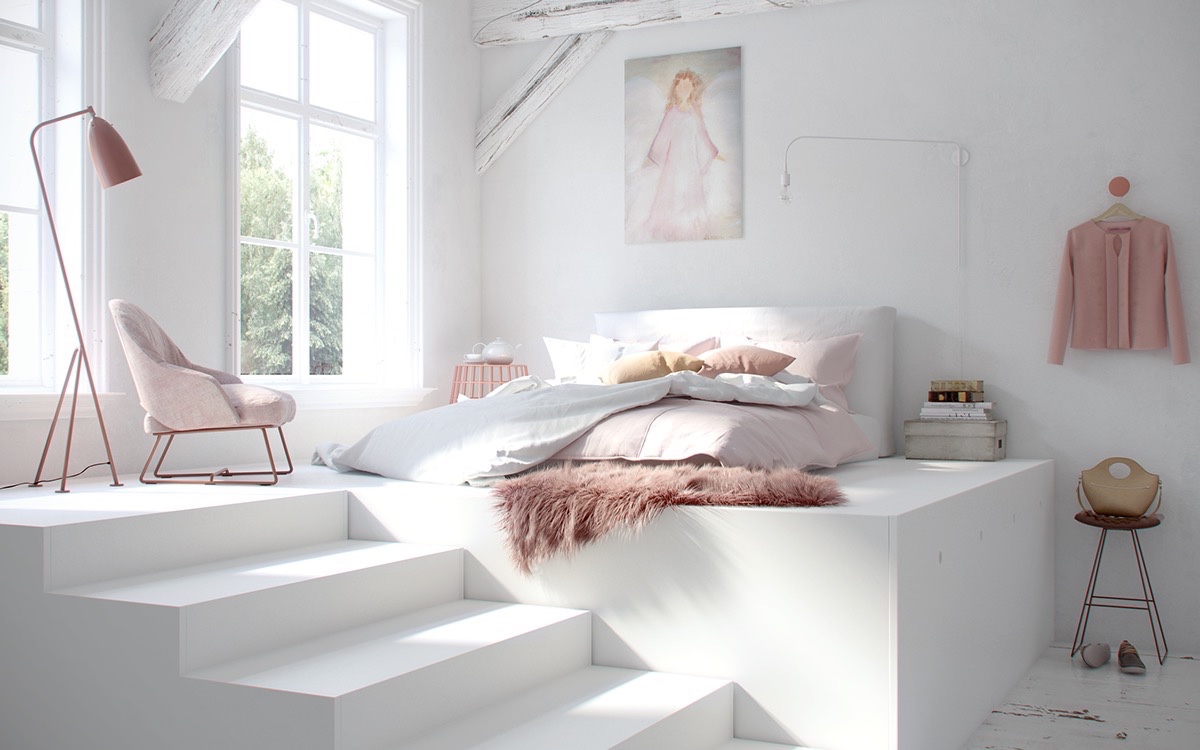 4
If the floor, walls, ceiling, bedding, and furniture in your bedroom are white in color, then you can hang a similarly hued wall art above your bed to make it the showstopper piece of your bedroom. Consider the size of the wall art in relation to your wall space and bed. An oversized artwork can create a dramatic effect and a bold statement, while a smaller piece can add a subtle touch.
White on the white bedroom wall is one of the best ways to create an ultra-neutral sleeping space that promotes relaxation and harmony. But accent walls can be tricky in an all-white room. Use a mid-tone accent color to bridge the difference.
Don't use the exact shade of white if you want the accent wall to stand out. You can hang a poster, wall art, or frame in a similar hue to break the monotony and create a contrast.
15. Collection of Pewter Plates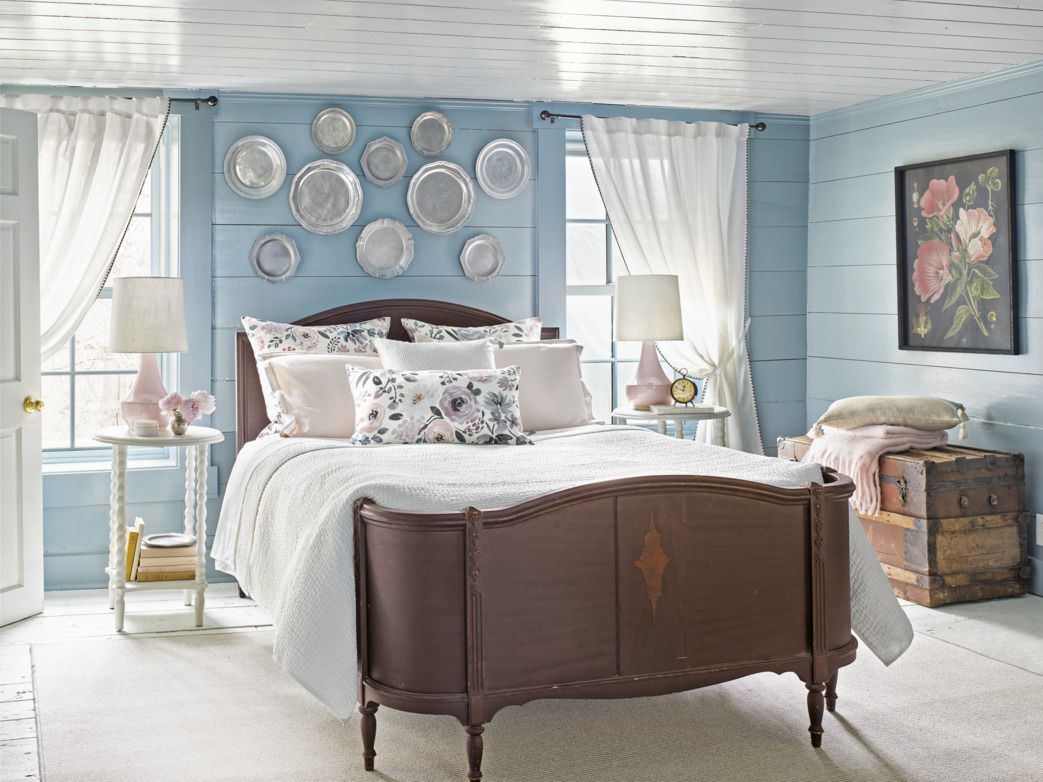 Do you want to spice up your bedroom decor with an elegant accent wall that is easy to install? Use vintage or pewter plates to create a symmetrical gallery display in your master bedroom. It can also be a wonderful way to fill up the blank space in your bedroom and turn it into a piece of art.
You can add a collection of plates above your antique bed. This type of accent wall looks stunning and doesn't require lots of money, time, and skill to install. You can also hang plates carrying a message or meaning.
They will become a meaningful part of your bedroom and home. You can install spotlights or wall scones to illuminate the plates and make them the center of attraction in your bedroom.
16. Stone Bedroom Wall Accent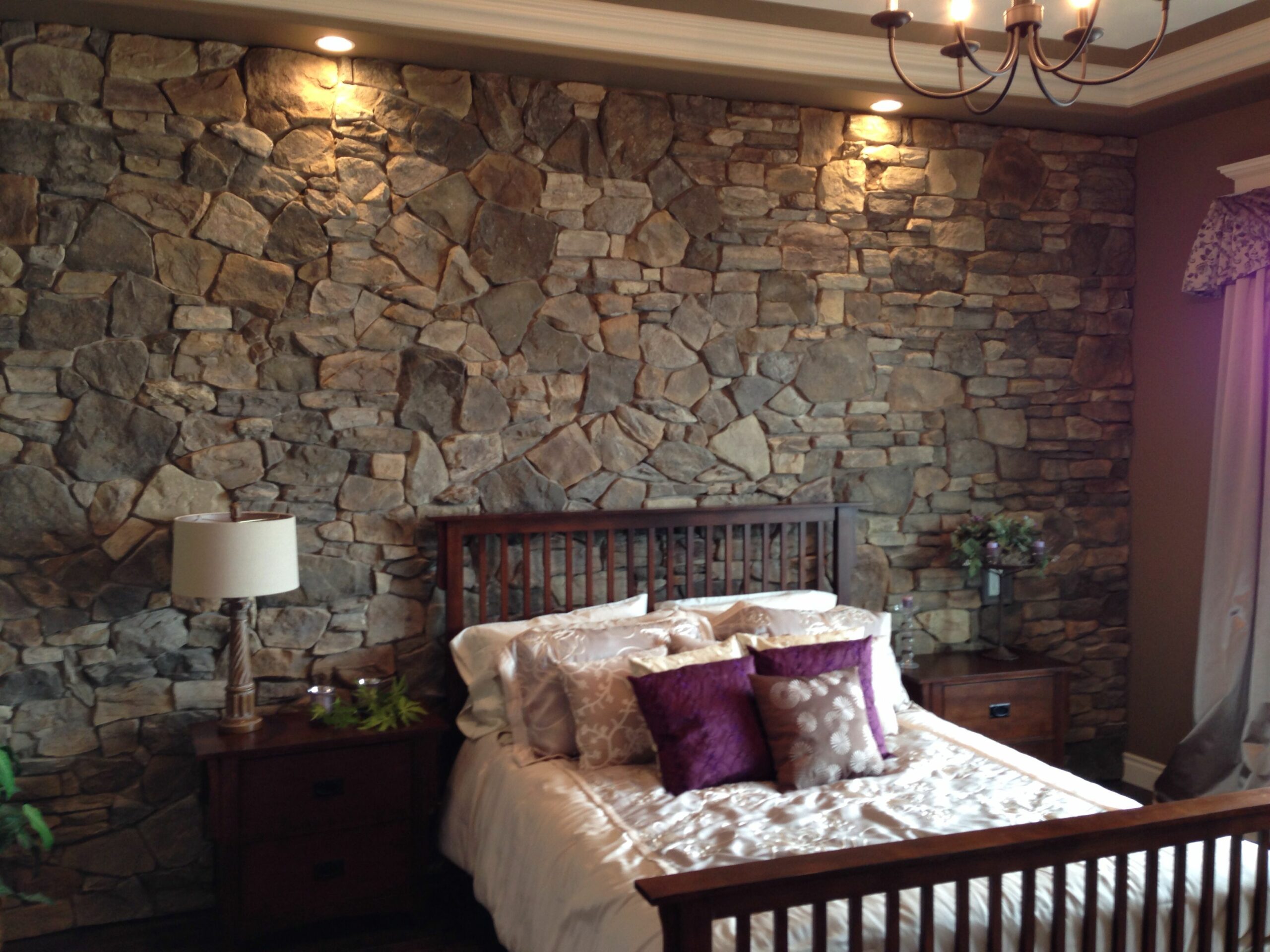 Stone is a nature-inspired material that can be used to give an earthy touch to your accent wall. You can put a locally quarried stone, an antique American flag, and aged wood planks on the wall to create a stunning and eye-catchy look. A stone accent wall is very versatile. Decide whether you want to go with manufactured or natural stone while decorating your accent wall.
Manufactured stone is easier to install but doesn't look that appealing. Also, decide on the colors you would like to incorporate and the textures you would like to see.
You can clad stones on your accent wall in different patterns. But it is important to choose the one that will enhance the ambiance of your bedroom.
17. Woven Basket Accent Wall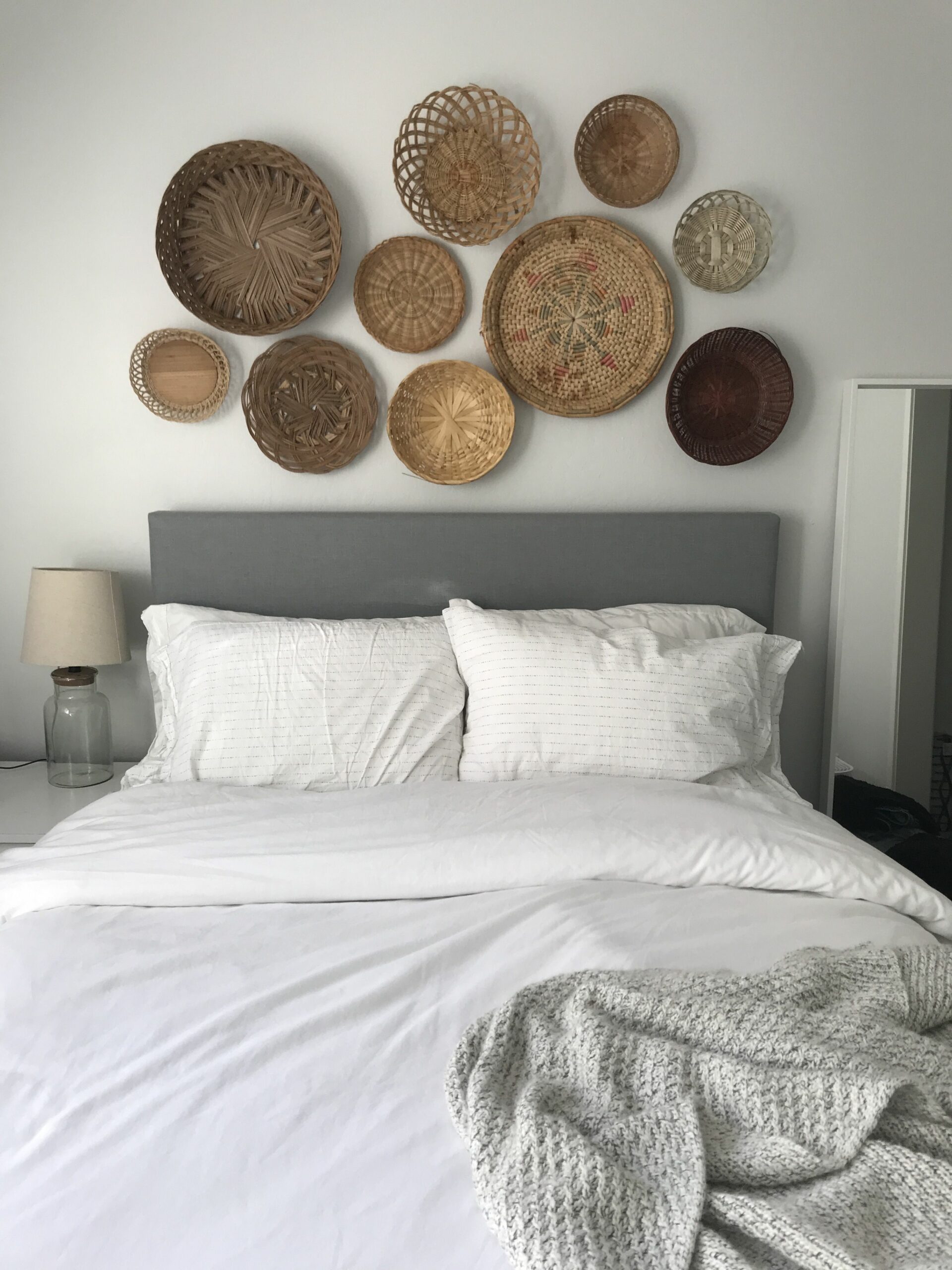 If you want to make your bedroom feel like it has come straight out of a home magazine, decorate your accent wall with a collection of woven baskets. The best thing is that woven baskets can be hung anywhere on the wall easily. If you want your bedroom to have a rustic feel, hang bamboo-weaved baskets on your accent wall.
The woven element of the baskets will add dimension and texture to the walls, and the honey tones in the natural material will uplift the ambiance of your space. Choose woven baskets in different sizes, shapes, and colors to create visual interest.
Don't use woven baskets on accent walls of bedrooms having modern flair, as they will not go with the sophisticated look of your space.
18. Album Display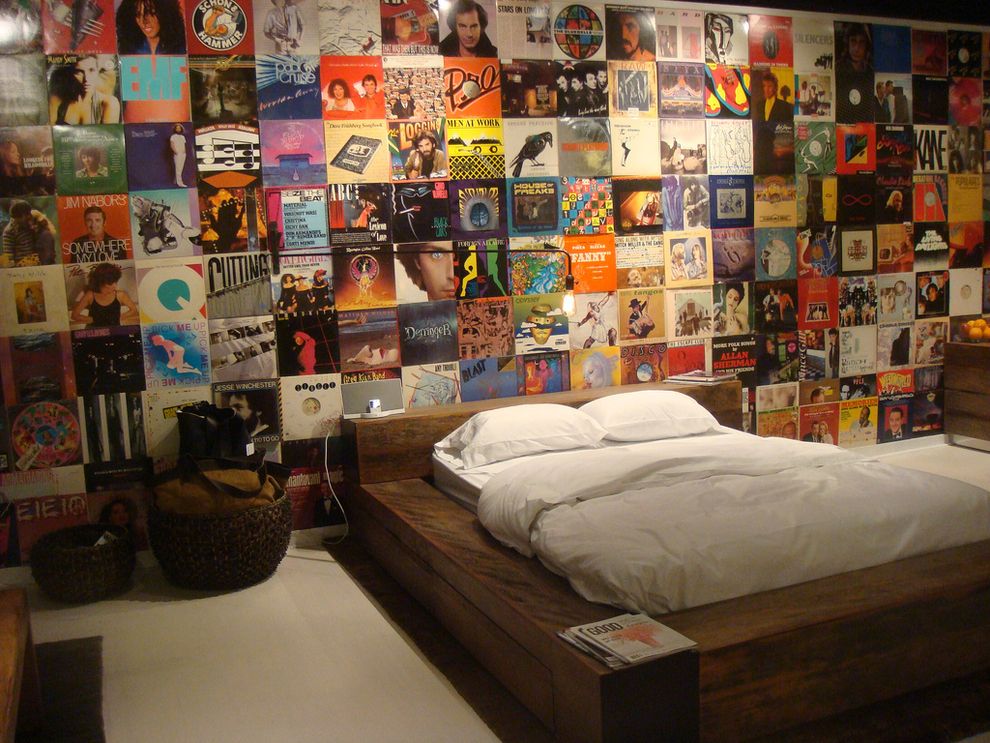 Rather than opting for costly frames and artwork on your accent wall, you can give a personal touch to your bedroom with the help of an album display. You can display your personal items, like Beatles albums and collectibles, and diplomas, to create a beautiful masterpiece. You can also take advantage of the albums in the dollar bin of your local record store to give a classic look to your bedroom.
Whenever you see these albums, they will remind you of the precious moments and the nostalgia associated with them. When your friends, family, or guests arrive in your master bedroom, they will appreciate your brilliant collection.
19. Chalkboard Wall Accent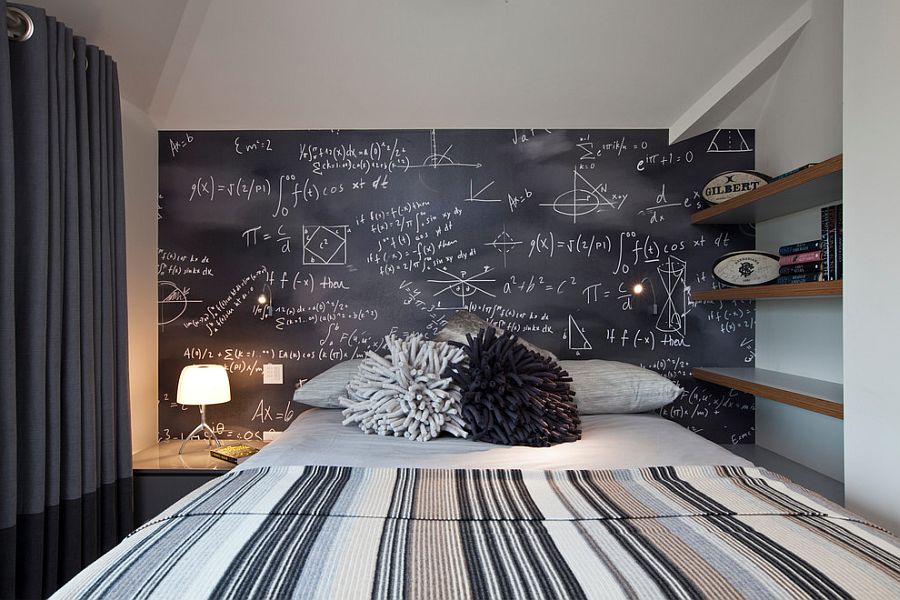 A chalkboard wall accent can make your master bedroom more creative and personalized. It can be incorporated in all types of bedrooms whether it's masculine, feminine, industrial, or farmhouse. You can use the chalkboard wall to write a seasonal greeting or put an inspirational quote. It is also perfect for daily schedules and quick reminders.
If you don't like the chalkboard wall's black color, you can add a white chalkboard wall. The neutral color of the white chalkboard blends in with the rest of the walls giving a polished finish to your bedroom. You can easily change the look of the wall with chalk.
Conclusion
If you want to change the ambiance of your master bedroom without a full redo, make the accent wall stand out. An accent wall is the perfect way to add interest and personality to your bedroom. When painting the accent wall, you can go dark, bright, or neutral. Choose a color that ties the entire look together.
You can opt for a bedroom wallpaper accent wall, chalkboard wall accent, or textured wall accent to transform your bedroom into a sanctuary of relaxation and comfort. If you're seeking more inspiration for master bedroom accent wall ideas, check out the ideas mentioned above.
Transform your bedroom into your personal retreat now by using the creative master bedroom accent wall decorating ideas.
Frequently Asked Questions
How Can You Choose the Accent Wall in Your Bedroom?
The accent wall should be that area of your room where your eye is drawn naturally when you enter your bedroom. You can also choose a wall that captures your attention as soon as you wake up.
How Can You Make the Accent Wall the Centerpiece of Your Room?
By blending different tones, colors, and textures, you can create an epic space that will become your bedroom's centerpiece. You can also use maps, scenic murals, geometric prints, and woven baskets to decorate your accent wall.