Do you love the whole idea of using soothing color palettes to create some unique coastal bedroom design styles? Well, the coastal and beachy bedroom décor is so in trend.
Coastal bedroom décor is a classy and sophisticated way to relax and overcome stress. Moreover, the different shades of blue, green, and sand colors truly attract relaxation and calmness. The vibrant subtle colors and beach prints create a fantasy and feel of living at the beach.
The modern coastal bedroom design brings elegance, simplicity, freshness, and charm over traditional coastal décor ideas. If you want to try some modern coastal décor bedroom ideas, let us walk through some inspiring designs. Transform your room into a seaside paradise with the top 23 modern coastal bedroom designs!
Modern Coastal Bedroom Design Ideas to Elevate Your Space
1. White Background Walls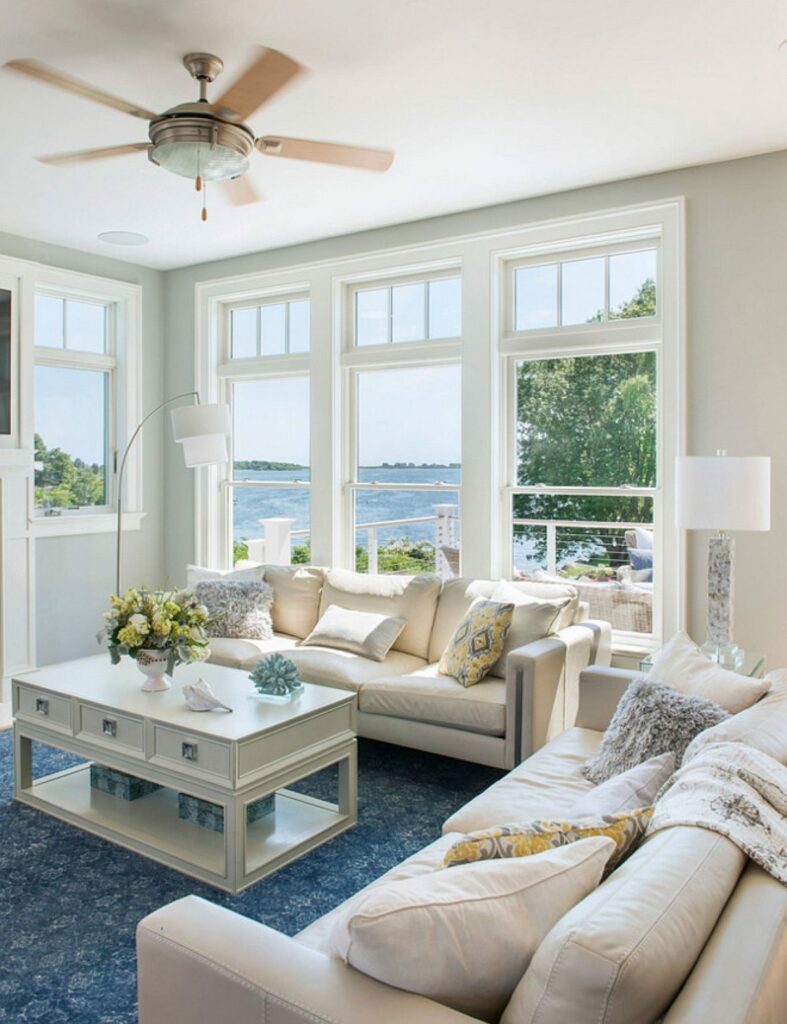 Talking about one of the best and the simplest modern coastal bedroom designs – white walls for the background. Nothing can be compared to the elegance and beauty that the white background walls add to the modern coastal décor style. You can then play around with soft natural colors to add more beauty to your room.
A creamy ivory wall attracts with its warmth, while the all-white background walls bring more brightness and coziness to the room. Try to add minimal and sophisticated accessories to keep up the sleek modern coastal bedroom décor. You can further enhance the beauty of your room by adding crisp fabrics like cotton or linen.
2. Adding Artwork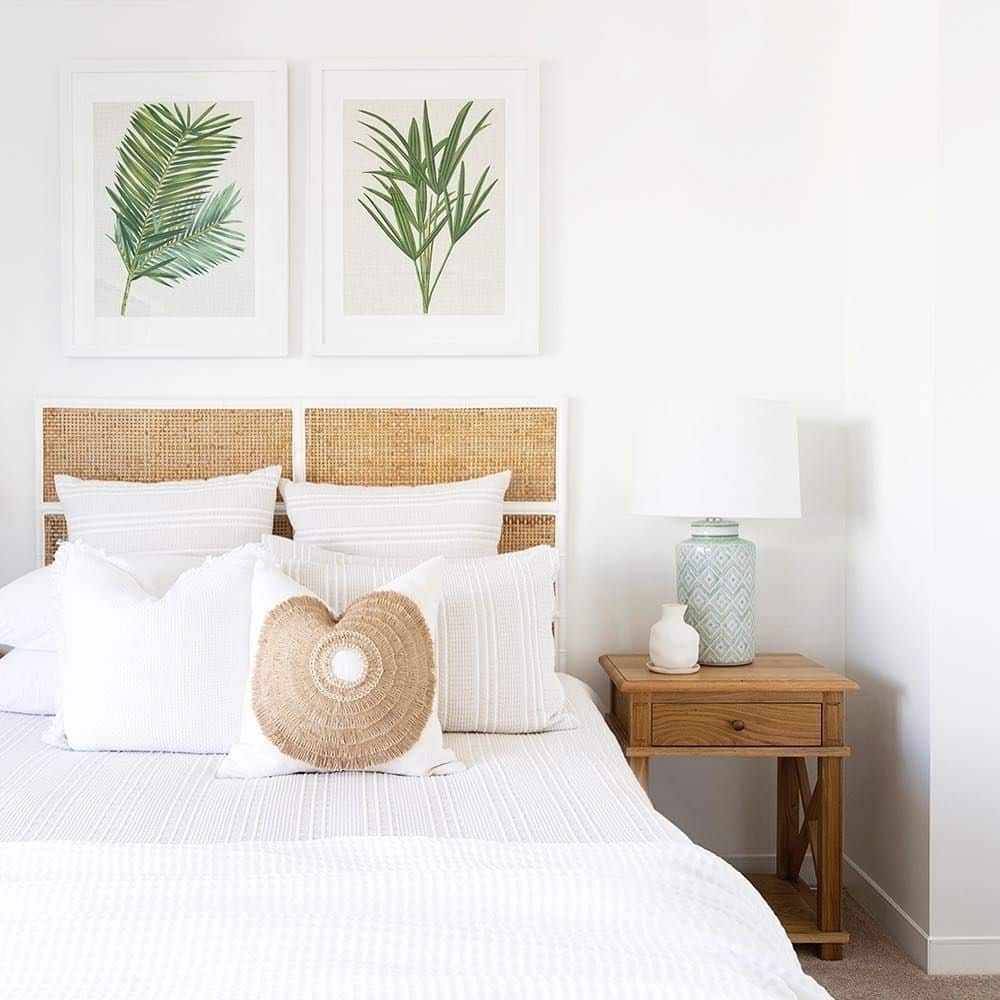 If you want to keep it simple with the coastal bedroom designs, you can simply add some amazing artwork pieces. Adding artwork pieces that reflect the coastal vibe is one of the most popular ideas to get the coastal feel without any hassles.
You can try wall art pieces with palm trees, coconut trees, palm leaves, and other natural elements. These art pieces add something little yet significant extra to your room to make it distinguishably beautiful. The colorful combination of art pieces with neutral wall colors is one of the safest design ideas to try.
A quick tip: try using the wall art pieces in contrast to your room décor to make them more evidently visible and attractive.
3. More Use of Greens and Blues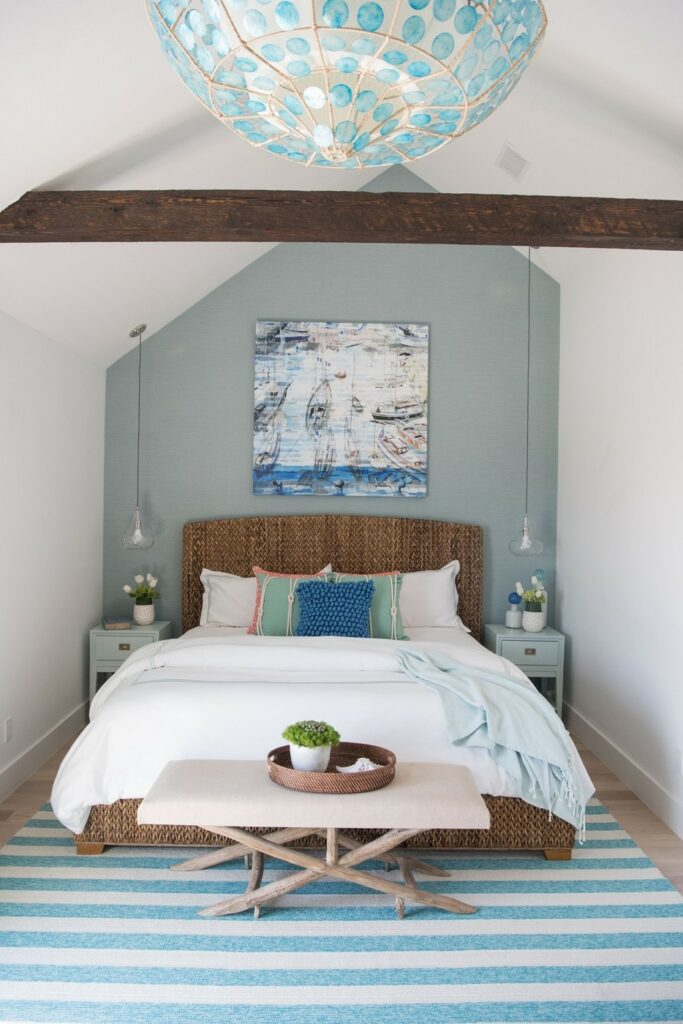 The coastal bedroom design is incomplete without the use of blues and greens. These colors are the main elements to bring the coastal and beachy vibe to your room and, thus, cannot be ignored in the decoration. Moreover, as these colors bring calm and relaxation, they should be used more for coastal décor styling.
Try mixing the different patterns, styles, and combinations of these two colors to reflect the image of the ocean and sand perfectly. You can use these colors in either your bedding, wall décor elements, wall colors, rugs, carpets, etc. You can play around with their proportions according to your liking and preferences to make your place more vibrant and charismatic.
4. The Magic of Driftwood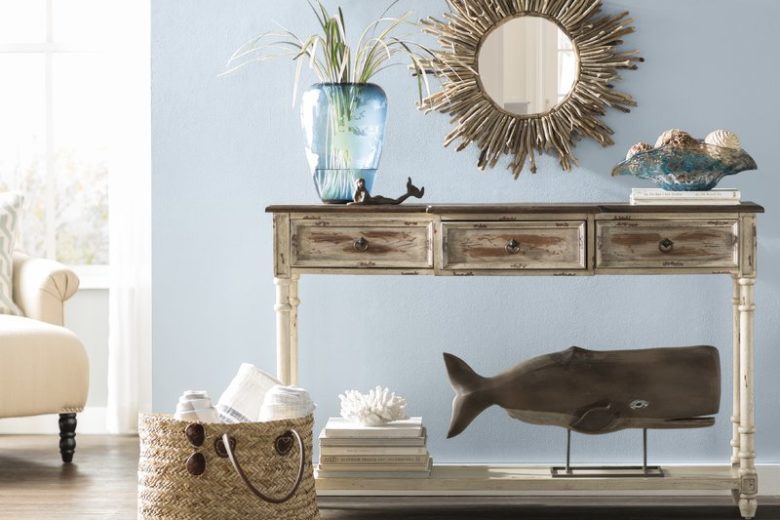 The modern coastal bedroom designs are more sophisticated, subtle, and natural, with minimal elements. Thus, the idea of using driftwood works magically with this décor style to keep it more natural yet beautiful.
Driftwood is best known for its versatile use for adding elegance, visual attraction, and uniqueness to the place. It can be used in as many ways as you like or rather want without ruining the whole vibe of the place. Additionally, the driftwood isn't just a decorative piece for the interiors, but it can be used as an attractive bookshelf or coffee table to enhance the modern coastal bedroom look.
5. Add More Natural Elements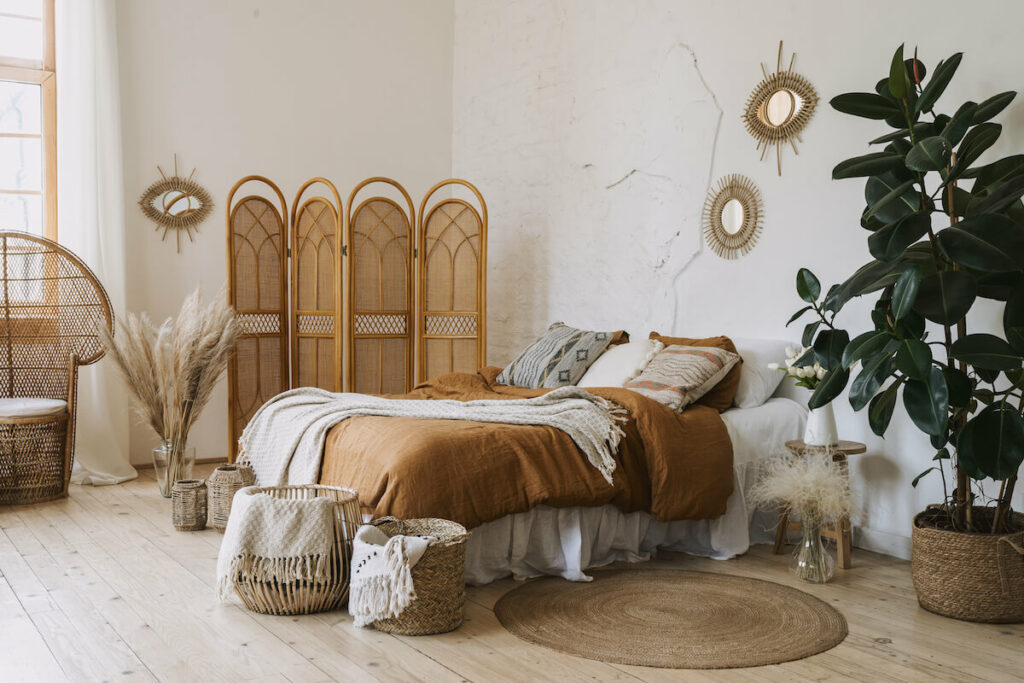 Of course! The modern coastal bedroom style cannot be talked about without using more and more natural elements. As the whole vibe of the coastal design focuses on the combination of sand and sea, the natural elements are the best and simplest way to achieve it.
Combine a naturally simple bed frame with neutral wall paint and a pearl chandelier to give the look of a coastal bedroom in the best possible way. You can also add some other natural elements like a plant pot, wall décor items, and a pastel-shade rug to add more warmth and detail to the bedroom.
Quick Tip: as you add the natural elements, ensure that you don't crowd your room too much. Keep some space for fresh air to breathe and relax!
6. Highlighting the Bed Frame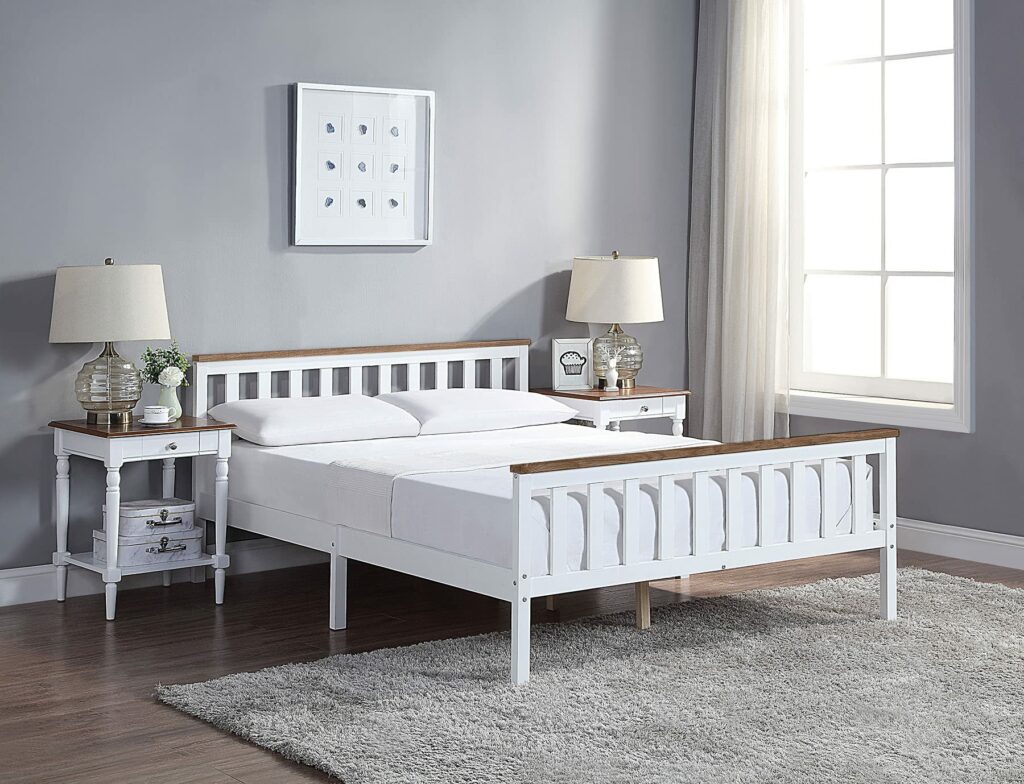 If you don't want to get into too much hassle with the wall décor items or natural accessories, you can simply just play around with your bed frame. Yes, you read that right! Just a little here and there with your bed frame can make a lot of difference in the coastal bedroom décor style.
One of the simplest ways is to highlight the bed frame with a bright and attractive style. You can specifically try highlighting your bedding with an upholstered bed frame in a beachy color tone, like a combination of white and blue. This will simply add a coastal vibe to your room, along with a dash of brightness and light for more attraction.
7. Keep Your View Open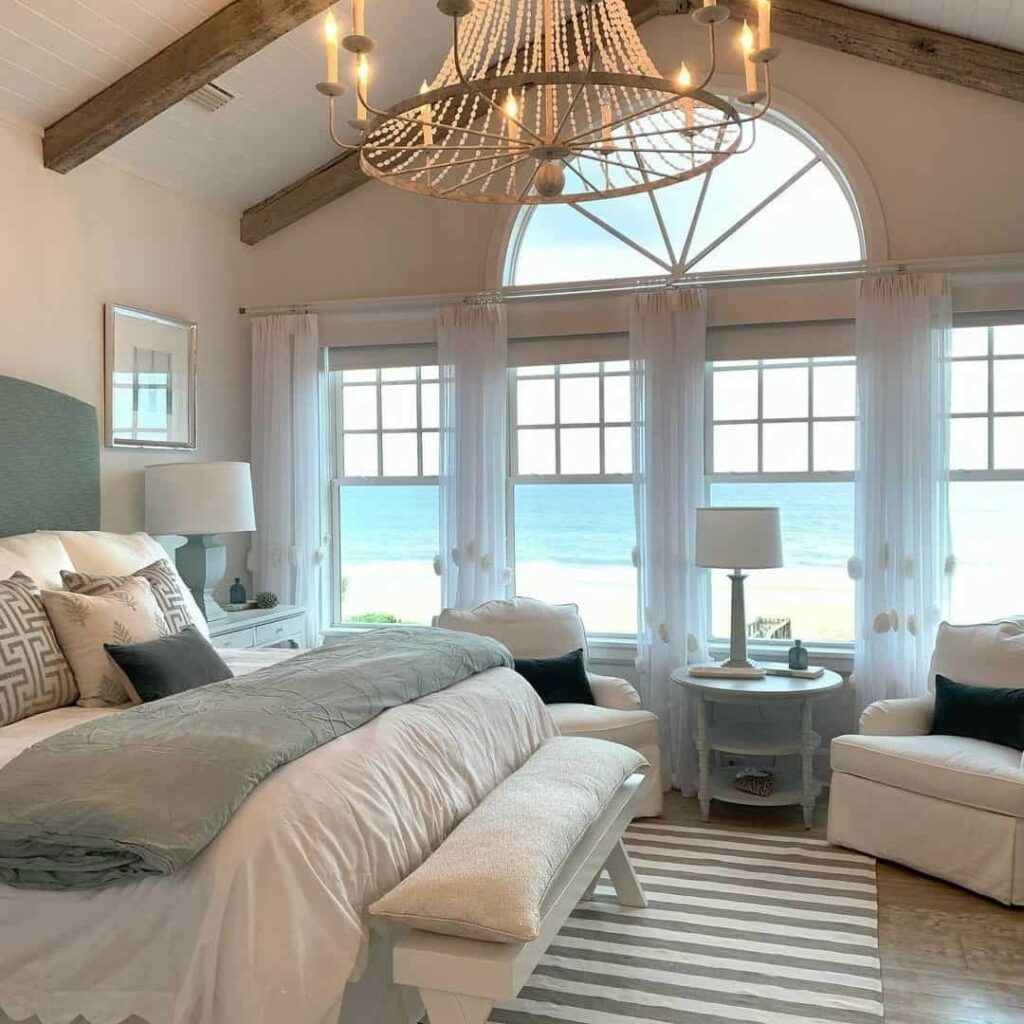 If you have windows and balcony doors in your bedroom with an amazing view, you cannot waste them. They can work as one of the major assets in your coastal bedroom design ideas without much effort. To do complete justice with your windows and balcony doors, you should keep the view as open as you can.
Use light and see-through curtains to allow freshness, natural light, and air to flow inside your room. This will make your room look brighter and more beautiful while maintaining the coziness of the coastal vibe. As with the open view, you can stay connected with nature; you will thoroughly enjoy the coastal bedroom vibes.
8. Wood Furniture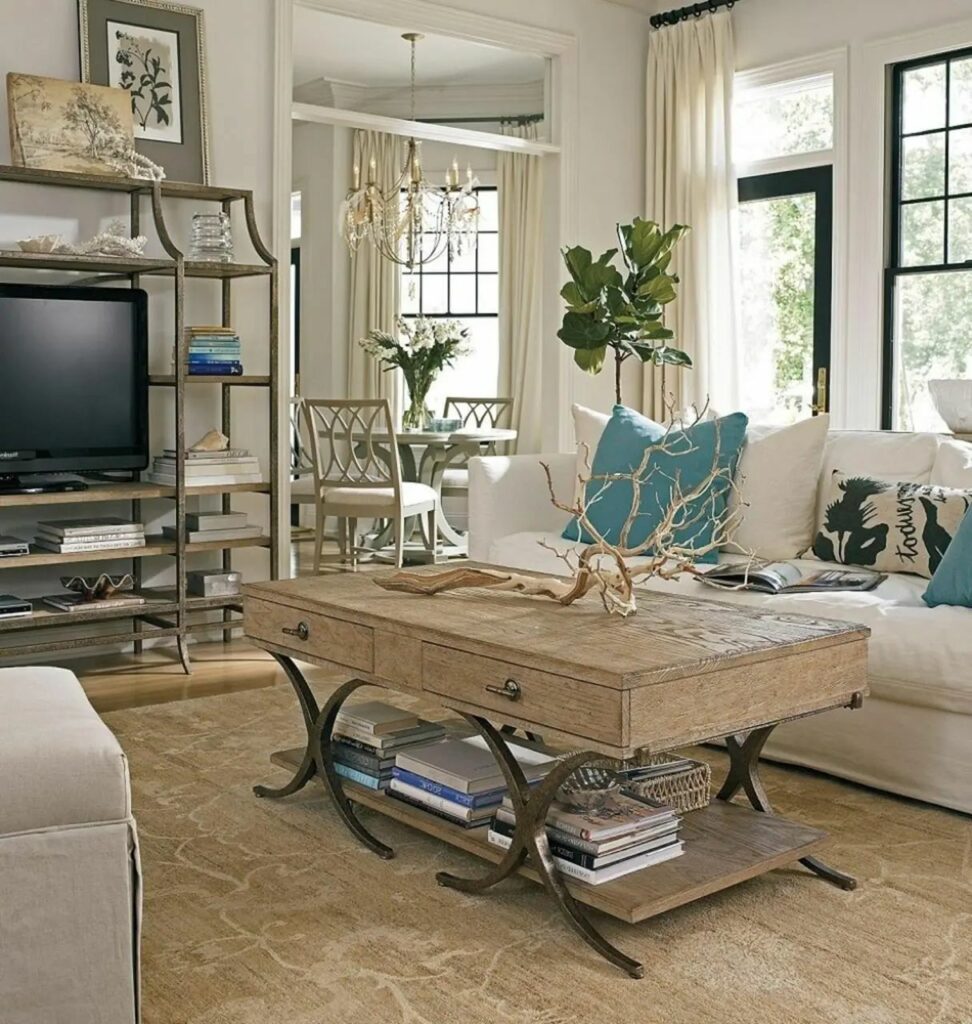 The simplicity and elegance of the coastal design décor simply enhance with the addition of wood furniture in the room. To create a minimal and sophisticated coastal décor in the bedroom, it is better to use wood furniture to maintain the whole vibe. Try adding as much wood furniture as you can to charm up the coastal feel in the bedroom.
You can use coastal wood furniture, which is white or baby blue in color, to do justice to the whole coastal vibe. Not just the wood furniture is visually attractive, it is durable and long-lasting to leave an impression. You can also accommodate some neutral decorative elements in the room to glam up the surroundings.
9. Work on Having Fewer Shadows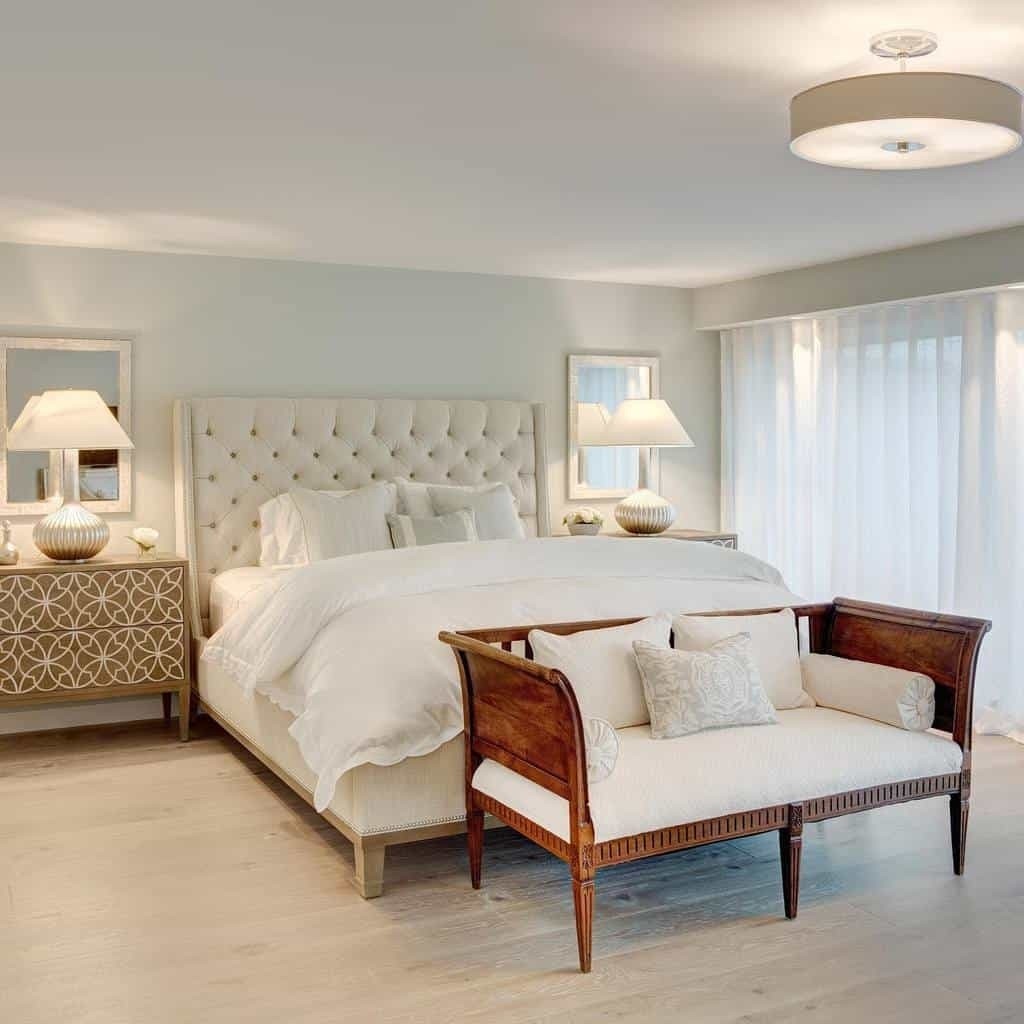 When planning to get a coastal bedroom design décor in your place, be very sure to have minimal or no shadows at all. Any kind of shadows in the bedroom is not welcoming as they can ruin the whole vibe of the place. Additionally, it will not look visually appealing to you and your visitors.
Work on the interior that can reduce the shadows and their impacts, like white bedding and wall coverings. The all-white décor will work in favor of reflecting the natural light to make your space look brighter and more spacious. This will also reduce the interference of shadows for the coastal décor design.
10. Light Wood Flooring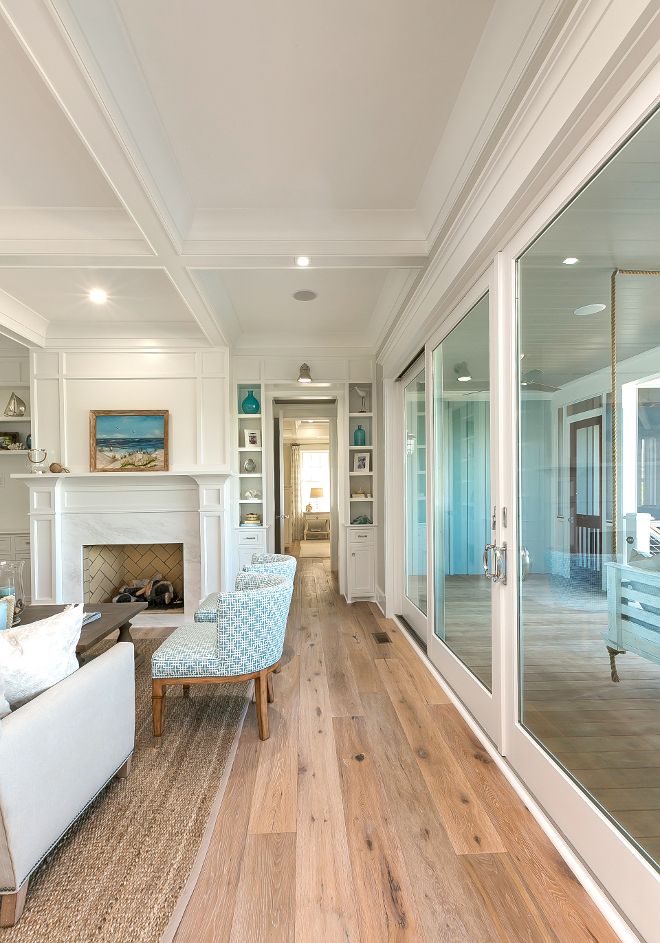 Similar to the idea of using wood furniture, even wood flooring can enhance the coastal bedroom vibes without any hassles. Wood floorings are great, especially when planning to maintain a coastal vibe at your place. As the wood flooring is simple and much easier to maintain, it is one of the most popular options in modern coastal décor style.
You can use the light-wash wood flooring as they look more beautiful and elegant. Moreover, they can be cleaned much more easily than dark-wash wood flooring. Just imagine the combination of blues, whites, and light-wash wood flooring; will this not create the perfect visual attraction?
11. Capiz Chandeliers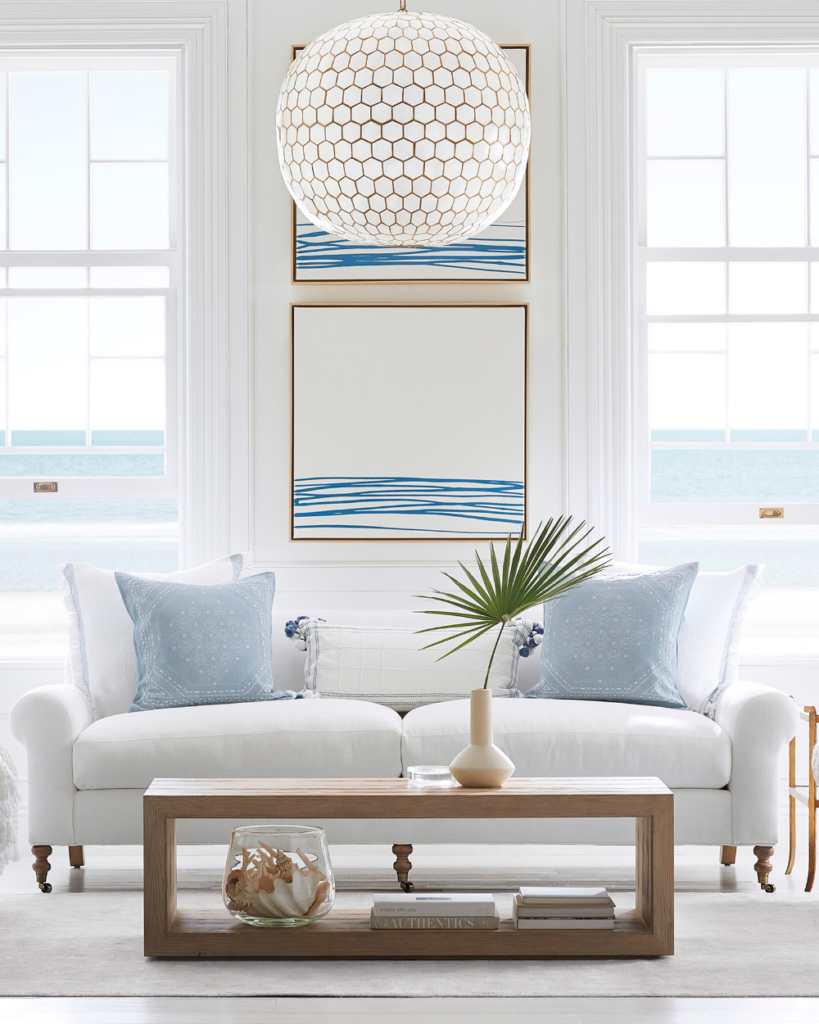 Chandeliers are a major part of modern home décor, and when talking about the coastal bedroom décor style, capiz chandeliers are the best choice. Capiz chandeliers have a charm and charisma of their own that beautifies the whole place without any hassles. Undoubtedly, it can be a wonderful and attractive addition to the modern yet sophisticated coastal bedroom décor.
Besides enhancing the beauty of the place, these capiz chandeliers are long-lasting and, thus, are a must-have. They are good diffusers of light that make the place brighter, lighter, and spacious. You definitely need at least one capiz chandelier as they exhibit extreme beauty and shine in their unusual and innovative texture.
12. Woven Accent Chair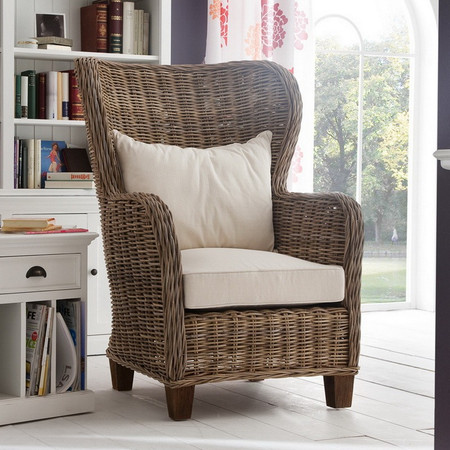 If you don't like the idea of adding too much wood furniture to your bedroom, you can simply just choose a decent woven accent chair. A woven accent chair is nothing less than a wonderful addition to the modern coastal décor style for its simplicity and elegance. You can easily place a woven accent chair in any corner of your room to let it enhance the overall beauty.
Moreover, the woven accent chair can magically transform the overall aesthetic vibe of the place by easily synchronizing with the other décor styles. For the best visual attractions of the coastal bedroom décor, you can have an accent chair in either leather or a cane.
13. Embrace the Coral Colors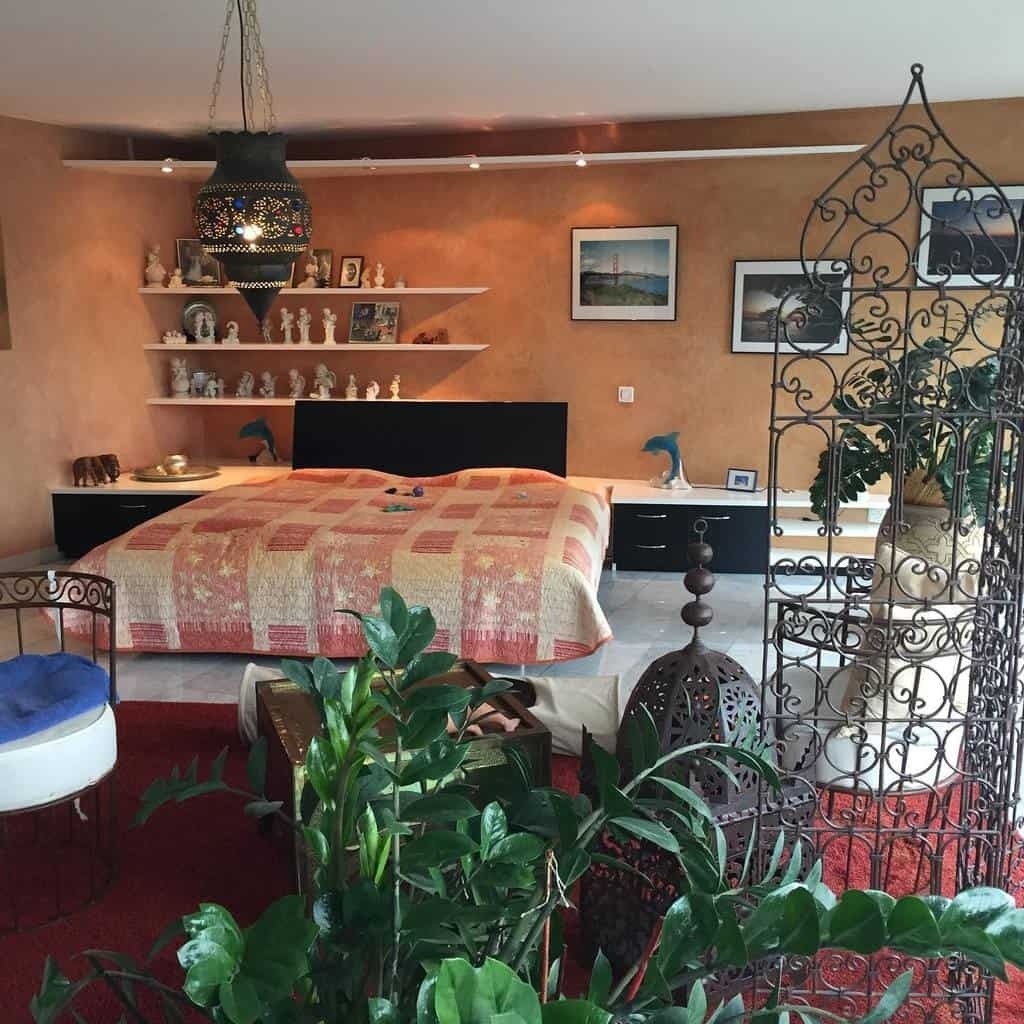 Do you want to ditch the monotonous blues and greens in your coastal bedroom décor style? Are you planning to do something extra and interesting to enhance your room's beauty? If yes, then you shouldn't miss embracing the coral colors for coastal bedroom décor.
The coral colors make a unique choice when you don't want to be just limited by the obvious coastal colors. Coral colors add a bit of whimsy to the place yet maintain the coastal vibe without ruining it. You can either use coral colors as the center masterpiece element or use them in the various decorative elements to gradually catch everyone's attention.
14. Using Natural Nautical Rope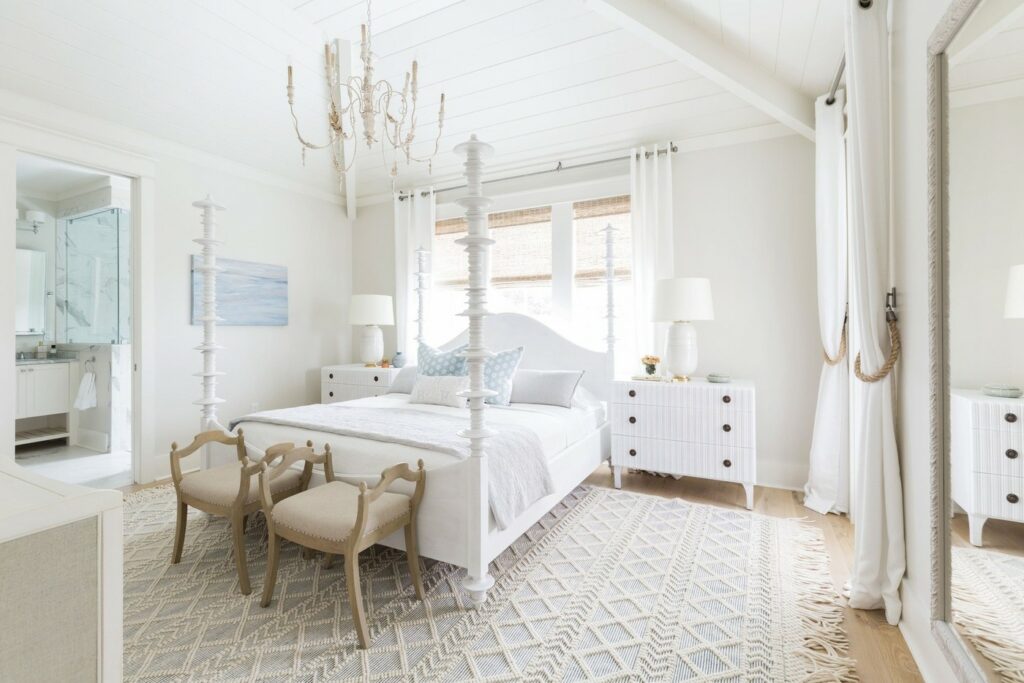 Using small yet significant decorative elements in your coastal bedroom décor can make a large impact. Sometimes, it is the small elements that catch the maximum attention for their uniqueness and charm. Nautical ropes are one such small yet attractive addition to the coastal-style bedroom décor that can make an evident difference.
According to interior décor experts, nautical ropes are one of the most popular additions to the modern coastal décor style. Not that they are easy to use, but they last for the maximum time possible, transforming the aesthetic of the whole vibe. You can use them as a decorative item or as your curtain ties to let them spread their magic.
15. Add Natural Seashells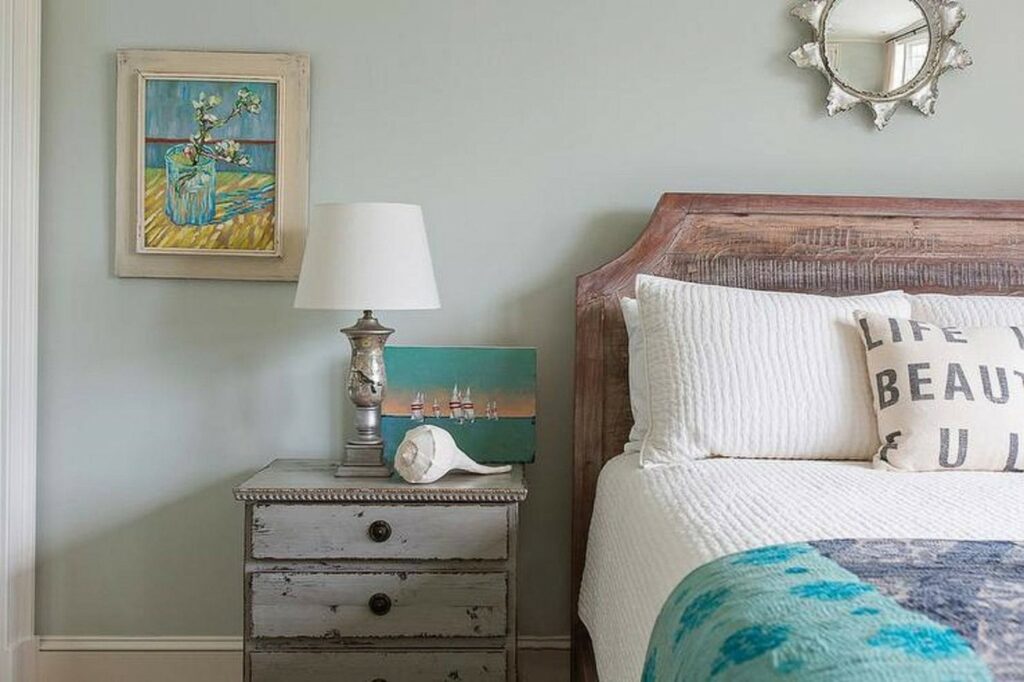 What can be a more authentic way to ace the coastal bedroom décor style than using some natural seashells? Seashells are probably one of the few first things that pop into your head when thinking of coastal or beachy themes. You just need to implement that theme in your bedroom in a certain way you like.
Fortunately, seashells are available very easily in different shapes, sizes, and colors. You can pick any of the styles according to your room décor and vibe to enhance the coastal vibes without exaggerating anything. Either place them beside your side table or use them as a decorative accessory; they just amazingly look so beautiful.
16. Sharks and Surfboard Décor Additions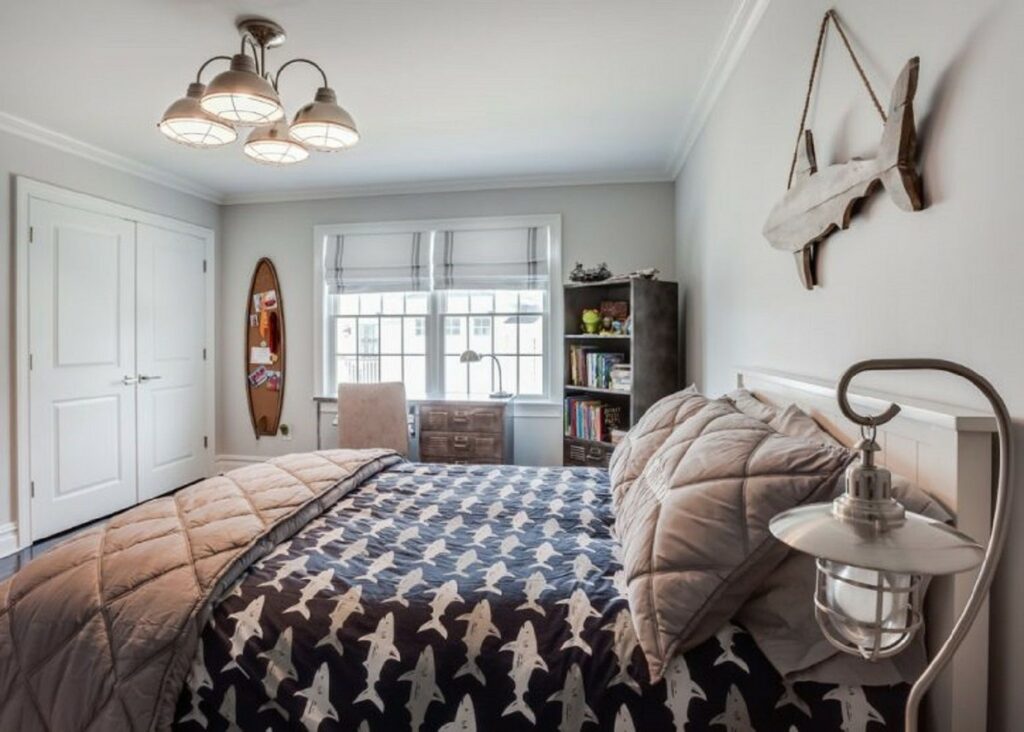 You cannot overlook the major elements of the coastal décor theme, and thus, missing on the shark and surfboard thoughts is not an option. You can use the different styles, shapes, sizes, and colors of the shark wall and side table décor to live up to the expectation of coastal décor. You can also combine different images of sharks, dolphins, whales, etc. To create a unique and innovative attraction.
If this is not enough, you can also use other coastal décor elements like a surfboard, kites, scuba diving elements, etc. All these items collectively enhance the whole vibe of the coastal décor idea for your bedroom with their distinguished cool quotient.
17. Use More Indoor Plants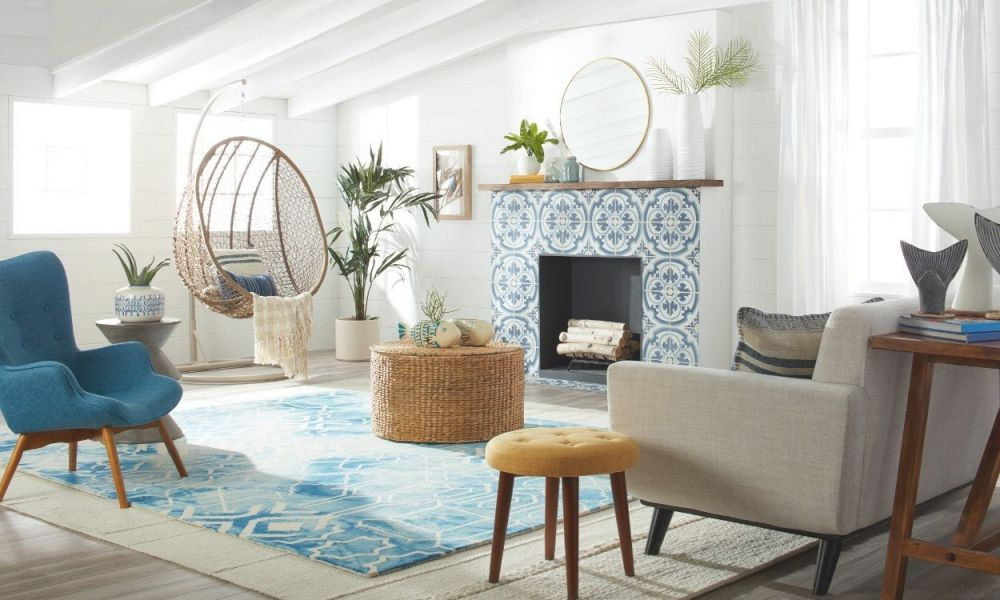 Indoor plants are real saviors in almost every décor style. As they symbolize freshness, calmness, relaxation, and natural beauty, they instantly uplift a dull and boring average room. Moreover, they make a great addition to embracing the coastal décor style in the easiest way possible.
Adding a green feel to your coastal bedroom décor is never a bad idea. Use as many palm trees, cacti, coconut leaves, etc., as you can to add a natural and energetic vibe to your room. However, make sure to plan the use of the available space to avoid crowding the place way too much.
Quick Tip: use white or neutral color pots for placing the green plant pots as they create an aesthetically beautiful visual for the modern coastal feel.
18. Add Boho Style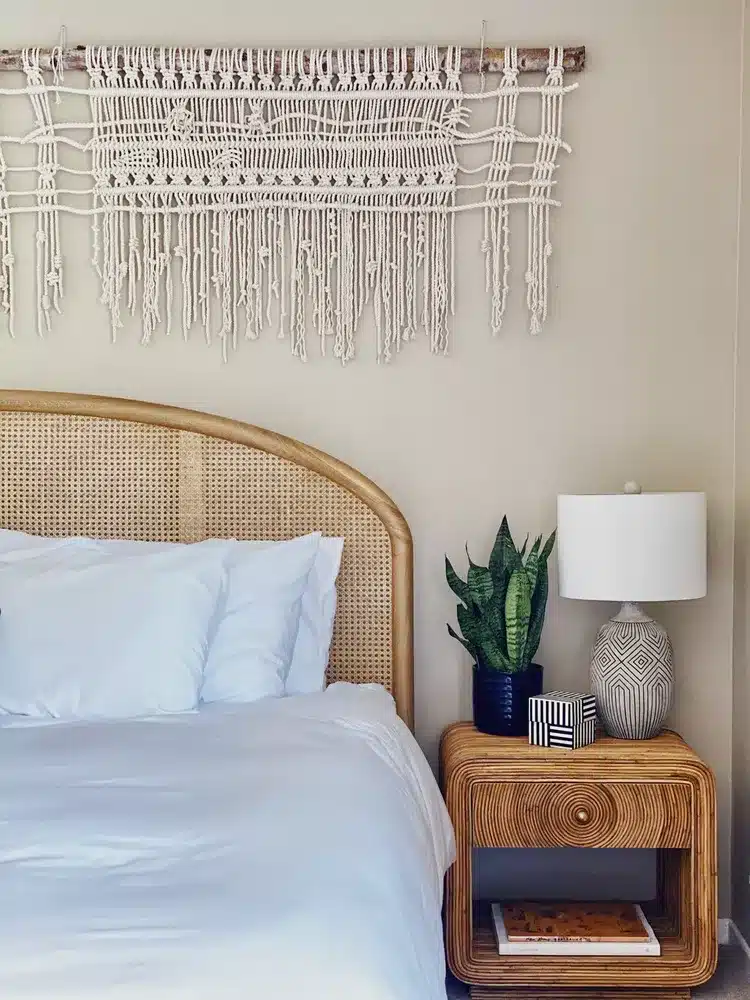 If you are looking for that one décor style that never goes out of fashion and matches with almost every other décor style, it has to be boho. The boho style is a unique combination itself that automatically enhances the other décor styles as well. You can also use boho-style accessories and décor elements for the coastal style.
Try adding a boho-style wall hanging or some boho-inspired furniture in your bedroom to combine the best of both décor styles. Not just will your place look amazingly beautiful, but it will also take care of your comfort, calmness, and relaxation. Adding boho-inspired elements to the coastal décor is probably one of the best modern styles you can rely on.
19. Use Pastel Shades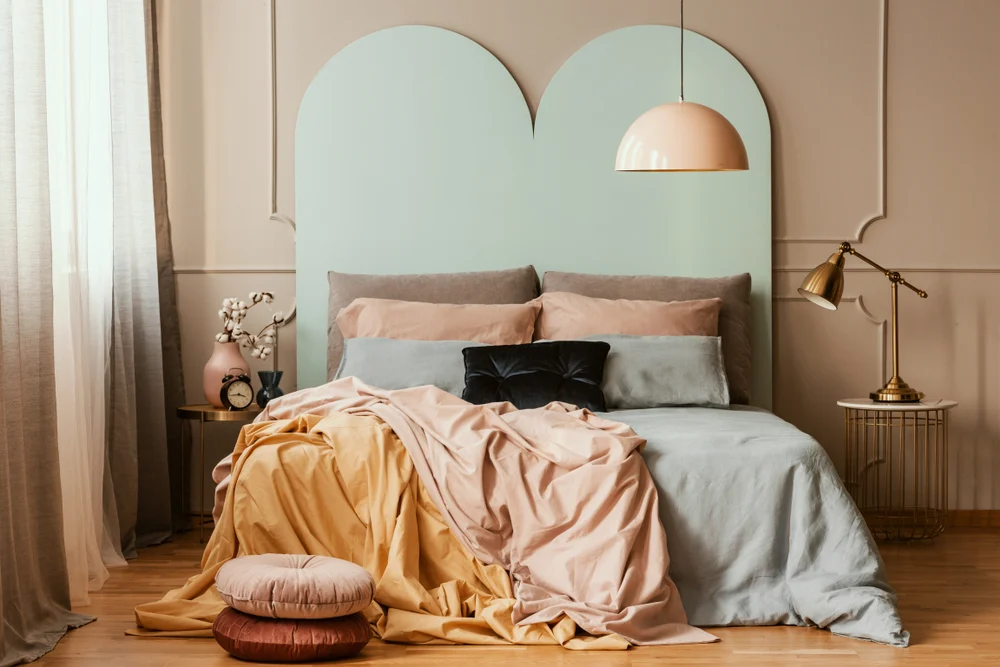 Though the coastal bedroom décor mainly uses greens and blues, pastel shades are also a preferable option. Pastel shades make a good option to embrace the beauty of the coastal vibe for people who love keeping it minimal.
You can try different pastel shades together to innovate your own unique style in the best possible way. Generally, combining the pastel blue or green color with white background walls makes an interesting choice. If you further want to keep things minimal, you can try using natural accessories, furniture, and wall décor items.
Quick Tip: it is best suggested to use a maximum of 2 to 3 pastel shades at a time. Using too many pastel shades together will not highlight the main idea of the coastal décor.
20. Highlight the Blue Feature Wall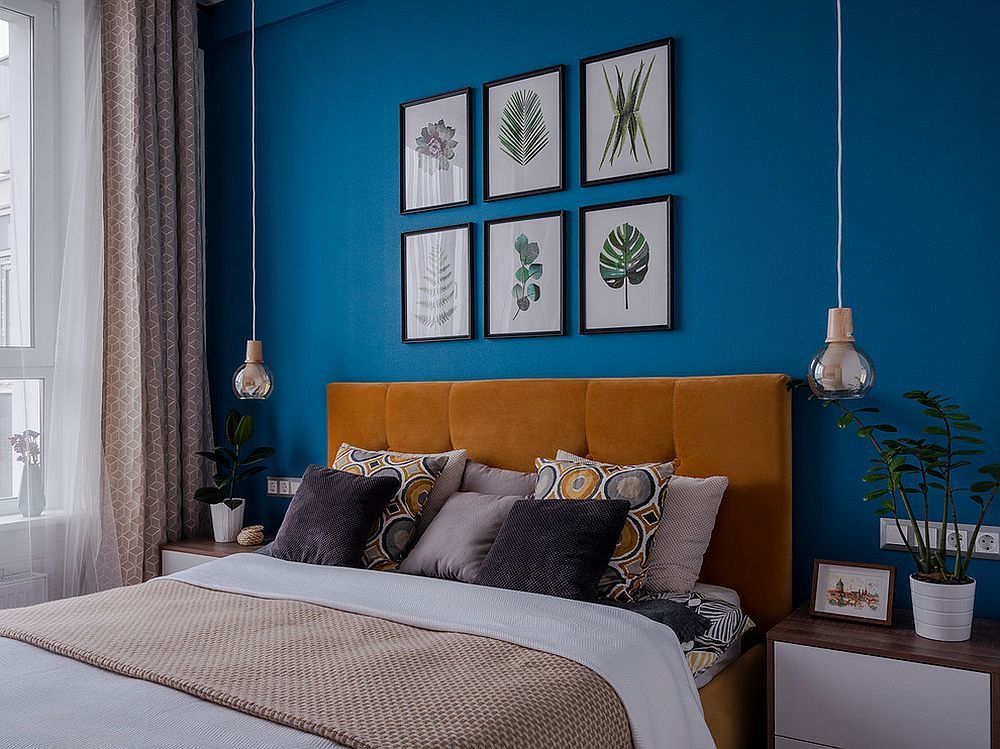 Feature walls are one of the latest trends in modern home décor. As many people love trying their creativity, there are endless possibilities for using a feature wall for a coastal bedroom style. However, the best way to accommodate the coastal vibe with a feature wall is by highlighting it in beautiful blue color.
A beautiful and attractively soothing blue feature wall, along with decent trim detailing, instantly sets the coastal tone for your bedroom. You can further enhance the vibe by using neutral white lamps on both sides of the feature wall, along with a bright blue sofa bench adjacent to the bed.
21. Keep it Effortless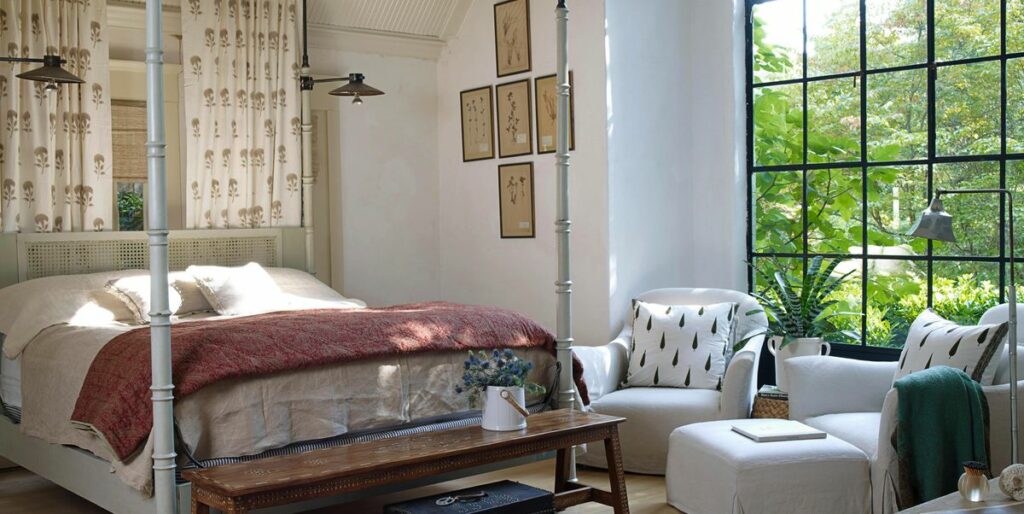 While there are so many things that can be tried for the coastal bedroom décor, keeping it basic, minimal, and effortless is certainly the best. Avoid forcefully decorating your room with different elements; rather, just keep very minimal items representing your true personality. As the coastal bedroom décor is closely connected to nature, less is always more.
Decorate your room with decent pale wood tones, pale blue bedding, and green plant pots. This combination makes an epic attraction as it instantly catches everyone's attention. The combination is minimal and effortlessly creates the feel of a coastal vibe that is hard to resist.
22. Airy Canopy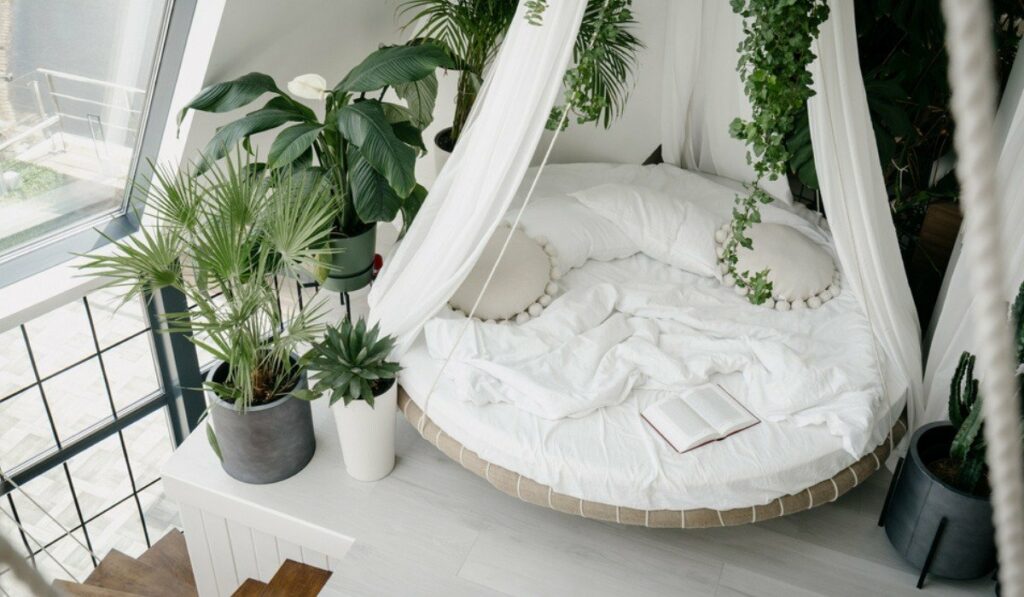 Using an airy canopy in your bedroom is also one interesting way to add a coastal vibe without much struggle. The airy white canopy creates a feeling of airy, natural, and breezy surrounding to fall in love with simply.
Quick Tip: remember only to use lightweight and breathable fabric for the airy canopy to let the natural light and air pass through.
You can also use an attractive blue side table and add some decorative pieces to enhance the beauty of your room further. Add some colorful beachy and nature photo frames on the wall to justify the coastal vibe.
23. Use Earthy Colors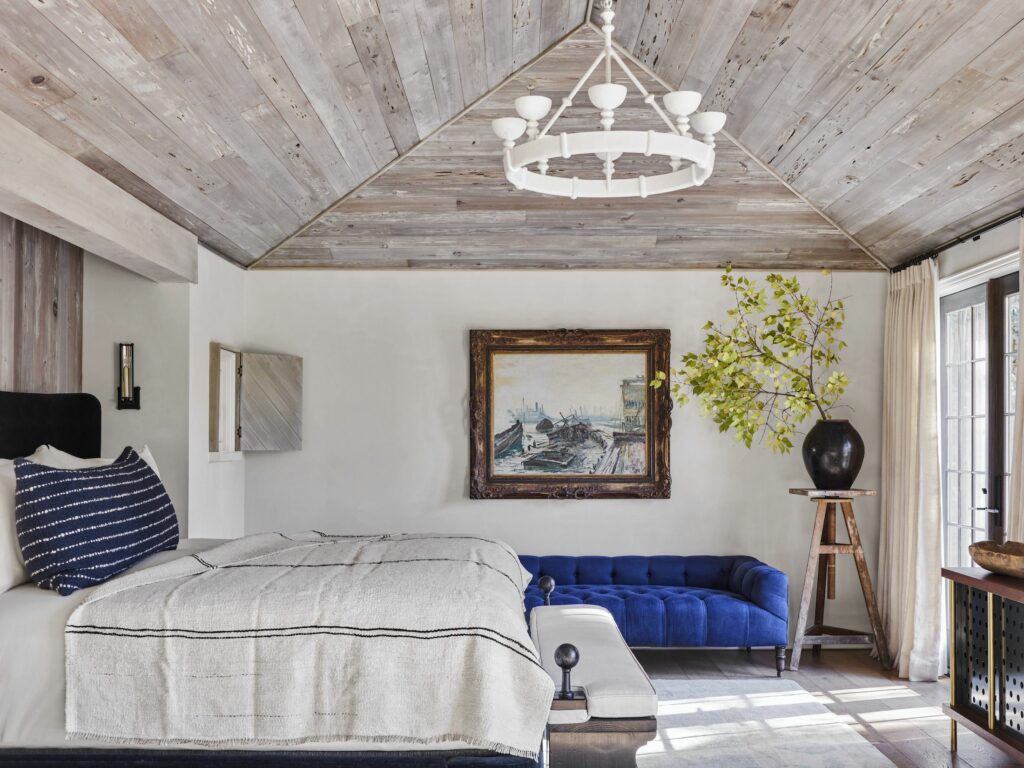 If you want something unique with the coastal décor of your bedroom, you can skip the obvious watercolors and try using earthy colors. Use colors that represent sand instead of the ocean.
The coastal bedroom décor theme isn't just about the ocean colors; rather, it should be a blend of ocean and sand colors. You should strike a beautiful balance between the ocean colors (blue and green) and the sand colors (earthy colors, beige, pale gold, tans, etc.) for a distinguishably beautiful room.
Final Thoughts
The modern coastal bedroom décor is eventually growing and becoming popular with timeless appeal. It attracts people with its more relaxed, calm, and elevated lifestyle. Moreover, the minimal modern coastal bedroom décor aesthetics will always make people fall in love with them. So, which of the coastal bedroom décor styles is your favorite?
If you have any other ideas to decorate the bedroom with a coastal vibe, let us know in the comment section.
Frequently Asked Questions
Is Coastal Bedroom décor Aesthetic Cost-Effective?
Yes, the coastal bedroom aesthetics are cost-effective as you just need minimal décor items and accessories. Moreover, as this décor involves more use of pastel shades, it eventually needs minimal to no maintenance, adding to its cost-effectiveness.
What is the Best Possible Way to Embrace the Coastal Vibe in Your Bedroom?
The simplest way to embrace the beauty and attraction of coastal bedroom décor is to stick to neutral colors like white, pale blue, coastal green, etc. You can add a little dash of color with some colorful, bold paintings and driftwood furniture, along with other nature accessories.