Whether you have a studio apartment or a small dining space with a real seating crunch, a small dining table can help add function to your home. Are you the kind who takes their meals on the go, someone who likes to entertain and don't have all that extra furniture sitting around? Not only can smaller dining tables be the solution to your space problem, but they can also be used to add to the personality of the space.
Depending on your needs, you can choose between compact options like a drop leaf variety which is always an excellent space-saving choice with either a removable extension or a butterfly extension.
Not only are these options great for outfitting small spaces, but some of them also come with clever functions and expandable options and can completely transform both your space and home.
So whether your aesthetic leans for the modern or the bold, here are 12 of our favorite picks for the best small dining table that you can choose.
Choosing the Perfect Small Kitchen Table
There are many things to be kept in mind when choosing the perfect dining table. Let's look at some of the key shapes which will help you make your purchase decision easier.
A rectangular-shaped table is one of the most obvious choices when it comes to dining tables and is also the most versatile. In a small space, the table can be pushed against the wall along with bench seating as a space-saving idea.
Square tables are ideal for smaller spaces and are a great way to maintain balance and symmetry in the room. This kind of seating is more compact and cozy and can be easily used for casual setups.
Circular tables are the best option for small spaces since it allows room to move. The seating capacity is extendable, and you can easily add a few extra chairs when entertaining more people. It follows a community-style seating which is ideal for small get-togethers and also for cozy family time.
Let's take a look at some of the best small dining tables we are currently crushing on.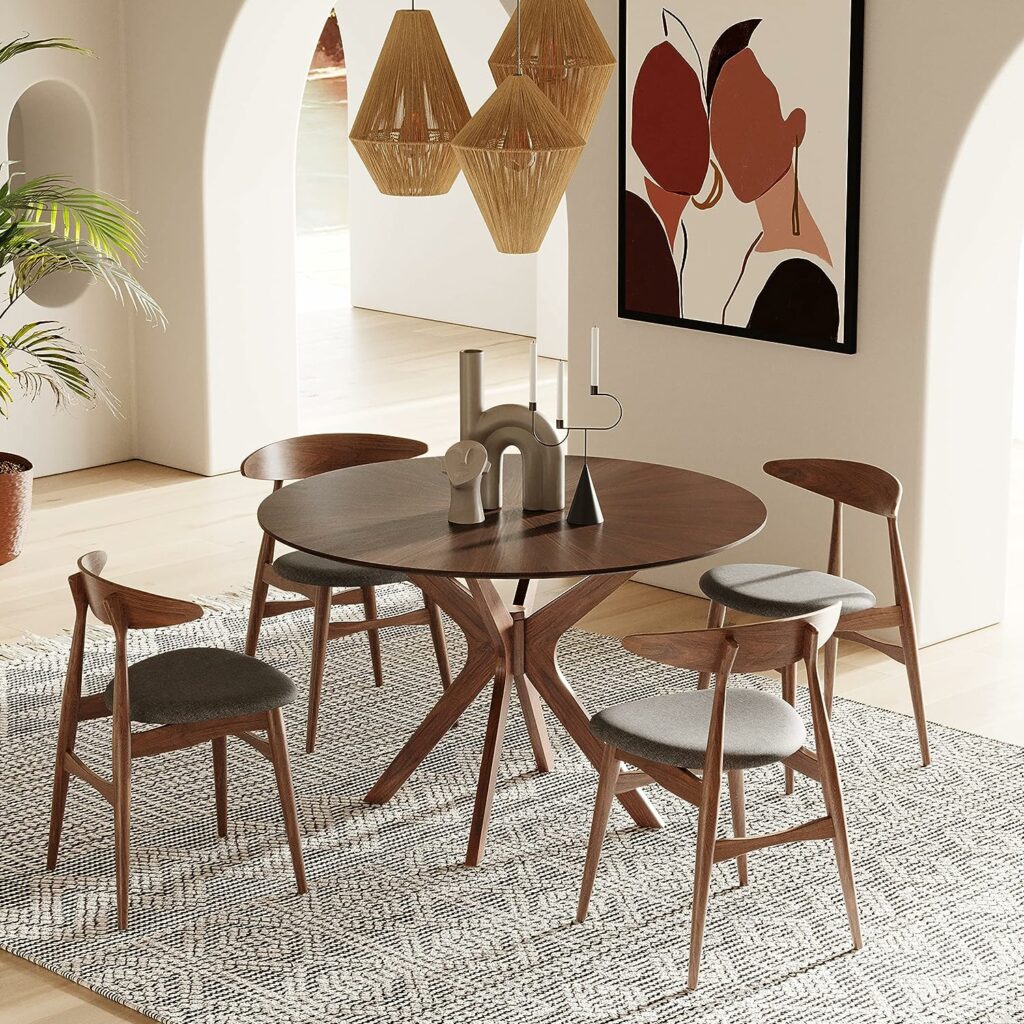 This modern mid-century style small dining table is a great option for a small space and is comparatively more space-saving than the square or the rectangle options. It comes in a beautiful classic wood hue in a walnut finish and seats 4. The subtle sunburst veneer top makes for a beautiful, classy look.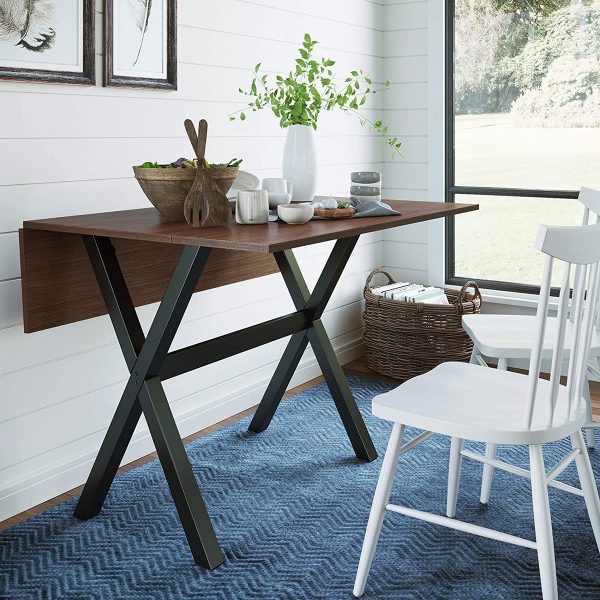 Small spaces need furniture which is multi-functional so that you can transform it for different uses. This drop-leaf dining table is a must for anyone looking for a multifunctional piece without skimping on the style factor. The expandable leaf can easily help accommodate up to 6 people and can be tucked in to convert to a work desk in the daytime.
This farmhouse-style table can also double up an entryway table in your foyer area. With so many uses, this table is one of our top favorites for a chic, classy look.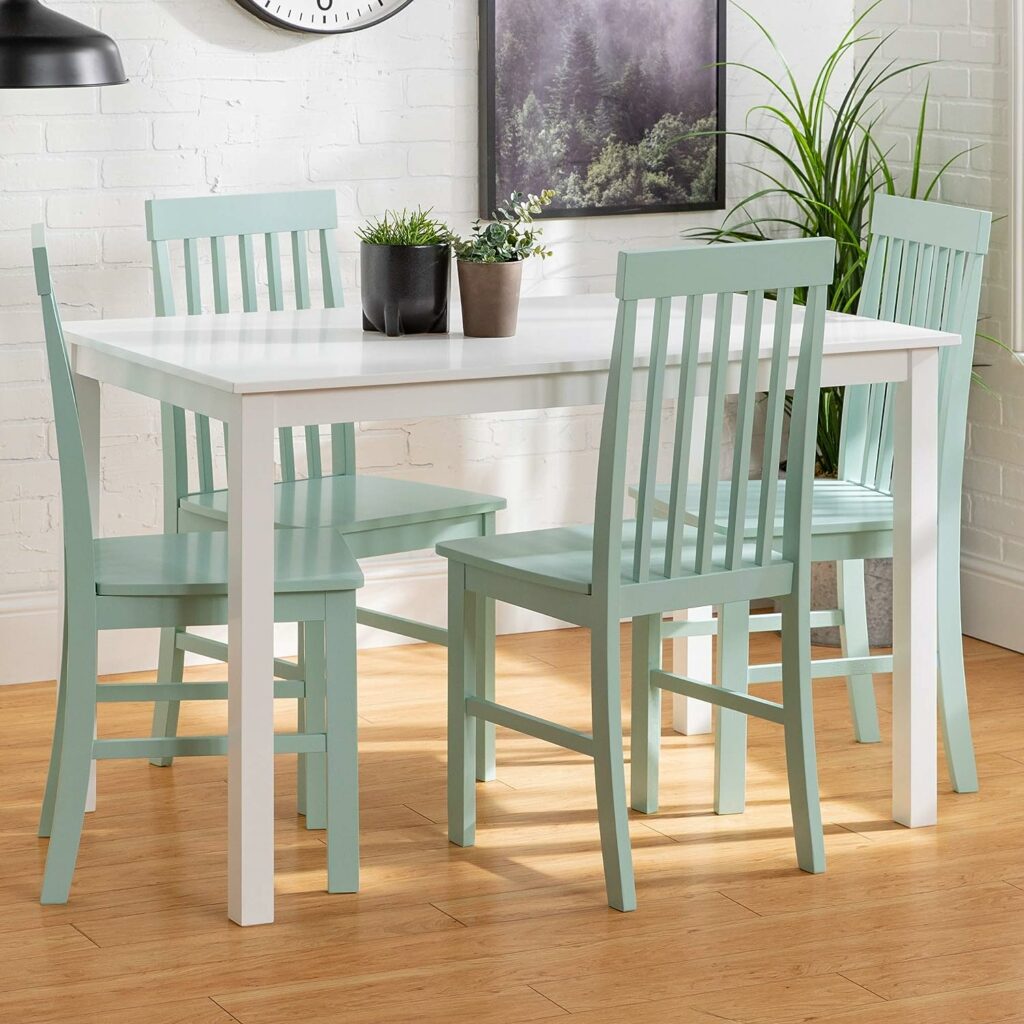 This sage green and white color-blocked dining table set can take your dining area decor to the next level. This 4 seater table with slatted chairs comes with a bright finish which is both modern and minimal. The spindle chair backrests have a slightly curved slatted backrest for ultimate comfort. The table features a classic straight-line design for a simple, elegant finish.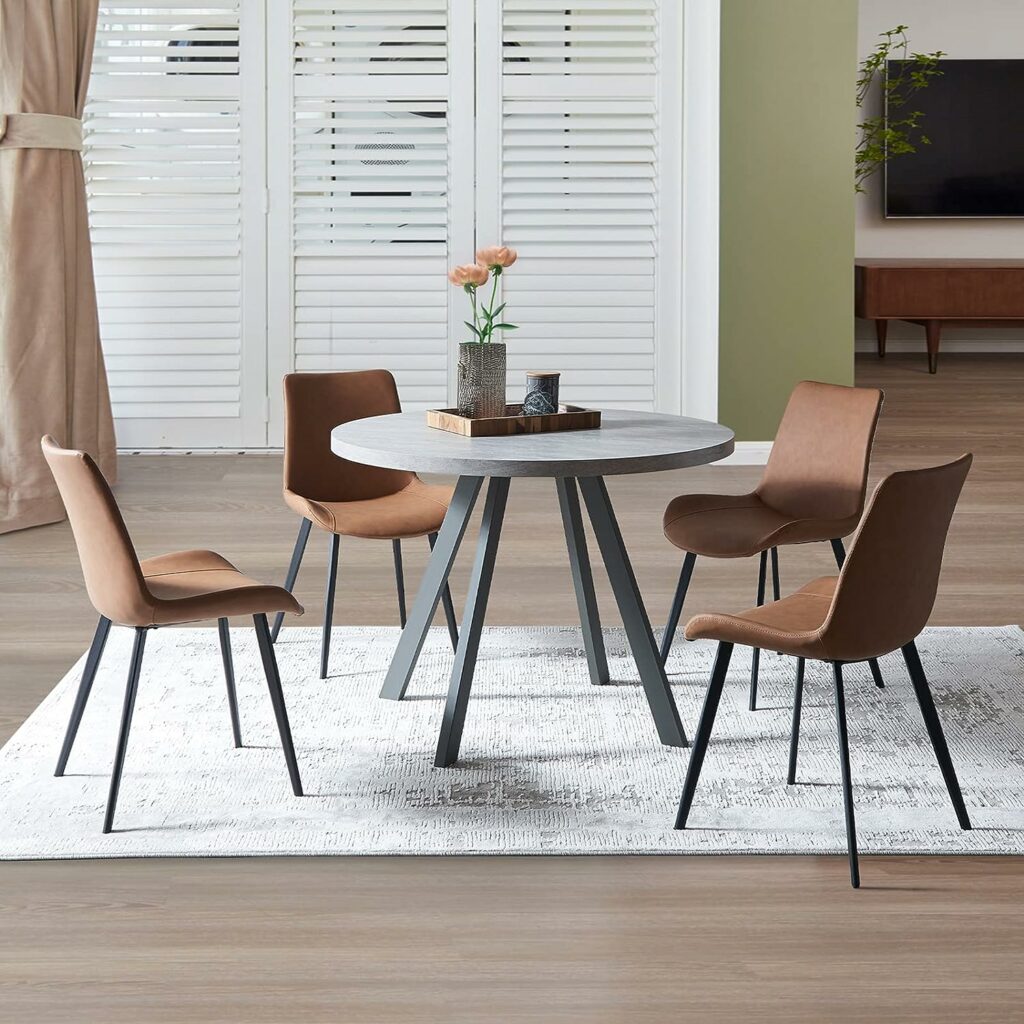 This 4-seater dining table is made of high-grade MDF with carbon steel legs for durability and strength. The chairs are ergonomic in design, and the curved design is ideal for maximum comfort. The chairs come with high-quality faux leather upholstery, which is densely padded for comfort. The grey table, combined with the rich brown leather seating, makes for a color combination that is both unique and a standout. This set is sure to make your dining space a head-turner with its chic, sophisticated luxury.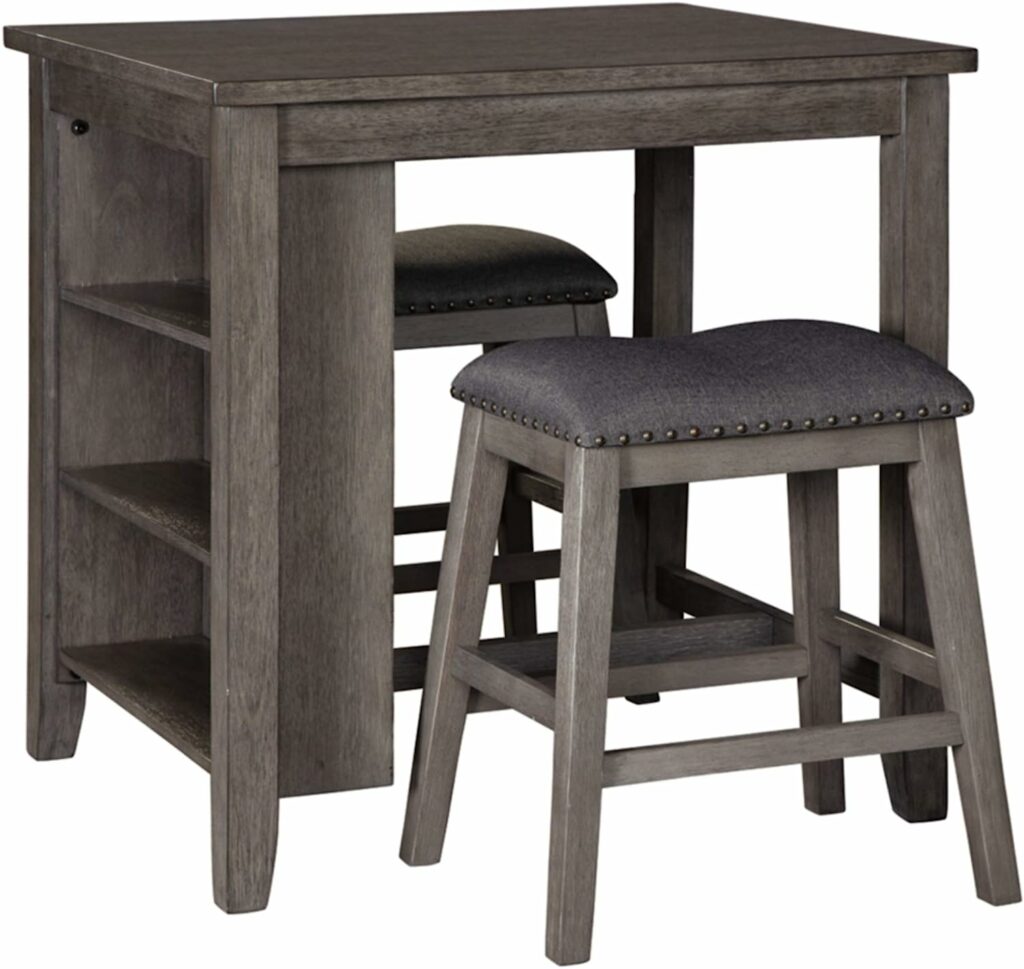 The antique gray wash finish of this table gives a casual chic look to this dining table. Made of acacia veneer, it has 2 adjustable shelves on one end for storage. The counter height table comes with 2 stools with a saddle seat design. This table can double up as a work desk during the day, and with this design, you get not only a dining table but a desk as well.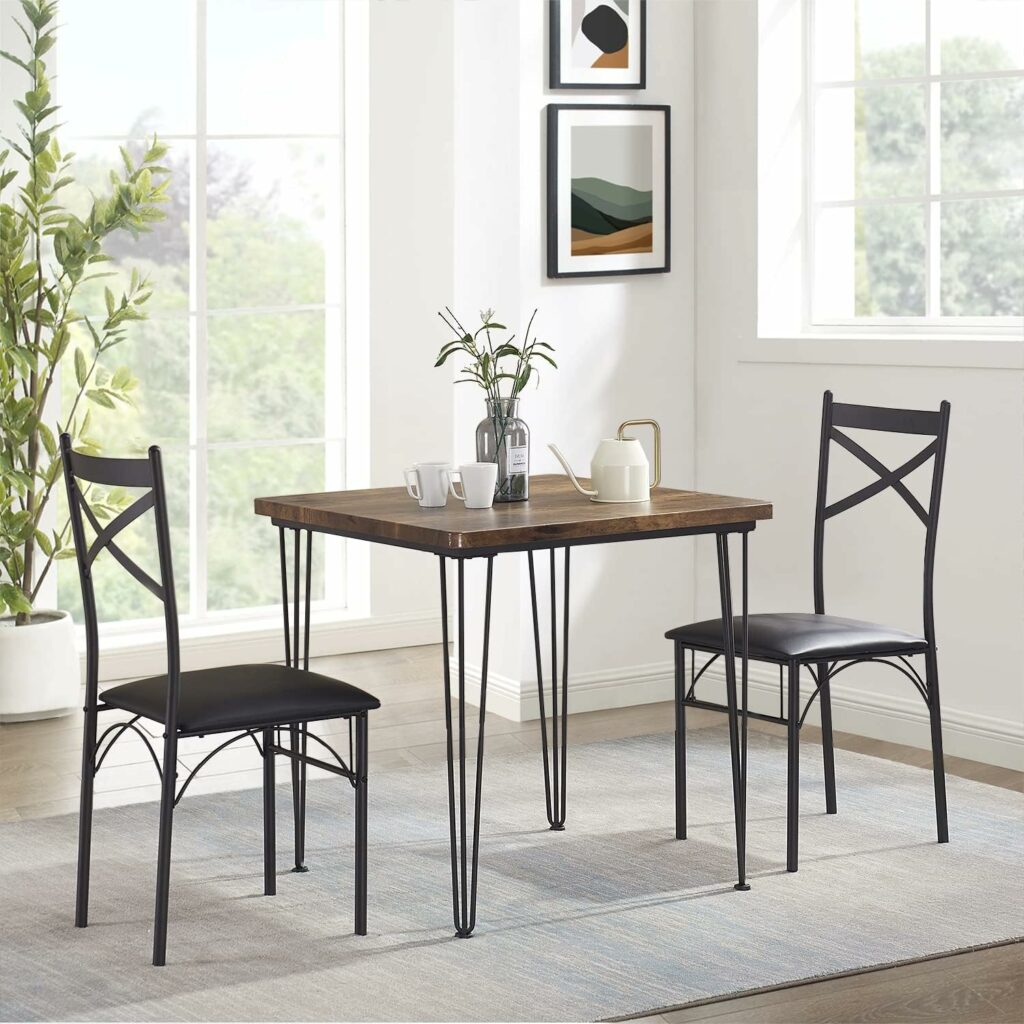 This 2-seater table is a chic, compact solution for a small space. It is made of MDF board, and the steel frames give it durability and strength. The brown top gives it a very retro feel adding style to the entire look. The chairs have a curved backrest with a leather seat for maximum comfort.
The chairs can be tucked in neatly to make them more compact and convenient for storage. This table set can not only be used for dining purposes. Still, it can also be used as outdoor furniture in your patio or garden and make your alfresco dining experience more beautiful.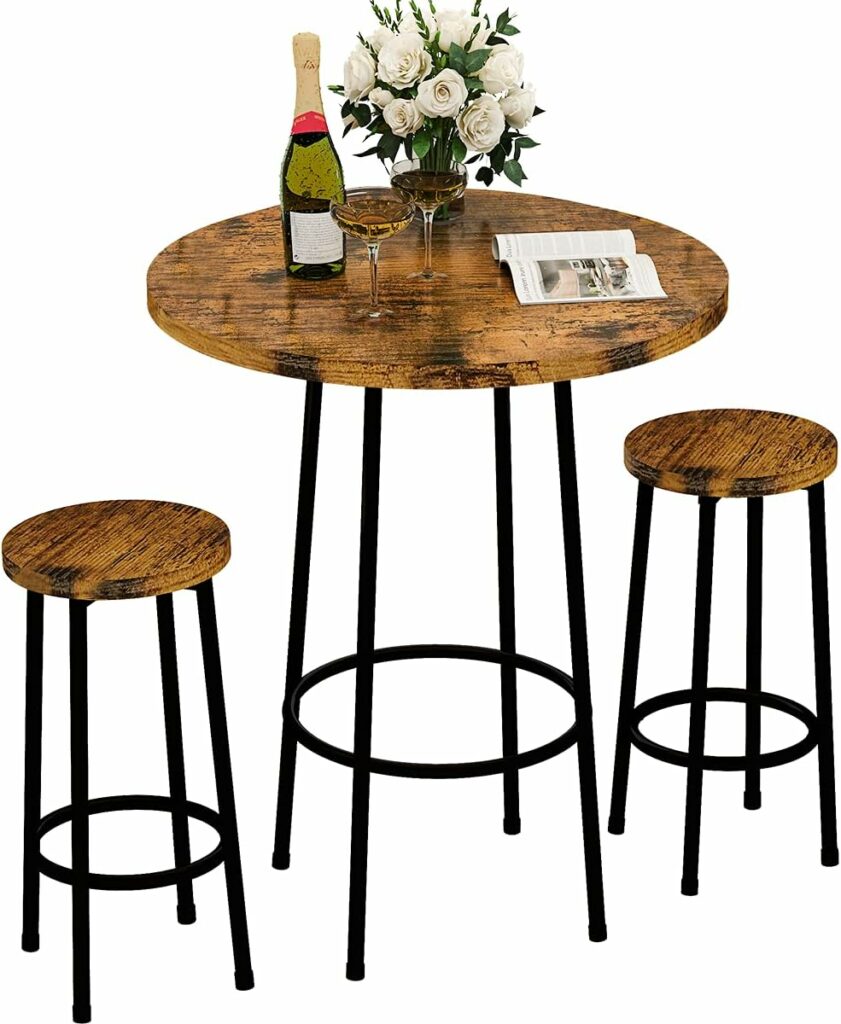 This pub-style seating is ideal for anyone with a small space who wants maximum functionality with style. The counter height table is made of MDF and has a sturdy metal frame and 2 bar stools. You can squeeze this into your kitchen to have an ideal breakfast nook or even add it to your dining area for a quick meal.
It can also be used as a work desk or a coffee bar. You can get creative with its placement, and the stunning rustic finish will add charm to any nook it is placed in.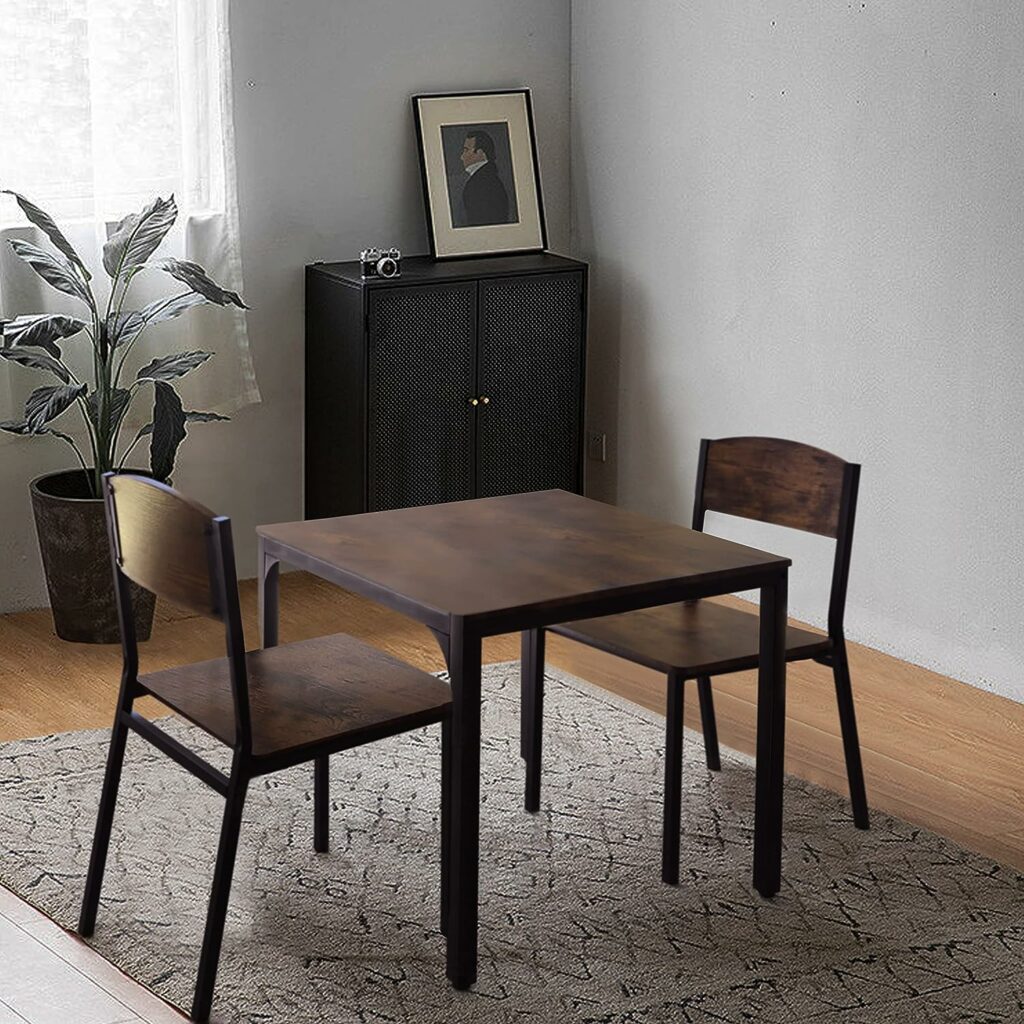 This chic minimalist dining table set is made of high-quality metal and MDF in a sturdy construction. This industrial-style dining table has chairs with a curved backrest which gives maximum comfort for seating. This table offers a timeless elegance to any nook and will blend with all decor styles. The clean lines and neutral color palette makes for excellent decor choice, especially in small spaces.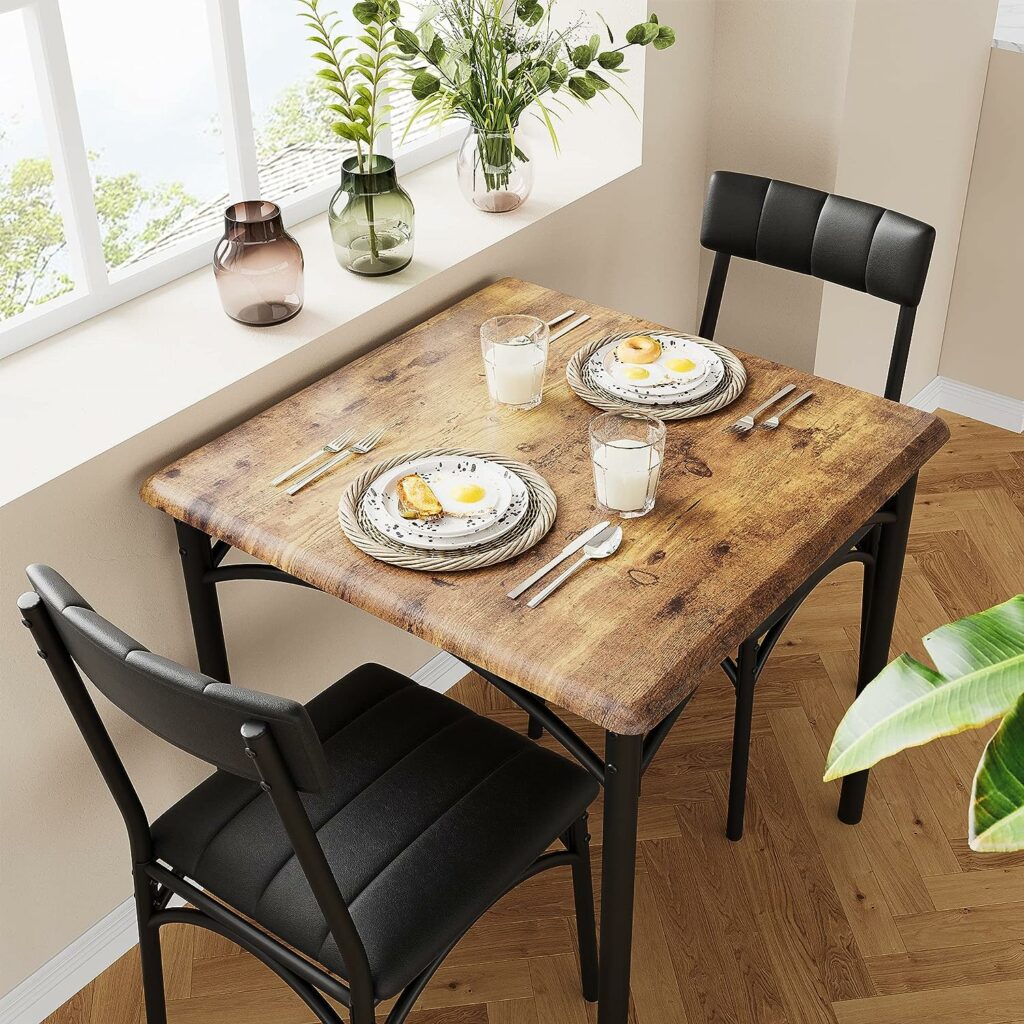 This simple rustic table with clean lines is a perfect choice to dress up your dining space. The minimalist table is made of MDF and solid steel with a sturdy frame. The texture and grain of the wood top are ideal for both formal and casual dining spaces and give it a minimalist rustic feel. The chairs have a curved back with thick padded cushions for comfort.
The chairs can be tucked in, giving more space around the table to move around, making it both functional and aesthetic. An ideal choice for small studio apartments and kitchen islands.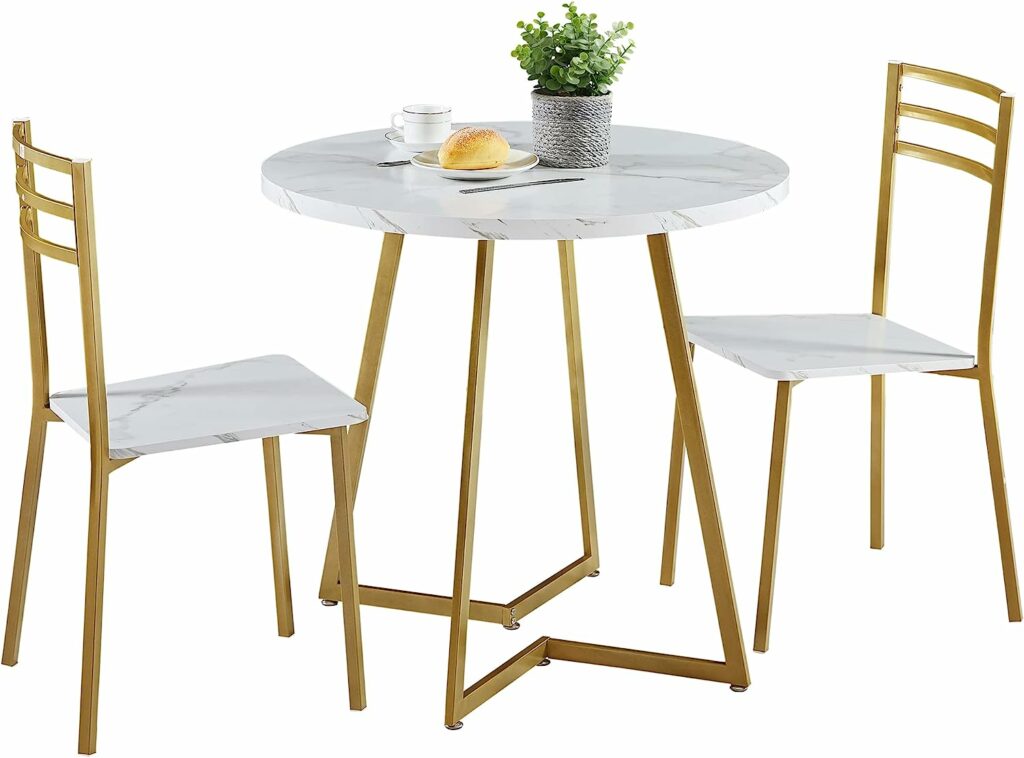 Marble is an excellent choice when it comes to home decor because of its timeless appeal and also its durability. But we all know that marble can be a little heavy on the pocket, and hence this table with the look of marble is an ideal choice. Made of engineered wood with a marble tabletop and gold frame, it adds class and glamour to your dining space.
The high-quality steel frame is both firm and durable, and the chairs come with the same finish adding a cohesive, glamorous appeal to the entire look.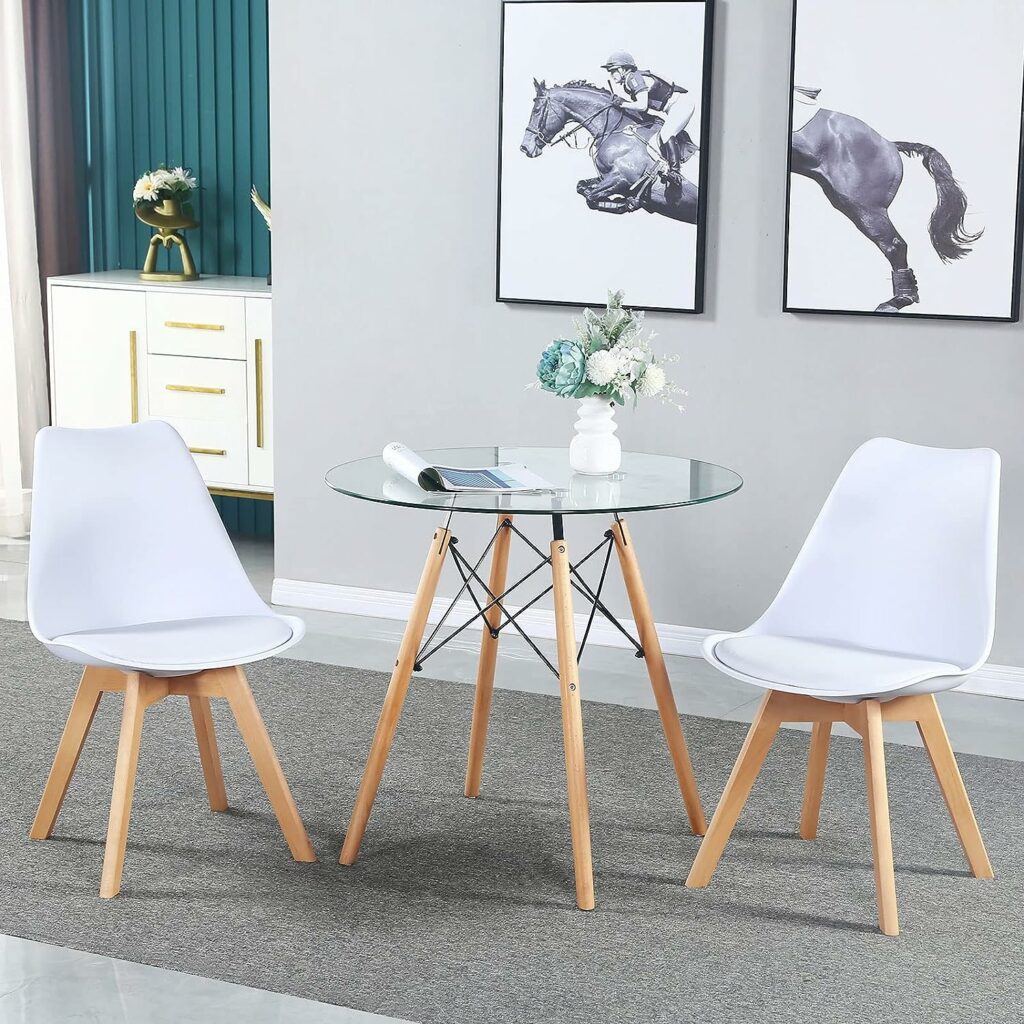 A contemporary chic glass-top dining table is an excellent choice for adding more room to a small space. It is easy to clean and maintain, and the glass gives a more airy look. Round tables are always a better choice for small spaces, and this chic glass kitchen table can complement all other furniture pieces well. The table can seat 2 comfortably and can be extended up to seat 4 people without being too cramped.
This is a beautiful piece. Adding the right amount of glam!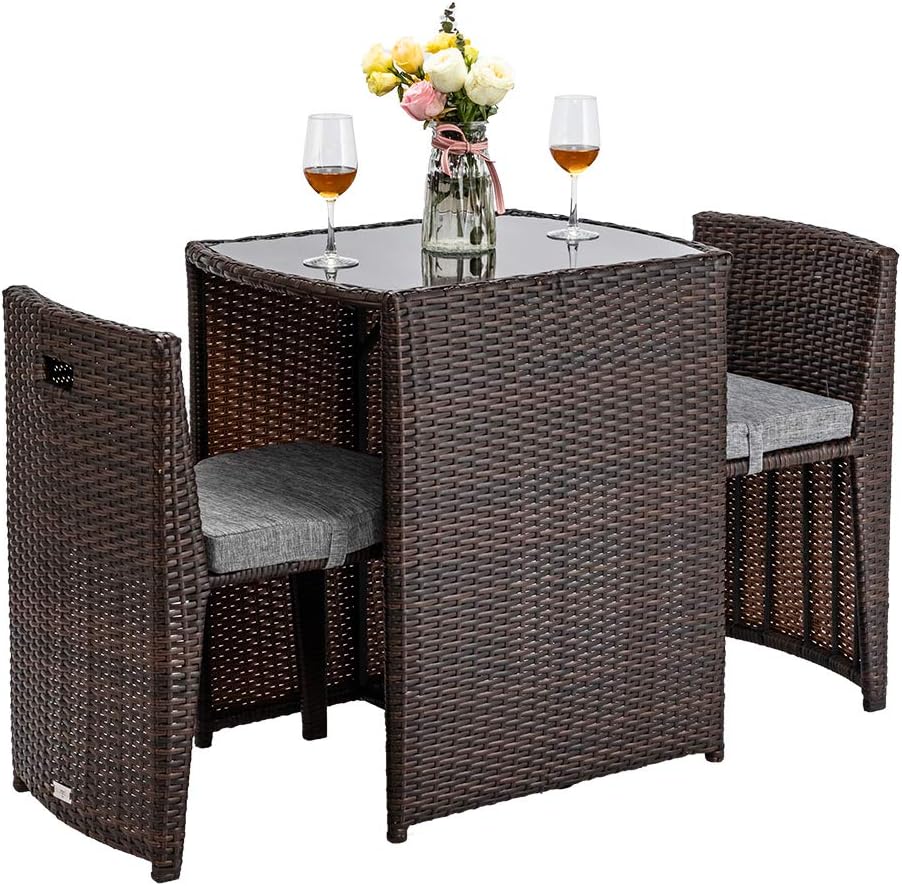 Bistro-style seating is an ideal option for small spaces since these are both compact and made from sturdy material. They are both chic and glamorous, and the best part is that they are completely multifunctional. Perfect for a cozy meal or an intimate dinner, this two-seater table is the right amount of glam for your small kitchen dining space.
The table is made of durable weather-resistant wicker and can hence be used as patio furniture as well.
Closing Thoughts
The dining table is one of the most used pieces of furniture in the home and also the most multi-functional piece. So it is essential that you choose wisely to accommodate the needs of your space. In a small space, it is mandatory that we maximize the functionality and also the space to enable free movement.
As the central zone when you have guests over or even when you are spending time alone, buying a dining table is an essential consideration. This task can seem difficult, and hence we have put together a handy list that you can look up to inspire your buying decision.
Let us know your dining table essentials in the comments below.