Have you got bored with your paint on the antique wooden furniture? It sounds so pleasing to give a fresh coat of paint on the wood, but just in mind, in reality, the process of stripping furniture can be messy and hectic.
To give a makeover to your old-looking wooden furniture, it is important to strip the old paint first. Removing the old paint and applying a fresh coat of new paint helps to restore an antique, strong furniture item but requires a lot of care to carry out the complete task.
To apply a new coat of paint, one needs to remove the old paint completely from the wood surface, and it is not an easy or fast task. Whenever the paint cracks, blisters away, or gets pigmented, it screams to be removed from the wooden surface.
In such scenarios, the easiest way to start is to strip away the old paint from the furniture and apply a new fresh coat of paint over the baby-smooth, bare wood surface.
So, let's see some ways and tips to strip away the old paint from the wood surface and get a new finished look.
Best Way to Remove Paint from Wood Furniture
The most common three ways to strip away paint from wood are heating, chemical stripping, and sanding. There are different products available in the market to choose from to do this job perfectly. But before you start to strip furniture, make sure to remove the knobs, handles, and hinges from the furniture.
If the furniture is damaged, make sure to repair it first before the makeover, as it can get worsened in the process. It is essential to repair all the splits and reinforce the joints, and then you can proceed with the process of stripping furniture.
Steps to Know How to Remove Paint from Wood
There are some basic steps to make sure that the furniture is worth the new look. Give a makeover to a tired piece of wooden furniture at the weekend with these easy steps and DIY to get amazing results.
1. Find out Whether the Wood is Worth Exposing and Redoing or Not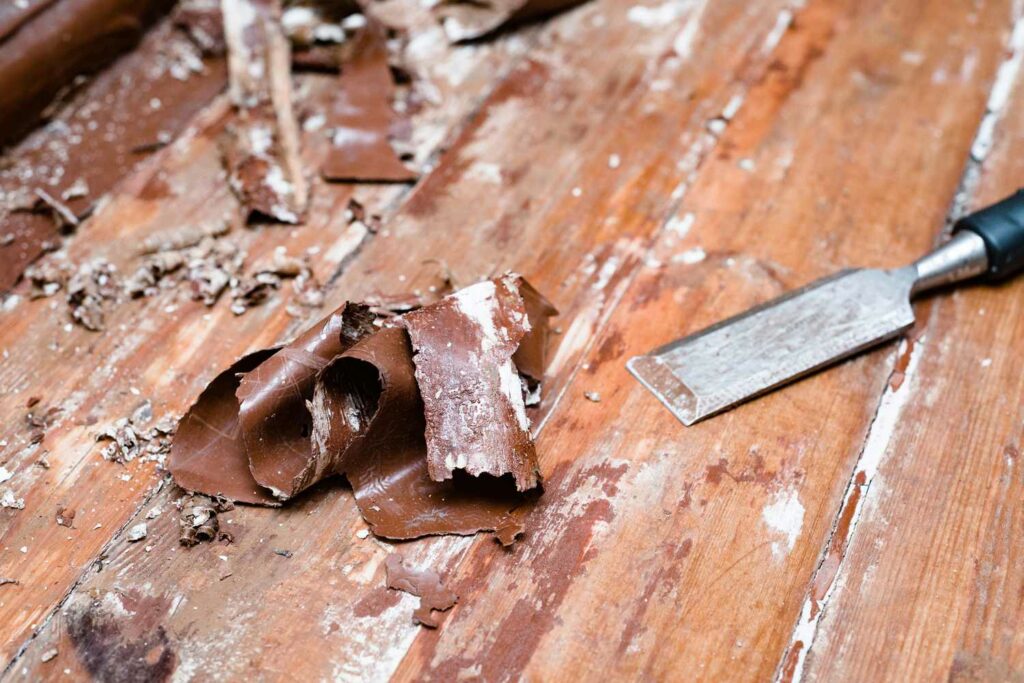 Before starting to strip paint or work on the wooden furniture, ensure that it's worth all the effort. So, for that, do a patch test through various layers of paint on any unexposed section that may be inside the drawer. If the bottom-most layer has been painted, it signifies that it is in good condition and the wood is unworthy of stains.
2. Decide Whether You Want to DIY or Take Professional Help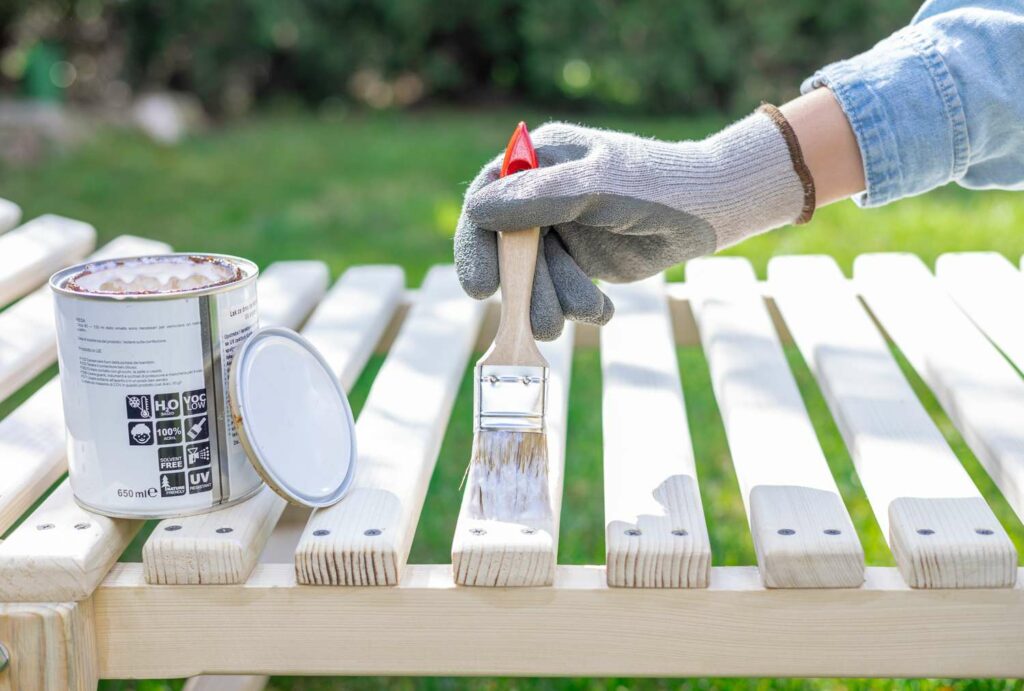 Before getting the work started, it is better to determine whether the job can be completed by you or if it is complicated and needs professional help. For professional help, you can either send it out or hire professionals to come to your house and work on the wooden furniture.
Send them out:If the pieces you want to strip furniture are easily removable, such as doors, windows, or small furniture) then send them out for professional help. They will use a dip tank to soak the entire piece in liquid plant removers for faster and more refined results.
Hire professionals:If you have a house interior and exterior that can be trimmed or stripped quickly or has lead paint, then call the professionals on-site to work. Taking professional help can help you escape from the hassle of doing the job yourself.
3. Choose the Right Tools and Approach for The Project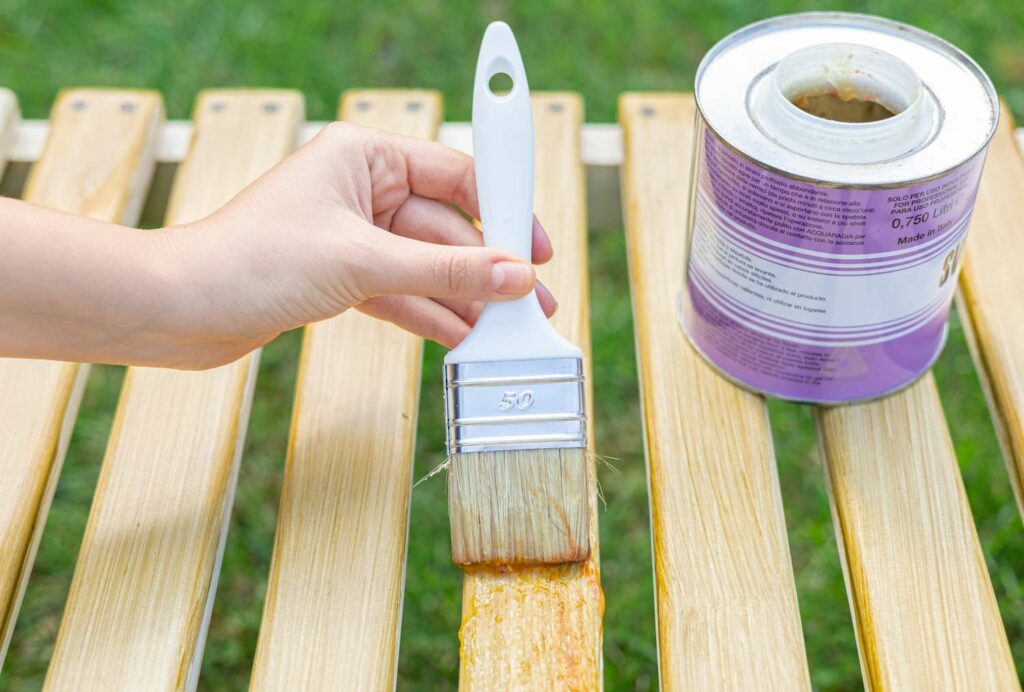 The right set of tools and the correct approach can help the successful completion of the project and achieve desirable results. Some of the tools that are perfect for stripping paint from wood involve heaters, chemical strippers, and sanders.
4. Have a Proper and Well-Thought Decision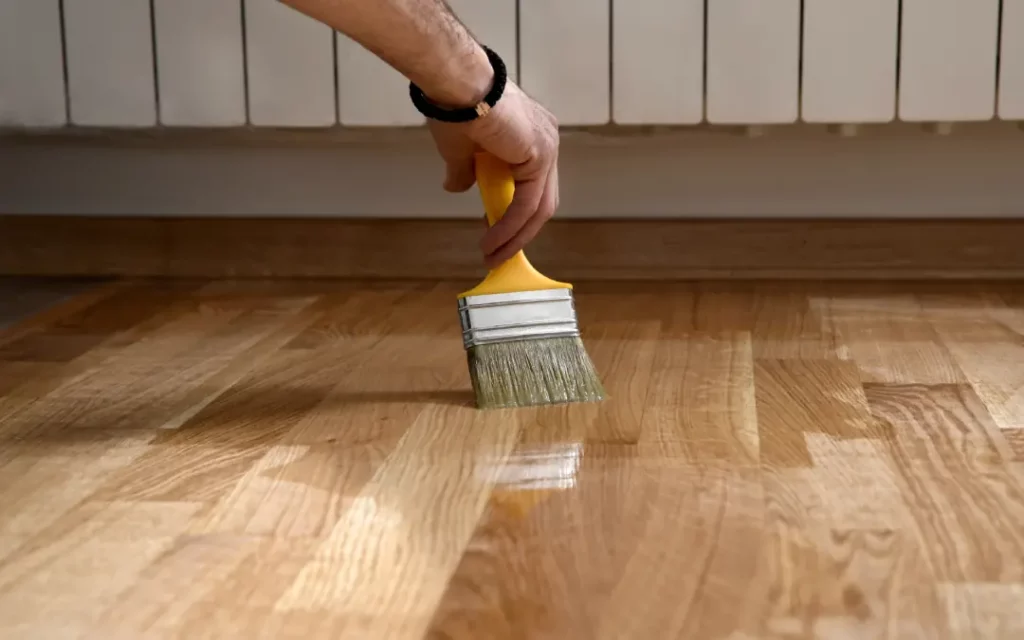 Carefully decide about stripping paint from your wooden furniture.
When you are planning to strip furniture, keep in mind the safety, cost, ease of use, and complete process. Without proper planning, it can leave a mess in cases where you started the paint stripping job yourself and are unable to complete it. Or if you got professional help but exceeded your budget. So, it is very important to consider all the things before starting to strip furniture.
Effective Tools for Removing Paint from Wood Furniture
Heat Guns: A heat gun is quite similar to a hair dryer, except for the fact that it throws hot air so fast that it can soften the paint. It is undoubtedly effective for removing paint from wood furniture. The use of a heat gun needs special attention as it is easy to handle.
Scrappers and Scrubbers: Get a variety of metal and plastic scrapers, a pack of steel wool, and a metal brush to remove the paint from the wooden surface.
Paint Stripper: Choose a non-caustic, solvent, or biochemical paint stripper. Caustic paint strippers turn to paint into a thick and soapy film. Solvents effectively loosen up the bond between the paint and the wood. Biochemical strippers include citrus-based products that work slowest and require more scrapping. But biochemical strippers are safe to use and emit a few dangerous fumes. They are non-toxic and non-corrosive.
Lead Paint Test Kit: You should first check the old paint for lead, and if there is any lead, then don't use dry scraping or sanding. Get a lead paint test kit to strip furniture with lead-based paint, as the lead paint needs specific treatment.
Sandpaper: A pack of coarse and fine sandpaper is required to perform the job of strapping paint successfully from the wood surface. Sandpaper leaves the surface smooth and gives a clean look.
Materials Needed to Strip Paint Away from Wood Using a Paint Stripper
Some supplies and tools required when you are planning to strip furniture yourself at home include the following.
With all these materials, you can DIY the paint stripping job from your wooden furniture and turn it into a new accessory for home decor. Now, let us see how to use these tools and supplies to do the job without any hassle successfully.
Easy Steps to Strip Furniture Using Paint Stripper (Star ingredient- Saran wrap)
Clean the furniture properly first and tap all the areas that don't require stripping. Wear gloves and spray or apply the complete wooden item with a paint stripper, Citristrip, or any other paint stripper.
Cover the complete wood item with saran wrap. There is no right and easy way to do it. Just make sure that all the curves and curves and crevices are covered properly.
Wait for a few hours or overnight to let the paint stripper work properly on the paint. The saran wrap prevents the surface from getting dry as it gets difficult to strip furniture with a dry surface.
Remove the saran wrap in the morning and scrape away the residue with the help of a scraper or steel wool. You can also use a plastic knife to strip furniture to prevent the surface from damaging, as plastic is the safest option.
After all the residue is removed from the wood item, spray the after-wash or mineral spirits solution.
Clean with a heavy paper towel to wipe away all the excess residue.
Let the wooden surface dry properly, and then start sanding the surface.
For the hard reach or hidden spaces, use a liquid sander or de-glosser.
Continue sanding until you have achieved the desired finished look.
After a sealer to the wood at the end, especially if the wood gets used a lot.
After following all the above steps, most of the paint strips away from the wood and resulting in a raw finished product. It can now be painted fresh to give it a new look.
But, in some cases, some stains of paint won't go away. For such stains, one can bleach the wood. The process is very easy, and for desirable results, wood bleach is recommended instead of household bleach. Just pour the bleach on a heavy paper towel and rub it all over the wooden surface. Then, let it dry and wipe it away. Apply stainer the end.
The Best Paint Stripper to Strip Furniture- Citristrip
Citristrip is the most commonly used paint stripper. It is a gel-based paint stripper with an orangey fragrance and doesn't liberate any dangerous fumes. It is a thick gel, so it stays on the wood surface and doesn't flow away.
It is a non-caustic paint stripper, so it can be used to strip furniture indoors as it is safe to use. To get the deepest stripping of paint layers done, it is important to keep the Citristrip layer wet for as long as possible. Until it is wet, it means it is working on the deeper paint layers and providing a finished look. It is difficult to strip paint once the paint stripper layer dries out.
Alternative Natural Options to Strip Furniture
If you believe and prefer ways to strip furniture that doesn't involve chemicals, then let's look at the home remedies to do the job. Some natural alternatives include a heat gun, water pressure treatment, sanding, scrapers, vinegar, and a citrus-based paint scraper.
Citrus-based paint scrapers contain some chemicals, but the main active ingredient is plant-based and safe to use.
Vinegar has a mild acid that works to soften the paint, resulting in easy scraping of paint. Heat the vinegar-water solution and apply this solution on the wood surface. Leave it for 15-20 minutes and then scrape away, reapply for better results.
A heat gun is also a great option to soften the paint. Heat application is the fastest way to soften the paint without the use of any chemicals. But, heating the paint surface leads to aerosolizing, creating harmful fumes. It is a risky procedure that can lead to fire or burn the wood.
Water-pressure treatments, sanding, and scrapers are mechanical methods to strip furniture by rubbing and applying pressure to remove paint from the furniture.
Conclusion
Restoring the antique and fine-quality wooden furniture enhances the aesthetic of the house. But with time, the paint cracks and needs a good makeover.
It can be done by stripping the old paint out and applying a fresh coat of paint to make the furniture perfectly new. So, do you have any such item at your place that needs a new look? I am sure the above-mentioned information will help you make a decision that suits your situation and is perfect for the furniture.
Whether you decide to DIY or get professional help, it is important to make sure that the furniture is worth it. So, analyze the furniture properly and with proper safety, and turn your old wooden item into a classic new accessory for your space.
If you have any doubts regarding the tips and ways to strip furniture, comment down, and I will be really happy to help you out.