Looking for a perfect inspiration around painted dresser ideas that will revamp your dresser as well add character to your area? Don't fret; we have got you covered. You will find 15 ideas for painting your drawer in this blog.
Painting a dresser can be a daunting task because there are many things you want to take into consideration, from tone to color and style you want to carry. Not only that but painting also needs prep work which includes choosing materials such as sandpapers.
A dresser has two main characteristics, one is universal, storing things to keep the place in order, while the second is that it gives an aesthetic appeal to the space we place it in. When you paint a dresser according to your choice, you will be more at peace, and the room where it's been placed will also find a new character.
Without any delay, let us unveil the most adored concepts that you can implement.
1. DIY Blue Painted Dresser Ideas
Blue dresser, specifically in a lighter tone, emits a soft, calming energy. You can paint your dresser light blue to balance the surrounding of your room if darker colors are used more.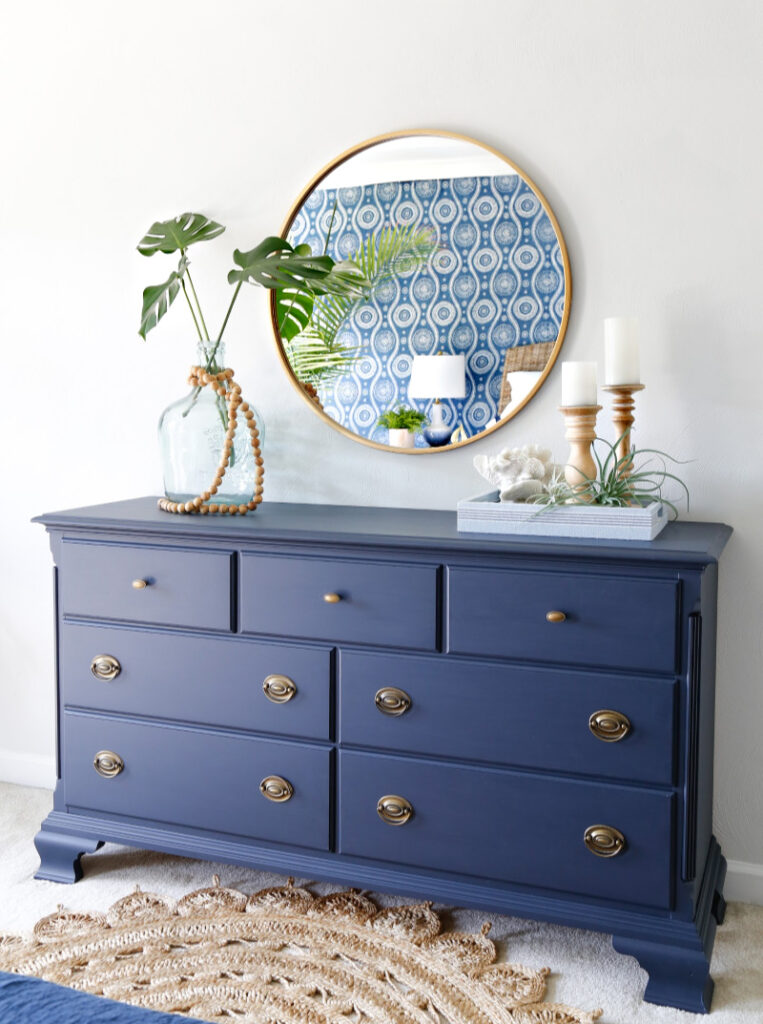 When painting the dresser on your own, you can choose a semi-gloss finish in an oil-based paint because it works better in blocking stains. You would not be disappointed applying the paint with a spray instead of a roller for a more refined outcome. You can use masking tape to create a pattern with two different blue colors.
2. Chalk Paint for Aged Charm Paint Dresser Ideas
There is something special about choosing chalk paint because it requires no preparation before application. This is the reason why it is less labor-intensive to pick this paint for your dresser. A dark chalk paint would be an apt choice for a rustic-themed house.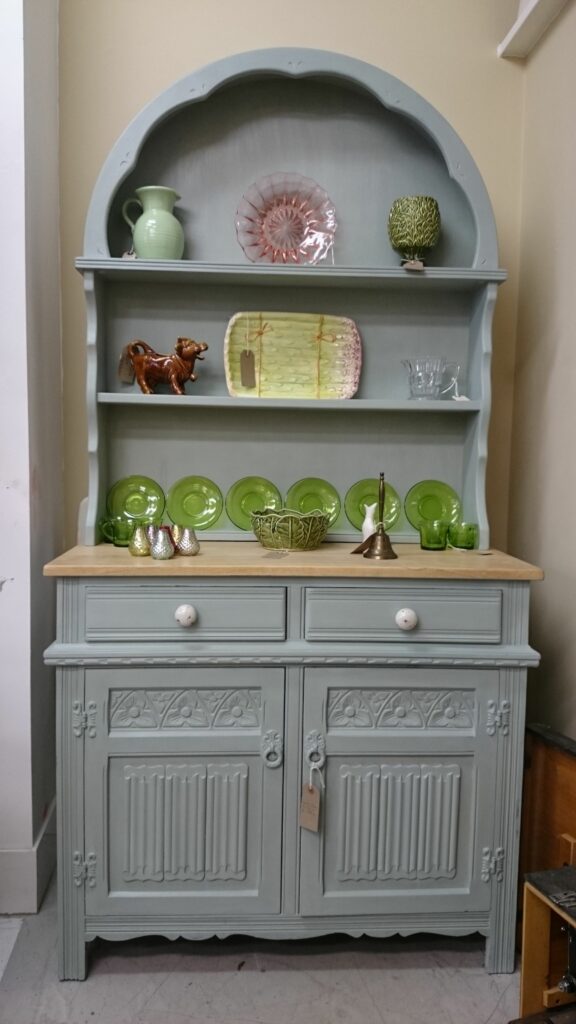 Chalk paint is water-based, which lowers the use of organic solvents like petroleum sprites to clean brushes and rollers because they can be cleaned using water. If you want to keep the rustic charm undamaged, paint the dresser with water-based paint like Chalk paint.
3. Teal Green for Vintage Allure Paint Dresser Ideas
A mixture of green and blue, teal is a beautiful color to have in your room. A living room with a light tone will become a bit more calming and cheerful when you add a teal dresser to it. Since teal is a dark color, you need to do the prep work before applying it to the dresser.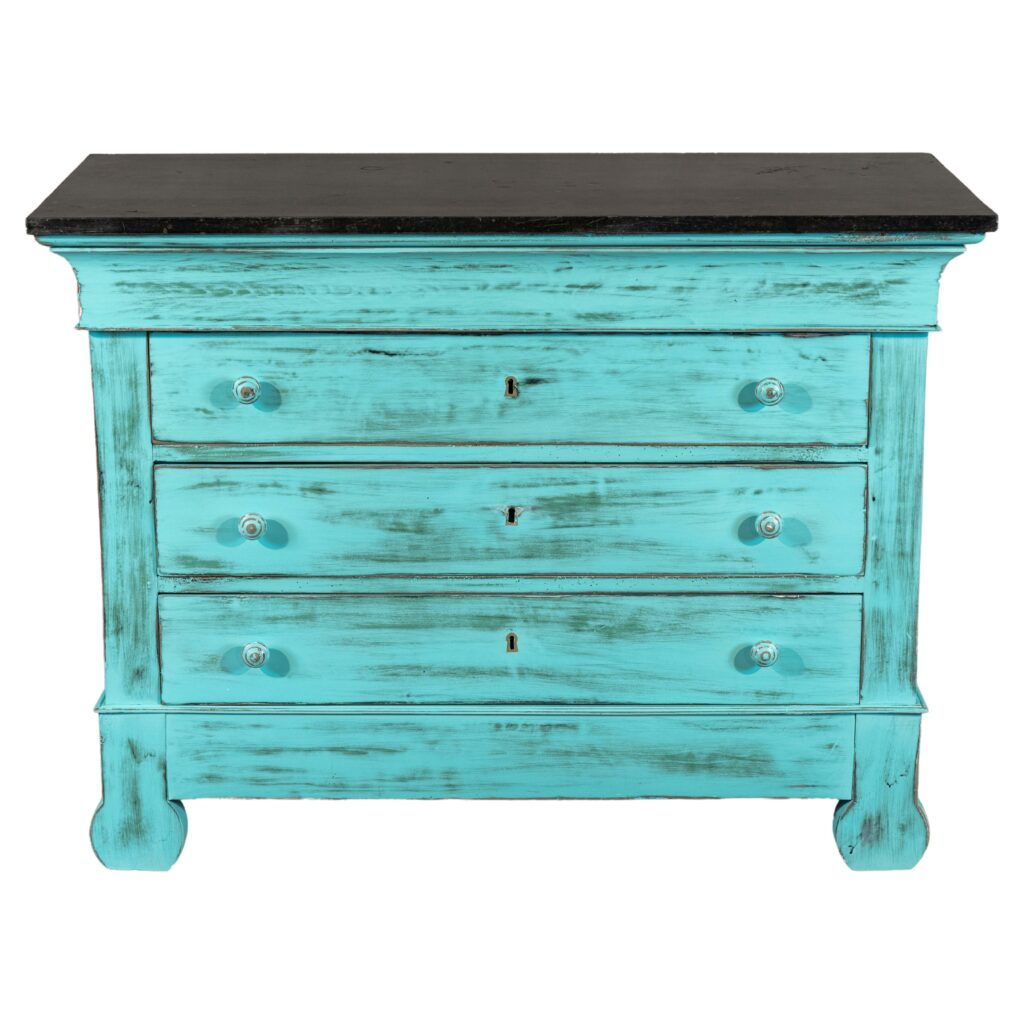 Teal brings with it a calming vibe because it symbolizes soothing seawater. A little bit of sanding is a must before applying the coat. Cover with masking tape if your dresser has a wooden color unique legs.
4. Modern Zig Zag Pattern Paint Dresser Ideas
This is one of the most preferred modern painted dresser ideas. The zigzag patterns look so popping, and they are customizable. The fact that this idea needs more time for perfection doesn't mean it should not be considered. If you want to make your dresser look flawless, use masking tape.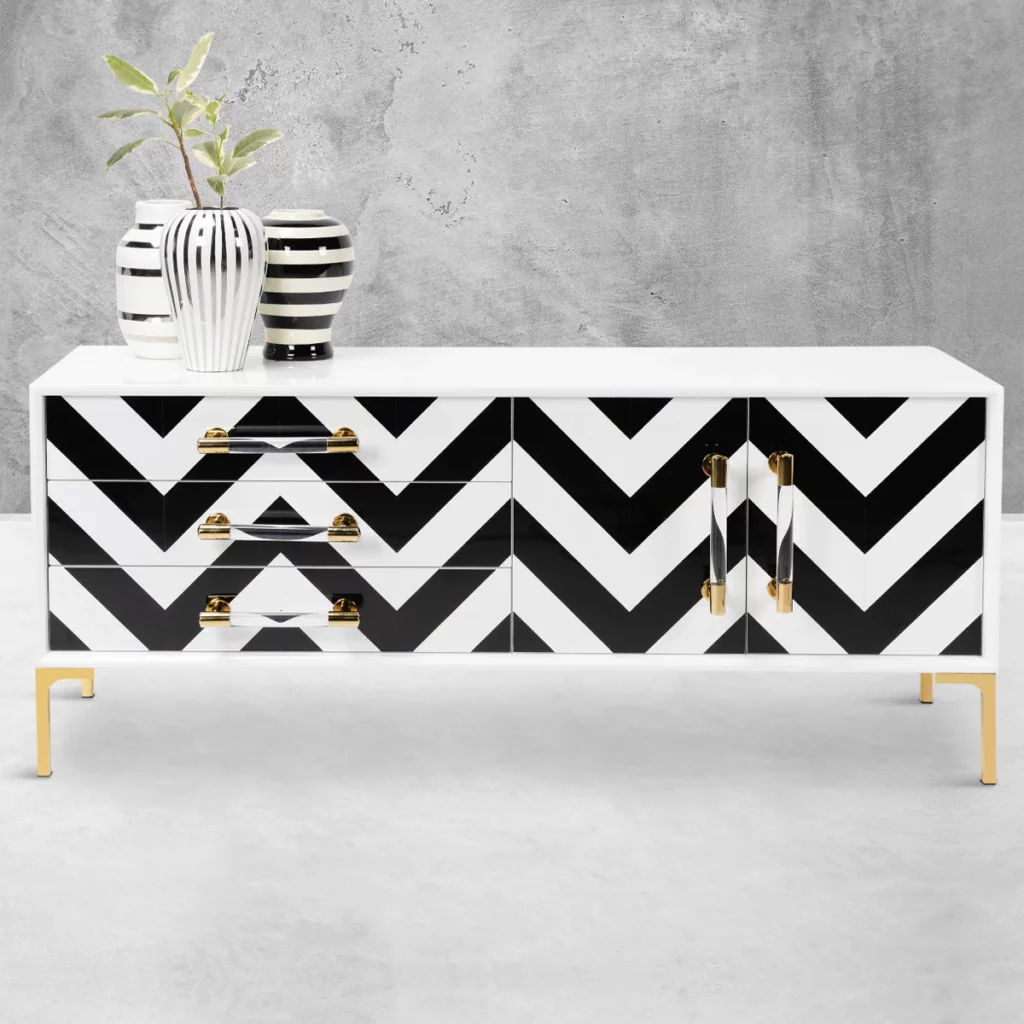 Professionals use the latest equipment to paint the dresser in a zig-zag pattern, but you can also use a ruler to draw straight lines. However, ensure it is lying in a balanced place; otherwise, a bit of imperfection might be left. You can rely on a smartphone app to ensure it is on level.
5. Reflective White Paint Dresser Ideas
White has an inherent character of reflecting the light. If you have a beige color applied on the feature wall, a white dresser can make sure the theme of calmness is carried forward. White also symbolizes tranquility which gives it the strength to staple the serenity with rigorous energies meaning that if there are excessively brighter colors in your room, it can be balanced with a white-painted dresser.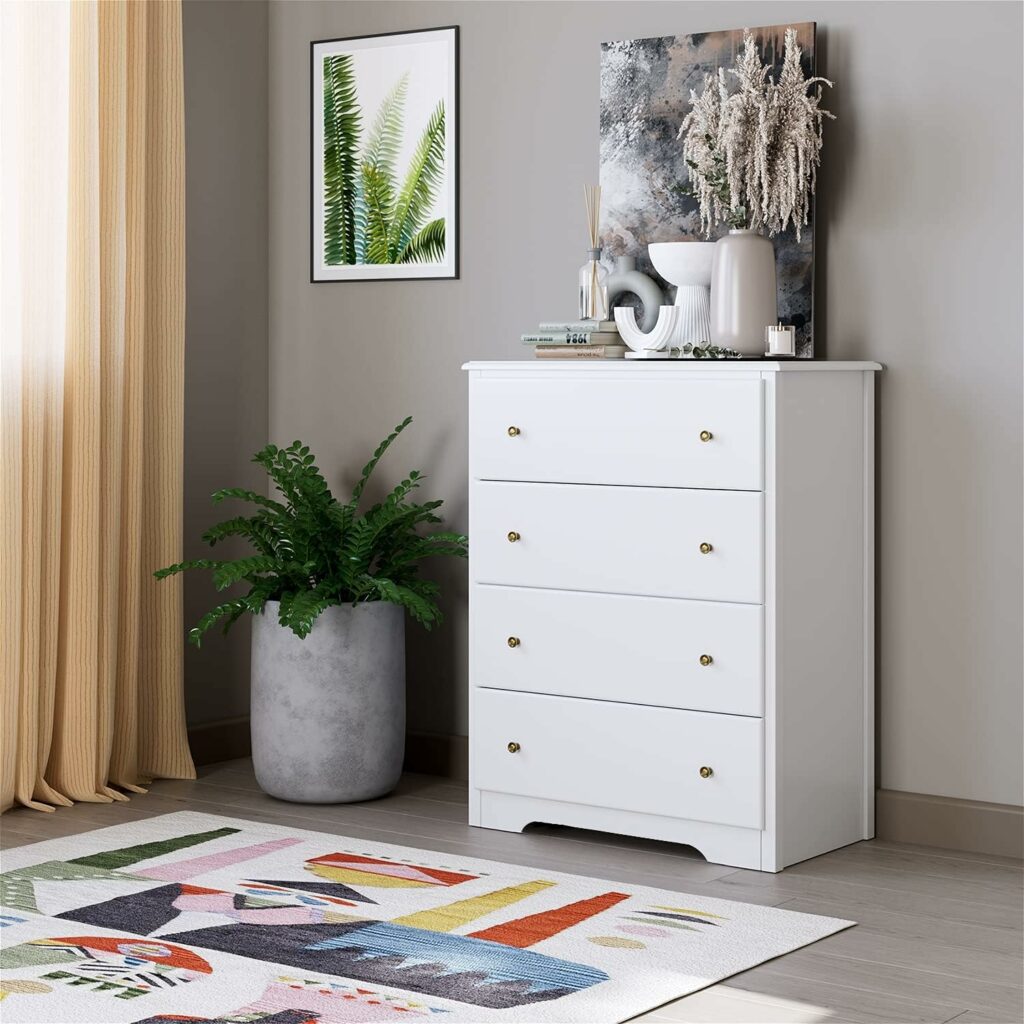 White is a timeless color that has been in fashion for a while and is not going anywhere soon. White is also believed to make the place look more spacious. Consequently, it is worth painting the dresser white.
6. Timeless Gray Paint Dresser Ideas
Gray keeps in the trend due to its soothing charm and the ability to match and complement any color or theme, whether you want a modern or rustic appearance. There is a gray unit that we can find in almost any house. Gray has kept its authority intact, whether for feature walls or furnishing items.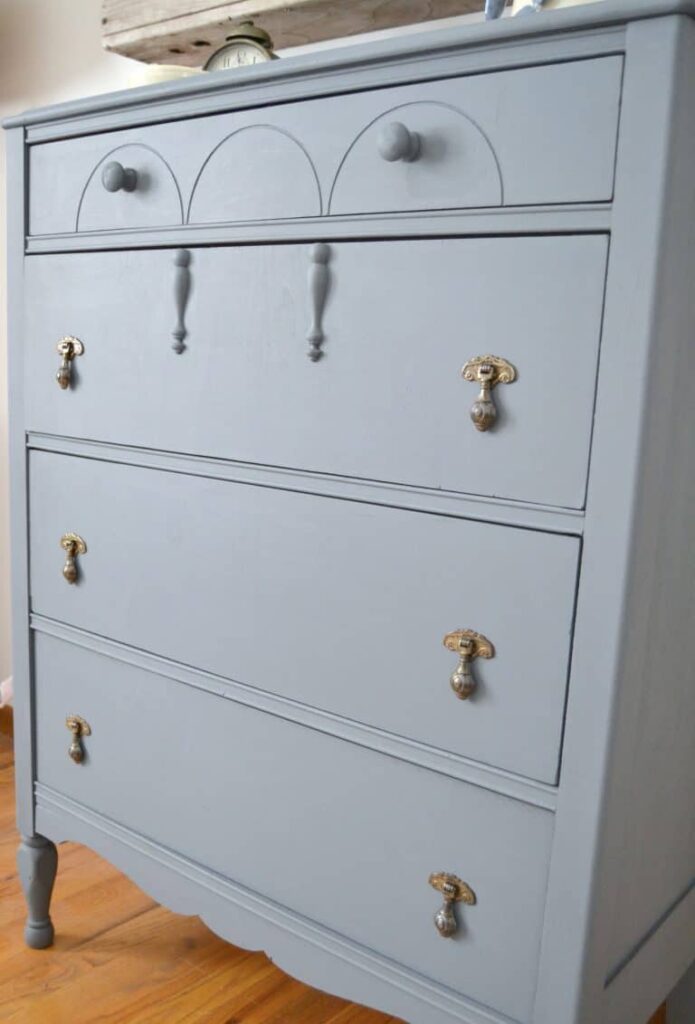 A gray dresser will be a focal point in the living room and can be embellished with either gold or brass handles. Moreover, you can adorn it with decorations such as a jewelry holder.
7. Farmhouse Style Paint Dresser Ideas
The classic decor style farmhouse theme has been a charm since its discovery. If you want to keep things looking old school, paint the dresser in a distressed way, and to achieve this, you can use weathered and rugged wood-tone colors.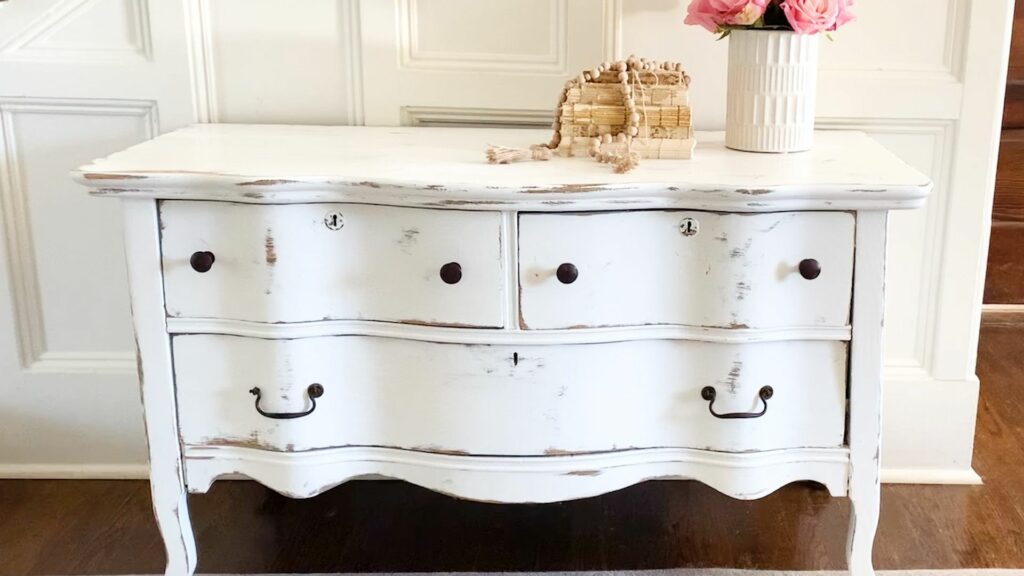 Just like white and gray, the worn tones emit calming aura. You can paint the dresser in farmhouse style even if you have applied modern decor themes like red, orange, or yellow accent walls and reddish curtains hanging on the window. This way, the fusion will take you close to the theme known as the modern farmhouse style.
8. Ombre Effect Paint Dresser Ideas
An ombre effect is a heart-melting thing. You just fall in love with the pattern of fading colors and can not take your eyes away. This painting style signifies spontaneousness which makes you feel like something is fading, or if you start observing it in the opposite order, it feels like something is growing.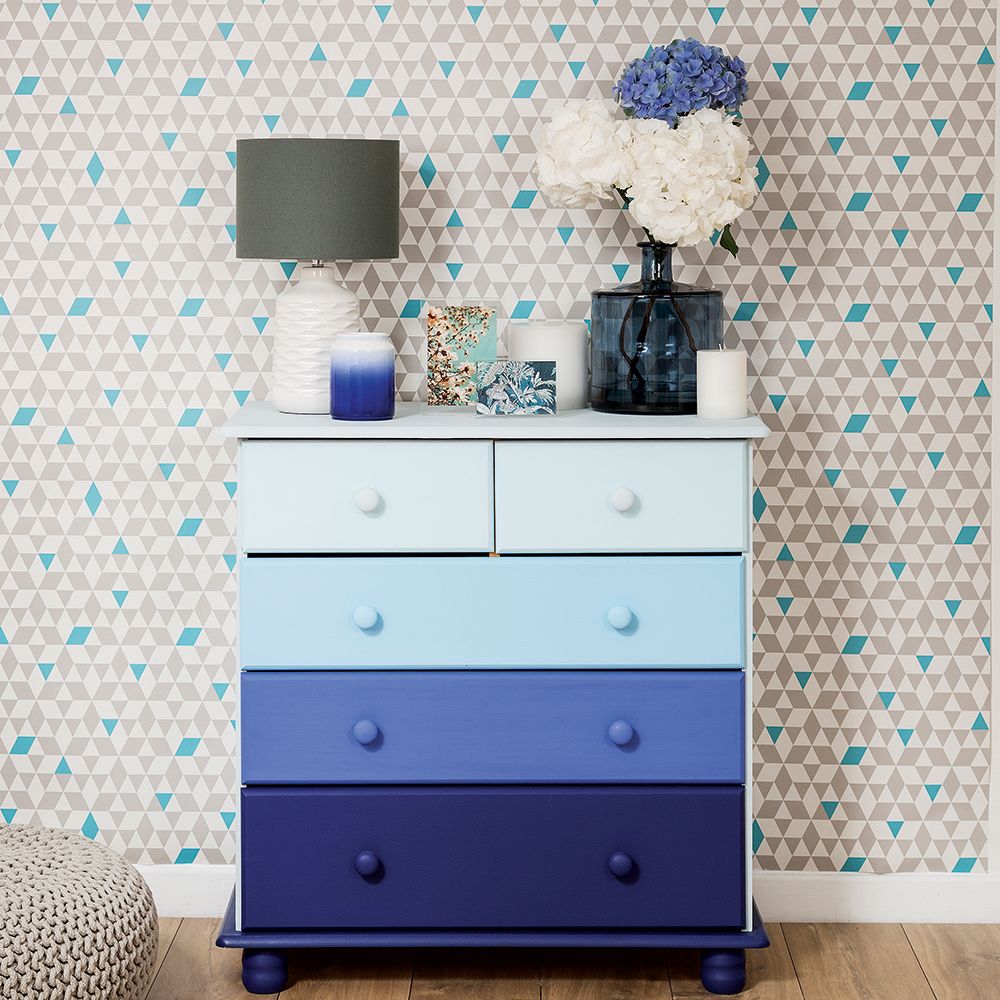 Typically, this pattern is found in flashy colors, which makes it a bit more expensive and time-consuming, but you can select any color you want. Nevertheless, it is worth investing in because of its soothing impression.
9. Stunning Black Paint Dresser Ideas
Black might seem a bit outdated to some, but it can produce a really wonderful charm if you add a little gold or silver to the handles. Moreover, if we place some hand-painted trinkets like a collection box on a black-painted dresser, it will pop and attract your eyes.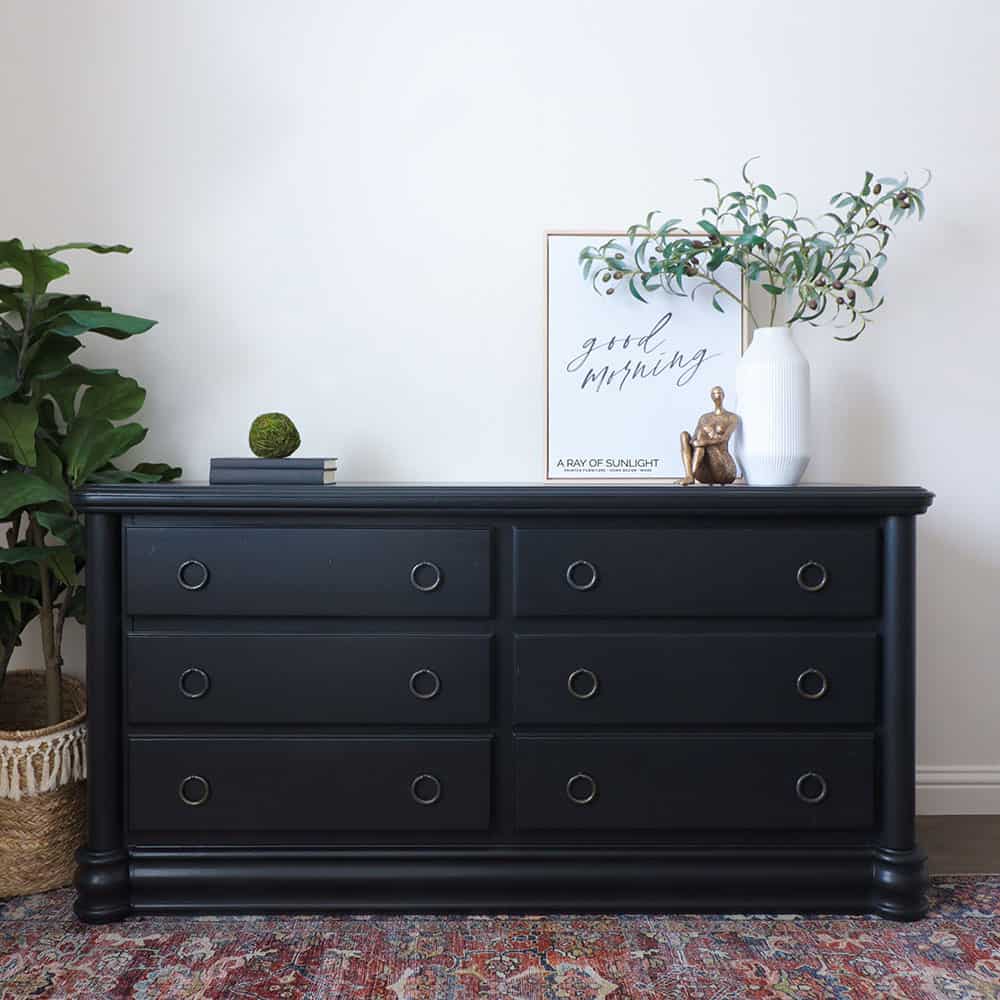 A black-painted dresser breathes life into the place when you have decorations such as a decoration tray placed on it. Black does not let light decorations blend with it, which makes the dresser work as a background, a layer that lets the decorations pop out well.
10. French Inspired Stripes Paint Dresser Ideas
The home decor seems incomplete without a French-style influence. Painting the dresser in French style means you have an authentic classic impression in the room. French-inspired ideas consist of using antique decorations and soft tones of colors, meaning that you can use grayish or light blue colors to paint your dresser.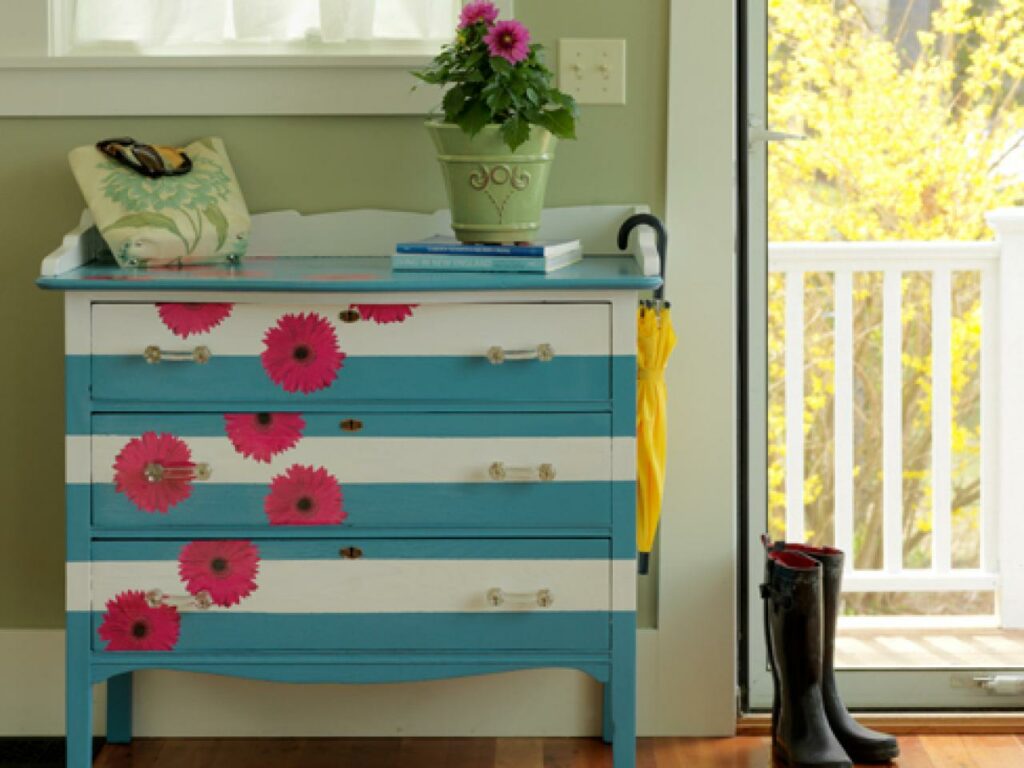 However, modern French decor allows you to use different colors, like gold with white. You just need a masking tape to ensure the paint is clean. You can also use stencils to have a fusion of modern and classic. Antique books, boho bouquet vases, and many other things can be used to decorate a dresser top.
11.Enliven with Bright Yellow Paint Dresser Ideas
Yellow is all the rage for painting and furnishing these days. Gray, which was the most adored color for decorating rooms in 2022-23 and still continues to dominate the decor industry, goes well with yellow. Yellow is a striking color that works well for painting a dresser since it radiates vibrant energies, giving a more energetic aura to the space.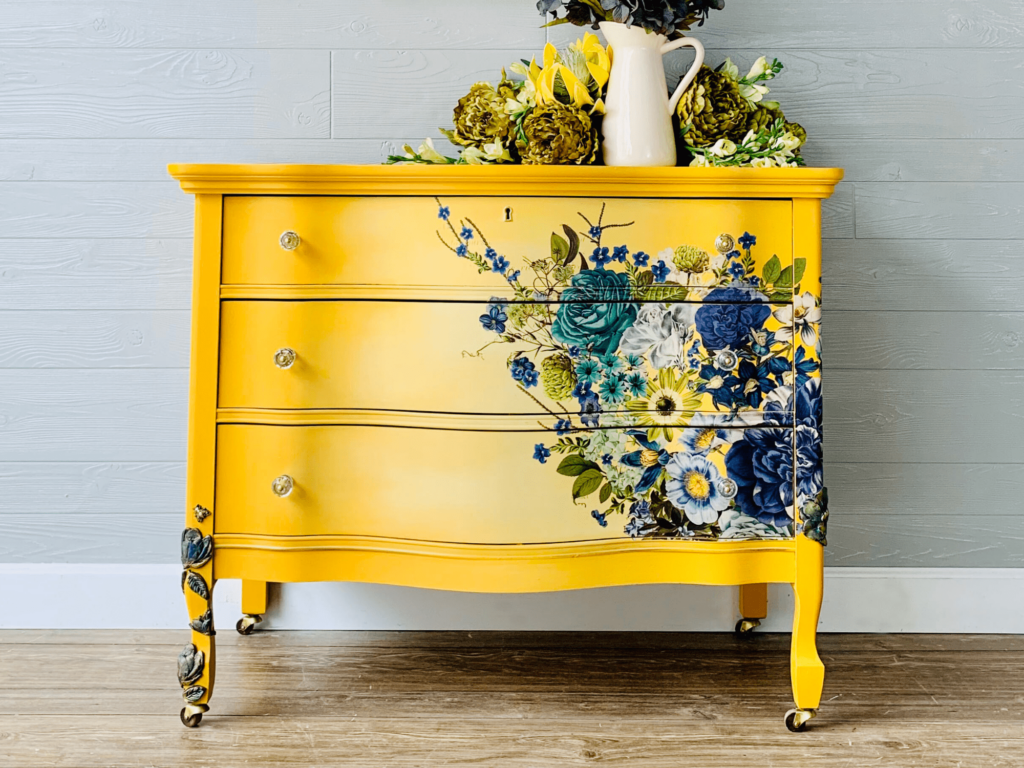 If you are going to paint the dresser yellow, ensure you use black or brass drawer pulls because they act as a cherry on top. Furthermore, decorate the top with faux plants or jars.
12. Rustic Distressed Painted Dresser Ideas
Usually, a light tone with a dark tone is used to create a unique distressed look. A rustic-style painted dresser is a brilliant idea to implement to create a rustic aura. You can achieve a rustic distressed look by applying the first coat of brownish color and, after drying, then painting a dark gray layer. The next thing you can do is, expose the lower paint by sanding the upper coat.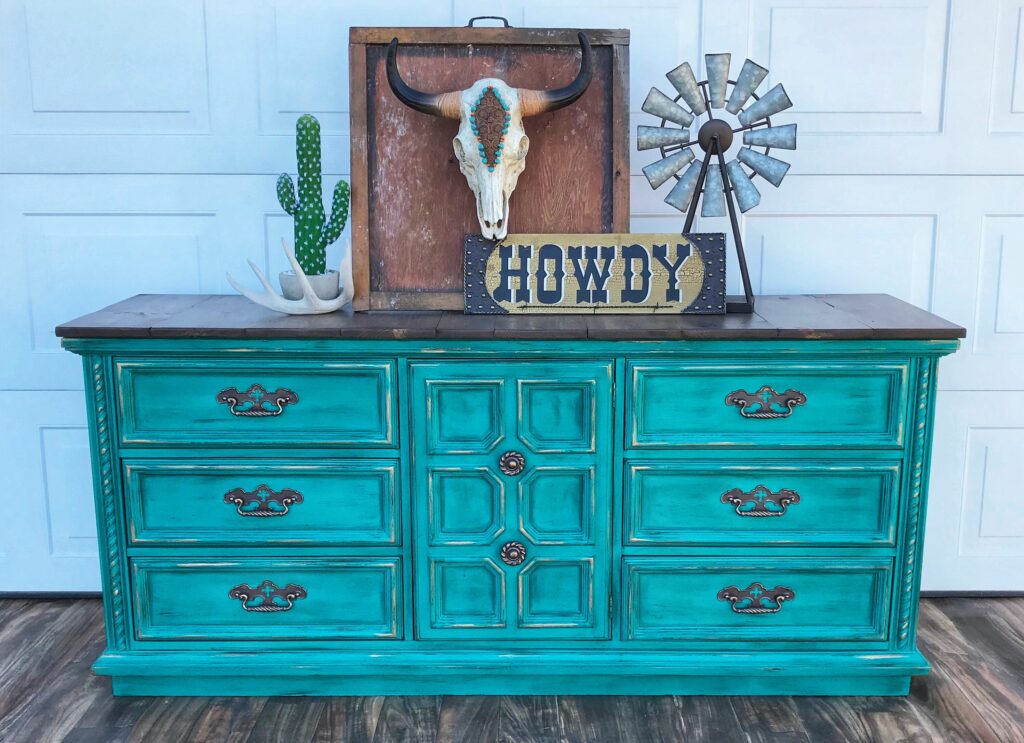 This custom imperfection will make a lasting impression on whoever looks at this dresser.
13. Astonishing Pink Color Paint Dresser Ideas
The dark pink color produces a stunning vibe. A feminine look is achieved with a pink-painted dresser. A pink dresser is among the most admired painted dresser ideas because of its boldness and liveliness. If you want to add energy to the room, just paint the dresser with a pink of your choice and add some white over it. However, if you want to be more creative, apply some stencil prints.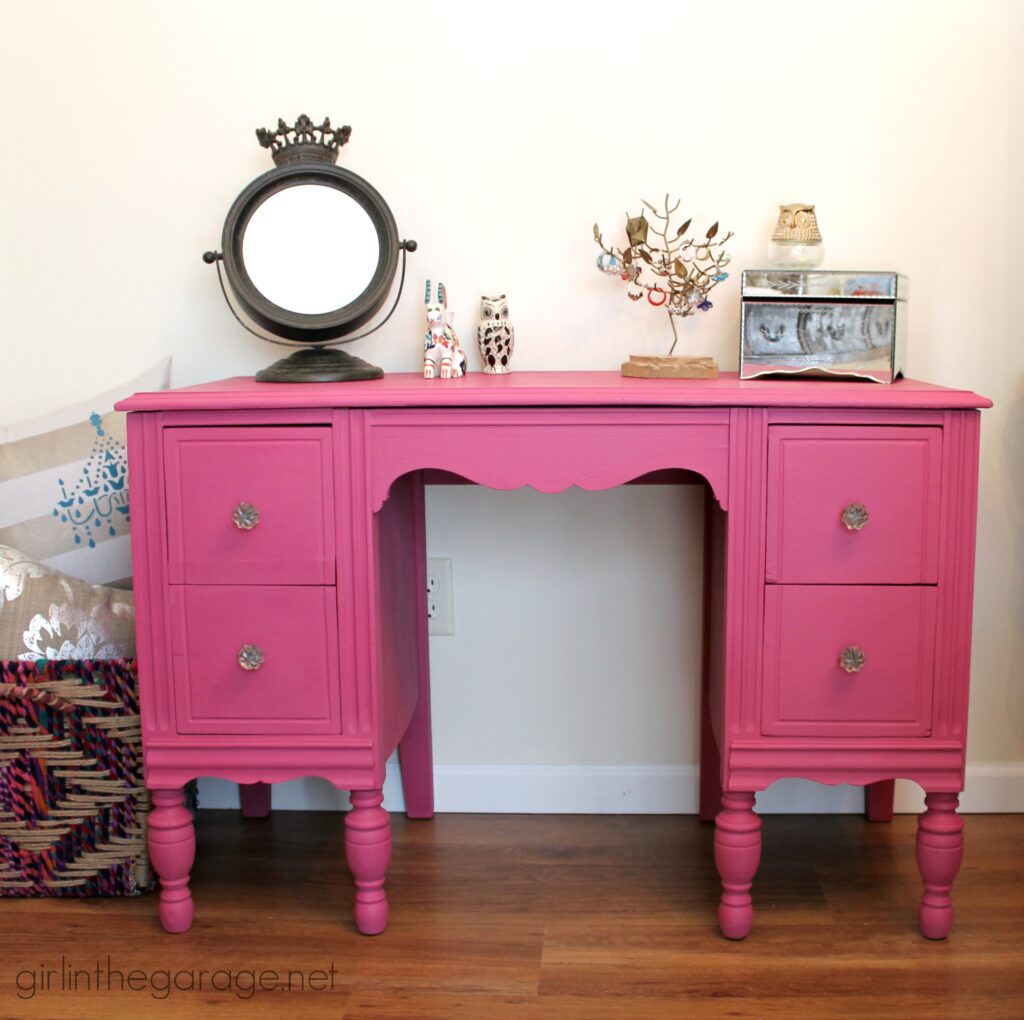 If you feel your dresser looks outdated, just paint it pink and garnish it with some trinkets, a crystal jewelry hanger, or an indoor plant for fresh air and a look.
14. Geometric Pattern Paint Dresser Ideas
This is among the latest trends prevalent these days. All that one needs is some artistic skills, masking tape, paint, and a brush to have a geometric pattern on the dresser. This idea falls in the modern decor category. Geometric patterns on dresser drawers provide them with an eye caching scheme.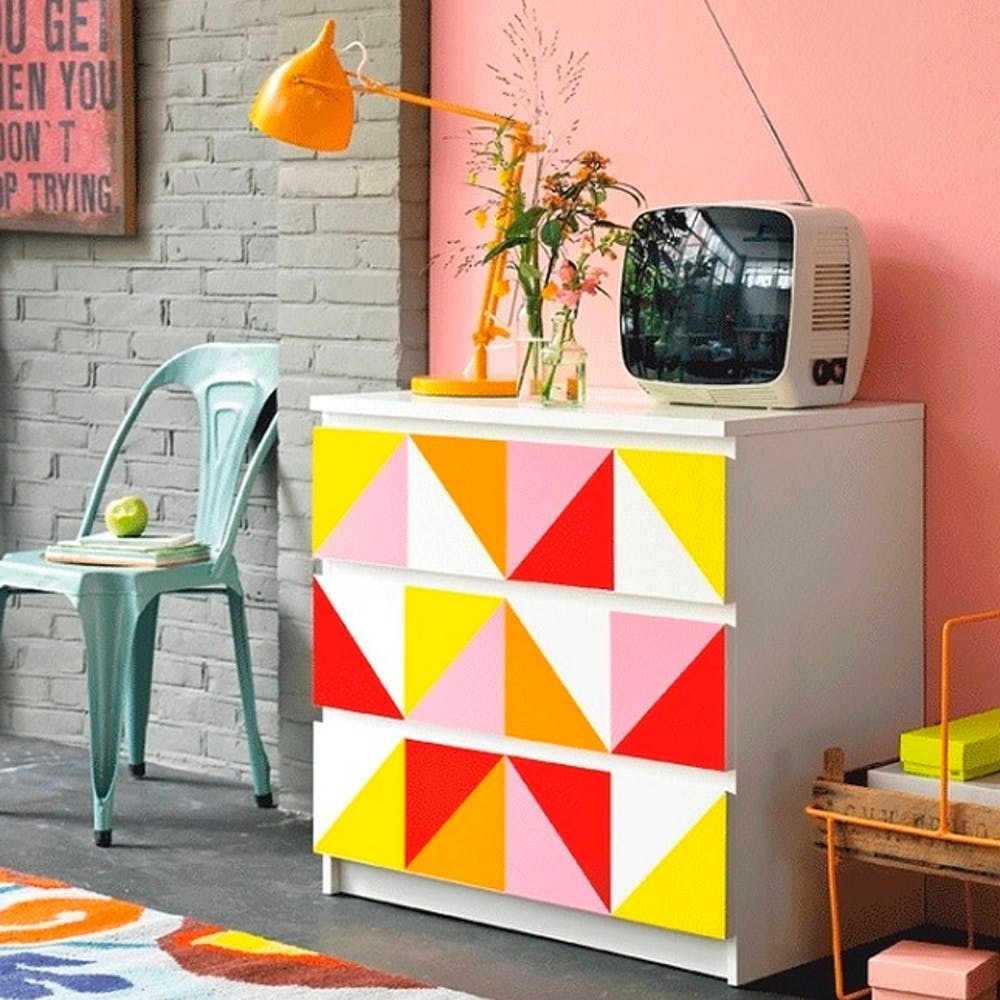 Choose a nice layer of base color paint, and then after it dries, apply masking tape according to your choice. Finally, apply the second coat very carefully, and Voila! You have got a beautiful dresser to add charm to your living room.
15. Two-Toned Paint Dresser Ideas
To follow a dual-tone dresser idea, you can add some modern feel. It is up to you how you want to customize your dresser. You can apply a thin masking tape on all the front corners and paint the rest grey. Then you can choose golden or any shiny color for those corners. This would make it look more charming.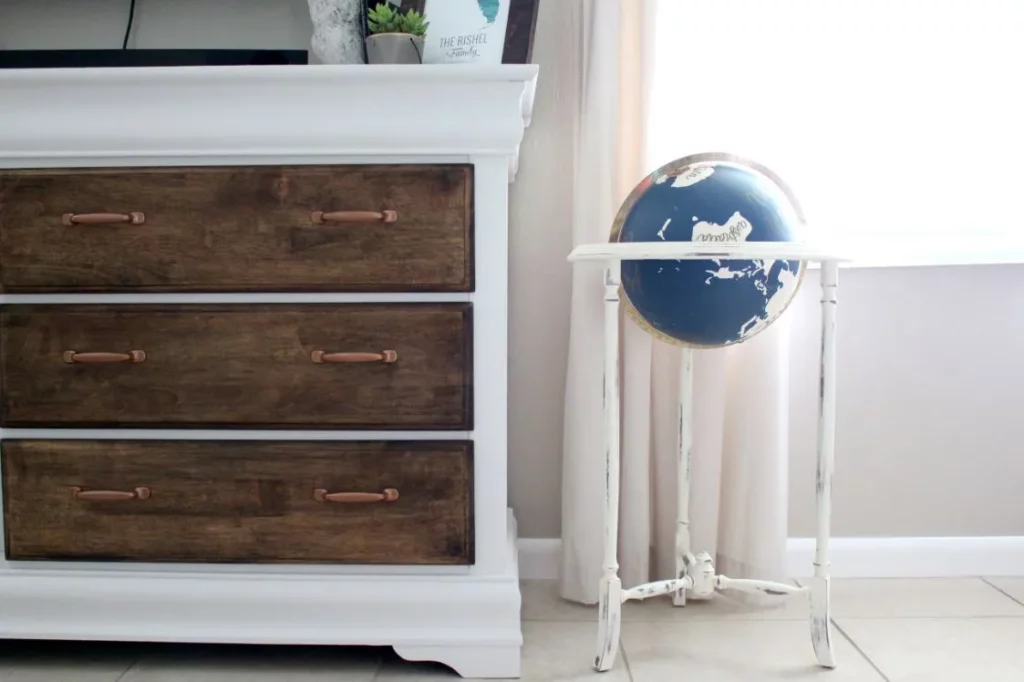 Conclusion
We have discussed 15 painted dresser ideas that are worth the thought. From rustic to modern, we mentioned all the best possible beautiful ideas for painting a dresser.
One crucial point that you need to consider is the use of masking tape while following some ideas for perfection, such as geometric patterns and double-tone ideas, and more.
Additionally, we added some ideas for painting dressers that will provide a calming vibe, making them perfect for modern settings having vibrant backgrounds, and some ideas suggested painting in dark colors, best for a room with soft-colored backgrounds.
Some of the decoration suggestions have also been mentioned throughout the blog to help you enhance the look of your fresser even more.
All in all, we have curated the best ideas to choose from while painting your dresser, from patterns to creating an ombre effect. We are curious to know how the blog helped you. Happy painting the dresser!