Antique furniture, unique styles, and Victorian aesthetics will never go out of fashion. People who have a flair for taste are inclined towards a royal-looking set-up and prefer having antique furniture at home.
It can be quite investment-heavy if you are looking at purchasing repurposed antique furniture. Now, with DIY tricks and easy accessibility of raw materials, you can choose old furniture and give it a makeover. If you already own an old china cabinet, there are simple, easy-to-follow tips to give it a makeover.
For the love of all things fine, taking a careful, well-executed route to repurposing your old china cabinetis important. Transform boring old furniture into a unique antique china hutch that can add some eye-catching personality to your space. Place this in your living room, bedroom, or even the hallways.
With some stunning flowers on top, this hutch cabinet will have your guests inquiring about it! Let's quickly dive right into how you can makeover your simple china cabinet into an antique china hutch cabinet.
Tools Need For the Antique China Hutch Makeover
Purchase or equip yourself with the below-mentioned materials beforehand. You can place all your tools ready and accessible in one area to ensure they don't get lost in chaos or create clutter.
Raw Materials Needed
The quality of raw materials is extremely important. If you want your antique hutch to last long, choose good-quality raw materials. Prefer products that have been tried and tested and have good reviews online.
The Process of Giving Your China Hutch a Makeover
1. Cleaning Down the Old Hutch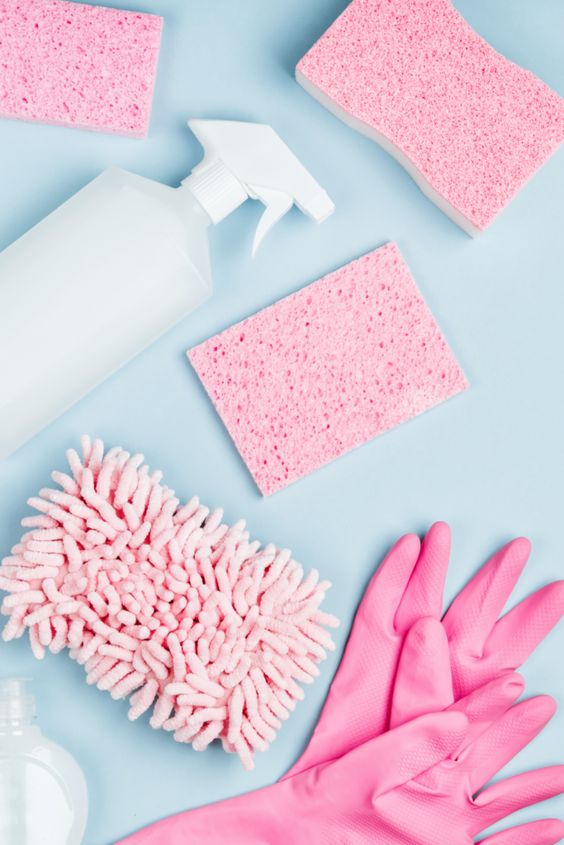 The first step in any refurbishing project is cleaning the original piece of furniture well. There is a possibility that years of usage have resulted in the accumulation of not just dust, but adhesives, grime, and hard stains that aren't easy to remove.
First, dust down the entire china cabinet to get rid of dust and dirt. Depending on what the cabinet was used for previously, there might be loose materials or things lying in corners. Clean it down well.
Second, use a good cleaning liquid that is safe for wood. Clean down any stains and stubborn dust areas. Use a good washcloth to clean down every corner. If the hutch cabinets have stickers etc., previously placed on them, a good intense cleaning session will be required to get rid of the marks.
Do not ignore this step, as stains or blemishes can ruin the finishing of the cabinet even after layers of paint
2. Replace or Repurpose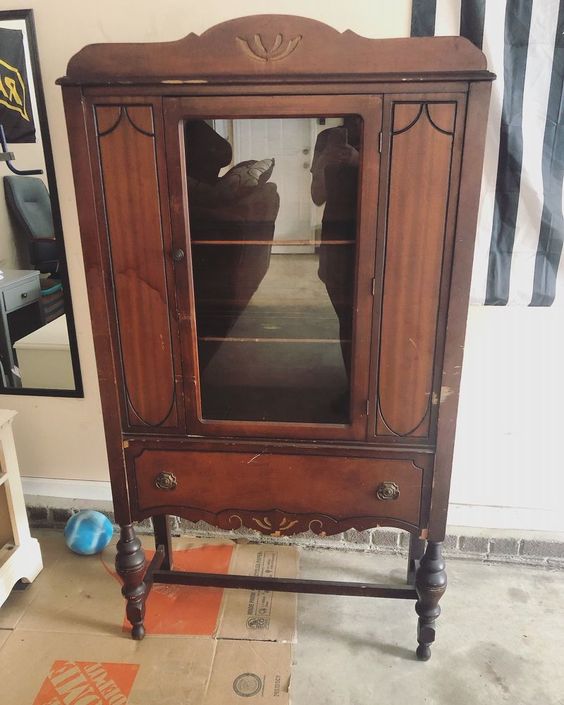 Get a quick rundown of the parts of the china cabinets. Quickly review and access all the parts within this cabinet. In order to ensure longevity, it is important to know if the parts currently present inside are of good, durable materials. For instance, a rusted hinge that is left as it is may result in a damaged or unusable cabinet within a few months or years.
Therefore, a thorough audit of the cabinet from the front to the back is important. Look for the shelves, check for termite infestation, check for rusts, bumps, or just irreparable damage.
Once you have taken stock of the entire cupboard, list down things you need to replace and things you need to repurpose. If in doubt, just replace or repurpose.
Don't let a small damage ruin the entire look. A simple way to ensure this is to remove the screws, dismantle the shelves, and thoroughly check inside out.
Something that may look fine could be broken or infested with pests. Note the damages that need to be repaired. If there are minor holes or dents etc., just use plastic wood filler or general wood filler and fill it up. You can fill up any cracks that may have occurred too.
3. Restoring the Hardware Parts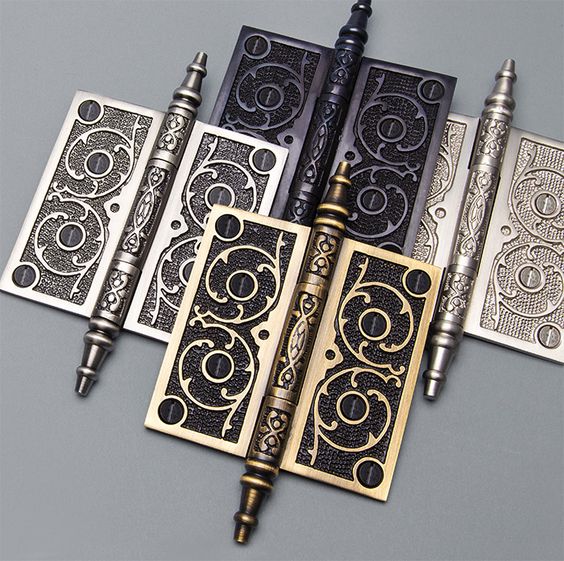 Wood is sturdy and can be used for decades when in good condition. However, metals can really wither down when not maintained. Depending on the condition of your existing hardware, you need to decide how you wish to proceed.
The first option is to discard whatever is beyond repair simply. Metal parts such as hinges that have been rusted beyond repair have holes in them, are flaking, and are not safe. In this case, simply replacing them and buying antique-looking knobs is the best option.
With e-commerce accessibility, you will get budget-friendly antique-looking options. If you want to go for the real deal, you can buy antique knobs from antique resellers. When it comes to hinges, you need to replace them with new ones simply.
You can polish it up well for metal parts that aren't entirely ruined. This includes cleaning the original hardware with a nylon brush and using cleaners that are metal appropriate.
This will help shine up the old metal and make it ready for use. Ensure you use rust-proof liquid coats on the metals to prevent any further tarnishing that is likely to happen.
4. Priming for Paintwork
When it comes to renovating your antique china hutch, color is the one thing that will give you the wow makeover you desire. First, decide if you plan to reapply the same paint or wish to try out a new shade completely. Depending on this, you need to determine your sanding activity.
If you are going for a complete overhaul, start by sanding it all down, remove the previous paint by chipping it off, or by using a sanding machine. You can use sandpaper for the edges, curves, and corners so as not to ruin the china cabinet's natural finish. If you want to paint over it, just sand it down enough to make it ready for the new paint.
Using a coat of primer is very important, especially when you are looking to change the color. Old antique furniture was usually dark wood furniture or dark colored. You can choose to go light and give it a unique touch. This requires spraying and lightly sanding between layers or primer.
Choosing the right kind of primer is crucial. Remove any dust in between sanding using a tack cloth. It is advisable to use two coats of primer for a well-finished product.
5. Painting China Hutch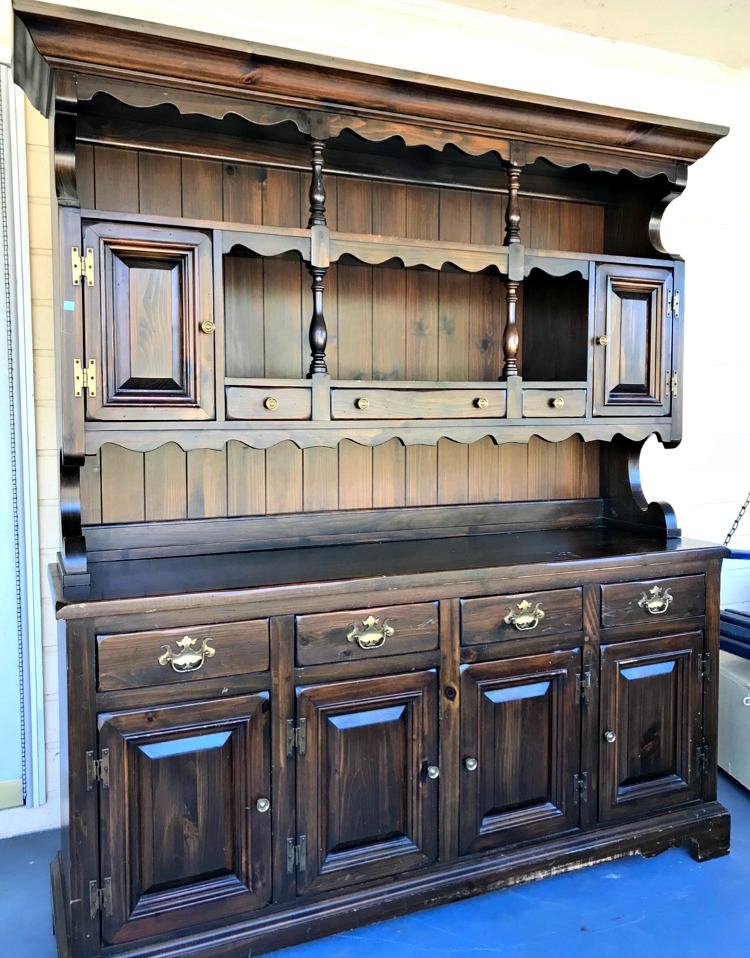 This is the best part of your DIY project. Everyone loves a good before and after effect; nothing makes it as prominent as a complete color overhaul. Therefore, make sure you pick out paints and color combinations before starting out.
Have an idea if you want the edges and corners to stand out from the rest. For instance, you could color the frames darker than the rest of the antique china hutch.
Generally, three coats of paint spray are ideal for a good paint job. You can use a white coat first and use a paint sprayer to coat it onto the china cabinet. Follow this up with the desired paint coat.
For instance, deep maroon and green are great colors for your antique china hutch. Make sure you sand out the paint a little before adding another layer. Remove dust too.
Be patient with the drying time of the paint. Hurrying up this process could make the end result appear to be shoddy and unkempt. Confused about the right color for your antique china hutch? You can use wood stains too, or you can choose to go with bold colors such as yellow, red, navy blue, etc., that are generally in trend.
With bold colors, you get a statement piece of furniture that is sure to be the talking point of any party that you host.
6. Staining Other Parts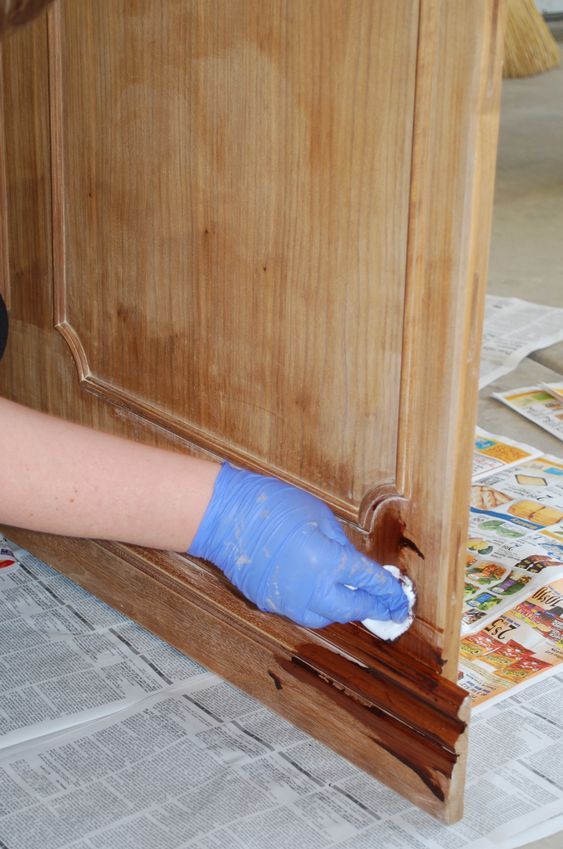 The final antique look is just incomplete without attention to detail. If you thought just painting down your antique cabinet would make it work, it's not true. The best is yet to come. Now, it's all about detailing and selling the idea of antique furniture like no other. This requires wood staining parts such as the legs of the china cabinet. This is especially important as the curvy, artsy legs of the vintage china cabinet are what make it look so unique and desirable.
First, sand down the legs of the cabinet carefully. Be careful during the process; make sure you hand sand it. This is because the legs have tricky, artistic curvature, which is the true showstopper element of this piece of furniture. You do not want to ruin the entire look by being hasty with the sanding.
Now, choose the wood stain color of your choice. Choose whether you want a light-stained or dark-stained wood finish depending on the paint color you have opted for. Use any simple gel stain and put it on the sanded-down legs of the china cabinet. Make sure you use the brush you want to dispose of later.
Let the stain penetrate into the wood; once done, just wipe it off with a simple lint-free rag. Post 24-28 hours of drying, you can add another layer if you want it darker.
7. Antique It Up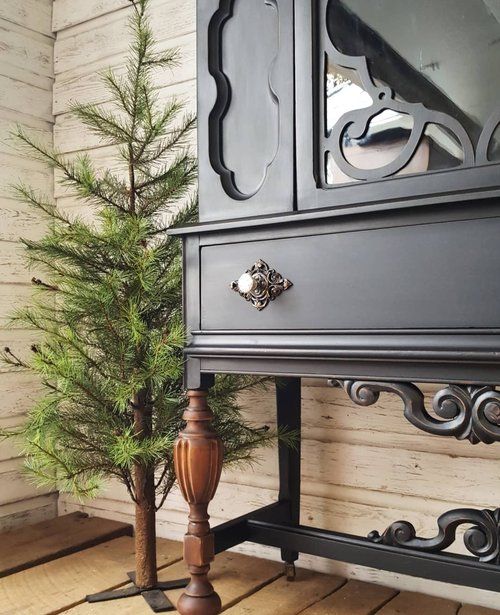 The difference between any normal cabinet and an antique china hutch is the antique look! Therefore, it is important to nail this step to perfection. The faded-out look on the edges and the spotless look is what everyone desires in antique furniture.
Clear wax is a product that is used to make the product look ready for antique furniture. This starts with coasting the entire piece with your choice of clear wax. Choose a nice quality product that has been reviewed by trusted experts of users who know how this works. Once you apply clear wax all over, it's time to get creative.
Use a darker shade of wax to apply on the edges, especially in recessed nooks and corners. Apply them skilfully around crevices. It's best to look up old furniture images to check areas with darker shades to get the perfect antique china hutch look.
Tips and Tricks to Makeover China Hutch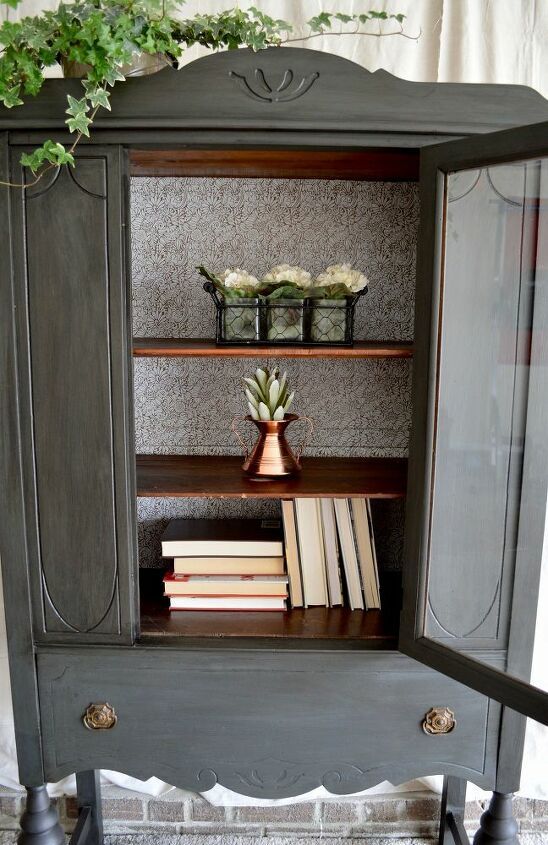 If this is your first time working on a makeover project, a few handy tips and tricks will go a long way in ensuring your project comes through successfully. This includes.
Knowing the material – Redoing old classic cabinets is great, but be mindful of the material of the product. Based on this, you can choose the right kind of paints, stains, or wax for your project. Every base material acts differently in different coats.
Replace & Refurbishment Costs – Be mindful about what you wish to recycle and what you wish to replace. DIY projects can become expensive if you choose to replace things that are still in usable condition. Reuse and refurbish as much as possible.
Clean every step of the way – Whether it is your furniture before the project or across every step of the project, cleaning is a non-negotiable step. If you fail to clean off the dust after sanding and painting over it, the paint job appears shoddy. Clean after every step
Fresh Air – Given the materials you are working with, it is essential to work in airy spaces. Chemicals and paints aren't meant to be used in closed spaces. Therefore, make sure you work in very bright and airy spaces.
Conclusion
An antique china hutch is an elegant-looking cabinet that serves both aesthetic and functional purposes. If you are designing an antique-themed home or looking to add an element that grabs attention, an antique cabinet hutch is a way to go about it.
Redoing old cabinets and giving them the makeover they deserve adds durability and functional benefits to the furniture. Store your unique crockery items, show pieces and more in these antique china hutch and place them in the middle of your home.
Go for this makeover and add oomph to the already classy and timeless piece of furniture,e, the antique china hutch cabinet.
Frequently Asked Questions
Should I Refurbish My Antique China Cabinet?
Yes, there are many things you can do to bring your old antique china cabinet back to functional use. A simple makeover that includes a painting job replacing old hardware, and repairing necessary sections can revamp your old china cabinet into a new one.
How Do You Makeover Your Old China Hutch?
You can give your old china hutch a complete overhaul by following simple step-by-step instructions. This includes cleaning, sanding, painting, adding antique wax, and more. This completely rejuvenates your old piece of furniture and gives it the life it deserves.