Gone are the days when a simplistic, plain home would work. Today, everything from small homes to large mansions has designs that reflect the user's personality. Add some much-needed zest and flavor to your home with wainscoting.
It elevates and translates your home into an aesthetic place that is great to look at beyond the comfort it offers. Wainscoting adds a dose of charm and elegance to your home. It naturally extends a rustic aesthetic that reminds you of vintage or aged homes that were filled with art and artsy elegance.
The best part about using wainscoting ideas for every room of your home is that it is relatively inexpensive. Unlike adding high-end accents to your wall that may cost a fortune, wainscoting is a simple but effective way to transform your space into something more.
Add this effortlessly cool, sleek touch to your room. This idea is also ideal for a bathroom, bedroom, and living room, which makes it stand out like no other. Let's first dive into the basics.
What is Wainscoting?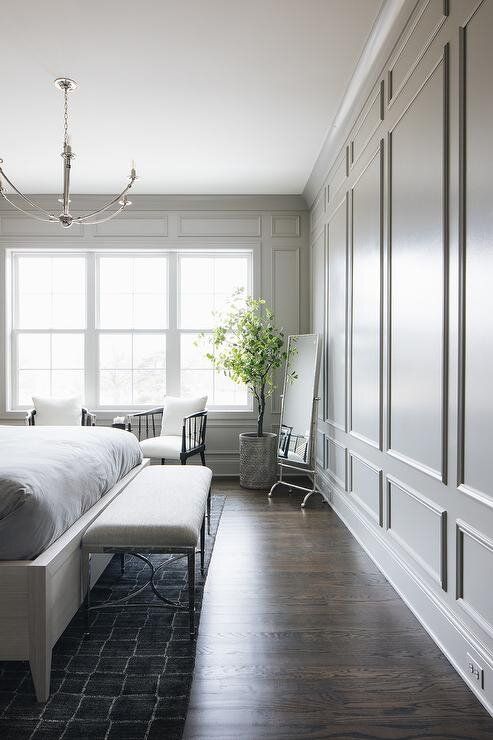 Wainscoting is a process in which the wall is amped up using a certain style of decorative paneling that is done. This could be in terms of wall accents, as a way of covering up any existing flaws, or simply as a way of insulation.
Wainscoting usually encompasses about ⅓ of the wall from the bottom, i.e., 3-4 ft from the bottom of the wall. It gives off a distinctive look by cutting down the blandness of a plain wall. While some may confuse wainscoting with just paneling or headboard, it is, in fact, a very distinctive style.
This includes a panel and a frame structure. Within this, the frame usually contains a top and bottom rail and two side pieces which may also be called stiles.
Explore the Various Types of Wainscoting
Wainscoting may have suddenly become a trend in terms of home decor, but it is important first to understand the types. Listed below are the most common types of wainscoting, which can be variably used in multiple ways.
1. Board and Batten Wainscoting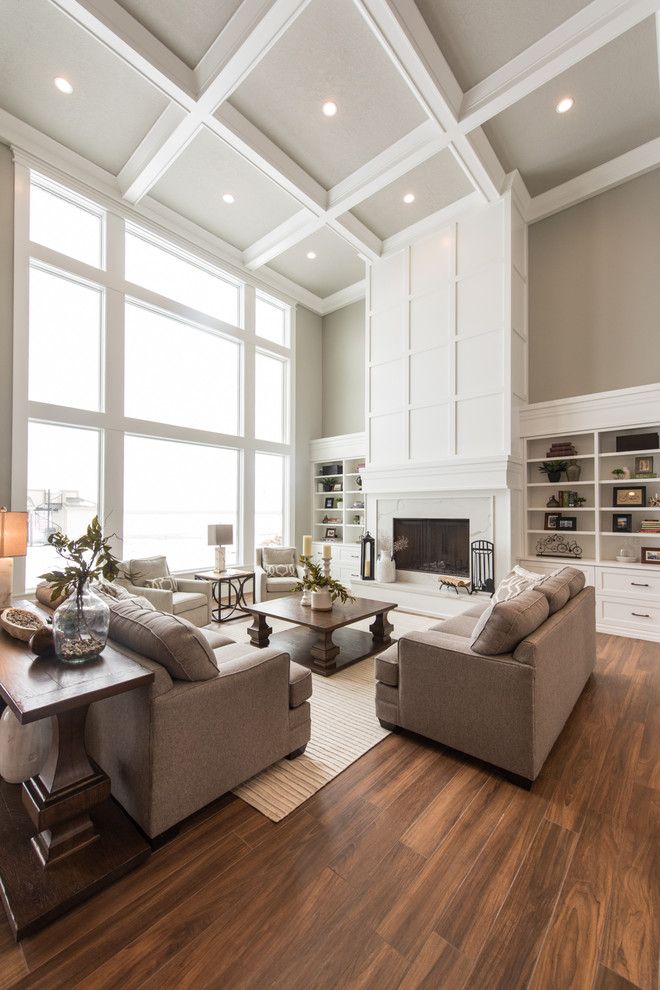 This type of panel consists of a regular, periodic pattern format which is known as battens. It consists of a flat panel-stayed vertical board that covers the edges called a board. Battens may come in a width of 4-6 inches and may be placed 6-8 inches apart. However, these measurements can be tweaked around to meet your desired aesthetic requirement.
Battens are used to cover the gaps and also add to the style of the overall wall. It offers a very clean and simplistic look without much clutter and is easy to install.
2. Flat Panel Wainscoting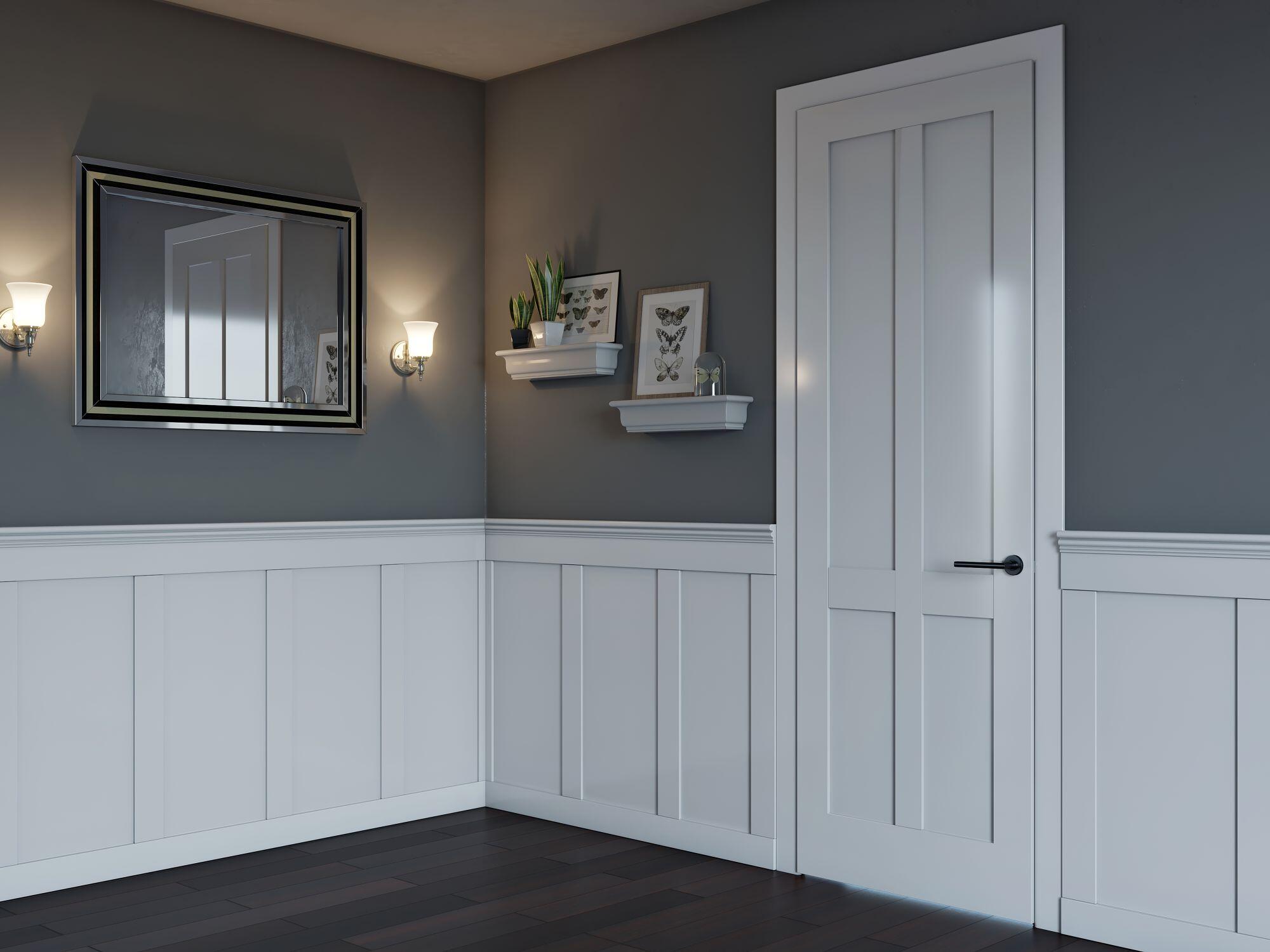 Flat Panel wainscoting consists of panels that are behind the rails. These offer a more modern aesthetic appeal and have a smooth finish. These stylish panels do not have any grooves on uneven ridges in between. This completely smooth and sleek appearance offers enough personality for it to be distinctive yet easy to maintain and manage.
3. Raised Panel Wainscoting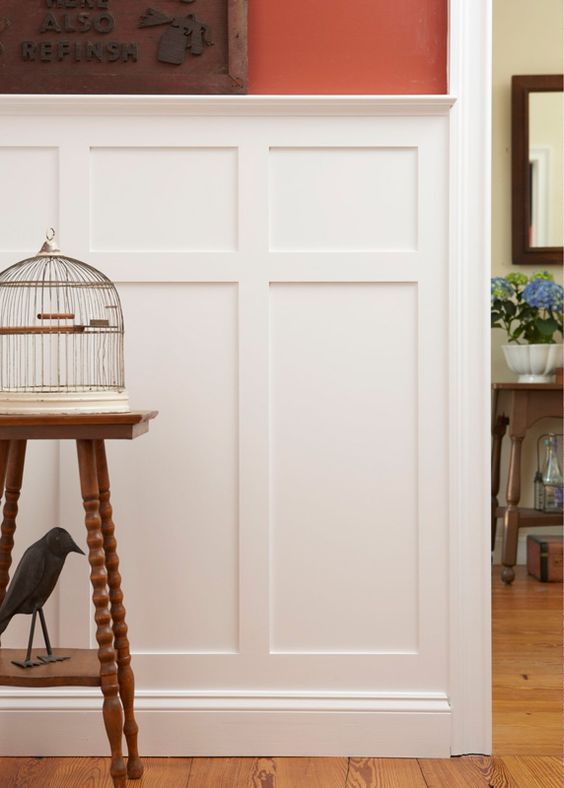 Raised panel wainscoting is a style of wainscoting that is used in a more formal setup. Therefore this is ideal for homes that have dining room areas. You can also use this setup in living rooms too. It offers a more vintage look as compared to the flat panel wainscoting idea. Choose to place their panels on the main wall of your home or across all four walls. The panels are generally placed in front of the stiles or railing.
4. Overlay Wainscoting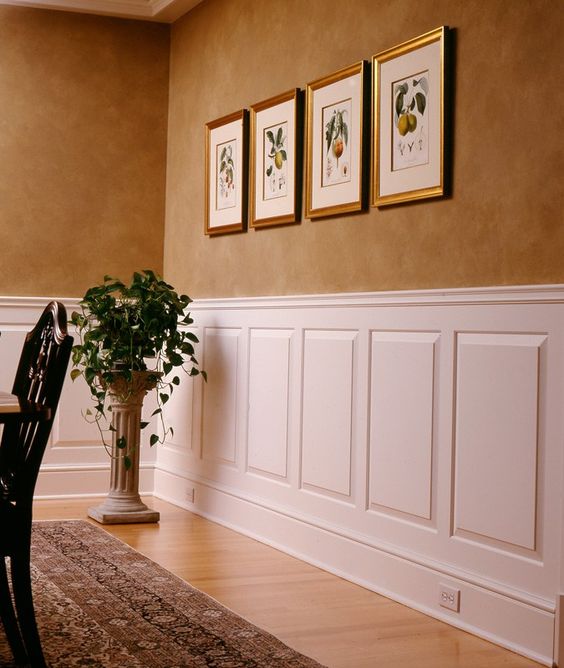 This one is the perfect combination of two of the most amazing styles that are raised panel wainscoting and flat panel wainscoting. In this style, usually flat panels are placed, and then more panels are added on. Here, the additional panels can be bestowed with molding or made into a specific style. These added some depth and dimension to the room. This is generally considered a more contemporary design and neoclassical design.
5. Beadboard Wainscoting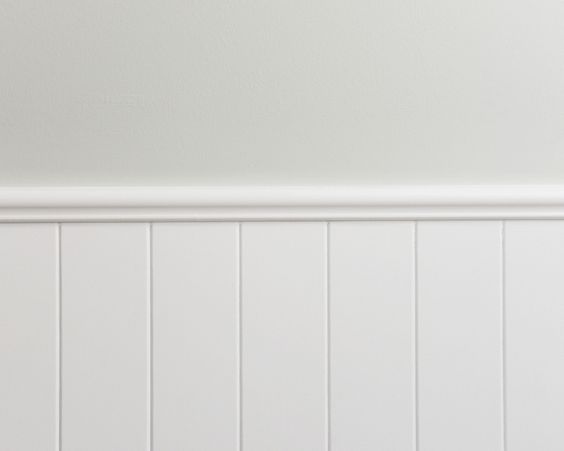 This one is among the most popular wainscoting ideas used across the board. This is characterized by vertical grooves that have raised beads. These beads could have a spacing of 1-2 inches between the two. Generally, the smaller boards are 32 to 48 inches long with a 4-inch width and are interlocked into the neighboring board with its grooves. You could either DIY this or use a more ready-made approach that comes with easy installation.
Easy and Inspirational Wainscoting Ideas for Your Home
1.Wallpapered Wainscoting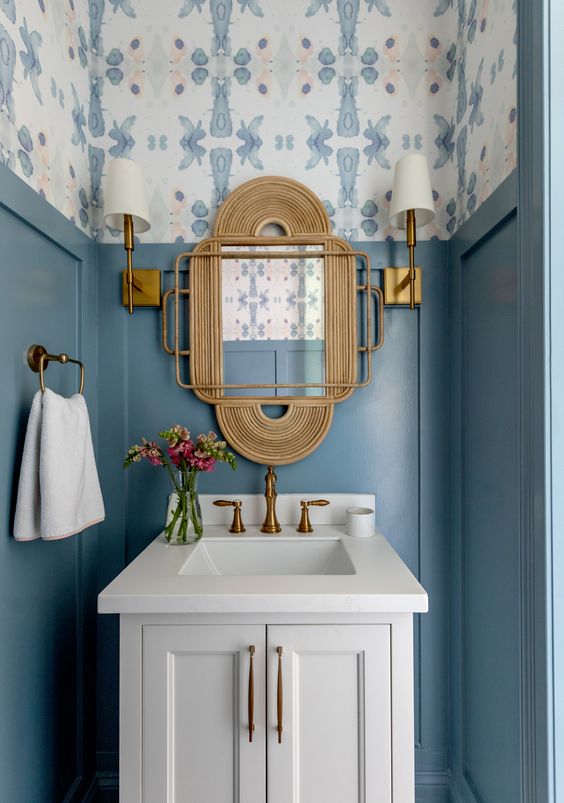 Looking to have a seamless wainscoting wall without having to spend too much on it? Try Wallpapered wainscoting work; you can wallpaper the rest of the wall on top and have unique wallpaper designs on it. This gives a good contrast to the walls while accentuating the actual wainscoting look.
2.Painted Wainscoting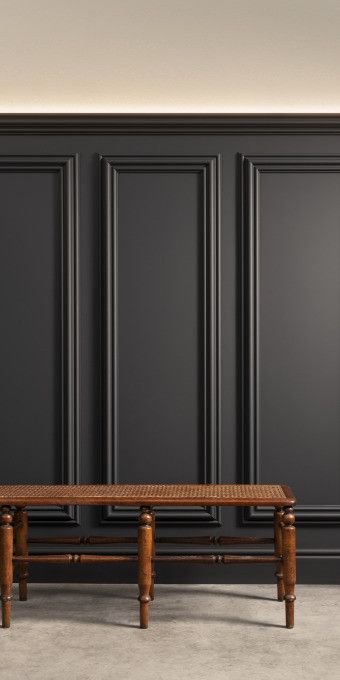 This is the more traditional wainscoting look that is simplistic but classy. If you're not one for too much experimentation, this wainscoting paired with a paint job on the top half of the wall looks stunning. This dual-toned effect will transform your boring bathroom into a stunning masterpiece.
3.Play Around With the Height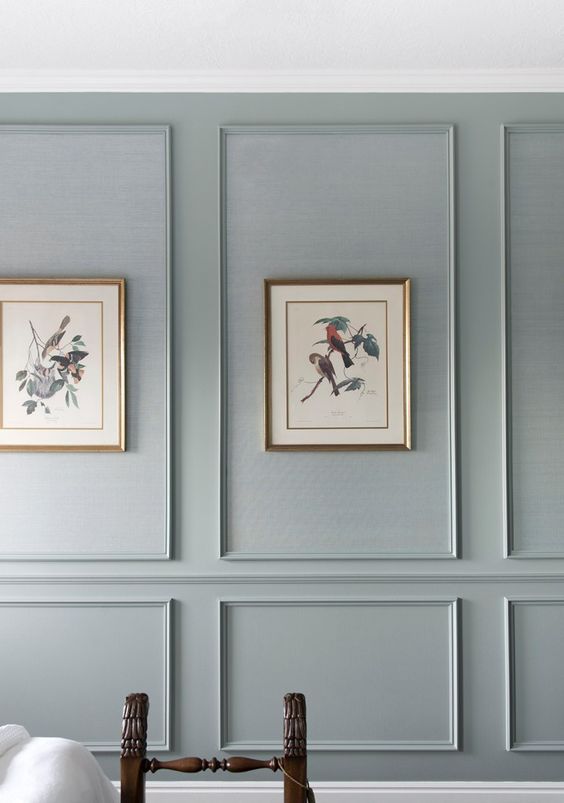 The general thumb rule when it comes to wainscoting is that it is almost 1/3rd the height of the wall. It is usually in the bottom part of the wall. However, with newer designs, it is common to have the height played around a bit. You can have your wainscoting panel throughout the wall or as a panel on just one wall.
Ideal For: Bedroom wall or living room
4.Statement Look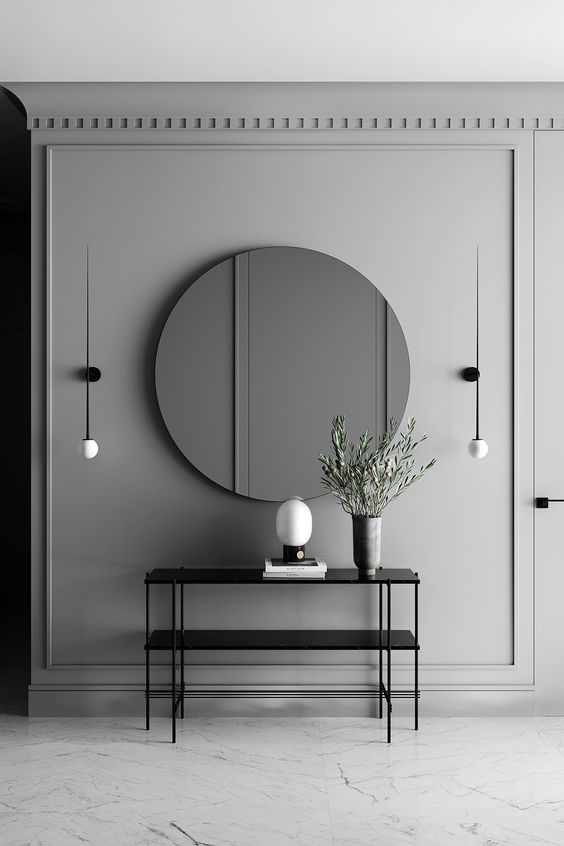 Want to go bold with your wainscoting ideas? There are myriad ways to do it. Try using flat wainscoting paneling and having it colored in a bold color. Image bright paint or dark-colored paint. This will look more stunning when it contrasts with the other walls. So choose one main wall and go full-powered with wainscoting.
5.Mix and Match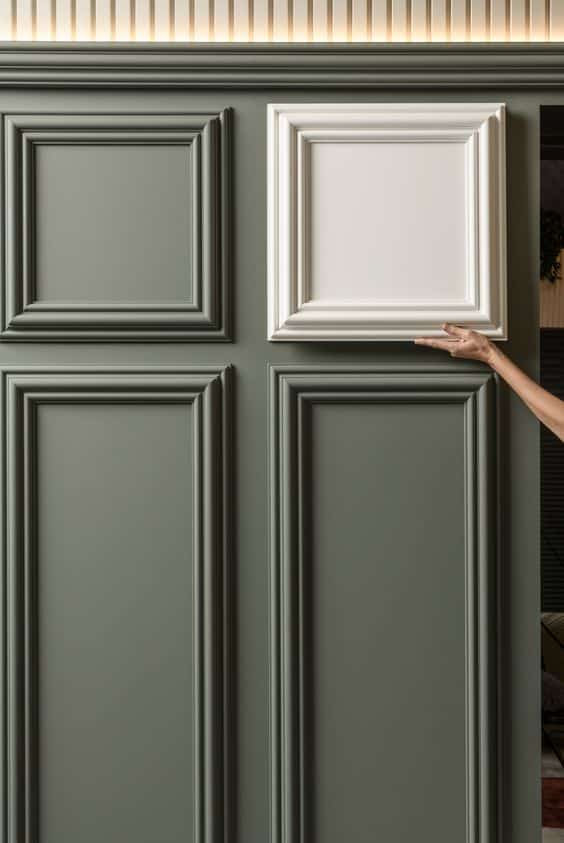 Try different accents of wainscoting on collateral or attached rooms. Do you have a lounge area or dining area access from your living room? You can now separate its identity without entirely separating it from the unit as a whole. For instance, choose a certain wainscoting pattern in one room, and have a different pattern or color in the other adjacent/ attached room. It adds a flair, while the wainscoting effect brings the whole unit together.
6.Amp Up Your Workspace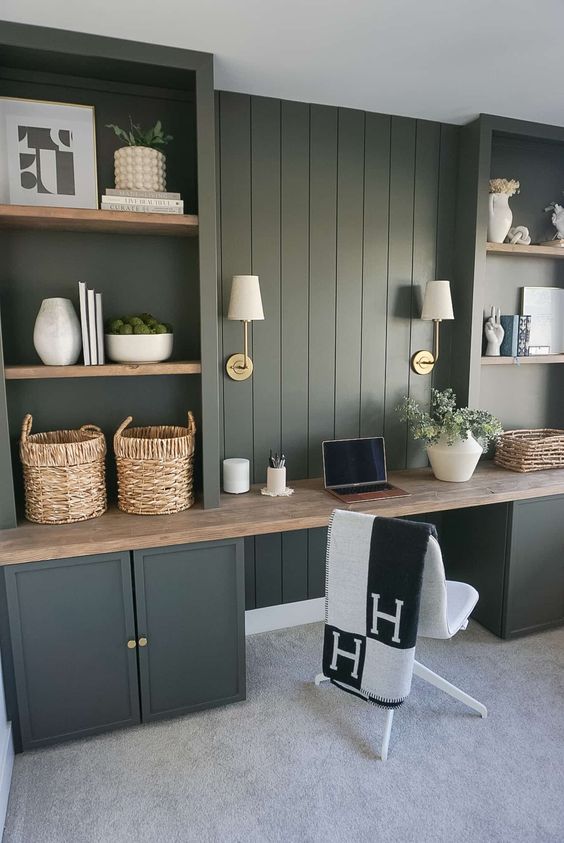 Wainscoting by itself gives the ultimate formal look to any room. This style is especially ideal for your home office or workstation. Whether you are an artist or just prefer to have a uniquely designed workspace that is formal in appearance, then wainscoting is the way to go. The classy paneling work gives off a very formal, business-like look.
Ideal For: Home office, commercial spaces, artist corners in the home.
7.Simplistic Wainscoting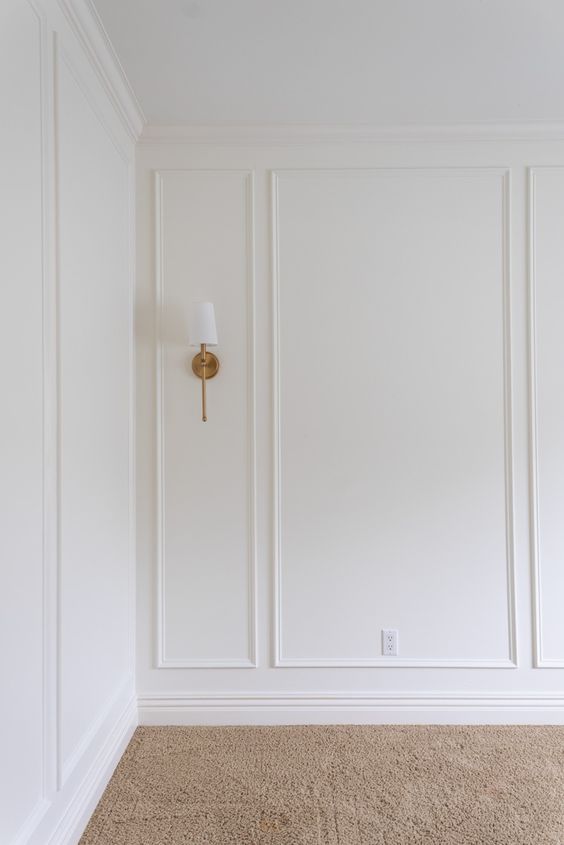 When in doubt, underplay it. There is absolutely nothing wrong with going simple and casual with your wainscoting ideas. Make your home feel vintage and warm with simple, stunning wainscoting done in the traditional manner. The right height, the right paneling that gives a chic, effortless look all the way.
8.Dramatic Flair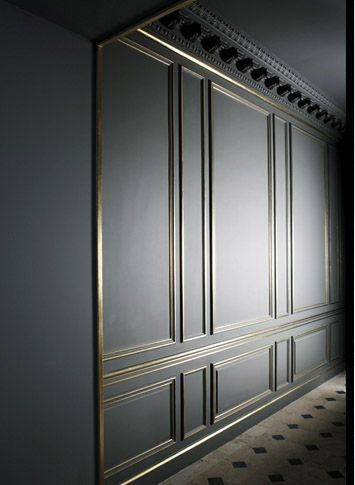 The fact that you have decided to opt for wainscoting implies you do have a flair for drama. Use unique design elements such as a vintage mirror or a beautiful rustic art piece to amplify the overall theme and feel of your home. For this, choose a dramatic element that can add some oomph to your space as an addition to the wainscoting.
9.Pastels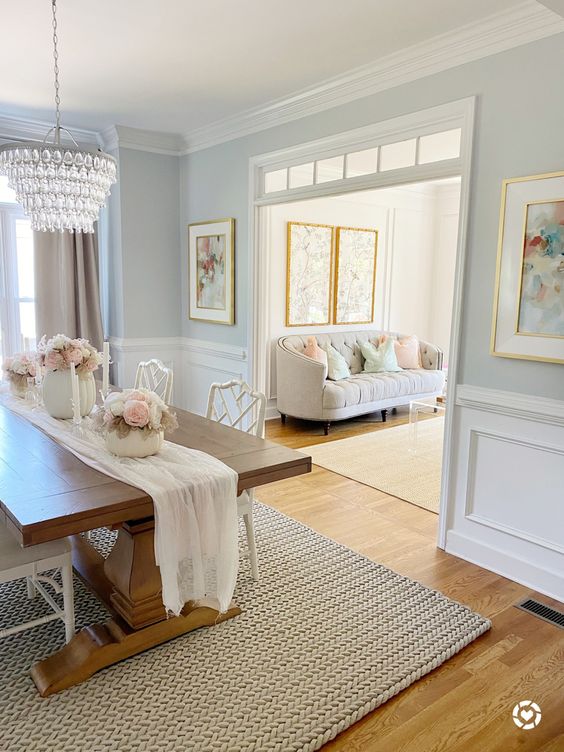 Who doesn't love a good pastel shade? Imagine the peace and tranquillity your home oozes with pastel shades of wainscoting. It gives off the perfect movie-inspired aesthetic vibe like no other. The vintage element adds to the pastel theme and makes your home look like a dreamy haven.
10.Go Abstract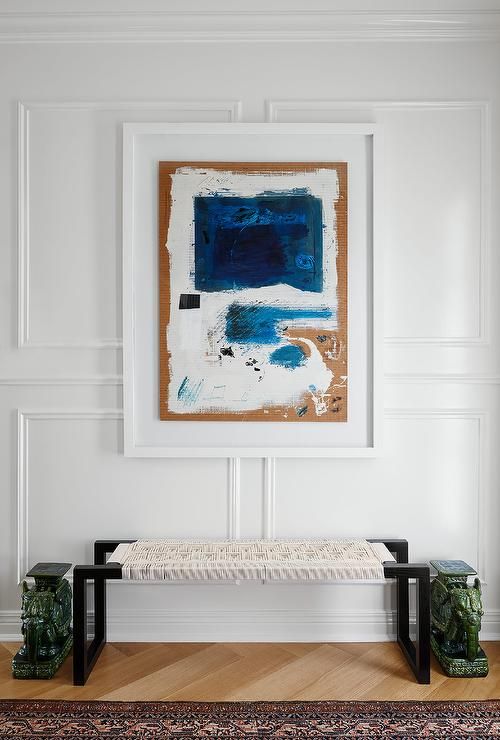 The thing about wainscoting is that it adds an element of predictability to your decor since it has been used for decades. Therefore, mixing and matching traditional & classic wainscoting with abstract artwork, chandeliers, wallpaper, or patterns can truly change how your home looks.
11.Kitchen Island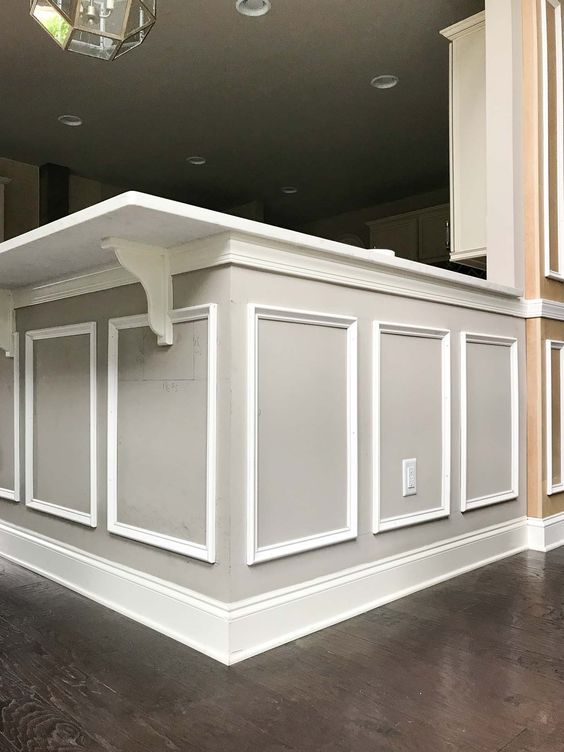 Imagine having a stunning, unique statement piece as your kitchen island. You can now use wainscoting as a standout decor idea for your kitchen island setup. It doubles up as a stunning decor idea while making it easy to maintain and good to look at the center of your house.
12.Geometric Designs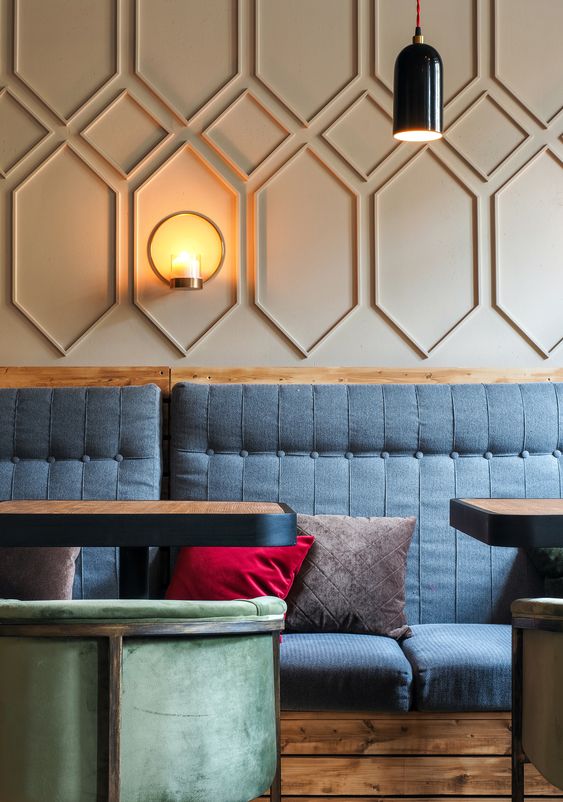 Do you have a flair for all things design drive, aesthetic, concentric, or neatly geometric? Try our geometric design elements around your wainscoting to level up your entire aesthetic. Choose simple but stunning design patterns like circles or octagonal shapes to complement your wainscoting.
13.Unused Corners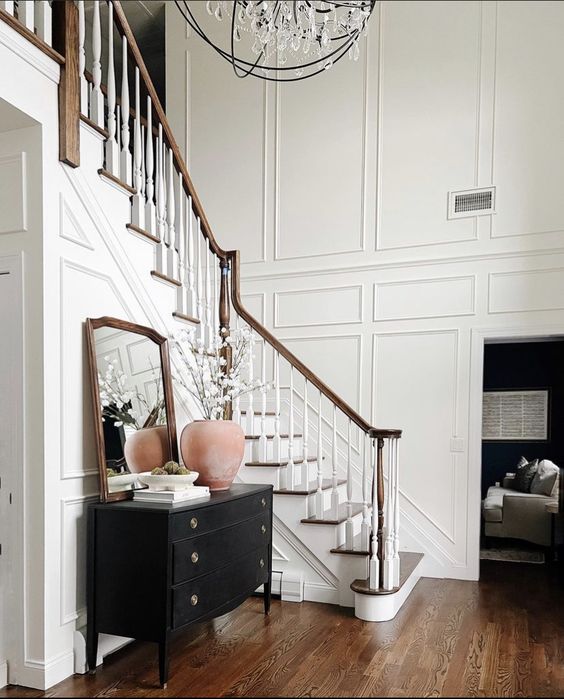 Do you have a weird block space or corner in your home that doesn't have a high utility? Try wainscoting as a way of amping up your home and making it look stunning. You can design it in a way that it can have utility too. It can be used to hang the frames, and keep artwork, thus, making the best use of the little space.
14.Dining Room Decor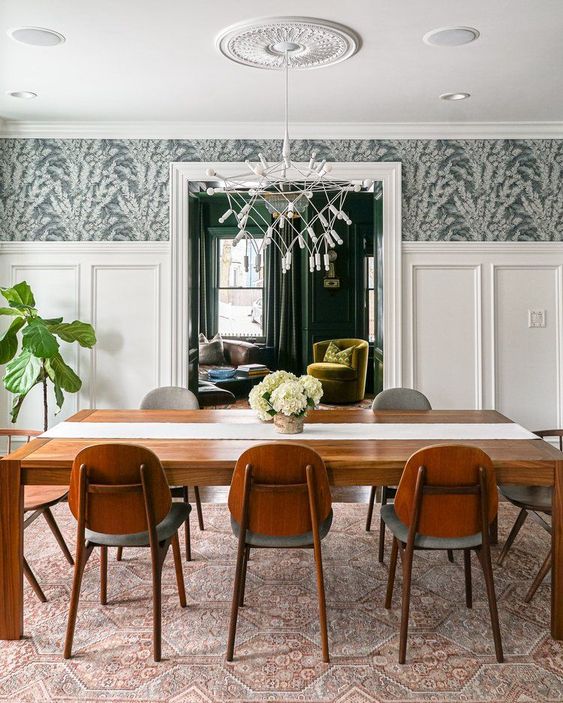 If you have a dedicated dining room, it's no surprise it becomes the centrepoint of your house where all discussions happen. Take a simple dining room and refurbish it into something beautiful with a simple classic wainscoting wall. You can do it at the height of the table to add some depth and an unmatched element to that room.
15.Get The Fireplace Done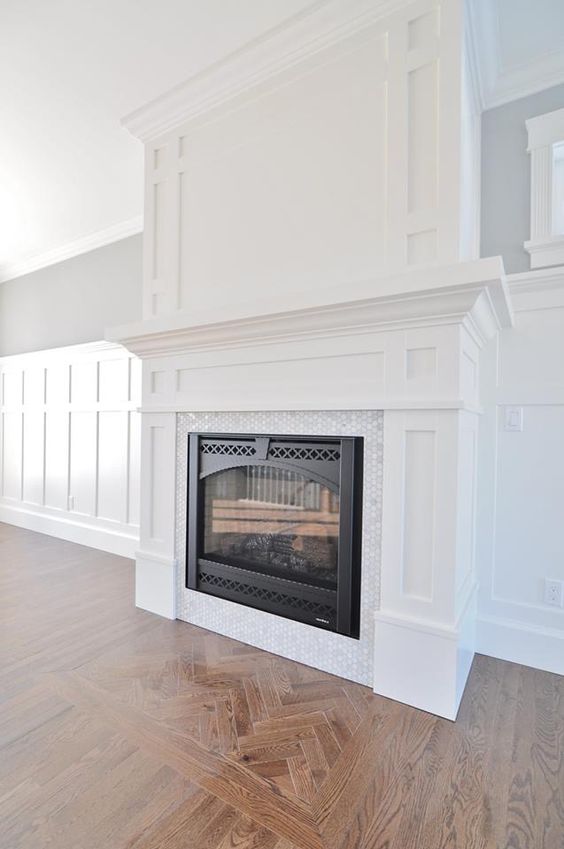 The common misconception remains that wainscoting is best for walls only. In fact, wainscoting also works well for areas like the fireplace too. You can let your fireplace stand out by opting for wainscoting solutions. The stunning panels and design can truly transform a simple fireplace into an eye-catching center of the home.
16.High Beam it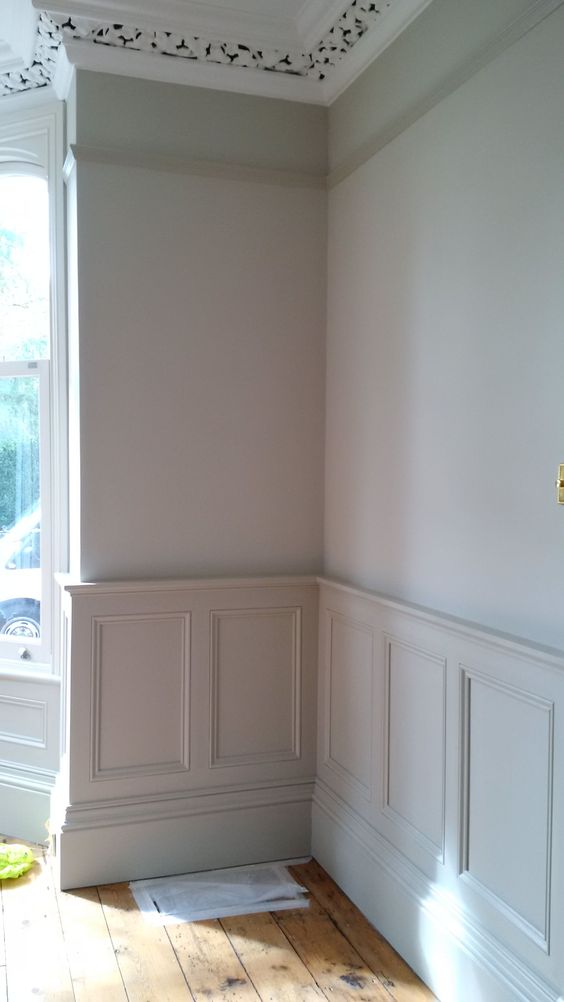 Go bold with high-beam wainscoting in your home. If you have high ceilings, then choosing wainscoting could be a possible option. This simple wainscoting solution can be used to reach high-stored living room spaces. It can almost reach up to the second storey if you stay in a studio apartment or the like of it.
17.DIY Decor Idea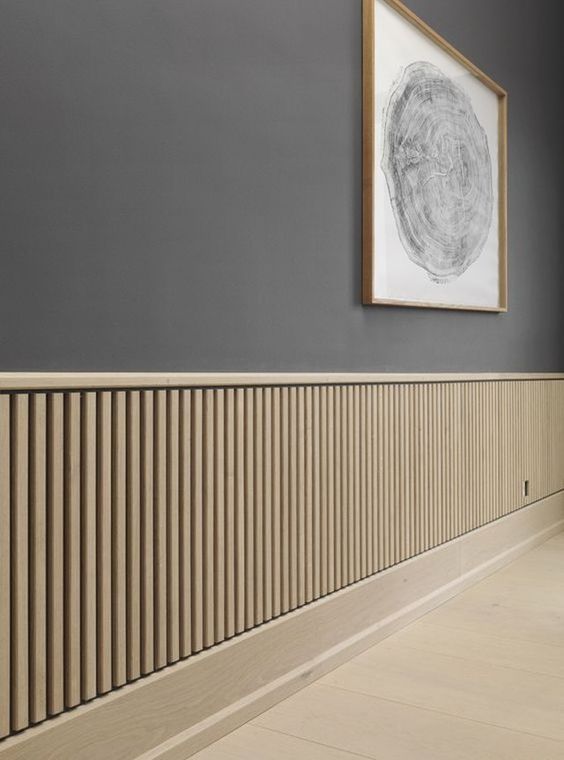 Buying out or outsourcing your wainscoting project is a good option, but DIY has its own charm. If you are looking for a summer project or a low-budget option to revamp your home decor by yourself, try DIY decor ideas. This is a great wainscoting solution that can be cost-effective and manageable too.
18.Trim Matching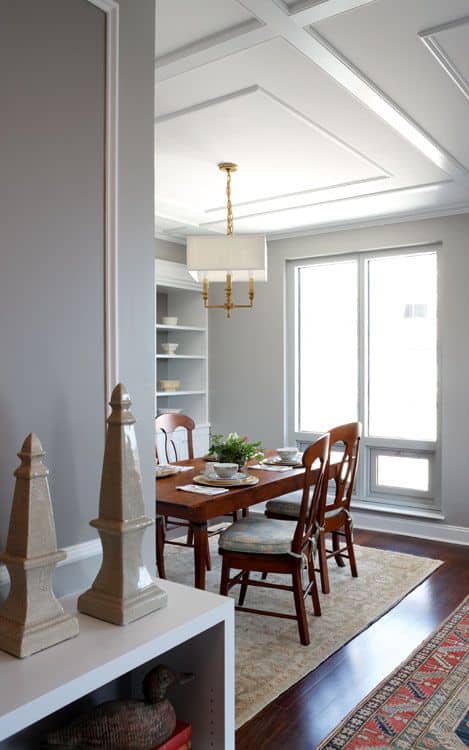 Does your home already have ceiling trims or artificial ceiling crowns? With wainscoting, you can now mix and match your home to make a stunning piece of art. You can try a wainscoting technique that matches your current ceiling trim to make it a beautiful space that is well coordinated.
19.Wood Panelling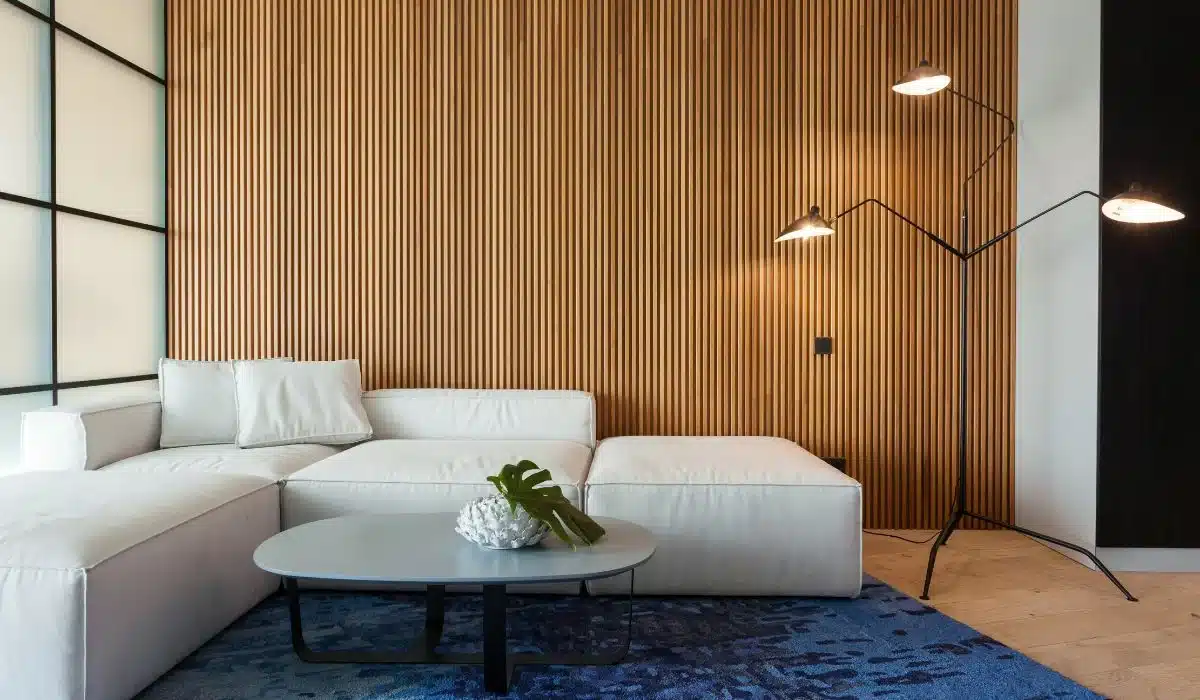 Why lose out on adding some more character to your home? Wood paneling is an excellent way of transforming your home into a grand space by choosing wood panels wainscoting. It gives a more earthy, grounded appearance. It takes you back in time while still having a touch of modernity or contemporary appeal to it.
20.Storage Cum Wainscoting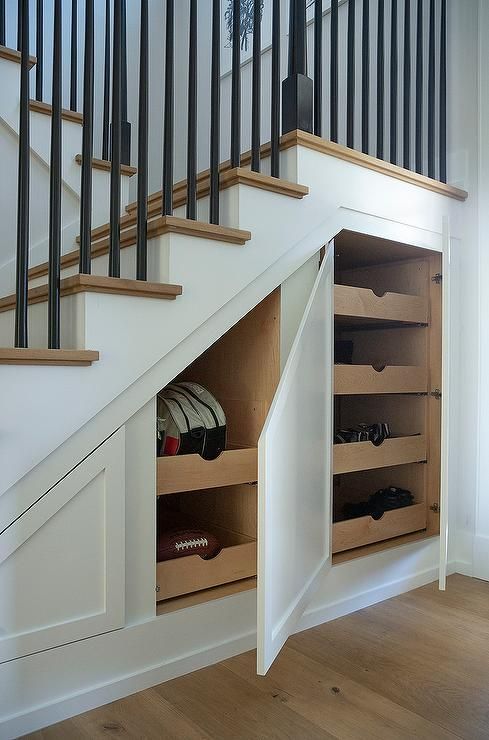 Good concealed storage space almost never goes out of fashion. A well-designed home has ample storage space that can transform your home into something more. Try wainscoting your storage space created in unassuming corners, or choose stunning wainscoting paneling. It adds to the aesthetic of the space, adding some much-needed utility to your home.
21.Neutrals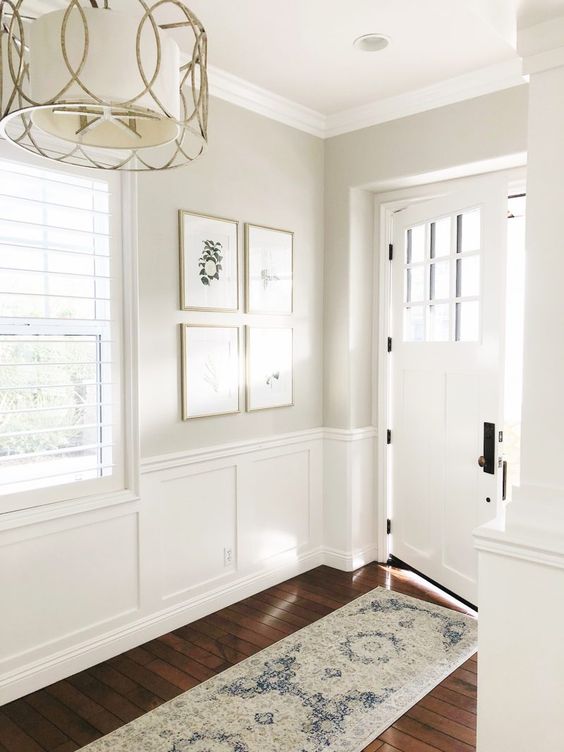 Nothing adds some quiet charm to a place like neutrals do. You can opt for stunning neutral colors like beige, off-white, and greys to soothe or calm your home. Wainscoting looks best when it is done in neutral colors. These hues relax, add a touch of royalty and make your home look exquisite.
22.Cabinets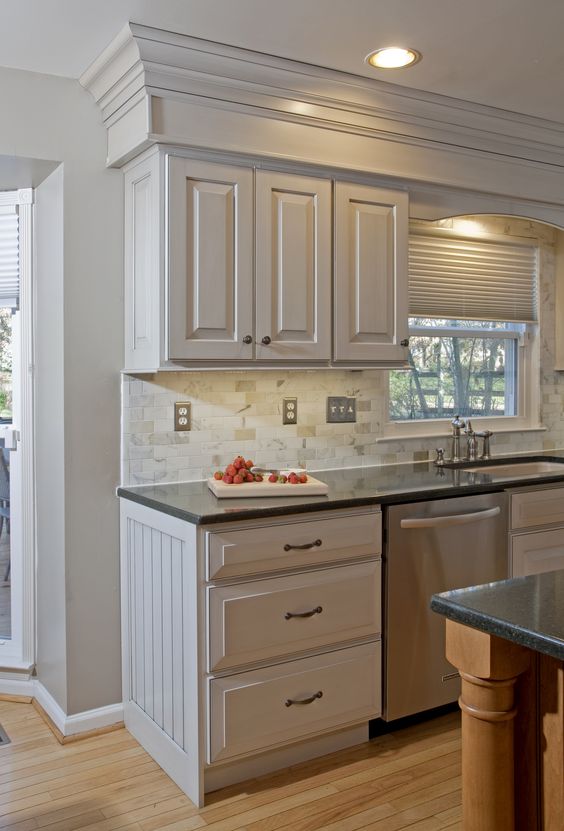 Amplify simple cabinet spaces in your kitchen or dining areas with wainscoting. This also works well with wardrobes in the bedroom. Especially when done in an otherwise boring, two-dimensional painted room. It adds some much-needed class and character to a space.
23.Window Wainscoting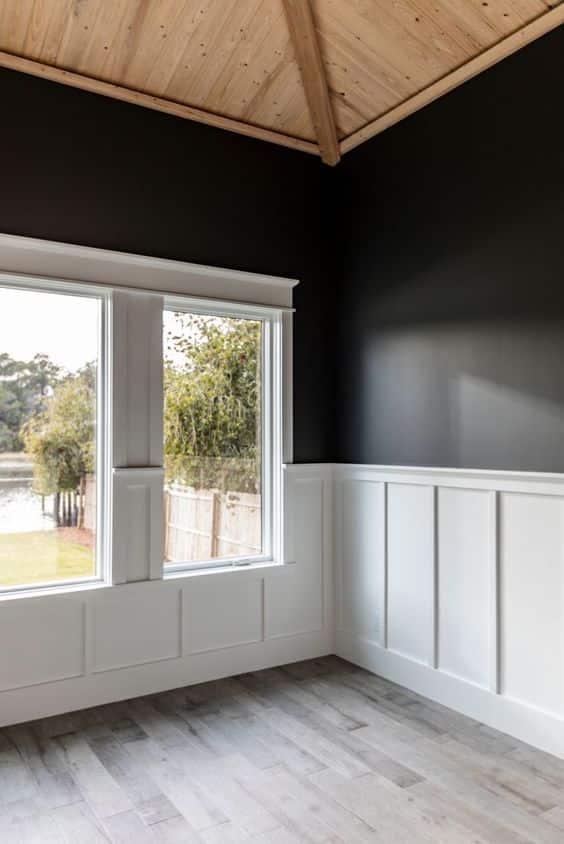 Simple windows are good, but wainscoting windows are even better. It adds a touch of elegance and charm to the room. Takes you back into a 20th-century vibe that is unmatched. Pair this with boxed windows, and you will have a very vintage, classic-looking bedroom.
24.Door Panels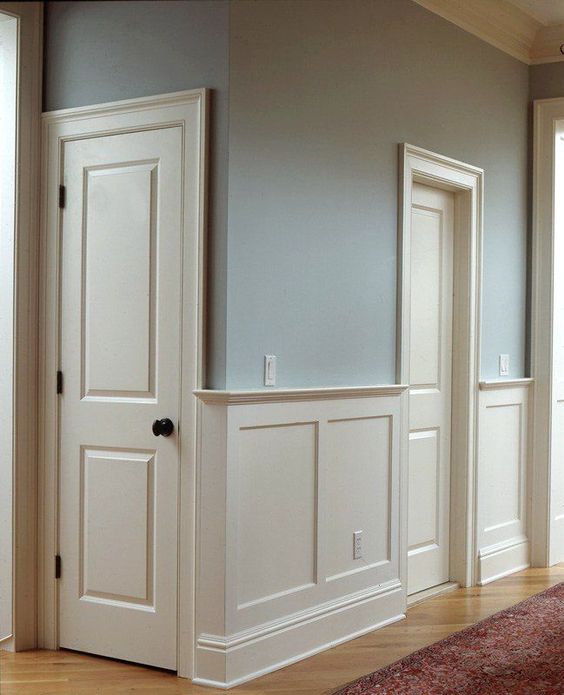 Match your door panels with your wainscoting. Get the bedroom or living room of your dreams by choosing beautifully done wainscoting that matches the rest of your room. This is especially great for homes that have large doors. It grabs the eyeballs and will java your guests talking all about it.
25.Bathtub Section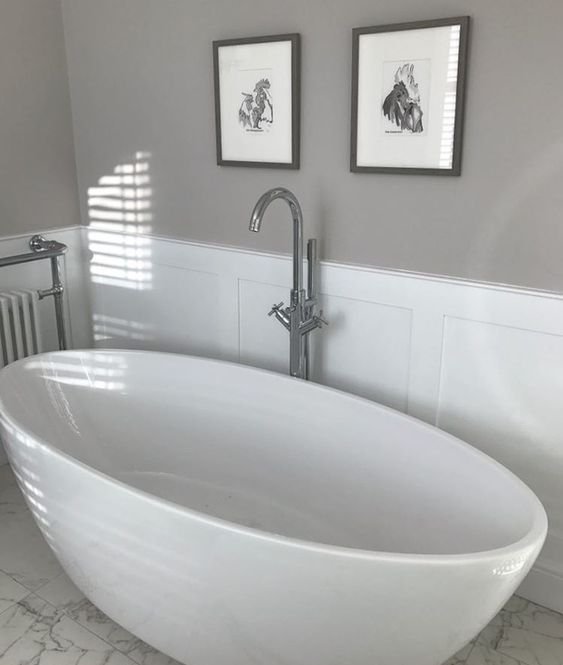 Section out your bathtub area with wainscoting. Instead of paneling your entire bathroom, you can opt to do wainscoting to the bathtub section of the bathroom. It secludes and segregates the particular area giving it an overall rich and uber-luxurious feel. Get the feel of the ultimate hotel-like bathroom by choosing to wash the bathroom area.
26.Minimalistic Wainscoting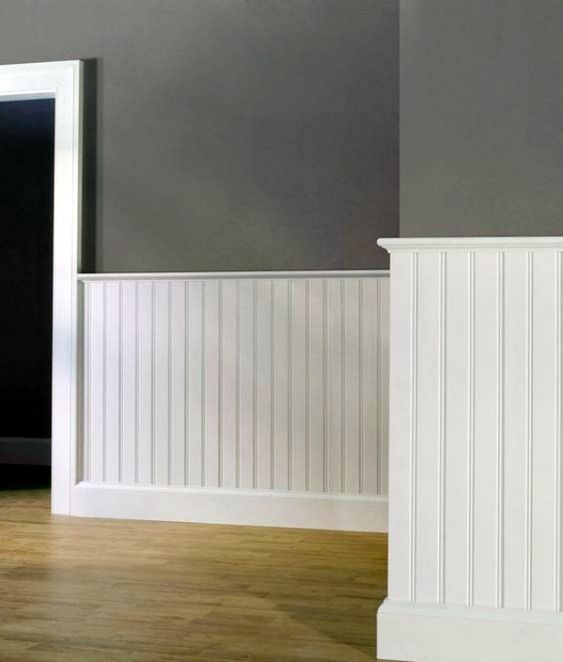 If you are on a budget and not looking to do any major rework, just simple wainscoting can do the trick. Choose minimalist wainscoting as a way of transforming your home into a minimalistic haven. Super simple and classy wainscoting can be a great addition to a minimalist space without compromising on the end appeal.
27.Vanity Space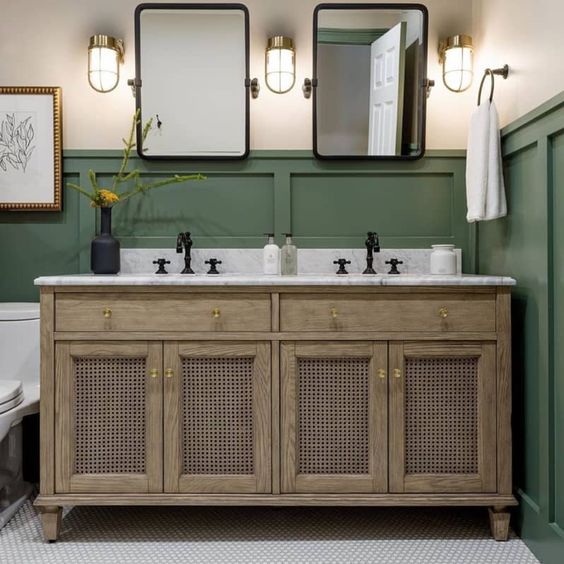 If you are looking to section out a particular space in your house without investing in pillars, walls, or doors, wainscoting is the way to go. The simple but effective wainscoting technique can segregate your vanity area from the rest of the space. Add some stunning lighting fixtures, lamps, and more to complete the final look.
28.Head to Toe Wainscoting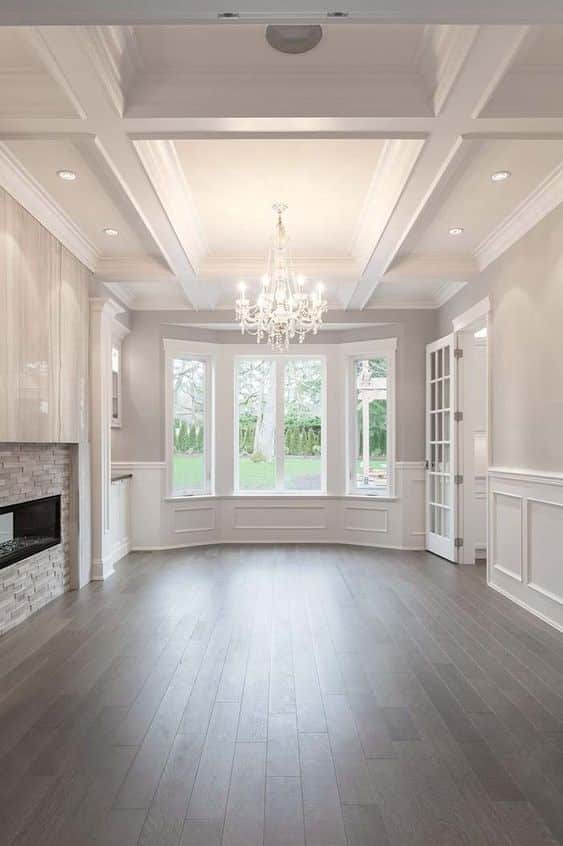 Wondering how a complete head-to-toe wainscoting will look for your home? The answer to that is 'marvelous.' Wainscoting your entire home, from the ceiling to the walls, and adding up some beautiful chandeliers is a great way of amping up your home. Match this up with some wood board floors, and you have the ultimate old-school appeal.
29.Victorian Themed Home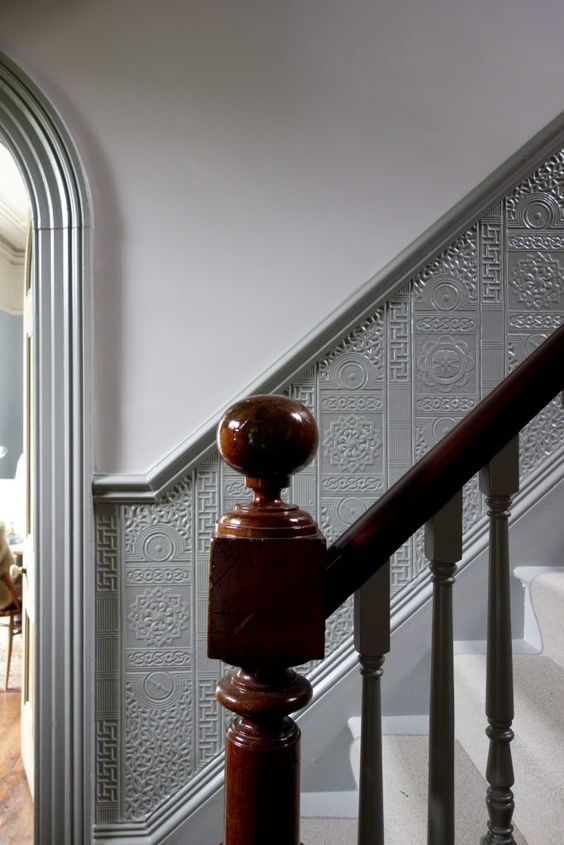 If you have chosen to opt for a Victorian-themed home, it remains incomplete with wainscoting. A good touch of classic wainscoting can bring the much-needed Victorian vibe effortlessly. Pairing up old-school chandeliers, frames, and wood colors can bring the whole room together beautifully.
30.Modern Wainscoting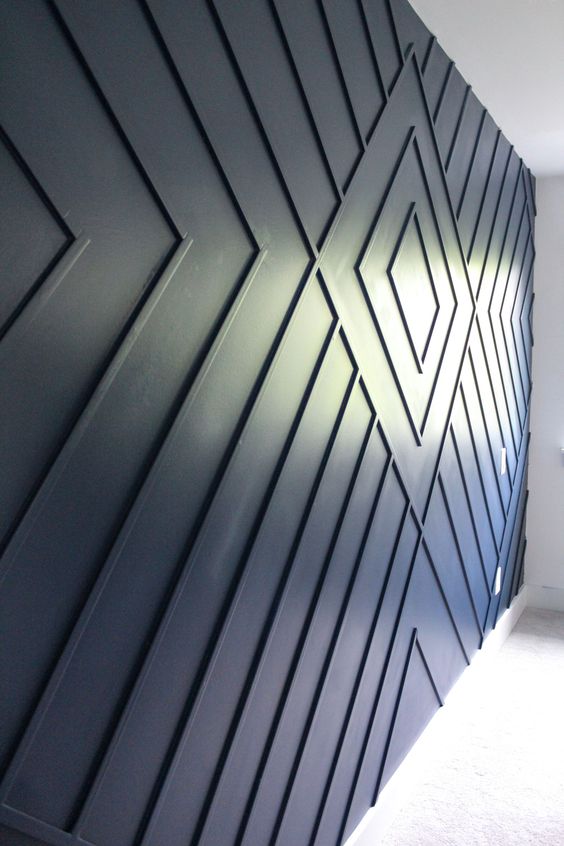 If you want to have the wainscoting touch without making the home look vintage, go for the modern wainscoting look. For this, while the wainscoting area could remain classic, you can use modern shapes, elements, artwork, frames, and patterns on the top half of the wall. It can also be unevenly spaced to add a more modern charm at home.
31.Full Staircase Wainscoting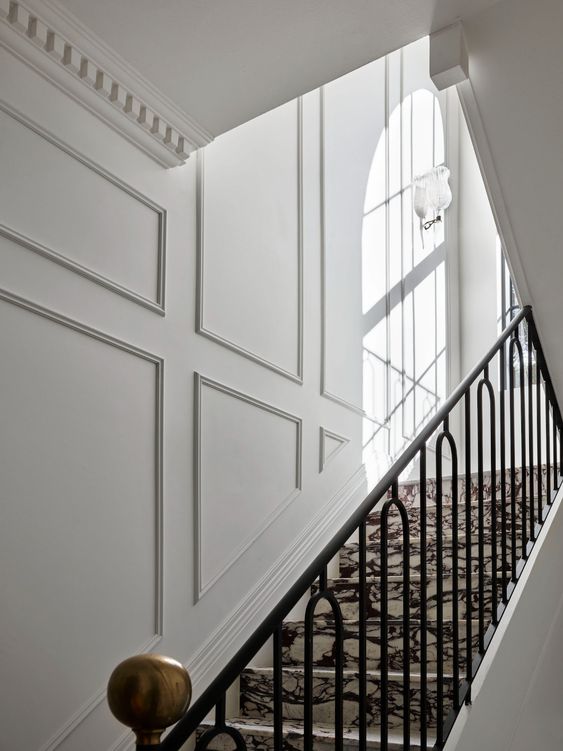 When everything else in your home is designed to perfection, why leave the staircase area? Wainscoting your stairwells is a great idea to amp up its aesthetic appeal. The paneling truly elevates the look of your house like no other.
32.Half Staircase Wainscoting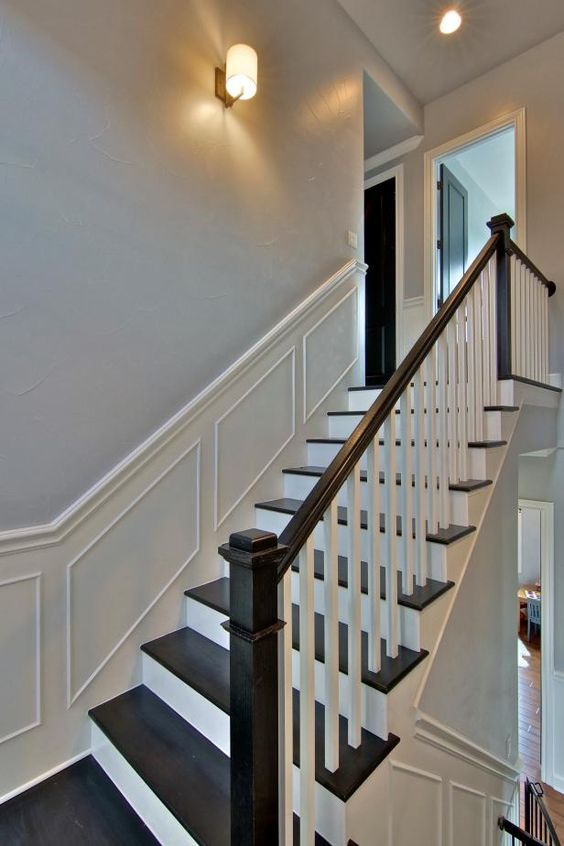 Just as it is supposed to be for the walls, you can choose to use the bottom section of the wall attached to the staircase. Mix this up with a bold-colored wall painting to complete the look. Hang some family photos or artsy frames along the way.
33.Bedroom Seating Corner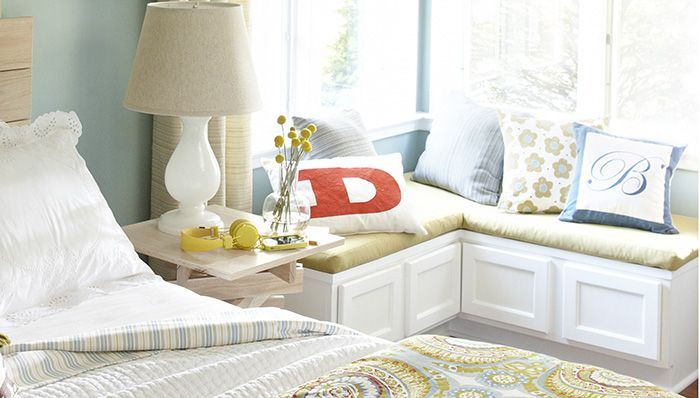 Want a segregated seating and chilling haven within your bedroom space? Try our seating area wainscoting, especially by the window. It makes your bedroom look picturesque and right out of the movies. Plus doubles up as a great space for your loved ones to sit and have those midnight conversations.
34.Barn Door Look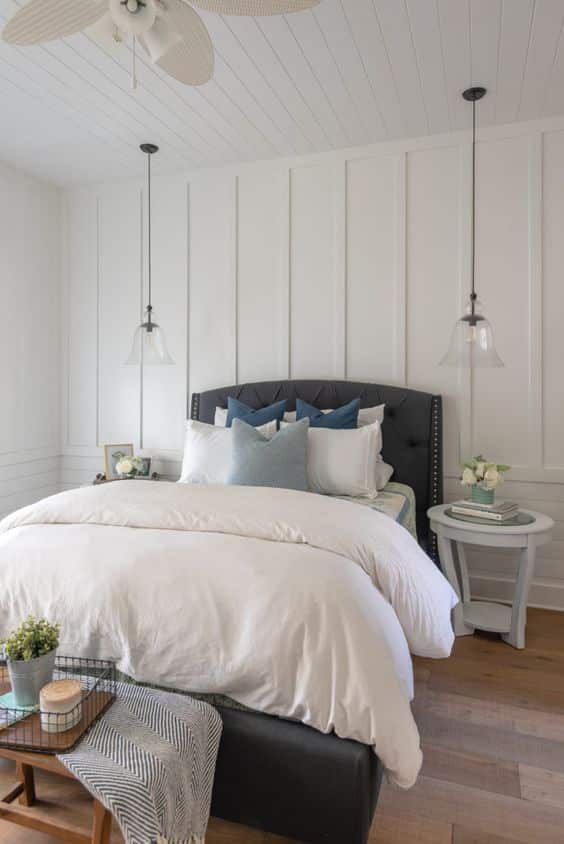 You can use the headboard wall of your bedroom and accent it by wainscoting. Using the barn door look can truly add unique character to that space. Opt for complete wainscoting look in your bedroom with a simple flat wainscoting style
35.Window Length Wainscoting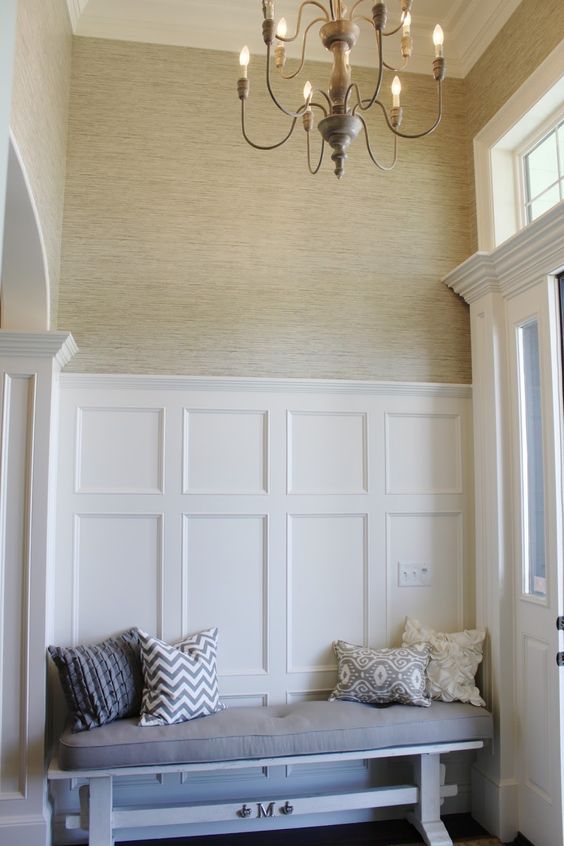 Usually, the traditional wainscoting ideas have 1/3rd of the wall done, starting from the bottom. In order to change it up a bit and opt for 3/4th length wainscoting. This often aligns with the top frame of the window, thus giving clear lines that make the home look beautiful. Add in some accessories such as frames, images, or lighting fixtures to beautify the wall.
36.Play with Colors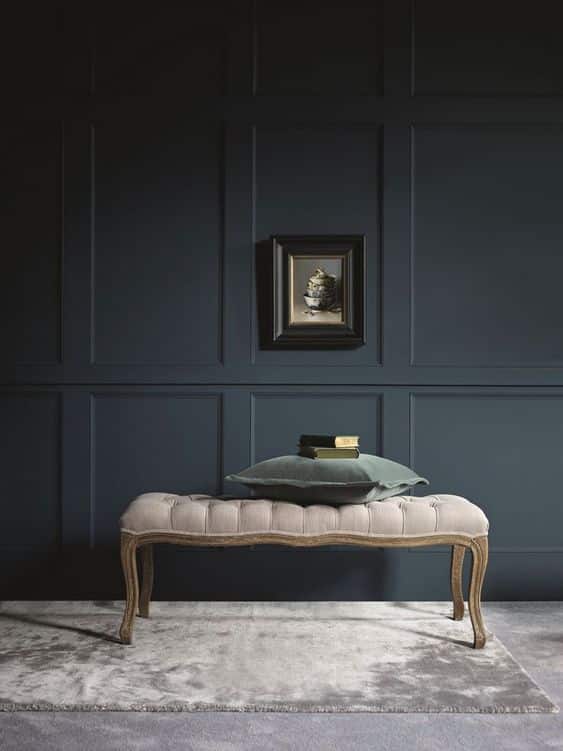 Wainscoting is a beautiful addition that elevates any wall of the home. Adding color accents can be a game-changer. For instance, you can choose a monochromatic look wherein the wall and the wainscoting are of matching dark shades like navy blue or brown. Or you could choose light-colored hues that are multicolored to amplify your home.
Conclusion
Wainscoting your home is a simple, understated way of elevating your space. It adds a touch of luxurious richness and completely transforms the look and feel of any room. The best part is that it can be designed in a multitude of ways that can be truly magnificent to look at. You can use it in the bedroom, bathroom, and living room.
Add exuberance and class into space with the help of simple yet effective wainscoting ideas for your home.
Comment down below and let us know which wainscotting idea you liked the most.