A dining room's dining table frequently serves as the center of attention as it brings friends and family together for delicious meals and engaging conversations. In our homes, the dining table is a unique and special place since it is where we come together for meals, chats, and priceless memories.
An oval dining table might be the ideal option if you want to modernize your dining area and add a touch of elegance. In this post, we'll look at 20 oval dining tables that complement various design styles.
Whether you like classic elegance, contemporary minimalism, or eclectic appeal, you may discover a table that matches your style and improves the interior design of your house.
But what is so unique about an oval-shaped dining table?
Why Oval Shape Design Dining Table?
Oval tables have a unique form that is both fashionable and practical, offering a wider area for seating and an aesthetically pleasing design.
Any home may use oval tables since they are unique and stylish. They may be dressed up or down, and they complement many different types of designs.
The oval-shaped dining table is a distinctive choice. Any dining space may benefit from an oval dining table's practical design and elegant curves.
Things to Keep in Mind Before Choosing a Dining Table
There are a few more things to think about when choosing an oval dining table for your house to make sure you make the best decision. To remember, have the following things in mind:
Size and Space
To choose the right size for your oval table, measure the size of your dining room. The space required for chairs and movement around the table should be taken into account, along with the length and width.
It's crucial to pick a table that matches the area comfortably without being too large.
Comparing oval tables to rectangular or square ones, additional seating possibilities are often available. They can hold more guests while preserving an air of comfort and coziness. Select a table with the right capacity after taking into account how many people you typically need to seat. Plan ahead if you want to use chairs with arms because they will take up more room.
The table's material and finish have a big impact on how attractive and long-lasting t looks overall. Oval dining tables are frequently made of wood, glass, metal, and even stone. Dark hardwoods like mahogany and walnut and softer tones like oak and maple can be considered alternatives. Metal tables provide an industrial or contemporary feel, while glass tables offer a contemporary and light appearance. To make sure it is your lifestyle, take into account each material's durability and maintenance needs.
Oval dining tables exist in a variety of design aesthetics. Choose a table that goes well with your current decor while keeping in mind the general design pattern of your house. Pay close attention to little elements like the table's legs, coating, and any extra features like extensions or storage possibilities.
Choose a table that offers your visitors comfortable places to sit. Take into account the table's height and depth as well as the chairs you want to use with it. Make sure that everyone seated at the table has enough space for their legs. To guarantee a relaxing and delightful eating experience, if at all feasible, experiment with several chair alternatives with the table.
Consider how versatile an oval dining table is. Will it primarily be used as a formal dining room, or do you want it to have several uses? When entertaining extra people on special occasions, some oval tables include extension leaves. If you often host events or have a growing family, this flexibility might be useful.
Make sure to set a budget for your oval dining table and ensure that you stick to it. Determine how much you are willing to spend on an oval table because they range widely in price. When determining the worth of a table within your budget, keep in mind to take elements like material quality, craftsmanship, and durability into account.
You may narrow down your options and select the ideal oval dining table that matches your design preferences, fulfills your practical requirements, and improves the ambiance of your eating room by taking these extra variables into account.
Oval Dining Tables to Choose for Every Design Style
1. Traditional Elegance
For those who like a timeless appearance, the classical design is a timeless classic. The circular dining table's elaborate details and luxurious wood finishes give it a timeless appeal. These tables are composed of premium woods like mahogany or walnut and frequently have exquisite carvings. It features curved legs and a classic appearance and is constructed of solid wood. Its versatility makes it a beautiful addition to any dining space.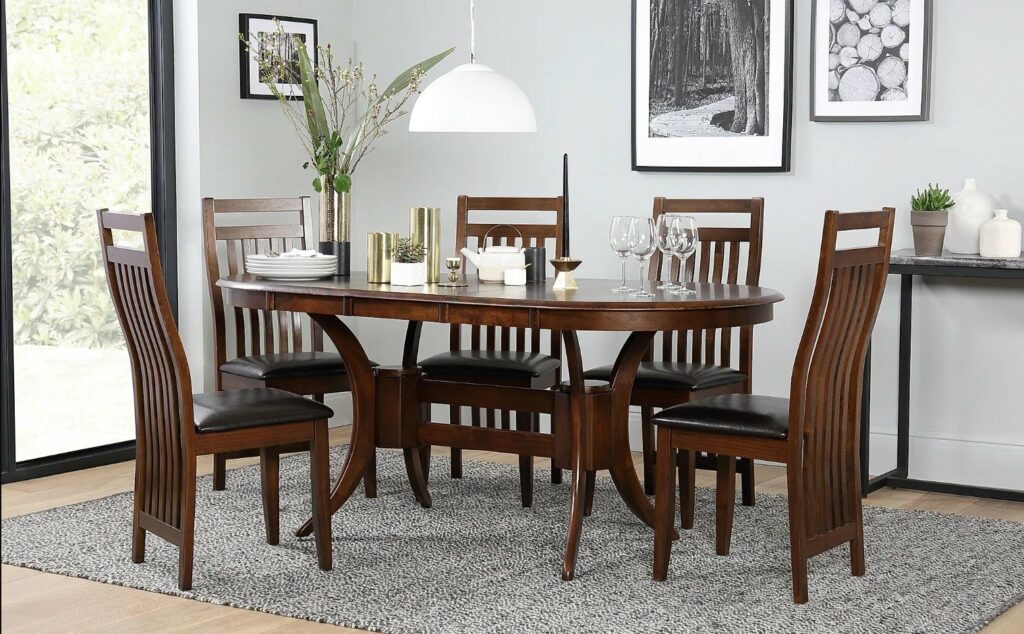 2. Modern Minimalism
A modern oval dining table is the way to choose for those who want a simple and modern appearance. These tables frequently have streamlined shapes, slick surfaces, and simple designs that provide the impression of openness and simplicity. It is a well-liked design aesthetic that mixes the warmth and rustic appeal of farmhouse style with the crisp lines of modern design. Solid wood with an apron in the farmhouse design is one of the designs to consider. The table is available in a number of finishes, so you can pick the one that looks best in your house.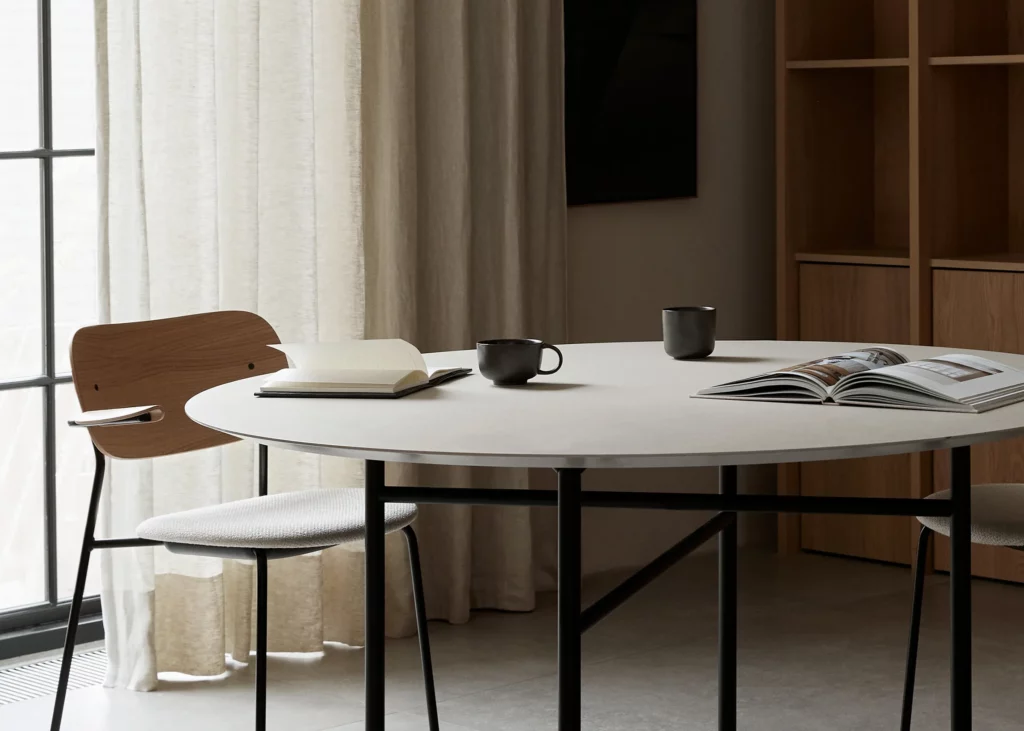 3. Rustic Farmhouse
With an oval table in the farmhouse design, you can add a little rustic character to your dining space. These tables frequently have natural textures and distressed wood finishes, which create a warm and pleasant ambiance. For individuals who prefer a comfortable and welcoming house, rustic style is a popular option.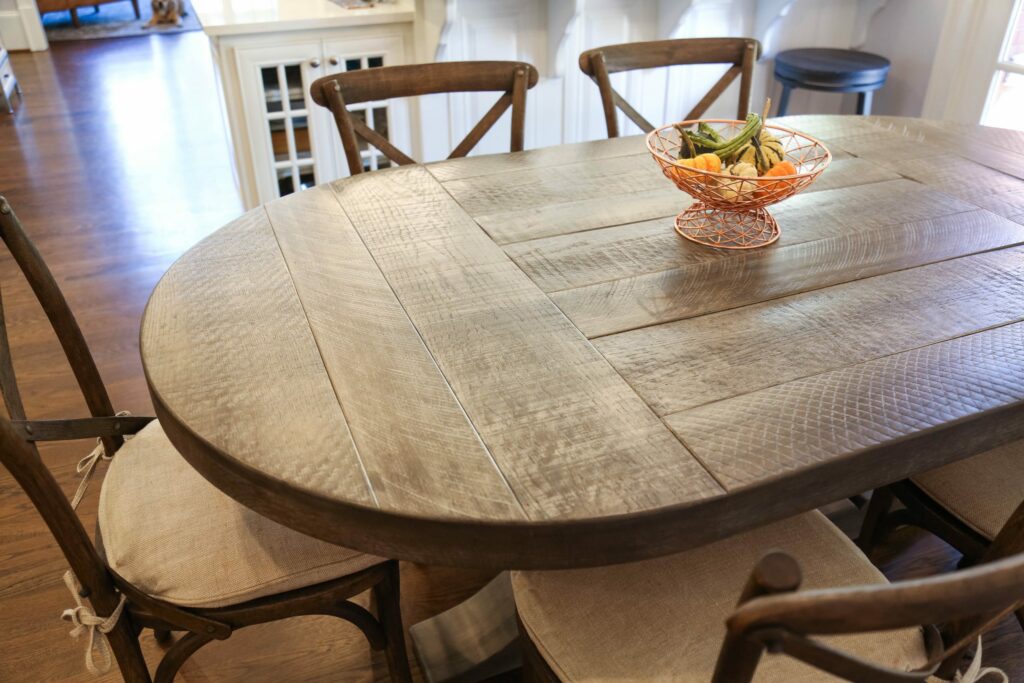 4. Scandinavian Simplicity
Scandinavian design is known for being simple and practical. The simple and fashionable design is ideal for those seeking a more modern appearance. This type of oval dining table will have simple lines, light wood tones, and a minimalist design, giving the room a bright and airy appearance. One of the designs can be that it's built of solid wood and has a simple and minimalist design. There are several other finishes for the table, so you can pick the one that looks best in your house.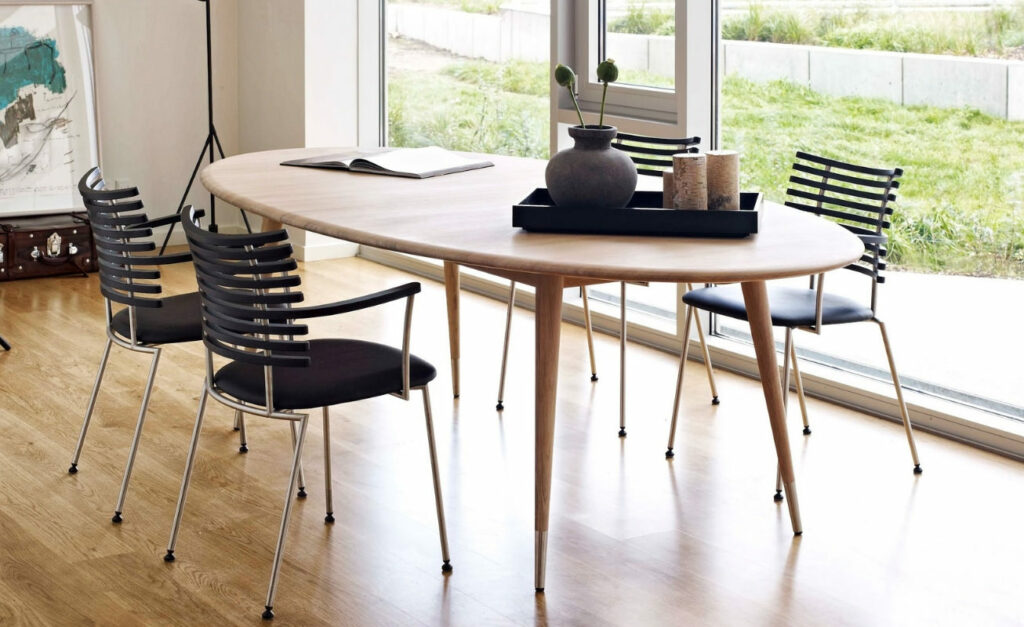 5. Industrial Chic
An oval dining table with metal decorations and a reclaimed wood top is the ideal option if you love the industrial style. This aesthetic combines tough materials with slim shapes for a distinctive and edgy appearance. Your dining area gains depth and personality thanks to the remarkable contrast that is produced by the mix of metal and reclaimed wood. The industrial theme is further enhanced by the metal accents on the table, such as complex ironwork or industrial-inspired decorations. The table base, legs, or even the tabletop itself may have these metal accents in the shape of beautiful ornaments.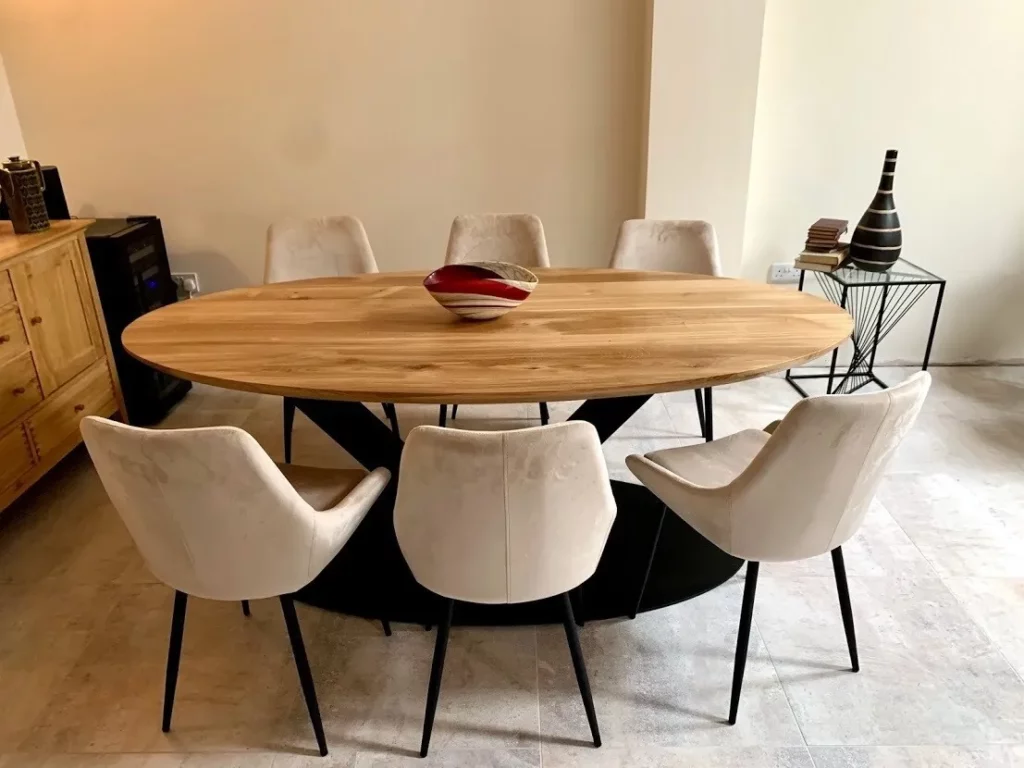 6. Mid-Century Modern
An oval dining table inspired by this period in design channels the classic aesthetic of the mid-20th century. For a genuinely vintage feel, look for tables with reduced legs, organic designs, and bright colors. The mid-century modern is a timeless design trend that is still in demand today. One aspect of the design may be the walnut construction and clean, simple lines. The table's unusual pedestal base contributes to its mid-century modern attractiveness.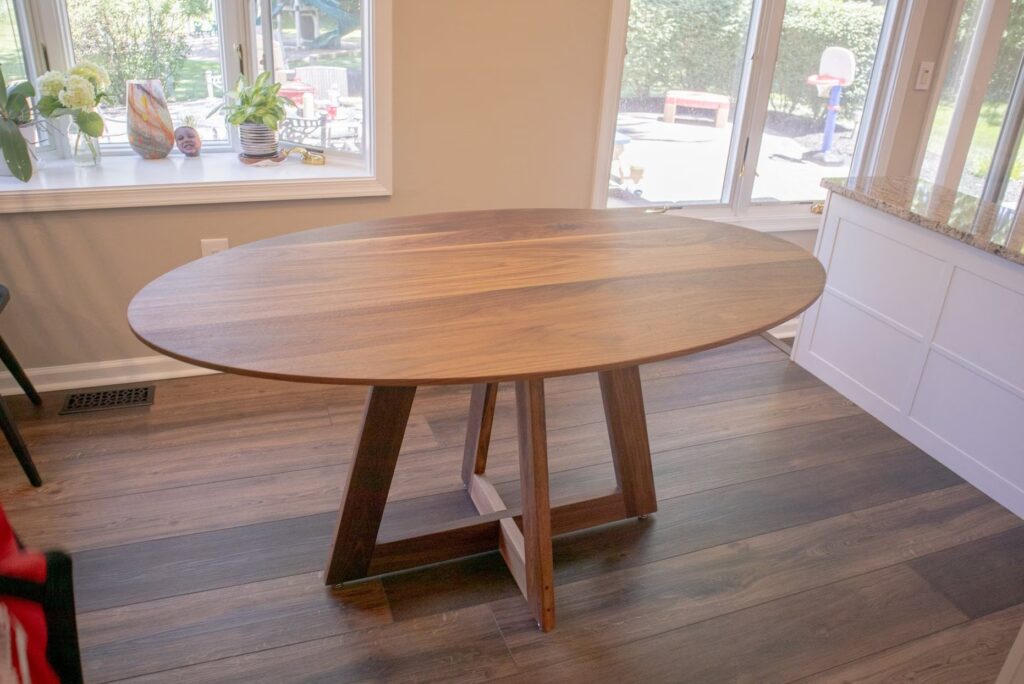 7. Coastal Retreat
The pleasant and welcoming aesthetic and vibe of a coastal table decor is ideal for beach lovers. Use an oval table with light-colored wood like teak or a white-washed finish to give your dining space a beachy, laid-back feel. For a light and welcoming environment, combine it with coastal-inspired decor. The table is ideal for coastal homes because of its relaxed, beachy atmosphere.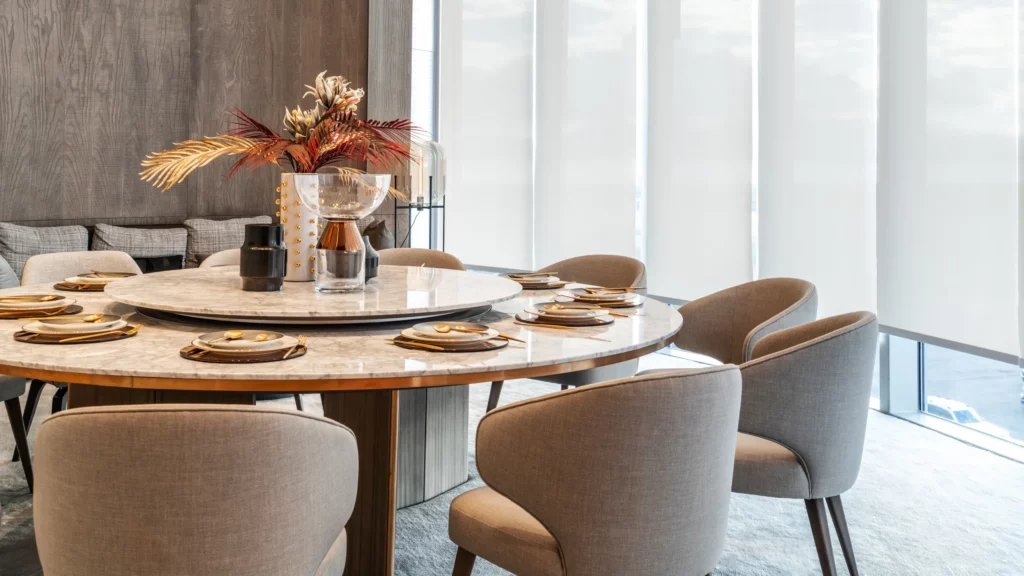 8. Art Deco Glamour
A dining table featuring art deco characteristics, such as an oval table, is ideal for people who value luxury and elegance. For individuals seeking a distinctive appearance, art deco is a chic and elegant aesthetic. Look for tables with geometric designs, reflective surfaces, and expensive materials like marble or brass. You may choose from a variety of designs, one of which can be constructed of wood and has an art deco-inspired appearance. The table design can feature a geometric pattern that enhances its stylish look.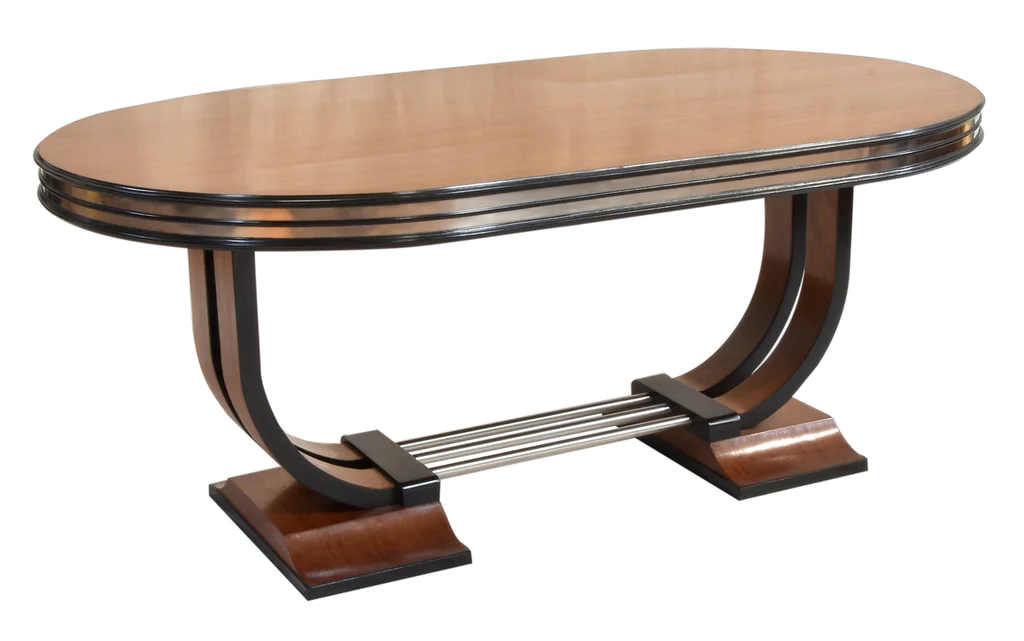 9. Eclectic Mix
By combining several design components into your oval dining table, you can embrace your varied style. For a really diverse statement showcase, think about a table that combines different types of materials, like wood and metal, or one that uses interesting patterns and finishes.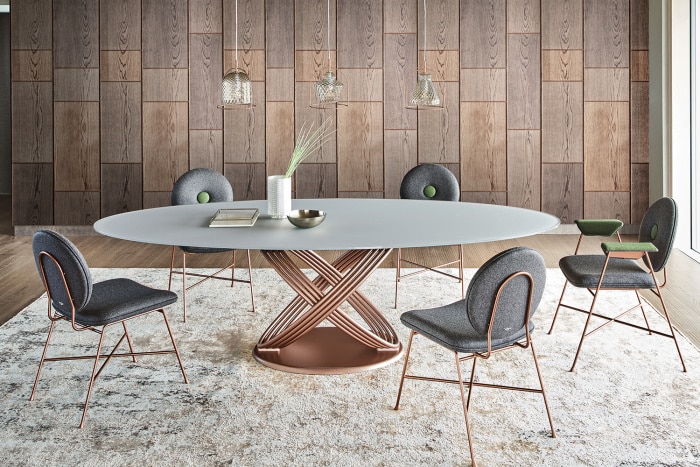 10. Contemporary Style
Sleek lines, glass tops, and metal accents are characteristics of a modern oval dining table. For those seeking an attractive and modern appearance, this design's elegant and classy vibe & look is ideal. There can be several different designs, one of which is minimalist and constructed of metal. You may select the color of the table that best complements your house because it comes in a number of shades.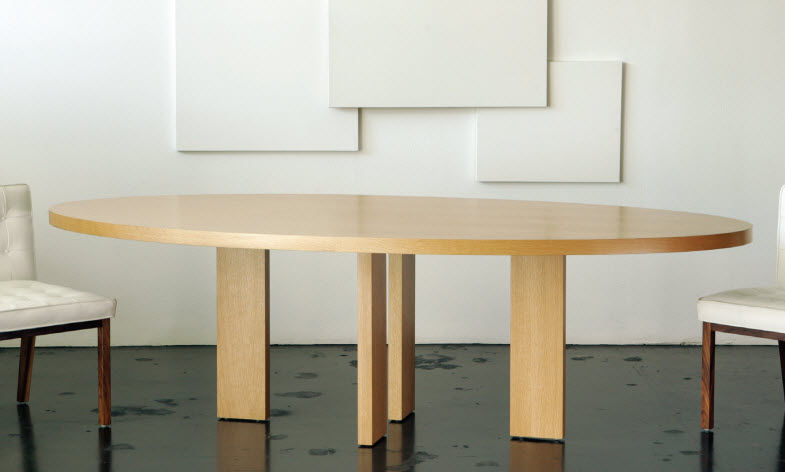 11. French Country
With an oval dining table inspired by the simple beauty and elegance of Provence, you may transport yourself to the feels of the French countryside. For a really French rural vibe, look for tables with worn surfaces, cabriole legs, and beautiful carvings. This design is renowned for its comfortable, welcoming feel and combines rustic and elegant aspects. Consider using old dinnerware and linens to give a touch of antique beauty to your dining room and enhance the French country feel in your dining space.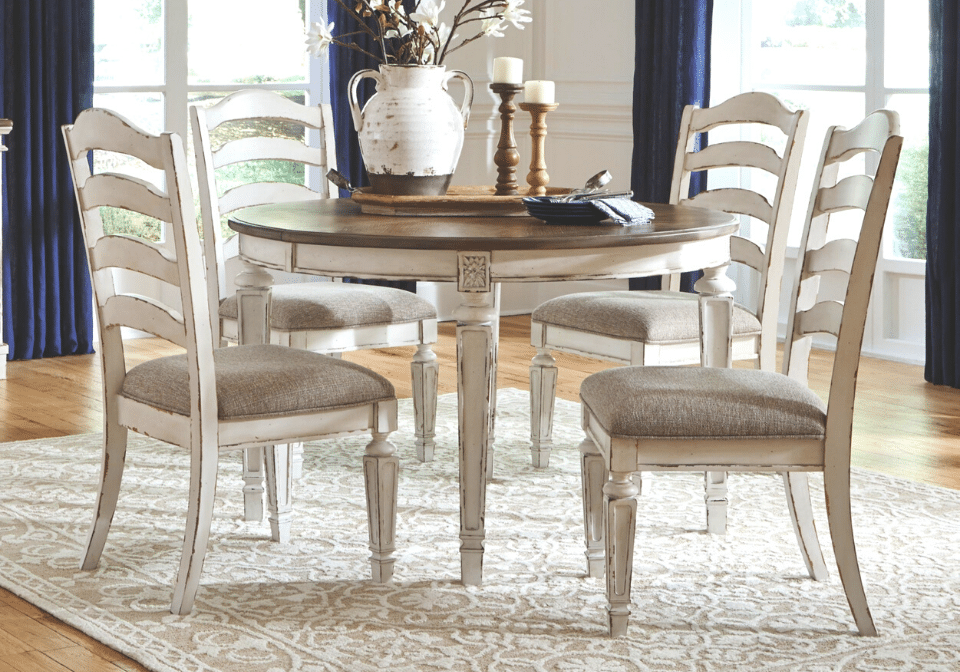 12. Retro Revival
Take a trip down memory lane with a retro-inspired oval dining table. For a playful and nostalgic vibe, search for tables with bright & bold colors, unique & interesting patterns, and unusual forms. It adds aesthetic value to your eating area. The brilliant oranges, blues, and greens that were popular in the middle of the 20th century are frequently seen on these tables. Retro oval dining tables are identified by their distinctive and fascinating designs. These tables come in a variety of geometric and abstract patterns that may make a real impact in your house.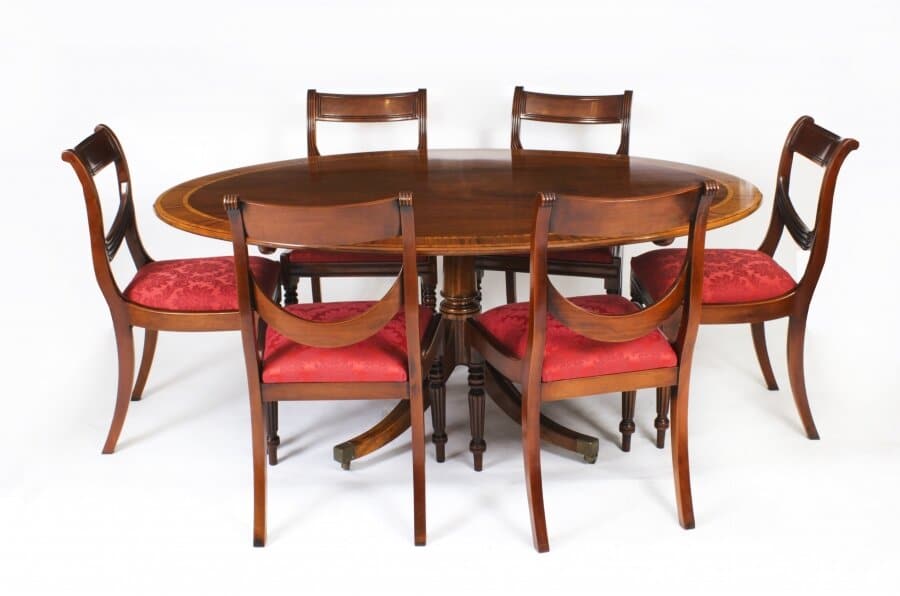 13. Glamorous Hollywood Regency
Glam design is a beautiful and elegant aesthetic that is ideal for people seeking a luxurious look. An oval dining table that displays luxury and elegance helps to create a feeling of Hollywood beauty. For a hint of classic splendor, look for tables with mirrored surfaces, velvet upholstery, and elaborate detailing.
One of the table design ideas can be that of having a gold leaf finish and can be created of marble. The table is a center point that will give any dining space an extra touch of sparkle.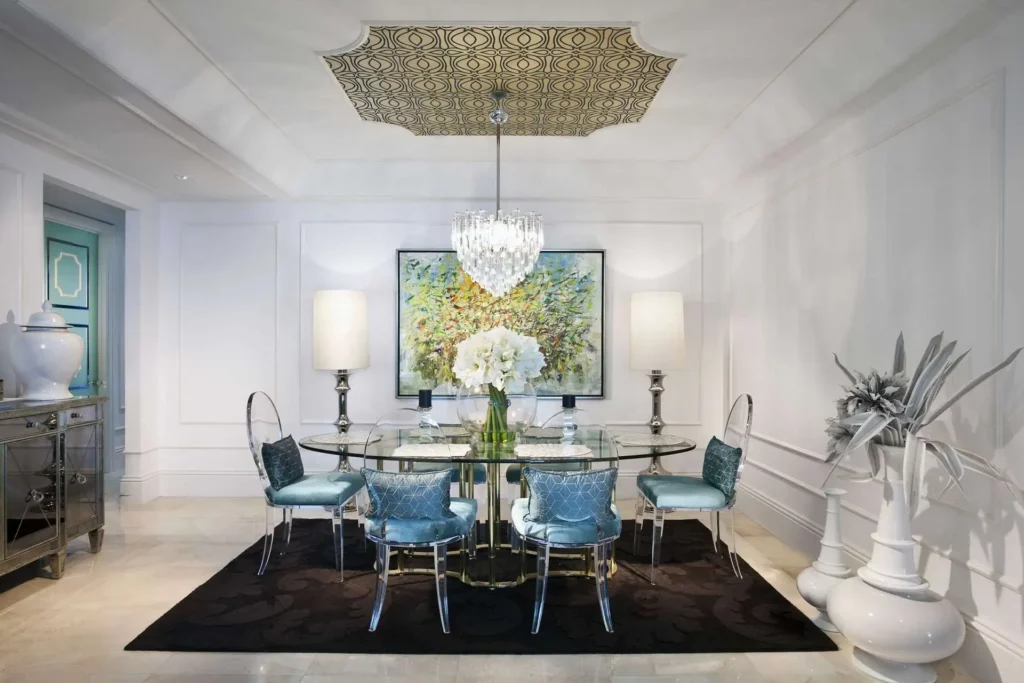 14. Traditional Craftsman
An oval dining table that features strong construction, simple lines, and natural wood finishes is the perfect way to pay respect to the Arts and Crafts movement's timelessly beautiful craftsmanship. This classic craftsman design celebrates the talent and commitment of artisans who place a strong emphasis on the value of quality and utility in what they create. The dining table's oval design provides a touch of elegance and beauty to any eating space, and its solid build guarantees endurance.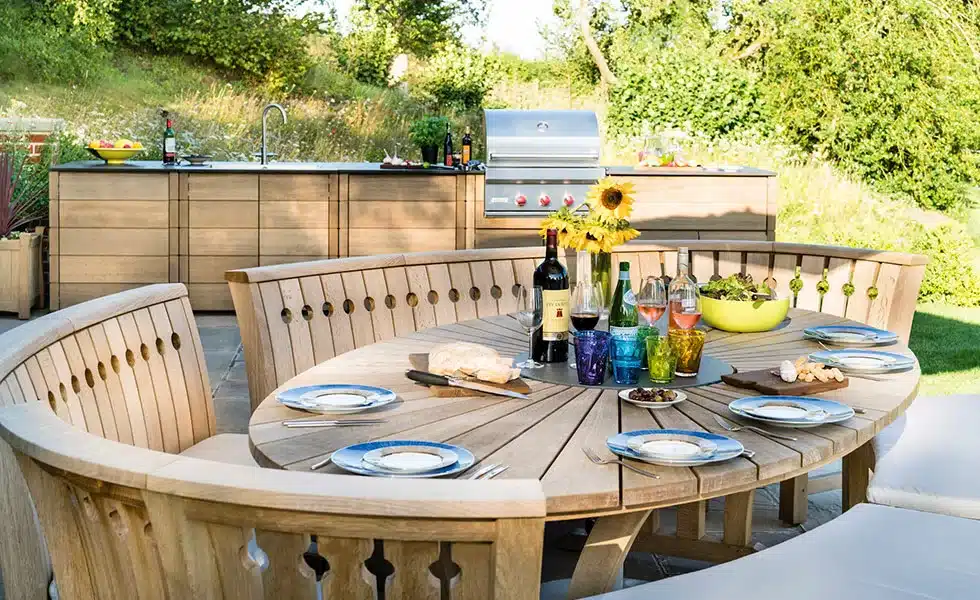 15. Japanese Zen
A Japanese-inspired oval table will fill your dining space with a feeling of calm and simplicity. Look for tables made of organic materials like teak or bamboo that have low profiles and simple forms. These tables frequently have traditional Japanese design features, including simple forms, clean lines, and an emphasis on the beauty of nature. The use of organic materials gives the whole look a warm, genuine feel. Your dining area may be transformed into a calm setting that encourages relaxation and peacefulness by adding an oval table with a Japanese influence.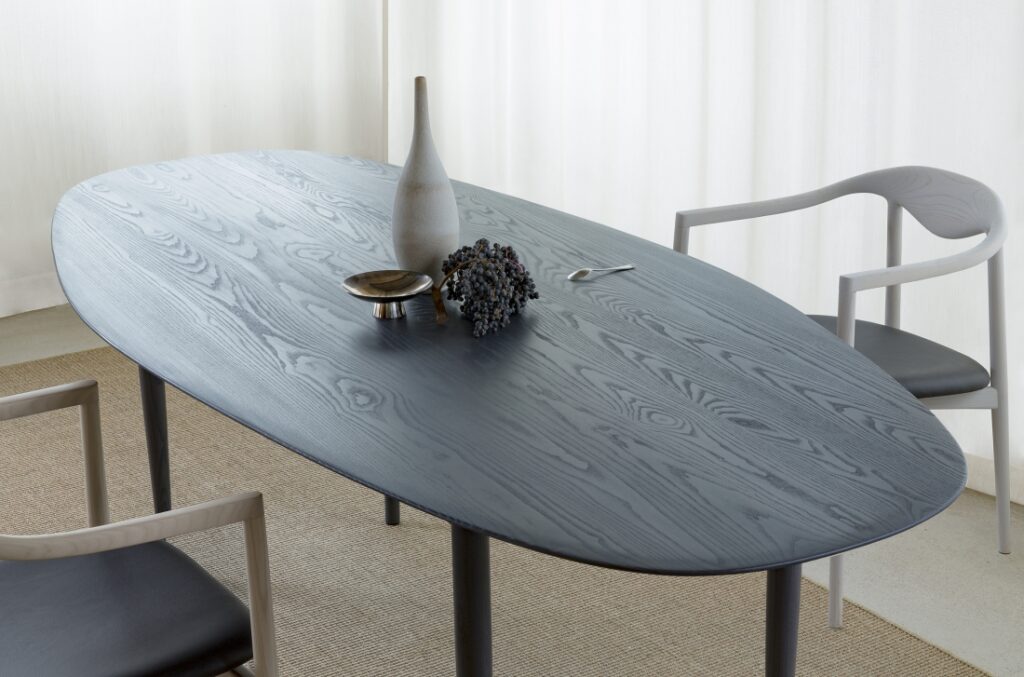 16. Transitional Oval Dining Table
Modern and classic styles are combined in transitional design. The majority of this design is minimalistic and simple, with classic elements like twisted legs. You may select the finish that most closely matches your house for the table because it is built of solid wood and is available in a number of colors.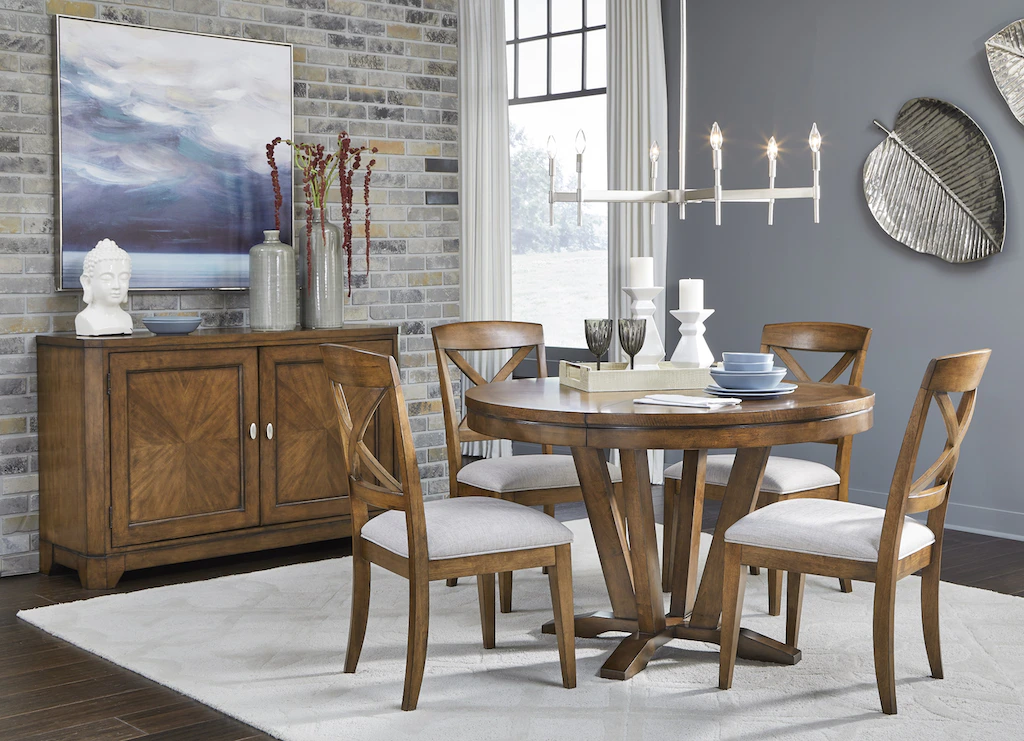 17. Urban Industrial
An oval dining table with metal accents, exposed hardware, and reclaimed wood combines the sleekness of urban design with the toughness of industrial style. A unique and vibrant appearance that is both fashionable and practical is produced by the fusion of urban and industrial aesthetics. The dining table's circular form adds a modern element, while the bare hardware and metal elements give it a rough, raw look. The use of reclaimed wood enhances the table's warmth and personality while also promoting sustainability and environmental friendliness.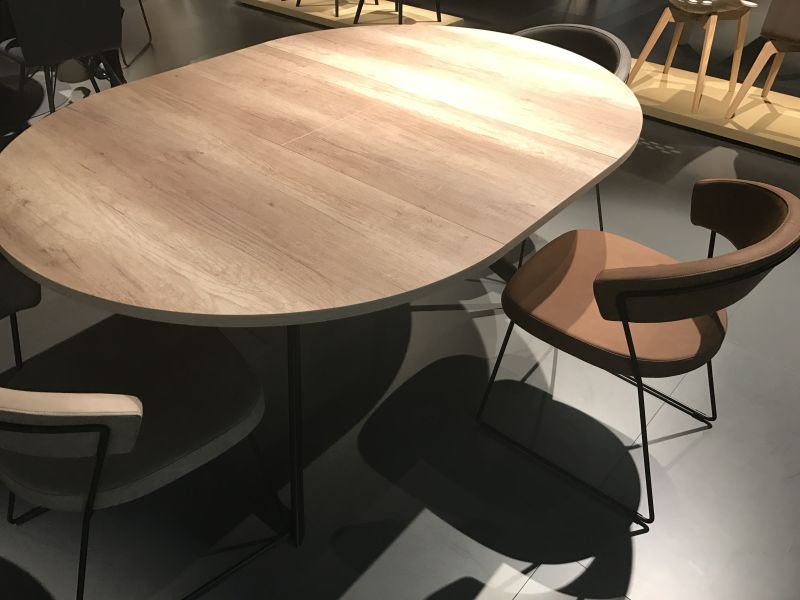 18. Traditional Classic
A traditional oval dining table is a timeless option that will always be in fashion. For a classy and polished appearance, search for tables with delicate elements like twisted legs and elaborate inlays. Any dining area is enhanced by these rich features with a touch of class and elegance. Oak, cherry, or other warm and rich wood finishes are frequent on traditional oval dining tables, which adds to its classic charm.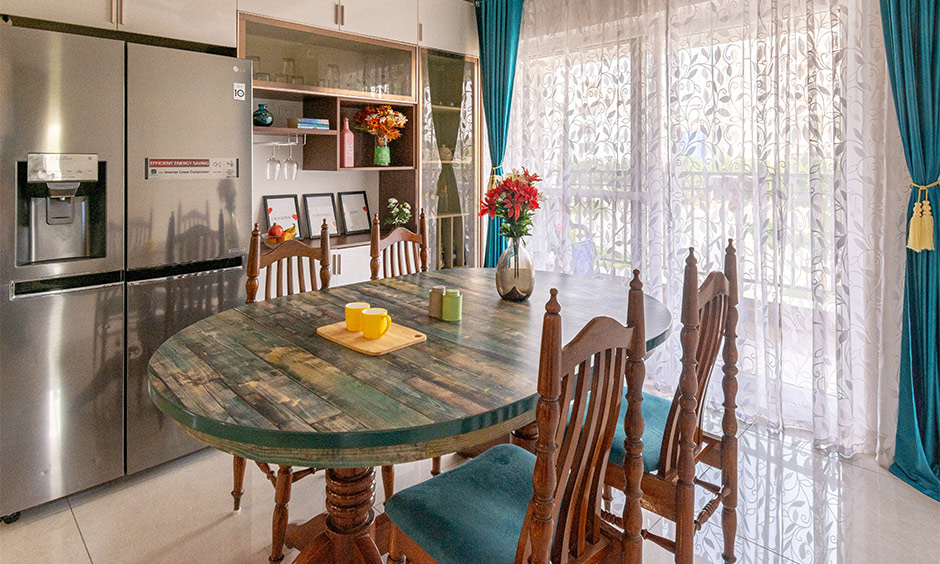 19. Vintage Charm
With an oval table that features vintage accents and a worn patina, you can give your dining space a hint of retro appeal. For a more organized and cleaner aesthetic, combine it with furniture and accents that have a vintage feel. One way of adding the vintage charm is by pairing the oval table with chairs that have an antique finish or a distinctive retro style. Seek out chairs with curved backs, elaborate ornamentation, or cushioned seats in vintage-inspired designs or colors.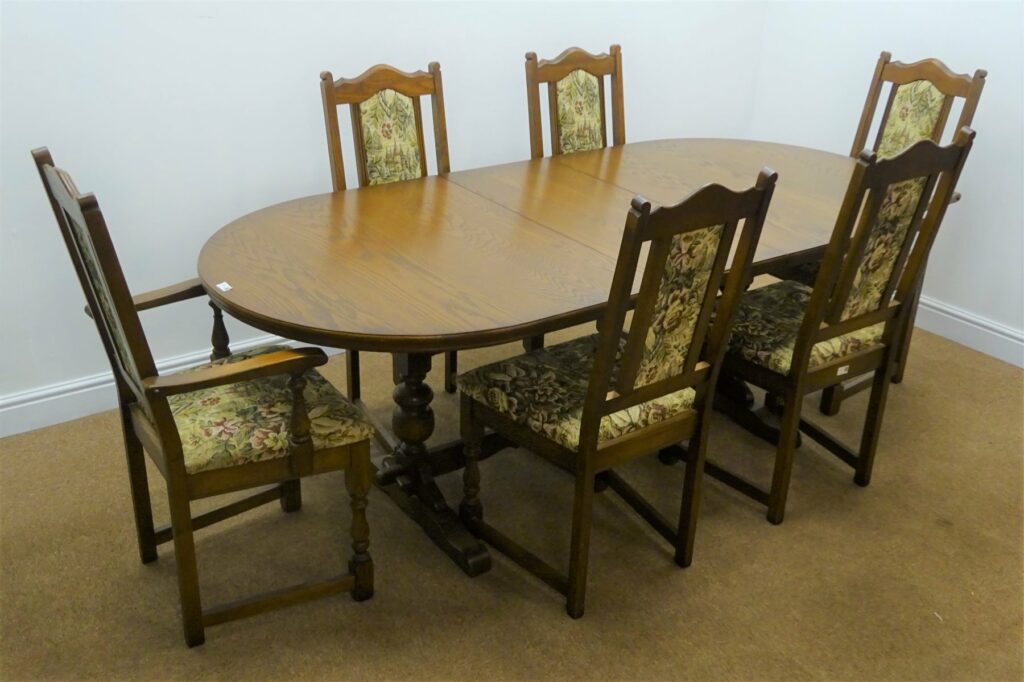 20. Global Fusion
With an oval dining table that draws inspiration from multiple cultures and design eras, embrace a global aesthetic and vibe for your dining space. For a really diverse and global design, search for tables with elaborate patterns, vivid & vibrant colors, and distinctive textures. It takes more than simply picking an oval dining table with a variety of inspirations to incorporate global fusion into your dining area. Consider including other aspects, such as quirky seating arrangements, one-of-a-kind lighting fixtures, and eye-catching artwork, to create a genuinely immersive and culturally rich environment.
Here are Some Additional Tips for Choosing an Oval Dining Table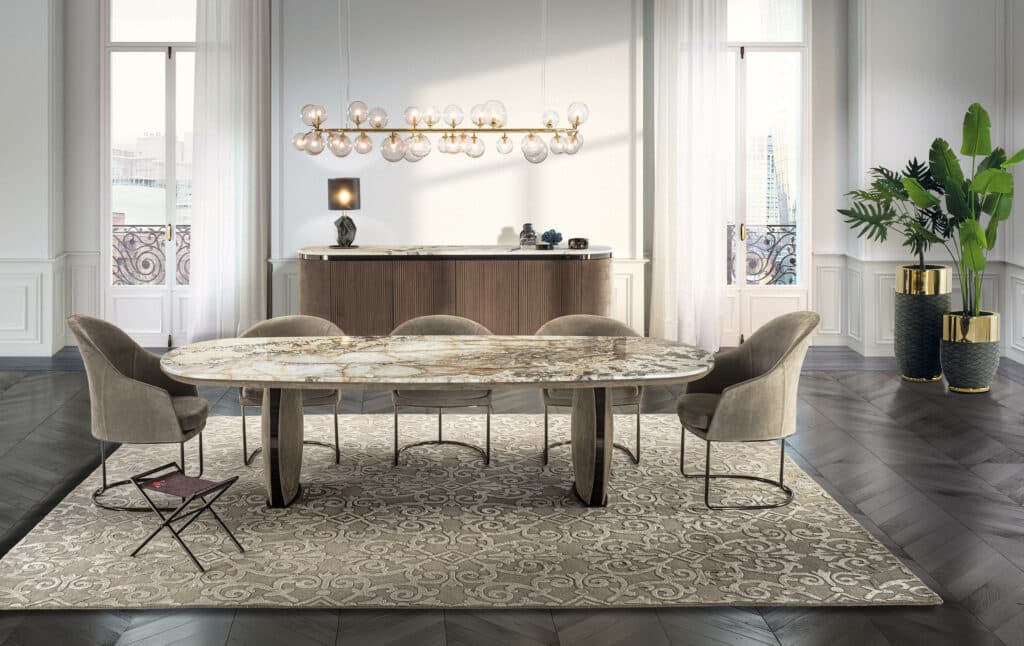 Think about how big your dining room is. The table should be big enough to fit all of your guests comfortably but not so big that it takes over the space.
Consider the design of your house. Whether your home has a classic, modern, or transitional aesthetic, the table should fit in.
Pick a material that will last and is simple to maintain. Glass, marble, and wood are all excellent choices.
Think about the design of the table. Due to its ease of movement, oval tables are a fantastic option for compact areas.
Recall to bring the chairs. The chairs should be comfortable to sit on and fit the table's design.
You are sure to discover the ideal dining table for your house. You'll find an oval dining table that compliments your house design and vibe and enhance it further. There are a wide variety of lovely options available.
Conclusion
An elegant and flexible option for any dining area is an oval dining table. There is an oval table out there to fit your design taste, whether you choose a traditional appearance, a modern aesthetic, or something in between. Making the appropriate dining room table selection is crucial since it may make your eating area both aesthetically pleasing and useful. This article's discussion of the 20 oval dining tables above covers a variety of design aesthetics, so there is something for everyone.
These tables offer the ideal setting for memorable occasions, whether you're hosting small family guests or entertaining guests. So go ahead, go through the alternatives, and choose the oval dining table that best suits your taste and will serve as the backdrop for many delicious meals and engaging talks in the future.
As a place to start your search for the ideal oval dining table that will add beauty and utility to your house, think about the 20 options that were mentioned above. You can choose the ideal table that suits your house and taste.