Just like other rooms, the living room too holds significant importance in the house. It is a place where we spend leisure time, socialize with acquaintances, and spend quality time with family. This is only a part of its value to a home. As it holds so much significance, it should be, therefore, designed properly; so that it looks splendid.
A well-maintained living room will attract everyone's attention. Various ideas can be considered to upgrade the look of the living room.
Below are a few modern living room ideas that you can use to create a spectacular version of your living room that becomes the focal point of the house.
1. Simple and Serene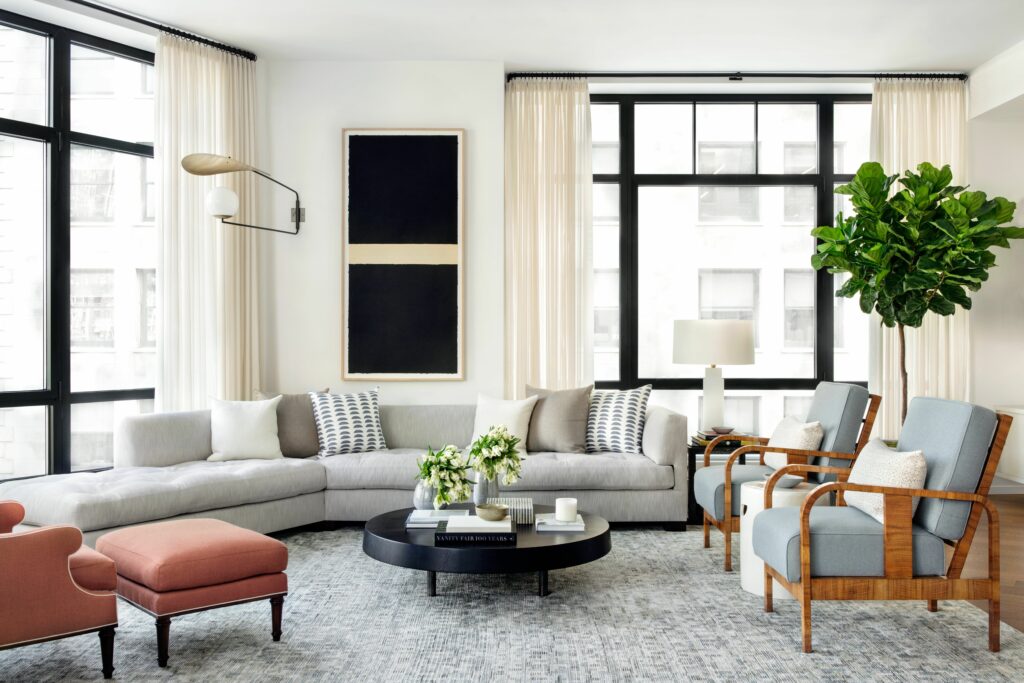 If you want to keep your living room simple and attractive, then; modern living room ideas like this would be apt. It does not include heavy accessories or decor elements, yet it looks complete. To achieve this look, you just need the minimum required accessories, like the sofa set, tables, and paintings, and you will get a simple and minimalistic look. When going for lighter background walls, you can add dark-colored furniture to add depth to the room without any heavy furnishings instantly.
This compact arrangement of furniture; also makes the room spacious and helps you make the most of the space. If you wish, you can add simple accessories like the ones added over here to decorate your room. This arrangement is ideal for people who do want to keep things simple.
2. Create a Style Statement with a Large Sofa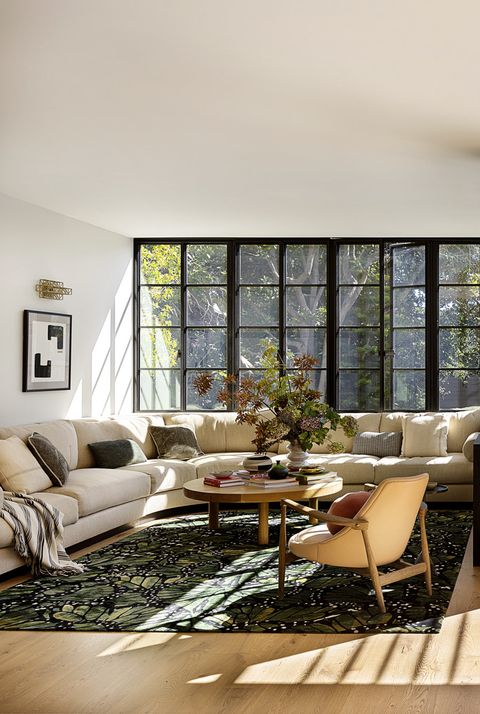 You can create a style statement using a single piece of furniture. For example, keeping a large sofa set in the living room has decided the whole look of the room and imparted a modern look to the living room. If you want to add a warm touch to your living room, you can consider adding light-colored sofa sets, especially the beige sofa set. They have a modern appearance and also add warmth to the space they are kept in.
The sofa will not only give a modern look to your living room but; will also be able to accommodate many people at once. You can add complimentary accessories to the sofa and the wall paint to achieve the complete look. If you want to make the room livelier, you can consider adding indoor plants to the living room.
3. Add Built-In Shelves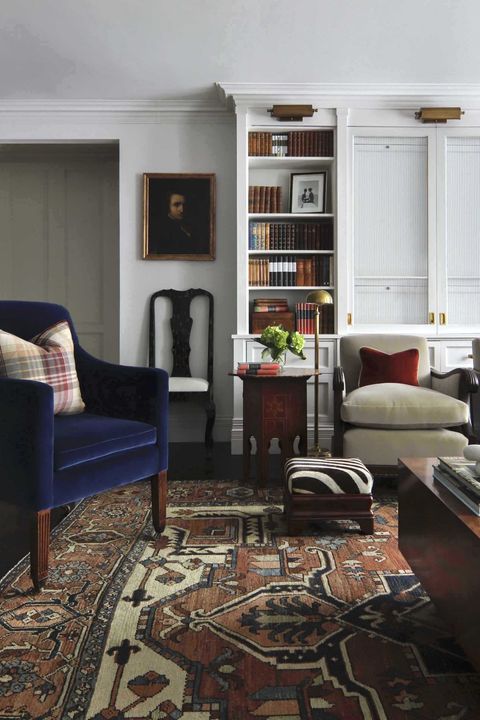 An interesting way to modernize your living room is by adding a built-in shelf that blends with the surroundings. By using these shelves, you will be able to manage your storage problem, and; they will also add a unique dimension to your living room. You can add embellishing items or showcase your vintage collection or book collection on the built-in shelf. It will help you flaunt your collection amongst your family and friends.
The color of your built-in shelf will help you make a unique statement in the house, so it is important to select the color of the shelf carefully. If you want to make the room look spacious, then; you can consider painting the shelf with the same color as the wall. Contrary to this, adding dark-colored built-in shelves will help achieve a bold look in the living room.
4. Add an Accent Wall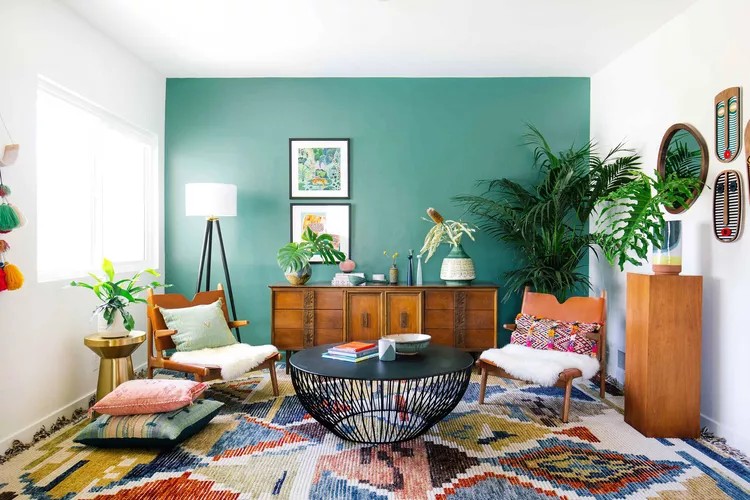 Another way to add a significant impact to your living room is by going for an accent wall. Accent walls help to make living rooms stand out. Not all the walls of the living room; need to be painted with the same color. You can paint a wall with a different color to create an accent wall that will help you achieve a unique look.
There are numerous ways to decorate accent walls, and; you can use the one you find suitable. A good way to add an accent wall is by opting for a shiplap wall for your living room. You can add paintings or even a television to the shiplap wall to create a significant effect that will help intensify the look of your living room.
5. Cozy Feel with Gray Color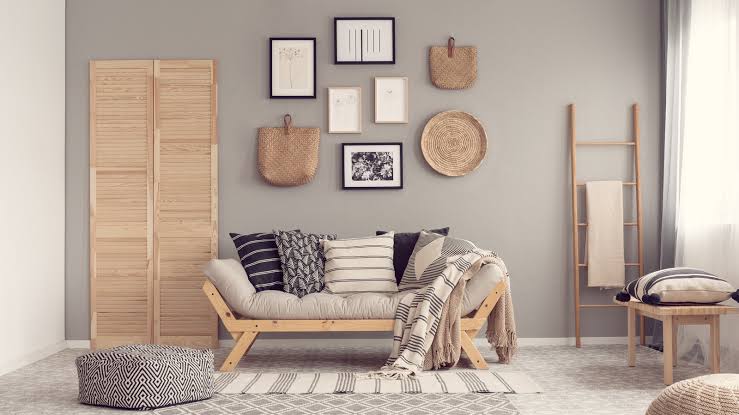 If you are searching for some cozy modern living room ideas, you can experiment with the color of the walls. For example, if you paint the walls a light gray color, you will significantly achieve a warm and cozy look. The gray color is frequently used as a popular interior decor color nowadays. It gives a sense of balance and calmness to the room it is added to.
Opting for a light gray color doesn't mean that you are restricted to one color in gray; you will also see many shades available, so you can select the one you find the most appealing. >To make it more attractive,you can add furniture in either a white or rustic color. Adding paintings or decor items will help you enhance the look of your living room.
6. Modern Living Room Ideas with a Fireplace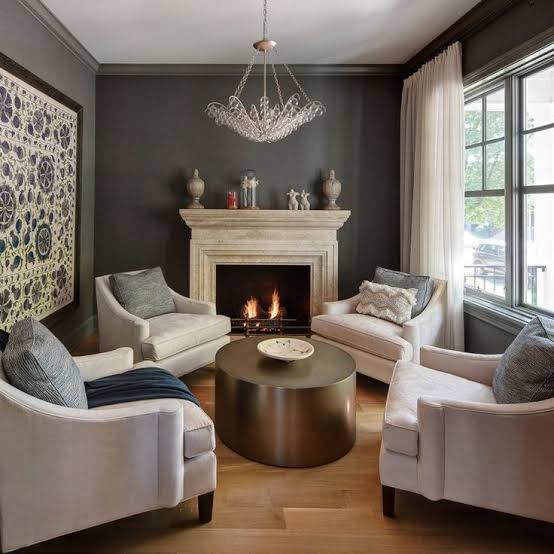 An innovative way to make your living room stand out is by adding a fireplace to it. This fireplace can be used for several purposes. For example, it can serve as a perfect spot to host family gatherings in the warmth of a fire. This fireplace can also become the focal point of the living room; if highlighted properly. There are many types of fireplaces available, from wooden to electronic ones, so you always have a variety to select the one you need.
One way to highlight your fireplace is by selecting the wall of the fireplace in some other color, and then you can see the magic. Not only the fireplace, but the wall, in which the fireplace is installed, will help add character to the modern living room.
7. Play with The Colors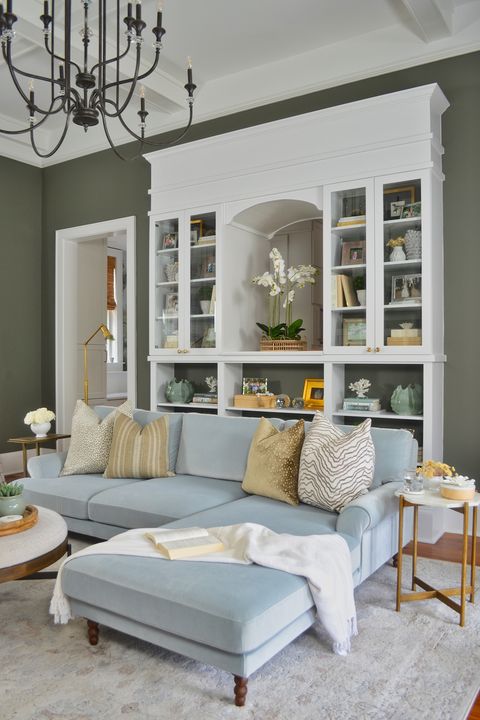 If you are uncertain about how to add an effect to your modern living room and are looking for some modern living room ideas, then you can always play with the colors. There are infinite color combinations that you can use in your living room to make it different and stylish. Even a single change can entirely change the look of the living room. For example, if you want to create a significant effect, you can paint the walls with dark colors and; go for contrasting light-colored furniture.
This pattern can serve as a very important element in your modern living room and will instantly change the look of the living room by making it more appealing and attractive. Going for dark-colored walls is always an advantage, as with this, you need not add paintings or any other decor elements to the walls to complete the look.
8. Customise the Ceiling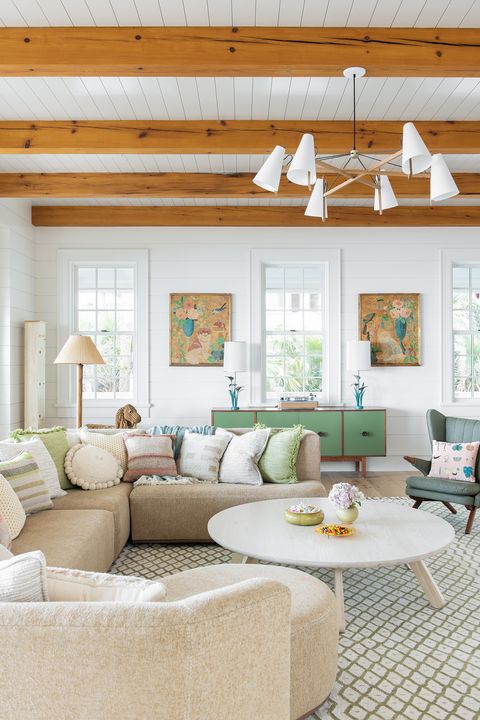 If you are done experimenting with the walls and furniture and still find your room incomplete, then; extend up to the ceiling; and start adding details to it. This is not something that comes to mind when decorating the room, but it has the potential to achieve a unique look. Customizing your ceiling can serve as a great option when exploring modern living room ideas. You can add a grand chandelier to the ceiling to create a stunning effect and make your living room unique.
You can also add wooden slats to the ceiling to not only provide strength to the wall but also enhance the outlook of the ceiling. If you wish, you can add a different color to the ceiling to make it stand out. You can also add a false ceiling to create a significant impact.
9. Maintain Symmetry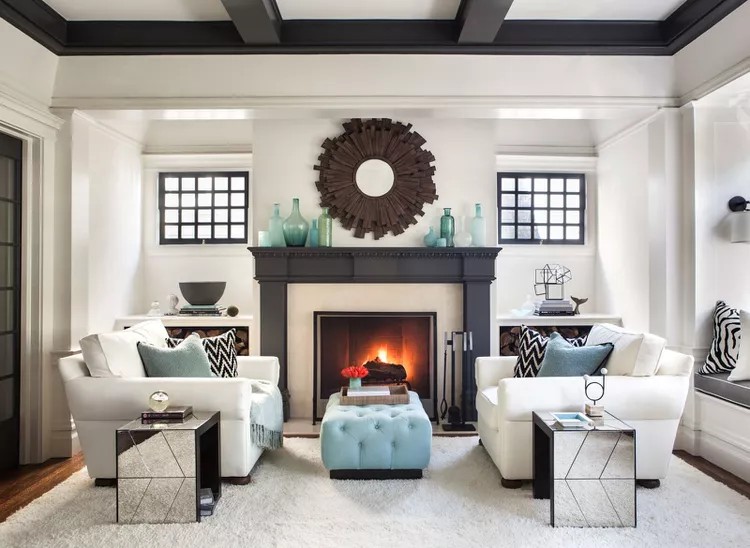 Symmetry helps to create balance. It makes the room look good and adds elegance to the room. Adding symmetry is not a tedious task; you can just begin with the center of the room and start adding furniture or other accessories symmetrically. When you follow symmetry, you will realize that the place looks visually appealing, and; it creates a calm and soothing effect. Adding symmetry also makes the space brighter and bigger, so; an ideal choice for small living rooms.
You can add more details using the furniture, paintings, etc., in your room by following a symmetrical pattern. The asymmetrical living room will look more attractive and appealing; in comparison to a room that is unorganized and unbalanced. So when looking for modern living room ideas, always try to begin with a symmetrical design.
10.Going Minimalist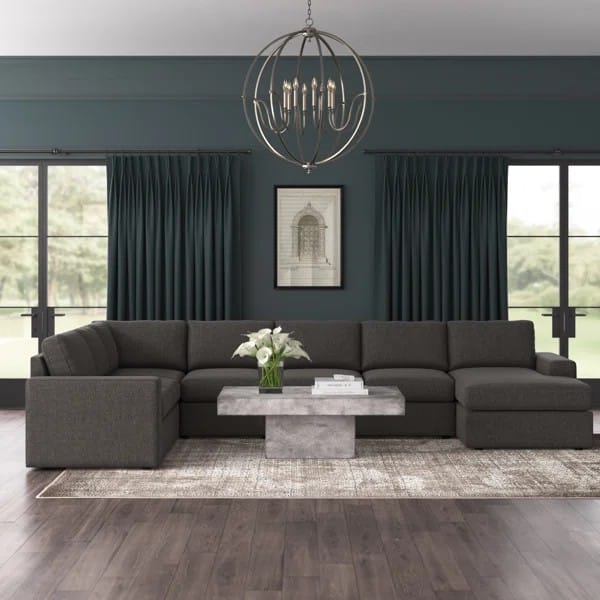 Going minimalist is one of the concepts of modern living room ideas. People who love to add the fewest accessories to their living room can always go for a minimalist lifestyle. For this, you can simply add a large sectional sofa in your living room, and then you are done. Sofas are considered an important element when opting for designing the living room. You can easily create a style statement with the help of a sofa.
If you prefer going minimalist, then; it would be advisable to go for a dark-colored sofa, as; it would help create a significant impact without making any additions to your room. It will give the room a sense of completeness even without adding any other decor items. You can simply add a complimenting table, and you will realize; that you have achieved a spectacular look for the living room.
11. Pick a Different Color for the Wall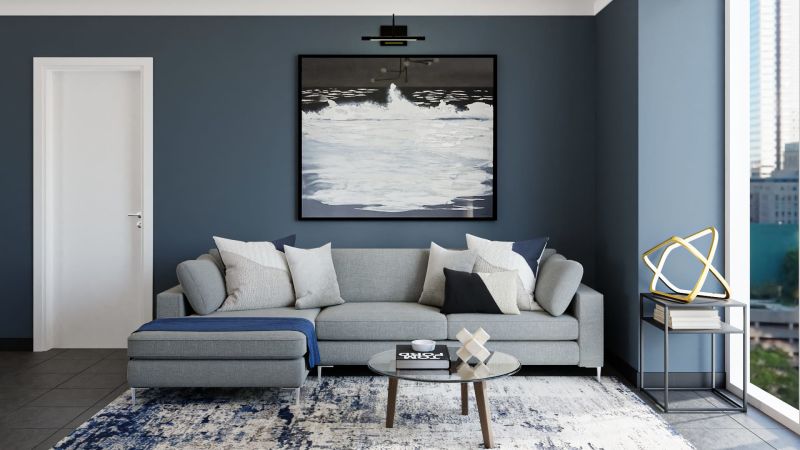 A good way to add interesting features to your room is by changing the color of the walls. You can select one such color that will help you achieve the pertinent look. The choice of wall colors is no longer limited to white, black, yellow, or pink. Over time, many new colors have come up that have helped achieve a spectacular look in the living room.
Thus, experiment with the colors and select the one; you find most appropriate for your living room. Furthermore, you can add accessories to your living room to complete its look.If you want to keep the living room then it can be easily done by just adding one or two style statement pieces of furnishings, or if you want to decorate with multiple decor items, then also it will look good.
12. Too Many Paintings!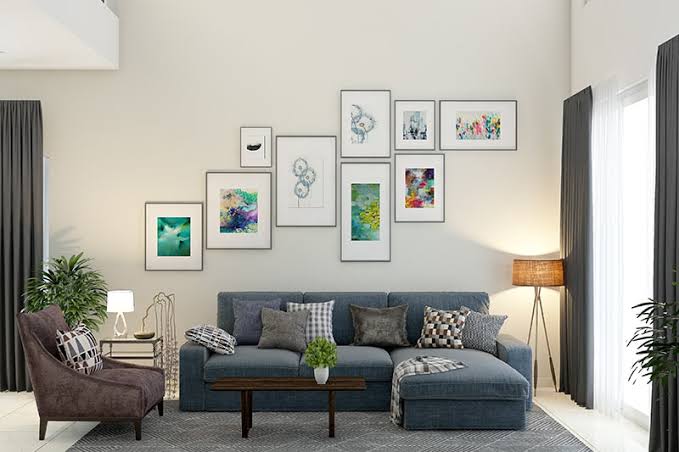 A person who is an art lover can always add paintings in his living room to give the space an overwhelming sense of fulfillment. If you want to achieve a modern look, you can add paintings to the walls. This will not only enhance the beauty of the walls but also add a sense of completeness to the room. You can display your paintings if you are a person who paints, or you can purchase the paintings you find to match well with your room.
Paintings are also a reflection of your personality, so you can flaunt your choices and showcase your personality; in the form of beautiful paintings. If you wish, you can add a single big painting that covers the whole wall; or place multiple paintings; either way, your living room will look stunning.
13. Black and White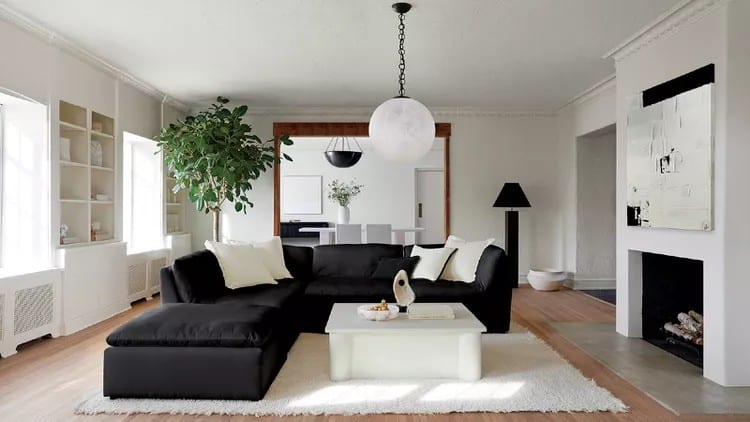 A unique way to add depth to your living room is by opting for a black-and-white combination. The black-and-white combination will never go out of style and will continue to enhance the beauty of your living room for years and years.
The black-and-white combination is also one of the ways by which you can easily achieve a minimalistic look. Black and white helps to create balance, as the white color will help you brighten the space, and the dark-colored furniture will help you create a bold effect in your living room.
Opting for black-and-white modern living room ideas will help you instantly create a dramatic effect; in your living room, which is admirable. With this decor combination, you do not need any other accessories, as it will give a sense of completeness by itself.
Conclusion
Modern living room ideas should be designed in such a way that it looks visually attractive as well as guarantees comfort for the people in it. There is no end to the number of experiments that can be done to achieve an alluring living room.
You can play with almost every element of the room to get the desired look. You can make any final changes to the living room as per your vibe to make it your cozy space.
Similarly, the color of the wall plays a role in the final look of the room. Once done, enjoy spending time with your family and friends in the living room, and have fun!