Are you thinking about renovating your bathroom? Well, let us introduce you to Bath Fitter, one of the most reliable brands in bathroom renovations.
With Bath Fitter, you have access to a wide range of products and options that can perfectly match your needs and budget. Getting an estimate when it comes to bath fitter cost might seem a bit overwhelming at first, considering all the factors involved. But fear not; understanding their process is actually quite simple!
What is a Bath Fitter?
Bath Fitter is one of the most well-known names in bath and tub liners. They've been in the business since 1984, specializing in acrylic bathtub and shower renovations. Over the past 35 years, they've perfected their process to create fantastic baths that cater to real people's needs.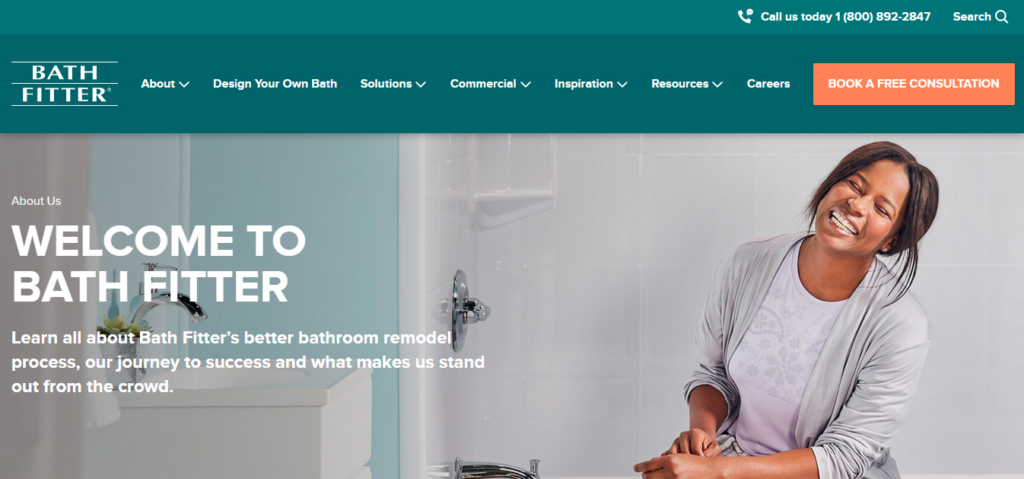 What sets Bath Fitter apart is their commitment to quality. Their tubs and showers are made of high-gloss acrylic, which not only looks great but also makes cleaning a breeze. The best part is that you can have a new Bath Fitter tub or shower installed in just one day, making it super convenient for you. But they don't stop there. Bath Fitter is always striving to be better. They work tirelessly to improve their products and make their customers' lives even more comfortable and enjoyable.
That's the Bath Fitter promise—continual improvement drives them as they continue serving their communities and getting it just right for their customers. They're here to stay and make bathing a delightful experience for everyone.
What Are the Different Kinds of Bath Fitter Services?
From designing your own bath using their interactive design tool to bathtubs, showers, walls & wainscoting, and accessories, bath fitter costs differ as per different services. Let's deep dive into each of their services and solutions –
1. Bathtubs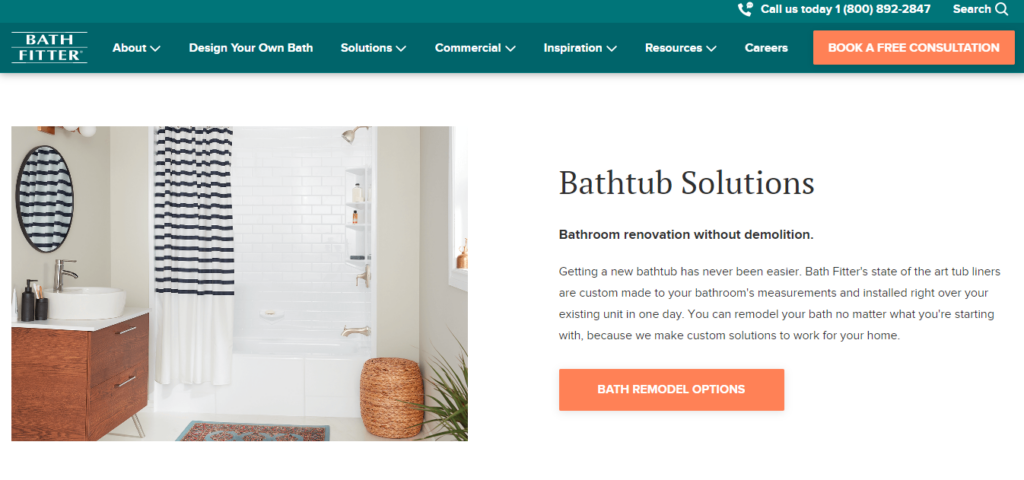 At Bath Fitter, they've got you covered at every step of your bathroom remodel, ensuring top-notch quality from start to finish. First, their friendly Bath Fitter consultant will come to your home to take measurements, and they'll craft your new tub or shower to perfectly fit your space. It's all custom-made, ensuring a seamless and beautiful addition to your home. Finally, their skilled installation professionals will work their magic, placing your new bathtub and wall liners right over your existing ones. And don't worry about a mess—while they're there, they'll handle any necessary cleaning or repairs.
2. Showers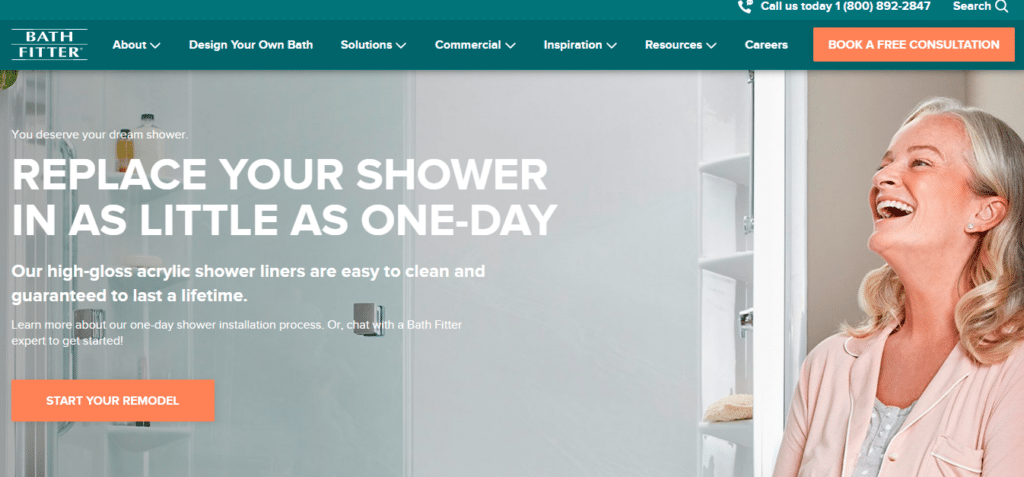 Under this, they offer 3 kinds of solutions. First is their tub-to-shower solutions, wherein their experts replace your old bathtub with a new shower space within 24 hours. Second, is their shower remodeling solution, wherein they install custom-made shower liners to replace old shower walls and doors. Third is their easy-access showers, where they revamp the entire shower space with custom-made bath fitters, which are ADA-compliant.
3. Walls & Wainscoting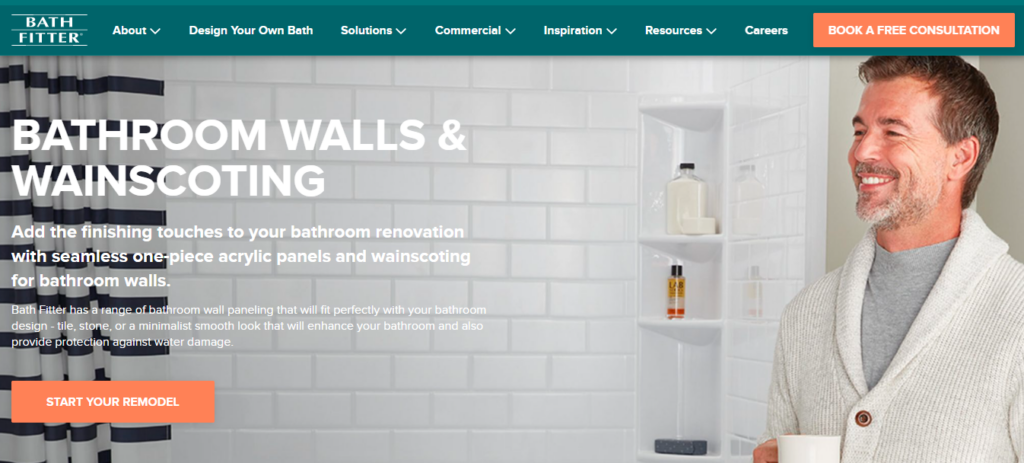 Bath fitter offers this service wherein bathroom wainscoting is installed as an alternative to tiles; without joints or seams, it is virtually maintenance-free and can be installed quickly and easily, and frequently in just one day. Shower walls are custom-made to your bathroom's exact measurements, which ensures a perfect, watertight fit. Wainscoting can be installed based on your needs and is usually dependent on the height of other bathroom elements – fixtures, furniture, and windows.
4. Design Your Own Bath

The company offers a one-of-a-kind online tool that lets you design your own Bath Fitter bathtub in a simple step-by-step process. It all begins with choosing a bathtub or shower insert. From there, you can pick walls, plumbing, and accessories that perfectly match your bathroom floor. And if you want to enclose your new tub or shower, the company also provides glass doors and rods as options. It's a convenient and fun way to create your dream bathroom!
What is the Real Bath Fitter Cost?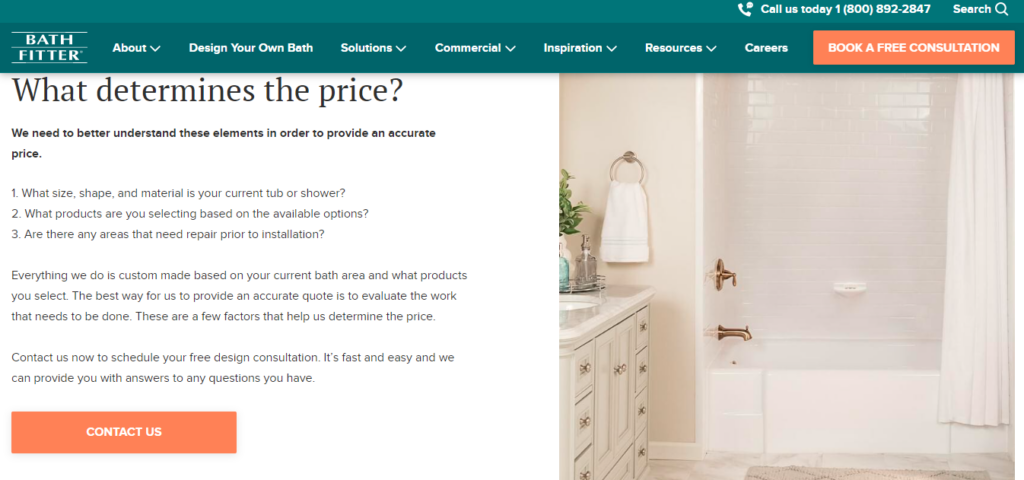 A Bath Fitter costs anywhere from $1,000 to $10,000, with the average being around $3,000. However, the final price depends on your specific needs. Let's break down the main factors that affect the pricing.
For this service, you should expect to pay at least $1,000, even if your requirements seem small. The good news is that you don't need to remove your existing bathtub, so the process is relatively quick. The main thing to consider here is the price.
Three significant factors come into play when determining the cost of a Bath Fitter for your home. It's essential to take all of these aspects into account to figure out if installing a bathtub liner fits within your budget. So, let's explore these factors further to help you arrive at a more specific estimate for your remodeling needs.
1. Labor Costs
When it comes to bath fitter cost, one essential factor to consider is the cost of labor. If you decide to go with a Bath Fitter, their representative will assess the total payment based on the time needed to complete the process and how complicated it is to add the Bath Fitter to your bathroom.
Another aspect that affects the price is the type of tub liner you choose. Investing in a high-quality Bath Fitter may cost more than opting for a less experienced bath liner. However, it's often wiser to spend a bit more on a better quality product that will last longer and deliver superior results in the long run.
2. Material Costs
Your choice of materials has a significant impact on the overall cost. If you want to keep things budget-friendly, go for inexpensive options like acrylic and PVC vinyl. They'll help you save some bucks.
However, if you fancy something more luxurious, like faux marble, be prepared to spend a few thousand dollars extra. So, depending on what material you opt for, the bath fitter cost can vary quite a bit.
3. Accessories
When you're renovating a bathroom, the right accessories, and options can make a world of difference in both style and usability. Bath Fitter understands this well, offering a fantastic range of accessories to enhance their projects and elevate your bathroom experience. By paying an additional bath fitter cost, you have the freedom to customize and improve your bathroom even further.
They have an array of popular accessories available, including faucets, door & shower rods, shelves & soap dishes, safety accessories, ceilings, and various moldings & trims. These additions can truly transform your space and make it more functional and visually appealing.
What is the Bath Fitter Process?
When you're considering a bathroom remodel, the installation process is a big deal. Luckily, with Bath Fitter costs that are affordable, you'll experience a unique approach to bathroom renovation that's designed to be less disruptive and time-consuming compared to a full remodel.
Here's how it works: Once you schedule a free consultation, a Bath Fitter representative will come over with some awesome design ideas. It's the perfect time for you to discuss your specific needs and preferences.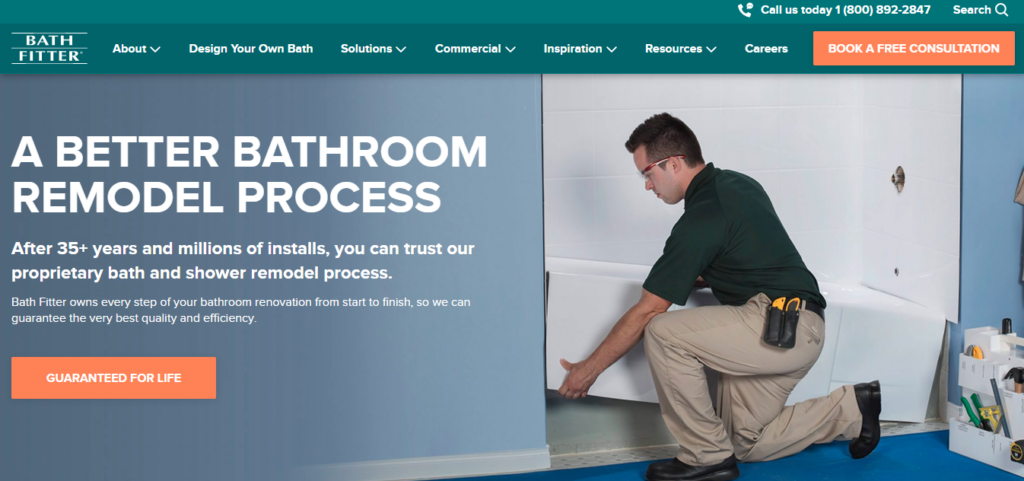 Once you've made your choices, the installation process can kick off. And don't worry, it won't drag on for weeks! In just 1-2 days, you can have a beautiful transformation. Bath Fitter offers various options, like walk-in tubs, shower conversions, and custom-made acrylic liners, all tailored to fit your style.
The best part is that your existing tub or shower doesn't need to be removed. They'll install a custom-made acrylic liner or tub right over it. This means less hassle and disturbance to your daily routine. And let's not forget about any necessary repairs! The professionals, trained to work with Bath Fitter materials, will handle wall repairs and plumbing work, ensuring everything is top-notch.
Speaking of materials, Bath Fitter uses high-quality, durable acrylic liners. They're mold and mildew resistant and less likely to leak compared to other options. So, you can trust that your new bathroom will not only look fantastic but also stay in great shape for the long haul.
Bath Fitter Cost: Pros vs Cons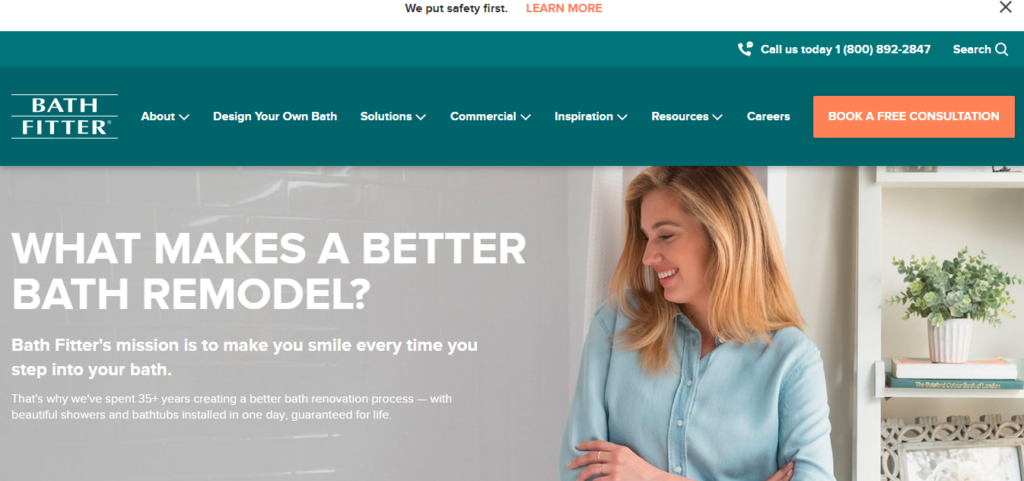 The Pros
One-Day Installation: Bath Fitter showers and bathtubs are installed in just one day, so you can get the bath of your dreams and get back to your life.
No Demolition, No Mess: Their bath liners are custom crafted to fit over your existing tub, so there's none of the mess or surprise fees that come with demolition remodels.
Easy To Clean: The high-gloss acrylic tubs and showers wipe clean so easily they're virtually maintenance-free.
Design Your Own Bath: Choose from hundreds of customization options and accessories so your new bath fits your home's style perfectly.
Lifetime Warranty: Every Bath Fitter installation is guaranteed for life, so you can be confident in your bath remodel
The Cons
Costly Pricing: Overall, the biggest drawback with Bath Fitters is the price. You need a professional if you want the installation done correctly, and professionals cost more. Take a look at your budget to see if a bath fitter is in the cards. It's better to spend more money on a quality tub liner from Bath Fitter® than to go with something cheap and potentially damaging.
Lack of full-suite services: Doesn't offer toilet, sink, or flooring remodel services. Its one-piece inserts come in limited designs and colors.
Maintenance, Customer Service & Warranties
Bath Fitter stands by the quality of its liners with a lifetime warranty, giving homeowners peace of mind and ensuring their bathroom will remain in great condition for many years.
To start the process, bath fitter offers a free consultation where you can talk with a representative about your specific needs and preferences. If you prefer, they also provide in-home consultations to give you a clearer idea of the costs and pricing involved.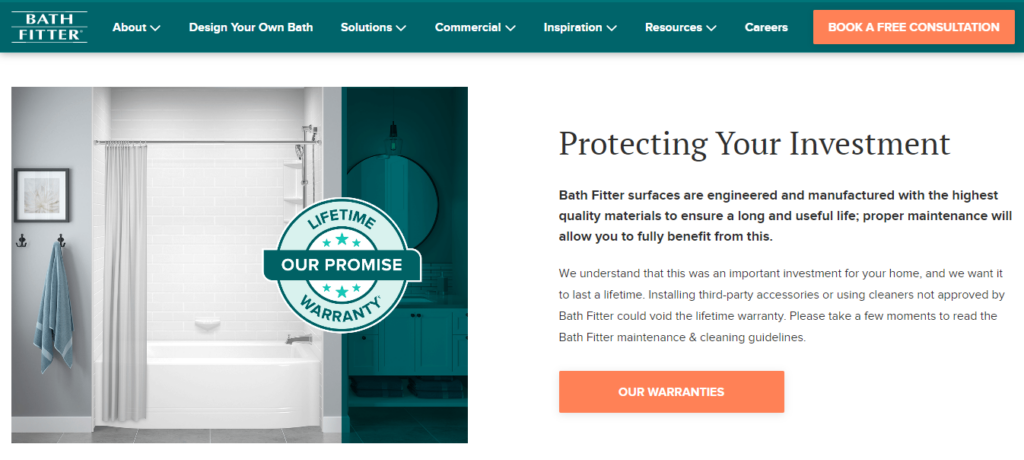 If you're curious about their products and services, the Bath Fitter website is an excellent resource. There, you'll find information about bath fitter costs, the materials they use, available options, and the installation process. Plus, you get to choose from various styles and finishes, allowing you to create a fresh and modern look for your bathroom.
Bath Fitter specializes in residential bathrooms and can complete a full renovation in a short time, sometimes as quickly as just one day. The end result is a bathroom that looks brand new and beautiful.
Conclusion
Installing a bath fitter may appear to be a quick and easy solution for a dated bathroom, but it can be on the pricey side. However, there are ways to keep the costs under control, so your budget doesn't take a hit. If you have the means, a bath fitter cost is undoubtedly a valuable investment.
While it might be costly, it makes up with upgraded durability and a fantastic look for your bathroom. The best part is that it can be done in just two days, allowing you to use your bathtub much faster compared to traditional replacements.
If it fits your budget, a Bath Fitter is worth considering. It's a growingly popular process that can efficiently upgrade your bathroom and provide enhanced durability.
So, give it a second thought if you're looking to improve your bathroom's appearance and functionality.