Do you want to install a new shower in your bathroom but are confused about whether to go with a doorless design or a traditional shower? Doorless showers are in trend these days as they offer various benefits such as a modern look and easy access. Whatever your bathroom size, they can add a touch of style and comfort and give your bathroom an open look.
Unlike classic showers, they don't require a shower curtain or door and contain a graded floor for easy drainage. They do not have a bulky frame or door and hence create a seamless and sleek appearance.
They are also available in various styles, so you can choose the one that matches your personal preference. If you have a cluttered or small bathroom, you can maximize the available bathroom space with the help of doorless showers.
Give your bathroom a spa-like ambiance with these timeless doorless shower ideas.
Trendy Doorless Showers for a Relaxing Bathroom Environment
Let's take a look at 18 stunning doorless showers that can turn your bathroom chic from shabby due to their unique allure.
1. No Glass or Door Feminine Shower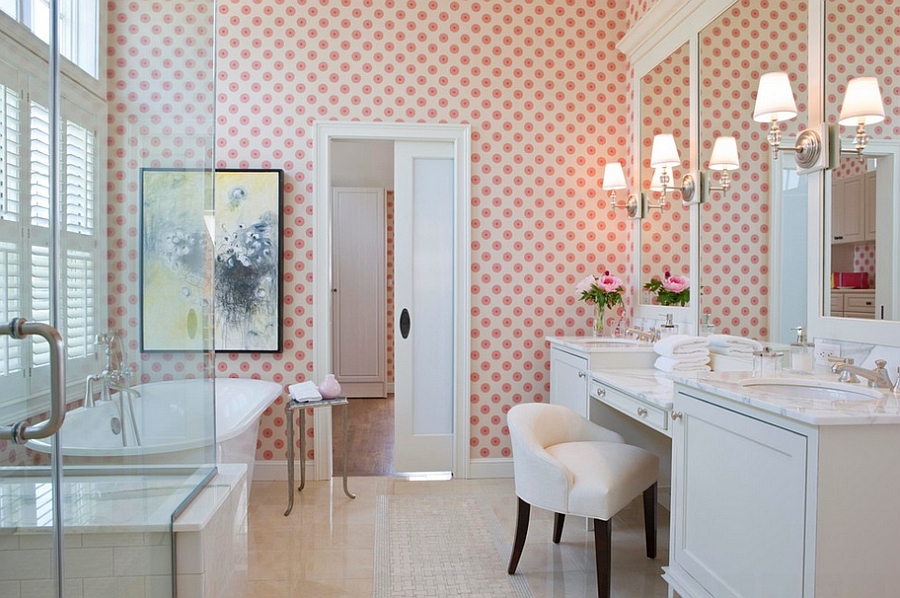 If you want to give your bathroom a feminine touch, opt for a shower that has no glass and door. Go for an oil-rubbed bronze ceiling-mounted doorless shower system that will provide you with a spa-like shower experience. This will create an elegant and airy aesthetic and give your bathroom an open look.
The absence of a glass door will also save you from the hassle of regular maintenance and cleaning, saving you precious time. While selecting the colors of floors and walls, you can go for soft pastels. Pink is the best feminine color, but you can also go for orange, yellow, green, or blue hues to make your bathroom look feminine. You can also add indoor plants to breathe life into your bathroom.
Don't go for cool white light, as it may look harsh; instead, opt for yellow light to give a calming and ethereal feel to your bathroom.
2. A Half Glass Wall Doorless Shower
If you want to make efficient use of your bathroom space, investing in the half-glass wall doorless shower can be the best option. A half-glass wall doorless shower will act as a subtle divider in your bathroom.
It will create a distinct shower area without a traditional door. It will also eliminate the need to maintain shower curtains, which collect mold and moisture over time. A glass divider blocking half of the shower space can make your bathroom look open and bright.
It utilizes half of your bathroom's wall while the remaining half is covered with glass. It takes up less space than glass shower doors and is one of the best choices for bathrooms with less floor square footage. Half-glass wall doorless showers are also very accessible.
Since there are no traditional doors, there are no obstructions or barriers when exiting or entering the shower.
3. Central Glass Dual Entry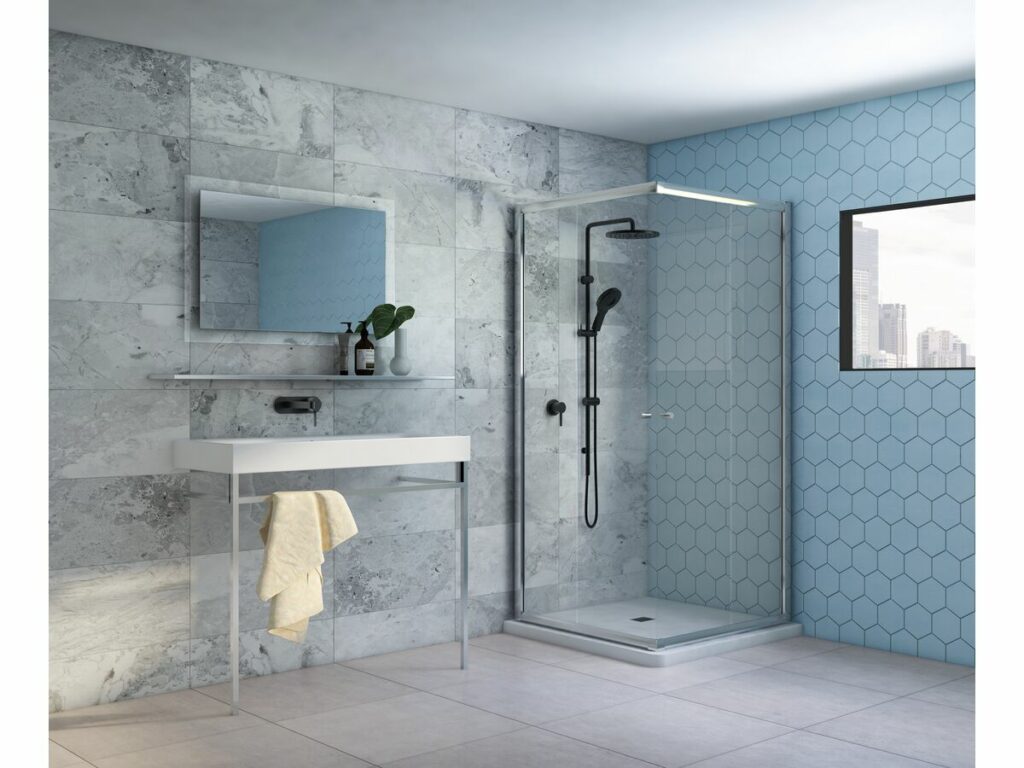 A central glass dual-entry shower can enhance the aesthetic and functionality of your bathroom. In this doorless shower design, a sheet glass wall is positioned in the middle portion of the shower's edge to create two entry points.
With dual entries, you can exit and enter your bathroom without any obstruction. This doorless shower design is especially useful for couples or families sharing the same bathroom as it offers each person their own designated entryway. The central placement of the shower will give you plenty of room to move about without bumping against other bathroom fittings.
Due to this seamless design element, your bathroom feels large, as opposed to several separate areas enclosed by shower doors and shower walls.
4. Compact Curved Doorless Shower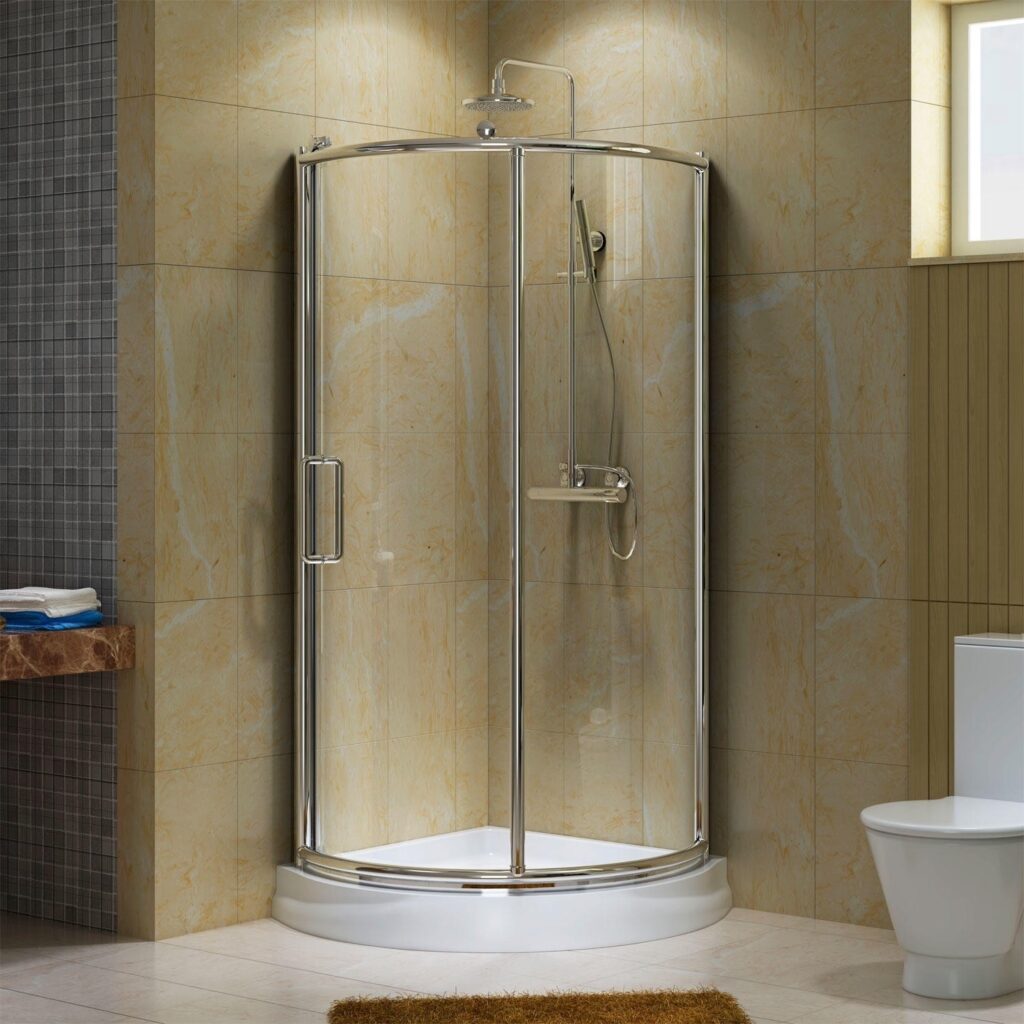 If your bathroom is cramped or short on square floor footage, a compact curved doorless shower can be your go-to choice. Its space-saving design will maximize the available space and create an open feel. By curving the doorless shower, you can also give an appealing look to your bathroom.
It also allows for a natural flow within your bathroom and is easier to clean than the traditional shower enclosures. It's recommended to curve the shower around the vessel sink's back to improve accessibility in your bathroom.
By curving the shower around the back of the vessel sink, you can have easy access to both the sink and the shower eliminating the need for excessive movement.
5. Doorless Shower with Tiny Tiles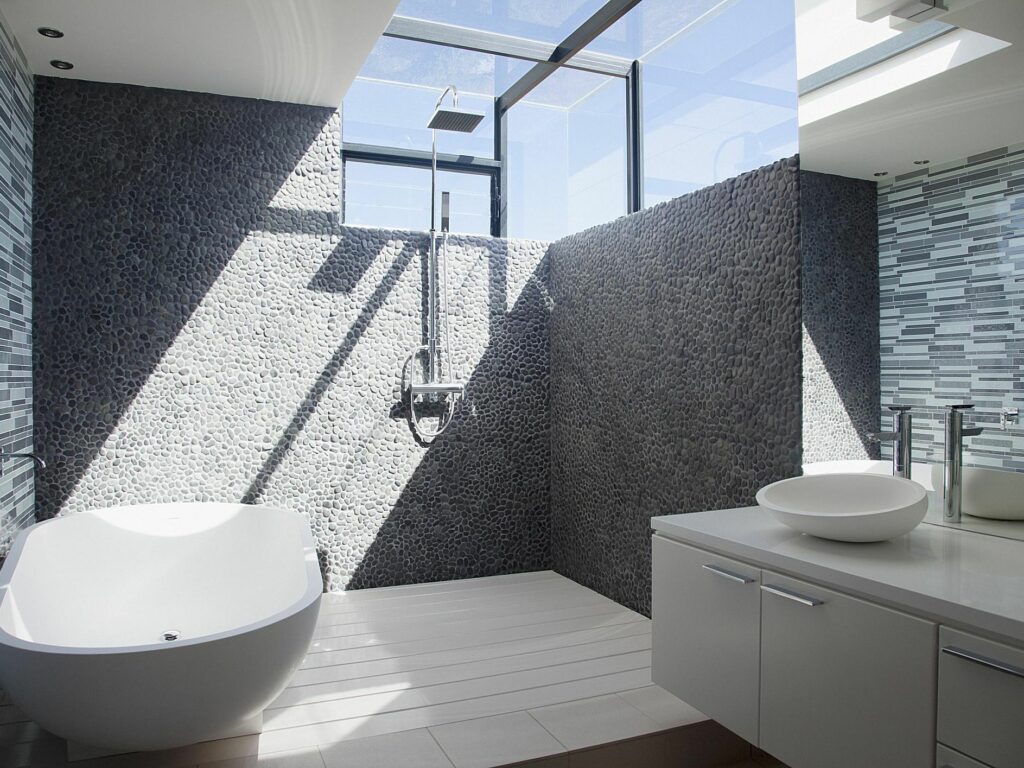 The walls covered in tiny tiles can look phenomenal in an open shower. The small size of the tiles and mosaic-like arrangements will add texture and depth to your shower area. You can also be a little more adventurous and mix up tile sizes and shapes to take the beauty of your bath space to the next level.
Use mini tiles on the walls and large tiles on the rest of the surfaces to create a fabulously textured look. You can choose from various arrangements and colors in different patterns to make your bath space stand out. In small bathrooms, the use of tiny tiles on the walls can create an illusion of more space.
The grout lines between the tiny tiles lead to less accumulation of soap residue, grime, and dirt. They also reduce the risk of slipping when the floor is wet.
6. White Retro Style Doorless Shower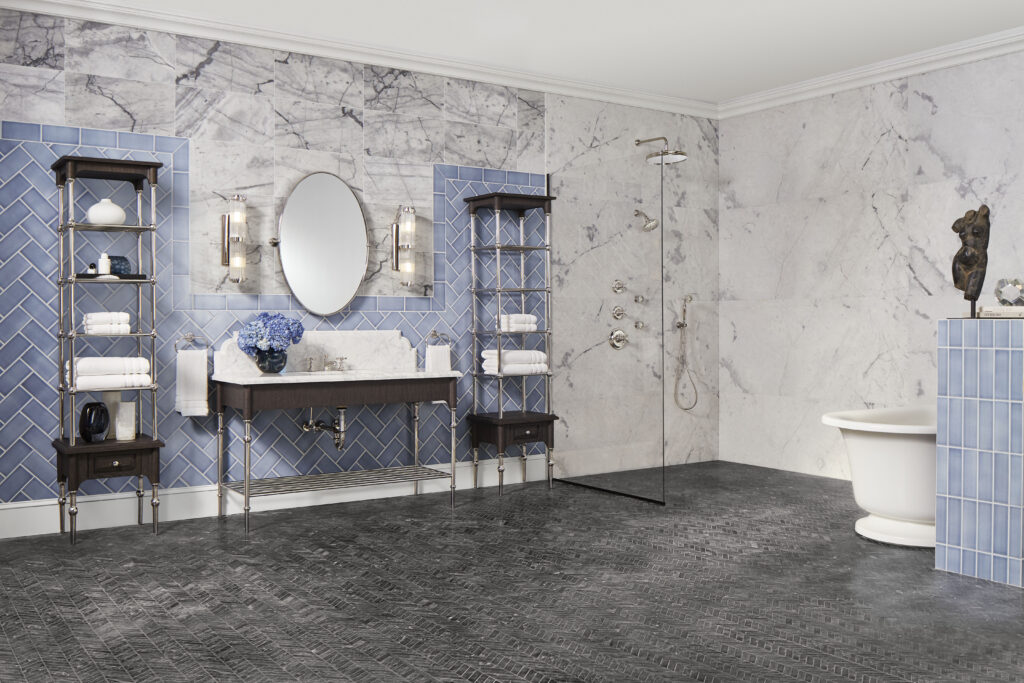 Give your bathroom a clean and simple look with the help of a white retro-style doorless shower. You can use a rectangular and square tiling arrangement to create a retro look in your shower area.
Mix in different tones of white to create a relaxed and natural look. Consider alternating between gloss and matte versions of the same tile to add interest to your shower area. This way, you can keep your bath space light-filled. These tile styles go well with both a neutral scheme and colorful accents.
Whether your bathroom has a traditional, modern, or contemporary design, a white retro-style doorless shower will complement the overall aesthetic of your space. Since white reflects light, it will give an open and airy look to your bathroom and make your bathing experience enjoyable.
7. Doorless Shower with Walls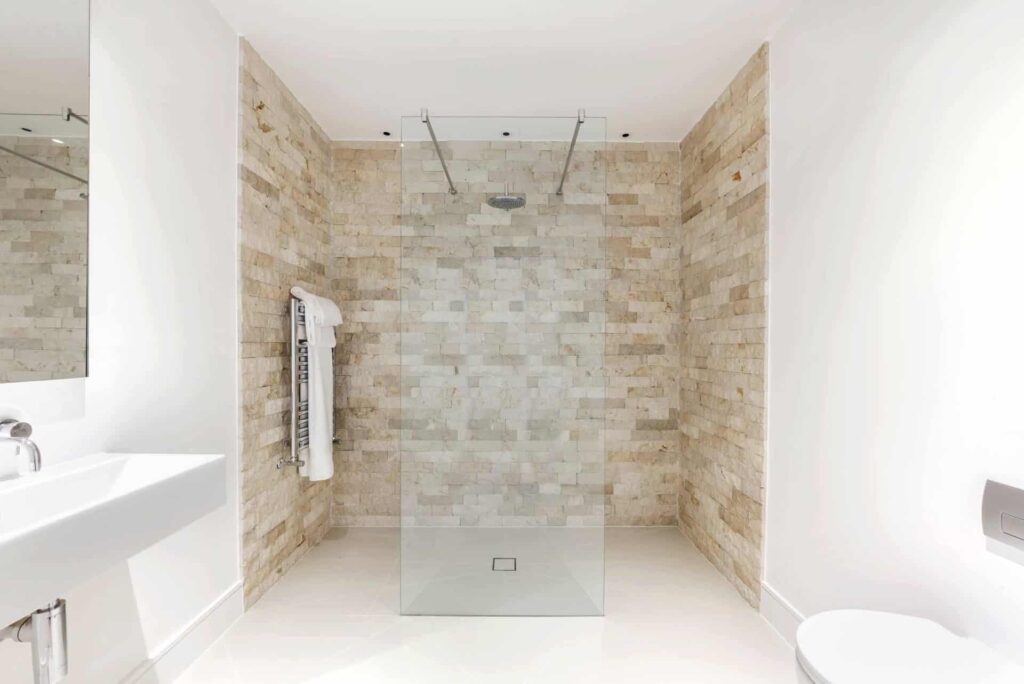 Having a doorless shower doesn't mean that your bath space needs to be wide open. You can ditch the door and preserve the other walls to add a sense of privacy to your bathroom. The walls can also be made of solid surfaces, tiles, and glass, as per your personal preference.
Position them in a way that they contain water within the shower space and give an open look to your bathroom. The walls can extend fully or partially around the shower, providing privacy without the traditional shower door.
Another idea is to create a statement wall to add drama to your shower area. You can decorate the statement wall with white and black floral accents so that it pops against the contrasting ceiling and the floor. Add brass wall fixtures to enhance the look of your bathroom.
8. Embrace Slanted Walls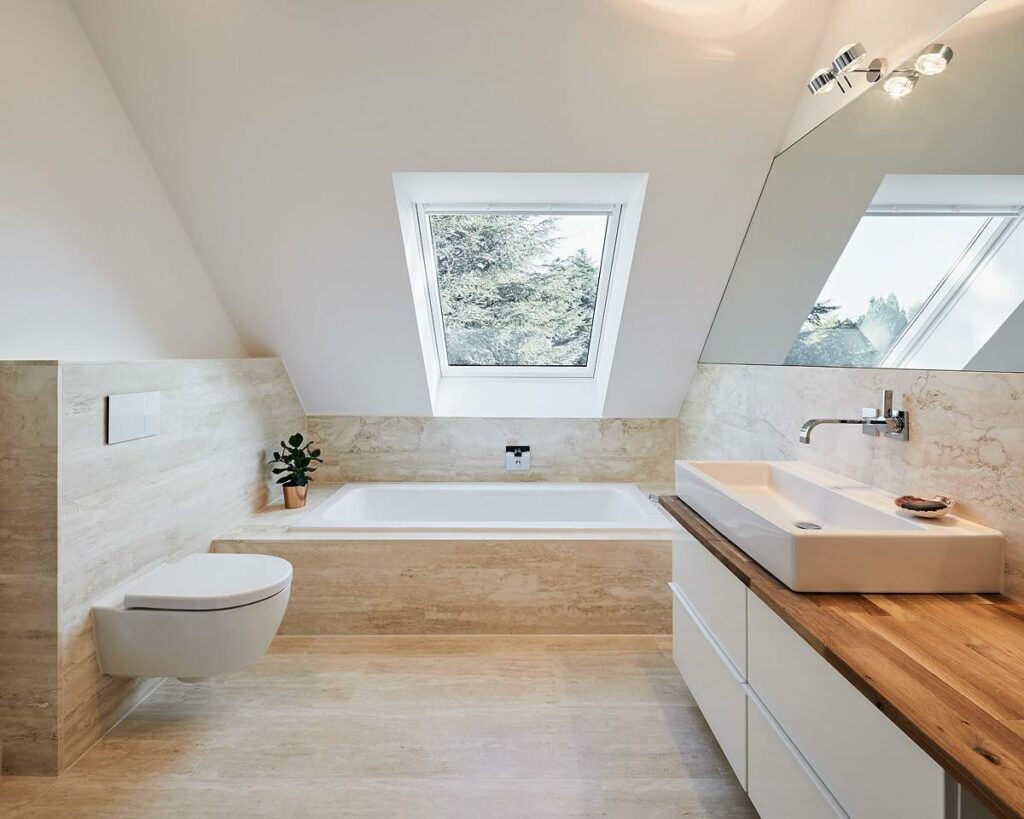 If you have slanted walls in your shower area, use them to your advantage by making them an integral part of the doorless shower design. Raised edges around the shower floor won't let the bathroom flood. You can accentuate the look of your doorless shower with slanted walls by using a simple shower head on the ceiling and traditional-style shower hardware.
You can cover the slanted wall at the same time as the ceiling and walls to make the walk-in shower look uniform and visually appealing. You can also put wallpaper on the slanted part of the wall to create a contrast against solid-colored walls.
Choose colors that either complement or contrast the existing wall color.
9. Beautify Your Open Shower with Excessive Use of Tiles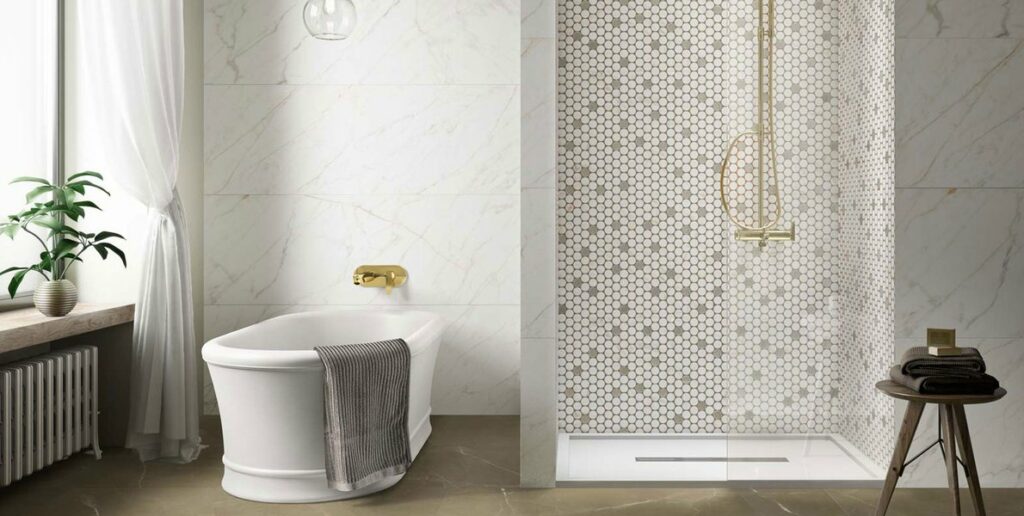 The bathroom is one of the most utilitarian spaces in your home, and it must look beautiful and classy. Show your love for tiles by using it everywhere in your open shower area. You can take inspiration from this open shower design wherein dark tiling lines the shower floors and walls right up to the ceiling.
If you're looking for an inviting and warm bathroom aesthetic, like the inside of a sauna, you can use wood-colored tiles everywhere possible in your shower area. If you want your doorless shower to exude a playful and cheerful vibe, opt for bold tiles.
You can also mix and match tile variations and colors to give a stunning look to your bathroom. Choose the patterns, colors, and textures in a way that they match the design scheme of your bathroom.
10. Eliminate the Barriers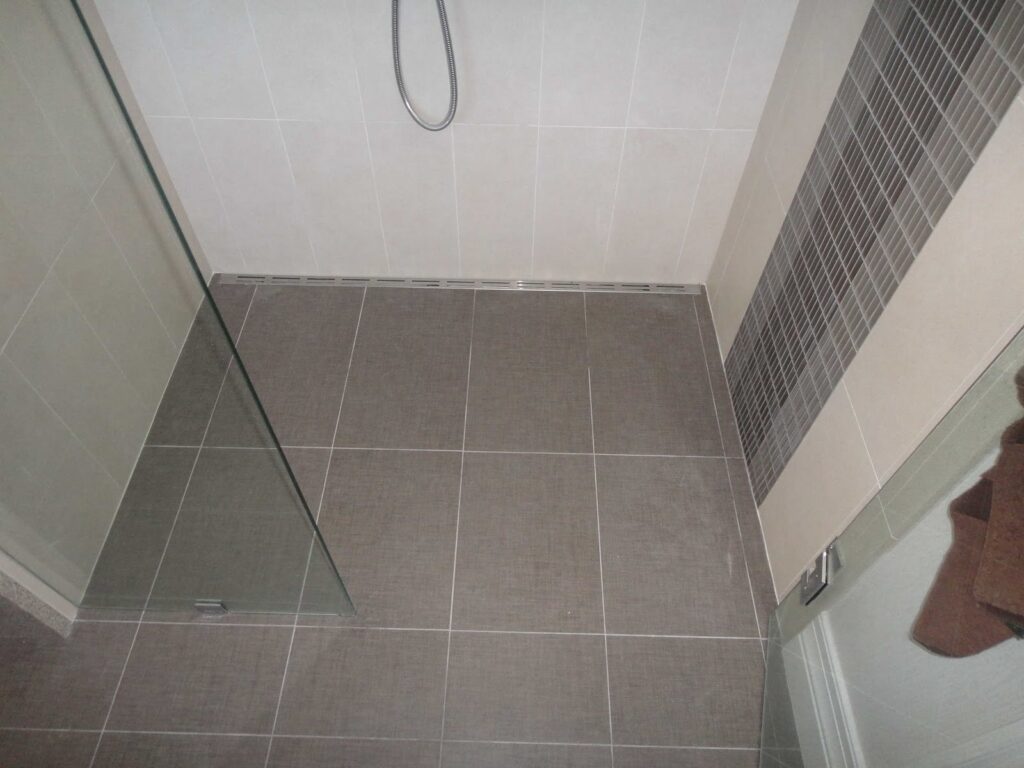 Transform your bath area into a relaxing haven by eliminating the barriers between the vanity, tub, and shower. Standard showers and bathtubs come with a four-inch step in the entrance making it difficult for those with mobility issues to access the shower area. You can remove the barrier or install a ramp that people can easily use without the need to step over anything.
Remove the vanity under the sink to sit underneath it comfortably and apply makeup and get ready. Incorporate features that prioritize safety, like strategically placed grab bars and non-slip flooring. This will give you a safe showering experience and make your entire bathroom feel like one.
11. Think Outside the Box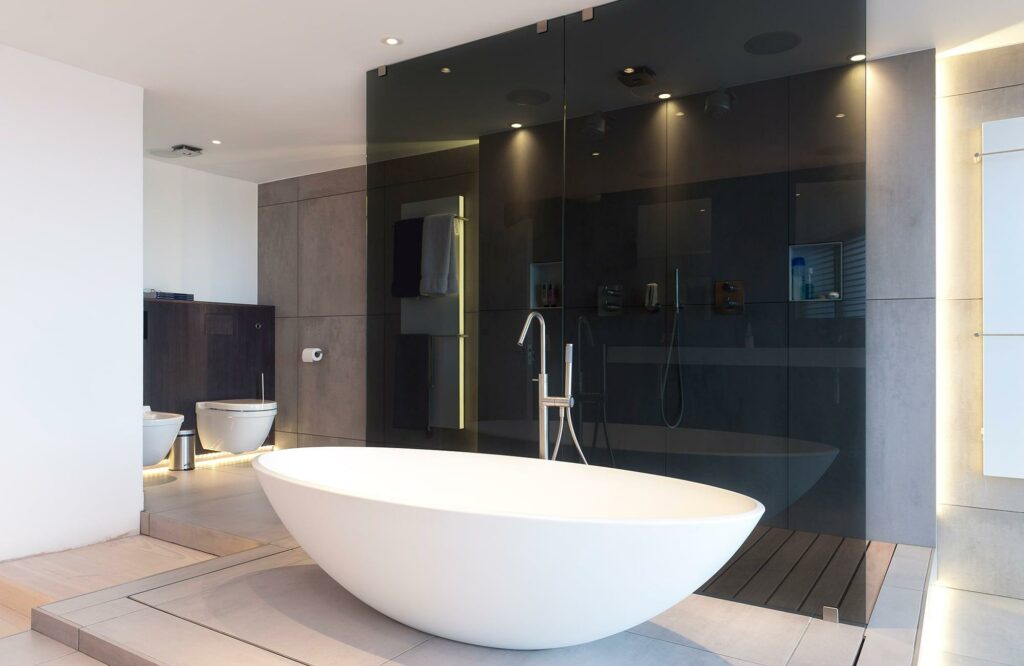 You can also experiment with the design and style of the tiles to get extraordinary results for your bathroom. Use neutral-colored, large tiles on the floor and the walls of the shower and create a contrast with a white and black honeycomb design on the back wall.
You can also use mosaic tiles to create beautiful stripes that contrast with the curves of the bathroom. If you have a large bathroom, you can install a large walk-in shower. It will open up your bathroom and highlight its grandness and luxury. You can also install a large bench in the shower area to prevent it from feeling barren.
12. Spanish Tile Stucco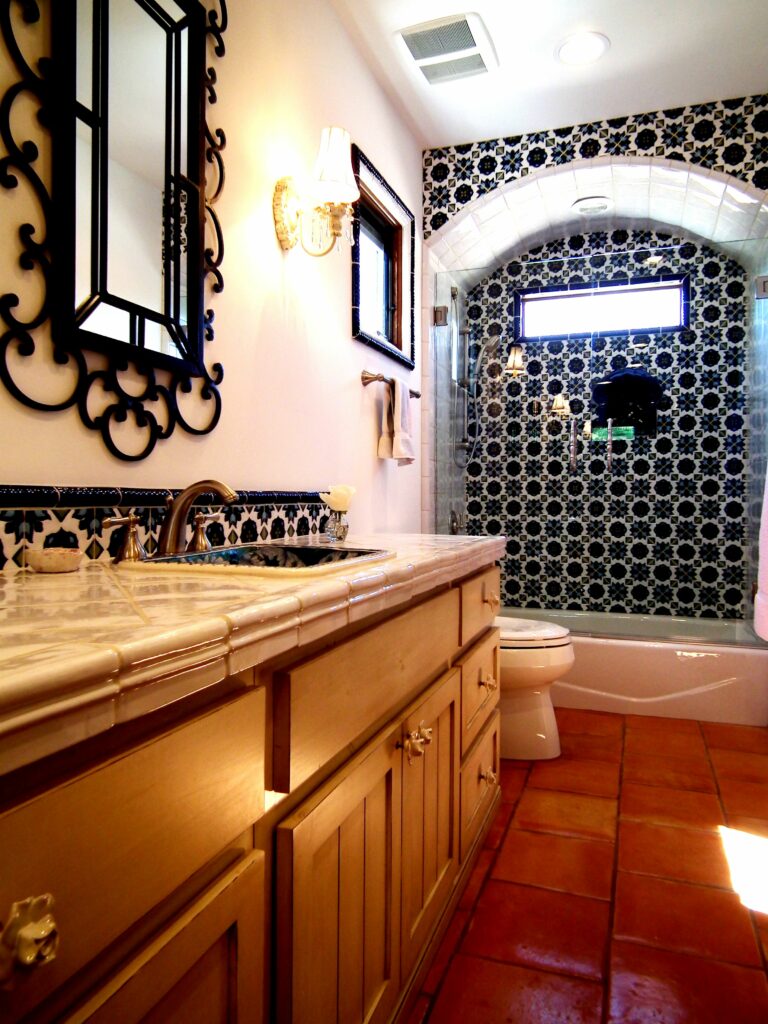 The bold use of color is the highlight of the Spanish-style doorless shower design. By incorporating Spanish tile into the shower walls or floor, you can add flair to your shower area with minimal fuss. Use matte finish stucco tiles on the floor to add a breathing character to your shower area. You can also choose hand-painted Talavera tile for wall tile or floor accents.
The brass faucet and white walls can be used to bring your shower area back to its traditional roots. The full-height wall mirror can be used to add depth to the bathroom and enhance its modern appeal.
Full-wall murals or mosaic-style backsplashes may artfully display seaside scenes and abstract patterns in vibrant colors. This can work in both smaller or larger bathroom spaces making the shower area stand out.
13. Varied Shades of White and Beige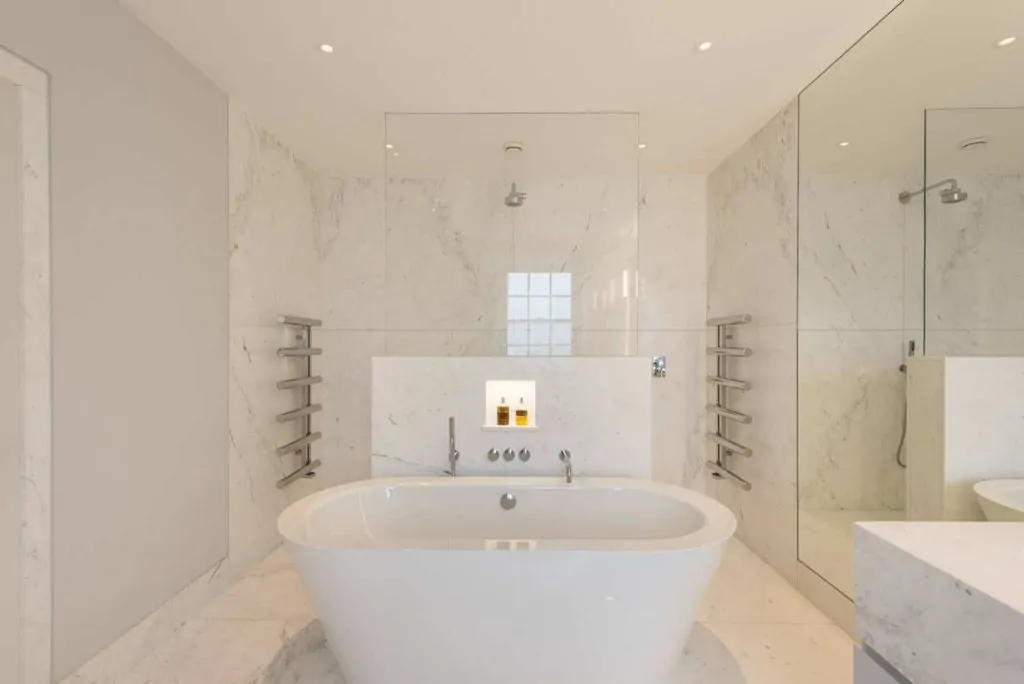 Bring the luxurious ambiance of a high-end hotel into your shower space by incorporating varied shades of white and beige in your bath space. By adding touches of white to a beige doorless shower, you can give visual relief to those who use your bathroom.
With the hanging globe light and elevated wood slats, you can fabricate the feeling of a separate space without any additional walls or doors. Place the bathtub and the shower side-by-side to unify the bathing experience.
Bring an artisanal vibe into your beige and white bathroom with a black oak vanity featuring hardware in a brass finish. The combination of beiges and whites gives an elegant and welcoming look to your shower and makes your bathing experience more enjoyable.
14. Branched Shower Design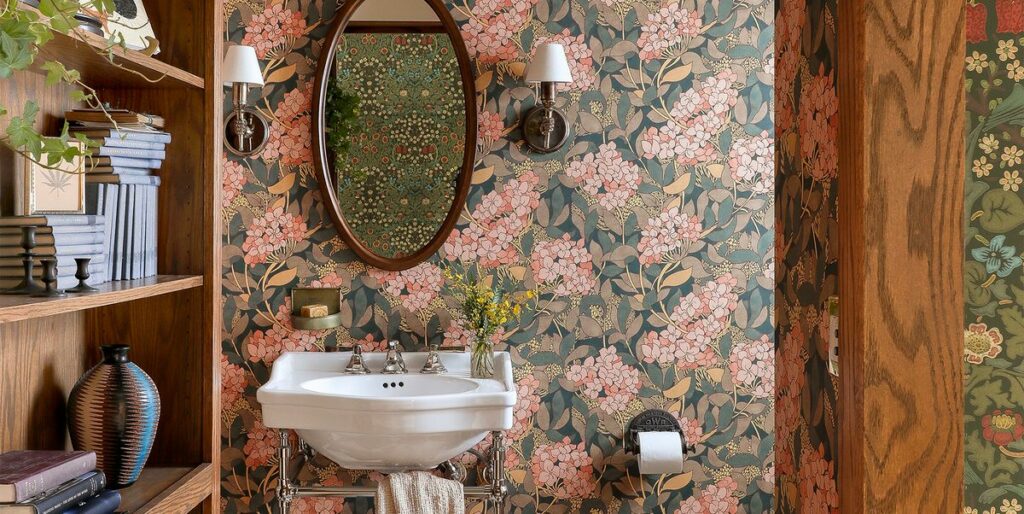 A branched doorless shower design is perfect for people who want their shower and toilet area to be separate. This bathroom design has two branches that prevent shower spray over the toilet.
This way, your toilet area will not get wet when you're taking a shower. The branched design enhances cleanliness and allows two people to use the shower area and toilet at the same time with utmost privacy. The branched shower design should be connected visually to the rest of the bathroom.
You can install partial glass panels or partitions to avoid water splashes. Ensure that the color and pattern of the tile and decor you use in both areas are the same so that your bath space and toilet look unitary from start to finish.
15. A Marble-Tiled Doorless Shower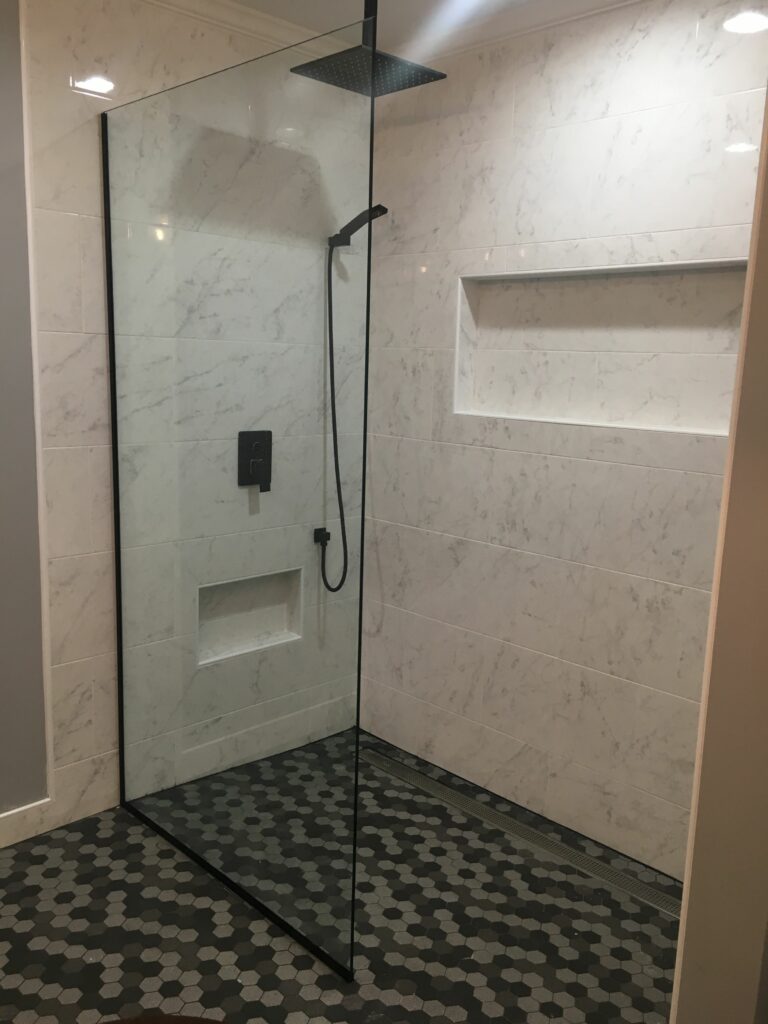 If you want to transform your doorless shower wall into the centerpiece of your bathroom, marble tiles can be the ideal choice. Marble tile is resistant to staining, spillage, and water damage making it the perfect option for a shower environment. You can use marble tiles in any variation, pattern, or color to line the walls of your shower. Marble tiles come in various shapes, from basket weave to mosaic, chevron to arabesque, and herringbone to hexagon.
Get creative with their shapes and patterns to elevate the style of your shower space. In a small size doorless shower, extend the floor marble tile up the shower wall to create the feeling of a larger space.
The elegance of marble tiles will turn even your ordinary doorless shower into an extraordinary one.
16. Wall Mounted Light Fixture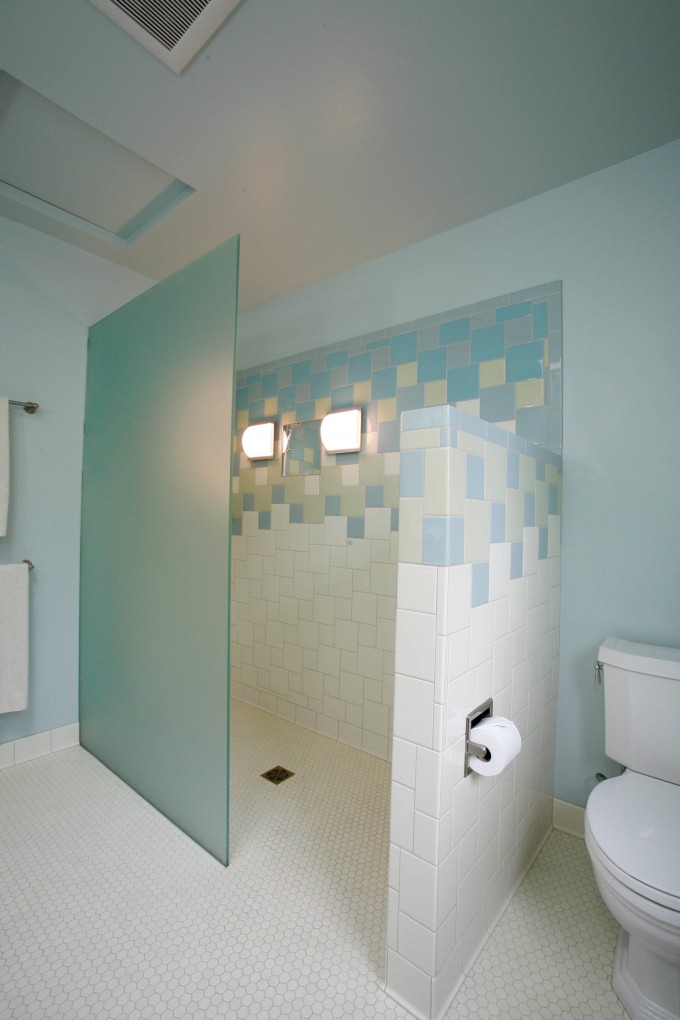 Lighting plays an important role in enhancing the style quotient of your shower area. But that doesn't mean you need to buy expensive and complicated lighting fixtures to give a high-end look to your shower area. Install a wall-mounted light fixture near your mirror to ensure that there is proper lighting to get ready for the day.
You can also buy a uniquely shaped light fixture to give an artistic look to your shower area.
Choose energy-efficient light fixtures, like CFL or LED bulbs, to reduce utility costs and minimize energy consumption. You can buy the wall-mounted light fixtures in your favorite design and style and turn the vision of your dream doorless shower into reality.
17. Doorless Shower for Couples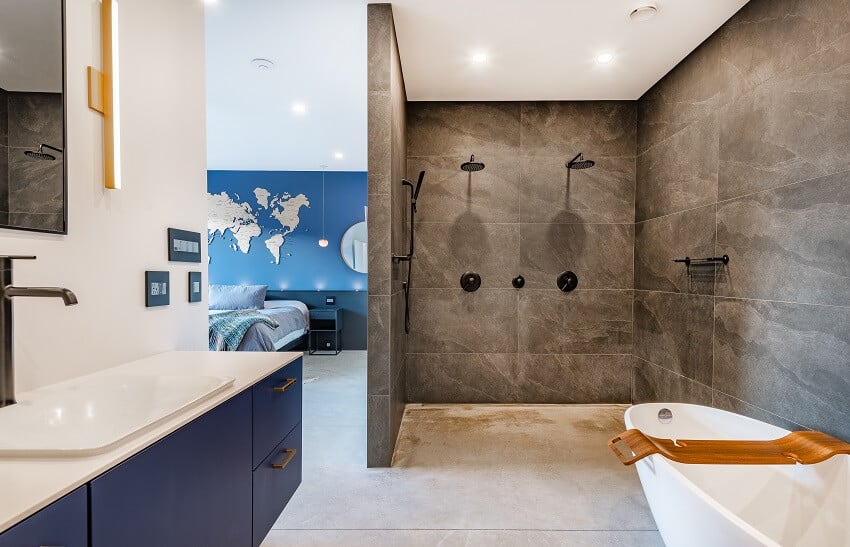 A bathroom that has been designed with one person in mind can be difficult to access for a couple. It can be frustrating to wait for your turn at the bathroom door while your partner finishes their morning routine. To save yourself from this hassle, opt for a doorless shower for couples that are designed keeping in mind the need of two people.
Couples' doorless showers should be designed in a way that allows two people to move through the space comfortably. There should also be dedicated areas to get ready. With one overhead rainfall shower fixture and two individual showerheads, you and your partner can relax and enjoy personal intimacy.
To elevate the look of the shower area, you can use white subway tiles on the walls and pebble tile on the floor.
18. Bench with Storage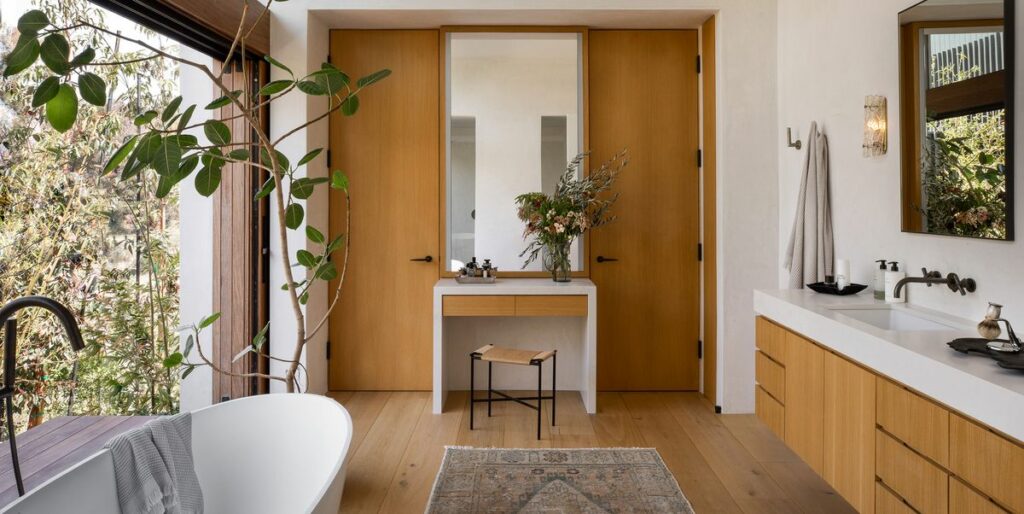 A bench with storage by the half wall of your doorless shower can simplify your morning ritual. Whether you have to shave, get ready, or wax, a bench with storage can be the perfect addition to your shower area.
A seat with bottom shelves will make it easier for you to store your daily bath essentials without taking up the restricted floor space. It will provide access to toiletries and bathing essentials and eliminate the need to step out of the shower to get the required items.
Try to place the bench with storage near the window so that you can enjoy the outdoor views while carrying out your morning rituals. When considering the bench, choose one that is easy to clean and suitable for wet environments. Also, ensure that the design of the bench aligns with the decor and color scheme of your shower area.
Conclusion
Doorless showers have become the number one choice for bathrooms these days. They look modern and cool and are a welcome addition to any shower area. By removing the shower door, you can create a transition between your shower and the rest of your bathroom.
Whether you want to create a spa-like sanctuary or desire to make maximum use of your bathroom space, the doorless showers can be a perfect choice. If you need some inspiration for the doorless shower design, you can check out the above-mentioned ideas that will make your shower area more eye-catchy and welcoming.
Say goodbye to the worn-out shower curtains and embrace the idea of having a doorless shower.