Paint gives a lease of new life to every surface it touches. So it is no wonder that instead of buying new furniture, we often paint our old ones. It helps change the look of the entire house without breaking the bank. But to do so, the furniture should be in good shape and must match your new vision.
Tables can be found in every room of a house, and their timeless structure remains beautiful for generations. But with time, their finishes fade or get scratched, and they lose their luster. Painting tables is, therefore, a great way to transform it into something new and exciting.
And here are some examples of how this change is worth the effort.
1. Full Black Furniture
Black is a timeless color that enhances everything it touches. In the case of home decor, black is beloved as it brings a sense of stateliness to the house. But buying black furniture can be a costly affair. So why not repurpose your old furniture and get to painting tables black? It will save you a ton of money and turn your old wooden tables brand new.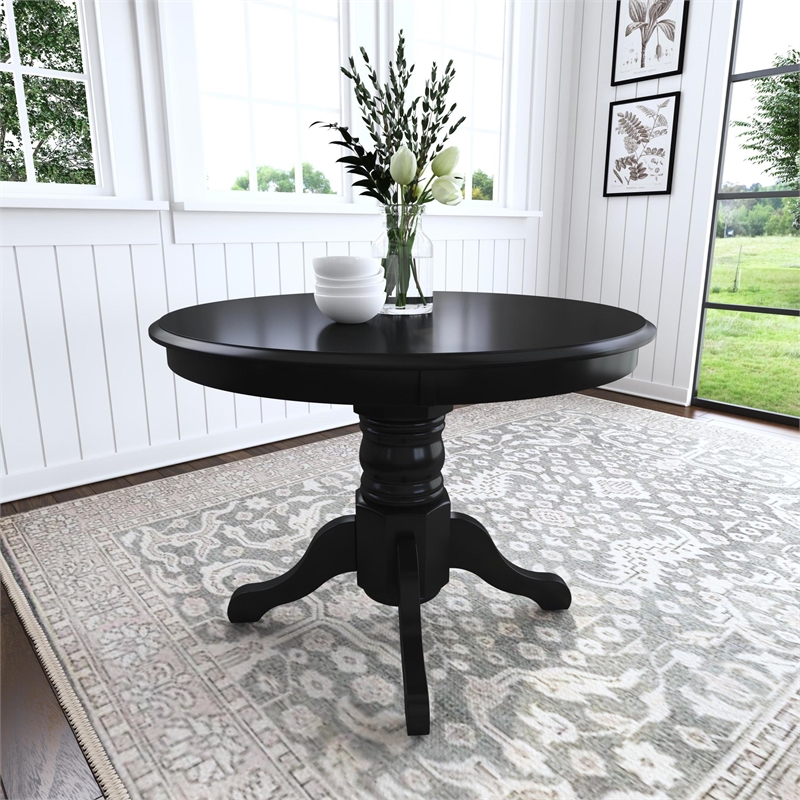 2. Retouched Coffee Table
Sometimes old furniture needs a little bit of magic to become beautiful again. While antique wood has its particular charm, a coat of paint can never look shabby. And you can easily turn your used-up coffee tables into new and flawless ones with a little bit of hard work. By painting and repairing the legs of this dual-toned table, it regains its original stature.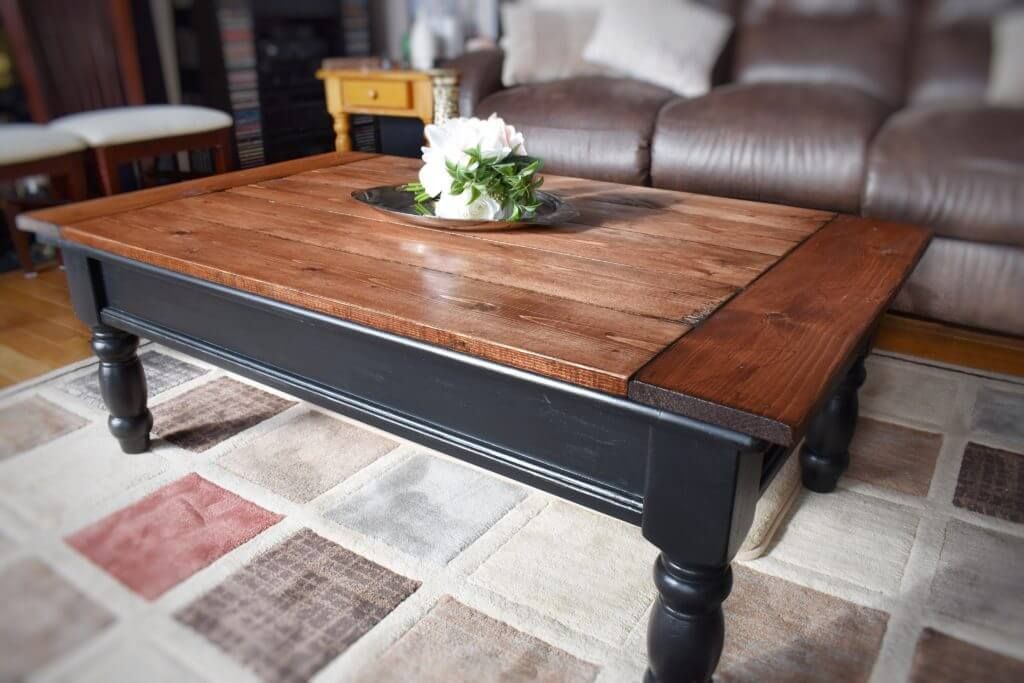 In some cases, sanding a table to reveal the grain and texture is not possible. For those that lack the solid wood top, sanding will only scratch the surface. Instead, try painting tables with a wood stain product that will show off the grain. This works wonders over raw wood surfaces as well as paint.
3. Flowers Galore
Painting tables give you many opportunities to change the way they look completely. The ideas you can find around the internet are many, and all you need are some products. And if you are tired of furniture that looks and feels the same, jazz them up with some image transfer. It will make the table look distinguished and one of a kind.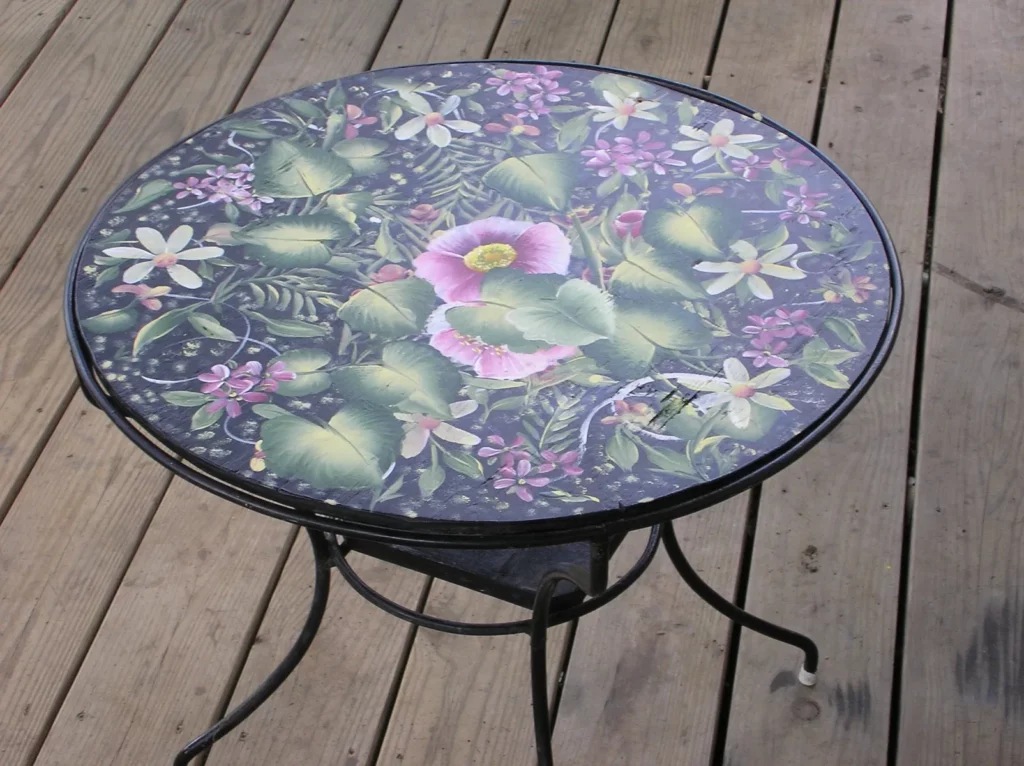 In this particular table, we see that the top is colored black and painted with a beautiful floral design. The flat wooden disk with metal claws had seen some wear and tear in its day. But with the help of some floral image transfer, it looks brand new.
4. Jewel Toned
Painting furniture allows you to portray your individuality through them. The colors and techniques all depend on individual choices. However, it would indeed be a boring world if every house looked the same. So, to bring a breath of fresh air into your home, do not choose regular browns and whites.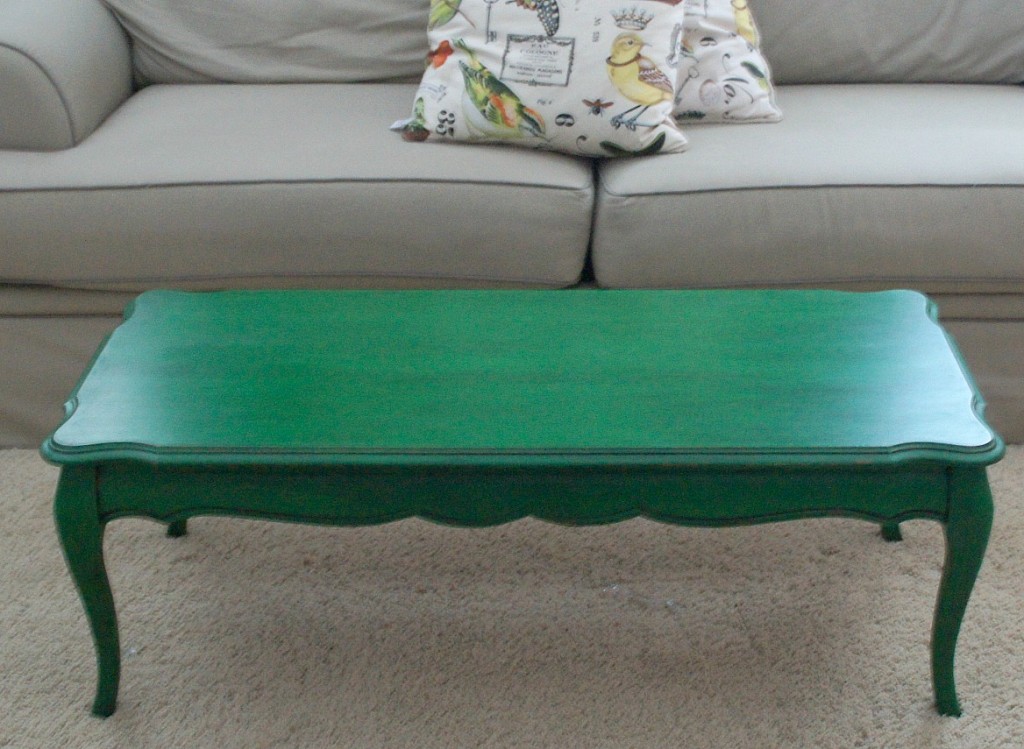 To convert your ordinary furniture into something more special, you will need vivid colors. Rich jewel tones like ruby or emerald make a statement at every turn and will utterly transform your table. But before you get to painting tables, remember to sand them down perfectly for a smooth coat. A few coats of primer are also necessary for the color to take hold.
5. New End Tables
If you don't want to start a grand project for your first time painting tables, choose something small. End tables are usually considered boring, as they are tucked away beside larger pieces of furniture. But they are perfect for a little project like this. Not to mention painting it will increase its overall appeal.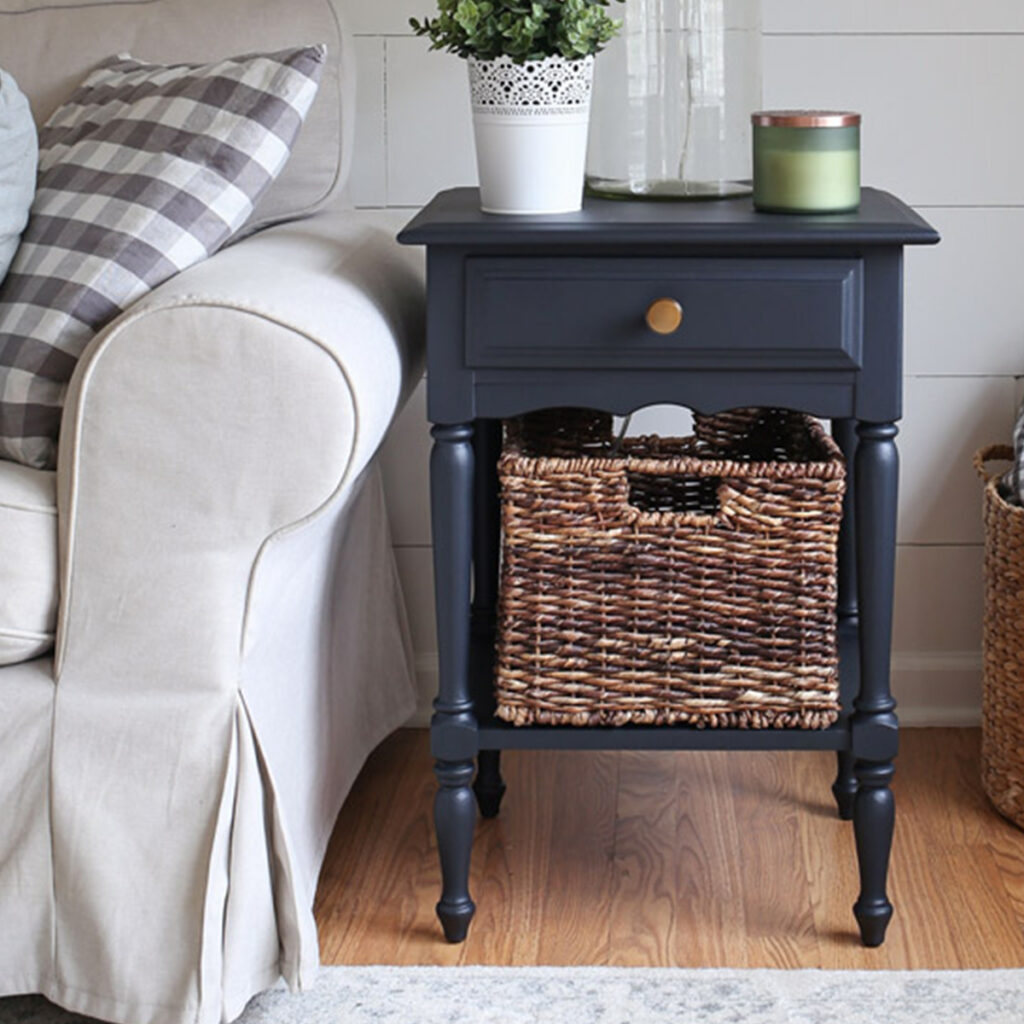 In the case of this end table, we see that the color chosen is a unique shade. It doesn't make the structure stand out, rather it is used as an accent for the furniture around it. The brass pulls of the drawer also change the appearance of the set, making it look edgy. For a more vintage look, choose some decorative hardware pulls.
6. Farmhouse Coffee Table
Farmhouse-style furniture is not that hard to find. The trick to saving money while changing your home to a farmhouse decor is repurposing. It will help you utilize your old furniture, and in the end, you will have brand new ones as well. Painting tables off-white will help you keep its rustic tham that is the essence of farmhouse style.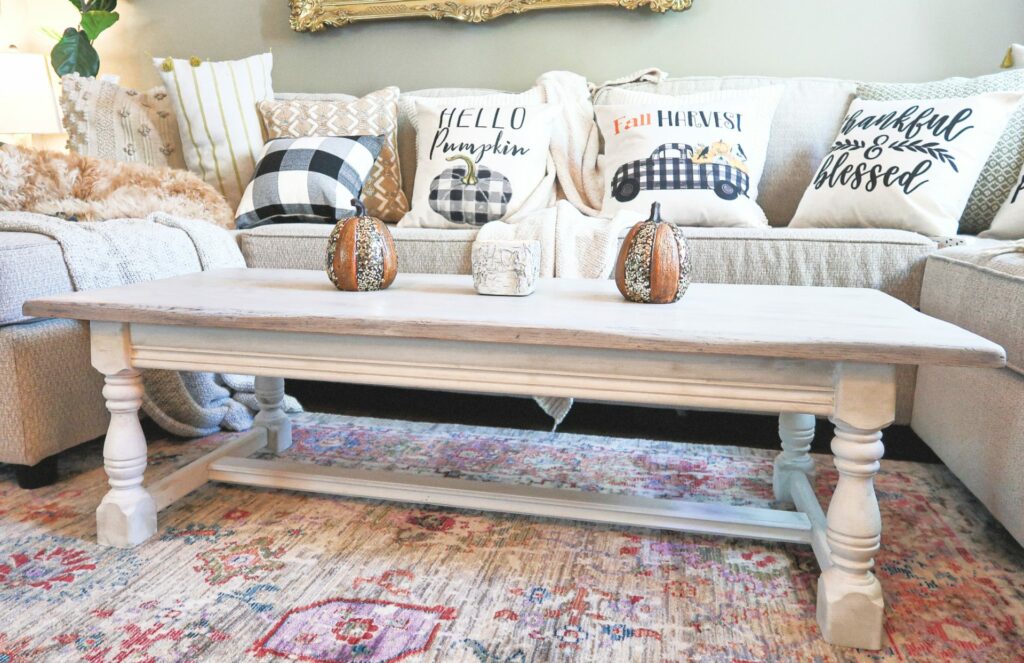 While embracing rural aesthetics, your table should have the original grain intact. They will make it look lived-in and authentic. Sanding the tabletop as well as the rest of the body before staining it will give the finish a smooth surface. The off-white paint will also need a good primer, one that blocks stains or bleed-throughs for the perfect result.
7. Mid-Century Modern Tables
The mid-century modern style of decor focuses less on the fuss and ornamental side of homes. Instead, the clean lines and organic shapes take center stage. However, we should remember that not all modern furniture needs to be newly bought. Tables, in general, have a classic shape that lasts decades. So all you need is a fresh paint job, and you can have your modern table ready.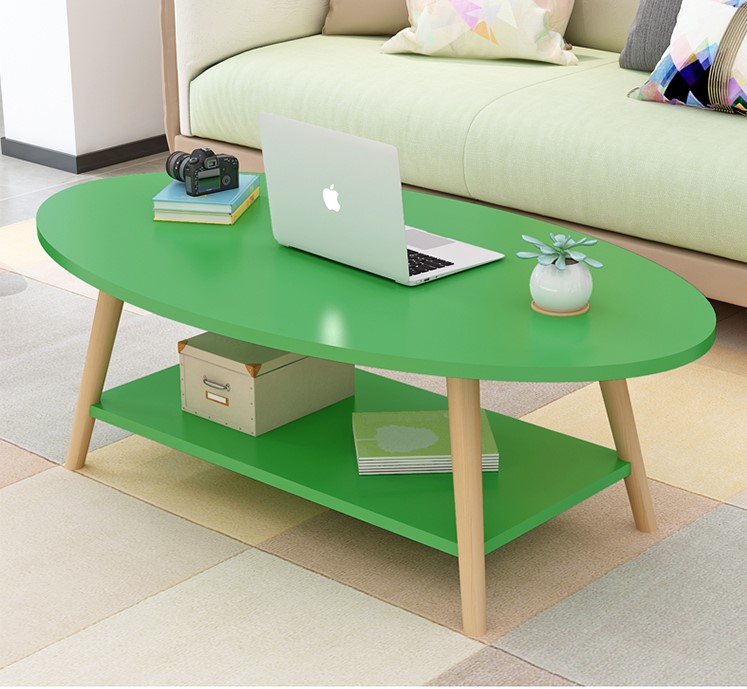 Painting tables will help you transform your generic table into a work of modern art. Wooden tables are features of a farmhouse style, but if you color the tabletop, you get something fresh. The vivid green oval pairs nicely with the bare wooden legs, making it stand apart from the other furniture.
8. Little Edgy
Wooden furniture seldom comes in colors apart from neutrals. Even black is a fairly new trend in home decor. So you can imagine how rare, not to mention costly, a colorful table would be. But you can have one just like this with some paint and hard work. This quirky ultra modern table is sure to fit any color and decor scheme of most homes.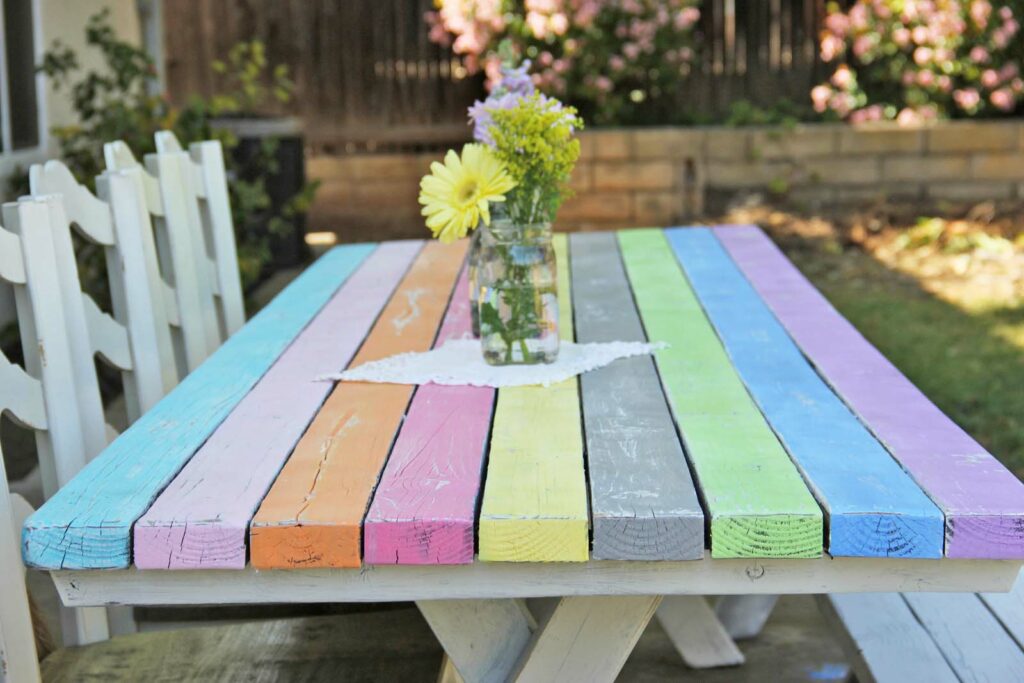 To represent all the colors of the rainbow, you will need a table made of planks. You can refurbish old furniture to make it or look for a similar one in thrift stores. The colors brighten up each plank, so make sure to stain within the lines while painting. But painting tables like this is mostly about having fun creating.
9. Overlay of Colors
A single-color table may seem like no fun for those who look for adventure in every step. And as long as beauty lies in the eyes of the beholder, you can have what you want in your home. One way to jazz up your table while painting it is to make it two-toned. It will have none of the symmetry but all the beauty of a colorful table.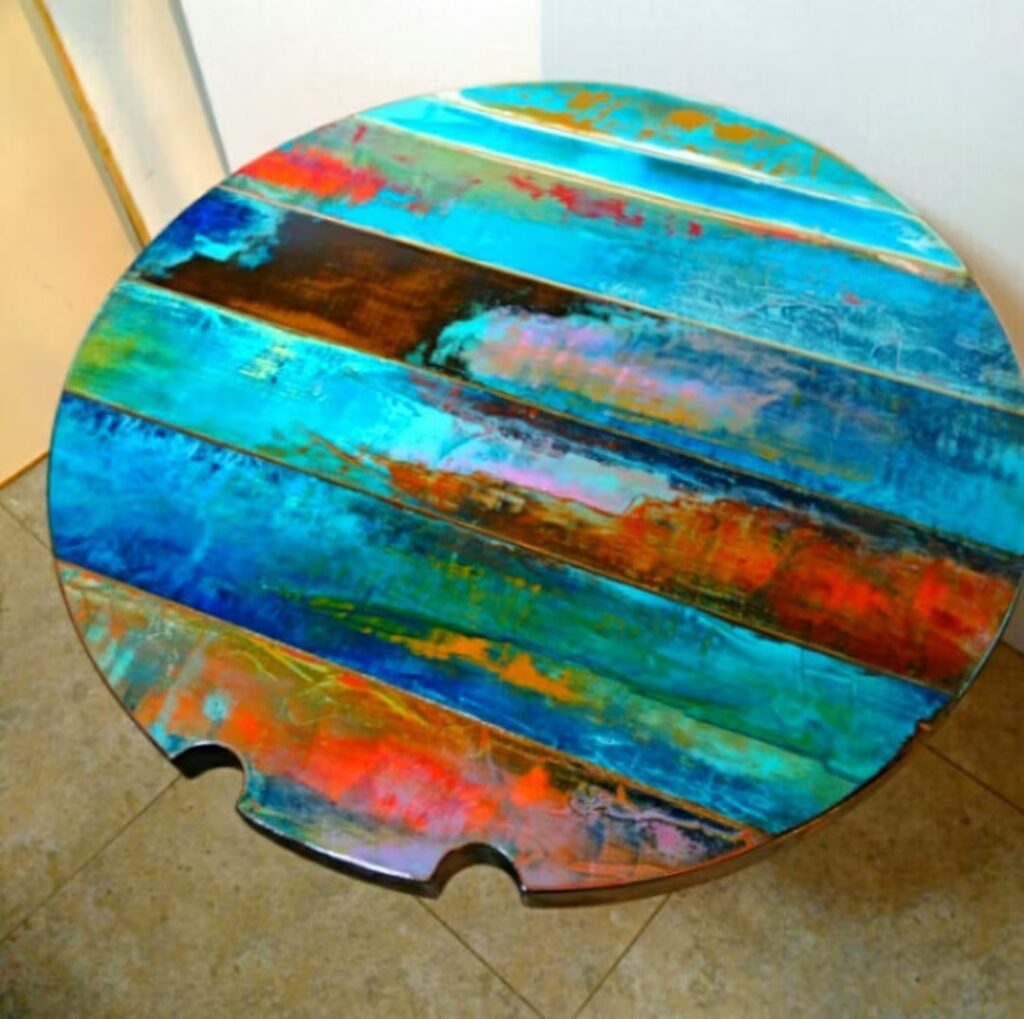 So when you start painting tables for your home, get a bright and saturated color for the undercoat. This will go on first, after which you have to add the brush or wash the coat. The two colors can both be bright, or you can mute the top coat for contrast. But the result is sure to look smashing.
10. Pop of Decor
We have discussed earlier the benefit of adding a floral image transfer to a normal wooden table to spice it up. But if you are looking for something unique, there are many kinds of image transfer sheets available online. For example, a round table with a vintage clock design on top makes for steampunk decor.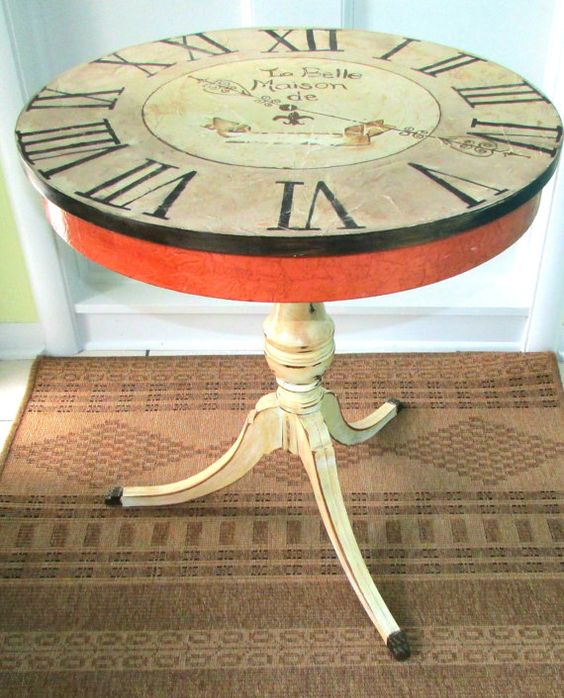 You can also add little splashes of decor to a big table to give it more character. A set of poppies at the edge of a white table will be a conversation piece for all. You can draw it by hand or use stencils and image transfers for a perfect outcome.
11. Detailed Trim
Modern furniture lacks artistic details and ornaments, which is the very essence of antique furniture. But these little trims showcase the effort the maker took in creating the delicate wooden tables. Therefore, old furniture is prized above all else. However, as time goes by, the sheen of those finishes is gone; all it is left is a dull piece. But they are often restored by paying special tribute to the trims.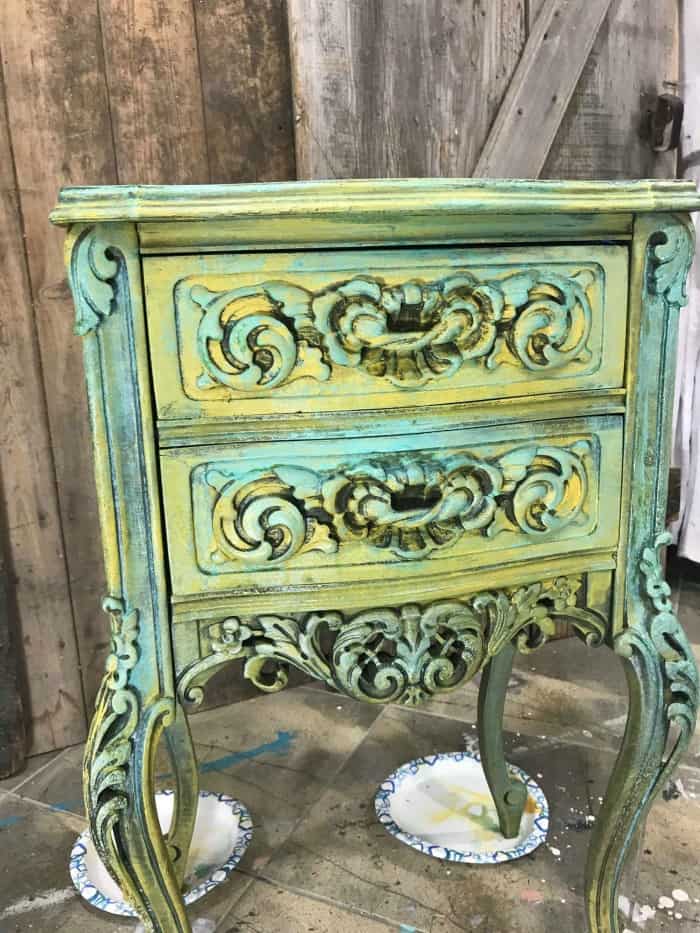 Thus, when you are painting tables that are old and ornate, remember to pay special attention to the details. The beautiful lines of an end table like this will often disappear under a full coat. But by highlighting the woodwork, the table is taken to a luxurious level.
12. Distressed Look
Another way to jazz up plain furniture and give them an antique look is by distressing the finish. It will give the piece a worn-out patina that is only seen in much coveted vintage furniture. This method of painting furniture may look simple, but it is carefully thought out and executed. The staining and aging process takes some time and a few mistakes to master.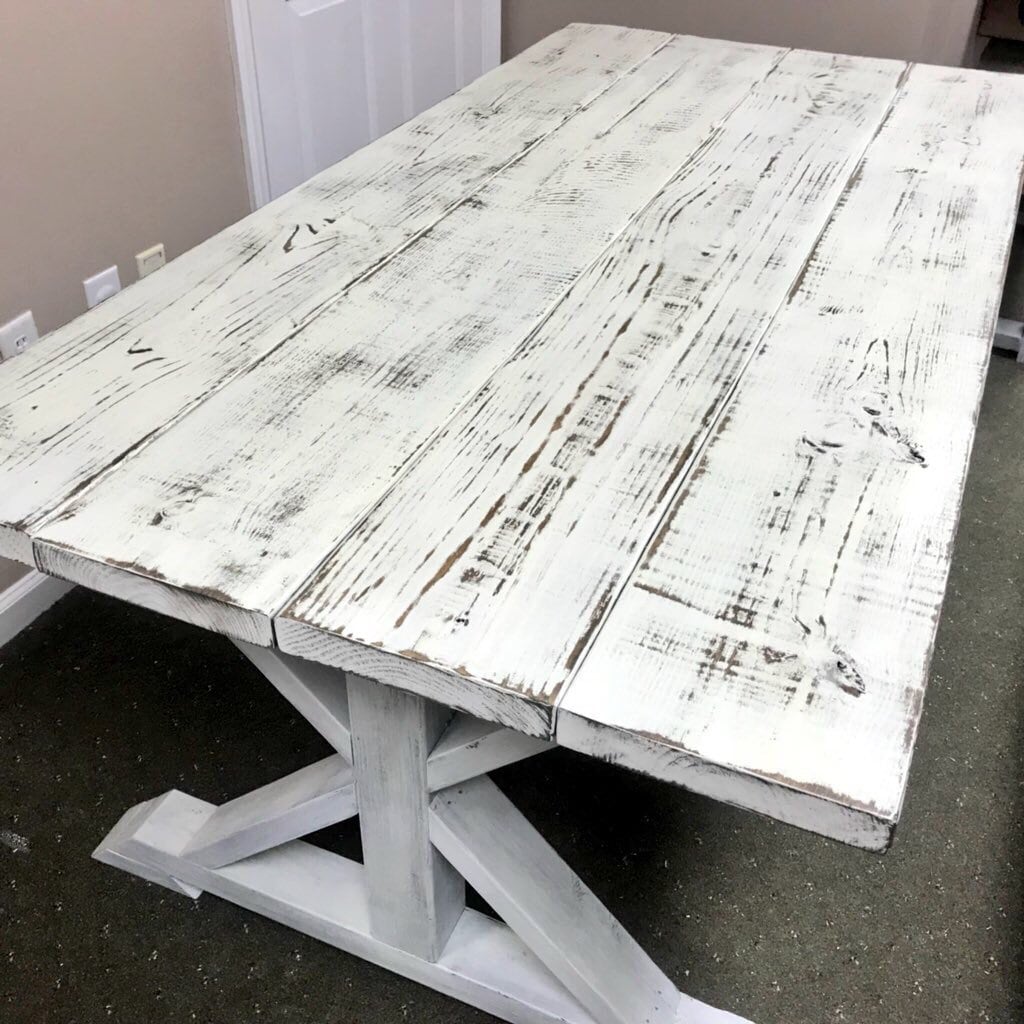 The key aspect is to stain the grain of the wood well before applying the coat of paint. The paint is then chipped away with sandpaper and steel wool to make it look worn out. The resulting table will look wonderful beside old wire chairs.
13. Paint it Red
Red furniture is a bold choice that many do not make simply because it's too bold. However, the result is too stunning not to consider even once. The color is known for its vibrancy and brings life to an otherwise bland room. You can even use a red side table to provide accent colors to a neutral room, making it come alive. And unless you want to spend thousands, consider painting tables instead of buying.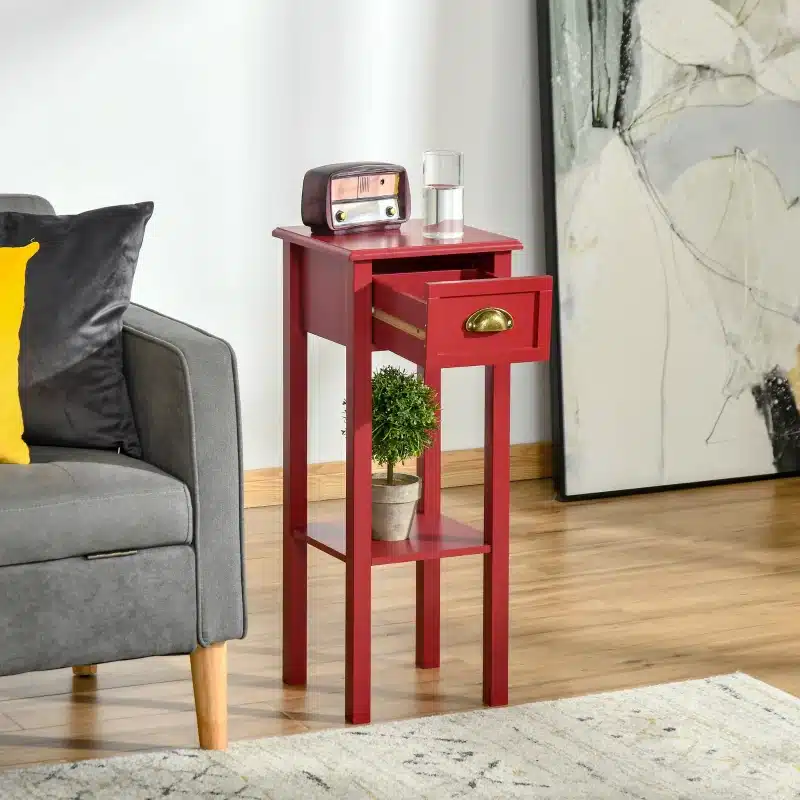 Instead of chalk paints, you can use enamel paint to achieve a vivid red that shines bright. All you will need to do is prep the table beforehand, then put on a few coats of primer. Then put on the enamel paint in one coat, but remember to make the coat thick.
14. Whitewashed Wood
Whitewashed wooden furniture has a different look than other painted furniture, and that's what makes it special. But the trick to the perfect whitewash finish would be painting raw wood. So before painting tables with whitewash, strip off any existing finish like paint, stain, or varnish. Using sandpaper works fine in most cases, but for a thorough cleaning, use a power sander.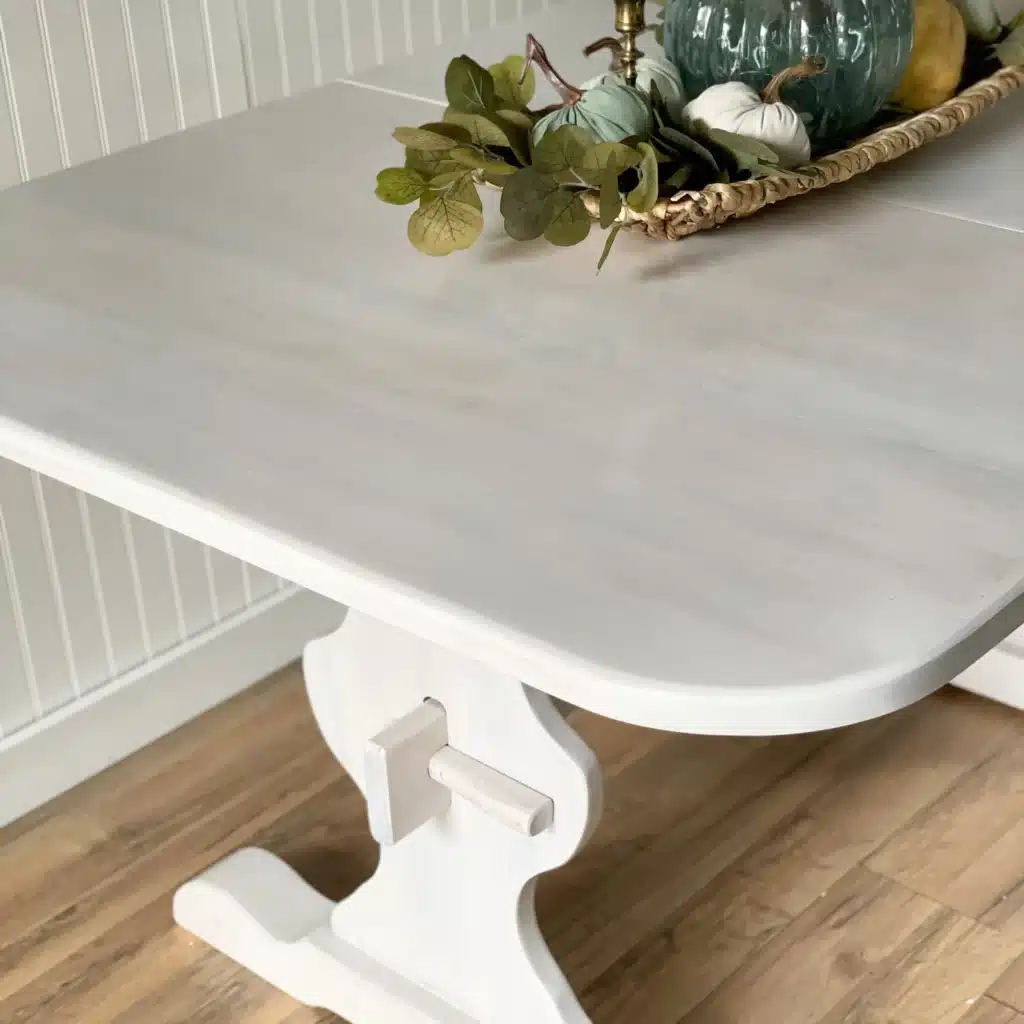 The bare wood will soak up the wash easily and give the furniture the desired weathered look. It works somewhat like a white wood stain, but you can control how stained you want the furniture to look. The darkness of the wash will depend on the consistency of the mixture.
15. Saltwash Textures
Painting on furniture to give it a new look works wonders; what about when the paint offers textures? The method of adding texture to your paint is incredibly simple, but the results are highly satisfactory. The two main items you would need for this are salt wash texture paint additive and sand texture paint. Apart from these, your painting journey would be quite straightforward.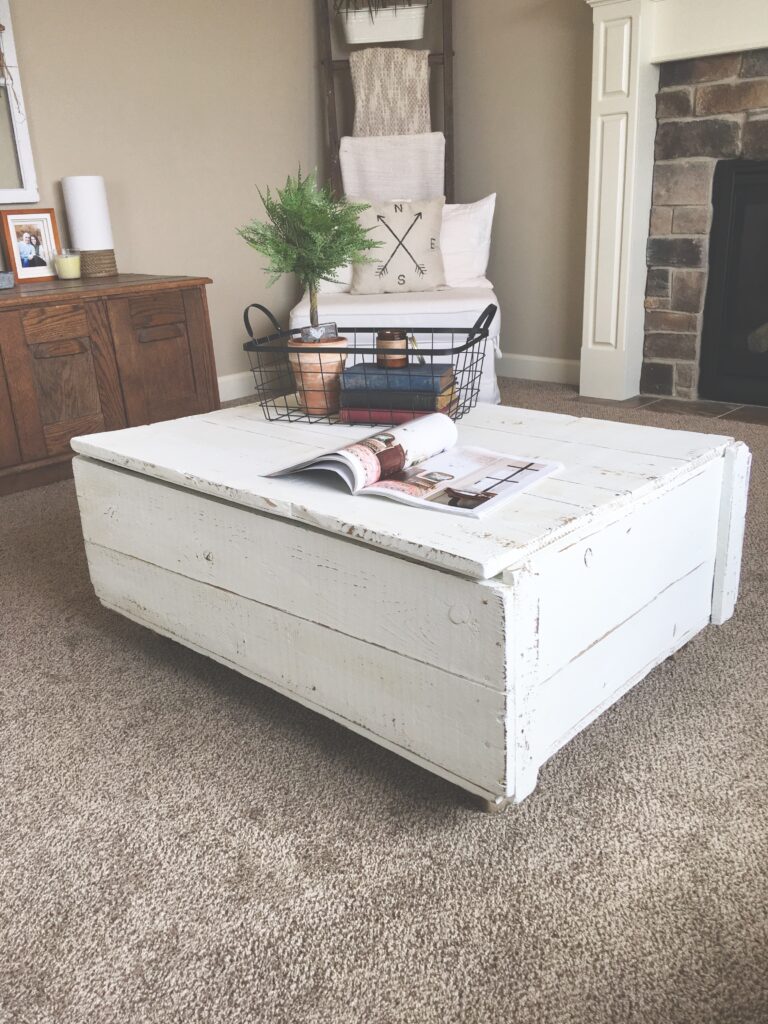 While setting your table to get painted, remember to clean it and sand it down thoroughly. Otherwise, grime will stick to the paint and make the coat look uneven. The texture comes from the salt wash powder that is added to the paint during the mixing stage.
16. Silver End Table
Wooden furniture stained deep has a classic look, but a unique way to glam up your tables is by using silver. Metallic paints will add a shine to your furniture that can not be compared to other paints. The silver metallic paint used for this table is quite opaque and doesn't need a painted base. However, you have to clean the surface carefully and sand it down so that the color sticks.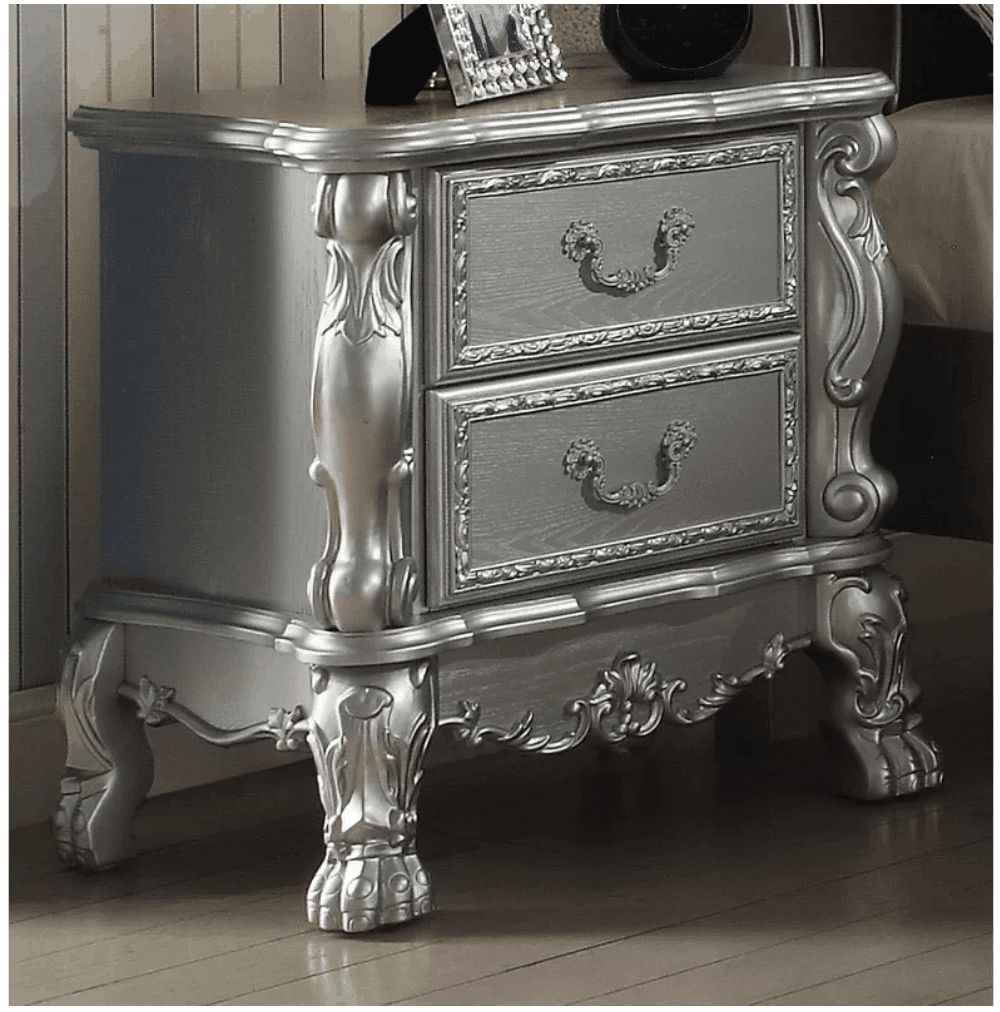 Painting tables in glittery colors can be a lot of fun, as the result is amazing. The first coat may deceive you as it looks a little white, but with time it gets its shine. With two base coats and a top coat, your new silver table will be ready.
17. Decoupage Table Top
Decoupage is a great way to change the look of any furniture, but it looks especially good on tables. And this method also allows you complete freedom over the kind of paper you want to use on the wooden surface. You can go for generic decorative decoupage papers or print some photos yourself. However, your pictures will give the table a personal touch.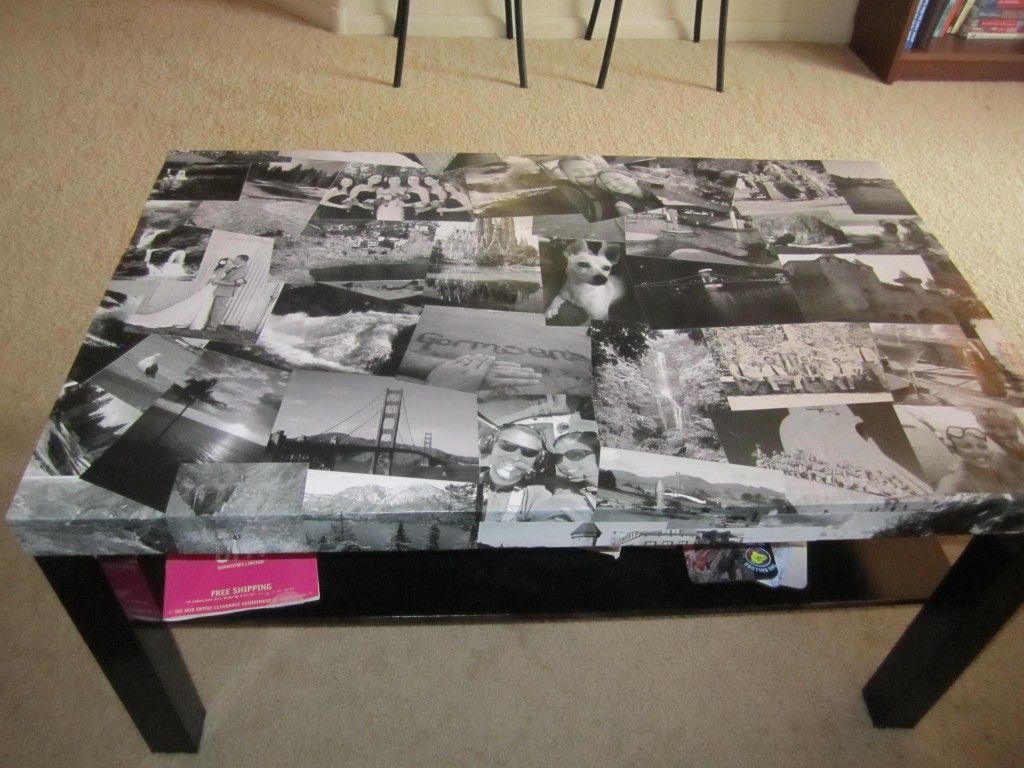 While starting on old furniture, repair becomes very important when it comes to decoupage. The surface has to be cleaned, sanded, and filled if necessary. The piece will also have to be painted with several coats before the decoupage is applied.
18. Enhanced Antique
Antique furniture is often found in decrepit condition with damaged tops or chipped paint. But the artistry in them remains beautiful for years. And often, in restoring these unique pieces of craft, the finer details get lost. A coat of paint might hide the ornate carvings on the legs; the paint is necessary for repair.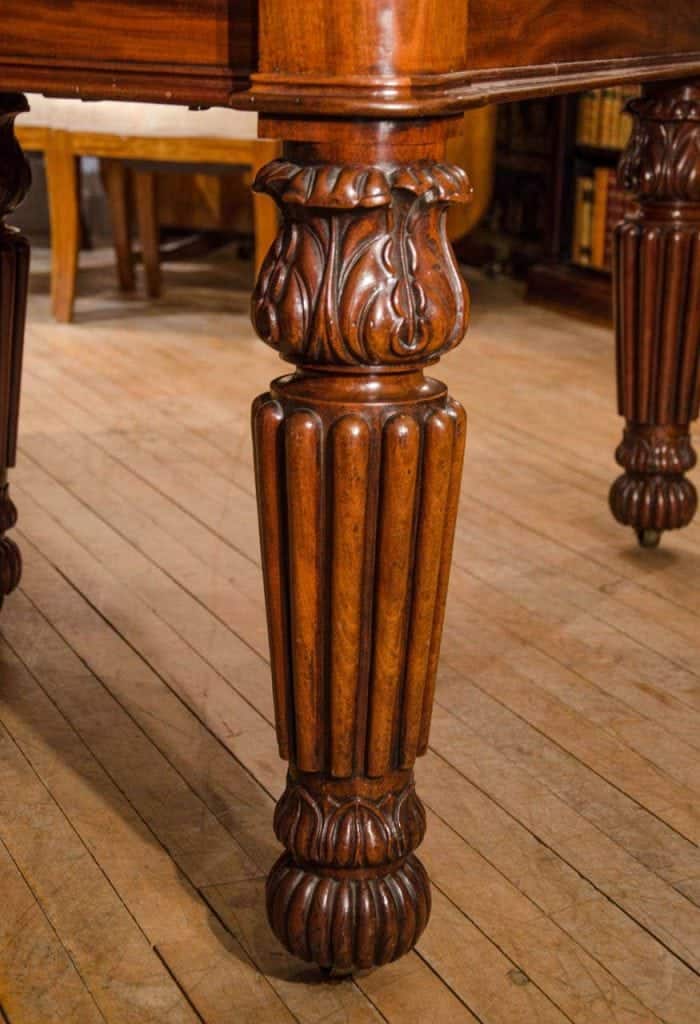 A way around this dilemma is the use of Dust of Ages while painting tables. This product gives your furniture character and makes it look vintage. With this authentic sheen, the carvings in the wood are enhanced and highlighted.
Pro Tip: Do not apply the dust when the paint is wet. Otherwise, it won't look like dust.
19. Pour Paint on Top
Marble tables look posh and luxurious as they are the epitome of sleekness. But they are also costly and hard to maintain. A way around spending so much is to attempt a DIY art project with guaranteed results. By using the pour paint technique on your simple table, you will have a unique piece of art to dine on.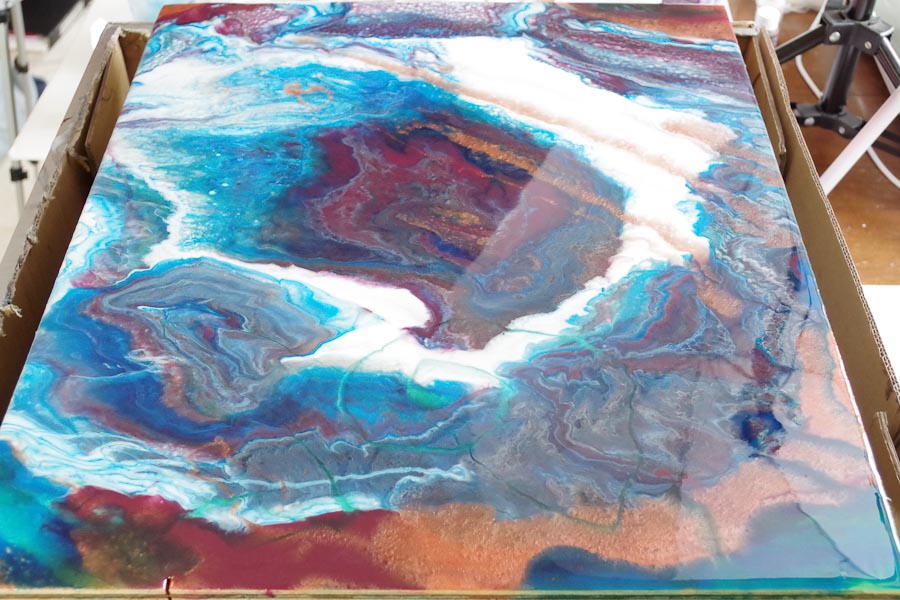 The acrylic pour art has become quite popular these days, and there is no reason why it would not work on wood. Keep in mind; you will need gallons of paint to get a clear surface. After it has dried, seal the lop using an epoxy resin, and your table will be set.
20. Dining Table in Colors
A big project to undertake while considering painting tables is the dining table. It is the focal point of the kitchen, and a family spends most of their time eating in it. So if your table has lost its glossy finish and looks damaged, consider painting it for a fresh look. And instead of regular neutrals like brown, black, and white, choose a bright color.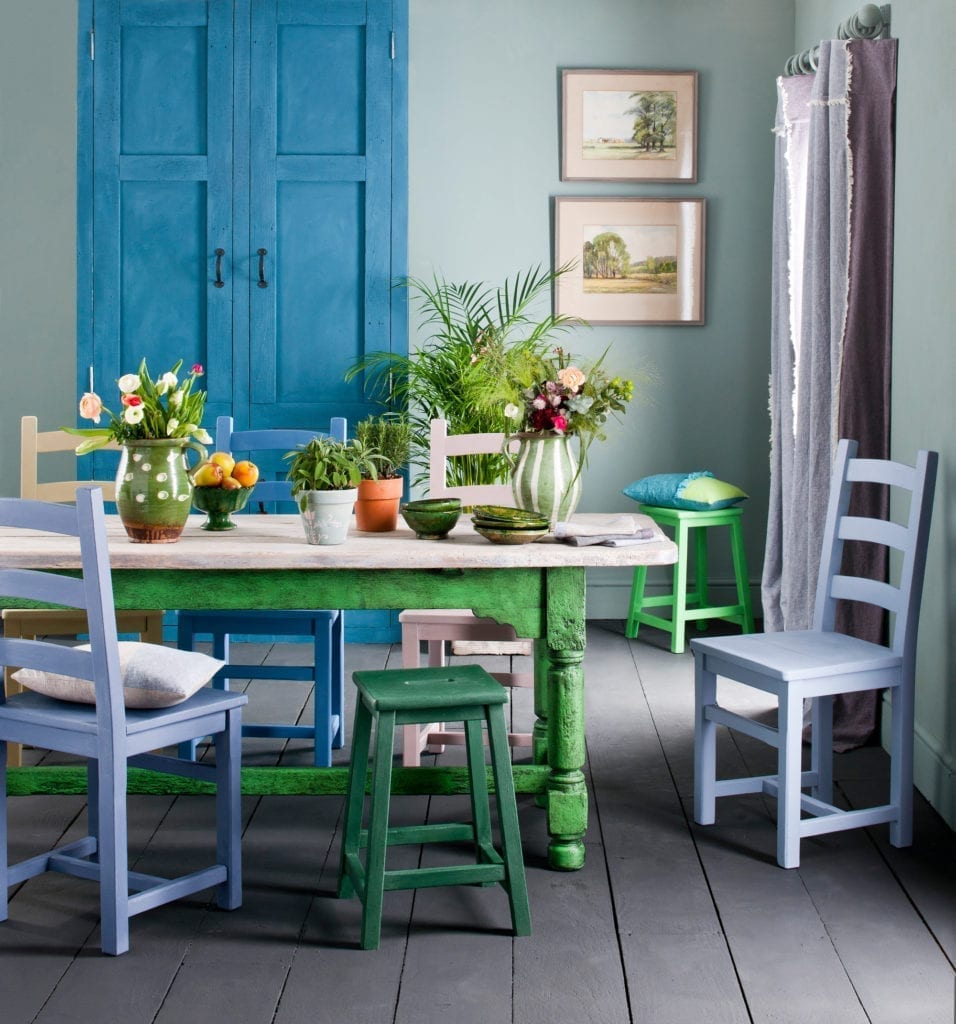 The owner of this table chose a vivid green to paint the legs of the marble and wooden table. The green brightens up the room and goes well with the pastel walls and blue door, giving a Mediterranean look.
21. Distress Black Furniture
Farmhouse decor uses mainly white as the primary color of most rooms. But black easily makes for the best accent you can add. And black furniture has a way of staying fresh and relevant for years. So if you are looking for a unique addition to your farmhouse-style home, try making a distressed black table.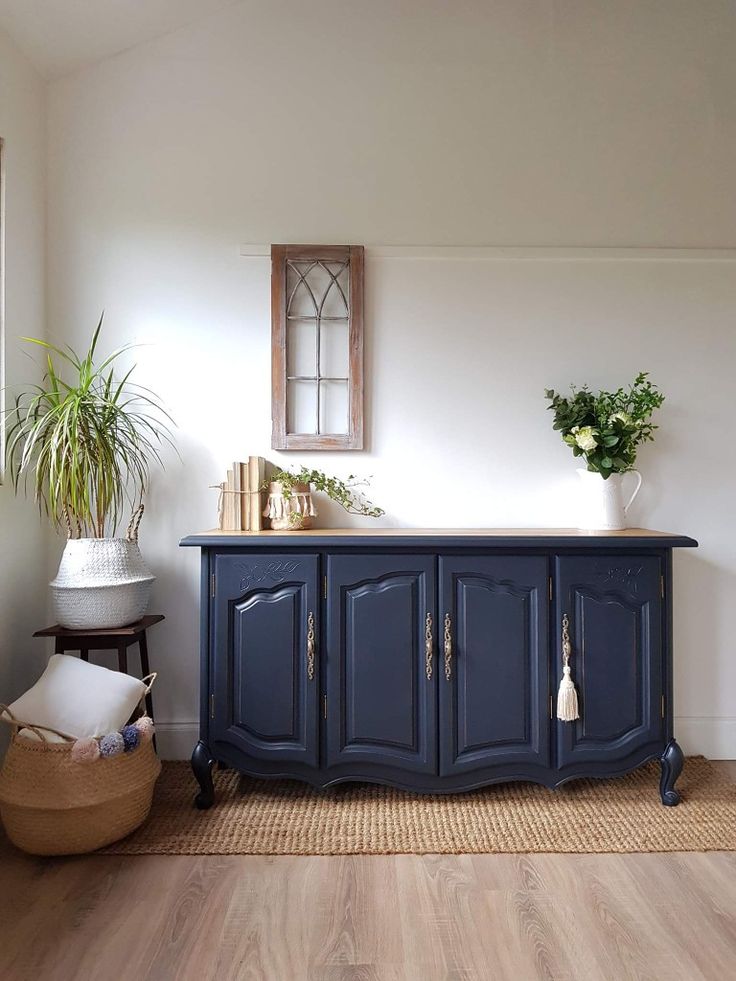 The first step is to find a suitable table, which must be simple and functional with a rustic charm. The black paint used should not have any blue or grey undertones as well. To age it, sand away the paint in only areas where paint chips away with time.
22. Black Accent On White Paint
Accents on furniture can be made with a lot of materials. Whether you use texture powder or wax, the nooks and crannies are bound to look highlighted, making the furniture look delicate. However, the color combination that looks the most hip and popping is black on white. Black detailing on a white table is sure to look enchanting and timeless.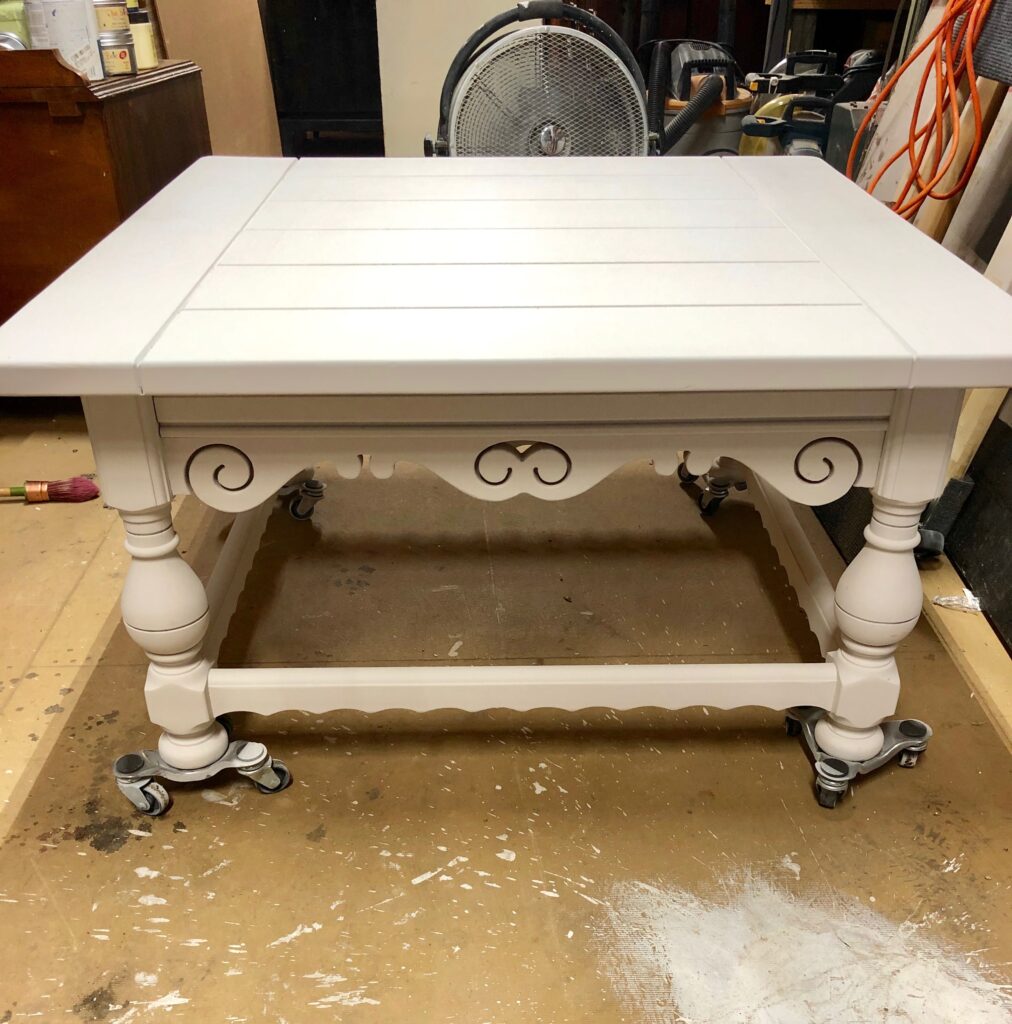 While painting tables white, remember that the use of black wax will make it look antique. It will help the ornate details stand out while accentuating the scratches and discoloration. But make sure you clean the tricky corners carefully before putting on the wax.
23. Damask Stencils
Another way to spruce up a normal table into something extraordinary is by using stencils. This method does not need precise artistic skills and can be attempted by anyone. All you will need are some paints and stencils. The table will need the usual prep and sanding before it gets a layer of paint, after which the stencil goes on.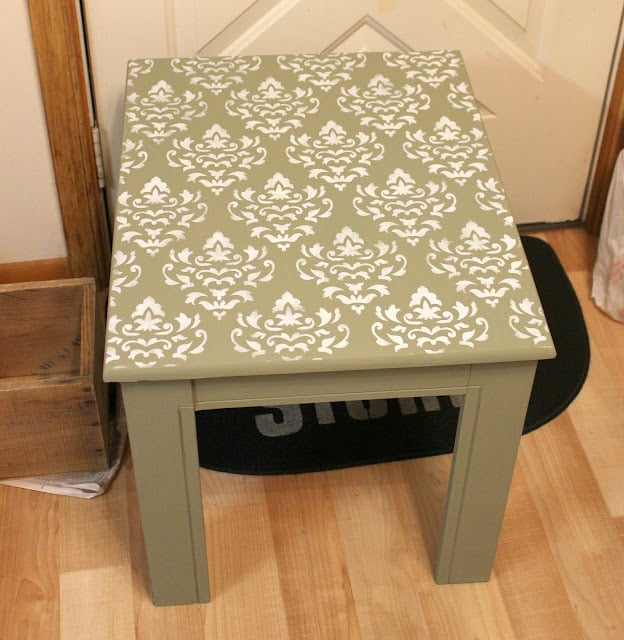 Using a damask stencil on the tabletop would mean precise measurements from the get-go. Otherwise, the outline would not be symmetrical. Start from the four corners and make your way to the middle. But for a more minimalistic design, just use the stencil once at the dead center.
24. Painted Glass Top
Glass tables have a modern edge to them because of their sleek design. But sometimes, the transparent top can become monotonous. To change the way your furniture looks, you can easily paint the glass table top into anything you like. And painting tables made is glass is much easier than painting wood. The trick is to let the paint dry between layers, so you will not get the brush lines on the surface.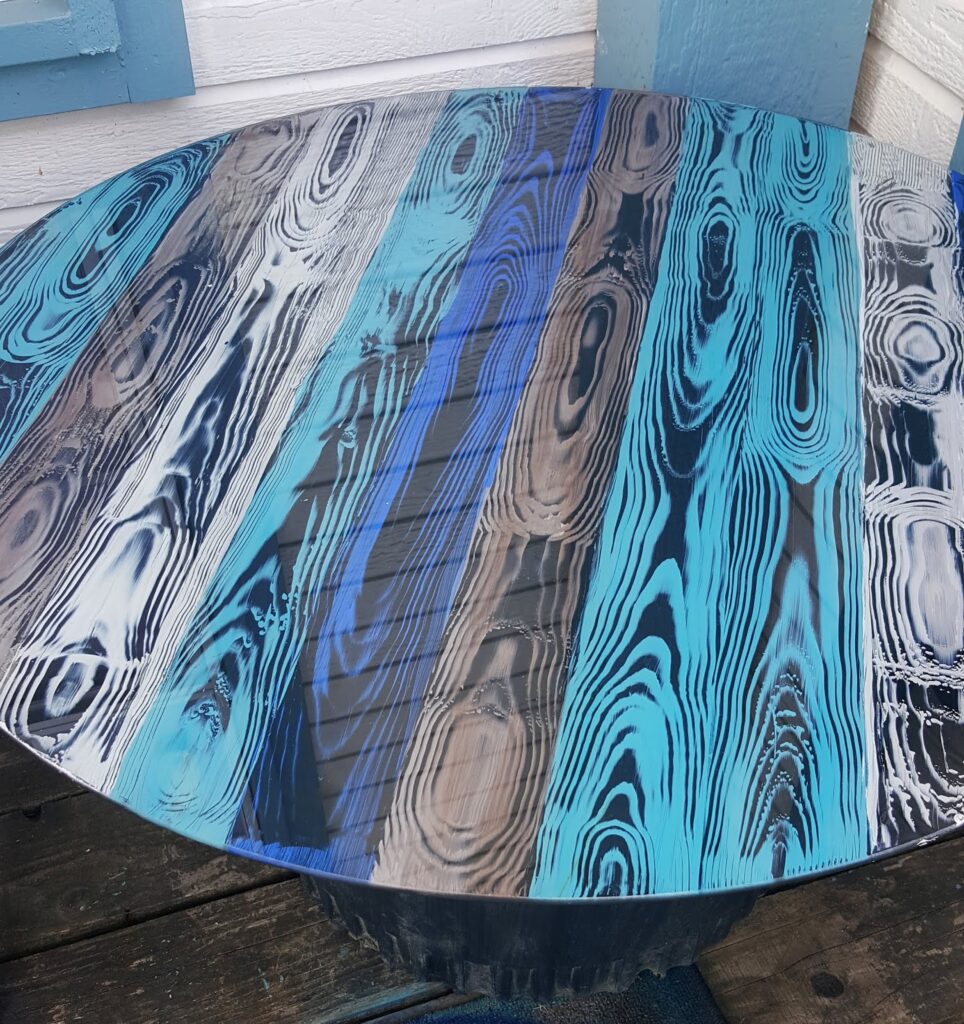 There are thousands of ways to color your glass tabletop with new and cool designs. There are also several materials that you can use, like acrylic enamel, regular acrylic, tempera, or even poster paint.
25. Chalk Paints On Dining Tables
Another popular way of transforming old furniture is the use of chalk paint. It works wonders on old wood, gripping the material and modifying it into something new. But for something as large as a dining table, the painting will need preparation and hard work.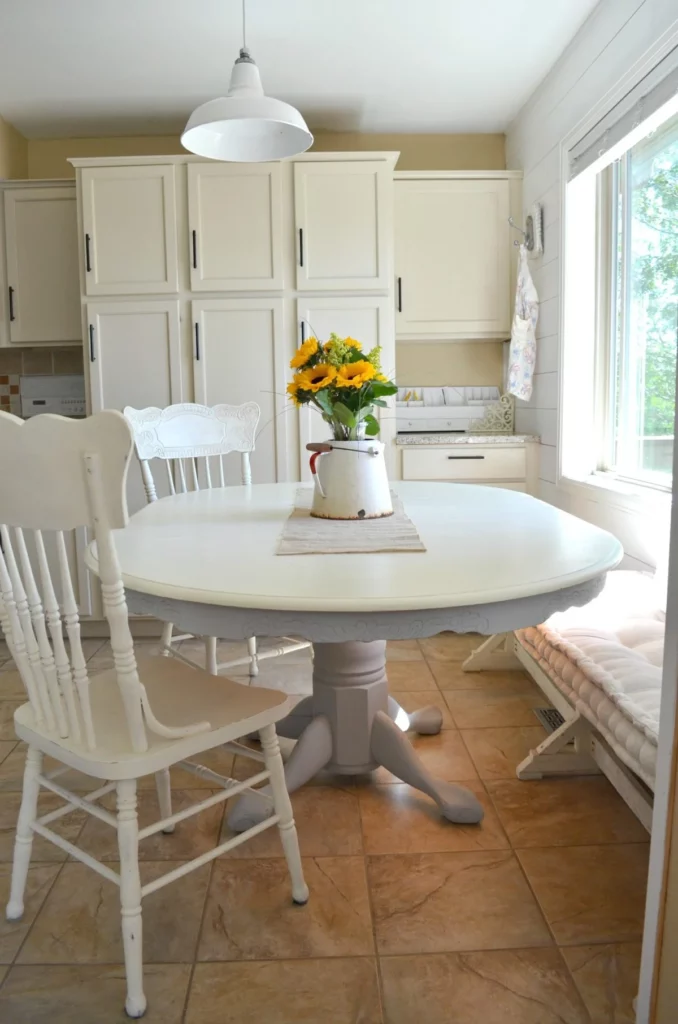 Scraping off the existing layers of paint and finishes will be tedious yet oddly satisfying. And after staining the wood, you will need around 3 coats of chalk paint for the table to be set.
26. Epoxy Resin Woodwork
An old wooden table can also be transformed magically in under one hour with the help of epoxy resin. In this process, the top layer of the table is covered with resin in various colors for an exotic look. The options are truly endless, as painting tables with epoxy means you can use any color you want. You can even add a little bit of glitter to up the glam factor.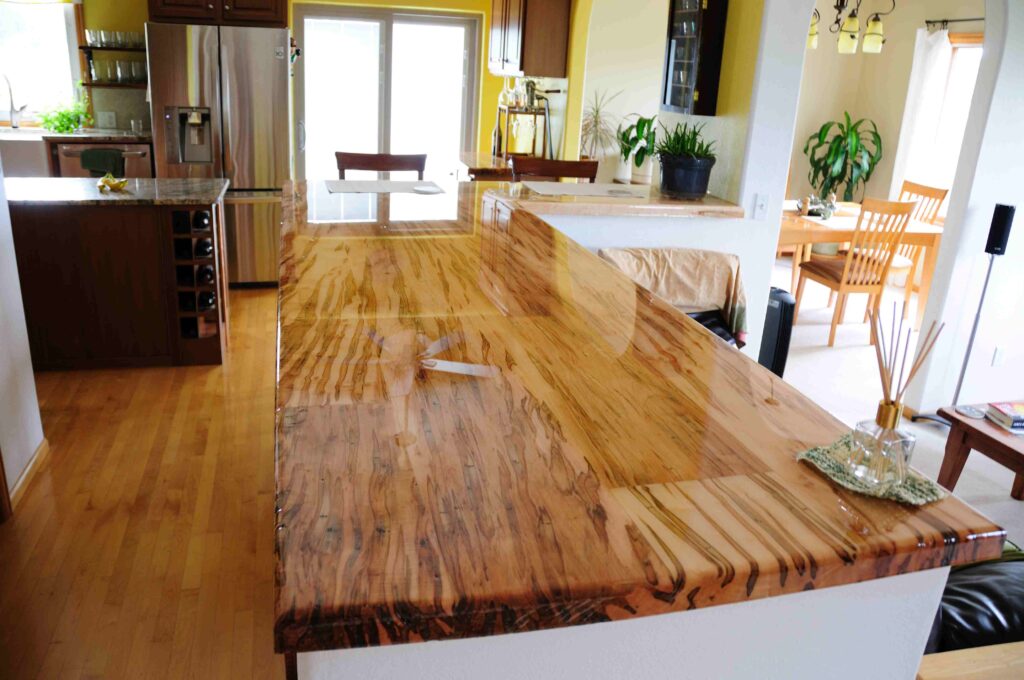 The method also turns a simple table into something far more durable. The resin layer remains the same for years and easily be cleaned with a wet rag.
Wrapping Up
Changing the way a table looks is no easy feat. But with some elbow grease and a little forethought, you can do it. The tables that have gone through a lot over the years need some care before they look new. And prepping and painting tables is a good way to change your decor inexpensively.
Painting furniture doesn't mean you have to stick to brown stains. You can paint them a variety of colors that are as different as tables in general. From an image-transferred table to an off-white farmhouse one, the options are endless.
And if you have any queries about home decor in general, do not forget to let us know in the comments.
Frequently Asked Questions
Is it Safe to Paint a Table?
Painting tables is entirely safe if you know how to do it correctly. The first thing to remember is that you will be eating on that surface, so the paint has to be non-toxic. Choosing a water-based stain is usually advised, as once they are dry, they become safe to eat on. Also, get paints that allow a swift cleaning with some water and soap.
What Kind of Paint Do You Use on a Table?
A satin or semi-gloss finish is usually the most popular choice when it comes to furniture. The paints are either latex or oil-based to give the perfect finish. Just make sure you do not leave the primer unpainted. For latex paints, get a latex primer, as it goes on easily. It will also block most stains.
Can I Paint My Table Top?
A quick paint job is the easiest way to bring new life to old structures. But that does not apply to just rooms. You can also easily paint your furniture. It will make them look brand new at a fraction of the price. A few coats of paint on your dining furniture are sure to transform your kitchen.