Do you want to enjoy an easy breezy lounging at your home? An affordable hanging indoor swinging chair is the best option.
The perfect swinging chair brings a certain style and coziness that elevates the charm of your place. Be it kids or adults, swinging on a hanging chair is always a pleasant experience for everyone.
Just imagine; sitting on a swing chair with your flurry of thoughts only to feel the moments of joy without any bounds. Well, honestly, these small moments, cherished with your loved ones, are the real precious treasure of life.
Fortunately, there are many options for swinging chair style and design to fit every requirement irrespective of available space and budget.
We have covered the most affordable hanging indoor swing chair; are you ready to explore?
Top Styles of Affordable Hanging Indoor Swinging Chairs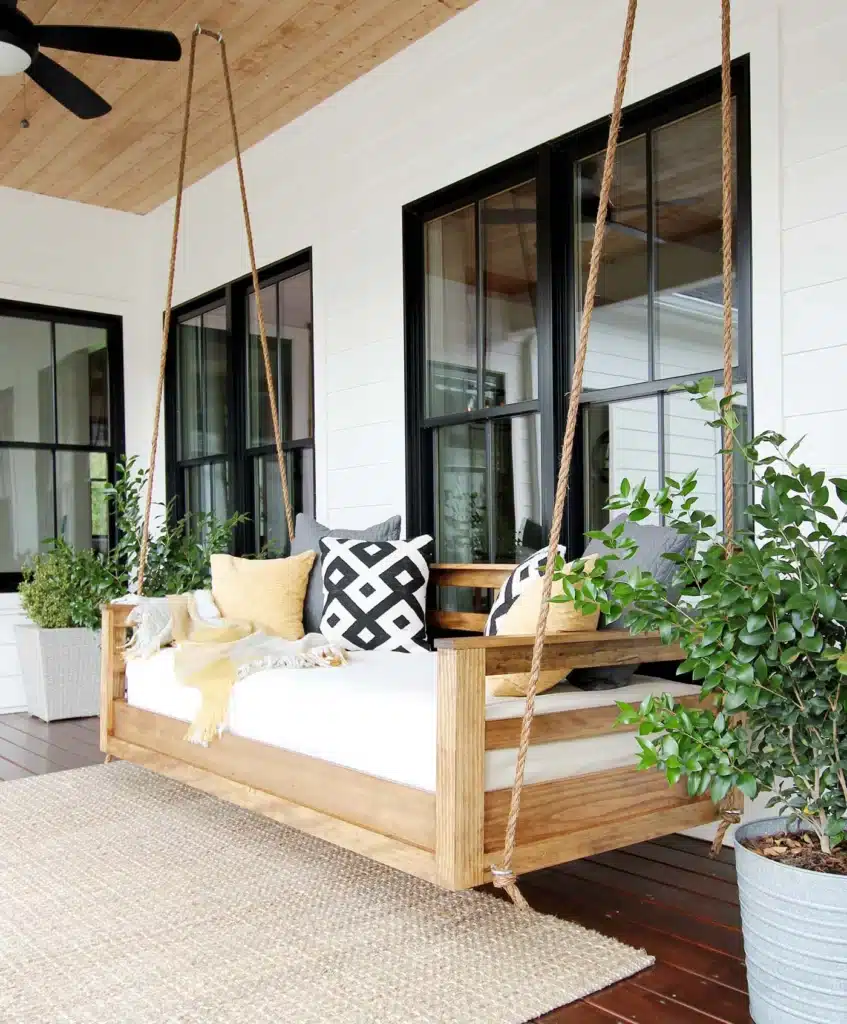 Who doesn't like enjoying a relaxing time with their loved ones on a hanging swinging chair on the balcony? Whether you have some deep thinking to do or just want to feel the peace, the 2-seater balcony hanging swing chair is a perfect choice. It also appears as a charm on your balcony, catching everyone's attention.
Enhance the cozy setting of your balcony using some throw pillows, indoor plants, modern furniture pieces, etc. You can also assemble a nice coffee table and a sitting cushion to read through your favorite books. You can add as many interesting details to the setup as you like and prefer to enjoy your time.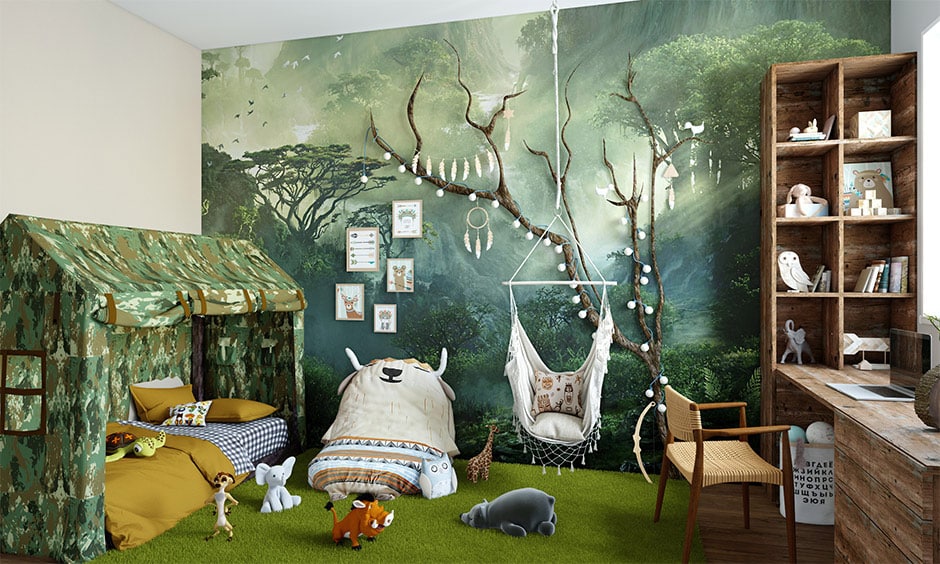 If you have limited space for your indoor swing chair, this hammock hanging chair will make the best choice. This lightweight hammock chair is usually designed with soft and breathable fabric to double the comfort of the users. The hammock chair is generally the preferred choice for kids' rooms, besides being used anywhere else as well.
You can easily hang this swing chair from either the ceiling, a hook, or even a stand. It is super simple and convenient to install the hammock chair, which also brings uncompromised safety benefits for its users. Use some comfortable pillows and some fancy fairy lights to make it even more visually attractive and eye-catchy.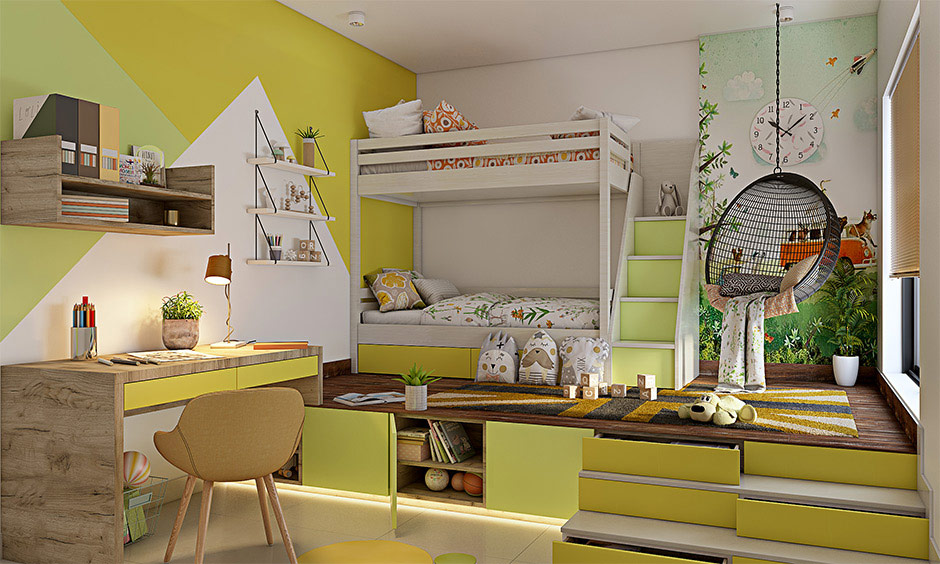 The hanging egg swinging chair is one of the most popular options for an affordable indoor hanging chair. Irrespective of your home décor, the egg swing chair looks amazingly attractive. Additionally, as it is affordable, anyone can use it to double the charm and beauty of their place.
The egg swing chairs are extremely comfortable and can bear maximum weight without any hassles. You can install it near the window of your room, following the right measures, to enjoy nature's beauty and the comfort of your home. Make it your exclusive corner by adding some comfortable pillows and a throw blanket with the egg-swinging chair.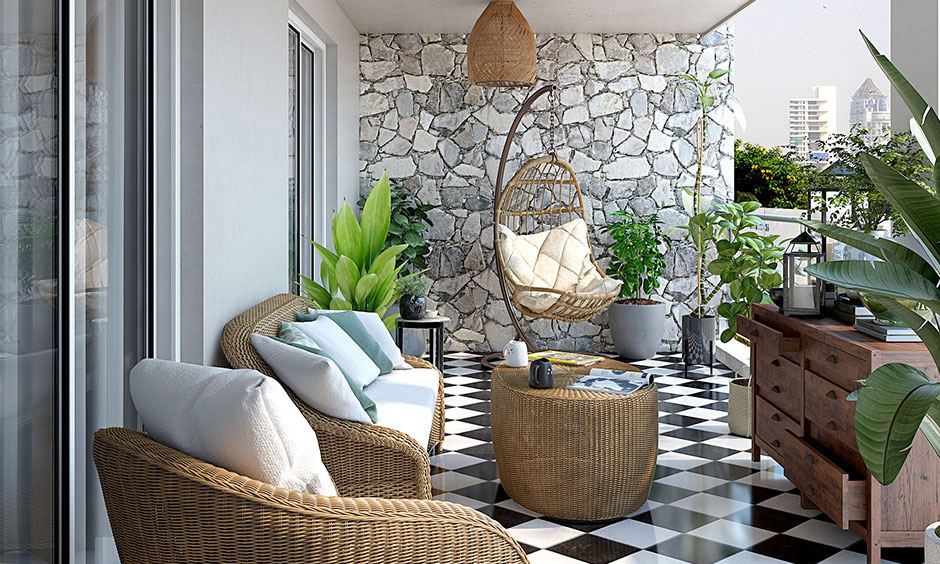 If you are too excited to explore simple yet visually appealing swing chair styles, you cannot miss the rattan swing chair. With its amazing design and coziness, the rattan indoor hanging chair beautifully complements the interior decor of any place. Moreover, it easily gets compatible with the available space without disturbing the surroundings.
One of the biggest advantages of rattan swing chairs is the fact that they are environmentally friendly. Other than beautifying your home, they also minimize any damage to nature; thus, they are mostly preferred. Easy on budget, style, and convenience, the rattan chair is the winning choice for indoor settings.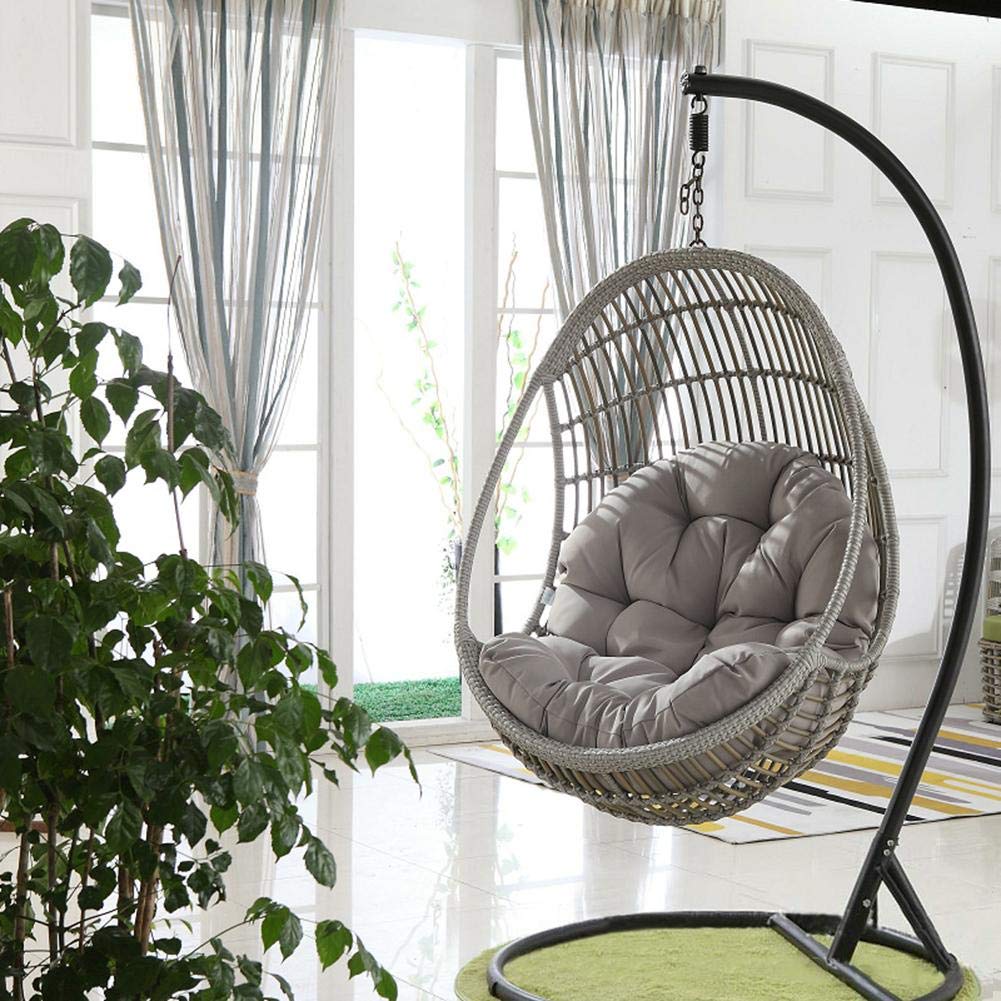 Another beautiful swinging chair that can instantly lift the beautiful décor of your place is none other than a pod indoor hanging chair. This elegant-looking swing chair is the preferred choice of many people to light up their space with the boho touch instantly. This swing chair type is certainly the latest trend amongst users for its comfort and convenience.
It makes the best use of the available space to attract all eyes to its beauty. You can further glamorize its setting with a lamp and a coffee table around it. These chairs can be used in any weather without compromising the quality.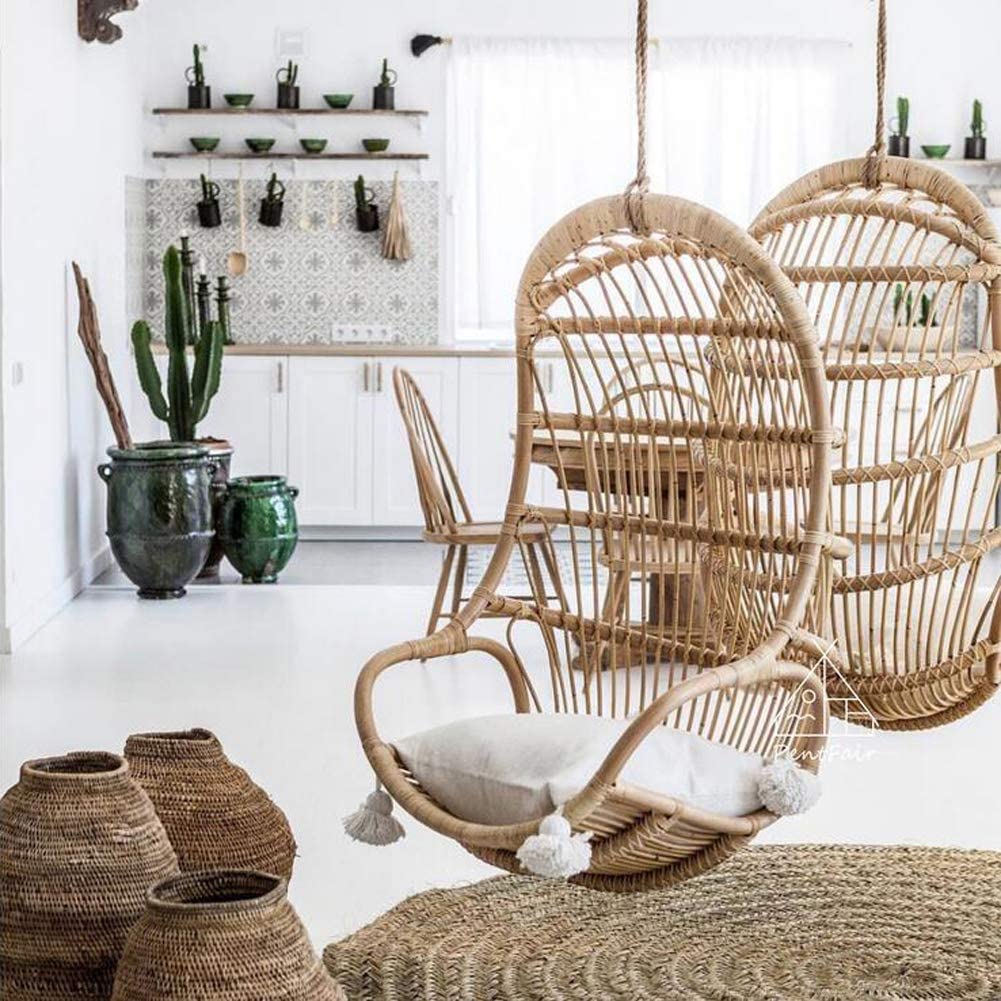 The hanging basket indoor swing chair is just slightly different from the egg swing chair in its shape. This chair has a wide bottom and narrow top to upgrade the comfort level of the users. Thanks to its shape, the hanging basket chair is one of the topmost favorite choices, especially for older users.
If you have a large family and want to enjoy your time together, this chair will be the ideal choice. It can handle a good amount of weight without compromising on the comfort and convenience of the users. It also brings elegance and beauty to your place by being a fabulous accessory that grabs instant attraction.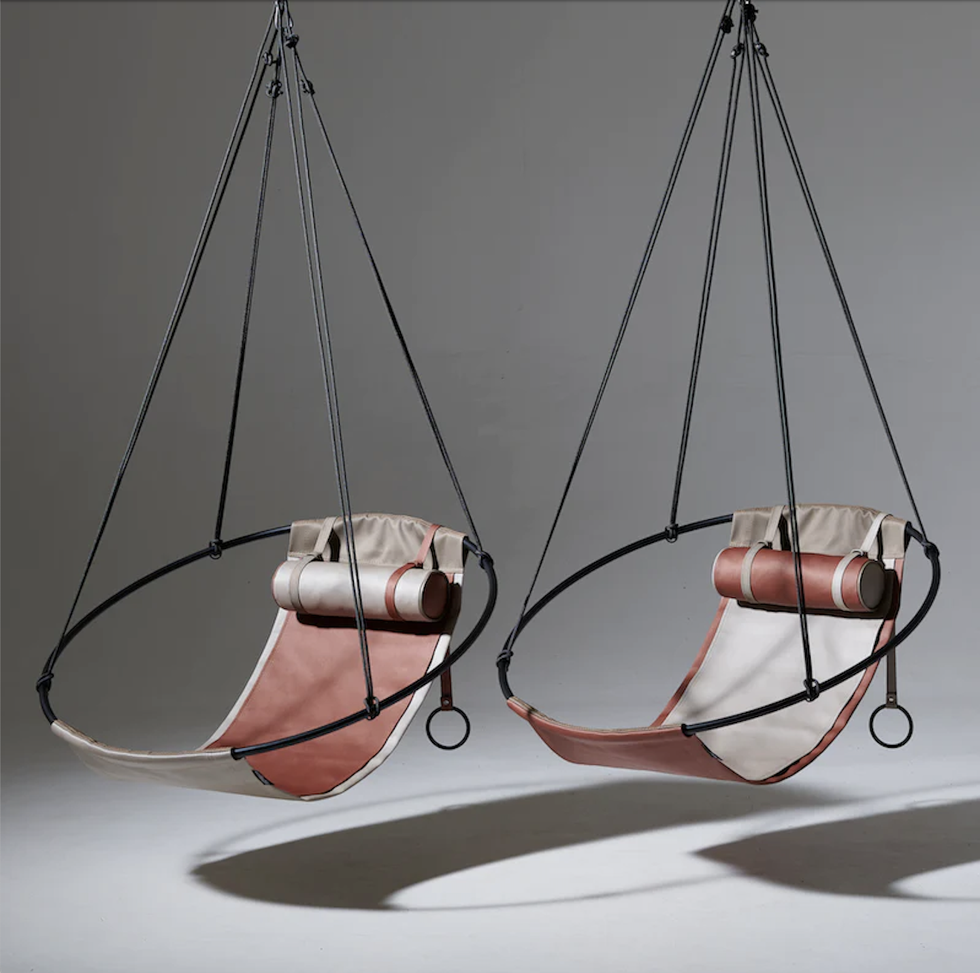 A weather and rust-resistant hanging swinging chair is something that is loved by each and every one. If you want a swing chair that is different from the obvious choices and is also comfortable, look for no other option than this. Its unique and attractive design will surely grab all the compliments you have.
It comes with an adjustable stand offering maximum convenience to the users to install it according to the available space. No matter if you even have limited space, this sling indoor hanging swing chair will only enhance your beauty. As it is budget-friendly and easy to assemble, it can be used by anyone and everyone.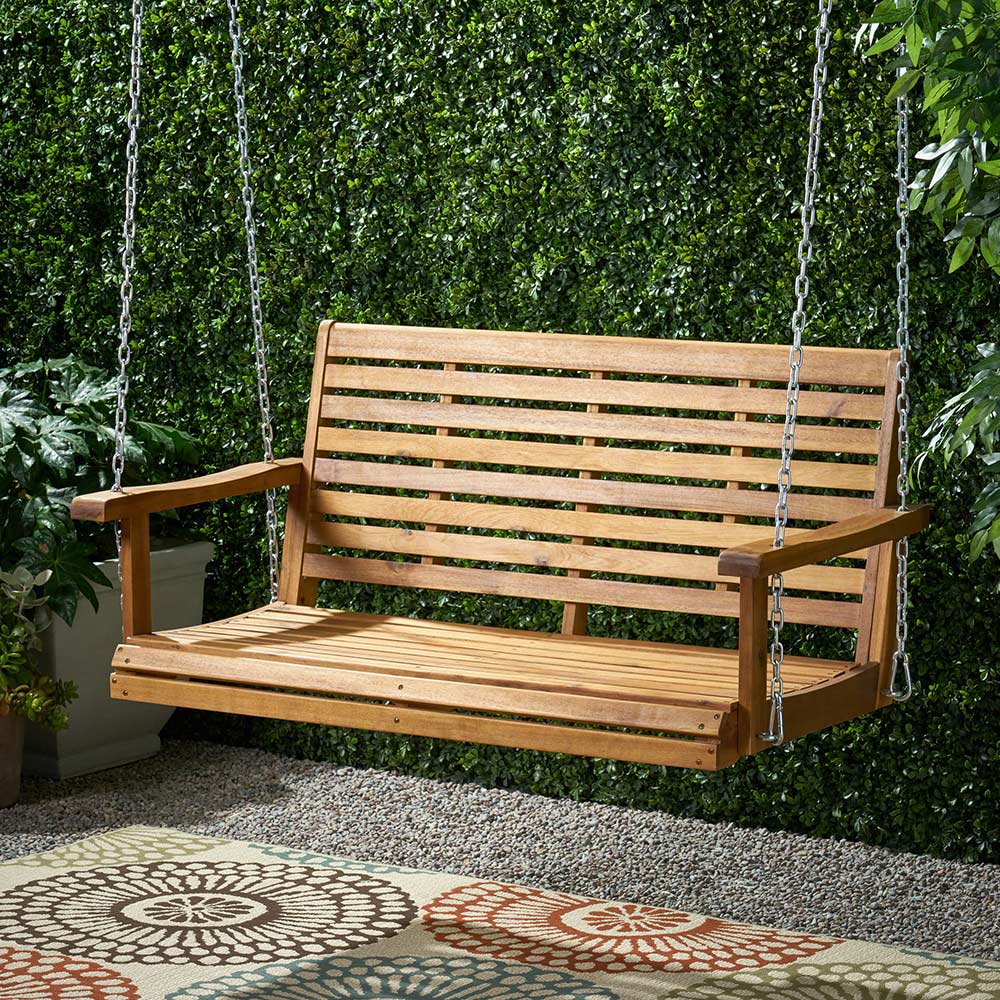 The hanging porch swing chair is a popular style that lets its users enjoy a relaxing and soothing time with their loved ones. Whether you want to take a nap or just simply admire the surrounding beauty, this can be the perfect seat for that. Other than its attractive design, the comfort of this swing chair is undoubtedly unmatchable.
This porch swing chair combines modern aesthetics with traditional design ideas. Thanks to this, it becomes a perfect match to all types of home decor without ruining the overall vibe of your place. You can beautify the porch swing with comforting pillow sets and twinkling lights that reflect your personality.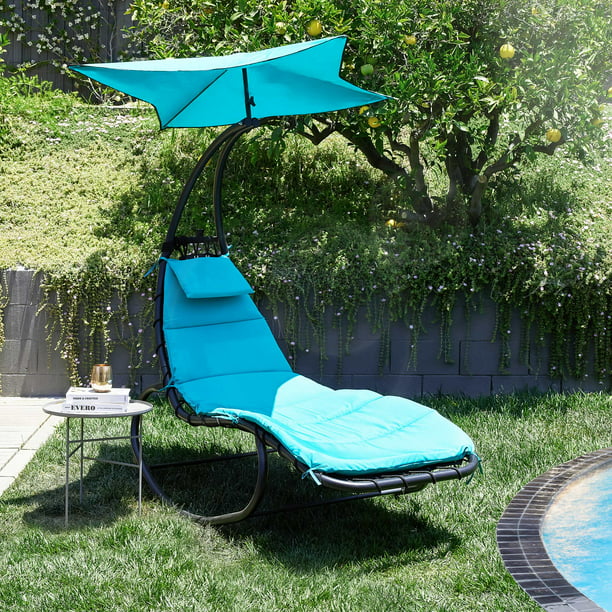 Enjoy the luxury of comfort, style, elegance, and beauty with this hanging curved swinging chair. This curved, comfortable chaise seat is magical to offer the best relaxation and convenience. Add some cushions, throw pillows, blankets, lights, etc., and simply rest on them to feel ultimate peace.
Another important quality of this curved swing chair is its versatility, as it can easily adjust in any available space. You can place this swing chair in your living room, bedroom, or study room to pamper yourself with higher standards of comfort. It is also its eye-catchy design and style that makes it a popular choice, especially for modern home décor.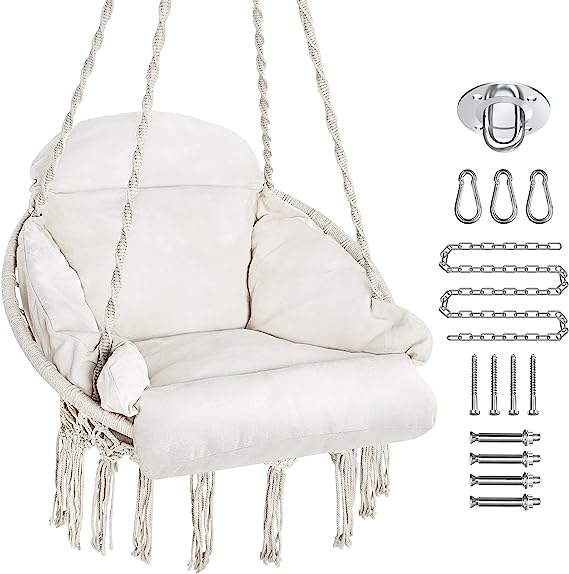 Macrame indoor swing chairs, are one of the most popular and trending choices for many people. It is classy, sophisticated, and royal in its vibe to make an impressive impression. Thanks to its elegant simplicity, it makes the perfect fit in traditional home decor styles as well as modern arrangements.
It is designed with large padded cushions to ensure offering the best comfort to the people. Thanks to its beautiful design, it is absolutely safe for the kids as well. You, too, can make this beautiful macrame swing chair a major attraction of your place, along with enjoying your time with your friends and family.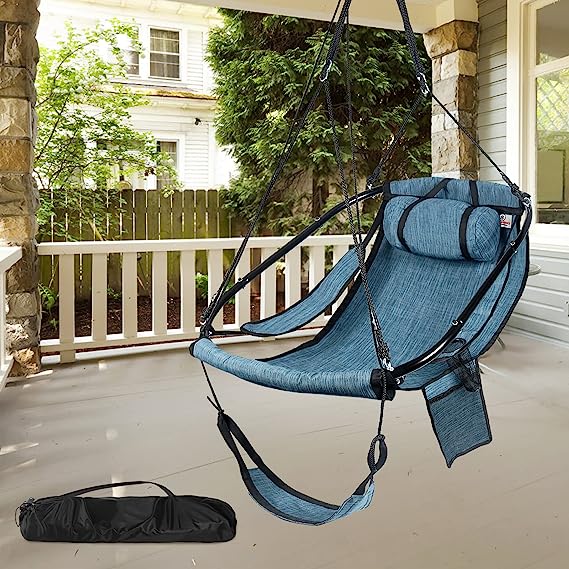 Do you dream of enjoying a relaxing time on a super comfortable and beautiful hanging swinging chair at your home? Well, if yes, you should definitely choose the hammock sky chair with the footrest. This swing chair is designed with every quality to impress its users with the ultimate quality and uncompromised support.
Its major attraction comes with its footrest and a side pouch. As you sit on the chair, you can rest your foot for maximum comfort, besides putting all your essential stuff in the side pouch. This swing chair is a complete luxury to enjoy your quality time to feel the most peaceful and amazing.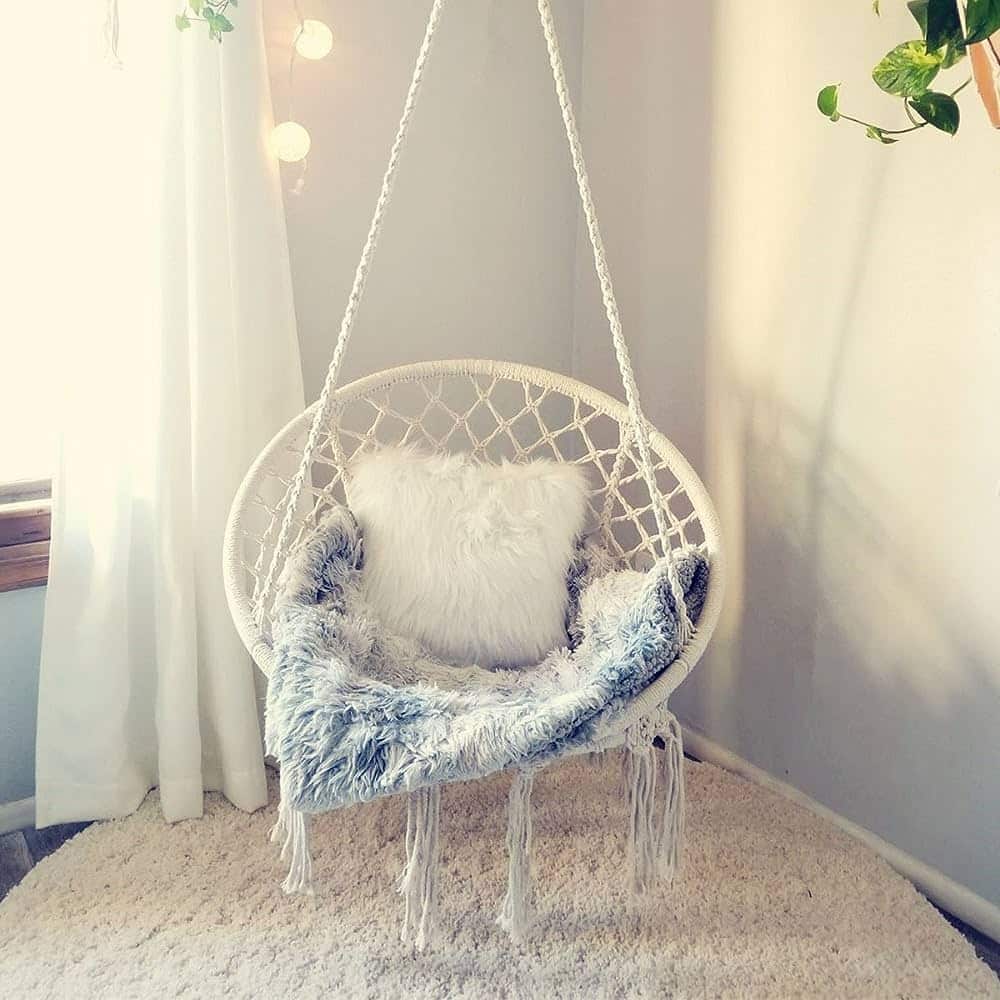 Are you looking for a single swing chair that beautifully justifies your needs and décor style? Well, the boho hanging swing chair is the one without any second thoughts. Inspired by the evergreen boho style, this swing chair can be a stylish addition to your place.
This boho hanging swing chair is simply amazing with its design, as it occupies minimal space yet offers unmatched comfort, relaxation, and calm. It is loved by many people for its cozy feel and extreme comfort. This swing chair is easy to assemble to become your perfect companion for enjoying all your beautiful moments with your loved ones.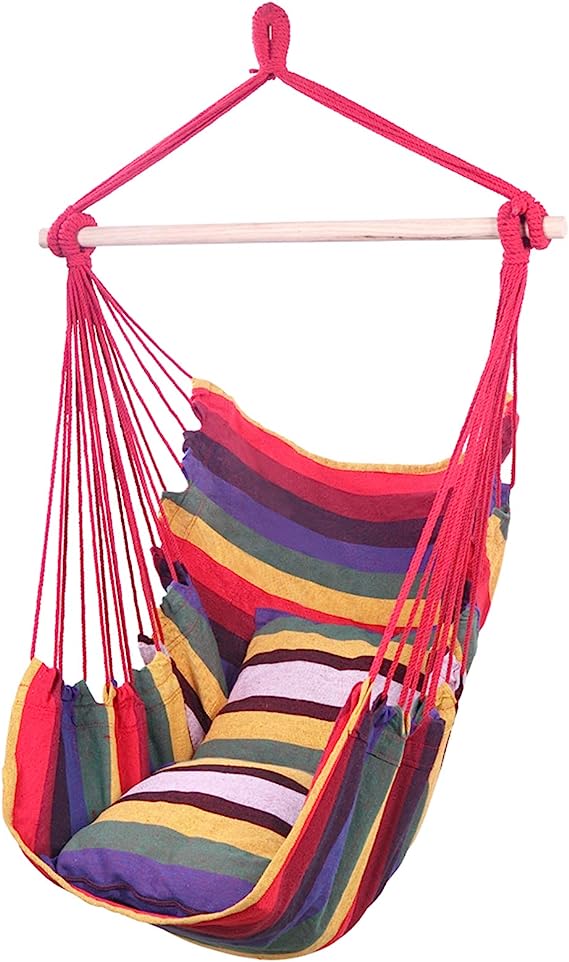 If you are looking for a hanging indoor swinging chair that comes up as the perfect combination of style, comfort, and beauty, the hammock hanging rope swing should be your choice. Its minimal yet detailed precision of style makes it the right choice for every need. This generally is preferred by single users or people with limited space.
One of the major attractions of this swing chair is its anti-slip rings, making it fit to handle any weight. It is easy to use and hang without causing any hassles or complications for the users. This is all you need to enhance the visual appearance of your place with minimal effort.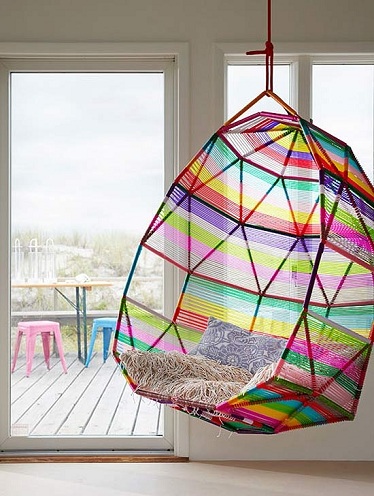 For all those looking for a colorful and attractive hammock swing chair, this can be the best choice. The colorful style and design of this swing chair instantly catch everyone's attention. This trendy colorful swing chair pops beautifully, especially with neutral walls and minimal home decor accessories.
It can be rightly said that this multicolor hammock swing chair will elevate the vibe of your whole place. It can also be used as a decorative piece that beautifies the whole place. Just imagine placing your colorful hammock swing chair near the window and enjoying nature's beauty; doesn't it sound so peaceful and relaxing?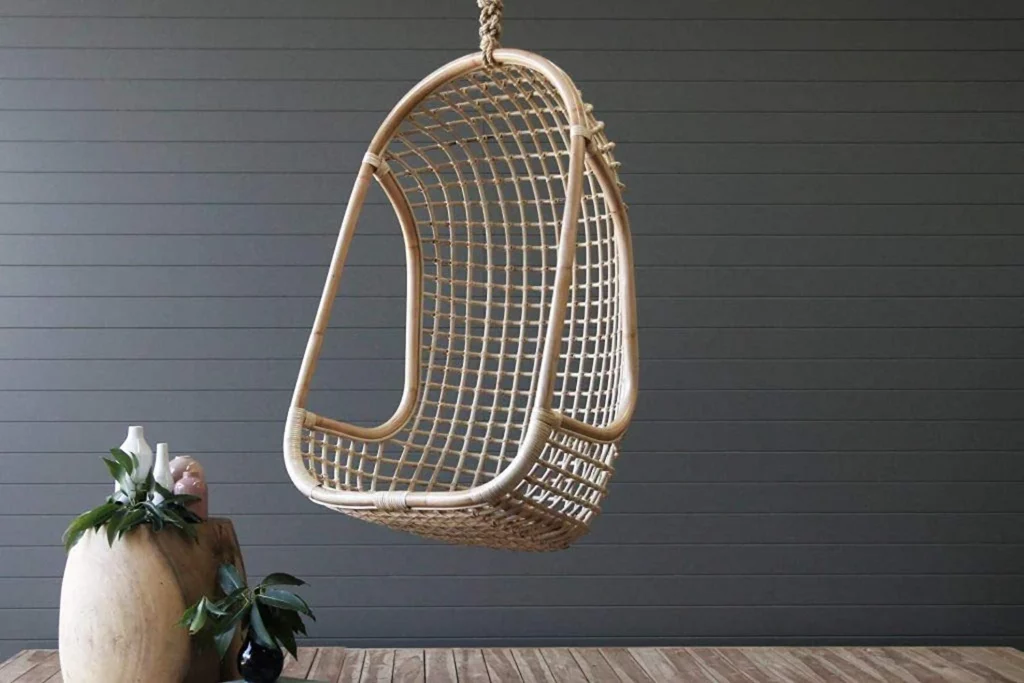 Last but not least, we have a cane-hanging swinging chair made of natural bamboo and other materials. This swing chair is amongst the trending options as it not just looks good with every home décor but also keeps its balance with nature. As it is made with natural materials, it causes minimal to no damage to nature, adding to its numerous benefits.
This beautiful cane swing chair will add to the beauty of your place with its vintage elegance and charm. Its simple yet detailed style will certainly leave a lasting impression on everyone. It is also best known for its reliability and durability, all thanks to the high quality of the bamboo.
Final Thoughts
With its stylish suspension from the ceiling or beam, a swinging chair is a perfect escape from the chaos of the hectic day. You can just simply relax, feel calm and enjoy the coziness at your home on your favorite swinging chair. The variety of designs and styles make the selection super duper easy; choose yours now!
If you still have any more concerning thoughts about the different swinging chair styles, you can write to us in the comment section. It is your time to soar to new inspiring heights of relaxation with these amazing hanging indoor swing chairs.
Frequently Asked Questions
How to Install an Indoor Hanging Swing Chair?
Locate and mark the desired location under the ceiling joist. Now, install the hanging hardware to the ceiling joist. Use a strong rope or chain to attach the swinging chair to the hanging hardware. Finally, apply some slight weight on the swinging chair to ensure its proper installation.
Are the Indoor Hanging Swing Chairs Really Comfortable?
Yes, mostly all the hanging indoor swing chairs are comfortable; however, the level of comfort depends upon your choice of swing chair. Among the various options – the egg swing chairs and hammock swing chairs are the most comfortable.
What is the Maximum Weight that Swing Chairs Can Handle?
Generally, different swing chairs can handle different weights. However, the average weight range that a swinging chair can handle ranges between 250 and 550 pounds. You should definitely check and confirm the maximum weight capacity of the swing chair before buying it.
How to Make the Swing Chair More Secure?
Generally, almost every swing chair is designed with enough safety measures to ensure comfortable sitting for the users. However, you should be careful to choose the perfect spot for installing the swing chair, along with checking the joints and connections made. Also, make sure to slowly put weight on the chair to make it last for the maximum time.