Do you have some old furniture sitting at your house that could use a makeover? Are you taken in by the allure of a matte finish? If yes, then chalk paint is the answer to your needs.
Chalk paint colors have gained popularity for their matte finish and because they are much easy to use. Unlike other paints for your furniture, chalk paint doesn't require you to prime or sand the furniture before application. If you like a distressed look, chalk paint is fairly easy to distress. Another advantage is that, unlike other paints, chalk paint.
It can be confusing to choose from among so many available chalk paint colors. This article will walk you through some ideas for chalk paint colors so that you can find your best fit. Whether you want to have single-toned chalk paint-painted furniture or double-tone distressed furniture, this article has it all.
Let's Begin!
1. Black and White Chalk Paint for File Cabinet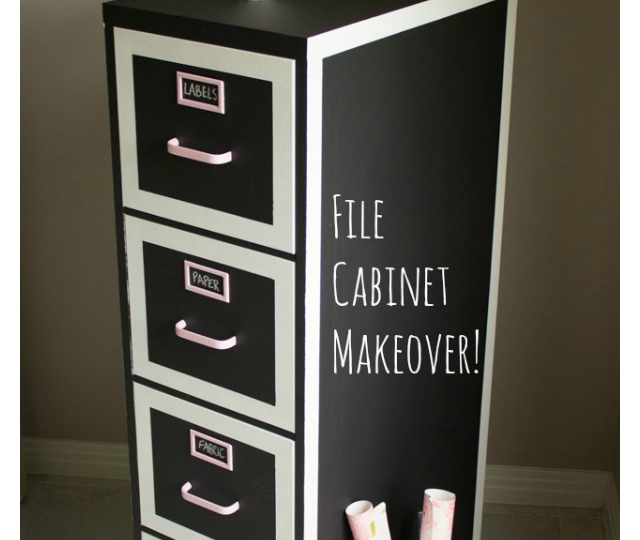 We don't know about you, but there is not much thrilling about file cabinets. The traditional file cabinet can use a little fun makeover. Here is an idea for it. Paint your traditional file cabinet in Athenian Black. Use white paint to make clean and crisp borders for the cabinet. Do the borders in white paint on each cabinet and also paint the handles white.
The classic black and white look will give your dresser a sophisticated look. You add a little bit of fun to the theme by marking the labels on the drawers in handwritten chalk.
Not only will it be great for the organization, but it will also look chic and go well with the chalk paint theme. These handwritten labels add some quirkiness to the file cabinet.
2. White Chalk Paint for Distressed Dresser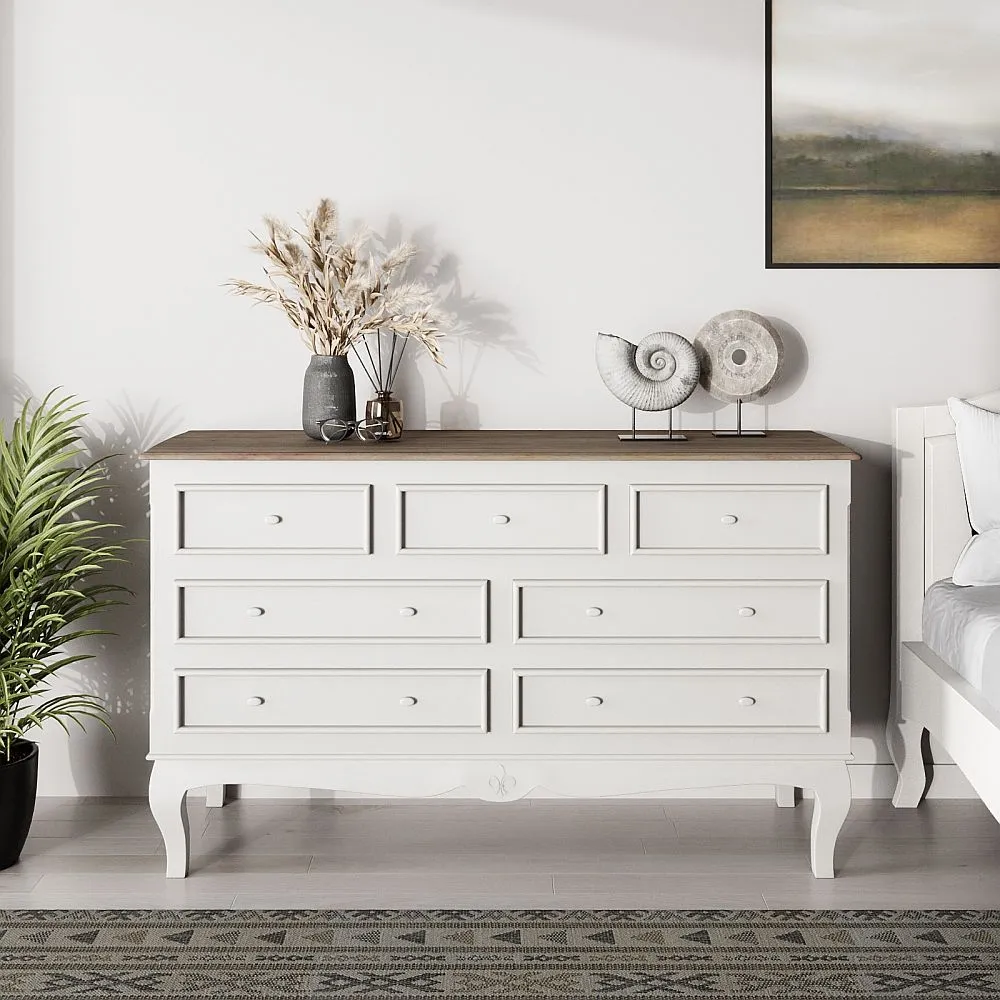 If you have an old dresser that needs a makeover, why not consider a distressed vintage theme for it? White dressers are fairly common, although a classic, one might want to add a little more character to it. Here is the way to do it.
Paint your old dresser with white chalk paint, like the AF-10 Gardenia. You don't have to worry about the little imperfections; we want them. These little imperfections, combined with the texture that the chalk paint imparts, give it a vintage distressed look. This adds a story and a character to an otherwise plain old dresser.
You can paint the knobs and handles white or choose a metallic accent for them. Both these ideas will work with the look, so choose according to your preference.
3. Pale Pastel Chalk Paint for Green Table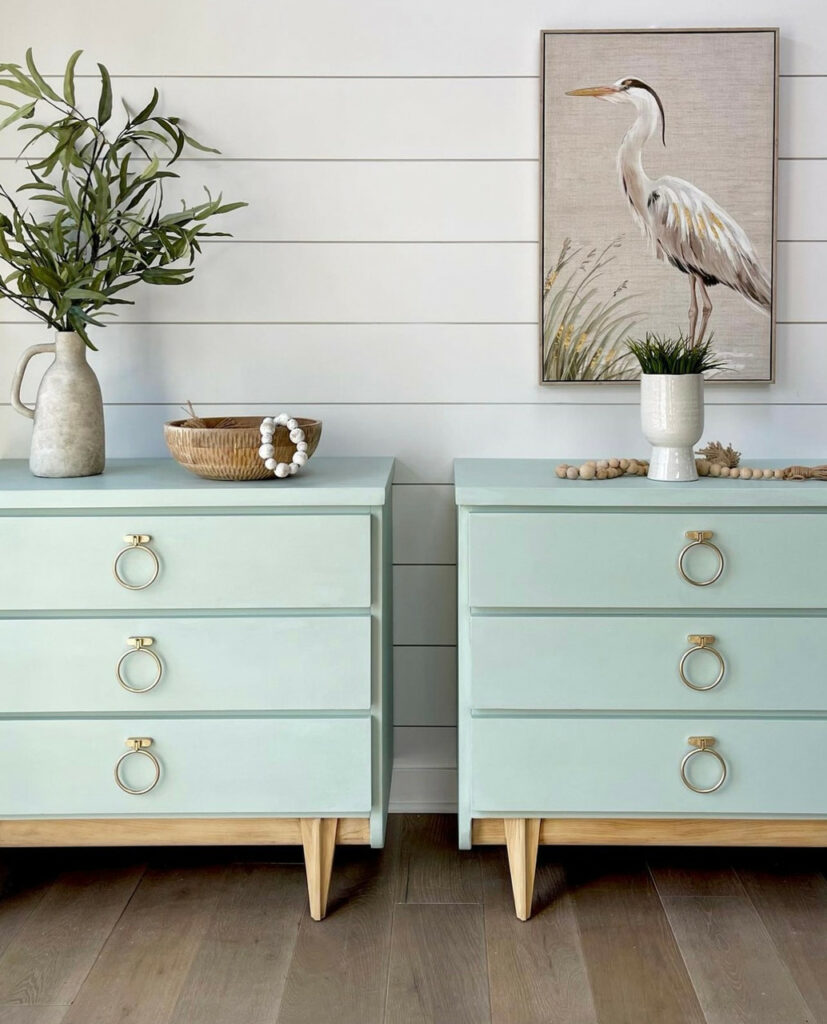 We love pastel colors; they impart any room a delicate, soft look. If you have a pastel-colored room, adding some furniture in pastel tones will elevate the room's aesthetic appeal. The pastel color palette is one of my favorites among the chalk paint colors.
Greens are a wonderful addition to any room. This color introduces freshness to any space. There is a reason greens are all the rage in the department of home décor these days. This beautiful mint greenchalk paint looks every bit fresh and adds a modern flair to a standard table. The black knobs add a delightful contrast to the green. This particular color is an eye-turner and very pleasing to look at.
4. Grey Chalk Paint for Dresser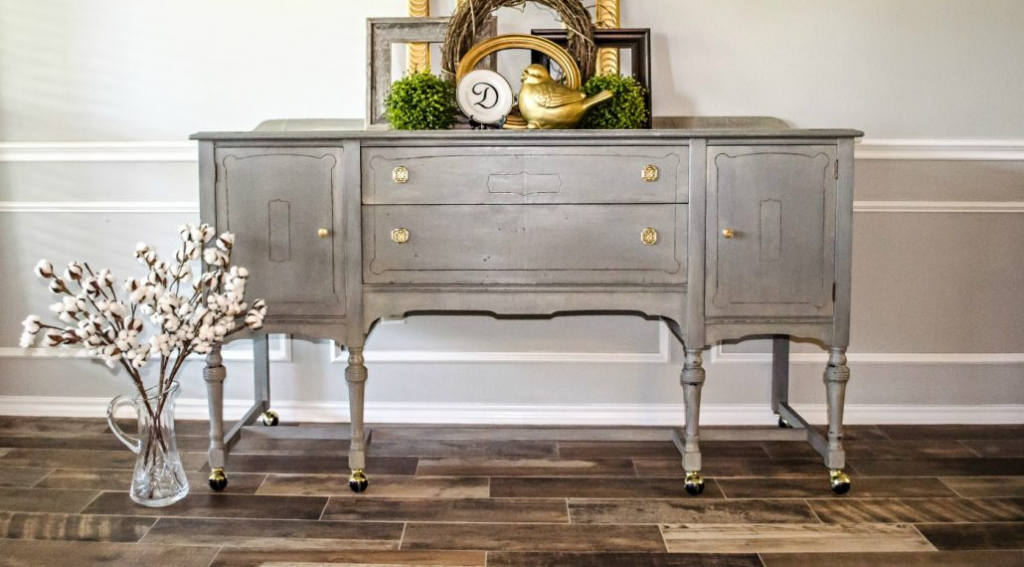 We love vintage dressers like these, which show off the beauty of old craftsmanship. You should never throw them away. An old dresser like this is the perfect piece of furniture to give a makeover to.
This grey chalk paint gives this vintage dresser a rustic finish. It gives it a texture and imparts to it a farmhouse-style appeal.
The best thing about the color is that although greys are part of a modern color palate, the texture of the chalk paint preserves its vintage allure. It is a perfect mix between modern and vintage.
We love a good contrast; the metallic accent knobs and ring handles on the drawers are just what this dresser needs. Again these metallic fit well into the theme of a vintage-modern blend.
You can choose from among a range of greys from the Annie Sloan Collection.
5. Violet-Grey Chalk Paint for Table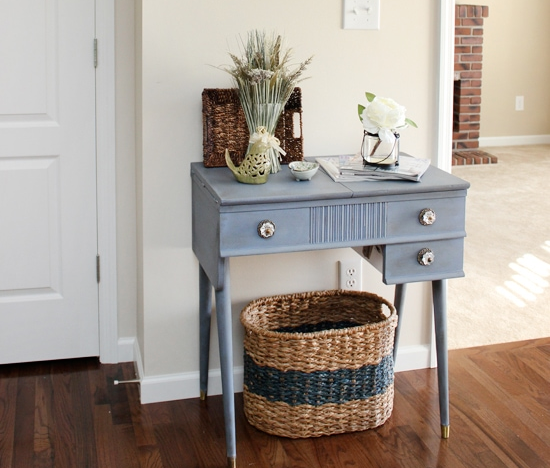 Here is another beautiful example of using pastel chalk paint on furniture along with metallic accents can help alleviate the look of your furniture.
This old violet color from Annie Sloan is a delightful one, perfect for a modern household. It looks pretty and chic. The metallic accents are a perfect addition to this dainty table. It will look great as a side table for an apartment. You can also convert it into a small coffee station.
Tip; With a pastel-colored dresser like this, it would look great if you have elements in the room of the same color. A painting, candle sticks, or any such small elements in the same color will complement your furniture well.
6. White and Green Chalk Paint for the Buffet Table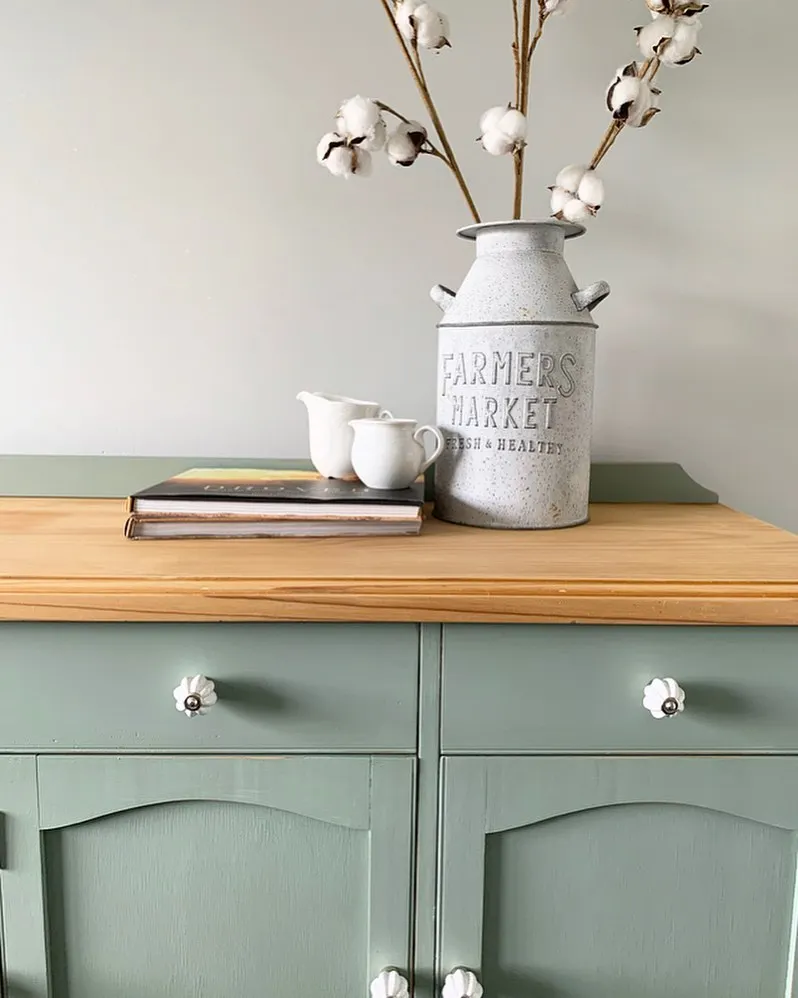 When it comes to choosing colors for your furniture, you don't have to go for an item of single-toned furniture. You may want to use a nice color combination that you find interesting.
The white and green tones of the table are in an elegant balance. The green works as a nice accent color against the chalk white. You can choose from the Annie Sloan collection of chalk paint colors.
On classic Buffet Tables like the one above, a rustic distressed look goes well. We think a table like this looks great in semi-open spaces like a balcony or a patio. However, this could also add to the character of your living room. The distressed look adds a personality to the table.
Tip; You can also choose a double-toned distressed look. Paint your furniture with a base color, use another color over it, and let it dry. Once dry, sand the paint to reveal the base coat in certain areas.
7. Empire Dresser in Deep Green Chalk Paint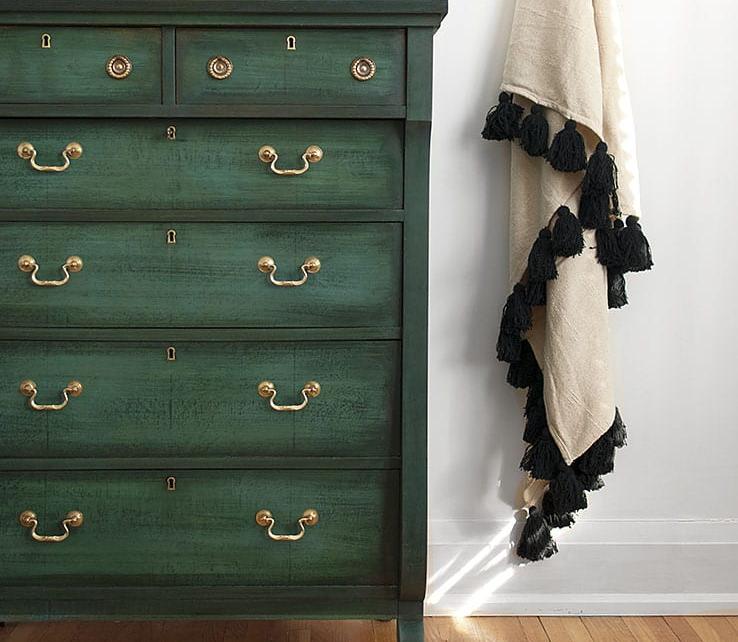 Look at the image above and tell me this is not a great addition to any living space. This deep green empire dresser will upraise the grace of any space. The matte finish of the green chalk paint goes perfectly with the craftsmanship of the dresser.
There is something regal about this green. This effect has been achieved by layering chalk paint. The colors used are Anne Sloan'sOlive, Aubusson Blue & Amsterdam Green.
The color are We have till now seen examples of a more distressed finish with the chalk paint. Here we have a cleaner finish to go with this color. The color, along with the finish, make this dresser into a statement piece of furniture.
Gold or bronze-toned metallic accents on the ring handles go beautifully with the color. These gold accents complement the green color of the dresser well. Details like these are a homage to the design of the dresser and should not be overlooked.
8. Leaf Green Chalk Paint for Dresser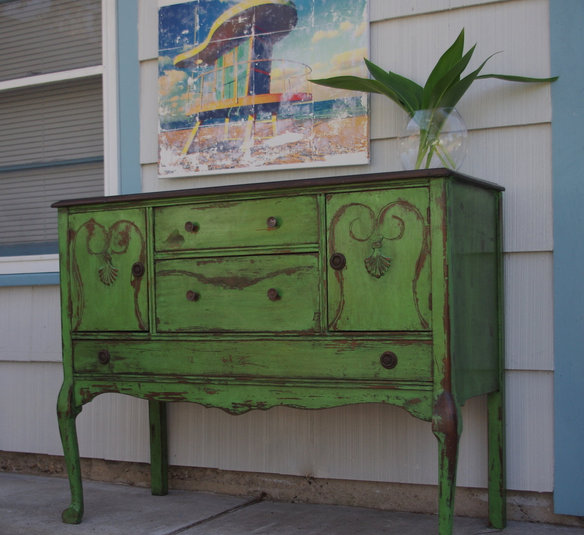 If you are a little more experimental and have a more distinctive taste in design, this color is for you. This Antibes green is one that you would not find in a lot of homes. If you choose to paint your furniture in this color, you are surely setting it apart.
We love the distressed look of this table; the chipped paint at various points adds a special rustic charm to it. It has the vintage farmhouse appeal to its look; at the same time, the color is niche and modern.
This particular table is like a modern art installation. A table like this in a modern apartment is certainly a statement piece.
We love how the table is decorated with a clear round glass vase with just green leaves in it; It artfully complements the color of the table.
Tip; Do not clutter this table; treat it like an art piece itself. Try not to surround it with other items of bold colors that might clash with it. A light-colored room will be the best place to install it.
9. Blue Chalk Paint for Cupboard with White Stencil Design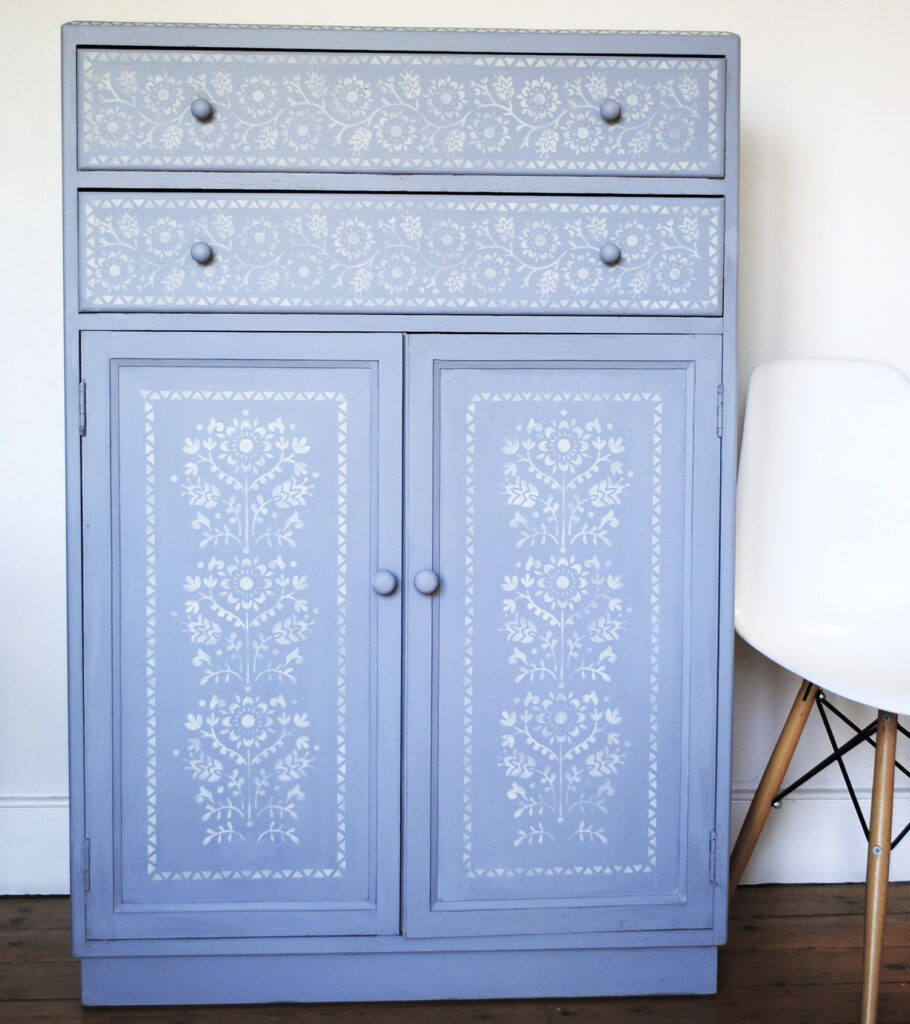 Most of us are eager to get rid of an old cupboard like this one because it doesn't go well in modern houses. But old chests or cupboards like these are exactly the kinds of pieces of furniture that can add so much personality to a space. Of course, they need to be restored and given a little paint before they can be used again.
A blue and white chalk paint transforms an old cupboard into a statement piece of furniture. Rather than dispose of it, you would want to display it and garner compliments. There is an old-world charm to the rustic blue chalk paint and beautiful white stencil design. You hardly find furniture today that displays such designs. The white stencil design is tasteful and gives it an artful look. You can choose sky blue from the Hemingway collection.
10. Olive Green Chalk Painted Buffet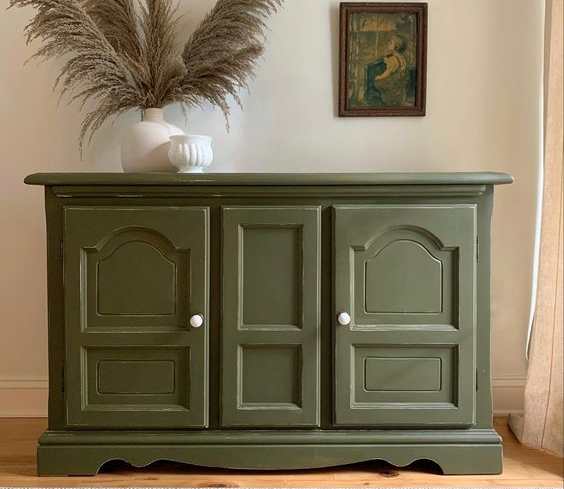 Greens are certainly taking the home décor industry by storm. There are so many shades of green one can choose from, and they all give a distinctive look. Look at this beautiful olive green buffet; it screams elegance and refinement.
We love the matte finish that the chalk paint gives it; it's a distinctive and neat look. Some believe that chalk paint is only good for a rustic look, but as we can see from above, that is not true. Chalk paint, too, can give a clean and crisp look to the furniture.
The white kobs complement the olive green color well.
11. Barcelona Orange Chalk Paint Cupboard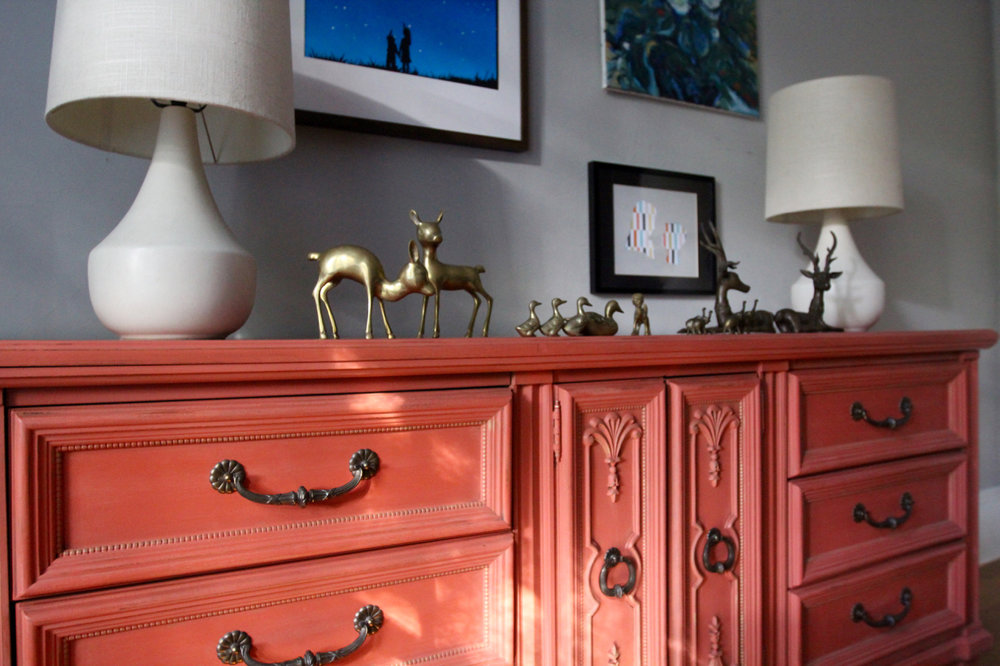 This is definitely a fun person's color. If you want to have one of a kind color for your furniture, We suppose this pastel orange color will serve your needs. Among the chalk paint colors, we have explored till now, this one takes the crown for being the most fun and daring.
Here we are doing away with the idea of vintage, rustic, or even sophisticated. Who needs sophistication when we can have some fun with this Barcelona Orange?
This color of the cupboard reminds me of the furniture in a doll house. It is cute and niche; it's right from the sets of the Barbie movie. The cupboard is campy and arthouse.
This particular Barcelona Orange Chalk Paint color cupboard cannot be ignored. It will be an attention seeker, and it will stir conversations.
12. A Pop of English Yellow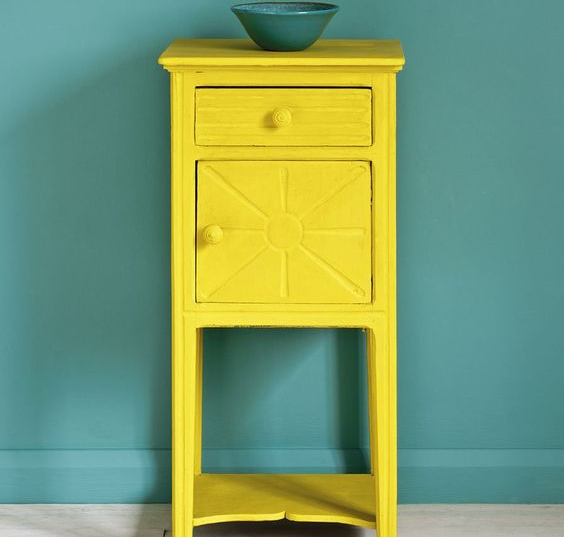 There is a range of chalk paint colors to choose from, and most people go for classic blacks, whites, and greys. All these choices are worthy; however, if you are more experimental, you would want to expand your color choices. We introduce to you a bright English Yellow chalk paint color from Annie Sloan that can turn your old boring table into a showstopper.
Take a chance with this color; it will add fun energy to your place. It will brighten up the room. This color is perfect for children's rooms.
With a color like this, I would recommend a clean finish rather than a distressed one.
13. The Bold Red Chalk Paint Door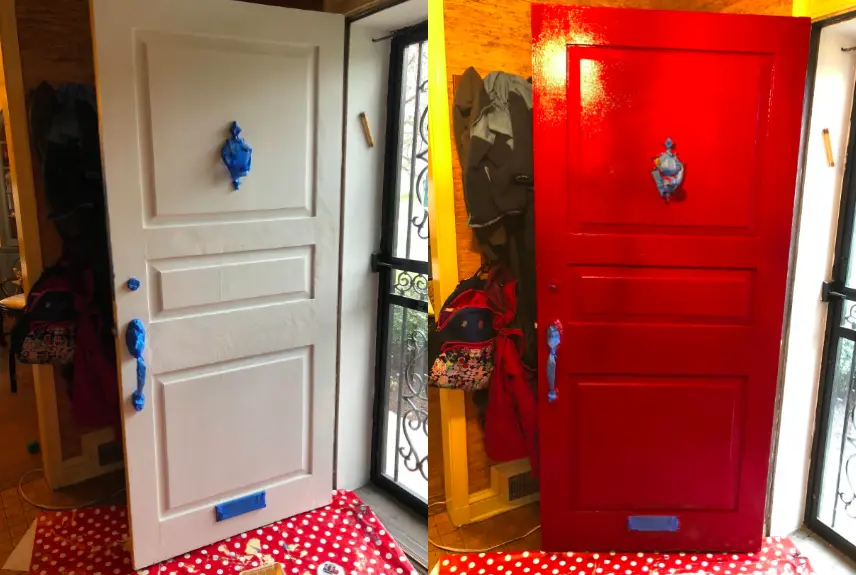 A bold-colored door is just what your house might need to make a statement. Most of us pay little attention to the door of the house, especially when it comes to its colors. But choosing a bold color for the door can add a little spark to your home. And every home could use a bold yet fun element.
There can hardly be a bolder choice than this red among the chalk paint colors. Whether it's lipstick or homes, the red color will draw the attention of everyone. This red door painted in chalk paint is a beautiful addition to the house. It makes for an amusing entrance to a home.
14. The Purple Chalk Paint Antique Buffet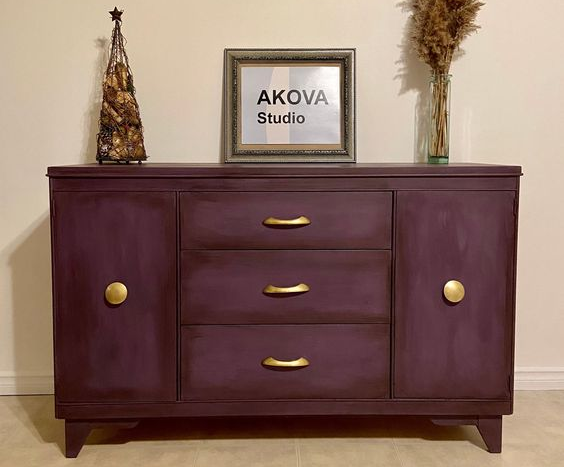 If you are a fan of bold colors, you might want to try using purple as part of your home décor. Purple is a color that is associated with royalty. It is said that the purple dye was the rarest and hence the most expensive, which made it a favorite among the royals.
These days purple dyes are not as expensive, but this rich color carries a history of regality with it.
Chalk paint colors have a matte finish to them. A matte finish purple shade is just delightful to look at. I love darker and saturated colors like purple on furniture.
This Buffet looks like a gothic dream in the dark purple shade. The gold accent of the knobs and handles plays so well with the shade of purple. The Aubergine color from Hemway is our recommendation.
15. Amsterdam Chalk Green Color Table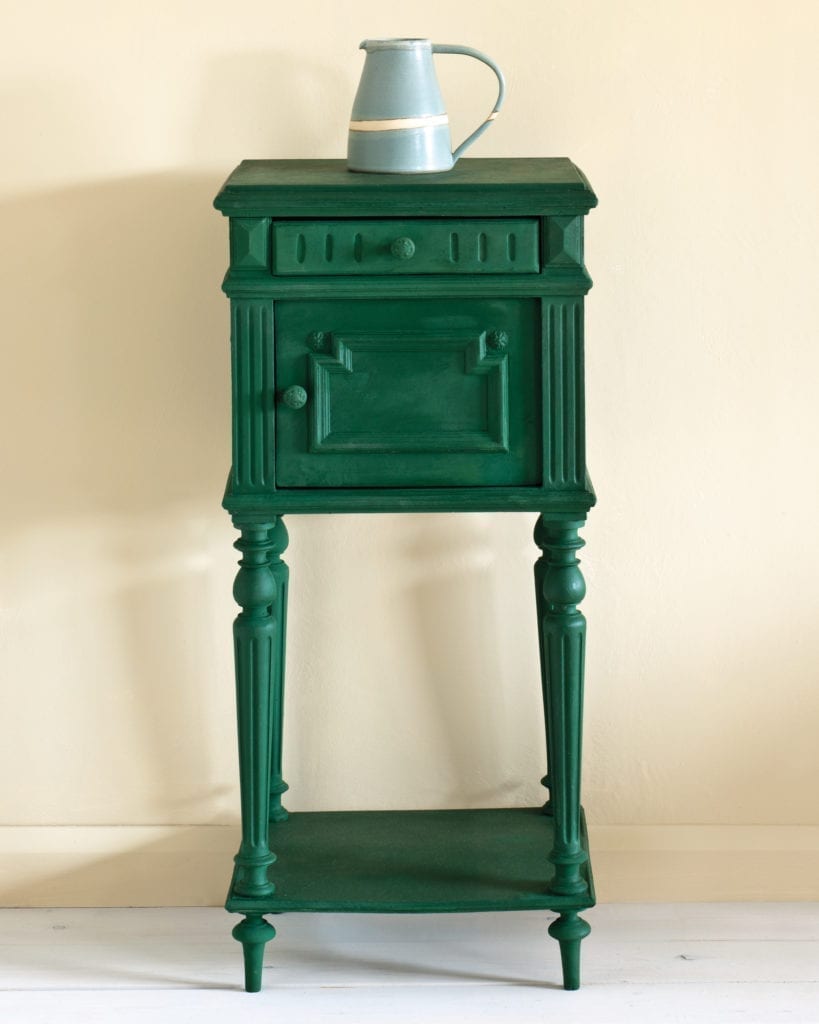 Here is another stunner of the green from the chalk paint colors that you might want to consider for your furniture. We have raged about our love for the green color palette. It introduces a freshness to a space and is always an interesting color to behold.
Doesn't this green impart a regular table a rather distinctive look? The color adds intrigue to the furniture. The matte finish and texture of the chalk paint will keep an onlooker engaged. I think the green color palate among the chalk paint colors is a no-brainer.
Tip; You can also go for a two-color toned table by using two different shades of green. They will also if you opt for a distressed look.
16. The Pink Chalk Paint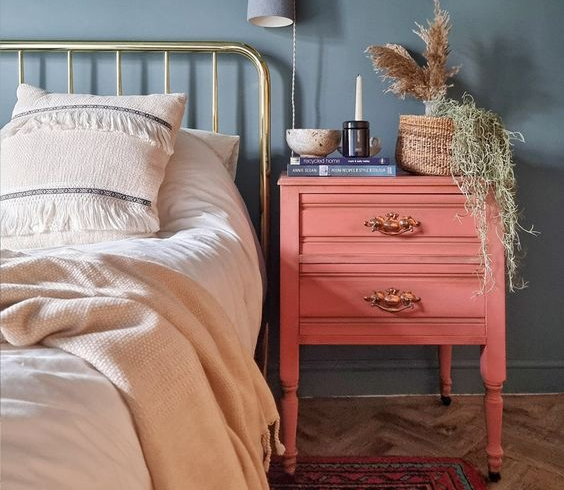 Here is an interesting color choice to consider among the chalk paint colors; pink. Pink is a color that can be defined as soothing yet rich. A Scandinavian Pink Annie Sloan Chalk paint looks every bit charming in the space.
This color in furniture goes well in a room that has a pastel-colored wall. A steel grey pastel wall goes perfectly with the pastel pink shade of the furniture.
You can choose gold or silver accents on the furniture on knobs and handles. Both of these colors will look great against the pink. For this particular chalk paint color, I would suggest you don't go for a distressed look but keep it clean.
You can even add some contrast with black color on the borders.
17. The Classic Black Chalk Paint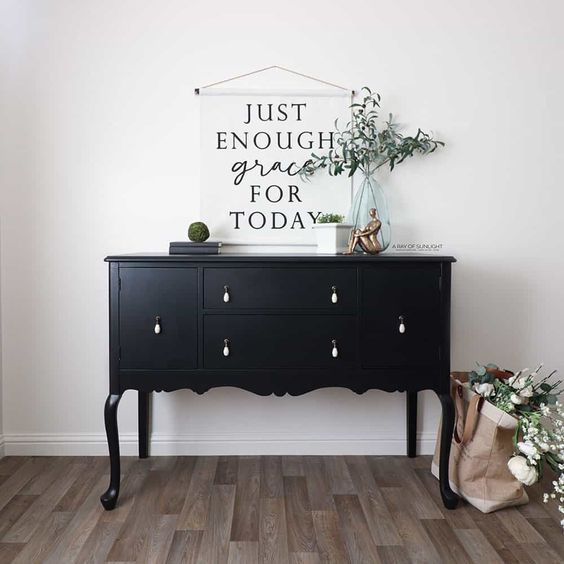 There is a reason that black makes the list of almost every time in color suggestion for your furniture. Black is timeless, and it never gets outdated. It's a classic color that makes a statement. You can hardly go wrong with black; it will always work.
Look how classy the table painted in Athenian Black chalk paint looks. Now this is a head-turner. It has a clean, crisp look to it that will never go out of vogue.
The matte texture exudes elegance. And just look how great the white knobs look against the matte black.
This black chalk paint table is graceful, bold, and classic.
18. Brown Chalk Paint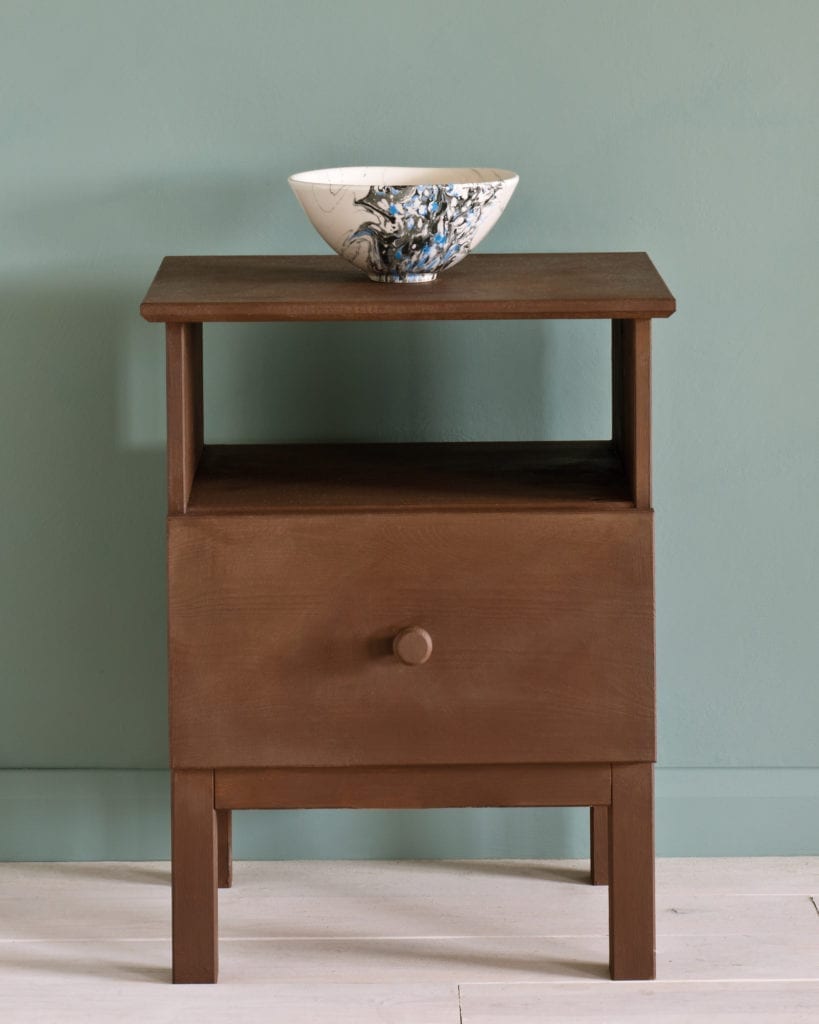 Browns are an underappreciated color palate. If you have a brown-toned wooden table and you want to retain the natural wood undertones, you could consider brown chalk paint.
Choose the shade of brown that matches the table. Whether you're painting a table or an old crib, you can use chalk paint for some areas and leave others polished to mix up the textures.
Remember, here, we are not aiming for a rugged or distressed look, so do a precise paint job. The chalk paint will give a matte finish which will contrast with the finish of the wood. It adds an interesting element to your furniture. It preserves the earthy wooden undertone of the wood while also adding some texture.
19. Time for the Deep Blue Chalk Paint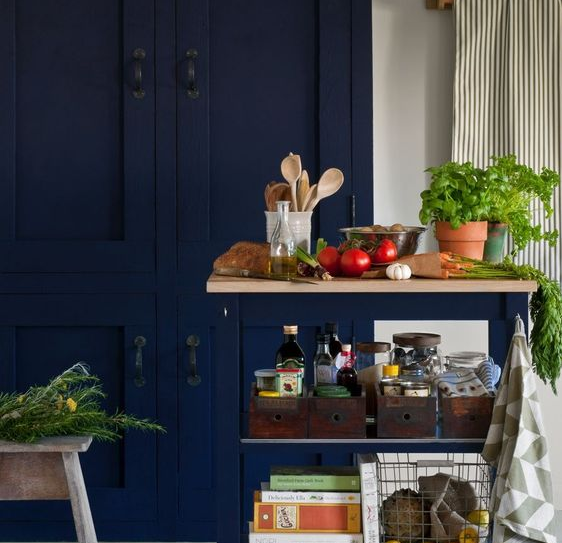 When discussing chalk paint colors, we cannot ignore this beautiful Oxford Navy Blue. A dark blue like this one is a striking color; in a room that is painted white or cream, this blue will be an attractive addition.
Paint your wooden cabinet or a table with this deep blue color. The mattifying effect of the chalk paint looks so chic on this color.
This is a color choice you won't regret. A color like this on your cupboard looks every bit enchanting.
For the handles, either you can go for a tone of blue or perhaps choose an accent color. The silver metallic accent on the handles will look beautiful against the color.
20. Lavender or Violet Chalk Paint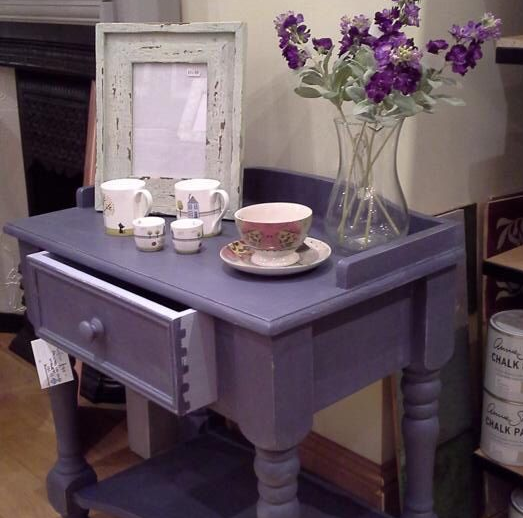 This is an interesting choice of color for your furniture. You are unlikely to find lavender or violet-toned furniture in many houses. So, if you want a color that stands out and has a soothing vibe, you should consider painting a table with violet chalk paint. Rodmell by Annie Sloan is a good match for the color above.
It will look great in a light-colored room; it adds a hint of color in a white room.
Depending on the aesthetic you are going for, you can choose a clean look or go for a rustic one. A cleanly painted side table in this color looks like it is right out of Barbie's playhouse. If you have kids, this is a good choice of color for the furniture in their room. It will give you a chance to choose something different than the pink and blue one usually goes for.
The color lavender is soothing to the eyes; it is certainly a color to consider for your furniture.
Conclusion
There are plenty of colors you can choose from from among the chalk paint colors. It depends on what your aesthetic preference is. If you like to have a distinctive color, yellows, oranges, and violets are all good choices. If you want to make a statement, something bold like red, deep blue, or emerald green is the answer to your needs. There are, of course, the classics, white and black color schemes.
Chalk paint colors give you the freedom to either opt for a clean look or go for a rustic one, depending on your preference. You should also not shy away from using two-toned colors on your furniture. Add little details with metallic accents on the handles and knobs, and that is all you need for a furniture makeover.
We hope you have already chosen your favorite chalk paint color, Good luck!