Whether you are looking to make a secluded outdoor space, planning to block your neighbors, or just trying to hide some unattractive views, patio privacy screens come in very handy.
They are available in a lot of variety and can fulfill almost all of your needs. An Outdoor patio privacy screen is your best friend for not just saving you from the outdoor world but also saving you from natural forces like wind and sun. As we mentioned before, there are many options available when it comes to patio privacy screens; there are a lot of things that you have to take into account before making this decision.
Here is your ultimate guide for you to choose the Outdoor Privacy Screen for your Backyard.
Types of Patio Privacy Screen
It is important to know the different kinds of patio privacy screens before we even start to discuss how to choose. This section will give you a head-start, and you will know what you want to look at. If you choose the wrong one, it can create a big hole in your wallet and a waste of time, energy, and enthusiasm. So, check out all the different kinds of screens available in the market today.
1. Wood Screens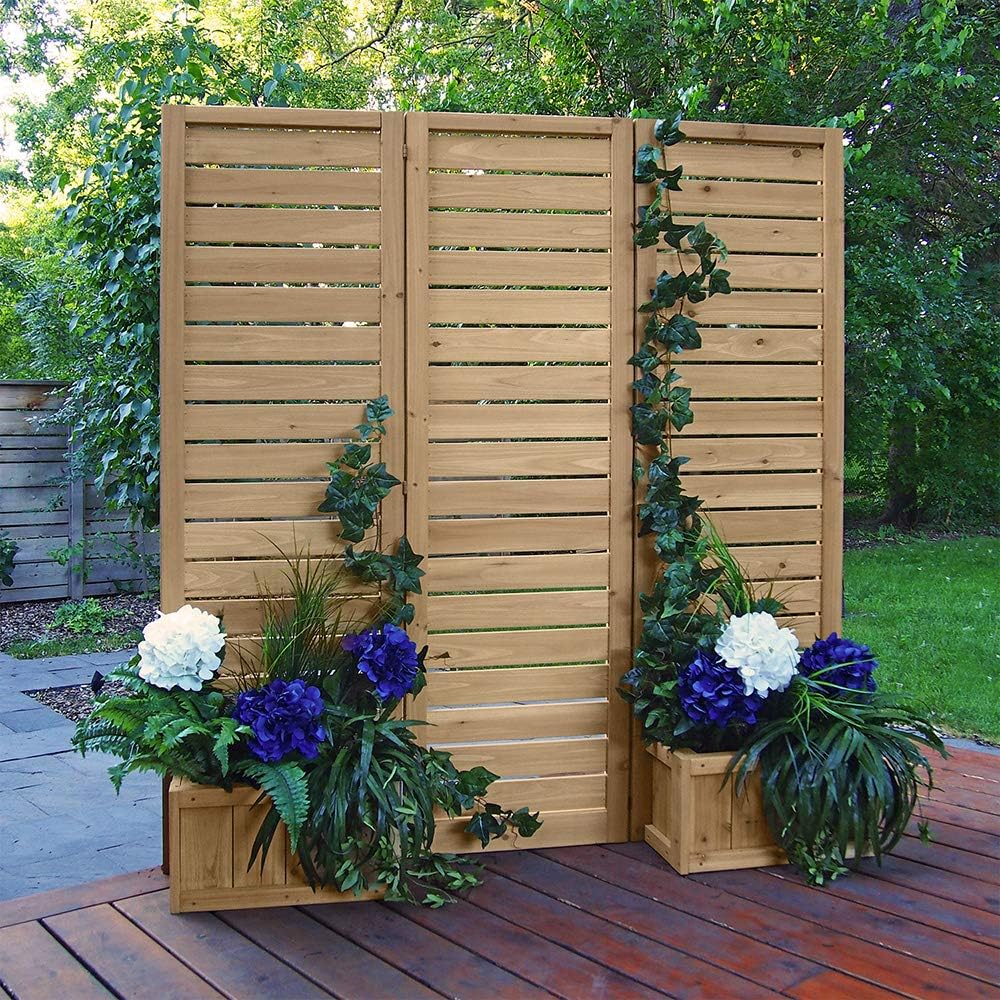 A wooden patio privacy screen is a great outdoor screen option. It is generally readily available in the market and can also be used to make various styles like maybe picket fencing, extensions, or palling. You get a lot of wood options in this one. This includes cedar wood, redwood, mahogany, etc. All of these woods have their own unique properties and will help add charm to your backyard. Moreover, they are pretty long-lasting and go with many decors and themes.
Made out of cedar wood, this Yardistry Planter Cedar Privacy Screen is a great example of a wood privacy screen. It is made out of wooden panels and gives privacy while also giving your climbing plants space and support to climb. It is made of certified materials and helps maximize your garden space. This one can stand on any surface and is self-standing.
2. Vinyl Screens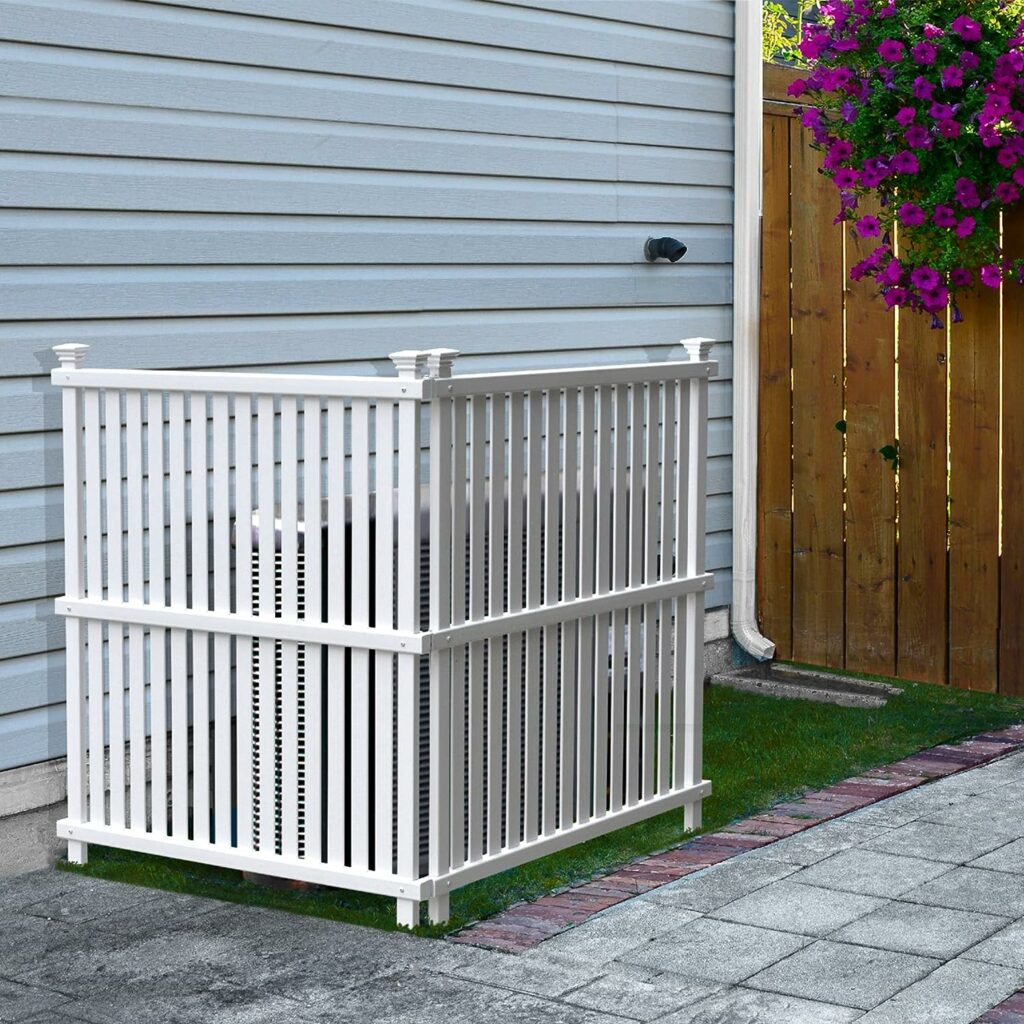 Very durable privacy screens made of vinyl screens are also a good idea. Vinyl is a very durable material that is made out of PVC plastic and is generally used in flooring. However, because it is very affordable and easy to use, there are patio privacy screens available in this material. Since it is made out of plastic, it is also weather condition resistant. Moreover, it is available in various textures and finishes that make it a great addition to your backyard.
If you are looking for an outdoor patio privacy screen option in vinyl material that you can install on your patio, you can check out this Enclo Privacy Screens. This privacy screen, along with giving you ample privacy, lets the air circulation flow. It is multi-purpose and hence great for poolsides, garages, and your yarn. It is also very simple to install and hence makes it a great addition.
3. Steel Screen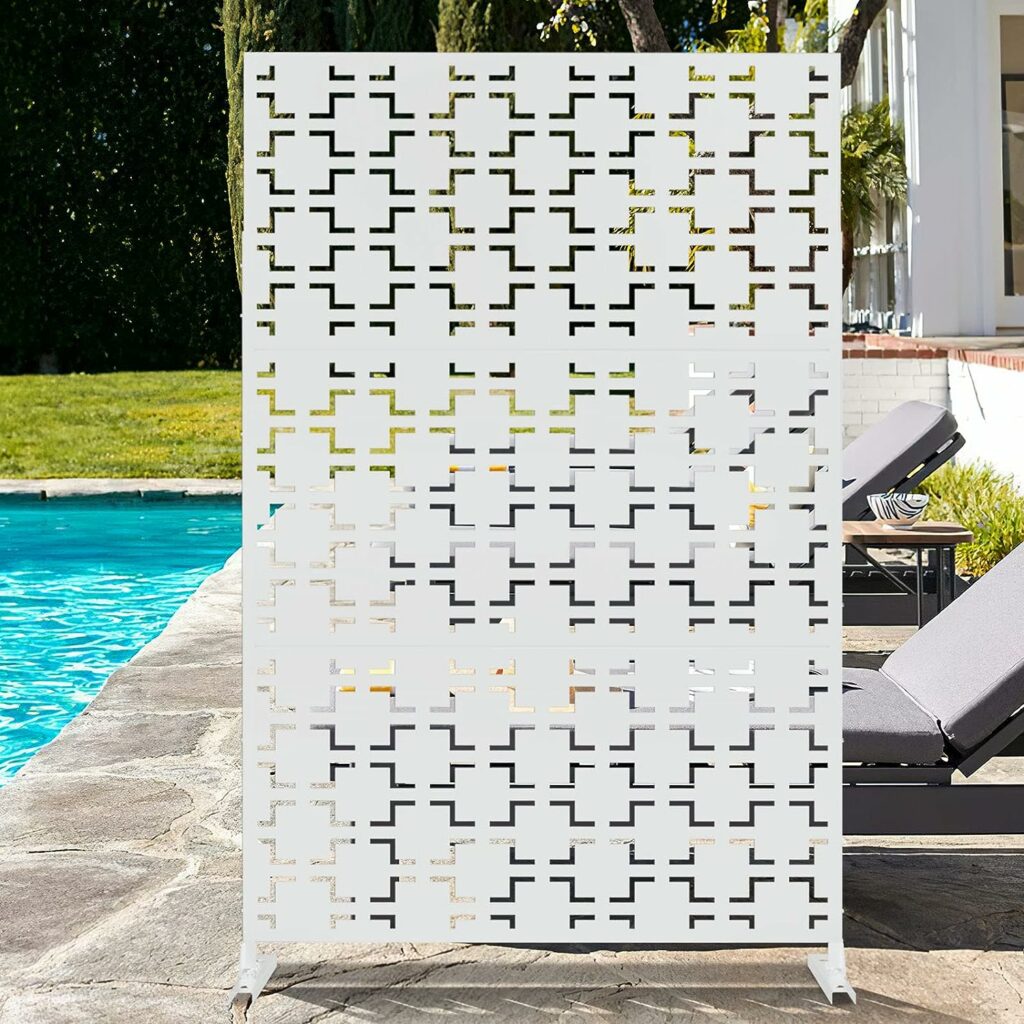 Another great material for an outdoor patio privacy screen is the one made out of steel. In general, steel is a very popular material for fencing and cladding. Hence, it is also a great material to make a screen, too. Made out of colorbond steel, these screens are generally corrosion resistant, crack resistance, peel and chip resistant too. They do not let anything sneak inside and are waterproof, making it a great way to barricade your patio with.
If you are looking for options, this one by PexFix is a great one. It is high-quality, durable, and can provide a great decorative element to your outdoor patio. This one can get past all weather conditions and is scratch resistant, along with being very durable. This screen also provides a lot of privacy and comes with all the things you need to install it.
4. Bamboo Screens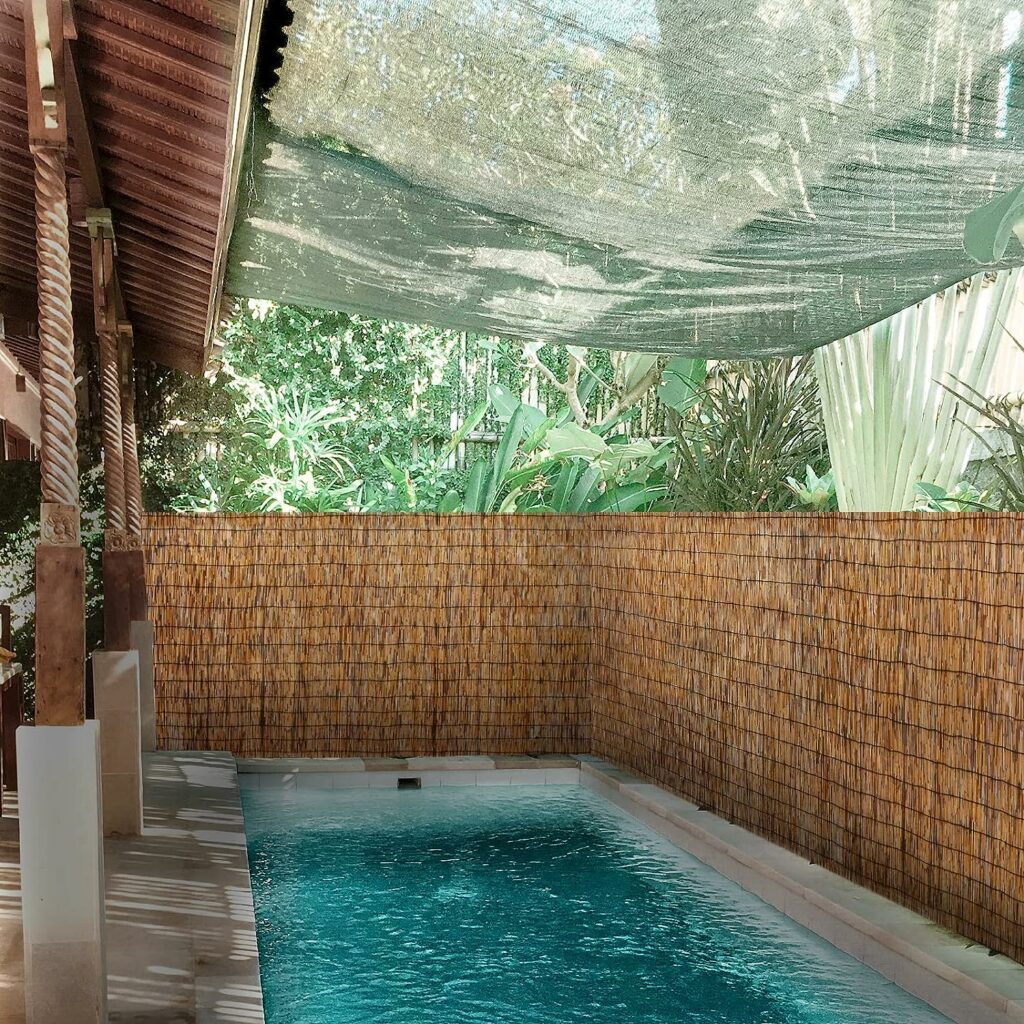 Bamboo is the first choice for many aesthetically driven home decorators and owners. Guess what? Bamboo ticks all of those boxes. It is aesthetic and eco-friendly, which makes it an attractive choice for a patio privacy screen. It is strong, heat and water resistance, extremely durable, and hypoallergenic which makes it a very nice choice.
Made out of all-natural material, this natural reed screen fencing by ZNCMRR is great for anyone looking for a very natural and low-waste outdoor patio privacy screen. It is great for backyards and balconies and is also very easy to install. It is eco-friendly but adds to the aesthetic of your home.
5. Plant Screens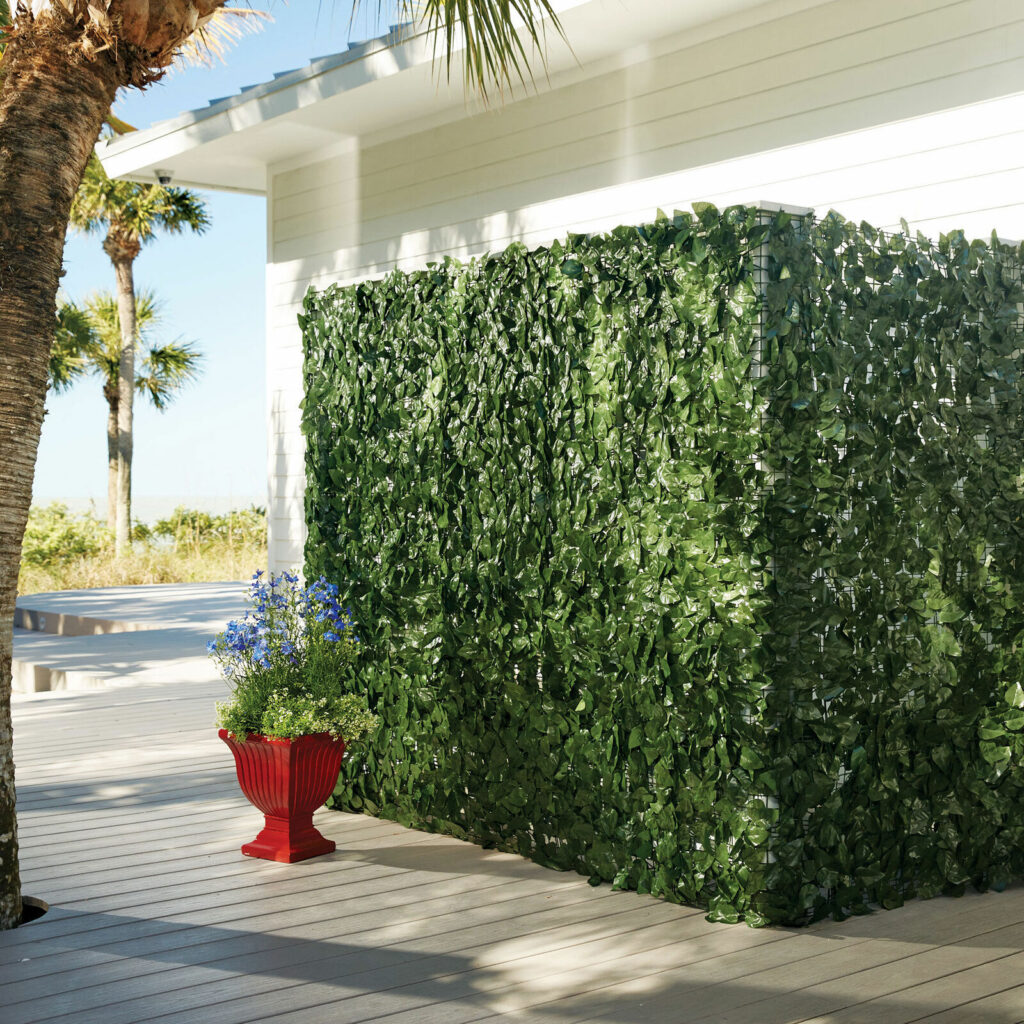 The most beautiful outdoor privacy screen option, the plant screens, really bring that garden look to your patio. They provide a lot of privacy without really ruining the aesthetic of your patio. There are many options available in this, and they are very popular among many home decorators and owners.
You can bring some beautiful greenery to your patio while bringing yourself the privacy you desire with this greenery privacy screen by Brylanehome. It has plastic netting and comes in a weather-resistant fabric that makes it a durable addition to your backyard. It is easy to clean and very easy to maintain. So, you might check out this one if you are looking for options.
6. Outdoor Screens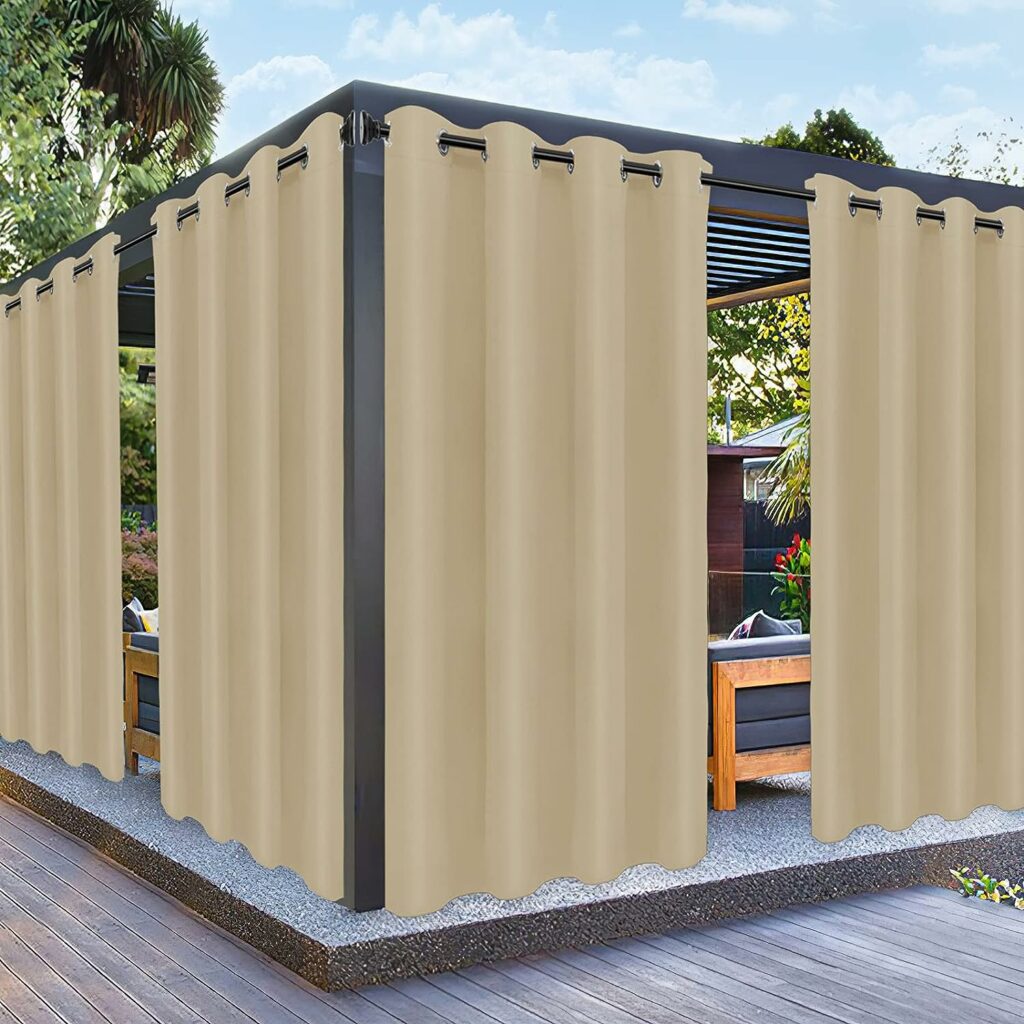 Yes, it does sound a little weird when we talk about outdoor curtains. However, they are a great way to get some privacy on your patio. All you have to do is, install an undercover beneath these so the curtains are protected from extreme weather conditions. With that said, you can always choose a water-proof and durable material for your outdoor curtains,
The PureFit Outdoor Curtains are a great outdoor screen to put up on your patio. It comes with many qualities, like being weatherproof, waterproof, UV, and fade-resistant. It is such a great addition to your patio because not only it comes in several colors and sunblocks. It is also durable, breathable, and gives ultimate privacy. You can simply clean these curtains in a washing machine, and you will be good to go.
How Can You Decide The Perfect Patio Privacy Screen for You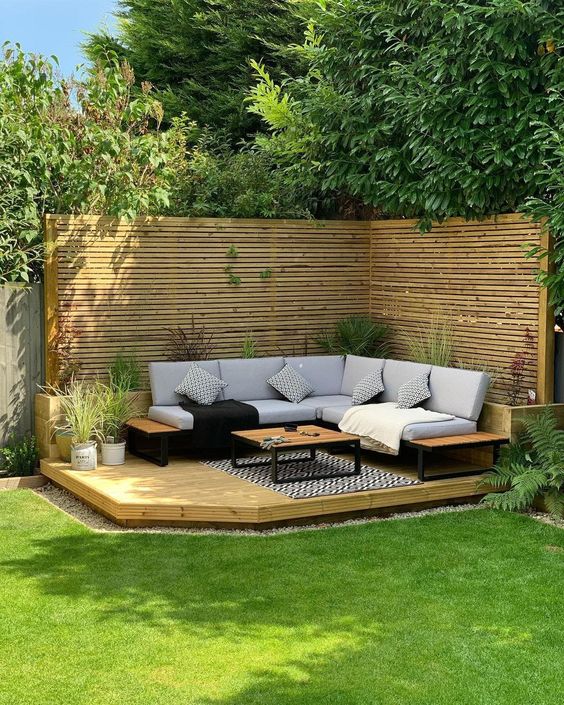 Since there are too many options available in the market, it is important that you choose after taking a few things into account. These things basically include the following things.
Before you purchase the patio privacy screen, it is important that you take into account where you want to install your privacy screen. This space can be your patio or balcony. We say finding the perfect location is the most important thing because different locations will need different solutions. For instance, installing a metal screen would look better on a big patio but not on a small balcony. In fact, Outdoor curtains are better for balconies.
Choosing the location will help you find the right material for your patio privacy screen. If you have a lot of elements on your patio, you will need some shade and protection. Not only that, you will have to choose one that can also withstand very harsh weather conditions. However, if your space is a little covered, maybe you can opt for something that is a little fragile.
Another thing to consider when thinking about what privacy screen to put on your patio is- how much privacy you are going to need. If you want to keep people out, it is better to choose a privacy screen that has no gaps. However, if you want it just to bring some decorative aesthetic to your backyard, you can use something that is laser cut into design or something with more decorative elements.
It is important to take into consideration whether you want a fixed or removable patio privacy screen. If you are looking for something only for one season or just a seasonal fix, something that can be removed is a good option. You need portable, hanging, freestanding screens for this. However, if you are looking for a long-term solution, installing metal or wood will be a better solution. Such screens are generally great for keeping all things away. With that said, you will also be more careful in choosing it. It will be a part of your home for longer.
A big question to ask yourself is how big you want your privacy screen to be. It is important that you find the right size when choosing the privacy screen for your patio. A very small one would not do the job you intended it to do, and anything that is too big will not fit very well. So, measure the height and width of your patio before buying the privacy screen for your patio.
The last thing on your list to take care of is to see what style you want to bring into your outdoor patio. With a specific type of outdoor patio screen, you will be able to influence the whole look of your outdoors. So, make sure you are clear on this one to get a great look.
Benefits of Using a Patio Privacy Screen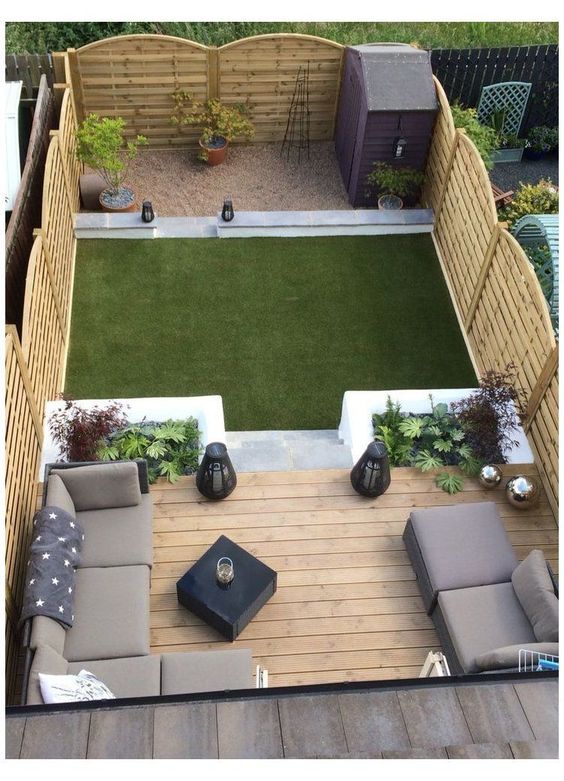 While there are a number of screens that you can choose from, it is also important to understand why the Patio Privacy screen is good and how it can help you. Here are a few benefits of using a Patio Privacy Screen.
A Patio privacy screen will always enhance the look of your patio. Imagine you don't have a lot of time to decorate your garden or maintain it. In cases like these, you can very easily choose a good garden screen and bring that lush green calmness to your patio. Not only that, but if you are looking for a contemporary look, a beautiful laser-cut privacy screen would help amp up the look of your backyard. Beautifying your patio is a big reason to include a Patio Privacy Screen in your backyard.
Of course, as the name says, Patio Privacy Screen is very important if you are looking for some privacy. Whether you are looking to hide the mess your patio is or looking to keep the prying eyes of your neighbors away from your home, these screens come in handy. They give you an opportunity to get much-needed privacy.
If you are looking to create an outdoor space in your backyard, a privacy patio screen could be your answer. They help you divide your space and give you space to make room for different things. Moreover, if you want to enclose something like a pool area, these screens are great. Pools are generally luxury spaces where you would want to relax without anyone's eyes prying on you. So, you will be able to create that privacy with an outdoor screen.
What is The Difference Between an Outdoor Privacy Patio Screen and a Fence?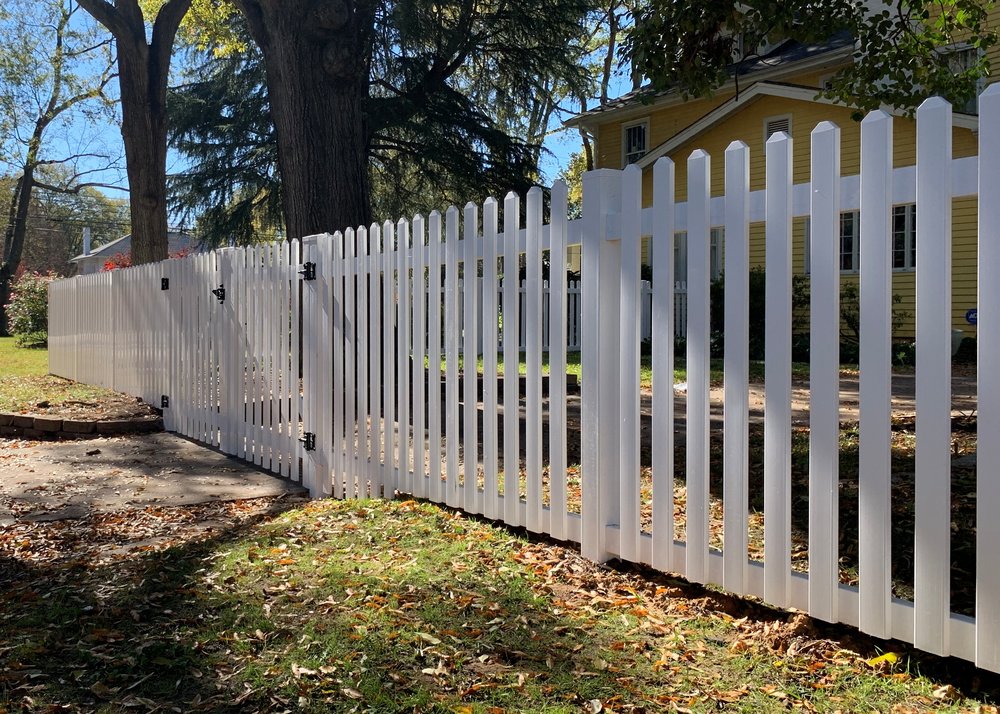 Both privacy patio screens and fences are used to bring some privacy to your backyard. However, there is a difference between both of them. You can use privacy screens to provide some separation in your outdoor patio, and you use the fence to enclose the yard. Commonly, privacy fencing is installed around the property lines, and they keep things from entering or wandering off from your property while limiting the view to your property.
However, a privacy screen is a screen that can be put in different structures. These screens partially or sometimes completely block the view. They are generally used in smaller sections of the properties and are available in different materials depending on the style, height, and length of the screen needed. You can choose the best option for you between the both with keeping a few things like such in mind.
The Purpose: It is important to keep in mind what you want to achieve with these screens or fencing. For example, if you want to close off your whole yard, you need fences. However, if you want to only cover a small yard and only keep the eyes off your neighbors away, use a privacy screen.
The Size: If you need something too big, maybe a screen is not a good idea. They are not designed to be on big structures, but the fence can. They allow a lot more privacy but are good for big spaces. With that said, screens are available at different heights, and based on how big you want it, make a choice. A standard privacy screen is about six feet tall.
The Look: Privacy screens are great decorative pieces to add to your backyard while also being functional. They are available in different styles, shapes, and sizes. It can help you elevate the look of your patio. However, privacy fences might not be so big on design. So, make a choice accordingly.
Durability: If you are looking for something that can last the wear-tear for years, a privacy fence looks like a great idea. Privacy screens do not act as a very sturdy barrier.
The Cost: It is also important to take into account how much you want to spend on this project. If you are tight on budget, a screen is a good idea. Buying and installing a fence really is a little costly and is sometimes difficult to bear.
Can You Build a Privacy Screen on Your Own?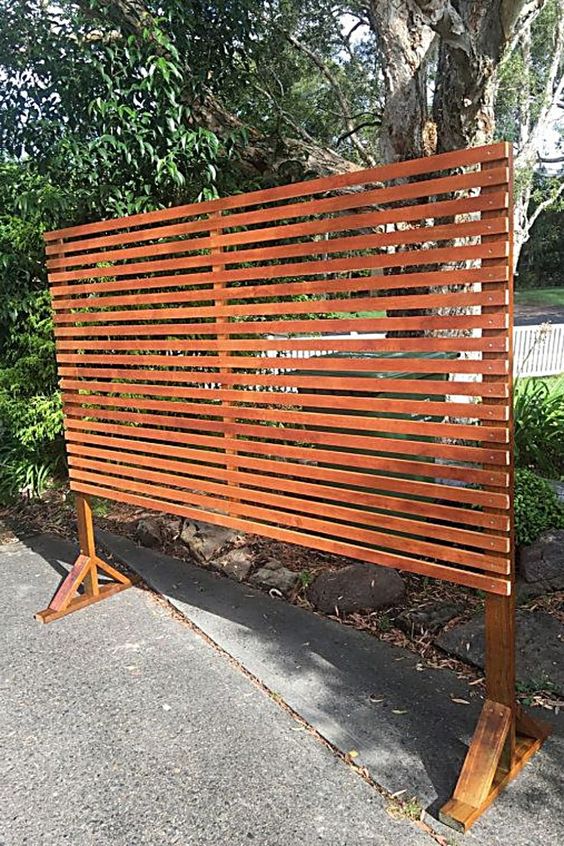 Yes, It's easy to make a privacy screen from scratch. However, Keep in mind that you will only be able to make a wood screen. Any other material is very difficult to tackle. Hence we explore how to make a privacy screen out of wood. Keep reading to find out how you can do it.
Materials You Will Need
Procedure
Remember, you do not need a lot of experience to build this, but it would be better if you do have something who has some experience to help you out. The steps are easy to follow and easy to execute. Let's go through them.
The first thing to do is to decide where you want to put your screen. That way, you will know how big of a screen you need and where you can place the screen to get its best efficiency. Then, dig post holes and use little snap lines that will help you position the screen when it's in the making.
The next thing is to fill up the post holes with quick-set cement. Use a level to position them to ensure they are straight. Also, screw braces on all the extra 2x4s. This will help you hold them in place, and your concrete will set very nicely overnight.
Using the wood board, start building your frame. Using 4x4s on the bottom of the frame and 2x4s on the top. Also, install the center studs on the outside of all the ends. Add 2x4s at the ends of the post.
Once you have made the frame, it is time to start adding boards to your DIY project. Position the first board against the top 2×4 and then set boards inside the two end post 2×4/s. However, leave some room to frame the top and sides later on.
Next, fix the screwing in each board to each stud from top to bottom. Composite boards will blend when you hold them horizontally.
The sixth step is to frame to top and sides of the patio privacy screen. It will give a finished look to your screen, and finally, you will have a wooden screen that will not just give you the privacy needed but will be a work of your hard work.
Are There Any Other Things You Need to Know?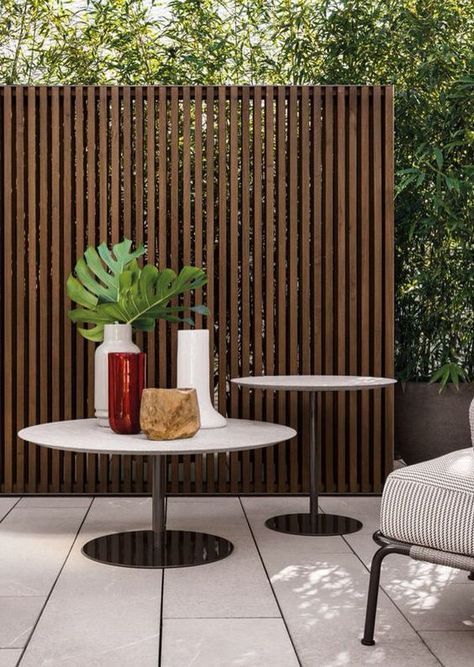 There isn't a lot you need to know before you put up the patio privacy screen. There aren't too many legal things you have to keep in mind, but there might be some regulations that you will have to follow. Here are some common regulations that you must keep in mind-
Your patio privacy screen shouldn't be too long. If you are putting up tall screens, you will need approval from your local authorities.
Screens will not be able to replace your swimming pool barriers, so be careful.
Privacy screens should not be very heavy.
Your privacy screen shouldn't obstruct any line of vision. It could not be difficult for drivers on the road to see anything that they need to see.
Depending on your locality, you might have to opt for a certain style, color, and material.
Conclusion
With this, you know almost everything you need to know about privacy patio screens. They are available in so many colors, patterns, and materials that the options are countless.
You can put your screen anywhere you want, and it does the job you intend it to do. The Patio Privacy Screens are not just functional but also elemental and a great addition to your backyard. Since they are so important, make sure you make a choice after exploring all of your options.
Then, voila! Enjoy your privacy.